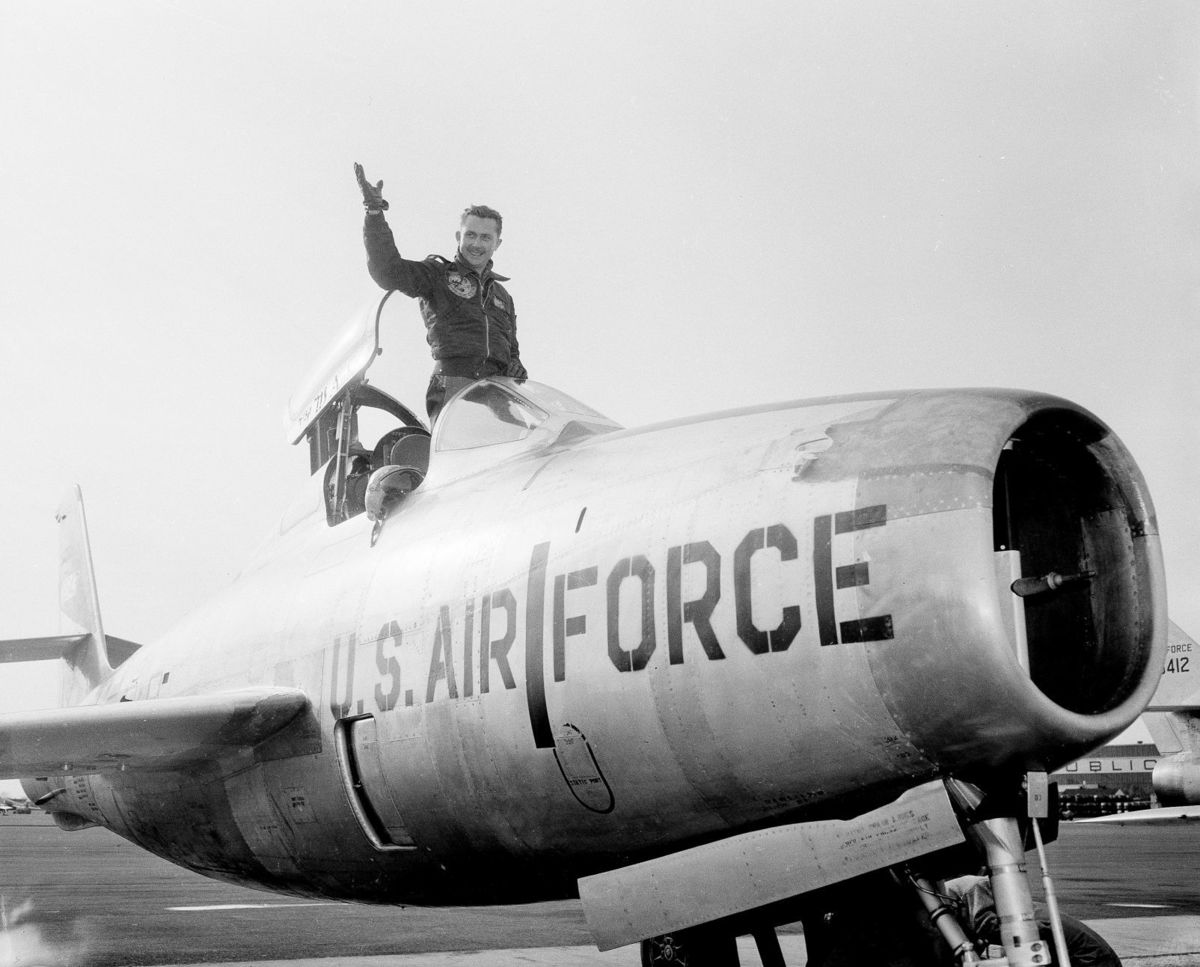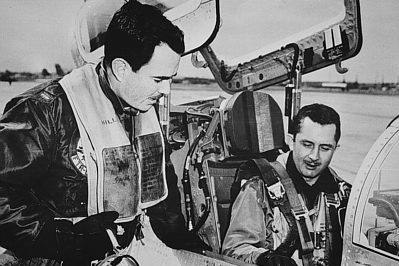 9 March 1955: Lieutenant Colonel Robert Ray Scott, United States Air Force, commanding officer, 510th Fighter Bomber Squadron, 405th Fighter Bomber Wing, Langley Air Force Base, Virginia, with Major Robert C. Ruby and Captain Charles T. Hudson, flew their Republic F-84F Thunderstreaks non-stop from Los Angeles Airport (LAX), on the southern California coastline, to overhead Floyd Bennett Field, New York. Two in-flight refuelings from Boeing KB-29 tankers were required.
Colonel Scott's flight set a new National Aeronautic Association speed record with an elapsed time of 3 hours, 44 minutes, 53.88 seconds.
A newspaper article from the following day describes the event:
2 Des Moines Pilots Break Speed Record
NEW YORK (AP) — Two air force pilots from Des Moines broke the speed record from Los Angeles to New York Wednesday, making a nonstop flight in less than four hours.
Lt. Col. Robert R. Scott, 34, flying a Republic F-84F Thunderstreak jet fighter, turned in the fastest time — 3 hours 46 minutes and 33 seconds. He averaged 649 miles an hour.
Just one minute behind was another Des Moines pilot, Maj. Robert C. Ruby, 32. His time was 3:47:33.
The old mark for the 2,445-mile route was 4:06:16, set Jan 2, 1954, by an air national guard pilot.
Refueling Slow
The pilots said they could have made faster time except for slow and obsolete in-flight refueling tanker planes.
A third pilot who shattered the old mark is Capt. Charles T. Hudson, 33, of Gulfport, Miss., who made the flight in 3:49:53.
Eight air force Thunderstreaks left Los Angeles in a mass assault on the record. Five dropped out through failure to make contact with refueling planes or other reasons. All reportedly landed safely.
While setting a Los Angeles–New York record, Scott failed to beat the navy's time from San Diego, Calif., to New York — 2,438 miles, or seven miles shorter than Wednesday's flight.
Flew Cougar Jet
Lt. Comdr. Francis X. Brady, 33, of Virginia Beach, Va., flew from San Diego in 3:45:30 on April 1, 1954, flying a Grumman F9F Cougar.
The air force planes flew at about 40,000 feet.
"The tankers used for refueling are much too obsolete and too old," Scott commented on landing.
The jets had to slow to 200 m.p.h. from almost 650 to take on fuel.
Scott said he refueled twice — once near La Junta, Colo., and once near Rantoul, Ill.
Others Agree
Ruby and Hudson also said they could have made faster time if the tank planes were more modern.
Hudson and Ruby carried extra gas tanks and made one in-flight refueling each. Scott carried no extra gas and had two in-flight refuelings.
1st Lt. James E. Colson of Middleboro, Ky., tried to make it with no refueling. He got as far as Pittsburgh, Pa.
Of the other four unable to complete the flight, one dropped out in California, two in Kansas and one at Sedalia, Mo.
— The Daily Iowan, Thursday, March 10, 1955, Page 1, Column 1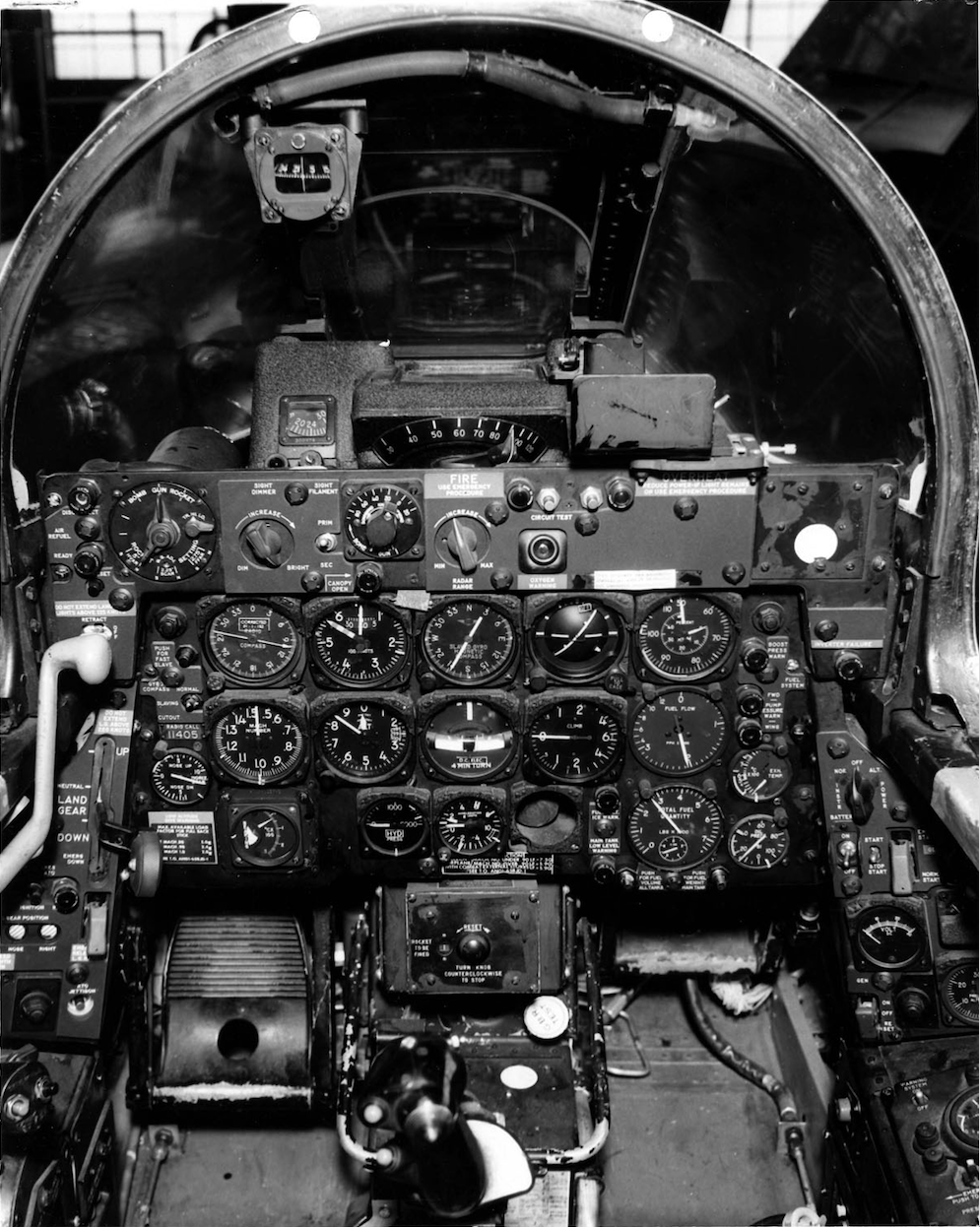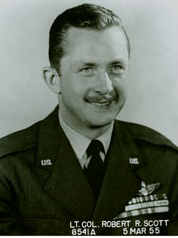 Robert Ray Scott was born at Des Moines, Iowa, 1 November 1920. He was the first of two children of Ray Scott, a railroad worker, and Elva M. Scott. He graduated from North High School in Des Moines, January 1939. He studied aeronautical engineering at the University of Iowa for two years before he enlisted as an Aviation Cadet in the U.S. Army Air Corps, 15 August 1941. Scott was 5 feet, 7 inches (1.70 meters) tall and weighed 144 pounds (65.3 kilograms). He was trained as a pilot and and was commissioned as a Second Lieutenant, 16 March 1942. He was assigned as an instructor pilot in California, and was promoted to 1st Lieutenant 15 December 1942.
Scott was transferred to the 426th Night Fighter Squadron, 14th Air Force, flying the Northrop P-61 Black Widow in India and China. He was promoted to captain, 3 May 1944, and to major, 16 August 1945. Major Scott was credited with shooting down two enemy aircraft. He was awarded the Distinguished Flying Cross and the Air Medal.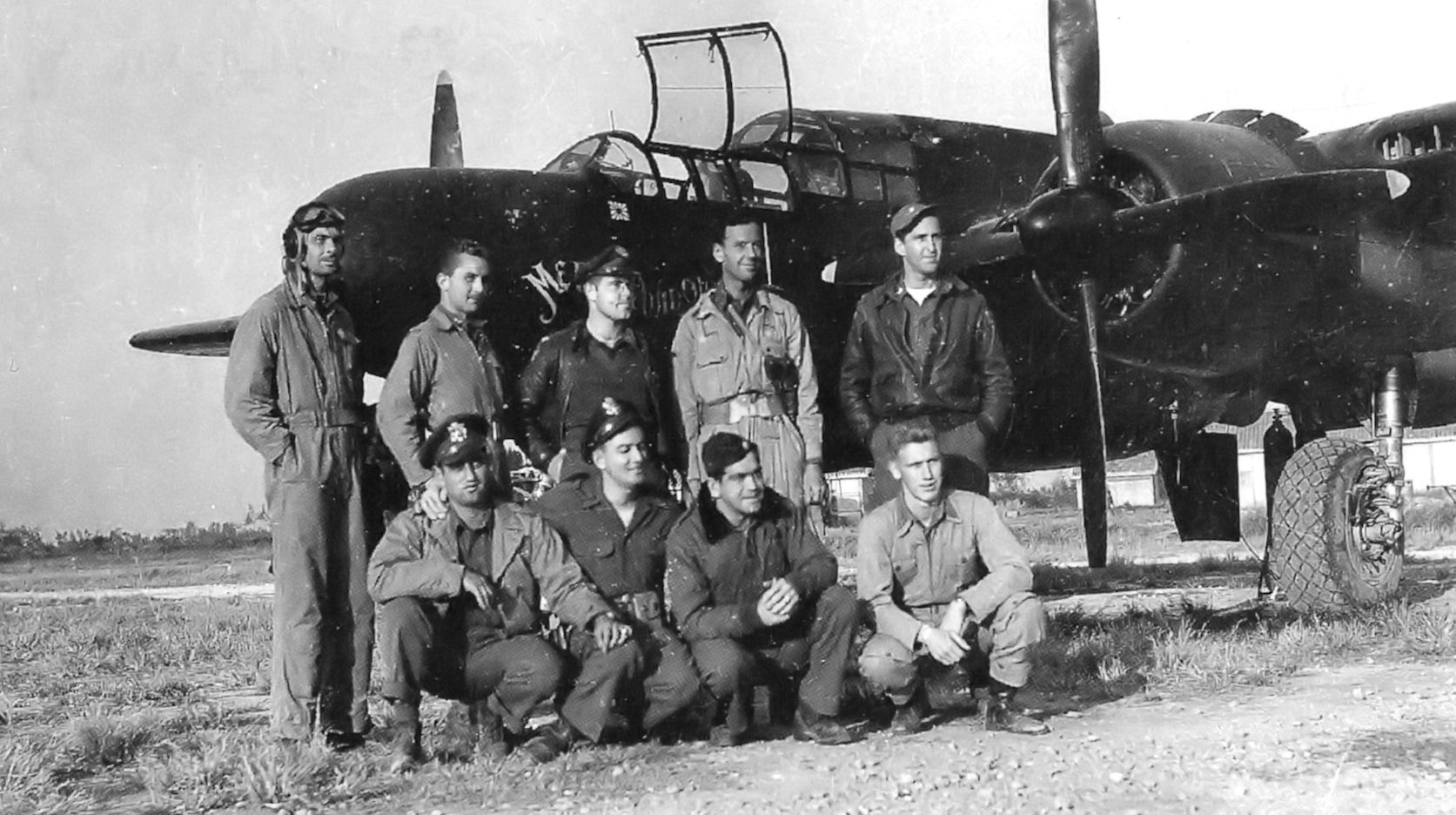 Following World War II, Major Scott returned to the University of Iowa to complete his bachelor's degree. He also earned two master's degrees.
In 1952 he graduated from the Air Force test pilot school at Edwards Air Force Base, then served as a project pilot on the North American F-86D all-weather interceptor. Later he was a project officer at Edwards AFB on the Republic F-105 Thunderchief Mach 2 fighter-bomber.
Scott flew the North American Aviation F-86F Sabre during the Korean War. From January to July 1953, he flew 117 combat missions. From 1953 to 1956, Lieutenant Colonel Scott commanded the 405th Fighter Bomber Wing, Tactical Air Command, at Langley Air force base, Virginia.
Scott was promoted to the rank of Colonel in 1960.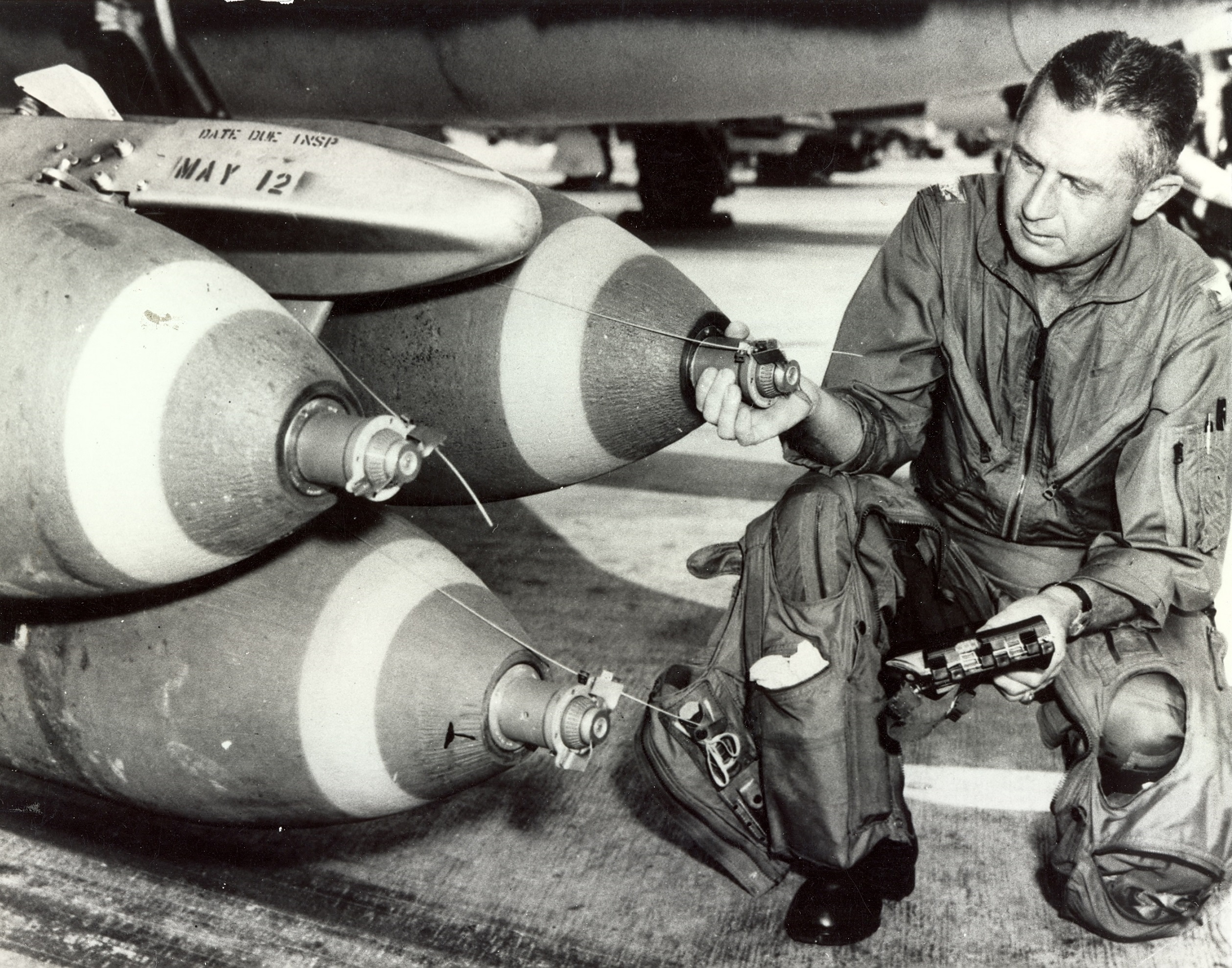 During the Vietnam War, Colonel Scott commanded the 355th Tactical Fighter Wing, flying 134 combat missions in the Republic F-105 Thunderchief. On 26 March 1967 he shot down an enemy MiG-17 fighter near Hanoi with the 20 mm M61 Vulcan cannon of his F-105D-6-RE, 59-1772, making him only the second Air Force pilot with air combat victories in both World War II and Vietnam.
Colonel Scott's final command was the 832nd Air Division, 12th Air Force, at Cannon Air Force Base, New Mexico. He retired 1 September 1970 after 29 years of military service.
Colonel Robert Ray Scott flew 305 combat missions in three wars.During his Air Force career, Colonel Scott was awarded four Silver Star medals, three Legion of Merit medals, six Distinguished Flying Crosses and 16 Air Medals. He died at Tehachapi, California, 3 October 2006 at the age of 86 years. He is buried at the Arlington National Cemetery.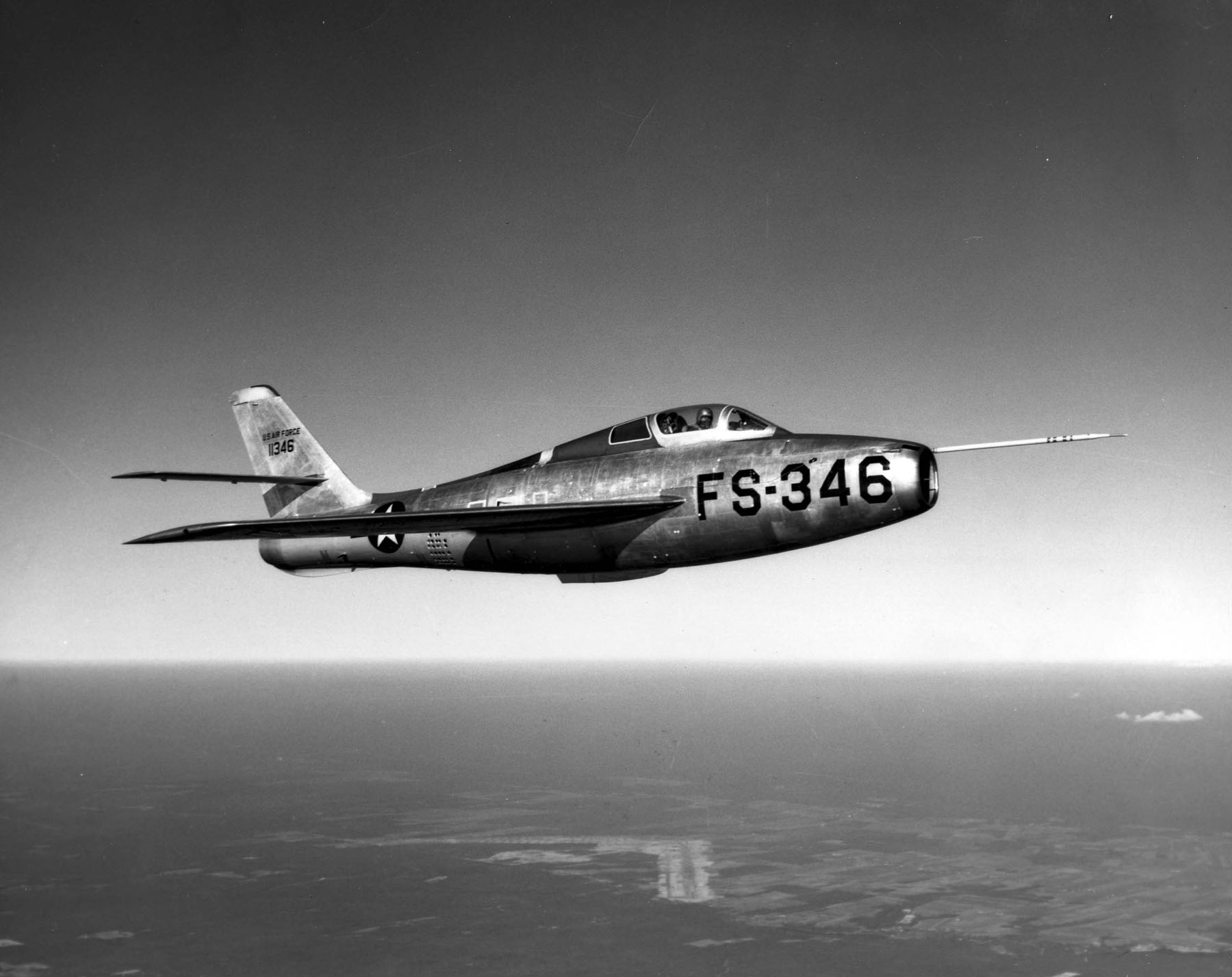 The Republic F-84F Thunderstreak was an improved, swept-wing version of the straight-wing F-84 Thunderjet fighter bomber. The first production Thunderstreak, 51-1346, flew for the first time, 22 May 1952, with company test pilot Russell M. (Rusty") Roth in the cockpit.
The F-84F was 43 feet, 4¾ inches (13.227 meters) long with a wingspan of 33 feet, 7¼ inches (10.243 meters) and overall height of 14 feet, 4¾ inches (4.388 meters). The wings were swept aft 40° at 25% chord. Their angle of incidence was 1° 30′ and there was no twist. The F-84F had 3° 30′ anhedral. The Thunderstreak had an empty weight if 13,645 pounds (6,189 kilograms) and maximum takeoff weight of 27,000 pounds (12,247 kilograms).
The initial F-84F-1-RE aircraft were powered by a Wright J65-W-1 turbojet, a license-built variant of the British Armstrong Siddely Sapphire. Later versions used Wright J65-W-3 and J65-W-7, or Buick J65-B-3 or J65-B-7 engines. The J65-B-3 was a single-shaft axial-flow turbojet with a 13-stage compressor section and 2-stage turbine. The W-3/B-3 had a continuous power rating of 6,350 pounds of thrust (28.25 kilonewtons) at 8,000 r.p.m. It produced 7,220 pounds of thrust (32.12 kilonewtons) at 8,300 r.p.m. (5-minute limit). The J65-B-3 was 10 feet, 8.6 inches (3.266 meters) long, 3 feet, 1.7 inches (0.958 meters) in diameter, and weighed 2,785 pounds (1,263 kilograms).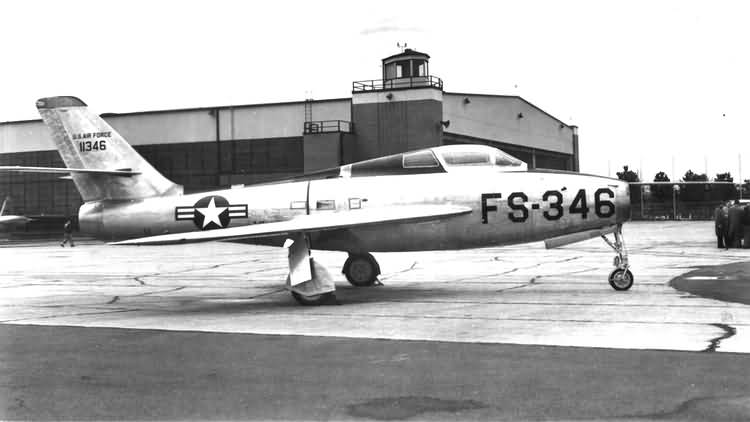 The F-84F had a maximum speed of 595 knots (685 miles per hour/1,102 kilometers per hour) at Sea Level (0.900 Mach). The fighter bomber could climb at 7,000 feet per minute (36 meters per second). Its service ceiling was 44,450 feet (13,548 meters). The fighter bomber's maximum ferry range was 2,010 nautical miles (2,313 statute miles/3,723 kilometers).
Armament consisted of six Browning .50-caliber (12.7 × 99 NATO) AN-M3 aircraft machine guns, with two mounted in the wing roots and four in the nose. The were 300 rounds of ammunition per gun. Up to 6,000 pounds (2,722 kilograms) of bombs and rockets could be carried under the wings. A variable-yield Mark 7 tactical nuclear weapon could also be carried.
Between 1952 and 1957, 2,112 F-84F Thunderstreaks were built by Republic at Farmingdale, New York, and by General Motors at Kansas City, Kansas. The Thunderstreak served with the United States Air Force and Air National Guard until 1971.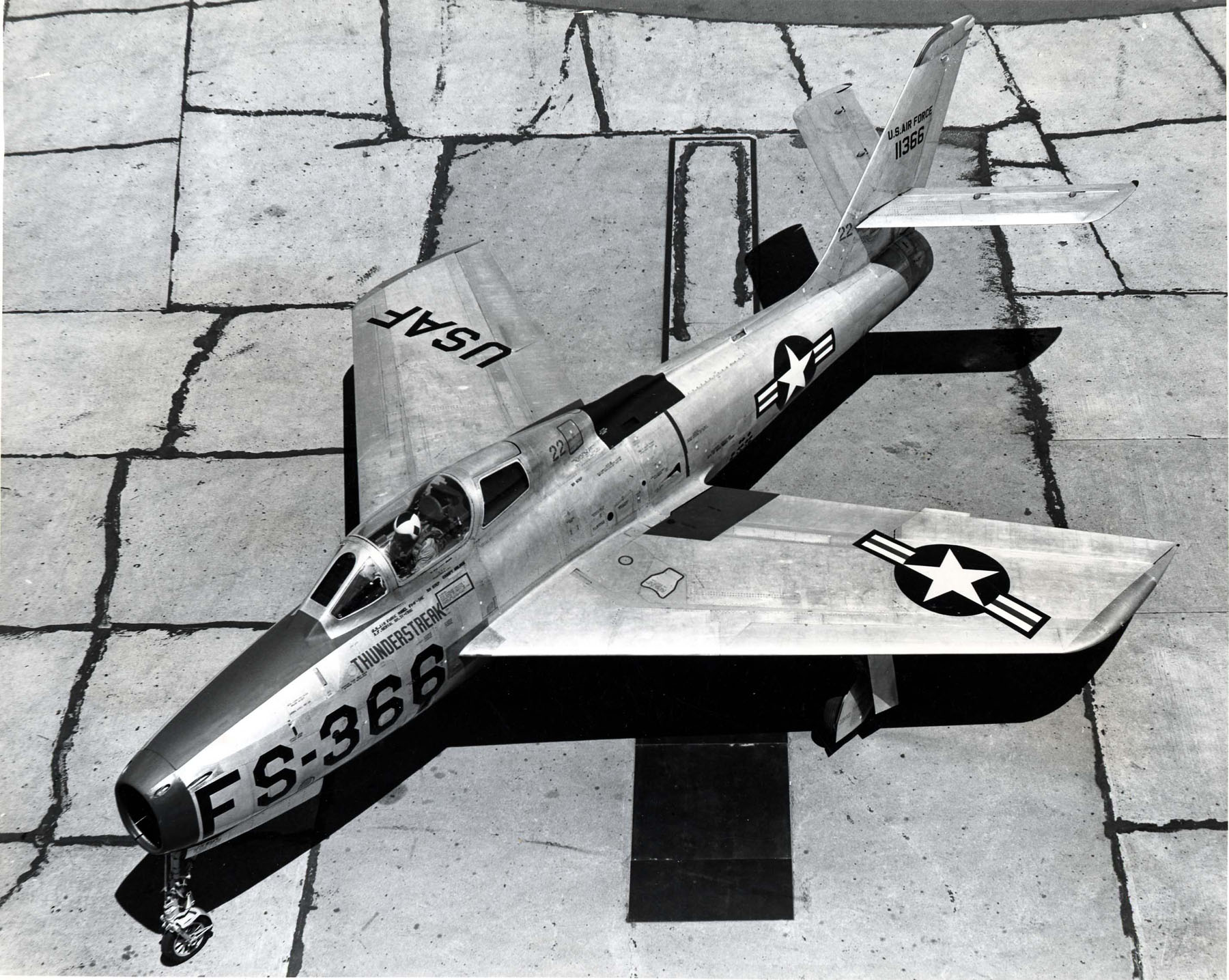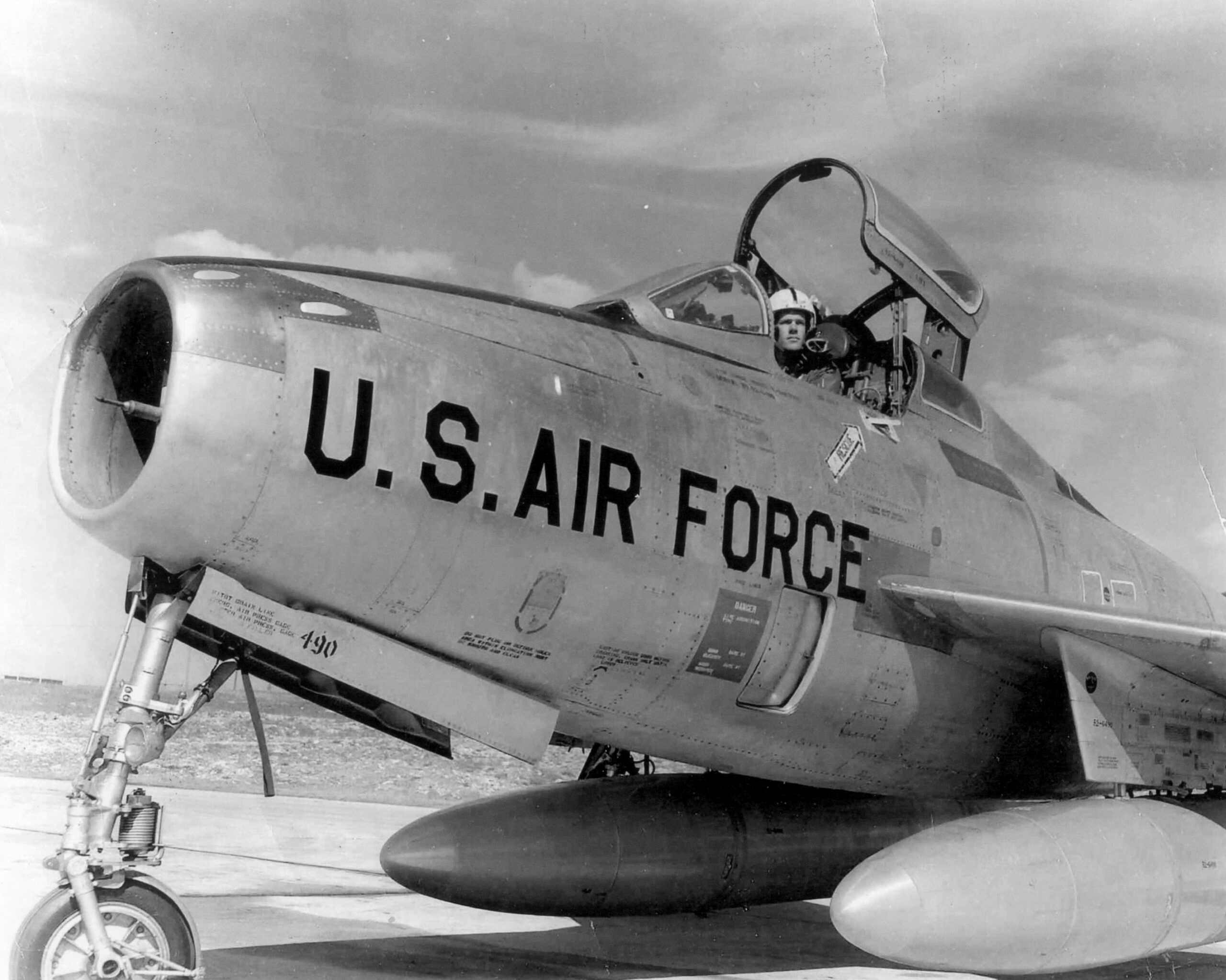 © 2019, Bryan R. Swopes