2 March 1978: Major Charles Thomas Fulop and First Lieutenant William A. Stone departed George Air Force Base, Victorville, California, in a Republic F-105G Thunderchief, 63-8321, call sign "Thud 71." Their mission was a routine instrument training flight, making instrument approaches and departures at NAS Point Mugu on the southern California coast, then return to George AFB.
The weather surrounding Point Mugu was poor, with heavy clouds, rain and fog. Thud 71 made an instrument approach to the airfield and then initiated a missed approach, a normal procedure for a training flight. However, while climbing out, the pilot, Major Fulop, radioed Mugu Approach Control that he had a problem and requested an immediate return to George AFB. His request was approved.
Approach Control then lost the fighter bomber's radar transponder signal. Fulop declared an emergency, and requested an immediate return to Point Mugu for landing. He stated that the altimeter had failed and that he was trying to climb above the clouds.
Moments later, witnesses in Thousand Oaks and Newbury Park saw the F-105 diving out of the overcast. Major Fulop initiated the ejection sequence for the Electronics Warfare Officer, Lieutenant Stone, in the back seat. Stone was ejected and parachuted to safety. He suffered a broken arm.
The witnesses said that the pilot was obviously steering the Thunderchief away from homes surrounding the open space of Wildwood Regional Park. Thud 71 crashed on the west side of Hill Canyon. The airplane exploded on impact and Major Fulop was killed.
The crash site is less than two miles (three kilometers) from where I am now sitting.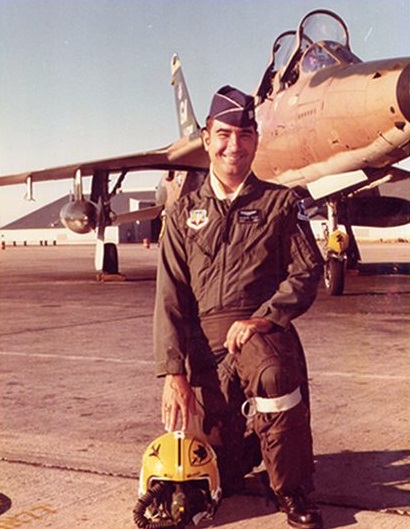 Charles Thomas Fulop was born 6 October 1946 at Barberton, Ohio. He was the second son of Louis James Fulop and Elizabeth Theresa Ittes Fulop. He graduated from Copley High School in Akron, Ohio. He then attended Miami University, Oxford,  where he was a member of the Delta Chi fraternity, graduating in 1968.
Fulop joined the United States Air Force, 14 May 1969. He was trained as a B-52 navigator. Later selected for flight training, Captain Fulop was assigned to Class 73-06 at Laughlin Air Force Base, Del Rio, Texas. He was an Outstanding Graduate and was awarded his pilot's wings, 26 February 1973. Captain Fulop was then assigned to a McDonnell Douglas F-4 Phantom II squadron at Homestead Air Force Base, Florida.
On 20 December 1969, Charles Fulop married Miss Cheryl P. Lewis at Sacramento, California. They would have two daughters, Michelle and Kelley.
Major Fulop was buried in the Veteran's Court at Saint Mary's Catholic Cemetery, Sacramento, California.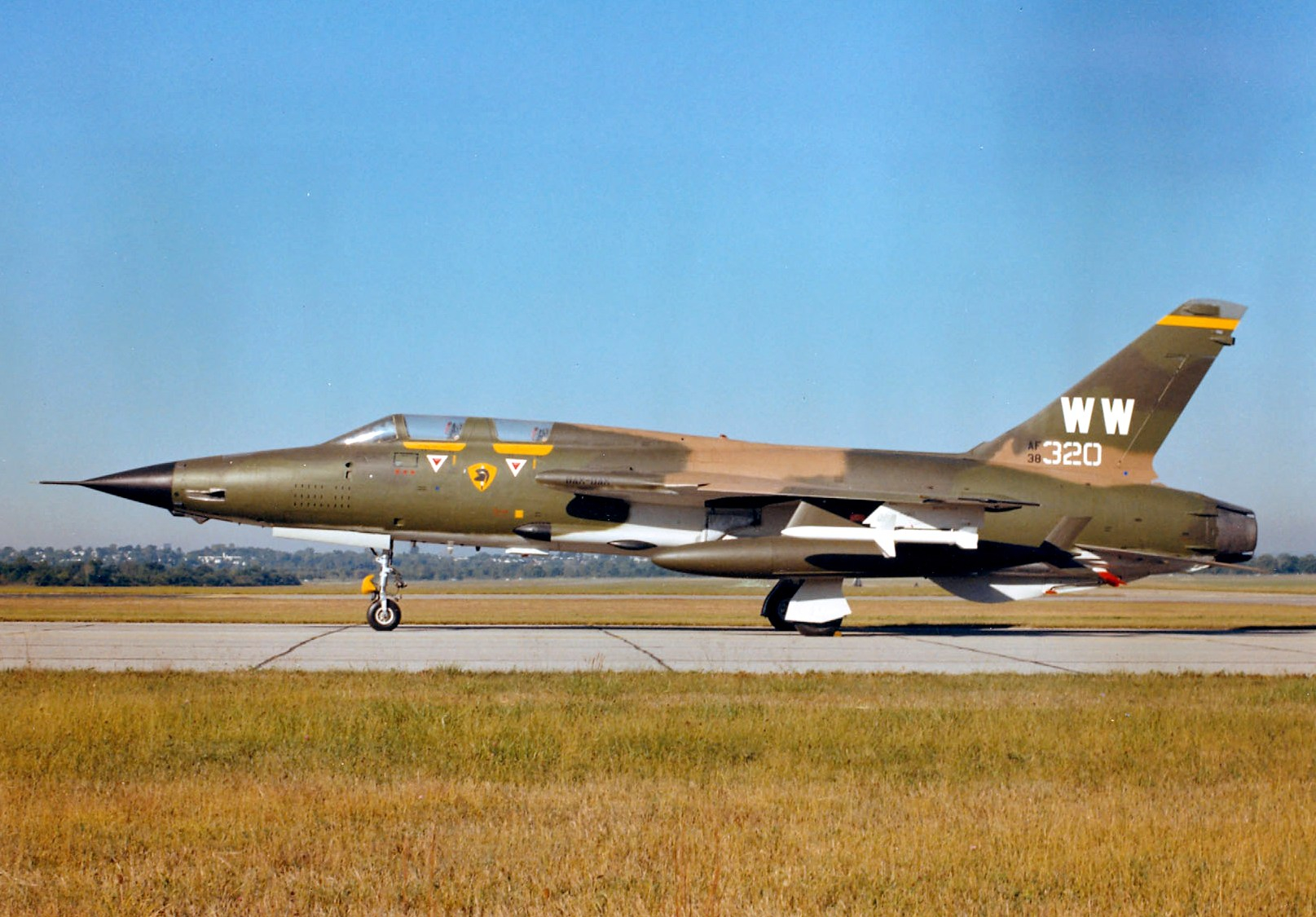 The F-105 was the largest single-seat, single-engine combat aircraft in history. It was designed as a Mach 2+ tactical nuclear strike aircraft and fighter-bomber. The fuselage of the F-105B incorporated the "area rule" which gave the Thunderchief its characteristic "wasp waist" shape. The F-105F was a two-place variant, flown by a pilot and a weapons system operator. Its high speed, low radar cross-section, and heavy bomb load capacity made it a good candidate for the "Wild Weasel" mission: locating and attacking enemy radar and surface-to-air missile installations.
The F-105F/G Thunderchief was 67 feet (20.422 meters) long with a wingspan of 34 feet, 11 inches (10.643 meters) and overall height of 20 feet, 2 inches (6.147 meters). Its wings were swept 45° at 25% chord. The angle of incidence was 0° and there was no twist. The wings had 3° 30′ anhedral. The total wing area was 385 square feet (35.8 square meters). Modified to the Wild Weasel III configuration, it had an empty weight of 31,279 pounds (14,188 kilograms), and a maximum takeoff weight of 54,580 pounds (24,757 kilograms).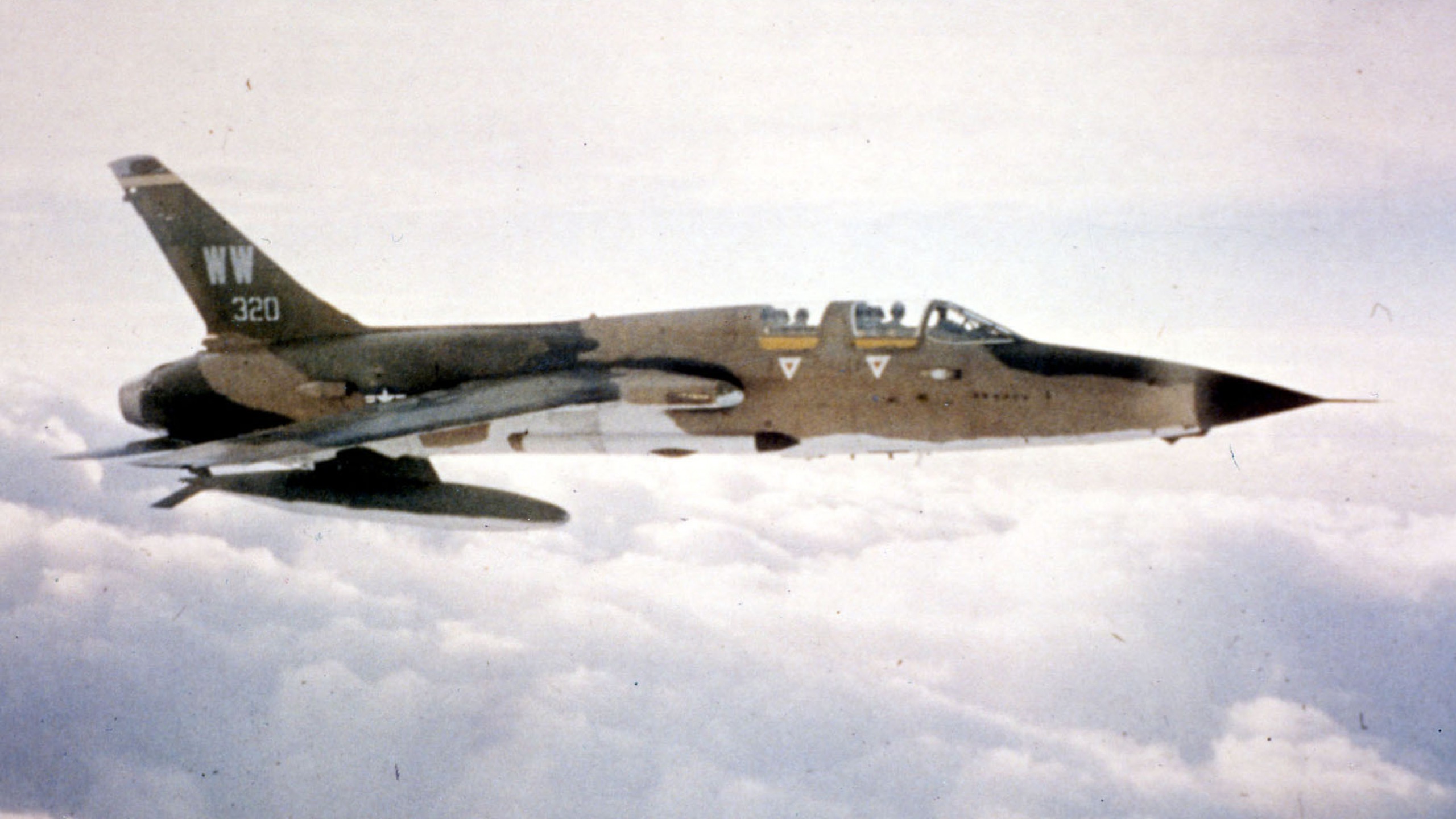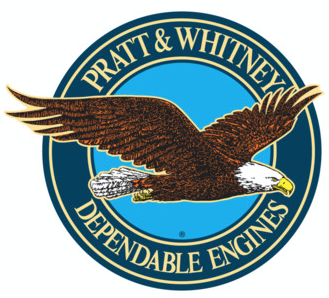 The Thunderchief was powered by one Pratt & Whitney J75-P-19W engine. The J75 is a two-spool axial-flow afterburning turbojet with water injection. It has a 15-stage compressor section (8 low- and and 7 high-pressure stages) and 3-stage turbine section (1 high- and 2 low-pressure stages.) The J75-P-19W is rated at 14,300 pounds of thrust (63.61 kilonewtons), continuous power; 16,100 pounds (71.62 kilonewtons), Military Power (30-minute limit); and Maximum Power rating of 24,500 pounds (108.98 kilonewtons) with afterburner (15-minute limit). The engine could produce 26,500 pounds of thrust (117.88 kilonewtons) with water injection, for takeoff. The J75-P-19W is 21 feet, 7.3 inches (6.586 meters) long, 3 feet, 7.0 inches (1.092 meters) in diameter, and weighs 5,960 pounds (2,703 kilograms).
The F-105G Wild Weasel III had a cruising speed of 514 knots (592 miles per hour/952 kilometers per hour). Its maximum speed was 681 knots at Sea Level—0.78 Mach—and  723 knots (832 miles per hour/1,339 kilometers per hour) at 36,000 feet (10,973 meters)—Mach 1.23. It could climb to 30,000 feet (9,144 meters) in 28.0 minutes. The F-105G's combat ceiling was 43,900 feet (13,381 meters), and it had a combat radius of 391 nautical miles (450 statute miles/724 kilometers). The maximum ferry range, with external fuel tanks, was 1,623 nautical miles (1,868 statute miles/3,006 kilometers).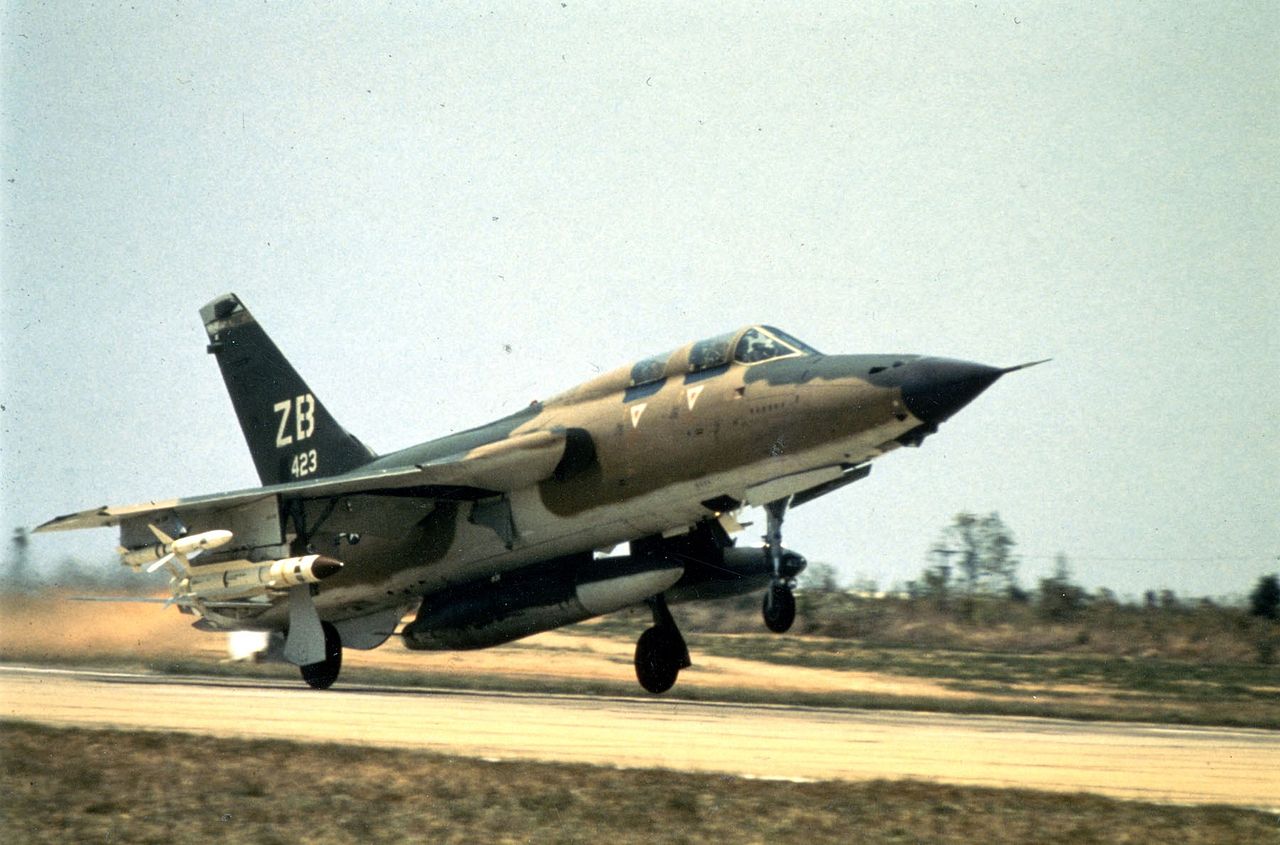 The Wild Weasel III was armed with one M61A1 Vulcan 20 mm six-barrel rotary cannon with 581 rounds of ammunition, one AGM-78 Standard High-Speed Anti-Radiation Missile (HARM),  and two AGM-45A Shrike anti-radiation missiles.
65 F-105Fs were converted to the F-105G Wild Weasel III configuration. Republic Aviation Corporation built 833 F-105 Thunderchief fighter bombers at its Farmingdale, New York, factory. 334 of them were lost in combat during the Vietnam War.
Thud 71's sister ship, Republic F-105G Thunderchief 63-8320, shot down three enemy MiG fighters. It is on display at the National Museum of the United States Air Force, Wright Patterson Air Force Base, Ohio.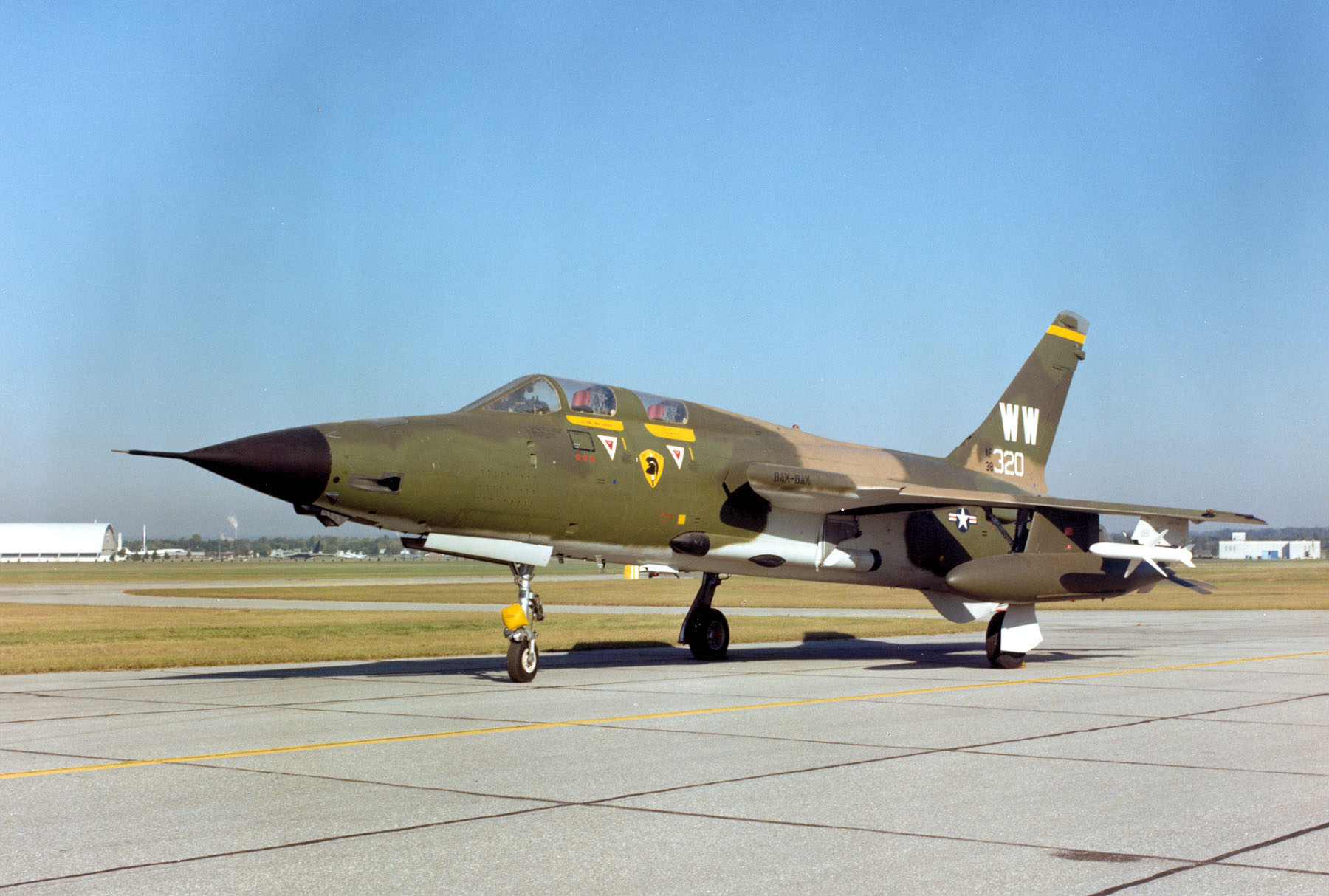 © 2021, Bryan R. Swopes