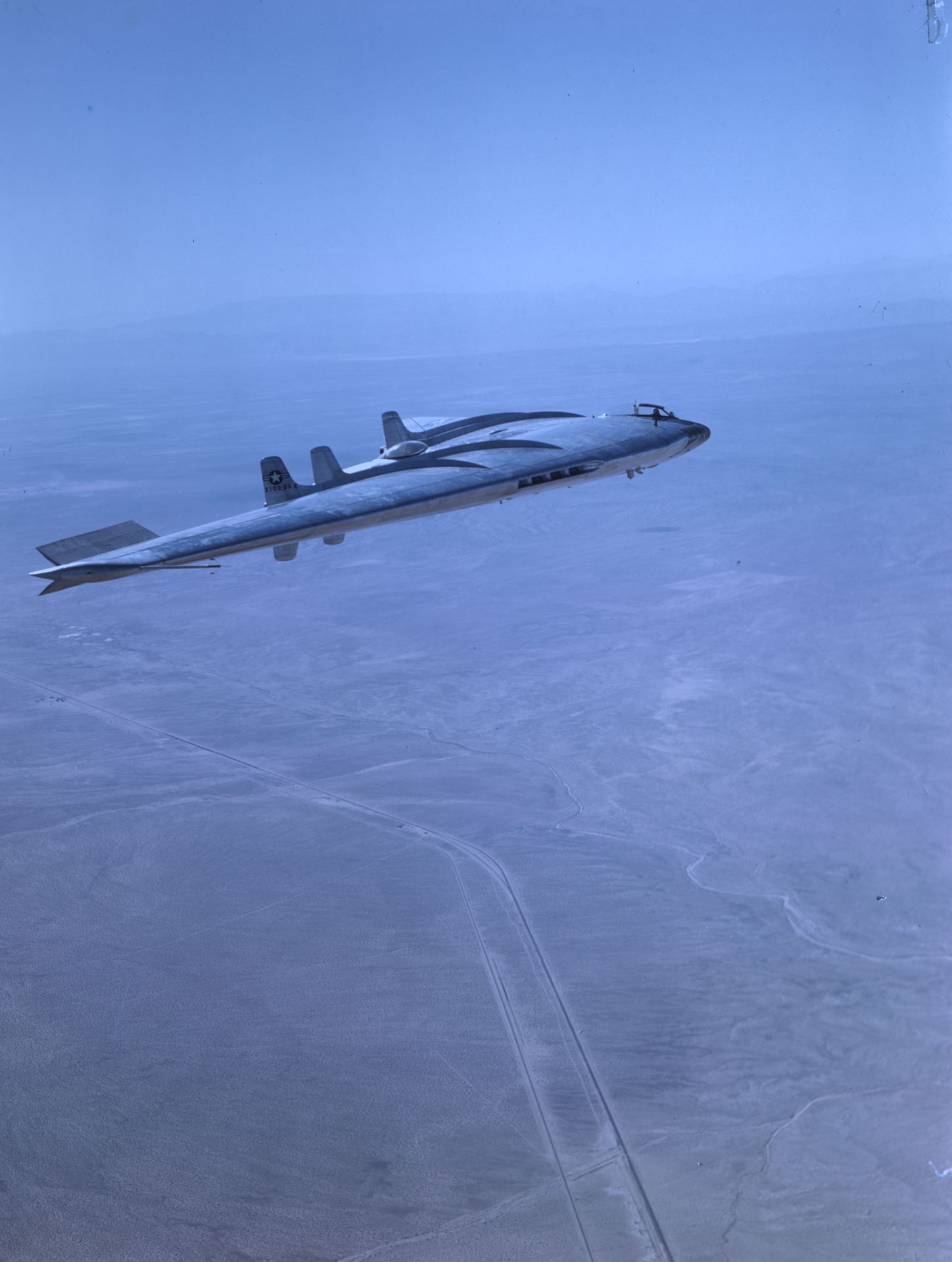 5 June 1948: Flying at 40,000 feet (12,192 meters), north of Muroc Air Force Base, California, the second Northrop YB-49 "flying wing," serial number 42-102368, was undergoing stall recovery performance testing with a crew of five aboard. The pilot was Major Daniel A. Forbes, Jr., United States Air Force, and the co-pilot was Captain Glen W. Edwards.
The aircraft suffered a catastrophic structural failure with the outer wing panels tearing off. The experimental airplane crashed approximately 10 miles (16 kilometers) east of the small desert town of Mojave. The entire crew, which included 1st Lieutenant Edward L. Swindell, flight engineer, and civilian engineers Charles H. LaFountain and Clare C. Lesser, were killed.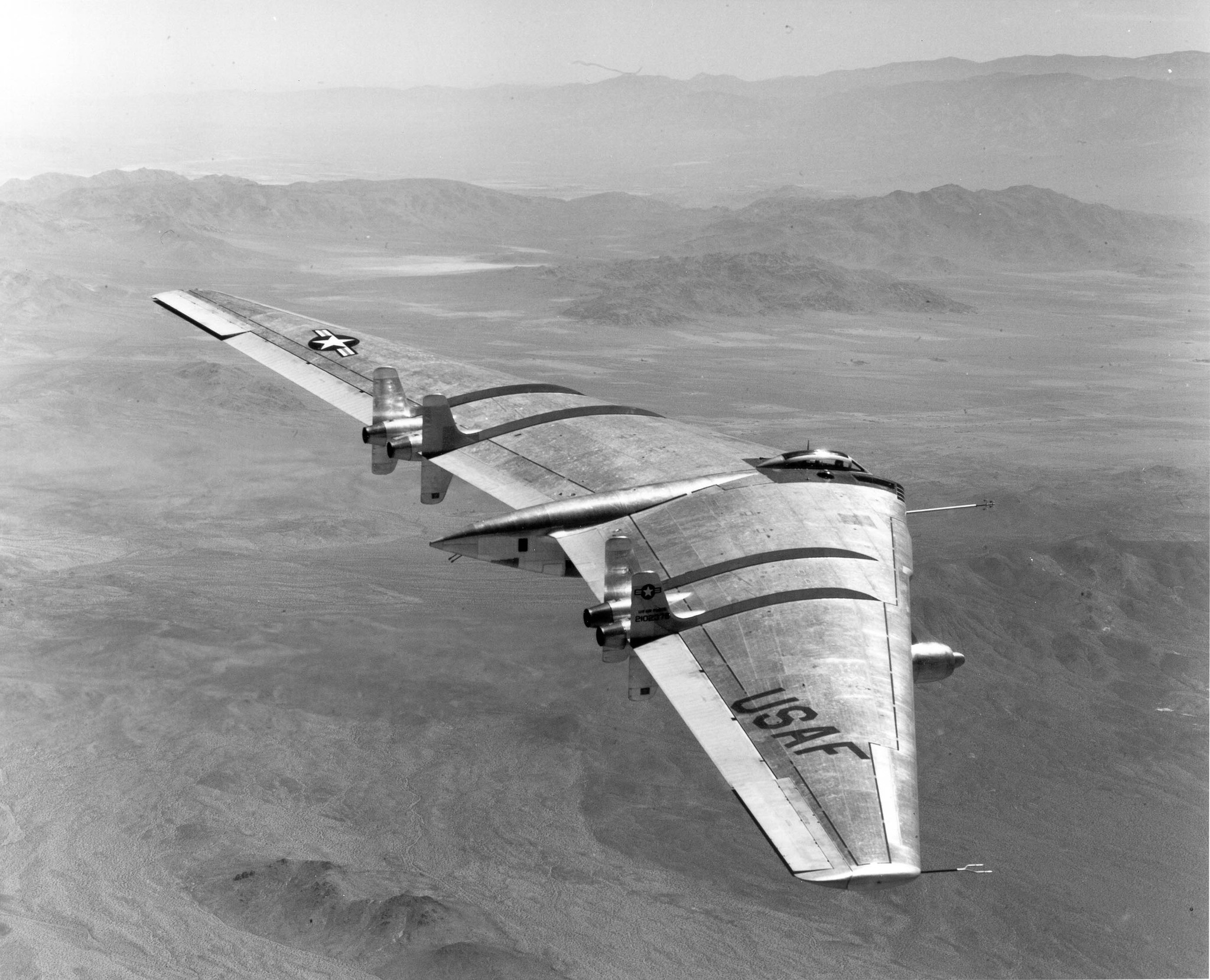 The YB-49 was an experimental jet engine-powered bomber, modified from a propeller-driven Northrop XB-35. It was hoped that the all-wing design would result in a highly efficient airplane because of its very low drag characteristics. However, the design could be unstable under various flight conditions.
A few months after the crash, the first YB-49 was destroyed in a taxiing accident and the project cancelled. It would be 41 years before the concept would be successful with the Northrop B-2 Spirit.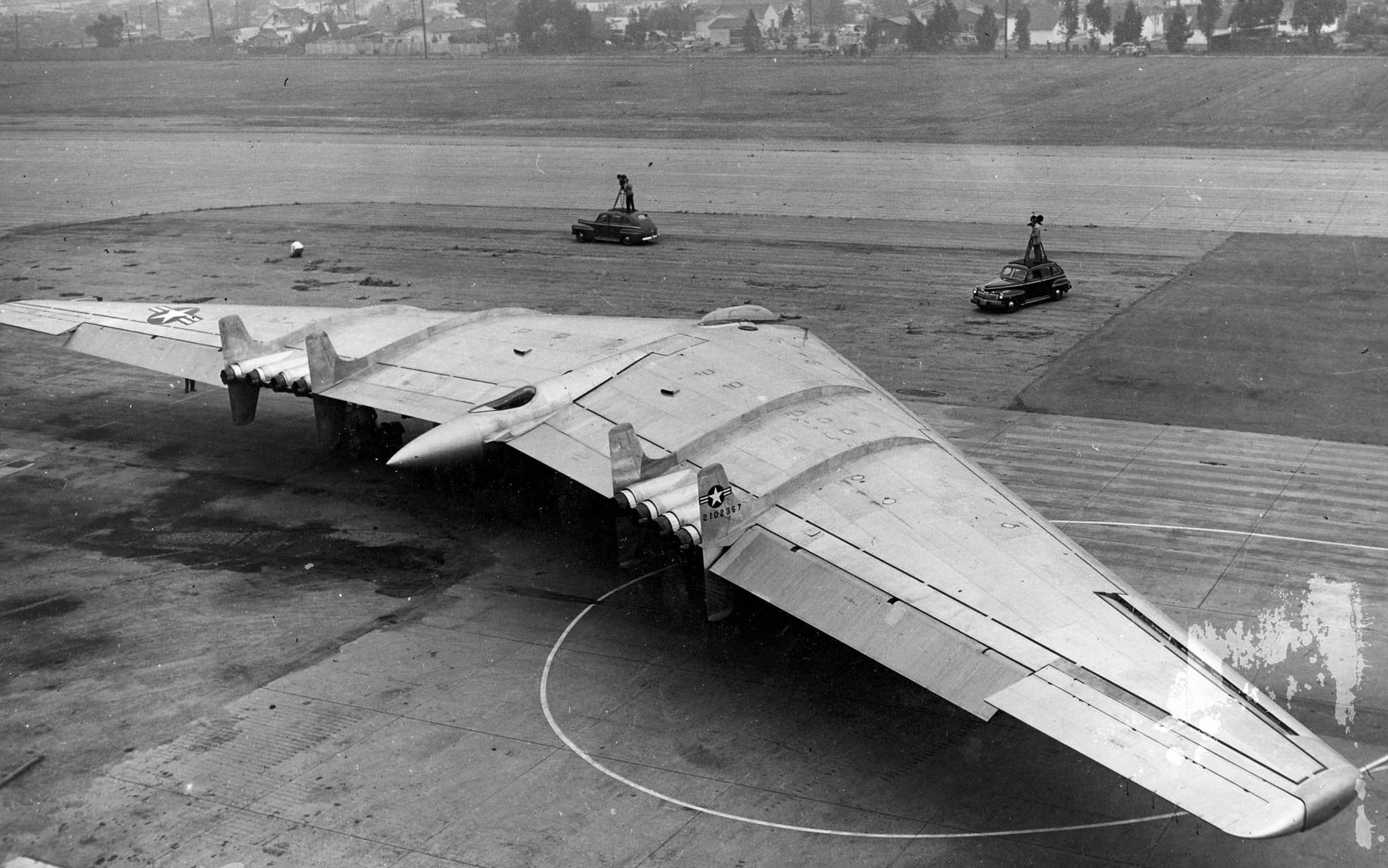 42-102367 had been converted from the second YB-35 pre-production test aircraft. The original Flying Wing's four Pratt & Whitney Wasp Major (R-4360-21) radial engines were replaced by eight Allison J35-A-15 turbojet engines and several aerodynamic improvements were made. The change to jet power  increased the airplane's speed by about 100 miles per hour (161 kilometers per hour) and significantly reduced the vibrations caused by the reciprocating engines, drive shafts and counter-rotating propellers.
The YB-49 was a very unusual configuration for an aircraft of that time. There was no fuselage or tail control surfaces. The crew compartment, engines, fuel, landing gear and armament was contained within the wing. Air intakes for the turbojet engines were placed in the leading edge of the wing. The exhaust nozzles were at the trailing edge. Four small vertical fins for improved yaw stability were also at the trailing edge.
The fins were likely too small. Test pilots complained about the airplane's instability, which made it difficult to maintain course or altitude. A stability augmentation system was required.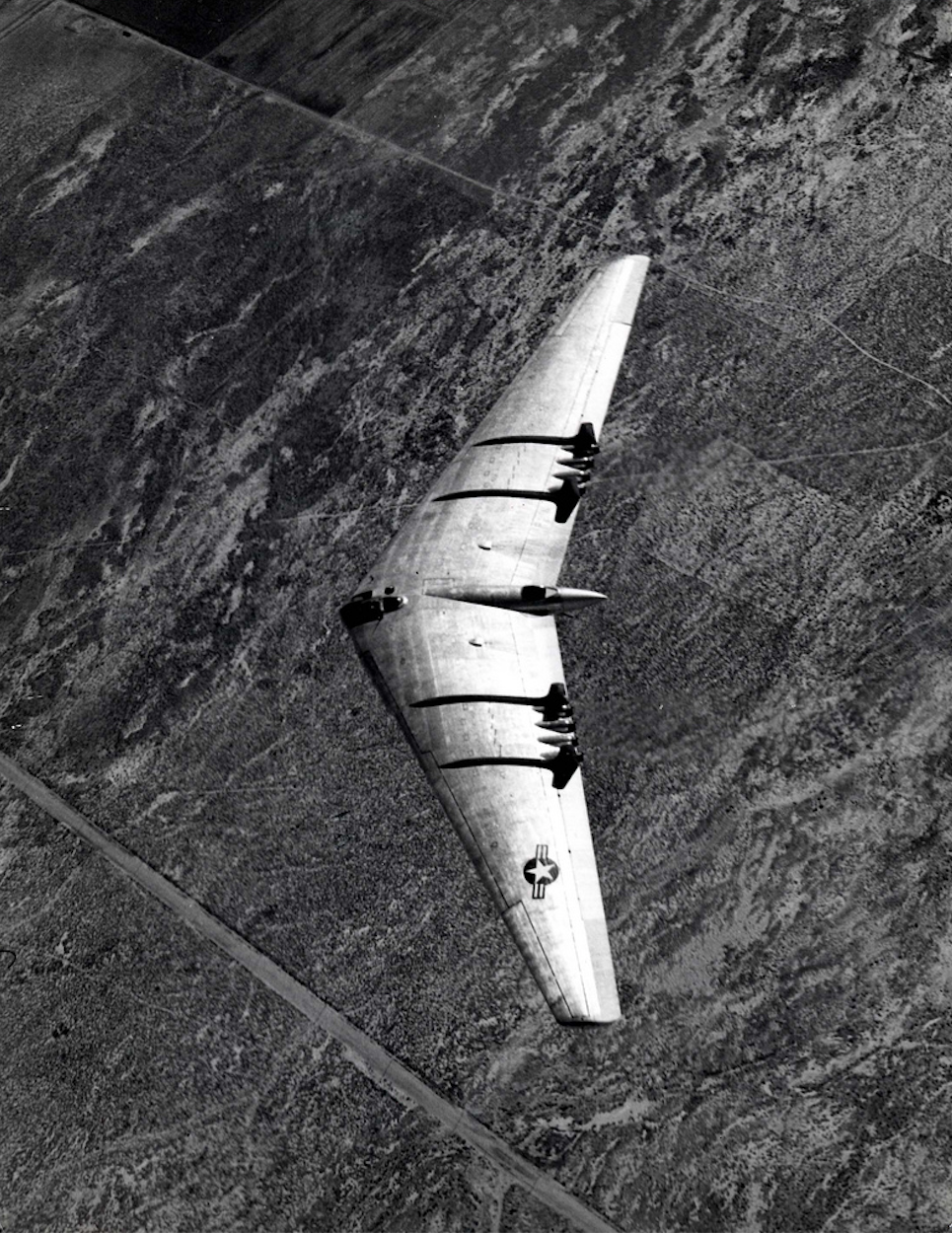 The YB-49 had a length of 53 feet, 1 inch (16.180 meters), wingspan of 172 feet, 0 inches (52.426 meters) and overall height of 15 feet, 2 inches (4.623 meters). It weighed 88,442 pounds (40,117 kilograms) empty, and its maximum takeoff weight was 193,938 pounds (87,969 kilograms).
The Wing defined the airplane. It had an aspect ratio of 7.4:1. The wing's root chord was 37 feet, 6 inches (11.430 meters). The wing was 7 feet, 1.5 inches (2.172 meters) thick at the root. The tip chord was 9 feet, 4 inches (2.844 meters). There was 0° angle of incidence at the root, -4° at the wing tips, and 0° 53′ dihedral. The leading edge was swept aft 26° 57′ 48″, and the trailing edge, 10° 15′ 22″. The wing's total area was 4,000 square feet (371.6 square meters).
The YB-49 was powered by eight General Electric-designed, Allison Engine Company-built J35-A-15 engines. The J35 was a single-spool, axial-flow turbojet engine with an 11-stage compressor section and single-stage turbine. The J35-A-15 was rated at 3,270 pounds of thrust (14.55 kilonewtons) at 7,400 r.p.m., Normal Power, and a Maximum (Military Power) rating of 3,750 pounds of thrust (16.68 kilonewtons) at 7,700 r.p.m. The engine was 14 feet, 0.0 inches (4.267 meters) long, 3 feet, 4.0 inches (1.016 meters) in diameter and weighed 2,400 pounds (1,089 kilograms).
Cruise speed for the YB-49 was 429 miles per hour (690 kilometers per hour). Its maximum speed 499 miles per hour (802 kilometers per hour) at 18,000 feet (5,486 meters) was restricted by Mach number. The airplane could climb from Sea Level to 30,000 feet (9,144 meters) in 21.0 minutes. It had a service ceiling of 49,700 feet (15,149 meters). The YB-49 had a combat radius of 1,611 miles (2,593 kilometers) at 420 miles per hour (676 kilometers per hour), carrying a 10,000 pound (4,536 kilogram) bomb load.
The YB-49 had no defensive armament. It could carry a maximum bomb load of 16,000 pounds (7,257 kilogram) in its internal bomb bay. (Turbulence resulting from open bomb bays significantly decreased bombing accuracy.)
Only two Northrop YB-49s were built. They were tested by Northrop and the Air Force for nearly two years. Although an additional nine YB-35s were ordered converted, the B-49 was not placed into production.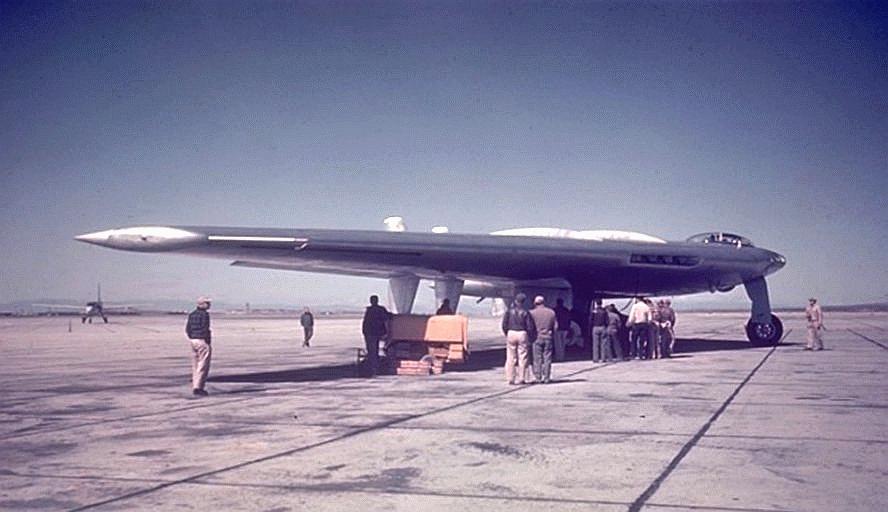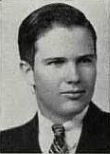 Daniel Hugh Forbes, Jr., was born at Carbondale, Kansas, 20 June 1920. He was the son of Daniel Hugh Forbes, a farmer, and Hattie Rundle Forbes. He attended North High School in Wichita Kansas, and then the Kansas State College at Manhattan, Kansas,

Daniel Forbes enlisted in the United States Army as an aviation cadet at Fort Riley, Kansas, 23 May 1941. On 9 January 1942, he was commissioned a second lieutenant, Air Reserve. Forbes was promoted to the rank of 1st lieutenant, Army of the United States, 25 August 1942, and to captain, A.U.S., 15 August 1944. On 4 October 1945, he was promoted to major, A.U.S.
Major Forbes married Mrs. Edward C. Winkle (née Hazel Marie Moog), 11 March 1948. Her first husband, a 1st lieutenant assigned to the 314th Infantry Regiment, 79th Infantry Division, was killed in action in France, 1 October 1944. Less than three months later, Mrs. Hughes was a widow again.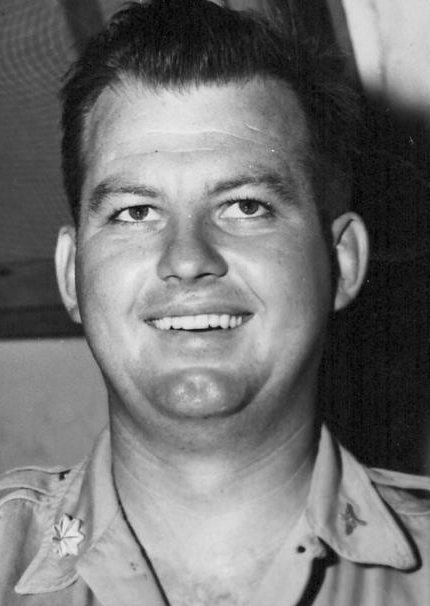 Glen Walter Edwards was born at Medicine Hat, Alberta, Canada, 5 March 1916, the second son of Claude Gustin Edwards, a real estate salesman, and Mary Elizabeth Briggeman Edwards. The family immigrated to the United States in August 1923 and settled near Lincoln, California. He attended Lincoln High School, where he was a member of the Spanish Club and worked on the school newspaper, "El Eco." He graduated in 1936.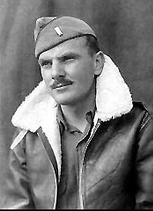 Edwards attended Placer Junior College, Auburn, California, before transferring to the University of California, Berkeley. He graduated in 1941 with a Bachelor of Arts (A.B.) degree, and then enlisted in the United States Army as an aviation cadet, 16 July 1941.
Following pilot training, Edwards was commissioned as a second lieutenant, Air Reserve, 6 February 1942. He was promoted to 1st lieutenant, Army of the United States, 16 September 1942. Lieutenant Edwards flew 50 combat missions in the Douglas A-20 Havoc light bomber with the 86th Bombardment Squadron (Light), 47th Bomb Group, in North Africa and fought at the Battle of the Kasserine Pass, 19–24 February 1943. He was next promoted to captain, 28 April 1943. He also flew during the invasion of Sicily, in late 1943.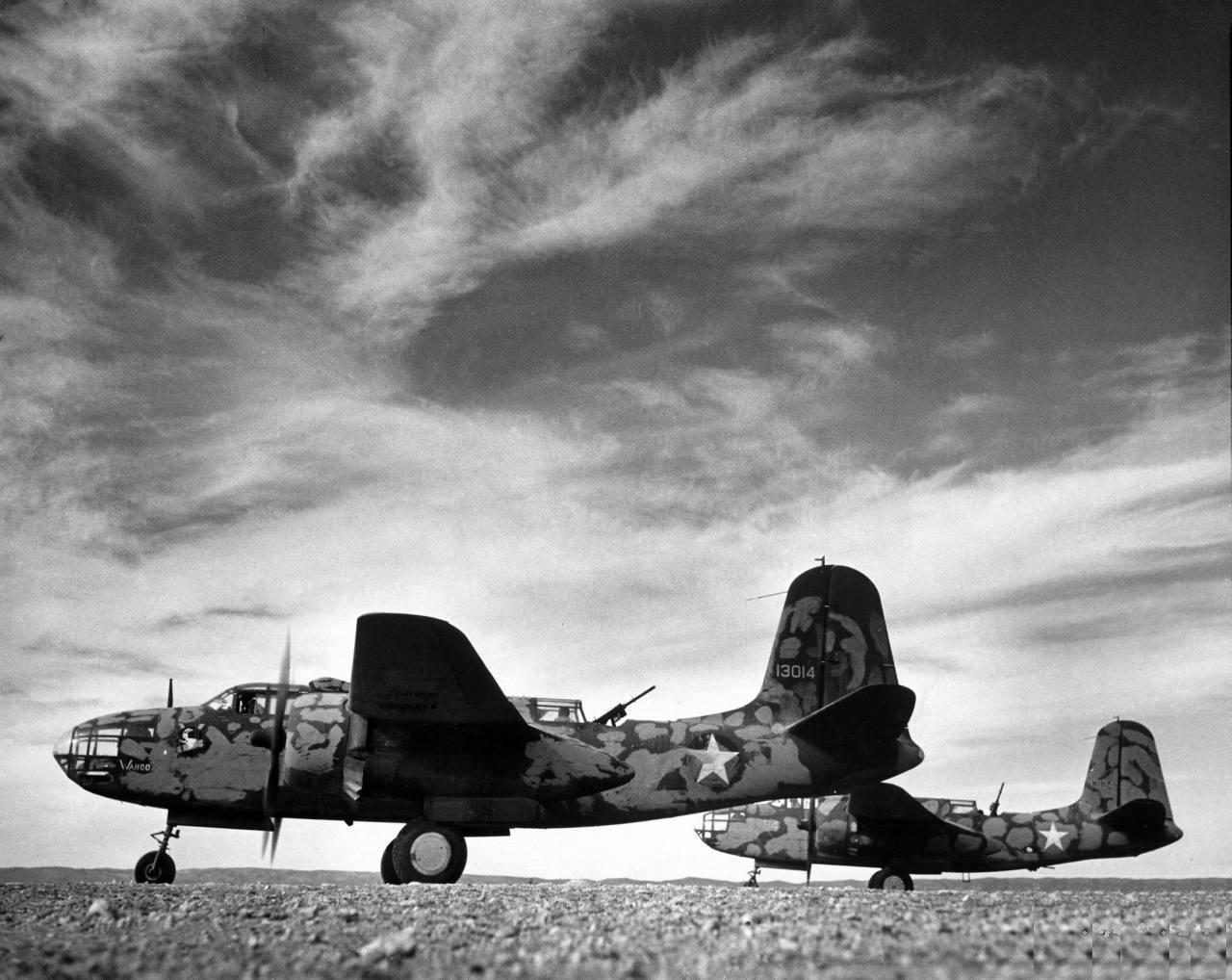 Edwards returned to the United States and was assigned to the Pilot Standardization Board, but was then sent to train as a test pilot at Wright Field. Captain Edwards was assigned as a test pilot in 1944 and tested the Northrop XB-35 and Convair XB-36.After World War II came to an end the U.S. Army and Air Corps were demobilized to 1/16 of their peak levels (from 8,200,000 to 554,000). Edwards was retained but reverted to the rank of 1st lieutenant. He had been awarded the Distinguished Flying Cross and the Air Medal with three oak leaf clusters (four awards). He was transferred to the United States Air Force after it was established as a separate service, 18 September 1947.
Glen Edwards was recommended to fly the Bell X-1 rocket plane, but when that assignment went to Chuck Yeager, Edwards was sent to Princeton University, Princeton, New Jersey, to study aeronautical engineering. He earned a masters degree in engineering (M.S.E.) in 1947.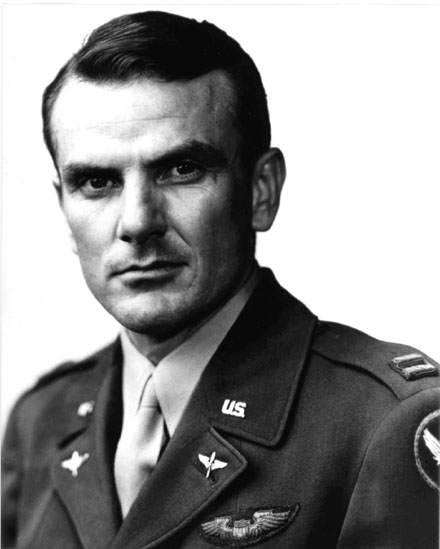 Following the crash of the YB-49, Topeka Air Force Base in Kansas was renamed Forbes Air Force Base. Muroc Air Force Base was renamed Edwards Air Force Base in honor of Captain Edwards.
Captains Edwards' remains were buried at the Lincoln Cemetery, Lincoln, California.
Edward Lee Swindell was born at Currituck, North Carolina, 22 April 1916. He was the son of Rudolph Bridgman Swindell, a machinist's helper at the Portsmouth Navy Yard, and Eula Belle Williams Swindell.
Edward L. Swindell married Miss Edna Irene Hayman, 2 January 1942 at South Mills, North Carolina.
Swindell enlisted in the U.S. Army at Camp Lee, Virginia, 17 March 1942. He was 5 feet, 9 inches (1.75 meters) tall and weighed 156 pounds (70.7 kilograms).
Lieutenant Swindell's remains were buried at the Forest Lawn Cemetery, Norfolk, Virginia.
Charles H. LaFountain was born 12 June 1925 in New York. He was the son of Leo L. LaFountain and Gladys Ethel Taylor LaFountain. He had served in the United States Navy and was a civilian employee of the Air Force. His remains were buried at the Lake Luzerne Cemetery, Lake Luzerne, New York.
Clare C. Lesser was born 27 June 1925 at Joliet, Illinois. He was the fifth of five children of Henry J. Leser, a worker at a wire mile, and Alvina Leser. Leser served as an ensign in the United States Naval Reserve. Like LaFountain, he was also a civilian employee of the Air Force. His remains were buried at St. John's Cemetery, Joliet, Illinois.
© 2018, Bryan R. Swopes