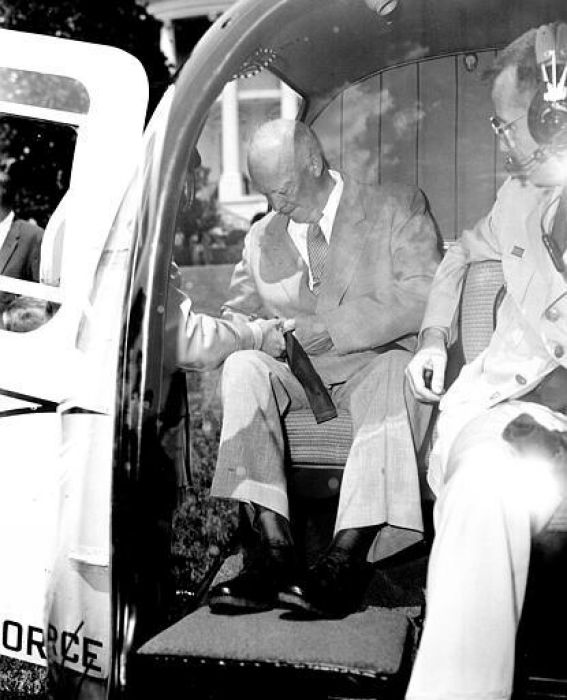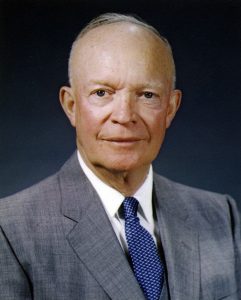 12 July 1957: President Dwight D. Eisenhower was the first United States president to fly in a helicopter when a U.S. Air Force H-13J-BF Sioux, serial number 57-2729 (c/n 1576), flown by Major Joseph E. Barrett, USAF, departed the White House lawn for Camp David, the presidential retreat in the Catoctin Mountains of Maryland. Also on board was a U.S. Secret Service special agent. A second H-13J, 57-2728 (c/n 1575), followed, carrying President Eisenhower's personal physician and a second Secret Service agent.
The helicopter was intended to rapidly move the president from the White House to Andrews Air Force Base where his Lockheed VC-121E Constellation, Columbine III, would be standing by, or to other secure facilities in case of an emergency.
Major Barrett had been selected because of his extensive experience as a combat pilot. During World War II, he had flown the B-17 Flying Fortress four-engine heavy bomber. During the Korean War, Barrett had carried out a helicopter rescue 70 miles (113 kilometers) behind enemy lines, for which he was awarded the Silver Star.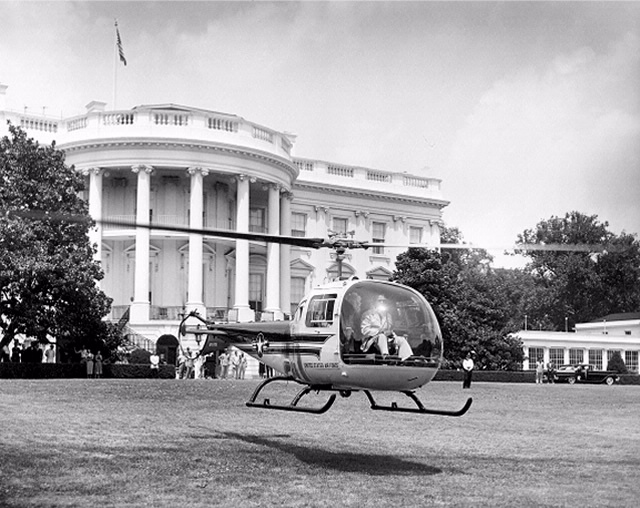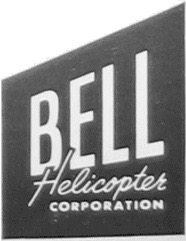 The two helicopters were manufactured by the Bell Helicopter Company at Fort Worth, Texas, and delivered to the Air Force at Wright-Patterson Air Force Base on 29 March 1957. The presidential H-13Js were nearly identical to the commercial Bell Model 47J Ranger. The H-13J differed from the civil Model 47J by the substitution of main rotor blades of all-metal construction in place of the standard laminated wood blades.
Capable of carrying a pilot and up to three passengers, the Ranger was constructed with an enclosed cabin built on a tubular steel framework with all-metal semi-monocoque tail boom. The main rotor diameter was 37 feet, 2.00 inches (11.328 meters) and tail rotor diameter was 5 feet, 10.13 inches (1.781 meters), which gave the helicopter an overall length of 43 feet, 3¾ inches (13.185 meters) with rotors turning. The height (to the top of the centrifugal flapping restraints) was 9 feet, 8 inches (2.946 meters). The helicopter had a maximum gross weight of 2,800 pounds (1,270 kilograms).
The main rotor, in common to all American-designed helicopters, rotates counter-clockwise as seen from above. (The advancing blade is on the helicopter's right.) The anti-torque (tail) rotor is mounted to the right side of an angled tail boom extension, in a tractor configuration, and rotates counter-clockwise as seen from the helicopter's left. (The advancing blade is above the axis of rotation.)
The main rotor is a two-bladed, under-slung, semi-rigid assembly that would be a characteristic of helicopters built by Bell for decades. The main rotor system incorporates a stabilizer bar, positioned below and at right angles to the main rotor blades. Teardrop-shaped weights are placed at each end of the bar, on 100-inch (2.540 meters) centers. The outside diameter of the stabilizer bar is 8 feet, 6.781 inches (2.611 meters). (A similar system is used on the larger Bell 204/205/212 helicopters.)

The H-13J was powered by an air-cooled, normally-aspirated 433.972-cubic-inch-displacement (7.112 liter) AVCO Lycoming VO-435-A1B (O-435-21) vertically-opposed 6-cylinder direct-drive engine. The VO-435 had a compression ration of 7.3:1. It was rated at 220 horsepower at 3,200 r.p.m., maximum continuous power, and 260 horsepower at 3,200 r.p.m. for takeoff. The VO-435-A1B weighed 393.00 pounds (178.262 kilograms).
Engine torque is sent through a centrifugal clutch to a 9:1 gear-reduction transmission, which drives the main rotor through a two-stage planetary gear system. The transmission also drives the tail rotor drive shaft, and through a vee-belt/pulley system, a large fan to provide cooling air for the engine.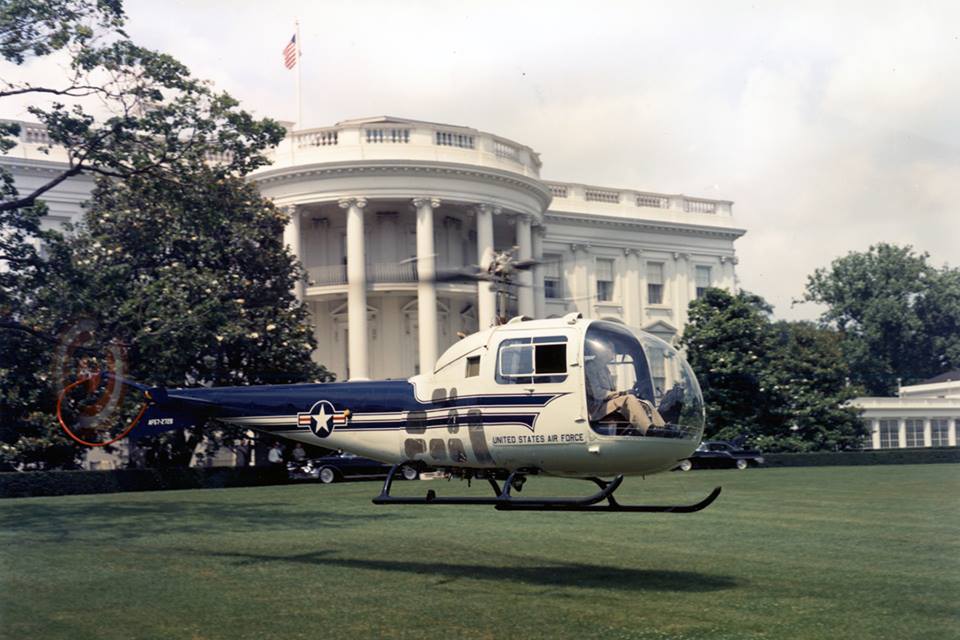 Fuel was carried in two gravity-feed tanks, mounted above and on each side of the engine. The total fuel capacity was 34.0 gallons (128.7 liters)
Cruise speed for the H-13J was 87–98 miles per hour (140–158 kilometers per hour), depending on gross weight, and its maximum speed was 105 miles per hour (169 kilometers per hour). The helicopter had a hover ceiling in ground effect (HIGE) of 8,100 feet (2,469 meters). The service ceiling was 15,000 feet (4,572 meters).
Both H-13J Sioux served as presidential aircraft until 1962. They were redesignated UH-13J and continued in use for VIP transportation until 1967.
Bell UH-13J-BF Sioux 57-2729 is in the collection of the Smithsonian Institution National Museum National Air and Space Museum, Steven V. Udvar-Hazy Center, while its sister ship, 57-2728, is at the National Museum of the United States Air Force, Wright-Patterson Air Force Base, Ohio, along with Columbine III.
© 2018, Bryan R. Swopes