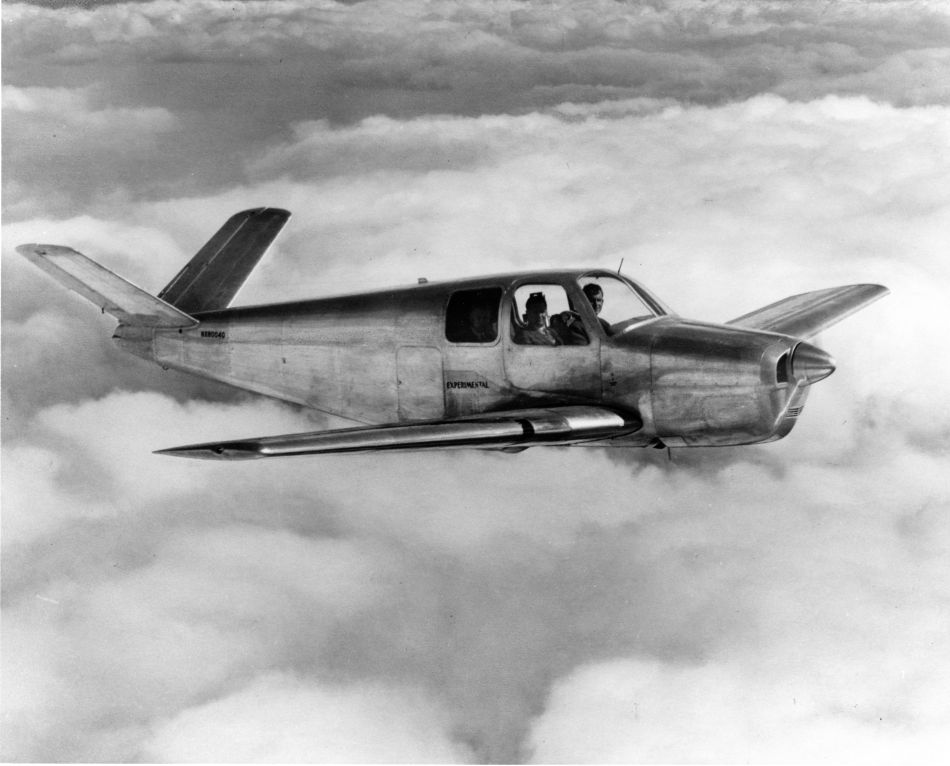 22 December 1945: Test pilot Vern Louis Carstens made the first flight of Beech Aircraft Corporation's new Beechcraft Model 35 Bonanza. Five prototypes were built. The first two were used as static test articles. The third prototype, NX80150, serial number 3, was the first to fly.
". . . Wichita residents and Beech employees "lined the runway" to watch the first flight of the Beechcraft Bonanza. "The town turned out and the plant all but shut down for the occasion," said Vern L. Carstens, retired Beech Aircraft chief test pilot who made the historic flight. From the day of its first flight, the Beechcraft V-tailed Bonanza has set industry standards for high performance single engine aircraft. The Bonanza received its type certificate on March 25, 1947. . . ."
—The Salina Journal, Salina, Kansas, Sunday, 27 December 1970, at Page 25, Columns 1–7.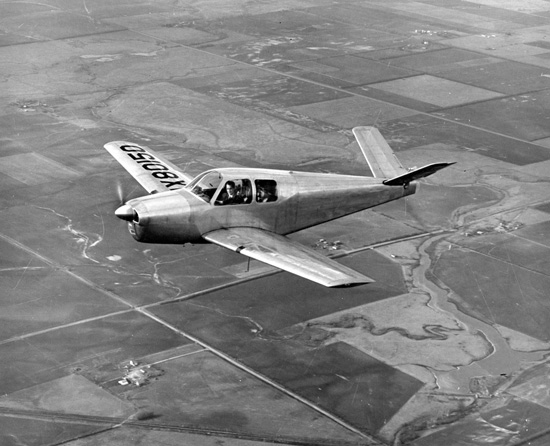 On 26 October 1946, one of the Model 35 prototypes, possibly s/n 3, was destroyed:
During a dive test to determine the maximum dive velocity, a landing gear door buckled under the air loads, causing the door to be forced open. Air was then forced into the landing gear recess on the underside of the wing, and internal pressure built up to the point where the wing failed.
—Department of Transportation, Transportation Systems Center Beech V-Tail Bonanza Task Force Report, 1985.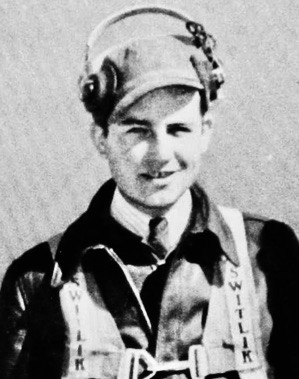 Harry Lawrence Reiter, Jr., Chief Flight Research Pilot for Beechcraft, was killed when the airplane broke up and crashed 15 miles east of Wichita. An observer, Robert King, was able to escape.
The registration for NX80150 was cancelled 18 May 1948.
The Beechcraft Model 35 Bonanza is a single-engine, four-place all-metal light civil airplane with retractable landing gear. The Bonanza has the distinctive V-tail with a 30° dihedral which combined the functions of a conventional vertical fin and rudder, and horizontal tail plane and elevators.
The Model 35 was 25 feet, 2 inches (7.671 meters) long with a wingspan of 32 feet, 10 inches (10.008 meters) and height of 6 feet, 6½ inches (1.994 meters). It had an empty weight of 1,458 pounds (661 kilograms) and gross weight of 2,550 pounds (1,157 kilograms.)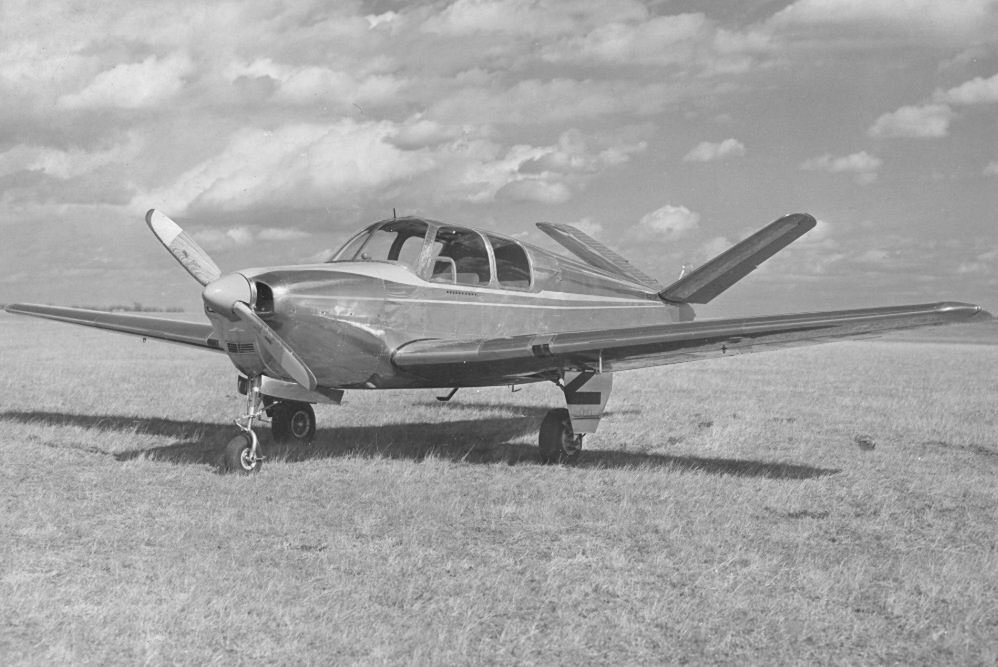 The first flyable prototype, NX80150, was equipped with an air-cooled, normally aspirated 289.31-cubic-inch-displacement (4.741 liter) Lycoming O-290-A horizontally-opposed 4-cylinder engine, rated at 125 horsepower at 2,600 r.p.m., and 130 horsepower at 2,800 r.p.m (five minute limit).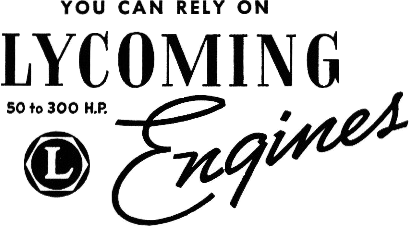 Prototype number four, s/n 4, NX80040, and the following production models used a more powerful air-cooled, 471.24-cubic-inch-displacement (7.72 liter) Continental Motors, Inc., E185 horizontally-opposed 6-cylinder engine. This engine was rated at 165 horsepower at 2,050 r.p.m. The Bonanza used a two-bladed electrically-controlled variable-pitch R-100 propeller with a diameter of 7 feet, 4 inches (2.235 meters), made of laminated wood.
The "V-tail Bonanza" had a maximum speed of 184 miles per hour (296 kilometers per hour) at Sea Level, and a cruise speed of 175 miles per hour (282 kilometers per hour) at 10,000 feet (3,048 meters). Its service ceiling was 18,000 feet (5,486 meters). With full fuel, 40 gallons (151.4 liters), the airplane had a range of 750 miles (1,207 kilometers).
The Beechcraft 35 was in production from 1947 to 1982. More than 17,000 Model 35s and the similar Model 36 were built.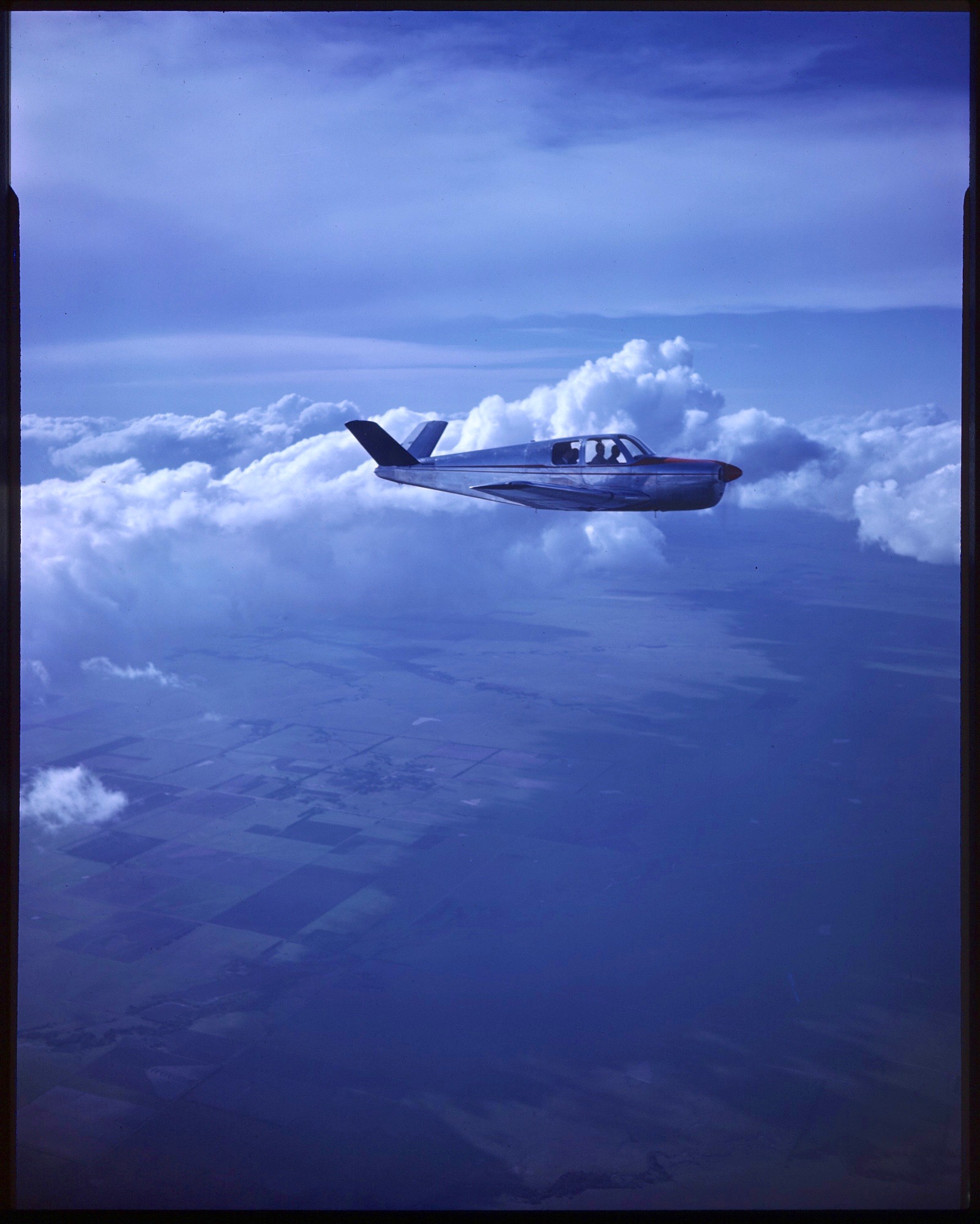 © 2020, Bryan R. Swopes