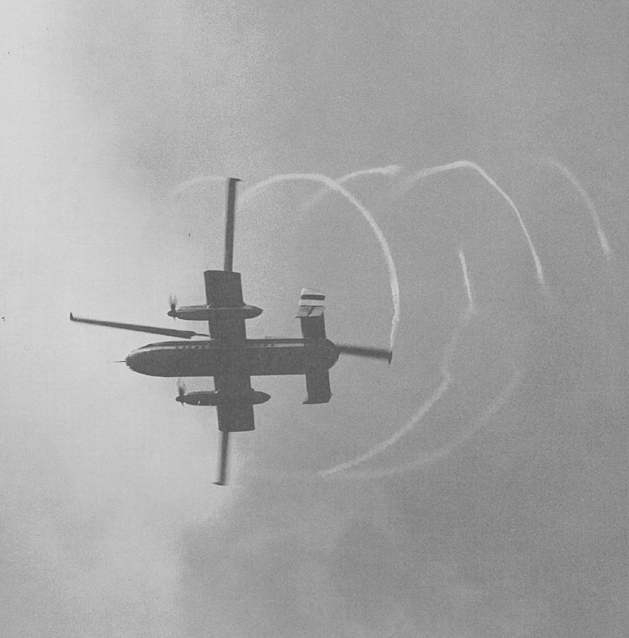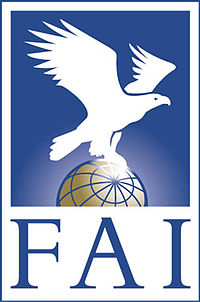 5 January 1959: At White Waltham, Berkshire, England, test pilots Ron Gellatly and Johnny Morton set a Fédération Aéronautique Internationale (FAI) World Record for Speed Over a Closed Circuit of 100 Kilometers Without Payload, flying the prototype Fairey Rotodyne, XE521, to an average speed of 307.22 kilometers per hour (190.90 miles per hour)¹ over a course from White Waltham Aerodrome to Wickham, Radley Bottom, Kintbury and back to White Waltham. The prototype was not a helicopter, but a compound gyroplane. Its record is for Class E (Rotorcraft), Sub-Class E-2 (Rotodyne).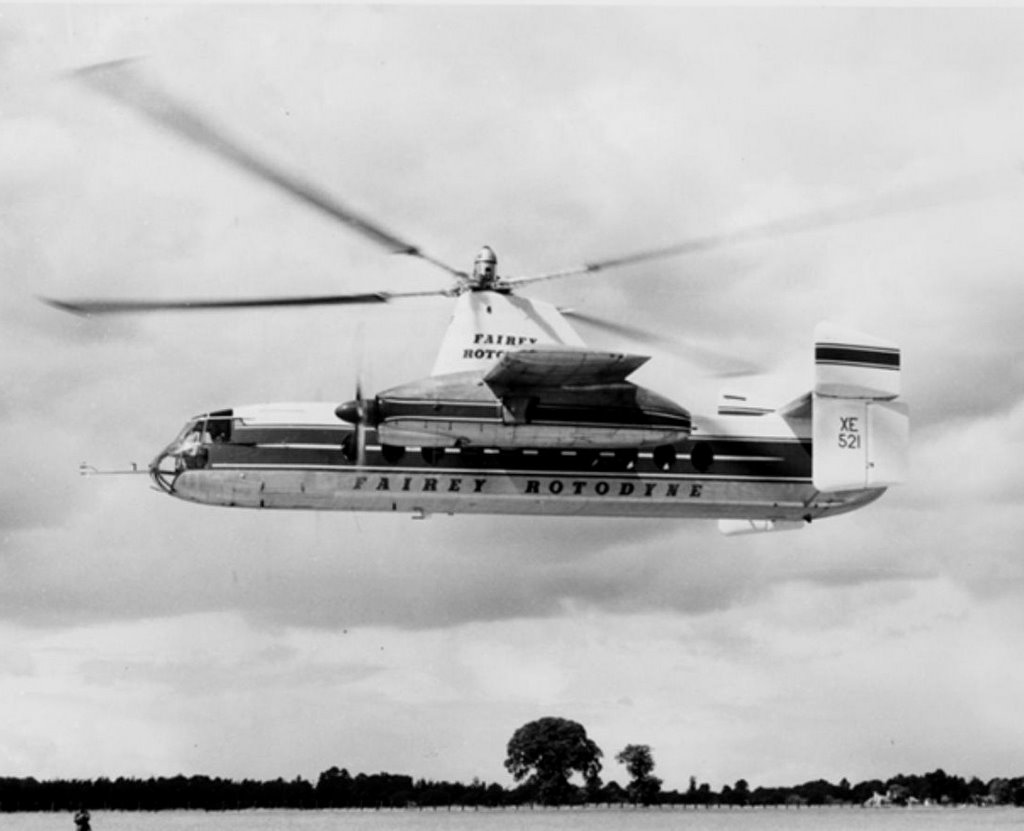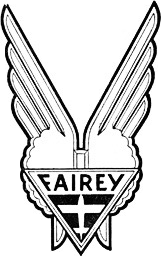 The Fairey Rotodyne was a unique aircraft. Like a helicopter, it was capable of hovering and low-speed translating flight. The main rotor had both cyclic and collective pitch and provided roll and pitch control. Unlike a helicopter, though, thrust for forward flight was provided by two turboprop engines. Varying the propellers' pitch provided yaw control for the aircraft until about 80 knots, when the twin rudders were sufficiently effective. As the Rotodyne accelerated in forward flight, the stub wing provided increasing lift and at about 60 knots, the main rotor tip jets were turned off. The main rotor continued to turn in autorotation, as in a gyrocopter.
Flight controls were similar to those of a helicopter, with a cyclic stick and collective lever with a twist throttle. The pedals, though, rather than controlling a tail rotor, varied the propeller blades' pitch and rudder angle. The elevators were controlled by electric trim motors.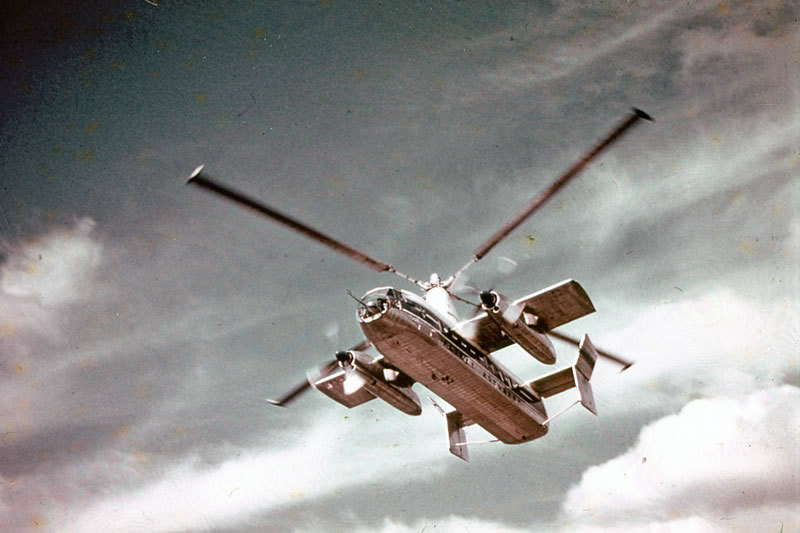 Helicopters' maximum speed is limited by retreating blade stall. The Rotodyne's stub wing provided 60% of lift in cruise flight, allowing the main rotor to operate with a lower blade angle of attack, delaying the onset of the stall. With propulsion provided by the turboprop engines rather than the main rotor, blade angle is further reduced. This allowed the Rotodyne to reach higher speeds in flight than a conventional helicopter.
Also, unlike a helicopter, the Rotodyne's rotor was not driven by engines through a gear reduction transmission, reducing the aircraft's weight and complexity. Drive was accomplished by tip-mounted high pressure jet engines ("tip jets"), fueled by compressed air supplied by the turboprop engines and turbine fuel. There is no torque effect, so an anti-torque rotor (tail rotor) is not required. The rotor mechanism is simplified because lead-lag hinges are not necessary.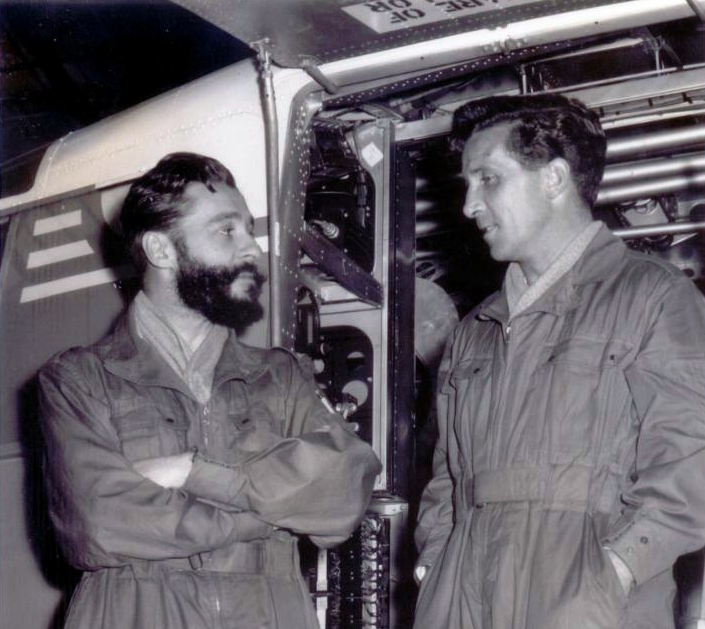 XE521 made its first flight 6 November 1957 at White Waltham with Ron Gellatly and Johnny Morton in the cockpit.
The Rotodyne's four-blade main rotor used symmetrical airfoils. It was 90 feet (27.432 meters) in diameter and the blade tip speed was 720 feet per second (219.5 meters per second). The blades had a chord of 2 feet, 3 inches (0.686 meters). The rotor blades were built of steel for strength, fatigue life and resistance to corrosion. The leading edge spar was machined from a 35 foot rolled steel billet and the rear spar was fabricated of layered stainless steel. The airfoil is shaped by pierced stainless steel ribs. The steel skin was a single sheet, joined at the trailing edge.
The wing span was 46 feet, 6 inches (14.173 meters). The engines and main landing gear were  carried in long nacelles mounted under the wing.
The Rotodyne's fuselage was 58 feet, 8 inches (17.812 meters) long. The cabin has a length of 46 feet (14.021 meters) and is 8 feet (2.438 meters) wide and 6 feet (1.829 meters) high, providing space for 40 passengers or up to 9,000 pounds (4,082.3 kilograms of cargo. Clamshell doors at the aft end provided for cargo loading. Overall height of the aircraft was 22 feet, 2 inches (6.756 meters).

The Rotodyne was powered by two Napier & Son Eland NEl.3 turboprop engines with a maximum rated power of 2,805 shaft horsepower and 500 pounds of thrust at 12,500 r.p.m. for takeoff. Maximum continuous power was 2,180 shaft horsepower and 420 pounds of thrust. These engines drove four-bladed Rotol propellers with a diameter of 13 feet (3.962 meters). An auxilary compressor at the rear of the engine supplied compressed air for the main rotor tip-jets. Each engine supplied power to opposite pairs of of rotor blades at 250 °C. (482 °F.)
The prototype had an empty weight of 24,030 pounds (10,899.9 kilograms)
A video from the Fairey Aviation Film Unit can be seen at:
https://www.youtube.com/watch?v=y9633v6U0wo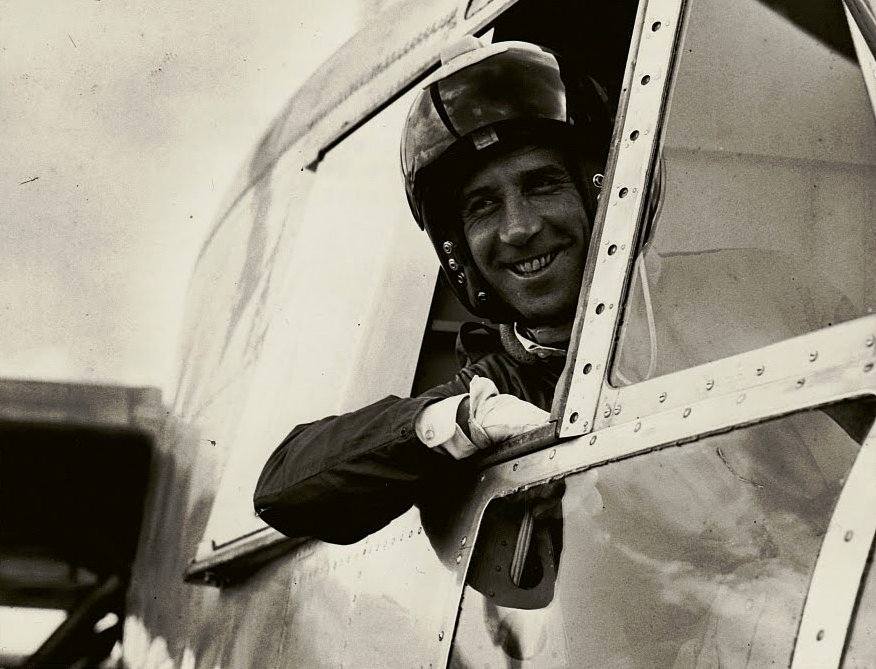 Squadron Leader Wilfred Ronald Gellatly, OBE AFC, RNZAF (Retired) was born in 1920. He joined the Royal New Zealand Air Force in 1940. During the last year of World War II, he commanded No. 243 Squadron, Royal Air Force.
Squadron Leader Gellatly attended the Empire Test Pilot School in 1950, and for the next four years was the helicopter flight commander at the Aeroplane and Armament Experimental Establishment at RAF Boscombe Down. In the New Year's Honors, 1 January 1954, the squadron leader was awarded the Air Force Cross. He joined Fairey Aviation ,Ltd., as Chief Test Pilot. On 8 June 1963, Gellatly was awarded the Queen's Commendation for Valuable Service in the Air.
After the merger with Westland Helicopters at Yeaovil in 1967, Gellatly remained with the company as chief test pilot. On 1 January 1970, Squadron Leader Gellatly was invested an Officer of the Most Excellent Order of the British Empire. He retired from Westland in 1976 after having made the first flight of five new helicopters, including the Lynx. He died in 1983 at the age of 62 years.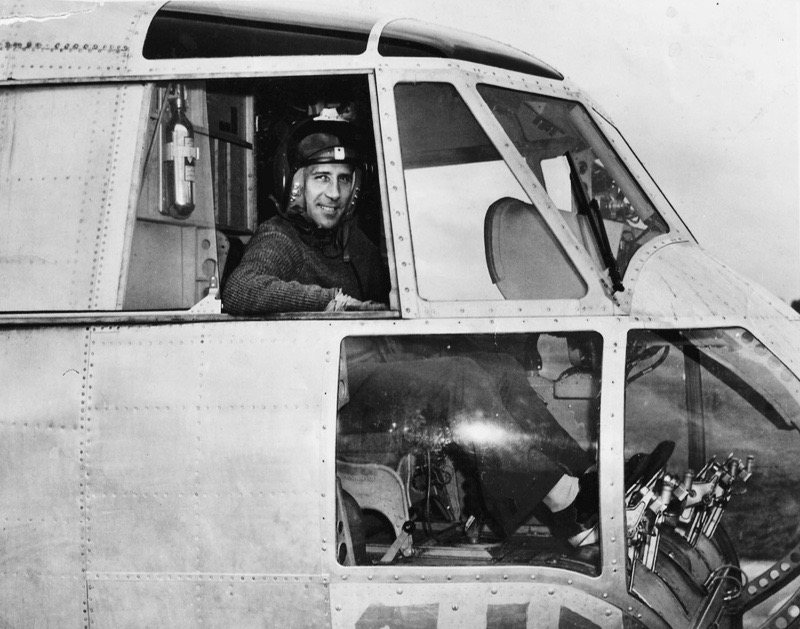 Lieutenant Commander John George Peter Morton, OBE, Royal Navy Fleet Air Arm, was born in Lancashire, 10 May 1925. At Age 17 he entered the Fleet Air Arm and was sent to the United States for flight training. He was assigned to fly the Chance Vought Corsair from the aircraft carrier HMS Colossus. (One of the airplanes he flew, Corsair KD431, is on display at the Fleet Air Arm Museum, Yeovilton.)
Johnny Morton served as a test pilot on Supermarine Seafire XVs following the war, and then flew the Seafire from HMS Theseus, and then Sea Furies Sea Hawks from HMS Centaur.
The Royal Navy assigned Johnny Morton to Fairey Aviation as a test pilot. On 14 June 1969, Senior Test Pilot Morton was awarded the Queen's Commendation for Valuable Service in the Air.
Morton was the lead test pilot on the Westland Wasp and the naval variant of the Westland Lynx. He made the first flight of Lynx XX469, 25 May 1972. On 21 November, XX469 suffered a tail rotor failure and was damaged beyond repair. Johnny Morton and his copilot were slightly injured. He was also the first pilot to roll the Lynx.
On 1st January 1975, John Peter George Morton was appointed an Officer of the Most Excellent Order of the British Empire.
After retiring from Westland, Morton and his wife moved to New Zealand. Lieutenant Commander John George Peter Morton OBE, died there, 4 May 2014, at the age of 88 years.
¹ FAI Record File Number 13216
© 2019, Bryan R. Swopes