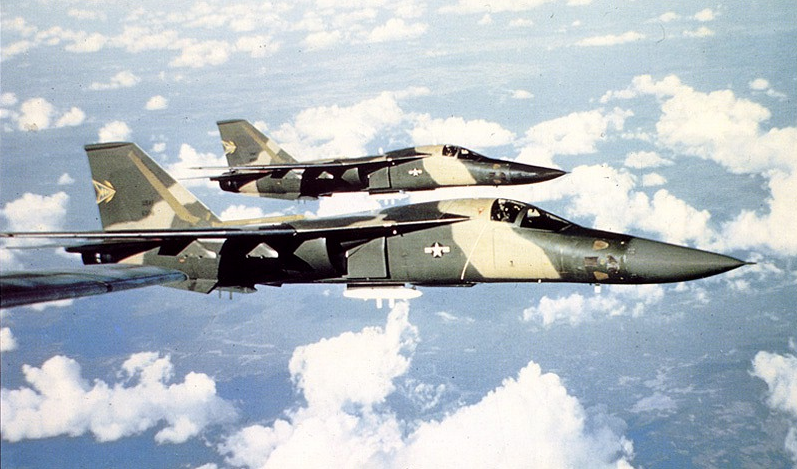 25 March 1968: A U.S. Air Force General Dynamics F-111A, 66-0018, flown by Colonel Ivan H. ("Ike") Dethman and Captain Richard M. Matteis, completed the type's first combat mission when it attacked a munitions dump on Tiger Island (Cồn Cỏ), off the coast of North Vietnam. The precision strike mission was flown at night with heavily overcast skies. The fighter bomber carried twelve 750 pound (340 kilogram) M117 bombs on hard points under its wings, and approached the target from the west at 500 knots (575 miles per hour/926 kilometers per hour) at just 500 feet (152 meters) above the ground.
Colonel Dethman later told news reporters that, "the computers clicked over, crosshairs on target, bombs away." The weather prevented a post-strike damage assessment, but the mission was considered successful.
Three additional single-aircraft combat missions were flown by F-111As that night.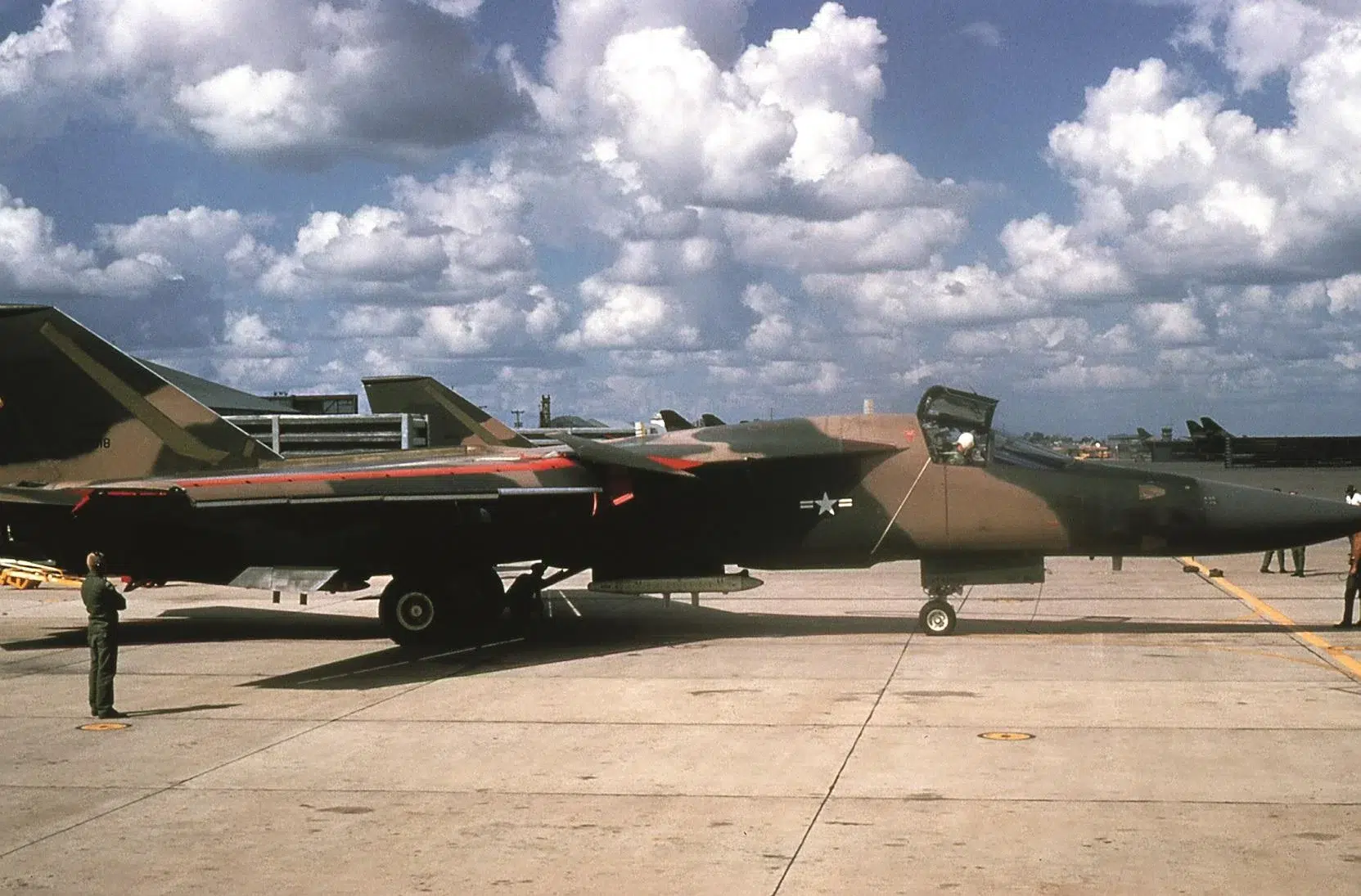 66-0018 was one of six "Combat Lancer" F-111As assigned to Detachment 1, 428th Tactical Fighter Squadron, under the command of Colonel Dethman, which had deployed to Takhli Royal Thai Air Force Base in Thailand from Nellis AFB in the United States just a few days earlier. (Colonel Dethman had previously commanded "Harvest Reaper," an Air Force project to train pilots to fly the F-111A.)
Two F-111As were lost in the next five days. The aircraft and their crews have never been found. A third went down the following month, but its crew were able to use the escape module and were rescued. Their aircraft had suddenly pitched up and rolled over out of control. It was later determined that a hydraulic actuator valve in the stabilator control system had failed.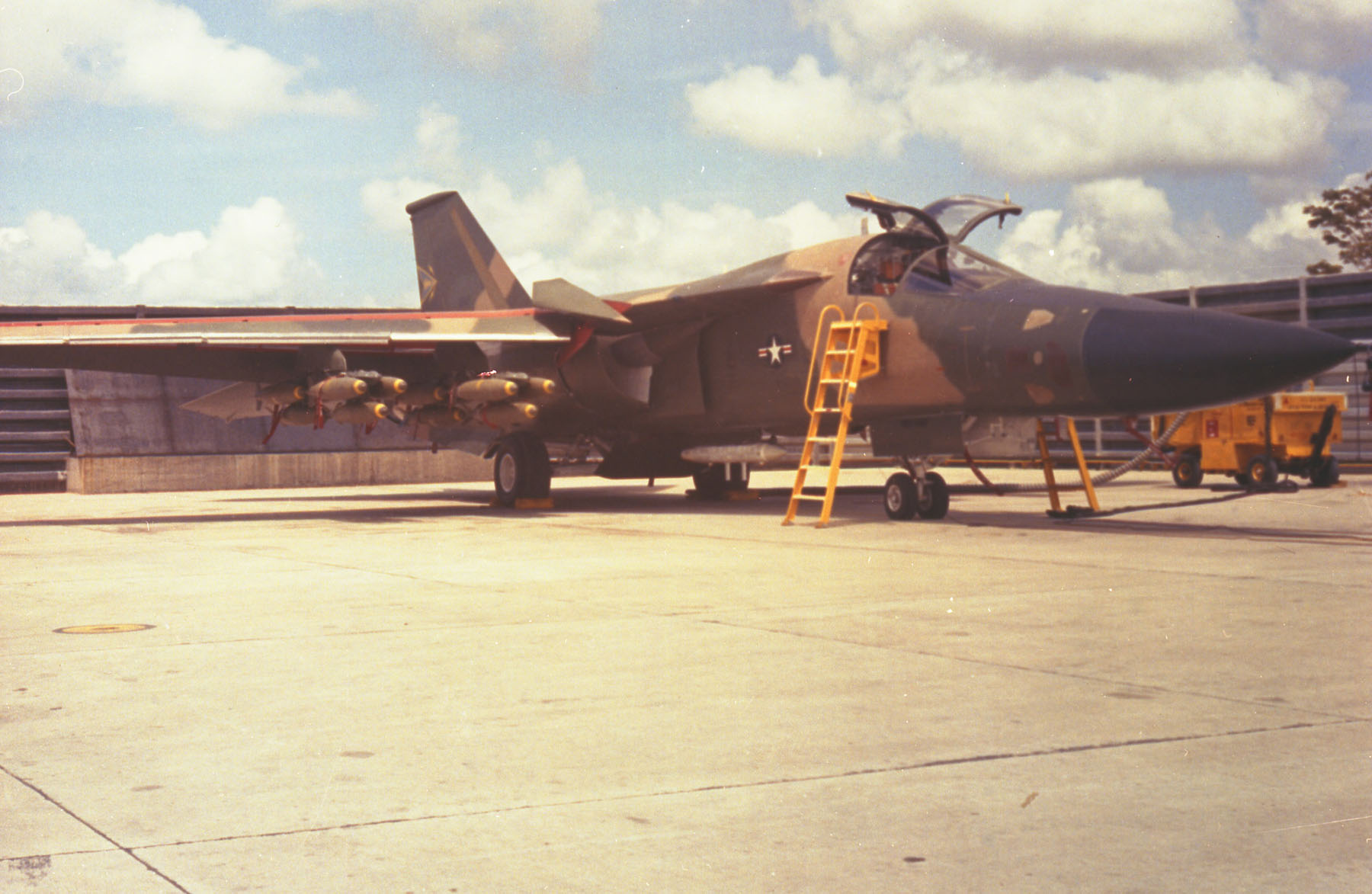 The General Dynamics F-111A is a large twin-engine strike fighter with variable-sweep wings produced for the U.S. Air Force. A second variant, the F-111B, was intended for the U.S. Navy as an interceptor, but proved to be too heavy to operate from aircraft carriers and was not put into production. The F-111A made its first flight at Carswell AFB, Texas, 24 December 1965.
The F-111 was a result of Secretary of Defense Robert S. McNamara's controversial "TFX" program which would use a single aircraft for both the Air Force and Navy as a fighter, interceptor, tactical fighter bomber, and strategic nuclear-armed bomber. Trying to make a single aircraft perform these different missions resulted in very high cost overruns, and the aircraft gained a negative perception in the news media. The F-111A and its follow-on, the FB-111, however, proved to be very effective in precision strike missions.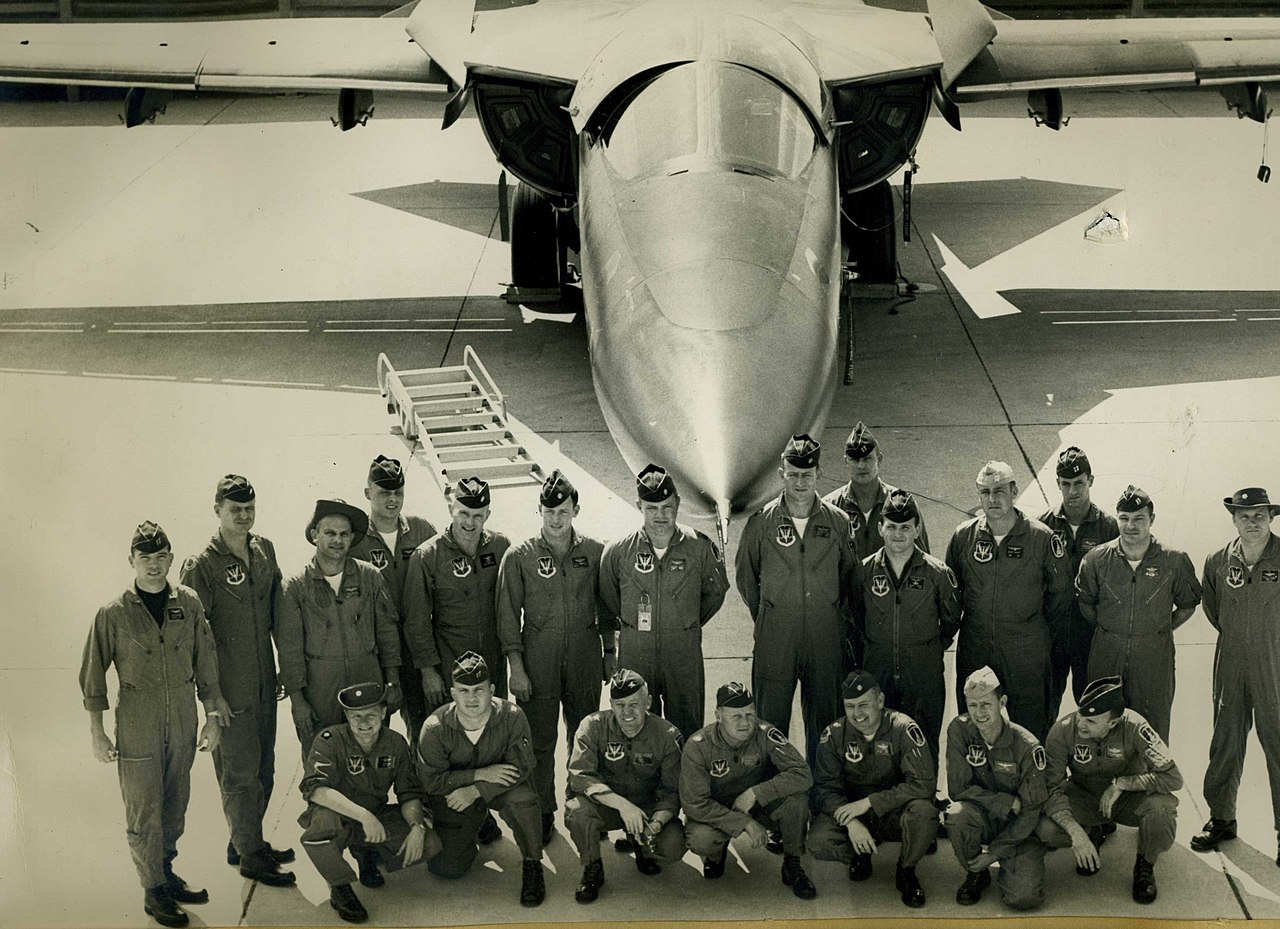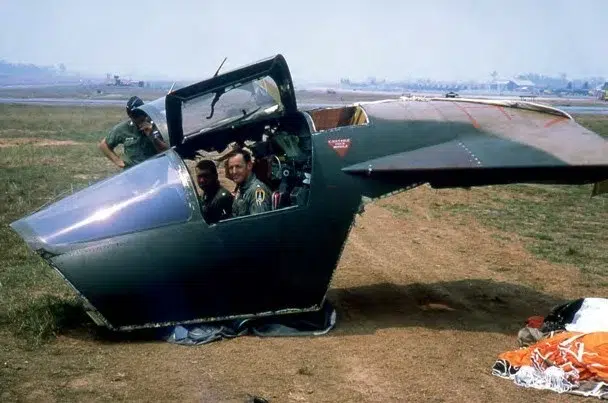 The F-111A was flown by two pilots seated side-by-side in the cockpit. Pre-production aircraft were equipped with ejection seats, but production aircraft had a crew escape module which protected the pilots from the effects of supersonic speed. The airplane incorporated a state-of-the art terrain-following radar and and inertial guidance computer system that allowed it to fly at a constant height above the ground. The radar searched ahead and to the sides of the aircraft's flight path and the computer calculated pitch angles to clear obstacles ahead. The system could be programmed to fly the aircraft as low as 200 feet (61 meters) above the ground. These "nap of the earth" profiles allowed the F-111A to avoid detection by radar.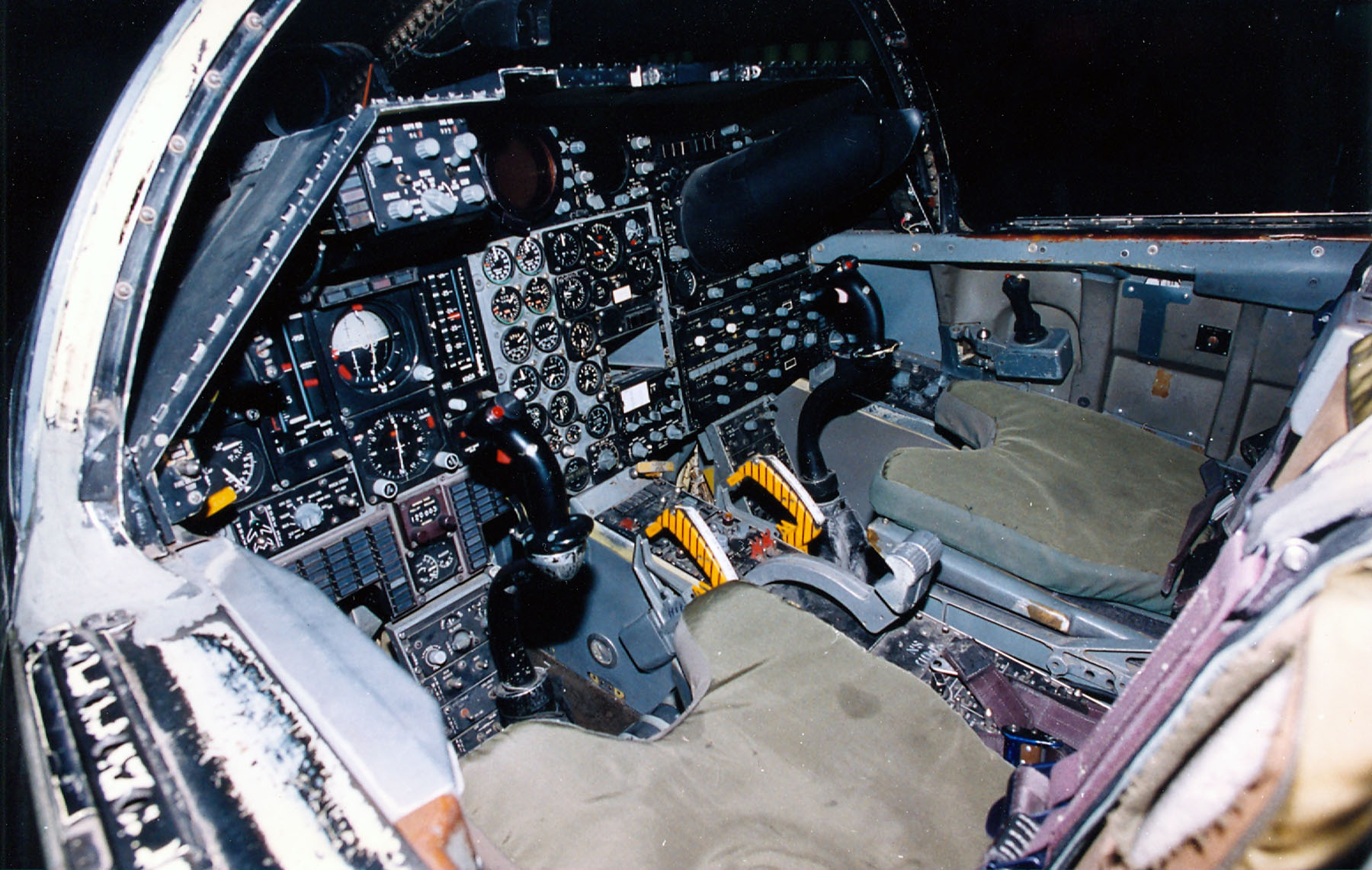 The F-111A is 73 feet, 10.6 inches (22.520 meters) long. With the wings fully extended, their span is 63 feet, 0.0 inches (19.202 meters), and fully swept, 31 feet, 11.4 inches (9.738 meters). The airplane has an overall height of 17 feet 1.4 inches (5.217meters). The wings are capable of being swept from 16° to 72.5°. Roll control is transferred to the stabilators when the wings sweep to 42°.  It has an empty weight of 46,172 pounds (20,943 kilograms) and maximum takeoff weight of 92,657 pounds (42,029 kilograms).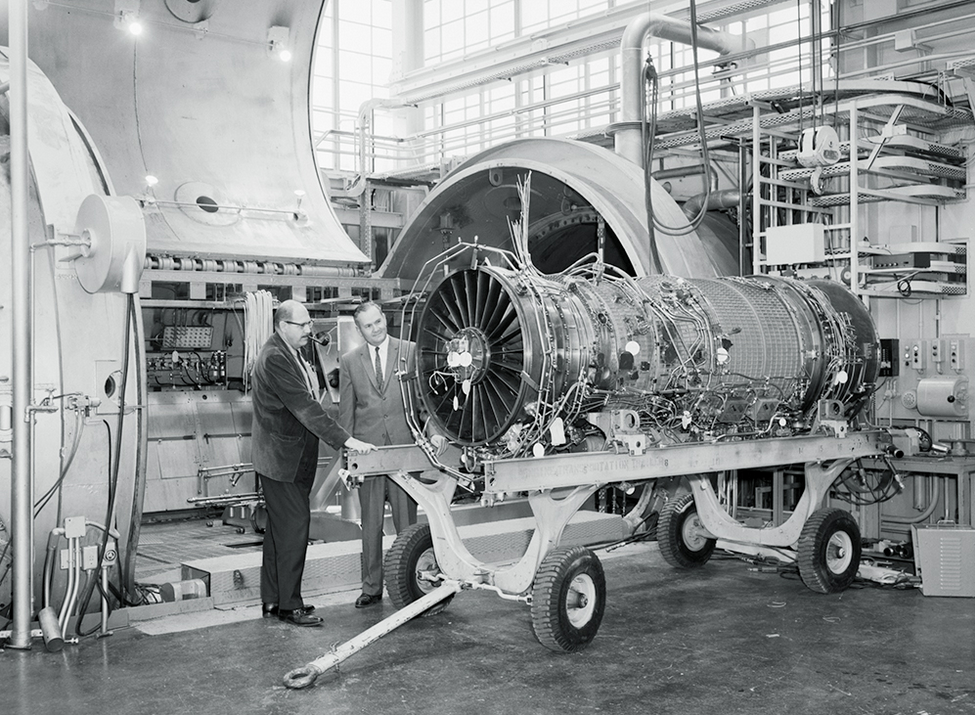 Early production F-111As were powered by two Pratt & Whitney TF30-P-1 afterburning turbofan engines, with following aircraft powered by the TF30-P-3. Both are two-spool axial-flow engines with a 3-stage fan section, 13-stage compressor (6 low- and 7 high-pressure stages) and 4-stage turbine (1 high- and 3 low-pressure stages). Both engines are rated at 10,750 pounds of thrust (47.82 kilonewtons), and 18,500 pounds of thrust (82.29 kilonewtons) with afterburner. Both the -1 and -3 engines are 19 feet, 7.5 inches (5.982 meters) long, 4 feet, 0.0 inches (1.219 meters) in diameter, and weigh 3,869 pounds (1,755 kilograms).
The F-111A had a maximum speed of Mach 1.2 at Sea Level, (913 miles per hour/1,225 kilometers per hour), and Mach 2.2 (1,452 miles per hour/2,336 kilometers per hour) at 60,000 feet (18,288 meters). With 5,015.5 gallons (18,985.7 liters) of internal fuel, its range was 3,165 miles (5,094 kilometers). The aircraft could carry external fuel tanks and was capable of inflight refueling.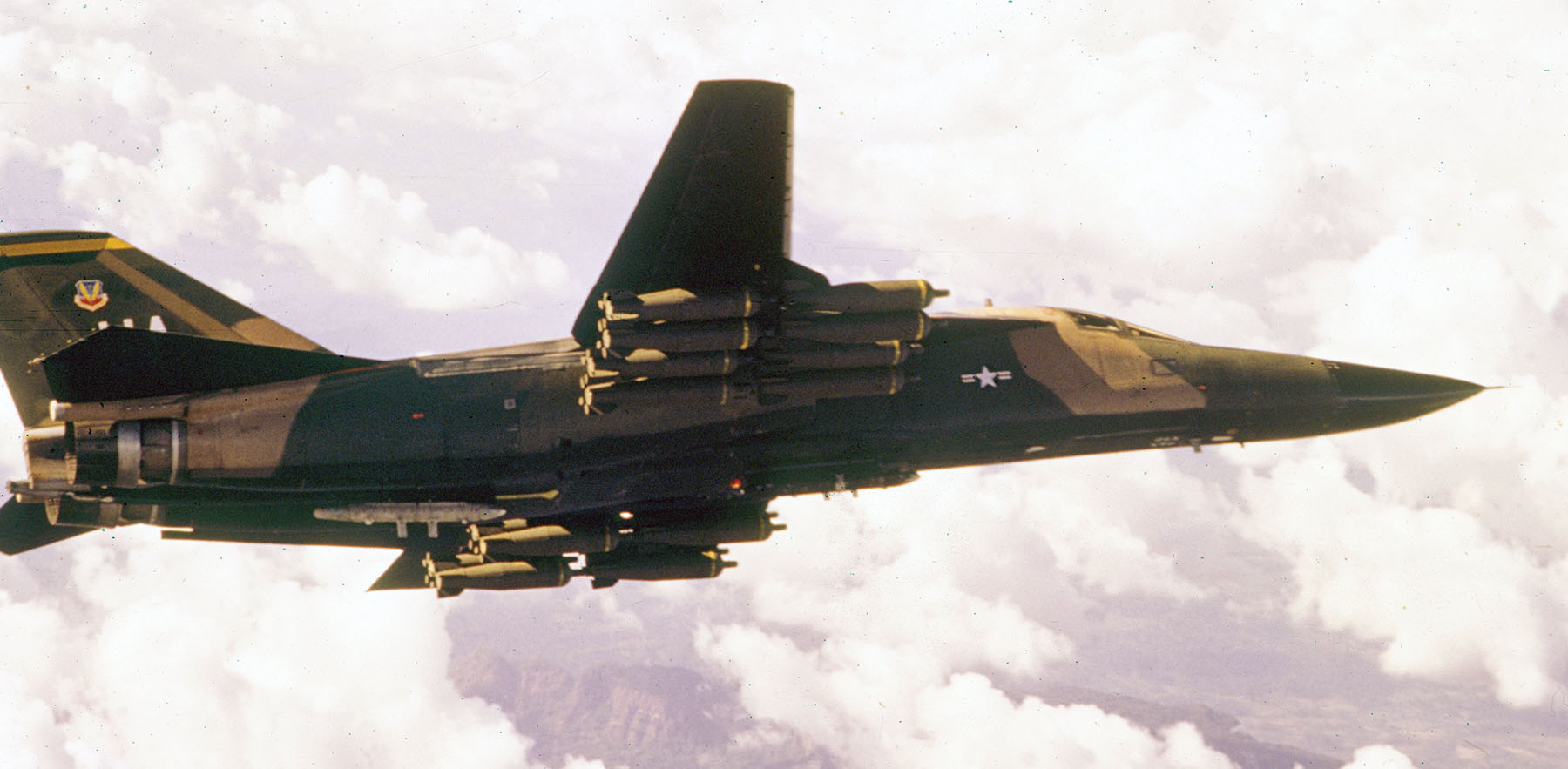 The F-111A was designed to carry either conventional or nuclear weapons. It has an internal bomb bay, one hardpoint under the fuselage, and four hardpoints under each wing. With the wings swept to 72.5°, it could carry 18 M117 bombs, but when extended to 26°, it could carry as many as 50. A General Electric M61 Vulcan 20 mm rotary cannon could be installed in the bomb bay.
The F-111A returned to Vietnam in 1972 and flew more than 4,000 combat sorties during Operations Linebacker and Linebacker II. Attacking heavily defended airfields and surface-to-air missile sites, only six additional F-111As were lost in combat.
159 F-111As were built, including 18 pre-production aircraft. 66-0018 (s/n A1-36) was later converted to an EF-111A Raven electronic warfare aircraft. It was sent to The Boneyard at Davis-Monthan Air Force Base, Tucson, Arizona, 11 June 1998.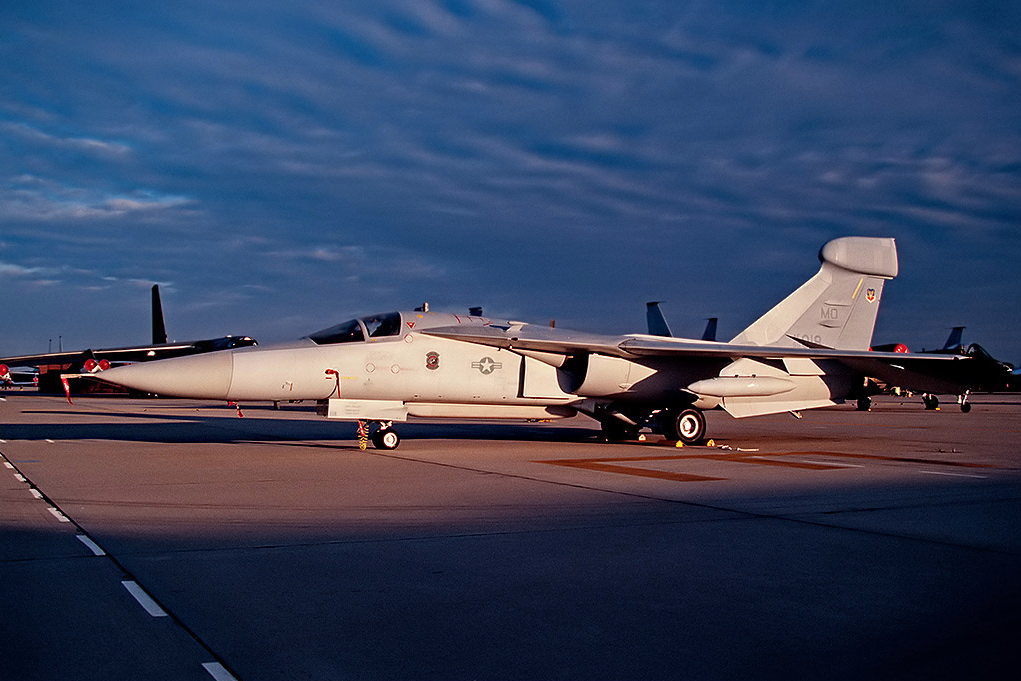 Ivan Harry ("Ike") Dethman was born 19 March 1919 at Mansfield, South Dakota. He was the sixth of eight children of Henry H. Dethman, a carpenter, and Marie D. Christianson Dethman. He grew up in Seattle, Washington.
Dethman registered for the draft (conscription) 6 November 1940. He was described as being 5 feet, 10½ inches (1.791 meters) tall, 158 pounds (71.7 kilograms) with a ruddy complexion, brown hair and blue eyes.
On 1 March 1942, shortly after the United States entered World War II, Dethman enlisted in the United States Army. He was trained as a pilot and flew 161 combat missions in the Douglas A-26 Invader over Italy, France and Germany.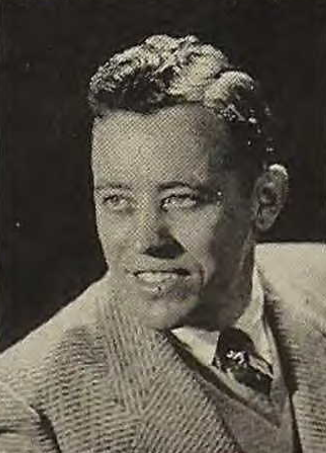 Following the War, Dethman returned to the United States where he attended the University of Washington, graduating in 1948. While there, he worked on the staff of Forester's Quarterly.
He remained in the Air Force. His date of rank as a first lieutenant is 30 August 1946. He was assigned to the 27th Tactical Wing at Carney, Nebraska, and from 1948 to 1950 was an instructor in the Air Training Command. In 1950, he attended the Air Force Institute of Technology at Wright-Patterson Air Force Base in Ohio.
Dethman commanded the 55th Tactical Fighter Squadron, 20th Tactical Fighter Wing, at RAF Weathersfield, England, and then the 474th Tactical Fighter Wing, 1966 to 1967.
Ike Detham was married to Beverly Jane Smith, and later to Anita Eveland.
During his military career, Colonel Dethman was awarded the Legion of Merit, the Distinguished Flying Cross with one oak leaf cluster (two awards), and the Air Medal with 14 oak leaf clusters (15 awards). He retired from the Air Force 29 December 1972 after thirty years of service.
Colonel Ivan H. Dethman, U.S. Air Force (Retired), died at Escondido, California, 24 March 2004, at the age of 85 years. His remains are interred at the Arlington National Cemetery.
© 2023, Bryan R. Swopes