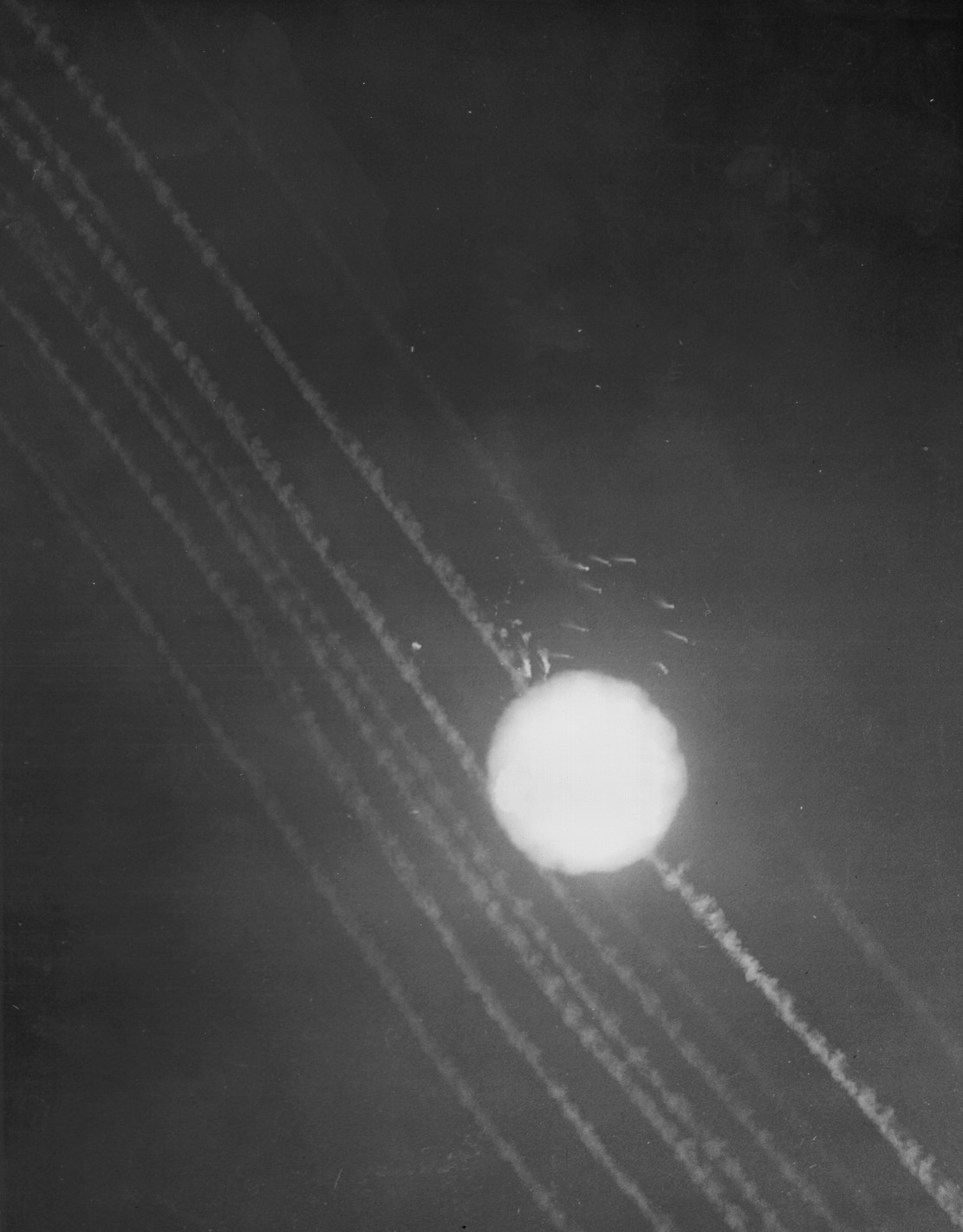 6 April 1955: At 10:00:04.1 a.m. local time (1800 GMT), a Convair B-36H assigned to the 4925th Test Group (Atomic) at Kirtland Air Force Base, New Mexico dropped an atomic weapon from 42,000 feet (12,802 meters) over the Nevada Test Site, Area 1. The bomb was parachute-retarded to slow its fall so that the bomber could escape its blast effects.
The weapon was a test device to investigate its use as an air-to-air anti-aircraft missile warhead. It detonated at 36,620 feet (11,162 meters) with an explosive force of 3.2 kilotons. Because of the altitude of the explosion, there was no significant fallout.
"All test observers (with goggles) agreed that the fireball appeared more intensely bright than in events of similar yield fired at lower altitude." —United States High-Altitude Test Experiences by Herman Hoerlin, Los Alamos Scientific Laboratory, June 1976, at Page 12.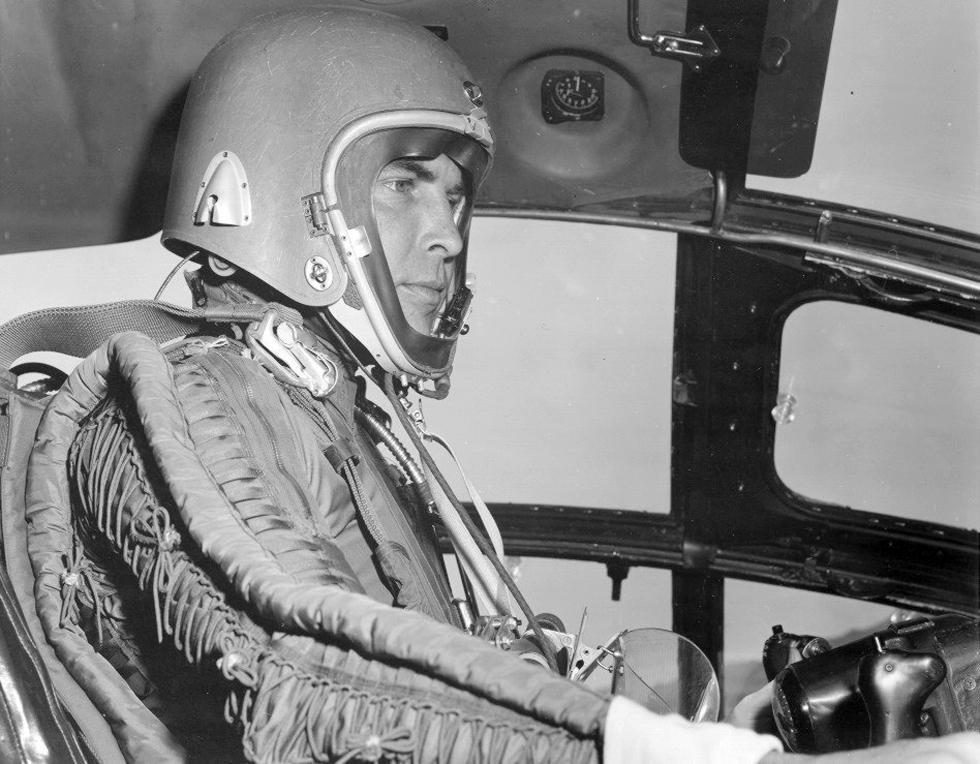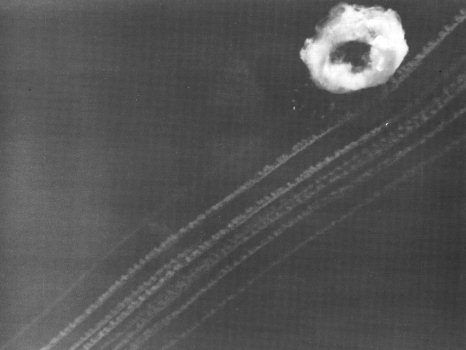 The test device was designed at the Los Alamos Scientific Laboratory (LASL) in New Mexico and was similar to the Wasp Prime device, which had been detonated earlier in the Operation Teapot test series. It used a spherical implosion device. The warhead was a 17-inch (43.2 centimeters) diameter sphere weighing approximately 125 pounds (56.7 kilograms). It was placed inside a Mark 5 bomb case which weighed 1,085 pounds (492.2 kilograms).
This was the only bomb dropped by parachute at the Nevada Test Site.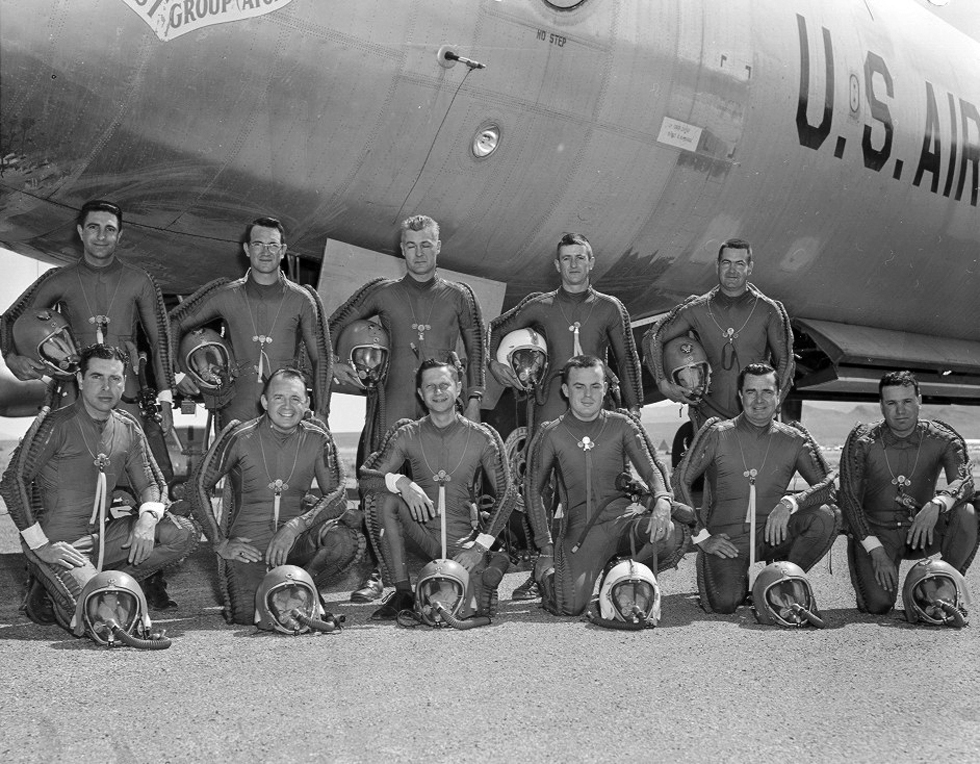 The Convair B-36H Peacemaker was the definitive version of the ten engine bomber, with 156 B-36H/RB-36H built out of the total production of 383 Peacemakers. It is similar to the previous B-36F variant, though with a second flight engineer's position, a revised crew compartment, and improved radar controlling the two 20 mm autocannons in the tail turret.
It is 162 feet, 1 inch (49.403 meters) long with a wingspan of 230 feet (70.104 meters) and overall height of 46 feet, 8 inches (14.224 meters). The empty weight is 168,487 pounds (776,424.4 kilograms) and combat weight is 253,900 pounds (115,167.1 kilograms). Maximum takeoff weight is 370,000 pounds (167,829.2 kilograms).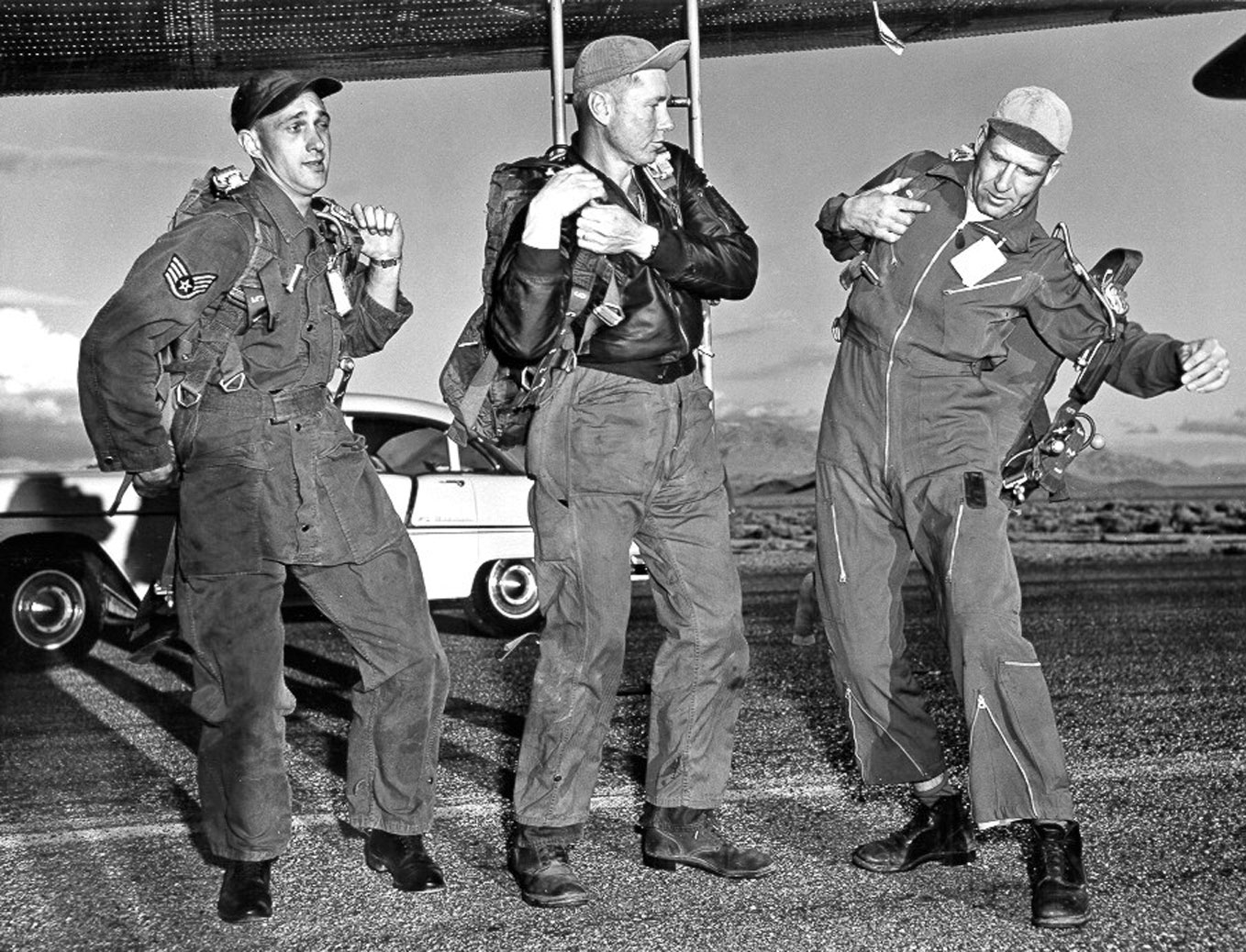 The B-36H has ten engines. There are six air-cooled, supercharged 4,362.49 cubic-inch-displacement (71.49 liter) Pratt & Whitney Wasp Major C6 (R-4360-53) four-row, 28-cylinder radial engines placed inside the wings in a pusher configuration. These had a compression ratio of 6.7:1 and required 115/145 aviation gasoline. The R-4360-53 had a Normal Power rating of 2,800 horsepower at 2,600 r.p.m. Its Military Power rating was 3,500 horsepower at 2,800 r.p.m., and 3,800 horsepower at 2,800 r.p.m. with water injection—the same for Takeoff. The engines turned three-bladed Curtiss Electric constant-speed, reversible propellers with a diameter of 19 feet, 0 inches (5.791 meters) through a 0.375:1 gear reduction. The R-4360-53 is 9 feet, 9.00 inches (2.972 meters) long, 4 feet, 7.00 inches (1.397 meters) in diameter, and weighs 4,040 pounds (1,832.5 kilograms).
Four General Electric J47-GE-19 turbojet engines are suspended under the wings in two-engine pods. The J47 is a  single-shaft axial-flow turbojet engine with a 12-stage compressor section, 8 combustion chambers, and single-stage turbine. The J47-GE-19 was modified to run on gasoline and was rated at 5,200 pounds of thrust (23.131 kilonewtons).
The B-36H was the fastest variant of the Peacemaker series, with a cruise speed of 234 miles per hour (377 kilometers per hour) and a maximum speed of 416 miles per hour (670 kilometers per hour) at 36,700 feet (11,186 meters) and 439 miles per hour (709 kilometers per hour) at 31,120 feet (9,485 meters). The service ceiling was 44,000 feet (13,411 meters) and its combat radius was 3,113 miles (5,010 kilometers). The ferry range was 7,691 miles (12,378 kilometers).
The B-36H has six remotely-controlled retractable gun turrets mounting two M24A1 20 mm autocannon, per turret. There is a tail turret, mentioned above, and another 2-gun turret in the nose.
The B-36 was designed during World War II, when nuclear weapons were unknown to the manufacturer. The bomber was built to carry up to 86,000 pounds (39,009 kilograms) of conventional bombs in two bomb bays. It could carry the 43,600 pound (19,777 kilogram) T-12 Cloudmaker, a conventional explosive earth-penetrating bomb, or several Mk.15 thermonuclear bombs. By combining the bomb bays, one Mk.17 25-megaton thermonuclear bomb could be carried.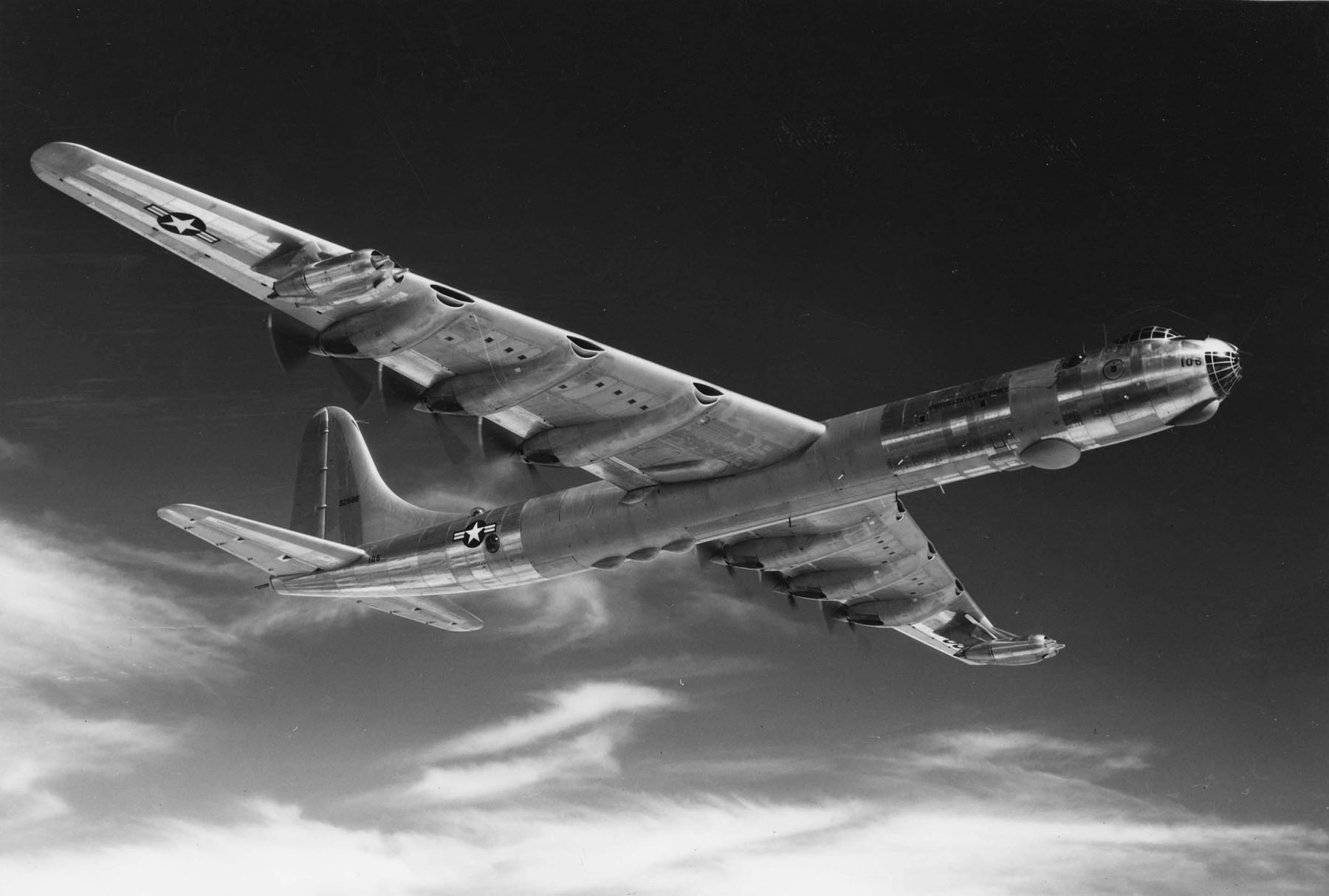 © 2017, Bryan R. Swopes
by