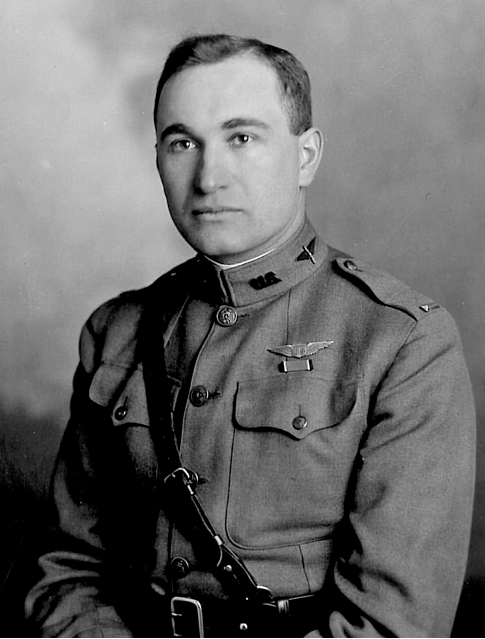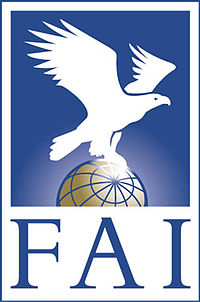 29 March 1923: Flying a Curtiss R-6 Racer, serial number A.S. 68564, at Wilbur Wright Field, Riverside, Ohio, First Lieutenant Russell Lowell Maughan, Air Service, United States Army, set a Fédération Aéronautique Internationale (FAI) World Record for Speed of 380.75 kilometers per hour (236.59 miles per hour).¹
Flight reported:
The Fédération Aéronautique Internationale has just homologated as world's records the following performances:
Class C (heavier than air): Greatest speed (U.S.), Lieut. Maughan on Curtiss R.6, 465 h.p. Curtiss, March 29, 1923, 380.751 kms. (236 m.p.h).
—FLIGHT, The Aircraft Engineer and Airships, No. 757. (No. 26, Vol. XV.) 28 June 1923, at Page 356, Column 1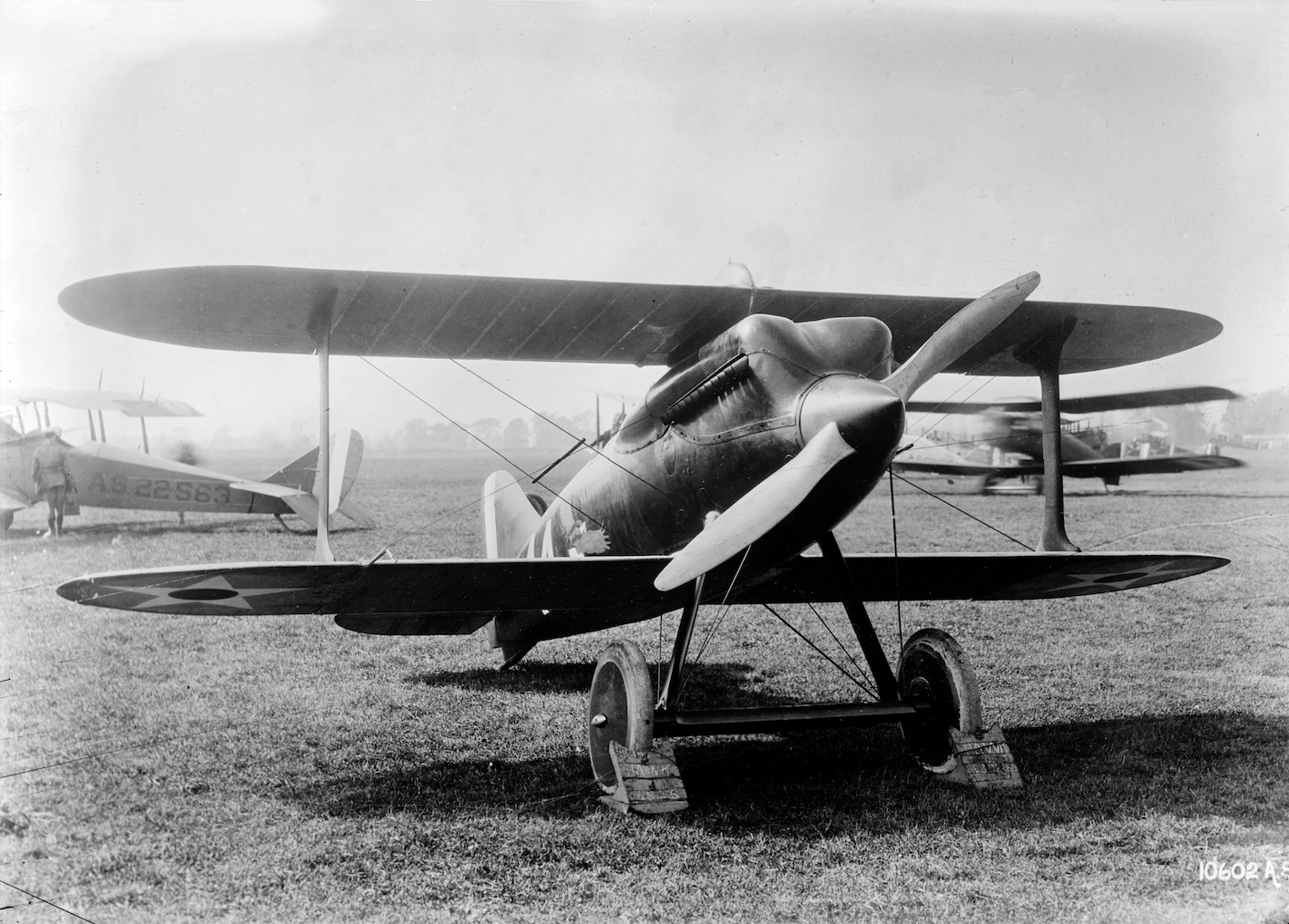 The Curtiss R-6 Racers were single-engine, single seat, fully-braced single-bay biplanes with fixed landing gear, developed from the U.S. Navy Curtiss CR. The airplane and its D-12 Conqueror engine were both built by the Curtiss Aeroplane and Motor Co., Garden City, New York.
The fuselage was a stressed-skin monocoque, built with two layers of wood veneer covered by a layer of doped fabric. The wings were also built of wood, with plywood skins and fabric-covered ailerons. Surface radiators were used for engine cooling.
The Curtiss R-6 was 19 feet, 0 inches (5.791 meters) long with a wing span of 19 feet, 0 inches (5.791 meters). It had an empty weight of 2,121 pounds (962 kilograms).
The R-6 was powered by a water-cooled, normally-aspirated 1,145.111-cubic-inch-displacement (18.765 liter) Curtiss D-12 dual overhead cam (DOHC) 60° V-12 engine, which was developed by Arthur Nutt, based on the earlier Curtiss K-12 which had been designed by Charles B. Kirkham. The D-12 had four valves per cylinder and a compression ratio of 5.7:1. It was rated at 415 horsepower at 2,000 r.p.m., and 460 horsepower at 2,300 r.p.m. During testing, it produced a 475 horsepower at 2,320 r.p.m. using a 50/50 mixture of 95-octane gasoline and benzol. The D-12 was a right-hand tractor direct-drive engine. It turned a two-bladed, fixed-pitch, forged aluminum propeller designed by Sylvanus Albert Reed, Ph.D. The Curtiss D-12 was 56¾ inches (1.441 meters) long, 28¼ inches (0.718 meters) wide and 34¾ inches (0.882 meters) high. It weighed 678.25 pounds (307.65 kilograms).
The racer had a range of 281 miles (452 kilometers) and a ceiling of  22,000 feet (6,706 meters).
Two R-6 Racers were built for the U.S. Army at a cost of $71,000, plus $5,000 for spare parts.
A.S. 68564 disintegrated in flight at the Pulitzer Trophy Race, 4 October 1924, killing its pilot, Captain Burt E. Skeel.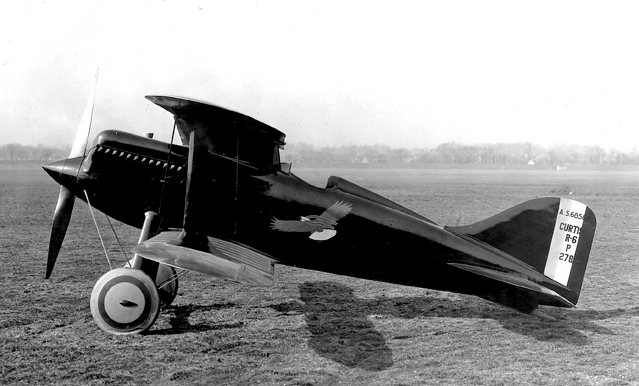 Russell Lowell Maughan was born at Logan, Utah, 28 March 1893. He was the sixth of eight children of Peter Weston Maughan, an accountant, and Mary Lucinda Naef Maughan. He attended Utah Agricultural College in Logan and graduated with a bachelor of science degree in 1917.
Maughan was commissioned as a second lieutenant in the U.S. Army Signal Officers Reserve Corps, 28 May 1917. He was promoted to first lieutenant, 8 January 1918. This commission was vacated 10 September 1920 and he was appointed a first lieutenant, Air Service, United States Army, retroactive to 1 July 1920.
On 14 August 1919, Maughan married Miss Ila May Fisher at Logan, Utah. They would have three children, but divorced sometime after 1940. His son, Russell L. Maughan, Jr., would become an officer in the U.S. Air Force.
Following the War, Lieutenant Maughan became a test pilot at McCook Field, Ohio. In 1921, he was reassigned to the 91st Observation Squadron, based at the Presidio of San Francisco.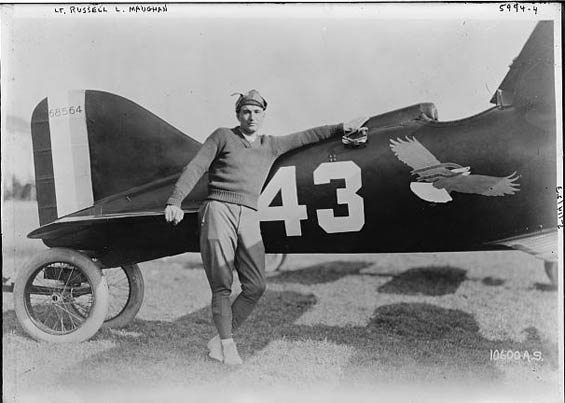 On 14 October 1922, he won the Pulitzer Trophy Race at Selfridge Field, near Mount Clemens, Michigan, before a crowd of 200,000 spectators. He set two World Speed Record during the race with his Curtiss R-6: 330.41 kilometers per hour (205.31 miles per hour) over a distance of 100 kilometers, and 331.46 kilometers per hour (205.96 miles per hour) over a distance of 200 kilometers). On 29 March 1923, he set another World Speed Record, 380.75 kilometers per hour (236.587 miles per hour), again flying a Curtiss R-6.
On 23 June 1924, Lieutenant Maughan flew a Curtiss PW-8 Hawk from Mitchel Field, Long Island, New York, to the Presidio of San Francisco on the west coast of California, in an elapsed time of 21 hours, 47 minutes including refueling stops enroute. This was the "Dawn-to-Dusk Flight." For this transcontinental flight, Maughan was awarded the Distinguished Flying Cross.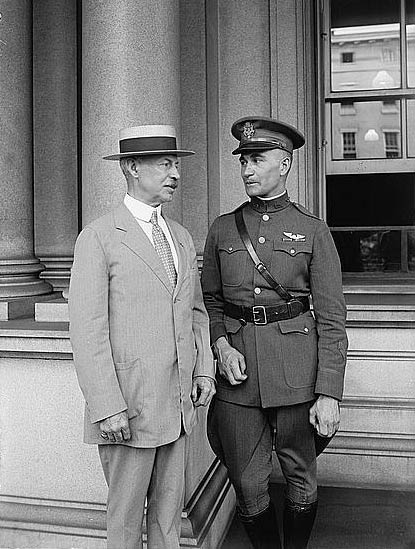 On 1 October 1930, Maughan was promoted to captain. He served in the Philippine Islands from 1930 to 1935, acting as an advisor to the government until 1932. From 1932 to 1935, he served as the post operations officer. He and his family lived in Manila. They returned to the United States aboard SS Columbus, a Norddeutscher Lloyd passenger liner, arriving at New York City from Southampton, 18 August 1935.
On 16 June 1936, Captain Maughan was promoted to major (temporary). That rank was made permanent 12 June 1939. He was again promoted, this time to lieutenant colonel, 11 March 1940.
During World War II, Lieutenant Colonel Maughan commanded the 60th Transport Group, a Douglas C-47 unit, 1941–42, and then, promoted to the rank of colonel, he commanded the 51st Troop Carrier Wing , which included the 60th, as well as eight other transport groups, during Operation Torch, the Allied invasion of North Africa.
On 25 October 1946, Colonel Maughan married Lois Rae Roylance in Nevada. She was 21 years his junior. They lived in Portland, Oregon.
Maughan was discharged from the U.S. Air Force, 30 November 1947, at the U.S. Army Hospital at Valley Forge, Pennsylvania. He died at the U.S. Air Force Hospital, Lackland Air Force Base, San Antonio, Texas, 21 April 1958, at the age of 65 years.
¹ FAI Record File Number 15194: Class C, Powered Airplanes: 380.75 kilometers per hour.
© 2019, Bryan R. Swopes