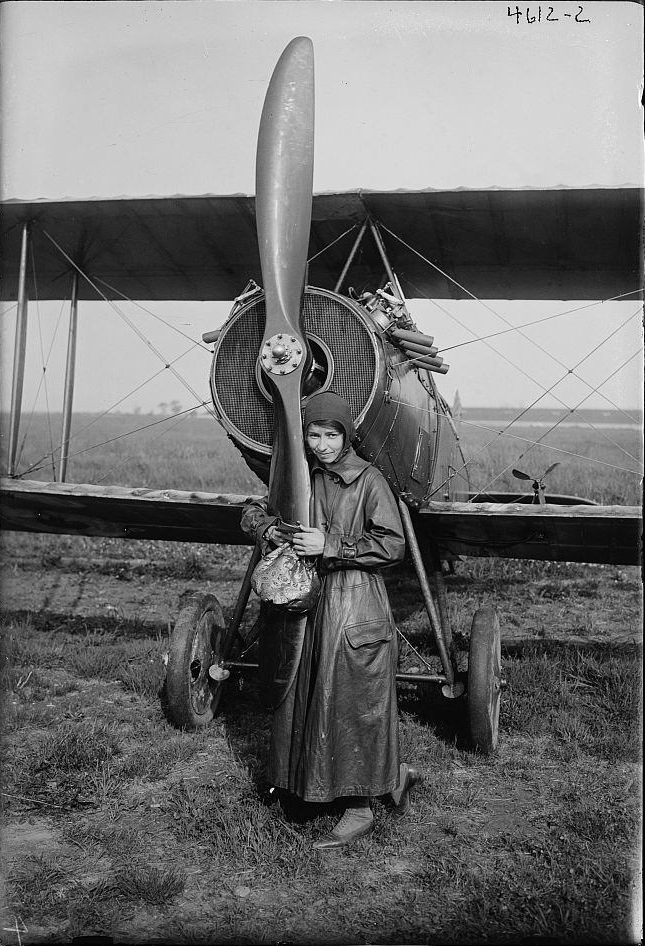 11 December 1917: Katherine Stinson flew her custom-built Curtiss-Stinson Special from Rockwell Field, North Island, San Diego to the Presidio of San Francisco, a distance of 606 miles (975 kilometers)¹ in 9 hours, 10 minutes. This was a new American distance record.
Of her flight, she later said "It was easy to tell where I was all the time . . . towns, cities, farms, hills and mountains passed rapidly. . . . I never had any fear. The main thing was speed."
A contemporary magazine article described her flight:
MISS STINSON FLIES OVER TEHACHAPI MOUNTAINS
Under the auspices of the Pacific Aero Club, Katherine Stinson, on December 11, flew from North Island, San Diego, to the Presidio at San Francisco via inland route, crossing the Tehachapi mountains at 8,000 feet [2,438 meters]. The official distance covered is 460.18 miles [740.59 kilometers]. Time, nine hours, ten minutes; non-stop flight. Left North Island at 7.31 a.m., flew over Tehachapi mountains at 8,000 feet, arrived at San Francisco at 4:41 p.m.
The flight was observed and timed at San Diego by Captain Henry Abbey and Captain Dean Smith, United States Army aviators, and was accompanied as far as Ocean Side by Theodore McCauley, Army Instructor, who piloted a Curtiss reconnaissance machine; the finish was observed and timed by Rear Admiral Chas. F. Pond, U.S.N., President of the Pacific Aero Club; Lowell E. Hardy, Secretary; J.C. Irvine, official observer, Aero Club of America; Robert G. Fowler, Chas F. Craig, and F.C. Porter of the Contest Committee  Pacific Aero Club. She was given a very a very hearty reception by thousands of soldiers at the Presidio upon her arrival.
The aeroplane used was built by Curtiss from two lower wings of Curtiss J.N. 4 with triplane fuselage, Curtiss OX2 90–100 H.P. engine.
Miss Stinson is now the only living aviator to fly over the Tehachapi mountains. Silas Christofferson, deceased, was the only other aviator to perform the feat. The performance does not break the American record for distance held by Miss Ruth Law, but establishes a new record for duration cross country flight and is a most remarkable performance.
— Flying, Vol. VI, No. 12, January, 1918, at Page 1063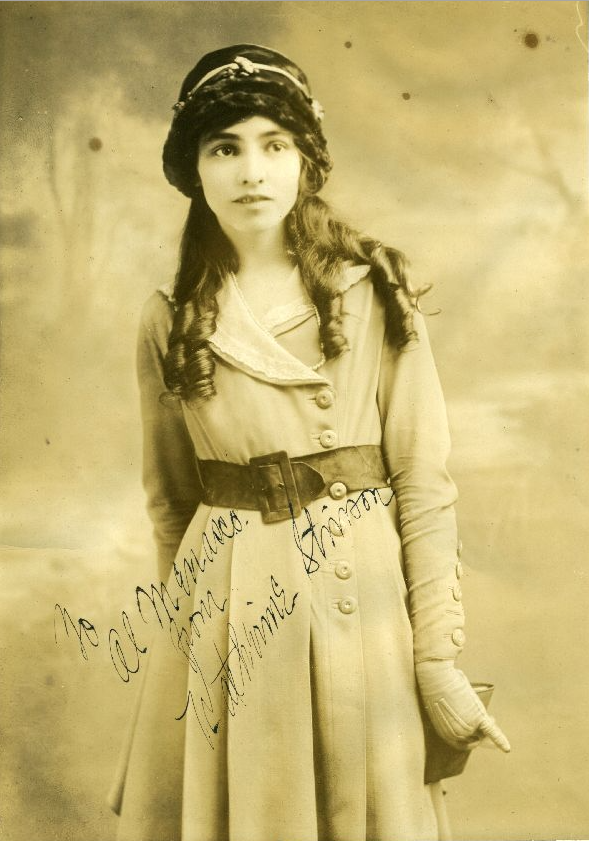 Katherine Stinson was born 14 February 1891 at Fort Payne, Alabama. She was the first of four children of Edward Anderson Stinson, an electrical engineer, and Emma Beavers Stinson.  Deciding to learn to fly, she sold the family's piano to pay for flying lessons. In 1912 she became the fourth woman in the United States to become a licensed pilot. Later, her younger sister, Marjorie, also learned to fly. In 1913, Katherine and her mother formed the Stinson Aviation Company at Hot Springs, Arkansas.
After the family moved to San Antonio, Texas, the sisters taught at the Stinson School of Flying at Stinson Field (now, Stinson Municipal Airport, FAA location identifier SSF).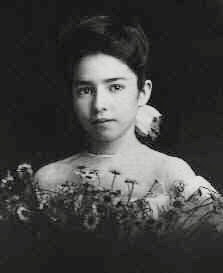 During World War I, Katherine Stinson flew exhibitions on the behalf of the American Red Cross, raising more than $2,000,000. She attempted to join the Army as a pilot, but instead was sent to Europe as an ambulance driver.
While "over there," she contracted influenza, and later, tuberculosis. Although she survived and lived a long life, her illness prevented her from continuing to fly. She moved to Santa Fe, new mexico, for its high, dry climate. Although she lacked a professional education, she he became a successful architect in Santa Fe, New Mexico, designing residences in the Spanish Pueblo Style.
in 1928, Stinson married Judge Miguel Antonio Otero, Jr., son of the former governor of New Mexico. They would adopt her deceased brother Edward's four children.
Katherine Stinson Otero died at her home in Santa Fe, 8 July 1977, at the age of 86 years. She is buried at the Santa Fe National Cemetery.
"Fear, as I understand it, is simply due to lack of confidence or lack of knowledge—which is the same thing. You are afraid of what you don't understand, of things you cannot account for."
—Katherine Stinson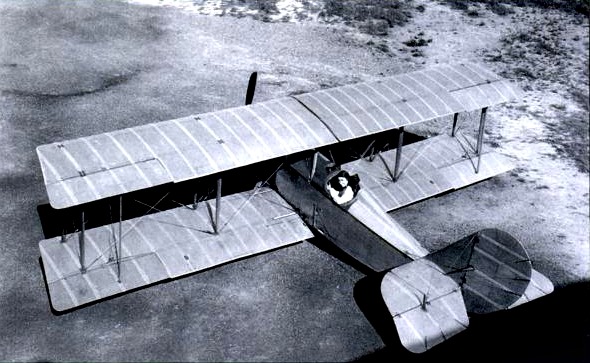 The Curtiss-Stinson Special was built by the Curtiss Aeroplane and Motor Company, specially for Katherine Stinson. It was a single-place, single-engine, two-bay biplane intended for exhibition flights. The Special used the fuselage of a Model 10 Speed Scout fighter, new wings, and the tail surfaces of the JN-4 "Jenny." It was powered by a water-cooled, normally-aspirated, 567.45-cubic-inch-displacement (9.299 liters) Curtiss OXX-6 single-overhead-camshaft (SOHC) 90° V-8 engine, rated at 100 horsepower at 1,400 r.p.m. A replica of this one-of-a-kind airplane is in the Alberta Aviation Museum, Edmonton, Alberta, Canada.
¹ Some sources cite a distance for Stinson's flight of 610 miles or 981.5 kilometers. The Google Maps Distance Calculator puts the straight line distance between North Island and the Presidio at 461.606 miles (742.883 kilometers).
© 2016, Bryan R. Swopes