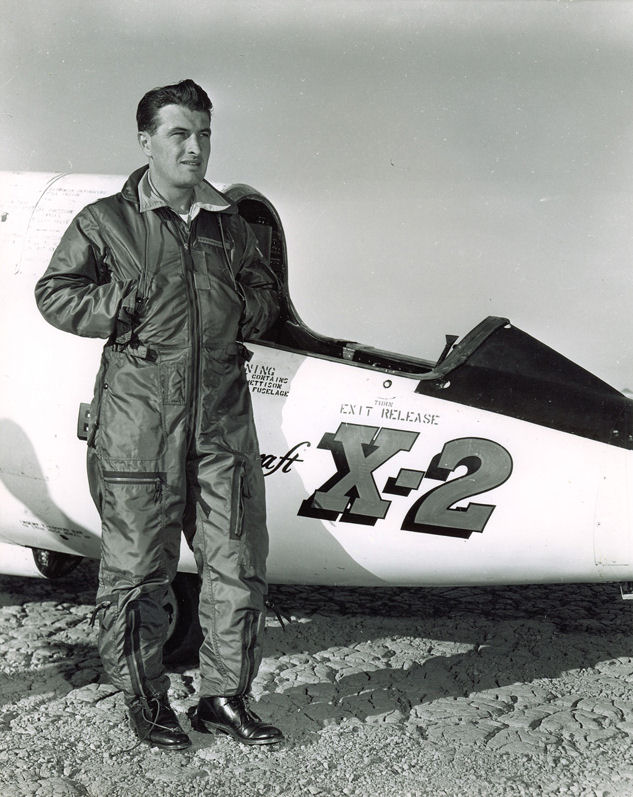 18 November 1955: Major Frank Kendall Everest, Jr., USAF, makes the first powered flight in the Bell X-2 research rocketplane, 46-674, at Edwards AFB, California. The rocketplane was airdropped from a Boeing EB-50D Superfortress, 48-096. Only one 5,000-lb. thrust rocket tube ignited, but that was enough to accelerate "Pete" Everest to Mach 0.992 (655.4 miles per hour/1,054.5 kilometers per hour) at 35,000 feet (10,668 meters).

The X-2 was a joint project of the U.S. Air Force and NACA (the National Advisory Committee on Aeronautics, the predecessor of NASA). The rocketplane was designed and built by Bell Aircraft Corporation of Buffalo, New York, to explore supersonic flight at speeds beyond the capabilities of the earlier Bell X-1 and Douglas D-558-II Skyrocket.
In addition to the aerodynamic effects of speeds in the Mach 2.0–Mach 3.0 range, engineers knew that the high temperatures created by aerodynamic friction would be a problem, so the aircraft was built from stainless steel and K-Monel, a copper-nickel alloy.

The Bell Aircraft Corporation X-2 was 37 feet, 10 inches (11.532 meters) long with a wingspan of 32 feet, 3 inches (9.830 meters) and height of 11 feet, 10 inches (3.607 meters). Its empty weight was 12,375 pounds (5,613 kilograms) and loaded weight was 24,910 pounds (11,299 kilograms).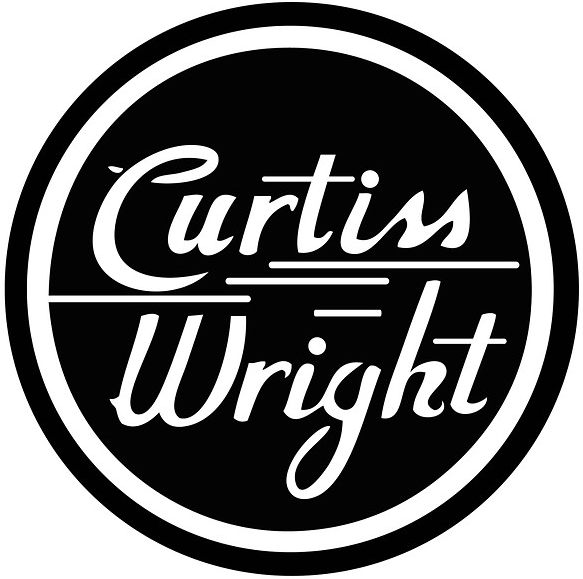 The X-2 was powered by a throttleable two-chamber Curtiss-Wright XLR25-CW-1 rocket engine that produced 2,500–15,000 pounds of thrust (11.12–66.72 kilonewtons)
Rather than use its limited fuel capacity to take off and climb to altitude, the X-2 was dropped from a modified heavy bomber as had been the earlier rocketplanes. A four-engine Boeing B-50D-95-BO Superfortress bomber, serial number 48-096, was modified as the drop ship and redesignated EB-50D.
The launch altitude was 30,000 feet (9,144 meters). After the fuel was exhausted, the X-2 glided to a touchdown on Rogers Dry Lake at Edwards Air Force Base.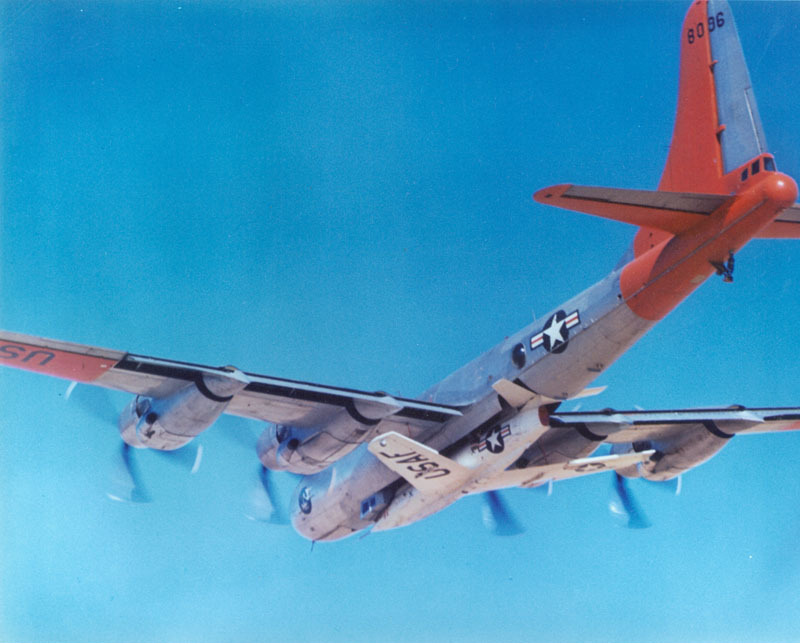 Pete Everest joined the United States Army Air Corps shortly before the United States entered World War II. He graduated from pilot training in 1942 and was assigned as a P-40 Warhawk pilot, flying combat missions in North Africa, Sicily and Italy. He was credited with shooting down two German airplanes and damaging a third.
Everest was returned to the United States to serve as a flight instructor. He requested a return to combat and was then sent to the China-Burma-India theater of operations where he shot down four Japanese airplanes. He was himself shot down by ground fire in May 1945. Everest was captured by the Japanese and suffered torture and inhumane conditions before being freed at the end of the war.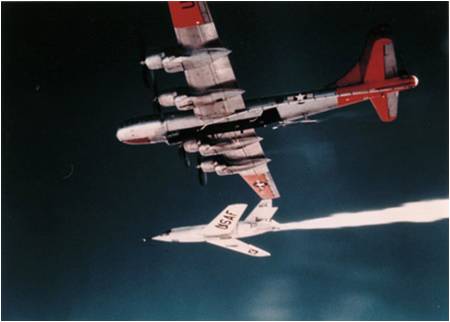 After the war, Everest was assigned as a test pilot at Wright-Patterson Air Force Base, Ohio, before going west to the Air Force Flight Test Center at Edwards Air Force Base, California. At Edwards, he was involved in nearly every flight test program, flying the F-88, F-92, F-100, F-101, F-102, F-104 and F-105 fighters, the XB-51, YB-52, B-57 and B-66 bombers. He also flew the pure research aircraft, the "X planes:" the X-1, X-1B, X-2, X-3, X-4 and X-5. Pete Everest flew the X-1B to Mach 2.3, and he set a world speed record with the X-2 at Mach 2.9 (1,957 miles per hour, 3,149.5 kilometers per hour) which earned him the title, "The Fastest Man Alive."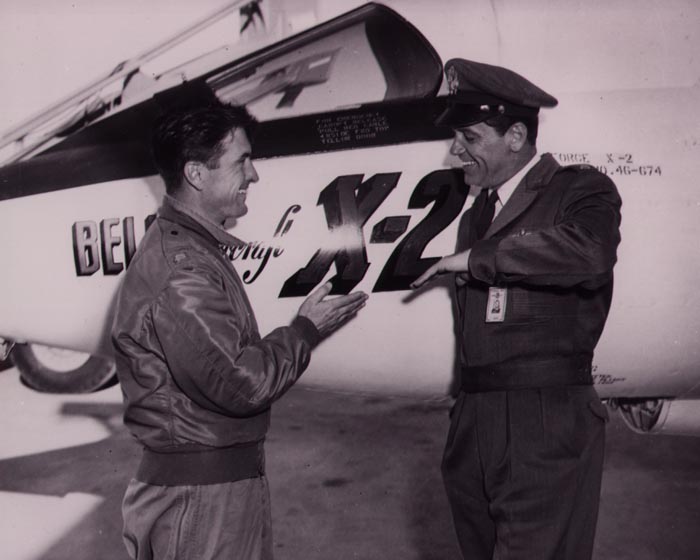 Frank Everest returned to operational assignments and commanded a fighter squadron, two combat crew training wings, and was assigned staff positions at the Pentagon. On 20 November 1963, Colonel Everest, commanding the 4453rd Combat Crew Training Squadron, flew one of the first two operational McDonnell F-4C Phantom II fighters from the factory in St. Louis to MacDill Air Force Base. In 1965, Pete Everest was promoted to the rank of brigadier general. He was commander of the Aerospace Rescue and Recovery Service. He retired from the Air Force in 1973 after 33 years of service. General Everest died in 2004.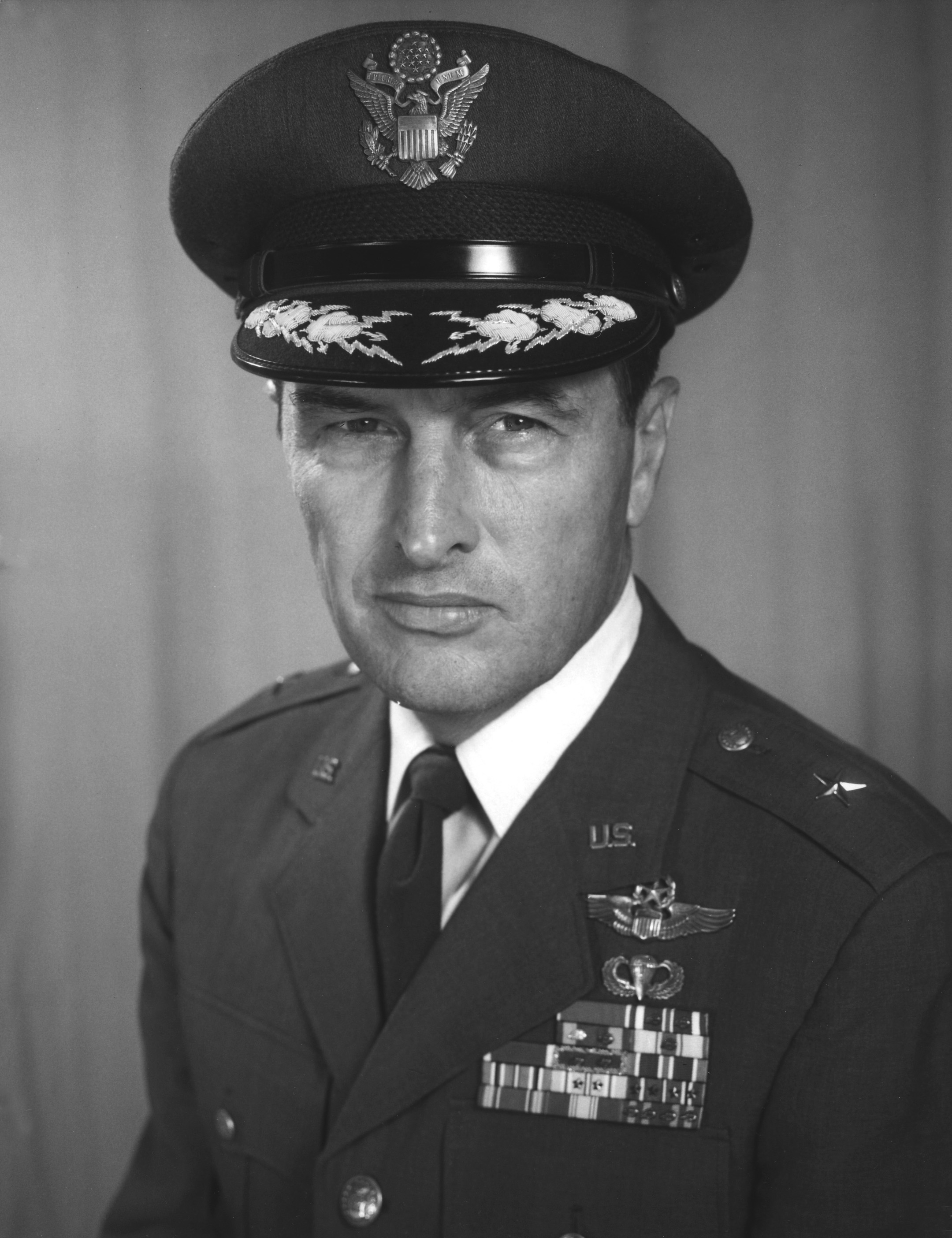 © 2016, Bryan R. Swopes