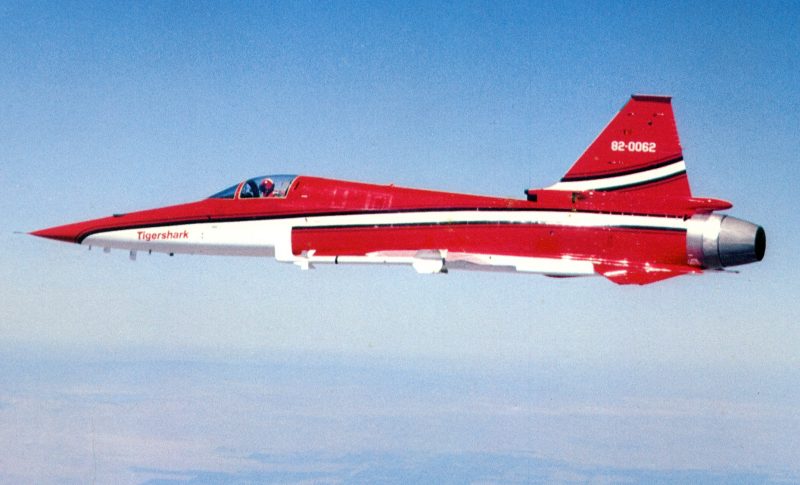 30 August 1982: Northrop test pilot Russell J. Scott made the first flight of the F-5G Tigershark prototype, N4416T, (Northrop serial number GG.1001) at Edwards Air Force Base, California. During the 40 minute flight the Tigershark, which would be re-designated F-20A two months later, reached an altitude of 40,000 feet and speed of Mach 1.04.
(Russ Scott, a former U.S. Air Force pilot, had been one of 11 pilots selected in 1961 to fly the Central Intelligence Agency's ultrasecret Lockheed A-12 "Oxcart" Mach 3+ reconnaissance aircraft, though he left the program before the A-12 became operational.)

The F-5G was developed by Northrop at the request of the Department of State. U.S. policy at the time prevented the export of front line fighters, like the Grumman F-14 Tomcat and McDonnell Douglas F-15 Eagle, to Allied nations outside of NATO, with the exception of Australia, Israel, Egypt and Iran. Since the Republic of China was building the F-5E under license for its air force, the State Department had asked Northrop to design an advanced fighter based on that earlier type that could be produced in Taiwan.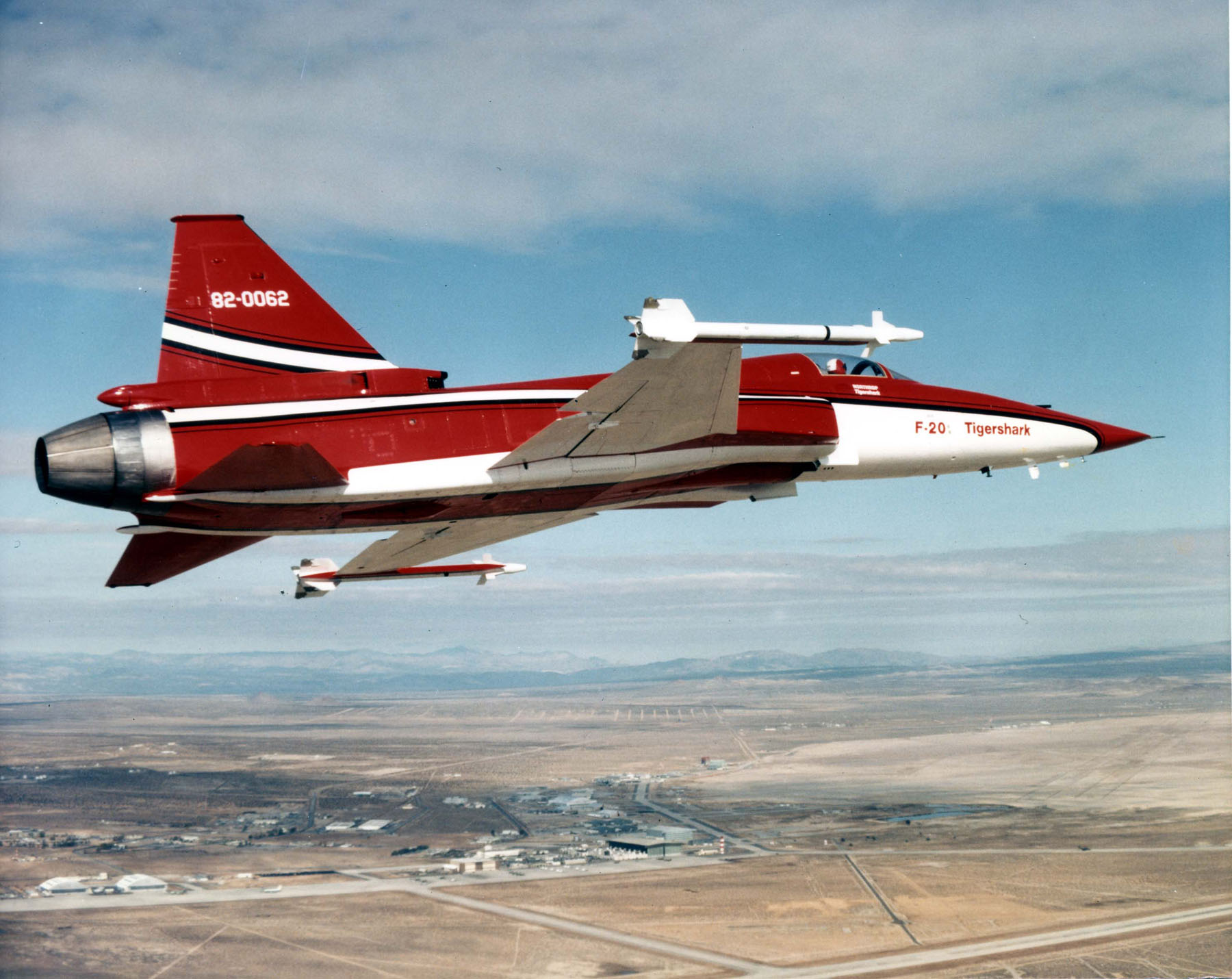 Changing political administrations restricted U.S. export policies and the projected sales of the F-5G, now designated F-20A, did not materialize. The fighter competed against the General Dynamics F-16 Fighting Falcon for an Air Force contract. The F-20A was considered to be as good, and in some ways, superior to the F-16. It was also less expensive. Other factors, though, resulted in the order for the General Dynamics fighter.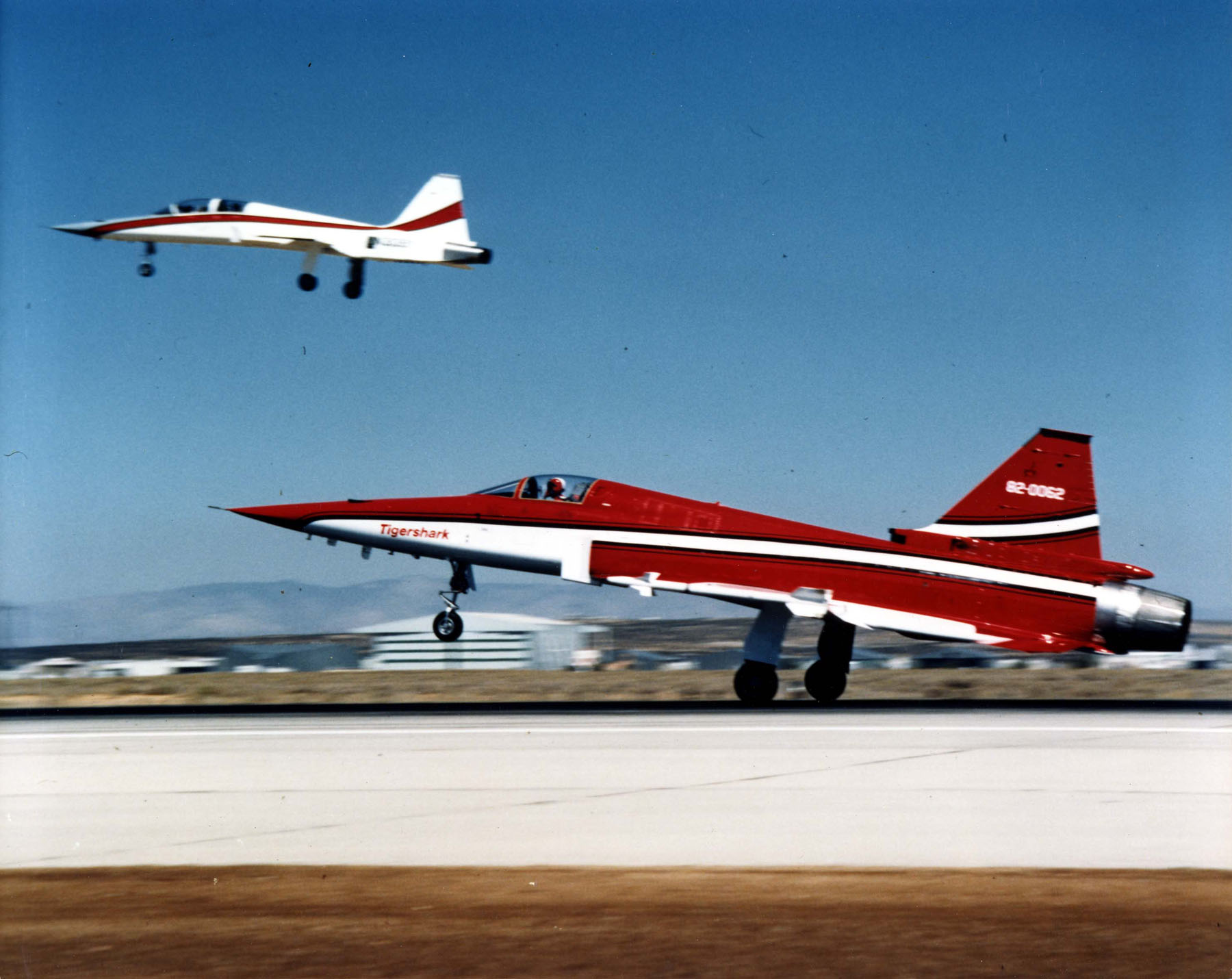 Developed from the earlier F-5E Tiger II, the F-5G/F-20A Tigershark was a Mach 2+ single-seat, single-engine, light-weight fighter. It was 46 feet, 6 inches (14.173 meters) long, with a wingspan of 26 feet, 8 inches (8.128 meters) with launch rails, and overall height of 13 feet, 10 inches (4.216 meters). The F-20A had an empty weight of 11,220 pounds (5,089 kilograms) and maximum takeoff weight of 26,544 pounds (12,040 kilograms).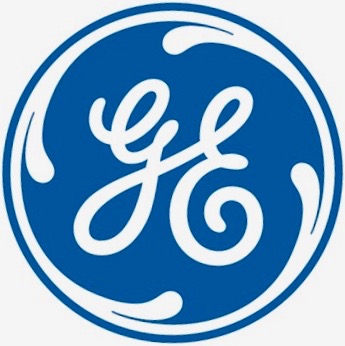 The F-20A was powered by a single General Electric YF404-GE-100 engine. The F404 is a two-spool, axial-flow, low bypass turbofan with afterburner. It has a 3-stage fan section, 7-stage compressor and 2-stage (1 high- and 1 low-pressure stage) turbine. The the F404-GE-100 is rated at 17,000 pounds of thrust (75.62 kilonewtons) with afterburner. The engine has a maximum diameter of 2 feet, 10.8 inches (0.884 meters), is 13 feet, 2.8 inches (4.034 meters) long, and weighs 2,230 pounds (1,012 kilograms).
From a cold start, the prototype fighter could climb to 34,000 feet (10,363 meters) in 2½ minutes. It could accelerate from 0.3 mach to 0.9 Mach in 27 seconds. The F-20A had a maximum speed of Mach 2.1 at 36,000 feet (10,973 meters)—1,387 miles per hour (2,232 kilometers per hour). Its service ceiling was 55,000 feet (16,764 meters). The maximum range with external tanks was 1,715 miles (2,760 kilometers).
The Tigershark's armament consisted of two Pontiac M39A2 20mm autocannon with 280 rounds of ammunition per gun, and two AIM-9 Sidewinder air-to-air missiles carried on the wingtips.
Only three F-20As were built. N4416T (82-0062) crashed during a demonstration flight at Suwon Air Base, Republic of South Korea, 10 October 1984. The aircraft was destroyed and Northrop pilot Darrell E. Cornell was killed. The second F-20, N3986B, crashed at Goose Bay, Newfoundland, Canada, 14 May 1985, under similar circumstances, killing David Barnes. Investigations found that both pilots had lost consciousness due to high-G maneuvers. The third Northrop F-20A, N44671 (82-0064), is on display at the California Science Center, Exposition Park, Los Angeles, California.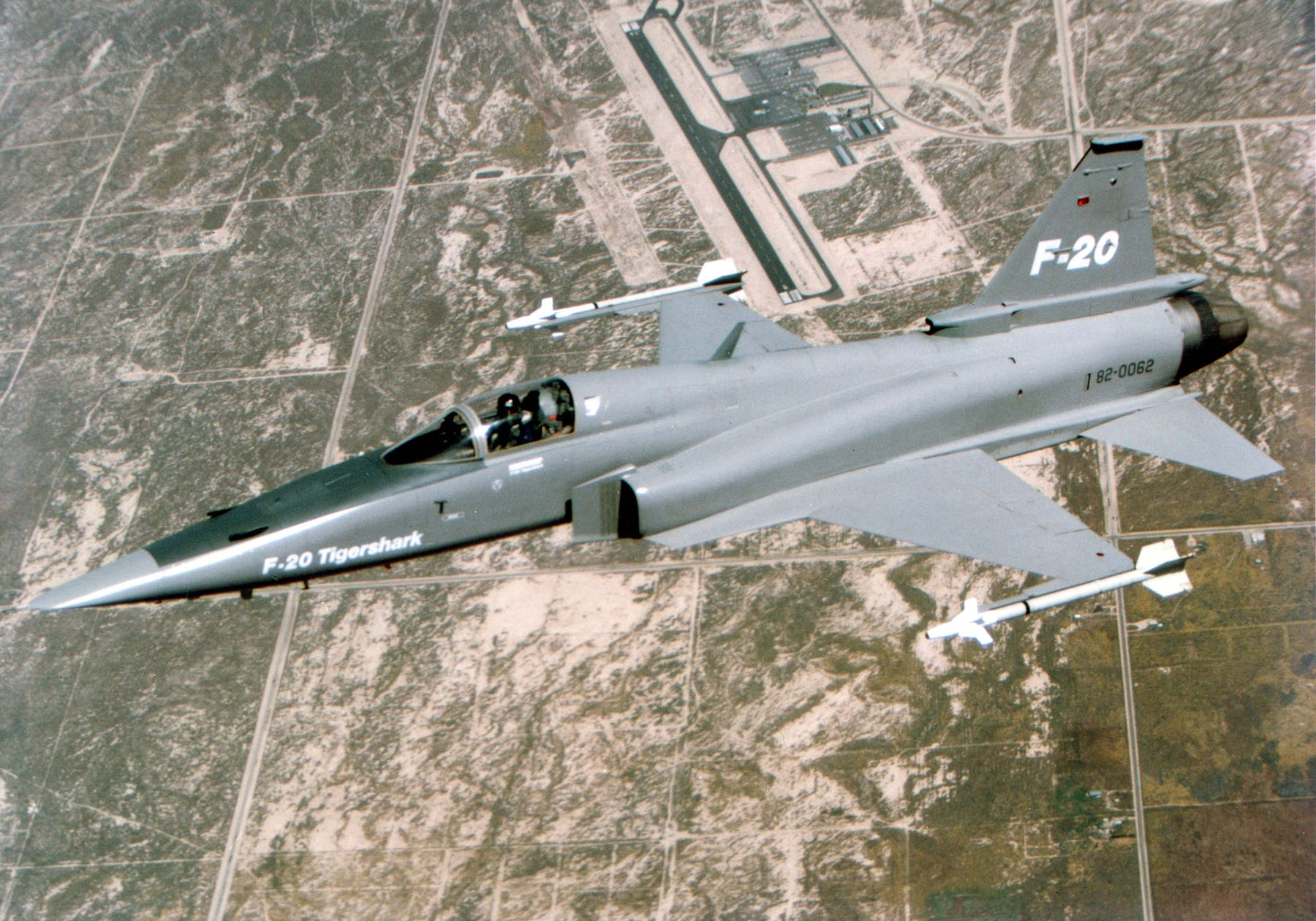 © 2018, Bryan R. Swopes