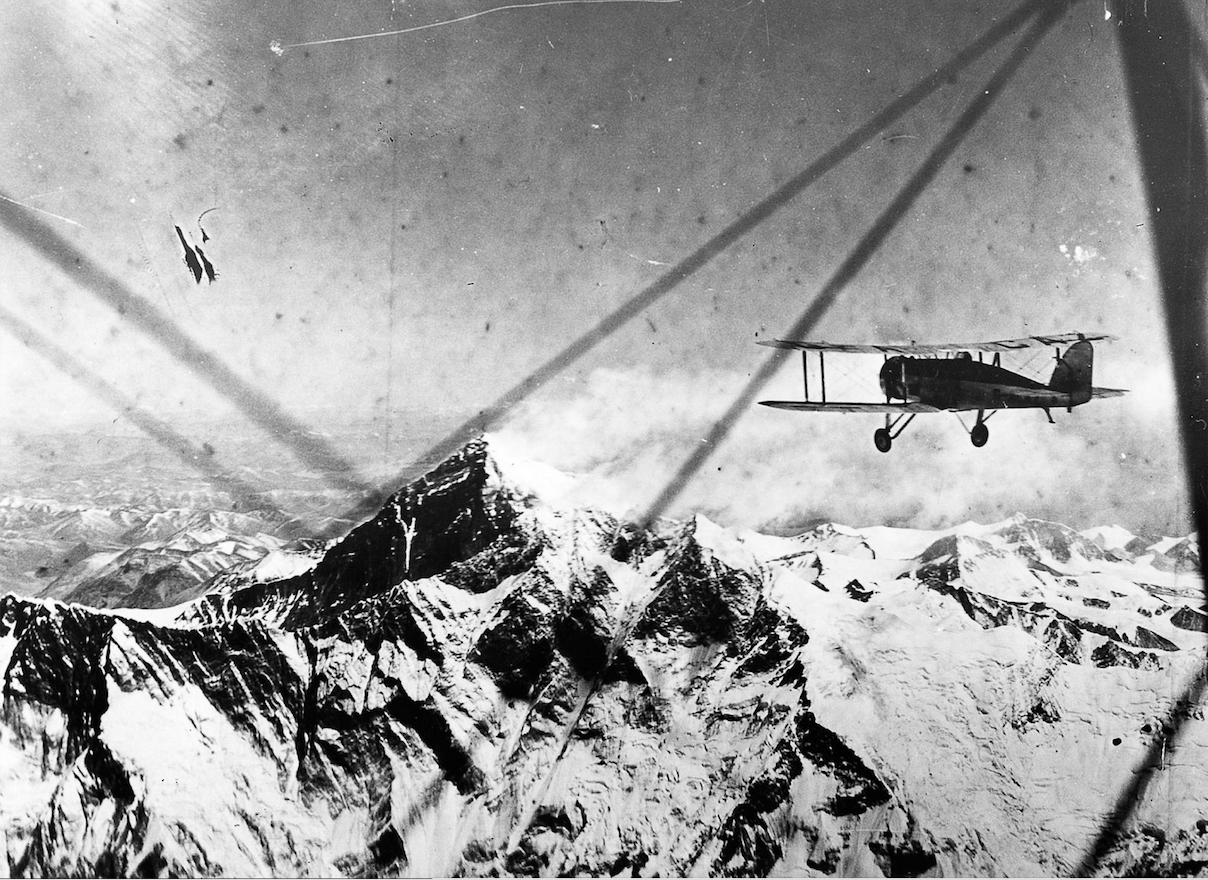 3 April 1933: Squadron Leader Douglas Douglas-Hamilton, Marquess of Douglas and Clydesdale ¹ (Lord Clydesdale)—at the time, the youngest squadron leader in the Royal Air Force, and in command of 602 Squadron—as Chief Pilot of the Houston Mount Everest Flying Expedition, flew a modified Westland PV-3 biplane, G-ACAZ, in formation with Westland PV-6, G-ACBR, over the summit of Mount Everest, the world's highest mountain, elevation 29,029 feet (8,848 meters). The PV-6 was piloted by Flight Lieutenant David Fowler McIntyre, also of 602 Squadron.
The two airplanes took off from Purnia, in the northeast of India, at 8:25 a.m. Aboard Lord Clydesdale's airplane was observer Lieutenant Colonel Latham Valentine Stewart Blacker, O.B.E. ("Blacker of the Guides"), and on McIntyre's was Sidney R. G. Bonnett, a cinematographer for Gaumont British News. During the ascent to Everest, Bonnett damaged his oxygen hose and lost consciousness due to hypoxia.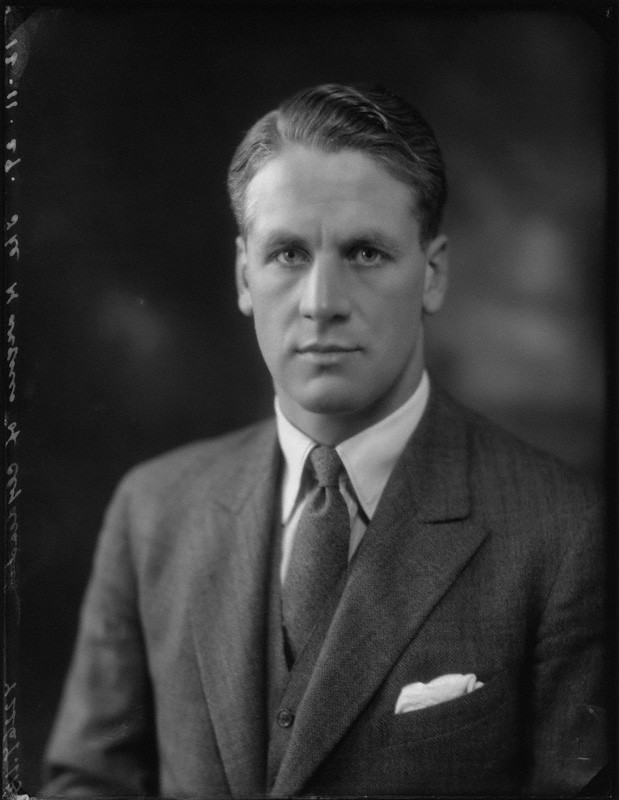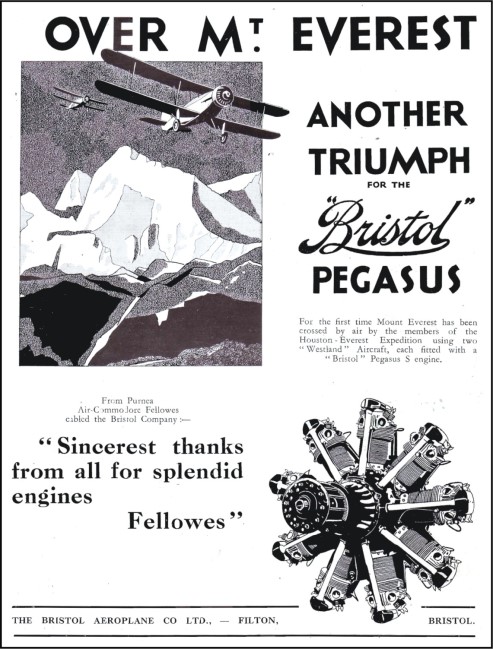 The Bristol Pegasus S.3 was considered to be the only aircraft engine in the world that would be capable of powering an airplane with the necessary personnel and equipment high enough to fly over Everest. It was an air-cooled, supercharged, 1,752.79-cubic-inch-displacement (28.72 liter) nine-cylinder radial engine, with a compression ratio of 5.3:1. It had a Normal Power rating of 525 horsepower at 2,000 r.p.m. at 11,000 feet (3,353 meters), and produced a maximum of 575 horsepower at 2,300 r.p.m. at 13,000 feet (3,962 meters). It had a Takeoff Power rating of 500 horsepower at 2,000 r.p.m. at Sea Level, with a three minute limit. The engine drove a two-bladed, fixed-pitch wooden propeller manufactured by The Airscrew Company Ltd., through either a 0.5:1 or 0.655:1 gear reduction.
After deciding on the engine, the Expedition had to select an airplane. The Westland PV-3 was chosen because it had the highest rate of climb of any airplane ever tested by the Royal Air Force.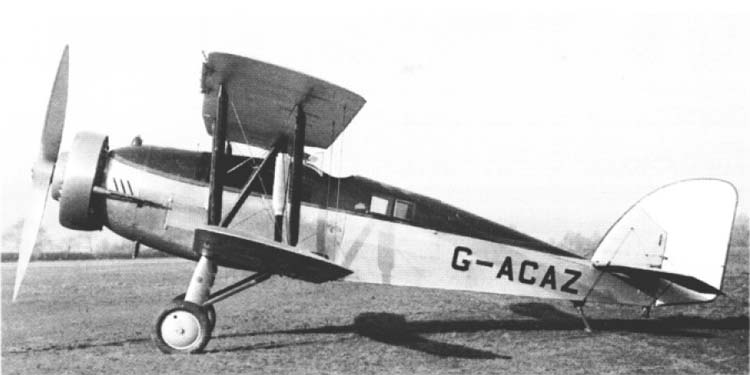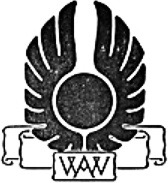 The Westland Aircraft Works PV-3 was a private venture prototype torpedo bomber, based on the earlier Westland Wapiti. It had an all-metal structure and folding wings. Only one was built, and no orders for the airplane were placed. The airplane was modified for the Houston Everest Expedition. The gunner's open position behind the pilot's cockpit was replaced with an enclosed cabin for an observer and cameras. The original Bristol Jupiter X.FA engine was replaced by the more powerful Bristol Pegasus S.3 and a large-diameter propeller.
The Houston-Westland was 34 feet, 2 inches (10.414 meters) long with a wingspan of 46 feet, 6 inches (14.173 meters) and overall height of 11 feet, 8 inches (3.556 meters). The airplane had an empty weight of 3,420 pounds (1,551.3 kilograms) and loaded weight of 5,100 pounds (2,313.3 kilograms).
The PV-3 had a maximum speed of 163 miles per hour (262.3 kilometers per hour) and a service ceiling of 35,000 feet (10,668 meters). Burmah-Shell provided a special fuel for operations at very high altitude.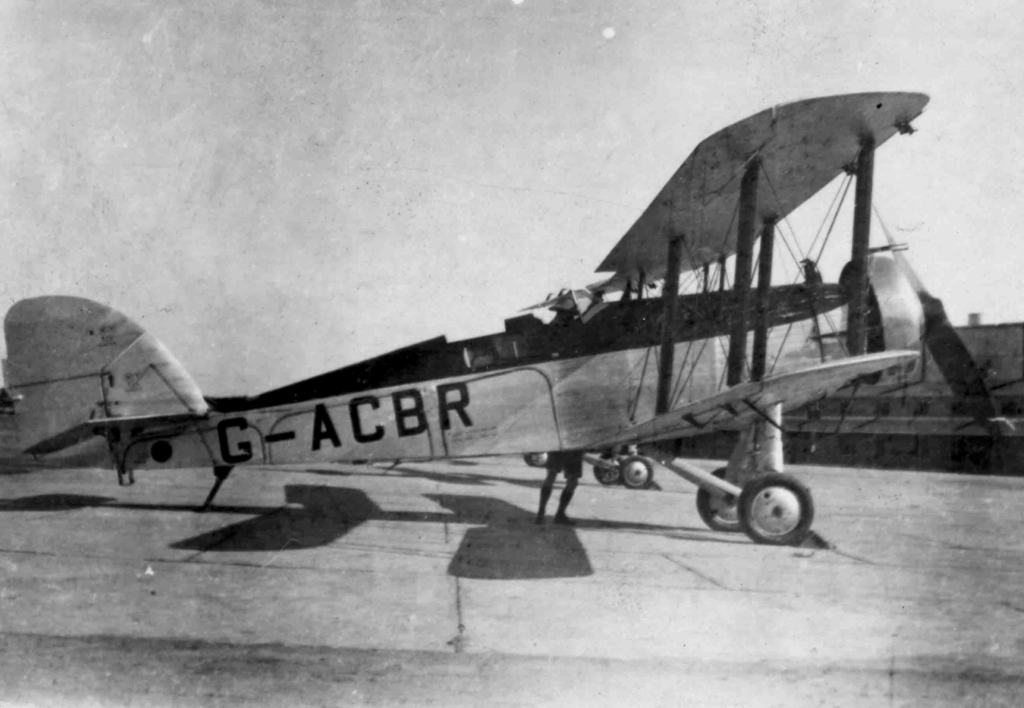 The Westland PV-6 was also a private venture prototype. It was later converted to the Wallace I configuration.
The airplanes carried Williamson Automatic Eagle III survey cameras that would take photographs of the surface at specific intervals as the airplanes flew over known survey locations. It was planned that a photographic mosaic of the terrain and an accurate map could be drawn.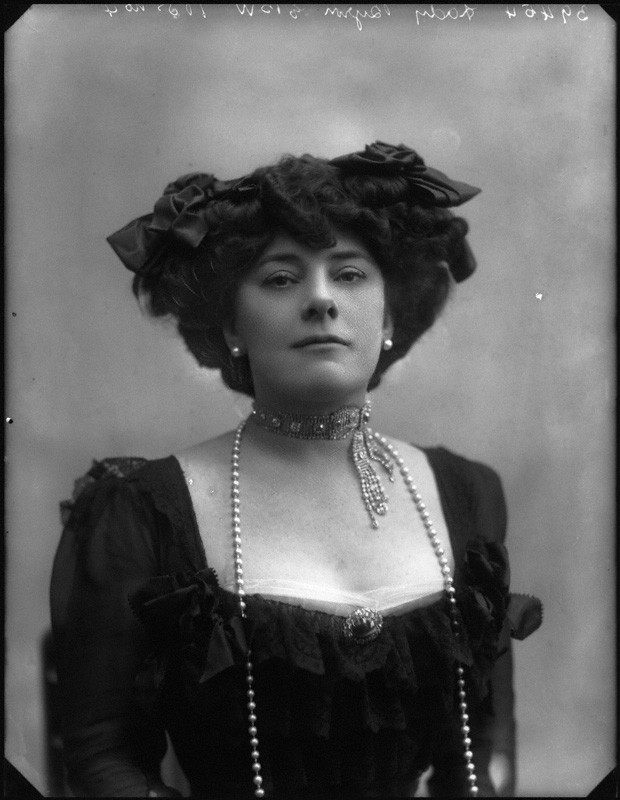 The expedition was financed by Lucy, Lady Houston, D.B.E., who offered to provide up to £15,000 to finance the project. The flight helped to demonstrate the need for specialized equipment for high altitude flight.
For his accomplishment, Lord Clydesdale—later, Air Commodore His Grace The Duke of Hamilton KT GCVO AFC PC DL FRCSE FRGS—was awarded the Air Force Cross.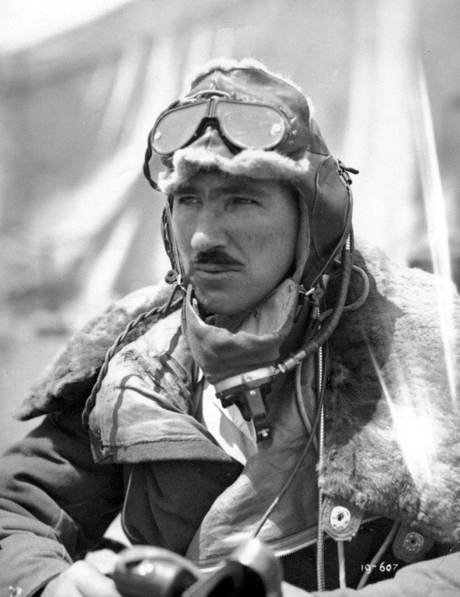 Mount Everest, known in Nepal as सगरमाथा (Sagarmāthā), is a mountain in the Mahalangur Range of the the Himalayas. Its peak is believed to be the highest point on Earth. The mountain was "discovered" by the Western world in 1856, during the decades-long Great Trigonometrical Survey of India. Identified as Peak XV, the height of the mountain was measured at 29,002 feet ² (8,839.8 meters) above Sea Level. The Royal Geographical Society named the mountain Everest after Colonel Sir George Everest, FRS, FRAS, the Surveyor General of India from 1830 to 1843. At present, the agreed height of Everest is 8,848 meters (29,029 feet). The upper portion of the mountain is primarily marble and is covered by several meters of ice and snow.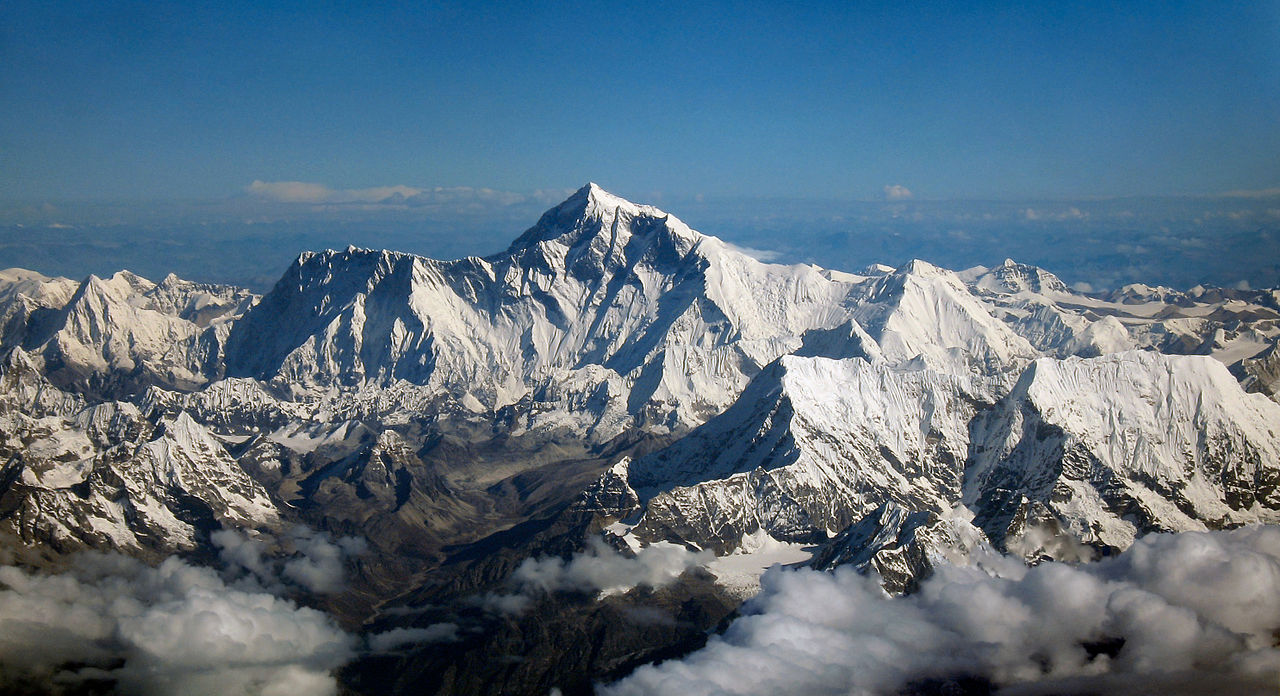 ¹ In 1940, Lord Hamilton succeeded his father, Lieutenant Alfred Douglas Douglas-Hamilton, 13th Duke of Hamilton and 10th Duke of Brandon, as 14th Duke of Hamilton and 11th Duke of Brandon.
² Interestingly, in The Map Makers (John Noble Wilford, Alfred A. Knopf, New York, 1981), it was reported that the Great Survey actually calculated the height of the mountain at 29,000 feet (8,839.2 meters), but it was felt that this value would be taken as an approximation rather than an exact value, so 2 feet were added, resulting in the generally known height of 29,002 feet (8,839.8 meters).
The elevation of the summit may have changed due to a Magnitude 7.8 earthquake that occurred 25 April 2015, and a M 7.3 aftershock on 12 May 2015. Nepal and China both conducted an elaborate survey in 2020. Nepal used the Bay of Bengal as Sea Level, while China used the Yellow Sea. They agreed that the height of the summit of Mount Everest is now 29,032 feet (8,848.86 meters).
© 2019, Bryan R. Swopes