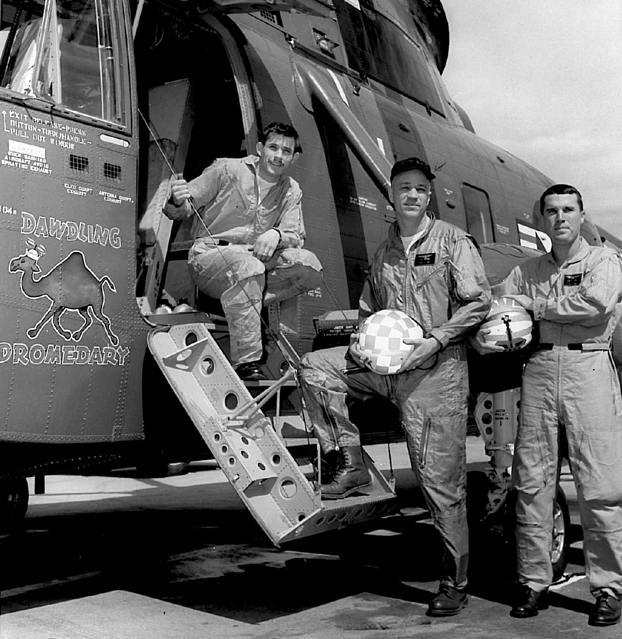 6 March 1965: A U.S. Navy/Sikorsky SH-3A Sea King helicopter named Dawdling Dromedary, Bu. No. 152104, piloted by Commander James R. Williford and Lieutenant David A. Beil, with Aviation Machinist Mate 1st Class Paul J. Bert, took off from the aircraft carrier USS Hornet (CVS-12), alongside NAS North Island, San Diego, California, at 4:18 a.m., Pacific Standard Time, (12:18 UTC) and flew non-stop, without refueling, to land aboard another aircraft carrier, USS Franklin D. Roosevelt (CVA-42), off Mayport, Florida, at 11:10 p.m. Eastern Standard Time (04:10 UTC). The distance flown was 3,388.70 kilometers (2,105.64 miles) with an elapsed time of 16 hours, 52 minutes, and set a Fédération Aéronautique Internationale (FAI) World Record for Distance Without Landing.¹ This exceeded the previous record distance by more than 750 miles (1,207 kilometers).²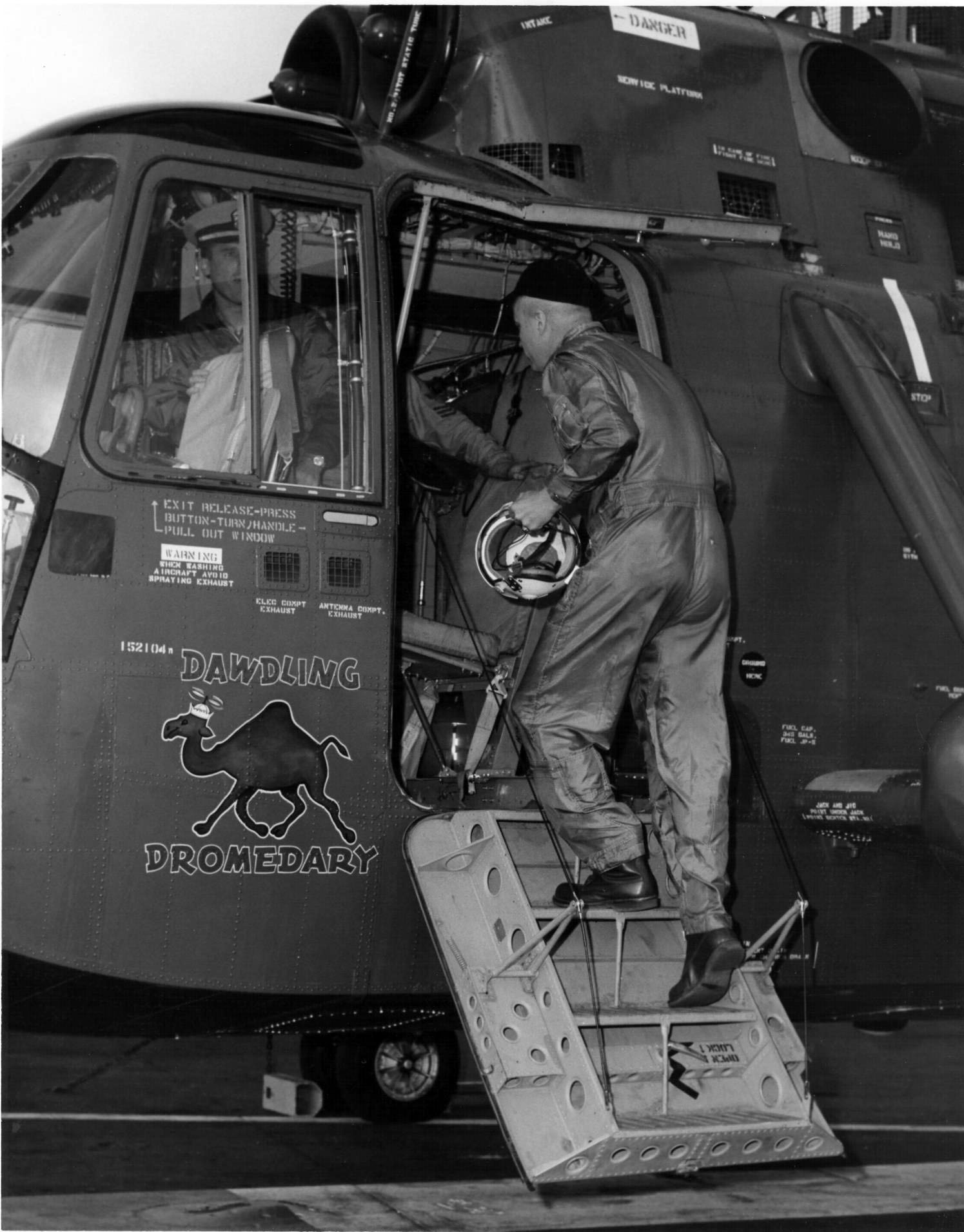 On takeoff, Dawdling Dromedary had a gross weight of 23,000 pounds (10,433 kilograms), about 4,000 pounds (1,814 kilograms over its normal operating weight. Its fuel load was 1,690 gallons (6,397 liters) and it had only 60 gallons (227 liters) remaining on landing.
After clearing Guadalupe Pass between Carlsbad, New Mexico, and El Paso, Texas, (5,414 feet, 1650 meters) the crew shut down one the the SH-3A's two turboshaft engines in an effort to reduce fuel consumption. They flew on a single engine for 9½ hours, restarting the second engine as they descended through 5,000 feet (1,524 meters) over Jacksonville, Florida.
Commander Williford, head of the Rotary Wing Branch, Flight Test Division, at the Naval Air Test Center, NAS Patuxent River, Maryland, was quoted in Naval Aviation News for the May 1965 issue:
"Since weight counted, the heater had been removed. We therefore wore rubber boots, long underwear, etc., but still were thoroughly chilled upon arrival. The temperature at 15,000 feet [4,572 meters] was -11° [-23.9 °C.] that night.
"The C-131 chase aircraft crew was amazed at our accuracy of navigation with a lone omni. Actually, it was such a clear day it was the old type of piloting, that is, 'just north of that reservoir' or 'one mile south of that city,' etc. We flew through mountain passes until Guadalupe, thence great circle route to Mayport.
"For the trip, +10 knots [18.5 kilometers per hour] tailwind average was needed, and it appeared we weren't going to make it for the first 8–9 hours because we were behind in our time vs. distance plot. But as we climbed higher—climbing being limited by retreating blade stall—we gained stronger and more favorable winds. By the time we reached Valdosta, Georgia, we had about 35 knots [64.8 kilometers per hour] pushing us. That was a nice feature because the Okefenokee Swamp at night is no place for an autorotation with empty fuel tanks."
—Commander James R. Williford, United States Navy, Naval Aviation News, May 1965, NavWeps No. 00-75R-3, at Pages 8–9.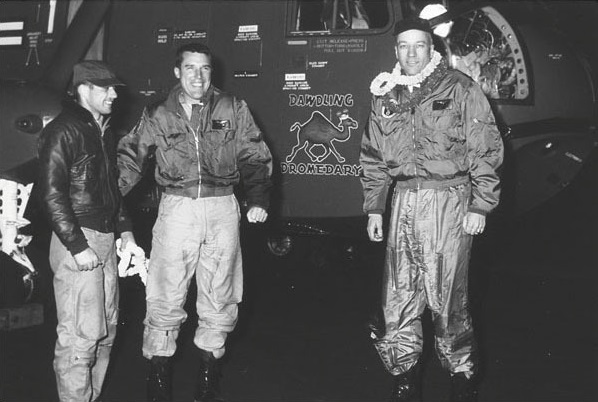 [Co-pilot David A. Beil was killed 12 March 1969 while testing a Lockheed AH-56 Cheyenne compound helicopter. See TDiA at: https://www.thisdayinaviation.com/12-march-1969/ ]
Dawdling Dromedary is the same Sikorsky SH-3A, Bu. No. 152104, that set a Fédération Aéronautique Internationale (FAI) world speed record for helicopters of 339 kilometers per hour (210.6 miles per hour), 5 February 1962, flown by Lieutenant Robert W. Crafton, USN, and Captain Louis K. Keck, USMC.³
The Sikorsky SH-3A Sea King was the first of the S-61 series of military and civil helicopters, designated as HSS-2 until 1962. It is a large twin-engine helicopter with a single main rotor/tail rotor configuration. The fuselage is designed to allow landing on water. The XHSS-2 made its first flight 11 March 1959. The helicopter was originally used as an anti-submarine helicopter.
The SH-3A is 72 feet, 7 inches (22.123 meters) long and 16 feet, 10 inches (5.131 meters) high with all rotors turning. The main rotors and tail can be folded for more compact storage aboard aircraft carriers, shortening the aircraft to 46 feet, 6 inches (14.173 meters). The main rotor has five blades and a diameter of 62 feet (18.898 meters). Each blade has a chord of 1 foot, 6.25 inches (0.464 meters). The tail rotor also has five blades and a diameter of 10 feet, 4 inches (3.150 meters). They each have a chord of 7–11/32 inches (0.187 meters). At 100% NR, the main rotor turns 203 r.p.m. and the tail rotor, 1,244 r.p.m.
The SH-3A was powered by two General Electric T58-GE-6 turboshaft engines, which had a Normal Power rating of 900 horsepower, and Military Power rating of 1,050 horsepower. The main transmission was rated for 2,300 horsepower, maximum. (Later models were built with more powerful T58-GE-8 engines. Early aircraft were retrofitted.)
The SH-3A has a cruise speed of 125 knots (144 kilometers per hour) at Sea Level, and a maximum speed of 135 knots (155 kilometers per hour) at Sea Level. The service ceiling is 14,000 feet (4,267 meters). The design maximum gross weight is 16,237 pounds (7,365 kilograms). The SH-3A had a combat endurance of 4 hours.
In 1962, the HSS-2 was redesignated SH-3A Sea King. Many early production aircraft have remained in service and have been upgraded through SH-3D, SH-3G, etc. In addition to the original ASW role, the Sea Kings have been widely used for Combat Search and Rescue operations. Marine One, the call sign for the helicopters assigned to the President of the United States, are VH-3D Sea Kings.
Sikorsky produced the last S-61 helicopter in 1980, having built 794. Production has been licensed to manufacturers in England, Italy, Canada and Japan. They have produced an additional 679 Sea Kings.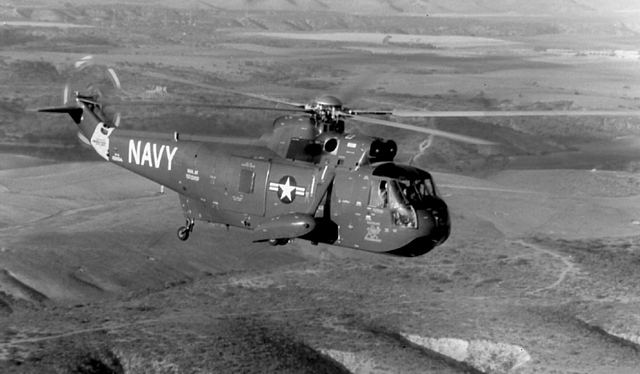 ¹ FAI Record File Number 2179
² FAI Record File Number 2180: 2,170.70 kilometers (1,348.81 miles), set by Captain Michael N. Antoniou, U.S. Army, flying a Bell YUH-1D Iroquois, 60-6029, from Edwards Air Force Base, California, to Rogers, Arkansas, 27 September 1964.
³ FAI Record File Number 13121. (See TDiA, 5 February 1962.)
© 2020, Bryan R. Swopes