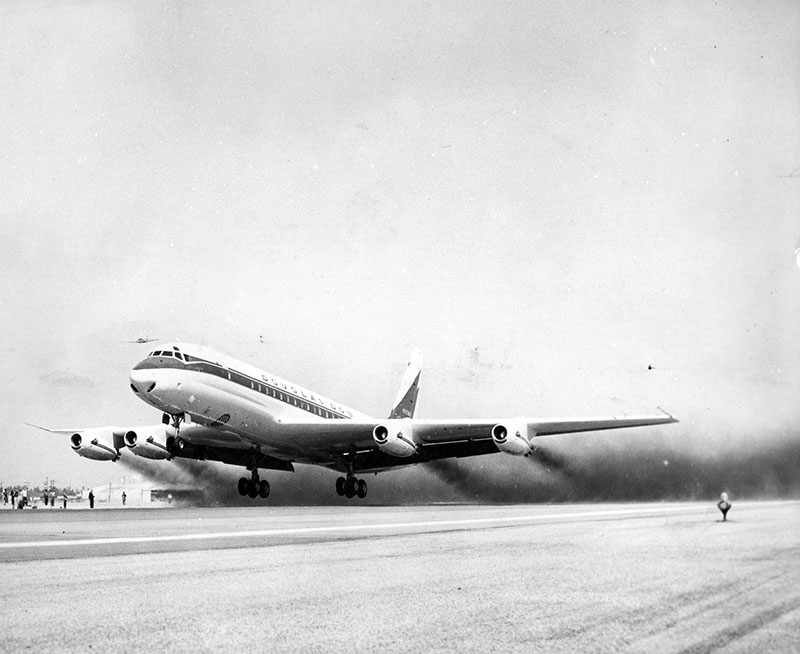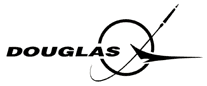 30 May 1958: Douglas Aircraft Company Flight Operations Manager and engineering test pilot Arnold G. Heimerdinger, with co-pilot William M. Magruder and systems engineer Paul H. Patten, were scheduled to take off from Long Beach Airport (LGB) on the coast of southern California, at 10:00 a.m., to make the first flight of the new Douglas DC-8 jet airliner, c/n 45252, FAA registration N8008D.
Crowds of spectators, estimated as many as 50,000 people, were surrounding the airport. For this first test flight, the Federal Aviation Administration required a minimum of five miles visibility. Typical Southern California coastal low clouds and fog caused a ten minute delay.
Taking off at 10:10 a.m., N8008D climbed out to the south over the Pacific Ocean. Escorted by a company-owned Douglas DC-7 engineering and photo plane and a Lockheed T-33A Shooting Star chase, the DC-8 climbed to 11,000 feet (3,353 meters) and went through a series of pre-planned flight maneuvers and systems checks. Heimerdinger took the airliner north to Edwards Air Force Base in the high desert of southern California, where the full flight test program would be carried out. The total duration of the first flight was 2 hours, 10 minutes.
In an article written the following year, Heimerdinger said that the DC-8 was easy to fly and never presented any difficulties during the test program.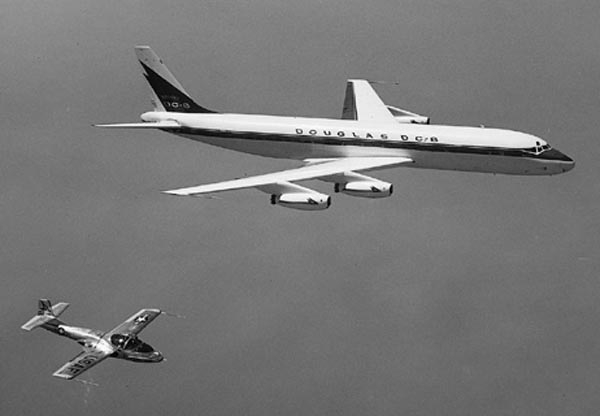 The Douglas DC-8 Jetliner is a commercial airliner, a contemporary of the Boeing 707 and Convair 880. It was operated by a flight crew of three and could carry up to 177 passengers. It was powered by four turbojet engines mounted on pylons suspended below the wings. The wings' leading edges were swept to 30° as were the vertical fin and horizontal tailplane. The airplane is 150 feet, 6 inches (45.872 meters) long with a wingspan of 142 feet, 5 inches (43.409 meters) and overall height of 42 feet, 4 inches (12.903 meters). N8008D was a Series 10 version. It had an empty weight of 119,767 pounds (54,325 kilograms) and maximum takeoff weight of 273,000 pounds (123,831 kilograms).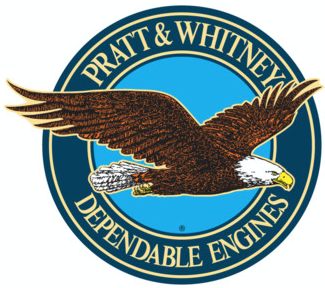 N8008D was originally powered by four Pratt & Whitney JT3C-6 turbojet engines, the same engines which powered its Boeing rival. It is a two-spool, axial-flow turbojet engine with a 16-stage compressor and 2-stage turbine. The JT3C-6 was rated at 11,200 pounds of thrust (49.82 kilonewtons), and 13,500 pounds (60.05 kilonewtons) with water/methanol injection). The JT3C is 11 feet, 6.6 inches (3.520 meters) long, 3 feet, 2.9 inches (0.988 meters) in diameter, and weighs 4,235 pounds (1,921 kilograms). The engines were later upgraded to JT3D-1 turbofan engines which produced 17,000 pounds of thrust.
The DC-8-10 series had a cruising speed of 0.82 Mach (542 miles per hour/872 kilometers per hour) at 35,000 feet (10,668 meters). Its maximum range was 5,092 miles (8,195 kilometers).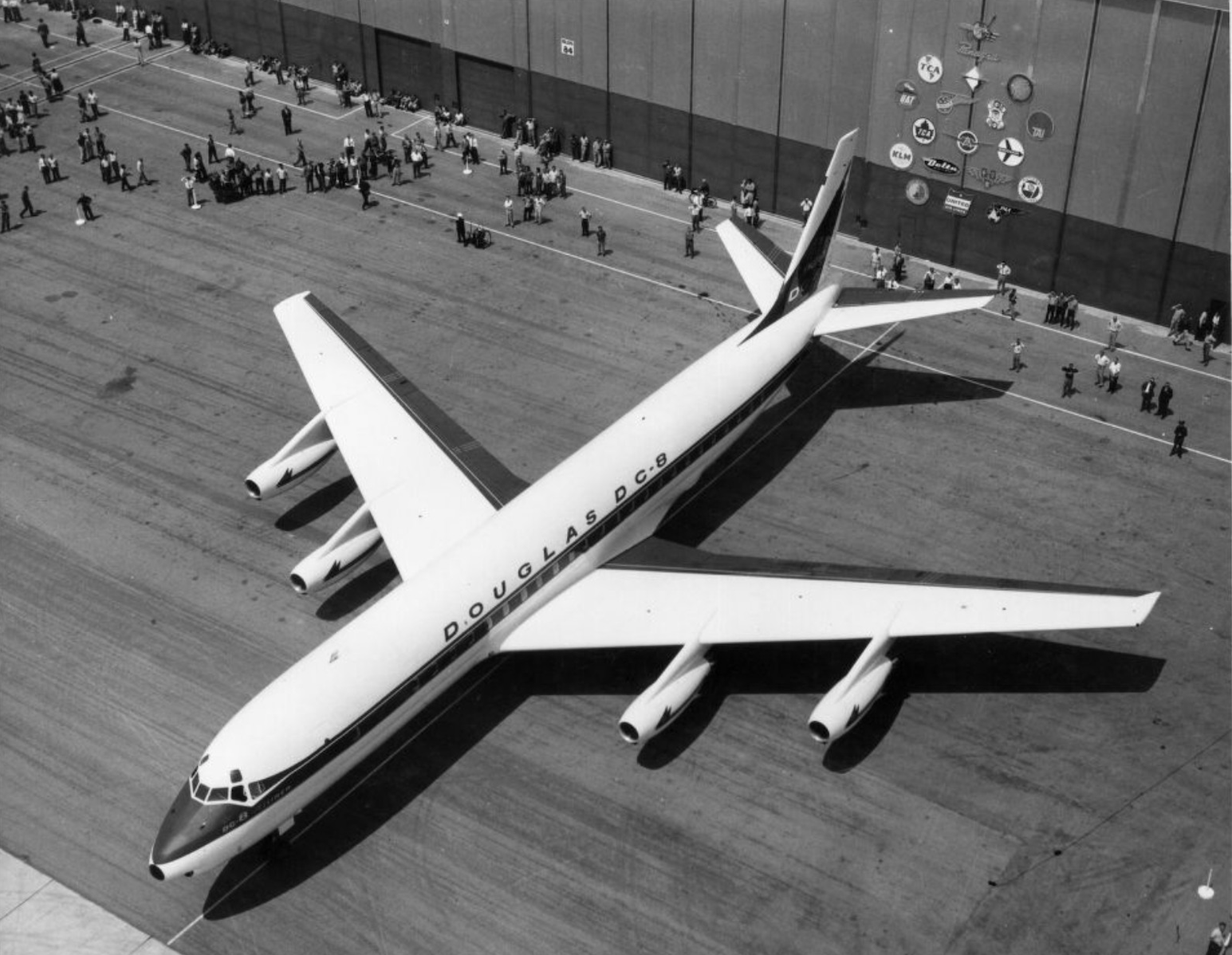 On 21 August 1961, a Douglas DC-8-43, N9604Z, c/n 45623, Line Number 130, flown by Chief Test Pilot William Magruder, Paul Patten, Joseph Tomich and Richard Edwards, climbed to 50,090 feet (15,267 meters) near Edwards Air Force Base. Magruder put the DC-8 into a dive, and the airplane reached Mach 1.012 (668 miles per hour/1,075 kilometers per hour) while descending through 41,088 feet (12,524 meters). The airliner maintained this supersonic speed for 16 seconds.
This was the first time that a civil airliner had "broken the Sound Barrier." An Air Force F-100 Super Sabre and F-104 Starfighter were chase planes for this flight. Reportedly, the F-104 was flown by the legendary test pilot, Colonel Chuck Yeager.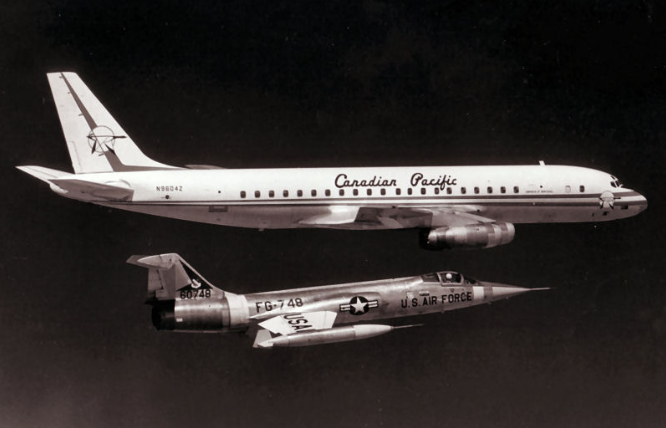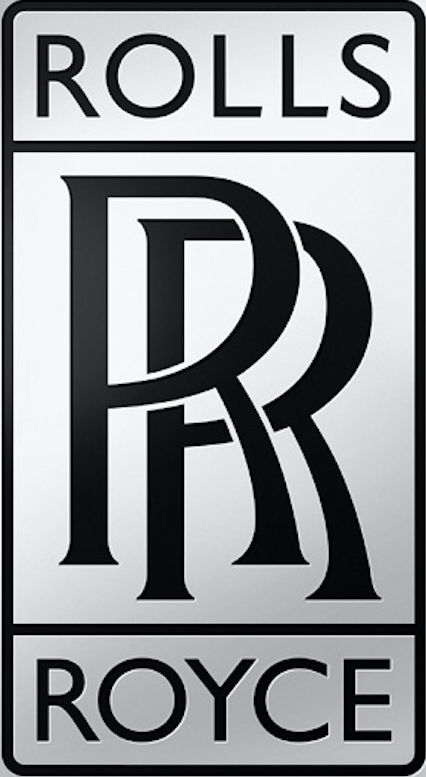 N9604Z was powered by four Rolls-Royce Conway RCo.12 Mk 509 two-shaft axial-flow turbofan engines, rated at 17,500 pounds of thrust (77.844 kilonewtons) at 9,990 r.p.m. The 509 is 11 feet, 3.9 inches (3.452 meters) long, 3 feet, 6.2 inches (1.072 meters) in diameter, and weighs 4,542 pounds (2,060 kilograms).
N9604Z was delivered to Canadian Pacific Airlines, 15 November 1961, registered CF-CPG, and named Empress of Montreal. It later flew under CP Air as Empress of Buenos Aires. It was scrapped at Opa Locka Municipal Airport, north of Miami, Florida, in May 1981.
In 1960, N8008D was converted to the DC-8-51 configuration. With a change to the more powerful JT3D-1 turbofan engines, the airliners maximum takeoff weight was increased to 276,000 pounds (125,191 kilograms).
After the flight test and commercial certification program was completed, on 21 June 1961, Douglas leased N8008D to National Airlines, based at Miami, Florida. One year later, 20 June 1961, it was sold to Trans International Airlines. TIA leased the DC-8 to Lufthansa, 11 May 1965, and to Canadian Pacific, 1 October 1966. It was re-registered CF-CPN and named Empress of Santiago.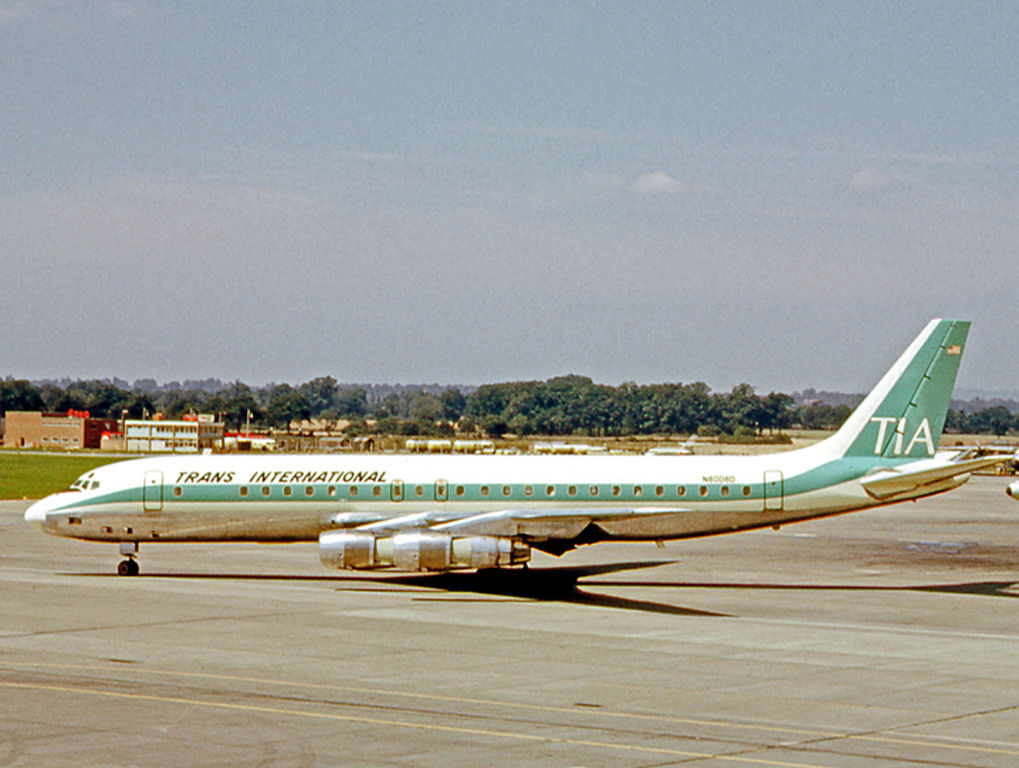 TIA sold the DC-8 to Delta Airlines, Atlanta, Georgia, 1 October 1967. It reverted to its FAA-assigned registration, N8008D. Delta gave it fleet number 800.

In March 1979, Delta sold N8008D to F.B. Myers and Associates. On 1 April, F.B. Myers leased the it to Aerovias de México, S.A. de C.V. (Aeroméxico). The DC-8 was assigned Mexican registration XA-DOE and named Quintana Roo.
The first Douglas DC-8 was placed in storage at Marana-Pinal Airpark, north of Tucson, Arizona, 7 January 1982. In May 1989, it was sold to Agro Air, a Caribbean regional cargo airline. It remained at Marana and was used as a source of parts. In 2001, c/n 45252 it was scrapped.
Between 1959 and 1972, Douglas produced 556 DC-8s in passenger and freighter configurations.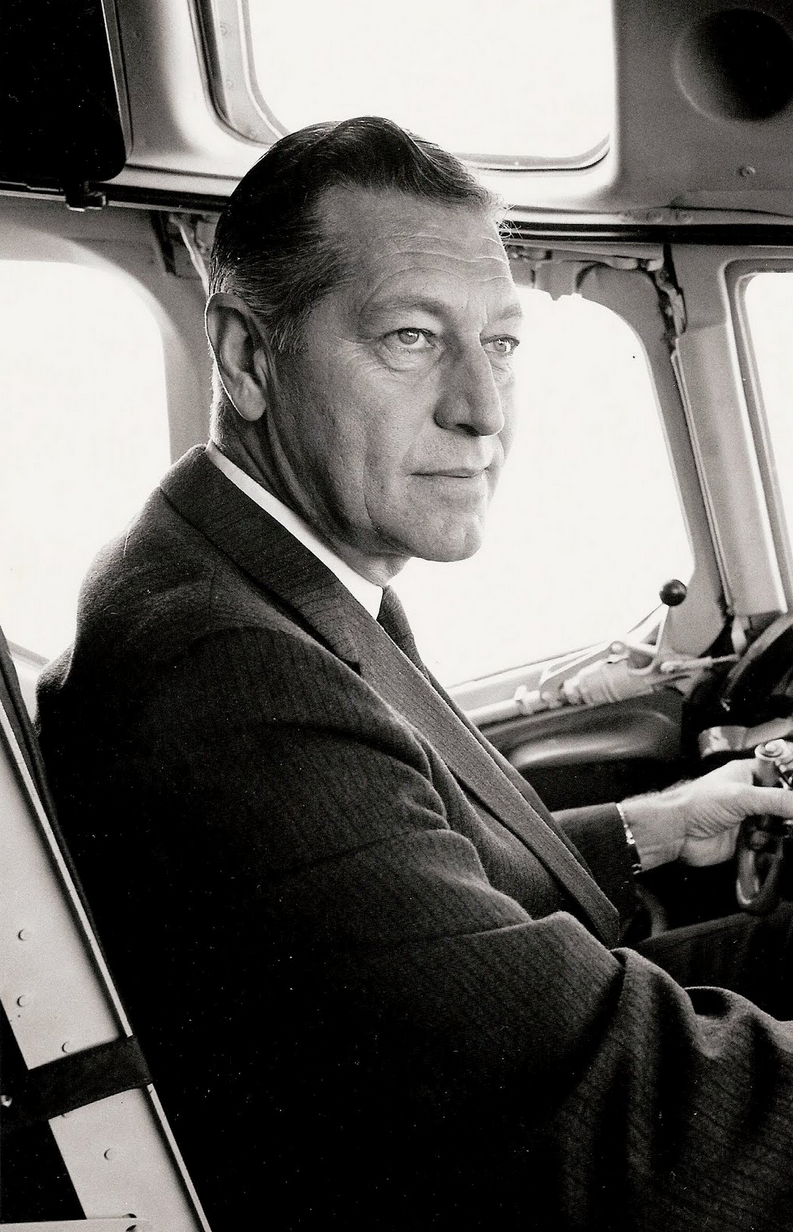 Arnold George Heimerdinger was born in Manchester Township, Michigan, 7 December 1910. His parents were Charles and Minnie L. Uphaus Heimerdinger. He studied electrical engineering at the University of Michigan. Heimerdinger married Miss Mary Aileen Eggert 19 August 1935.
A.G. Heimerdinger was commissioned as an ensign in the United States Navy, 27 November 1942 and served as a Naval Aviator until he was released from active duty, 14 October 1945.
Heimerdinger worked as an engineering test pilot for the Federal Aviation Administration, and he flew certification tests of the Boeing 377 Stratocruiser, Convair 240 and 340 Metroliner, and the Lockheed L-640 and L-1049 Constellation.
He joined the Douglas Aircraft Company at Santa Monica, California, in 1952 and remained with the company until he retired in 1974. He was the project test pilot for the Douglas DC-6B and the DC-7. Transferring to Douglas' Long Beach Division, a few miles southeast, he was project test pilot for the DC-8 and DC-9 jet airliners.
Arnold G. "Heimie" Heimerdinger died at Santa Monica, California, 17 July 1975.
© 2018, Bryan R. Swopes