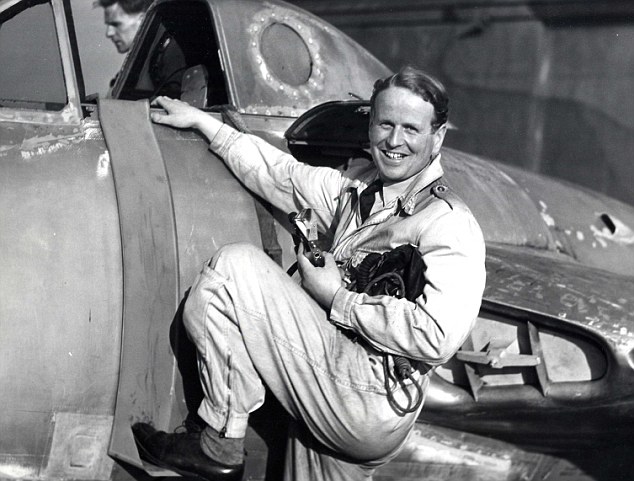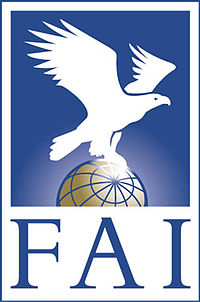 23 March 1948: During a 45-minute flight over Hatfield, Hertfordshire, England, the de Havilland Aircraft Company chief test pilot, Group Captain John Cunningham, D.S.O., flew a modified DH.100 Vampire F.1 fighter to a Fédération Aéronautique Internationale (FAI) World Record for Altitude of 18,119 meters (59,446 feet).¹ Cunningham broke the record set nearly ten years earlier by Colonel Mario Pezzi in a Caproni Ca.161 biplane.² (See This Day in Aviation, 22 October 1938)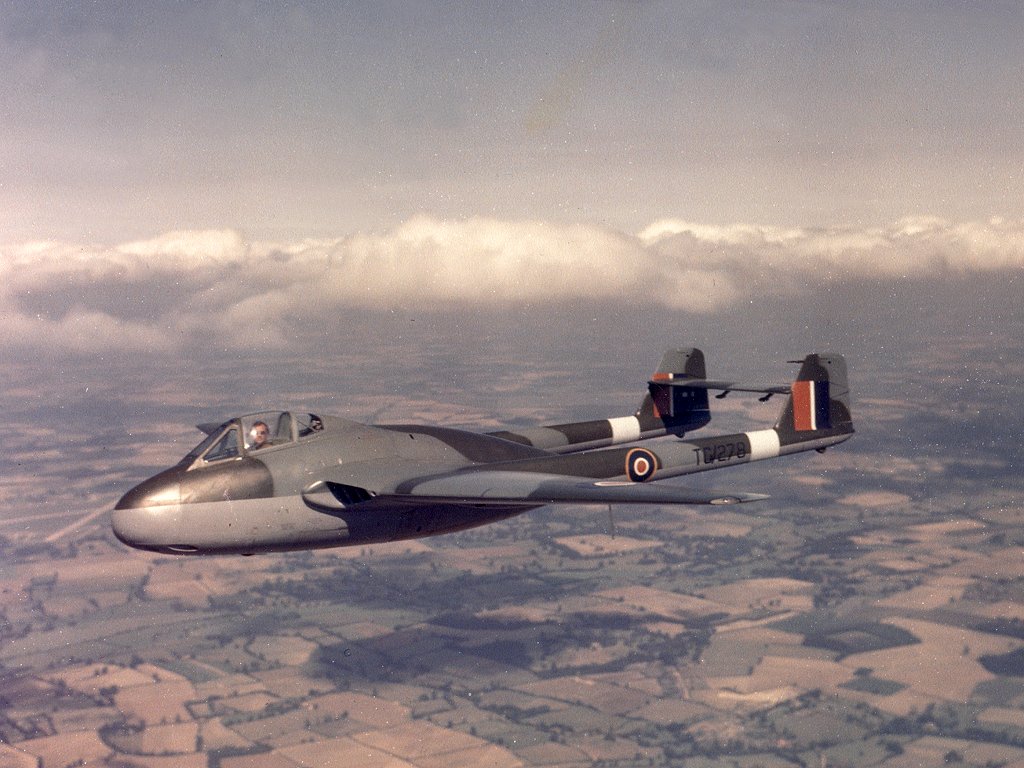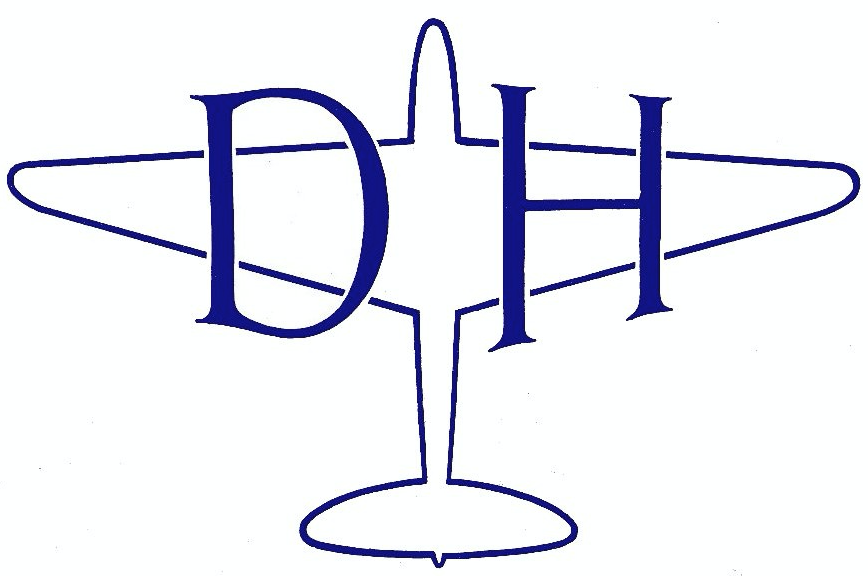 The de Havilland DH.100 Vampire F.1 flown by Cunningham was the fifth production aircraft, TG/278. It was built by the English Electric Company at Preston, Lancashire, with final assembly at Samlesbury Aerodrome, and made its first flight in August 1945. It was intended as a prototype photo reconnaissance airplane. The cockpit was heated and pressurized for high altitude, and a metal canopy installed.
The photo reconnaissance project was dropped and TG/278 became a test bed for the de Havilland Engine Company Ghost 2 turbojet (Halford H.2), which produced 4,400 pounds of thrust (19.57 kilonewtons) at 10,000 r.p.m. The Vampire could take the Ghost engine to altitudes beyond the reach of the Avro Lancaster/Ghost test bed already in use. The airplane's wing tips were each extended 4 feet (1.219 meters) to increase lift.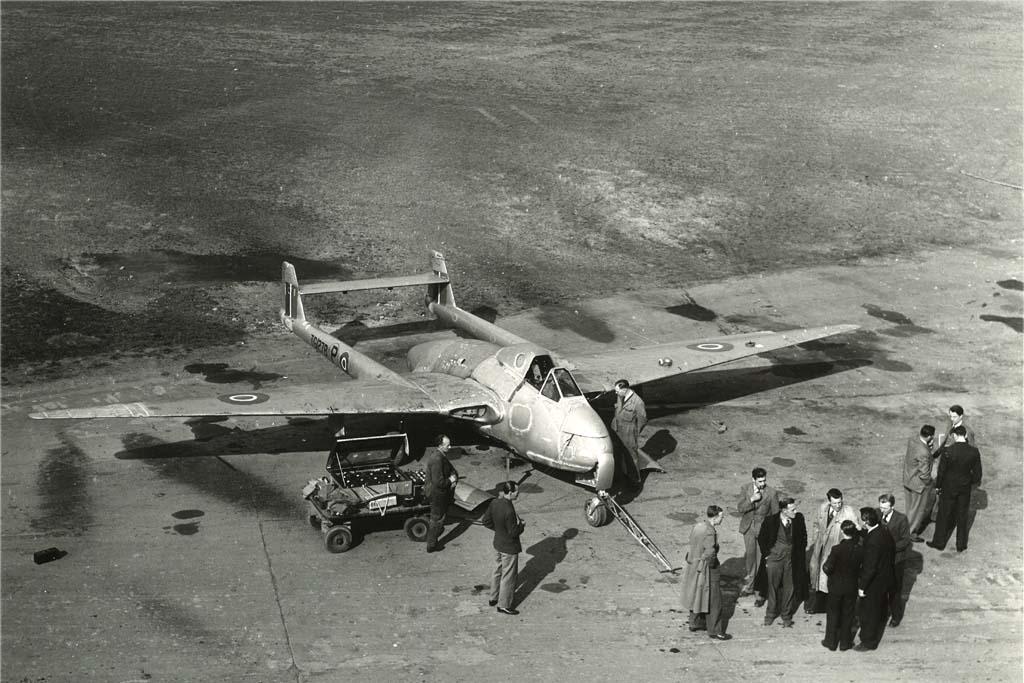 The aircraft was stripped of paint to reduce weight. Smaller batteries were used and placed in normal ballast locations. Special instrumentation and recording cine cameras were installed in the gun compartment, and ten cylinders of compressed air for breathing replaced the Vampire's radio equipment. At takeoff, the Vampire carried 202 gallons (765 liters) of fuel, 40 gallons less than maximum, sufficient for only one hour of flight. The takeoff weight of TG/278 was 8,400 pounds (3,810 kilograms).
John Cunningham had previously flown TG/278 to a world record 799.644 kilometers per hour (496.876 miles per hour) over a 100 kilometer course at Lympne Airport, 31 August 1947.³
TG/278 continued as a test aircraft until it was damaged by an engine fire in October 1950. It was used as an instructional airframe at RAF Halton.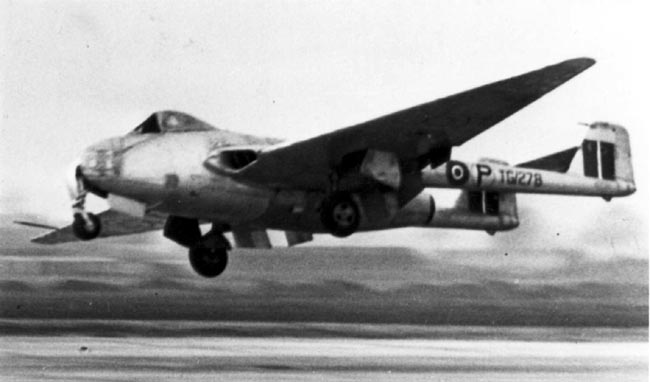 A standard Vampire F.1 was 9.370 meters (30 feet, 8.9 inches) long with a wingspan of 12.192 meters (40 feet, 0 inches) and overall height of 2.700 meters (8 feet, 10.3 inches). The fighter had an empty weight of 6,380 pounds (2,894 kilograms) and gross weight of 8,587 pounds (3,895 kilograms).
The basic Vampire F.1 was powered by a de Havilland-built Halford H.1B Goblin turbojet engine. This engine used a single-stage centrifugal-flow compressor and single-stage axial-flow turbine. It had a straight-through configuration rather than the reverse-flow of the Whittle turbojet from which it was derived. It produced 2,460 pounds of thrust (10.94 kilonewtons) at 9,500 r.p.m., and 3,000 pounds (13.34 kilonewtons) at 10,500 r.p.m. The Goblin weighed approximately 1,300 pounds (590 kilograms).
It had a maximum speed of 540 miles per hour (869 kilometers per hour), a service ceiling of 41,000 feet (12,497 meters) and range of 730 miles (1,175 kilometers).
The Vampire F.1 was armed with four 20 mm Hispano autocannon in the nose, with 150 rounds of ammunition per gun.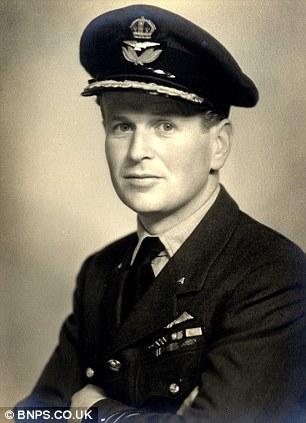 Group Captain John Cunningham C.B.E., D.S.O. and Two Bars, D.F.C. and Bar, A.E., D.L., F.R.Ae.S, was born 1917 and educated at Croydon. In 1935 he became an apprentice at De Havilland's and also joined the Auxiliary Air Force, where he trained as a pilot. He was commissioned as a Pilot Officer, 7 May 1936, and was promoted to Flying Officer, 5 December 1937. Cunningham was called to active duty in August 1939, just before World War II began, and promoted to Flight Lieutenant, 12 March 1940.
While flying with No. 604 Squadron, Cunningham was awarded the Distinguished Flying Cross, 28 January 1941. He was appointed Acting Squadron Leader, Auxiliary Air Force, and was decorated with the Distinguished Service Order, 29 April 1941. The Gazette reported,
"This officer has continued to display the highest devotion to duty in night fighting operations. One night in April, 1941, he destroyed two enemy bombers during a single patrol and a week later destroyed  three enemy raiders during three different patrols. Squadron Leader Cunningham has now destroyed at least ten enemy aircraft and damaged a number of others. His courage and skill are an inspiration to all."
—The London Gazette, 29 April 1941, Page 2445 at Column 1.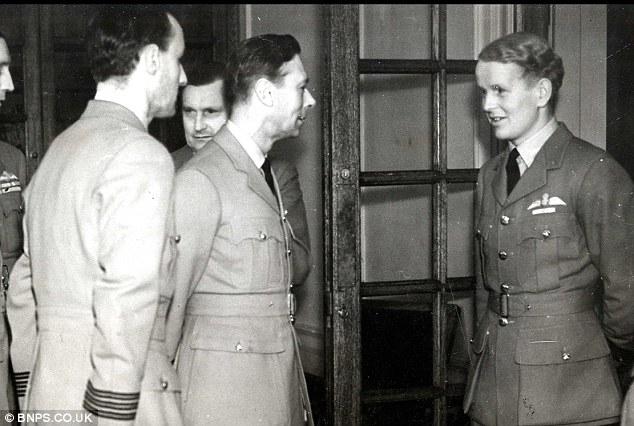 Acting Squadron Leader Cunningham's promotion to Squadron Leader (Temporary) became official 10 June 1941. The King approved the award of a Bar to his Distinguished Flying Cross, 19 September 1941. Squadron Leader Cunningham took command of No. 604 Squadron 1 August 1946.
On 3 March 1944 Wing Commander Cunningham received a second Bar to his Distinguished Service Order. According to The Gazette,
"Within a recent period Wing Commander Cunningham has destroyed three more hostile aircraft and his last success on the night of 2nd January, 1944, brings his total victories to 20, all with the exception of one being obtained at night. He is a magnificent leader, whose exceptional ability and wide knowledge of every aspect of night flying has contributed in large measure to the high standard of operational efficiency of his squadron which has destroyed a very large number of enemy aircraft. His iron determination and unswerving devotion to duty have set an example beyond praise."
—The London Gazette, 3 March 1944, Page 1059 at Column 1.
Promoted to Group Captain 3 July 1944, Cunningham was the highest scoring Royal Air Force night fighter pilot of World War II, credited with shooting down 20 enemy airplanes. He was responsible for the myth that eating carrots would improve night vision.
In addition to the medals awarded by the United Kingdom, he also held the United States Silver Star, and the Union of Soviet Socialist Republics Order of the patriotic War (1st Class).
Following the War, John Cunningham returned to de Havilland as a test pilot. After the death of Geoffrey Raoul de Havilland, Jr., in 1946, Cunningham became the de Havilland's chief test pilot. He remained with the firm through a series of mergers, finally retiring in 1980.
Cunningham was appointed an Officer of the Most Excellent Order of the British Empire (O.B.E.) in 1951, and promoted to Commander of the Most Excellent Order of the British Empire (C.B.E.) in 1963. He relinquished his  Auxiliary Air Force commission 1 August 1967.
Group Captain John Cunningham C.B.E., D.S.O. and Two Bars, D.F.C. and Bar, A.E., D.L.,  died 21 July 2002 at the age of 84 years.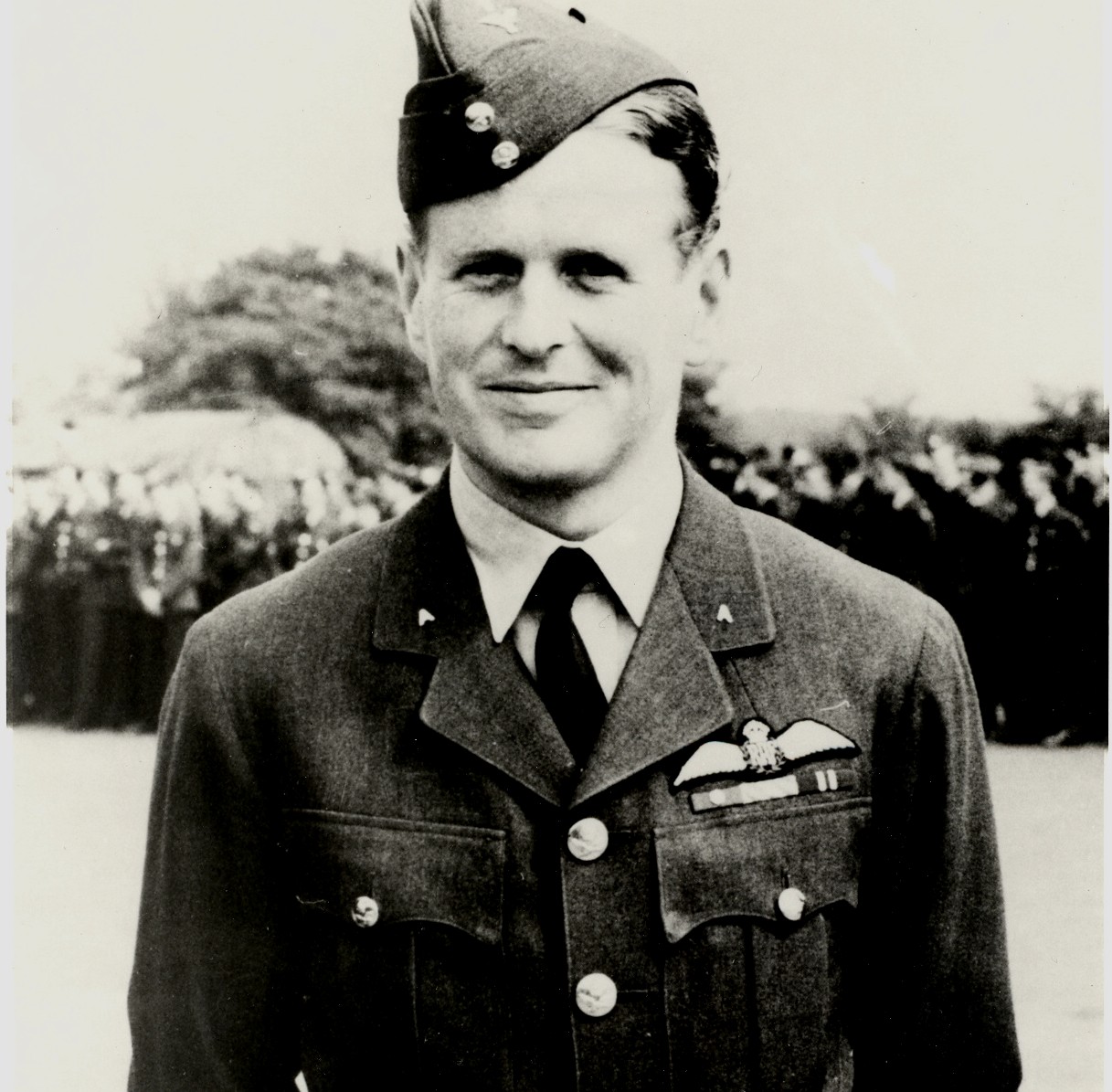 ¹ FAI Record File Number 9844
² FAI Record File Number 11713: 17,083 meters (56,047 feet)
³ FAI Record File Number 8884
© 2019, Bryan R. Swopes