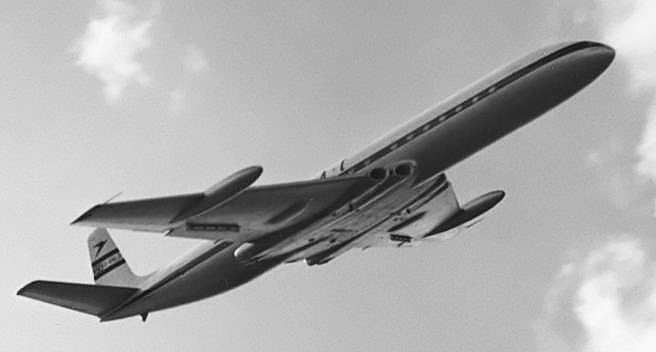 2 December 1955: The prototype de Havilland DH-106 Comet 3, G-ANLO, departed Hatfield Aerodrome, Hertfordshire, England, with Chief Test Pilot John Cunningham and Per Buggé in the cockpit. R.W. Chandler was the navigator/radio operator. Other crew members included Chief Flight Engineer E. Brackstone Brown, and flight engineers R.V. Ablett and J. Hamilton.
Several de Havilland executives and engineers were among the passengers. Captain A.P.W. Cane of British Overseas Airways Corporation and Captain I.D.V. Ralfe of Qantas were aboard to observe to new airliner in operation.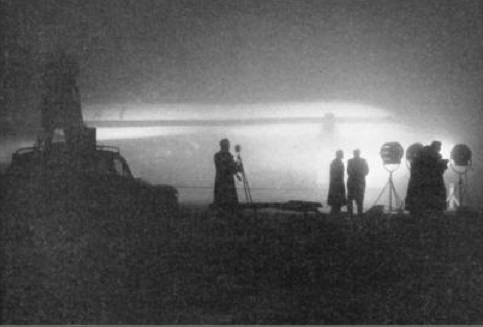 Departure had been scheduled for 5:30 a.m., local time, but heavy fog delayed the flight. 5 hours, 3 minutes later, the Comet 3 landed at Cairo, Egypt, after flying 2,076 nautical miles (2,389 statute miles, 3,845 kilometers). Rather than continuing on as had originally been planned, the crew remained over night at Cairo.
G-ANLO left Cairo the following morning and with refueling stops at Bombay, Maharashtra India; Singapore, Colony of Singapore; and Darwin, Northern Territory, Australia; the airliner arrived at Sydney, New South Wales, Australia, on 4 December, after a total of 19 hours, 5 minutes of flight. The distance traveled was 8,728 nautical miles (10,044 statute miles, 16,164 kilometers). During the Singapore-Darwin leg, the Comet 3 cruised at 44,000 feet (13,411 meters). More than 20,000 people were waiting at Sydney Kingsford Smith Airport to see the new jetliner arrive.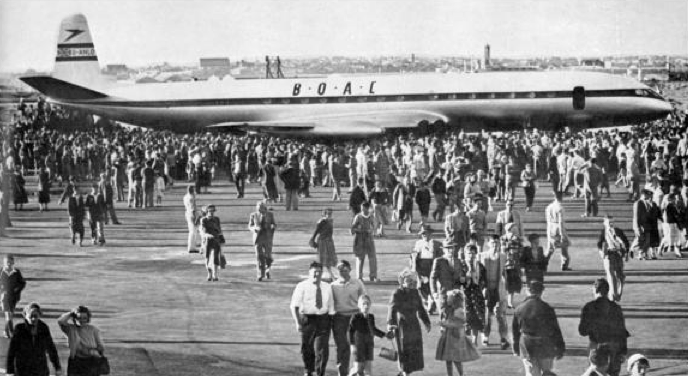 Group Captain Cunningham made demonstration flights from Sydney to Melbourne, Canberra and Perth.
G-ANLO then continued to Auckland, New Zealand, flying the 1,166 nautical miles (1,342 miles, 2,159 kilometers) in 2 hours, 43 minutes. From Auckland to Nadi Airport, Fiji, 1,153 nautical miles (1,326 miles, 2,135 kilometers), took 2 hours, 52 minutes.
The next leg of the around the world tour, Fiji to Honolulu, in the Hawaiian Islands, was completed on 13 December. The Comet 3 covered the 2,791 nautical miles (3,212 statute miles, 5,169 kilometers) in 6 hours, 44 minutes. G-ANLO remained at Honolulu for the next two days.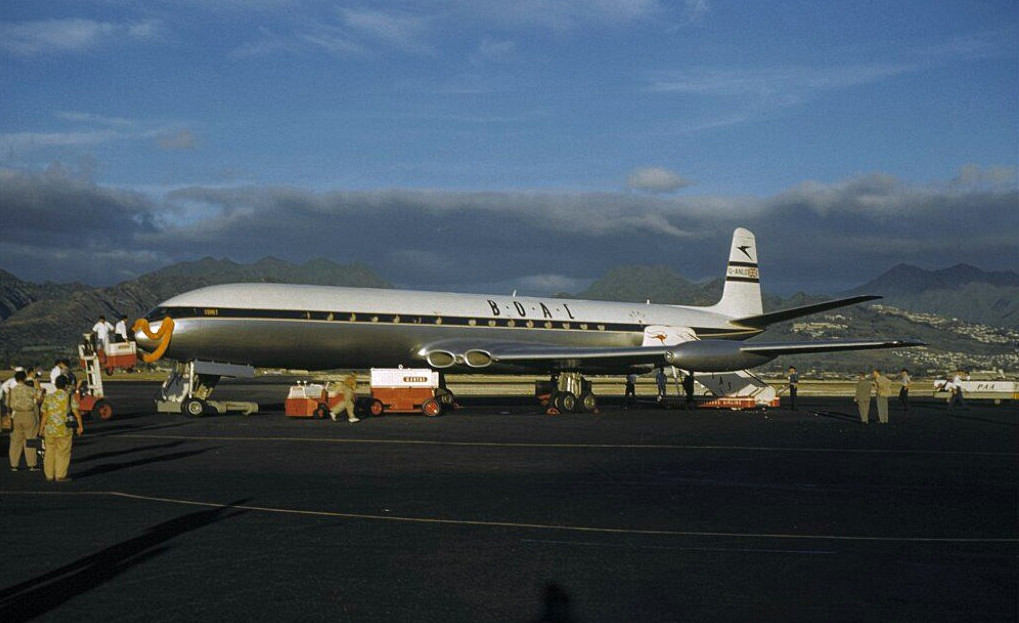 On 15 December, the Comet 3 left Honolulu for Vancouver, British Columbia, Canada, 2,408 nautical miles (2,771 statute miles, 4,460 kilometers). The duration of this flight was 5 hours, 40 minutes. The Comet 3 flew across Canada to Toronto, Ontario, 1,898 nautical miles (2,184 statute miles, 3,515 kilometers) in 3 hours, 56 minutes, then on to Montreal, Quebec, arriving there on 20 December.
The final leg of the flight, Montreal to London Heathrow Airport, 2,907 nautical miles (3,345 statute miles, 5,384 kilometers) was completed in 6 hours, 9 minutes, on 27 December 1955.
This was the first around-the-world flight by a jet-powered aircraft. The total distance flown by the Comet 3 was 24,324 nautical miles (27,991.6 statute miles/45,048.1 kilometers) The total flight time was 56 hours, 17 minutes.
For this flight Group Captain Cunningham was awarded the Harmon Trophy, which was presented by President Dwight D. Eisenhower, 23 October 1956.
The de Havilland DH.106 Comet 3 was a further development of the Comet 2 series. It was 15 feet (4.572 meters) longer with a length of 111 feet, 6 inches (33.985 meters), a wingspan of 115 feet (35.052 meters) and overall height of 29 feet, 6 inches (8.992. The area of the wings and tail surfaces had been increased. It was powered by four Rolls Royce Avon 521 turbojet engines, rated at 10,000 pounds of thrust (44.48 kilonewtons), each.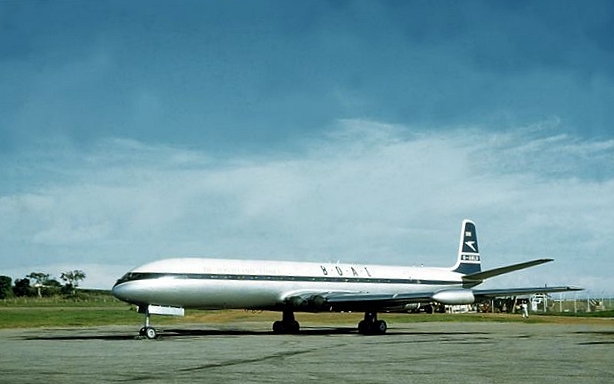 The airliner was designed to carry 58–76 passengers on flights ranging to 2,600 miles (4,184 kilometers). In addition to the increased length, visual differences from the previous Comets were the circular passenger windows, and wing tanks extending forward from the wings' leading edges.
Only two Comet 3s were built and one was used as a static test article. Production continued with the Comet 4, which had even greater improvements. G-ANLO remained a development prototype and was modified several times. In 1958 the wings were shortened and the external wing tanks removed. The airplane was redesignated Comet 3B. It was turned over to the Ministry of Supply and re-registered XP915, 20 June 1961. The airplane was used in instrument landing tests and later converted to a mockup of the Hawker Siddeley Nimrod MR1 maritime patrol aircraft. It was taken out of service in 1966 and scrapped.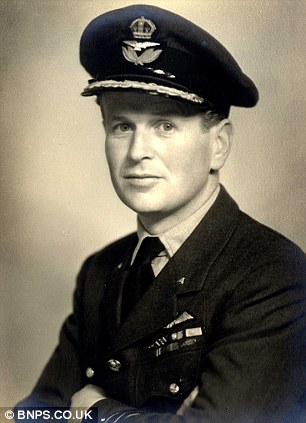 Group Captain John Cunningham C.B.E., D.S.O. and Two Bars, D.F.C. and Bar, A.E., was born 1917 and educated at Croydon. In 1935 he became an apprentice at De Havilland's and also joined the Auxiliary Air Force, where he trained as a pilot. Cunningham was called to active duty in August 1939, just before World War II began.
Promoted to Group Captain in 1944, Cunningham was the highest scoring Royal Air Force night fighter pilot of World War II, credited with shooting down 20 enemy airplanes. He was responsible for the myth that eating carrots would improve night vision.
Following the War, John Cunningham returned to de Havilland as a test pilot. Following the death of Geoffrey Raoul de Havilland, Jr., in 1946, Cunningham became the de Havilland's chief test pilot. He remained with the firm through a series of mergers, finally retiring in 1980.
He set a Fédération Aéronautique Internationale (FAI) world speed and altitude record with the company's DH.100 Vampire jet fighter, TG278: 799.644 kilometers per hour (496.876 miles per hour) over a 100 kilometer course at Lympne Airport, 31 August 1947.¹ He flew the DH.100 to 18,119 meters (59,446 feet) over Hatfield Aerodrome, 23 March 1948.² On 24 April 1950, Cunningham flew a DH.104 Dove light transport from London to Cairo at an average speed of 686.56 kilometers per hour (426.61 miles per hour), setting a world record for speed over a recognized course.³
Group Captain Cunningham died 21 July 2002 at the age of 84 years.
Per Olivarius Buggé (also known as Peter Bugge) was born at Kristiansund, Norway in 1918. He joined the Royal Norwegian Air Force in 1938. After Germany invaded the country, Buggé escaped to Sweden, April 1940, and in February 1941 arrived in Great Britain. He served with the Royal Air Force for the remainder of the War, flying Bristol Beaufighters and de Havilland Mosquitos with No. 604 Squadron and No. 85 Squadron (while it was under the command of Squadron Leader John Cunningham).
After the War Buggé flew for British Overseas Airways Corporation and Swedish Airlines. In 1949, he joined de Havilland as a test pilot, and stayed with the company after it was absorbed by Hawker Siddeley. He died in 1998.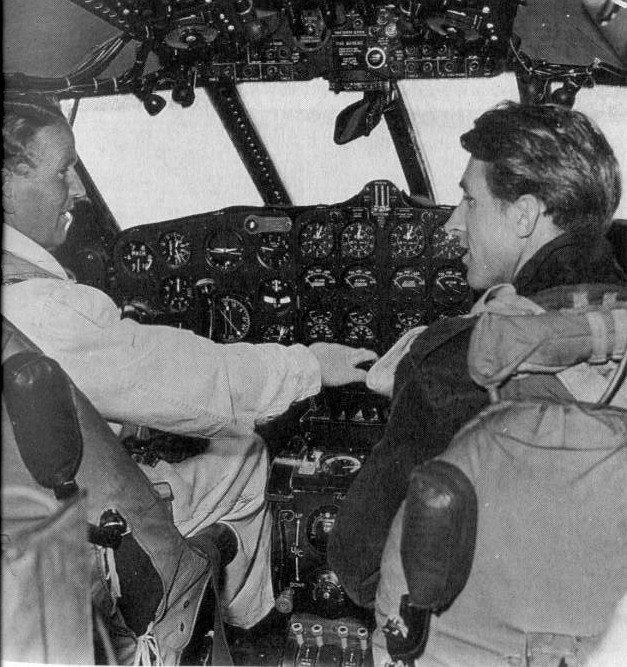 ¹ FAI record file number 8884
² FAI record file number 9844
³ FAI record file number 6378
© 2017, Bryan R. Swopes