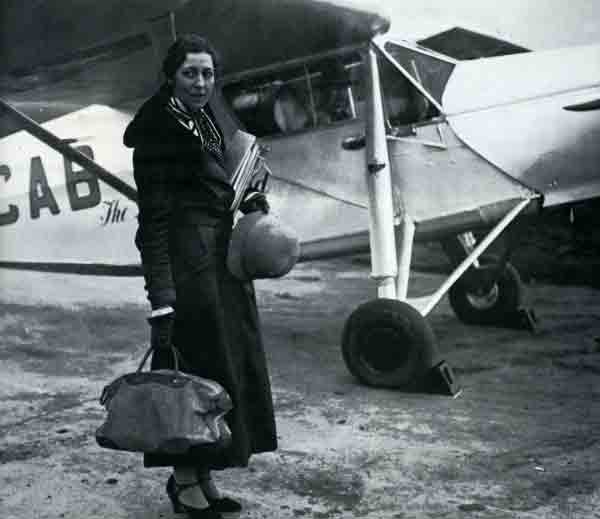 14–18 November 1932: Amy Johnson, CBE, (Mrs. James A Mollison) flew her new de Havilland DH.80A Puss Moth, c/n 2247, registration G-ACAB, from Lympne Aerodrome, London, England, to Cape Town, South Africa, a distance of approximately 6,300 miles (10,140 kilometers) in a total elapsed time of 4 days, 6 hours, 54 minutes. This broke the previous record which had been set by her husband, Jim Mollison, by 10 hours, 28 minutes.
A contemporary news article described the event:
FLIGHT, November 24, 1932
MRS. MOLLISON'S FINE FLIGHT
Beats her Husband's Cape Record by 10½ Hours
THERE are few, we think, who will not admit that Mrs. J.A. Mollison (Miss Amy Johnson) has accomplished a really remarkable feat in her latest flight—from England to Cape Town in 4 days 6 hr. 54 min., thus beating her husband's previous record for the same journey of 4 days 17 hr. 22 min. by 10 hr. 28 min.
Not only is the flight a magnificent achievement as far as the time taken is concerned, but as a feat of endurance, pluck, good piloting and navigation, it must be placed foremost in the list of great flights.
Throughout the flight Mrs. Mollison had had only 5 hours' sleep!
As reported in last week's issue of FLIGHT, Mrs. Mollison set out from Lympne, in her D.H. "Puss Moth" ("Gipsy Major"), Desert Cloud, at 6.37 a.m. on November 14, and at 7.30 p.m. arrived at Oran, on the North African coast, 1,100 miles distant. She made an hour's stop to refuel en route at Barcelona, and after a halt of 4 hours at Oran she started off on a night flight across the Sahara Desert towards Gao and Niamey.
At this stage some anxiety was felt owing to the absence of news concerning her progress for over 24 hours. Then came the news that she had landed safely at Gao (some 1,300 miles from Oran) at noon, November 15—having thus successfully accomplished a most difficult flight across the desert, without landmarks, at night. After a short stop for refuelling Mrs. Mollison left for Duala, but after flying for about an hour she noticed that her tanks were almost empty. She at once returned to Gao and found that they had put in only 10 galls. instead of 42 galls.!
After this irritating delay she proceeded once more, arriving safely at Duala in the evening, and continuing, after a short halt, towards Loanda. On this stage, during the night, the oil circulation caused her some trouble, and so she landed the next morning at Benguela (Port. W. Africa) to set matters aright.
Fortunately, the trouble was not serious—probably a portion of the Sahara in the filters—and she was able to proceed after a delay of some 9 hours. A halt to refuel was made at Mossamedes in the evening of November 17 and then came another night flight on the final stage of her journey.
Meanwhile, news of her start on the last hop reached Capetown, and from midnight November 17–18, huge crowds made their way to the Municipal aerodrome—although Mrs. Mollison could not possibly arrive much before midday. There were, therefore, several thousand people on the aerodrome by the time she arrived.
Mrs. Mollison appeared somewhat unexpectedly, from inland, shortly after 3 p.m., and it was not until the machine was about to land that the crowd realised that it was the Desert Cloud. She landed at 3.31 p.m. (1.31 p.m. G.M.T), and immediately the cheering crown broke down the barriers and surrounded the machine. It was some time before she could get out of her machine, but eventually she was got into a car, and before driving away she waved to the crowd and said: "Thank you very much for your great welcome. I said I would come back, and I have done so. It is really too kind of you to give me such a welcome."
Safely inside the aerodrome building, Mrs. Mollison spoke over the telephone to Mr. Mollison, after which she was taken to some friends, where she could obtain some well-earned sleep.
1st day     Lympne–Oran (1,100)
2nd  "        Oran–Gao (1,400)
3rd   "        Gao–Duala (1,150)
4th   "        Duala–Mossamedes (1,350)
5th   "        Mossamedes–Cape (1,300)
(Concluded on page 1141)
 MRS. MOLLISON'S FINE FLIGHT
(Concluded from page 1133)
Needless to say, Mrs. Mollison has received numerous messages of congratulation, amongst which were the following: —From H.M. the King: "Please convey to Mrs. Mollison hearty congratulations on her splendid achievment. I trust that she is not too exhausted. —George, R.I."
From Lord Londonderry, Secretary of State for Air: "On behalf of the Air Council I congratulate you most warmly on the successful completion of your magnificent flight."
Messages were also sent by the Royal Aero Club and Royal Aeronautical Society, Lord Wakefield, etc.
Mr. A.E. Whitelaw, the Australian philanthropist—who gave Mr. Mollison £1,000 in recognition of his Australia flight—is presenting a cheque for £1,000 to Mrs. Mollison in recognition of her achievement.
— FLIGHT, The Aircraft Engineer and Airships, No. 1248 (Vol. XXIV, No. 48.), 24 November 1932 at Pages 1133 and 1141.
The de Havilland Aircraft Co., Ltd., DH.80A Puss Moth was a single-engine high-wing monoplane with an enclosed cabin for a pilot and two passengers. It was constructed of a tubular steel frame covered with doped fabric. The airplane was 25 feet (7.620 meters) long with a wingspan of 36 feet, 9 inches (11.201 meters) and height of 6 feet, 10 inches (2.083 meters). The Puss Moth had an empty weight of 1,265 pounds (574 kilograms) and gross weight of 2.050 pounds (930 kilograms).
G-ACAB was powered by a 373.71-cubic-inch-displacement (6,124 cubic centimeters) air-cooled de Havilland Gipsy Major I inverted, inline 4-cylinder engine with a compression ratio of 5.25:1. It produced 120 horsepower at 2,100 r.p.m and 130 horsepower at 2,350 r.p.m. The engine weighed 306 pounds (138.8 kilograms).
The DH.80A had a cruise speed of 95 miles per hour (153 kilometers per hour) and maximum speed of 108 miles per hour (174 kilometers per hour). The airplane had a service ceiling of 17,000 feet (5,182 meters). The standard DH.80A had a range of 430 miles (692 kilometers), but The Desert Cloud had additional tanks which increased its range to over 2,000 miles (3,219 kilometers).
De Havilland built 284 DH.80A Puss Moths between 1929 and 1933. Only eight are known to exist. G-ACAB, then owned by Utility Airways, Ltd., was destroyed in a hangar fire at Hooton Park, Cheshire, 8 July 1940.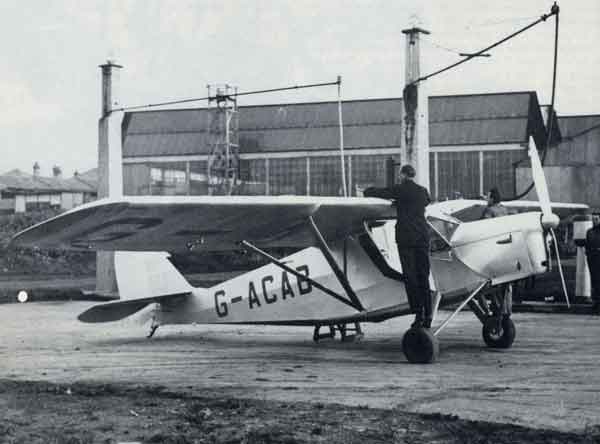 © 2016, Bryan R. Swopes