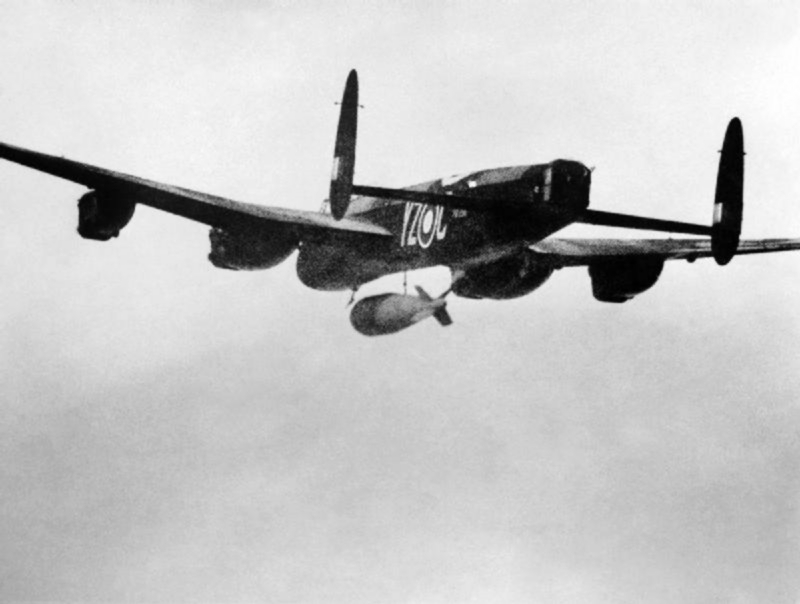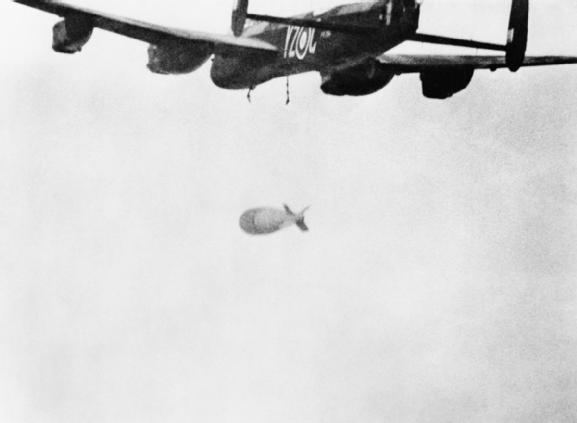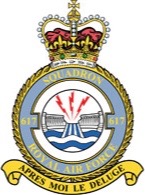 19 March 1945: Modified Avro Lancaster B Mk.I Special heavy bombers of No. 617 Squadron, Royal Air Force, attacked the railway viaduct at Arnsberg, Germany, using the 22,000 pound (9,979 kilogram) Grand Slam earth-penetrating bomb. The bomb had been first used just days before, 14 March, against another railway viaduct.
The Grand Slam was the largest and heaviest aerial bomb used during World War II. It was designed by aircraft engineer Barnes Neville Wallis, and was scaled up from his earlier, smaller "Tallboy." (Wallis also designed the "Upkeep" Special Mine used to attack hydroelectric dams in the Ruhr Valley in 1943.)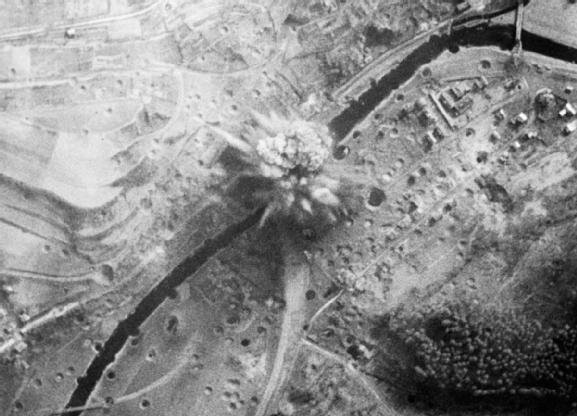 Wallis' idea was that a very heavy, supersonic bomb could penetrate deep into the earth and detonate, causing an "earthquake" which could destroy nearby heavily protected targets.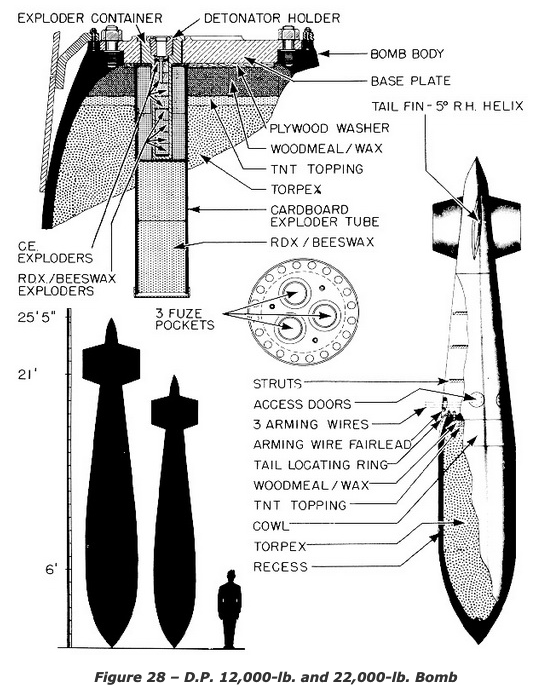 The Grand Slam bomb (officially, "Bomb, D.P., 22,000-lb., Mk I") was 25 feet, 5 inches (7.747 meters) long and had a maximum diameter of 3 feet, 10 inches (1.168 meters). When fully loaded with the explosive material, Torpex, the bomb weighed 22,400 pounds (10,160 kilograms).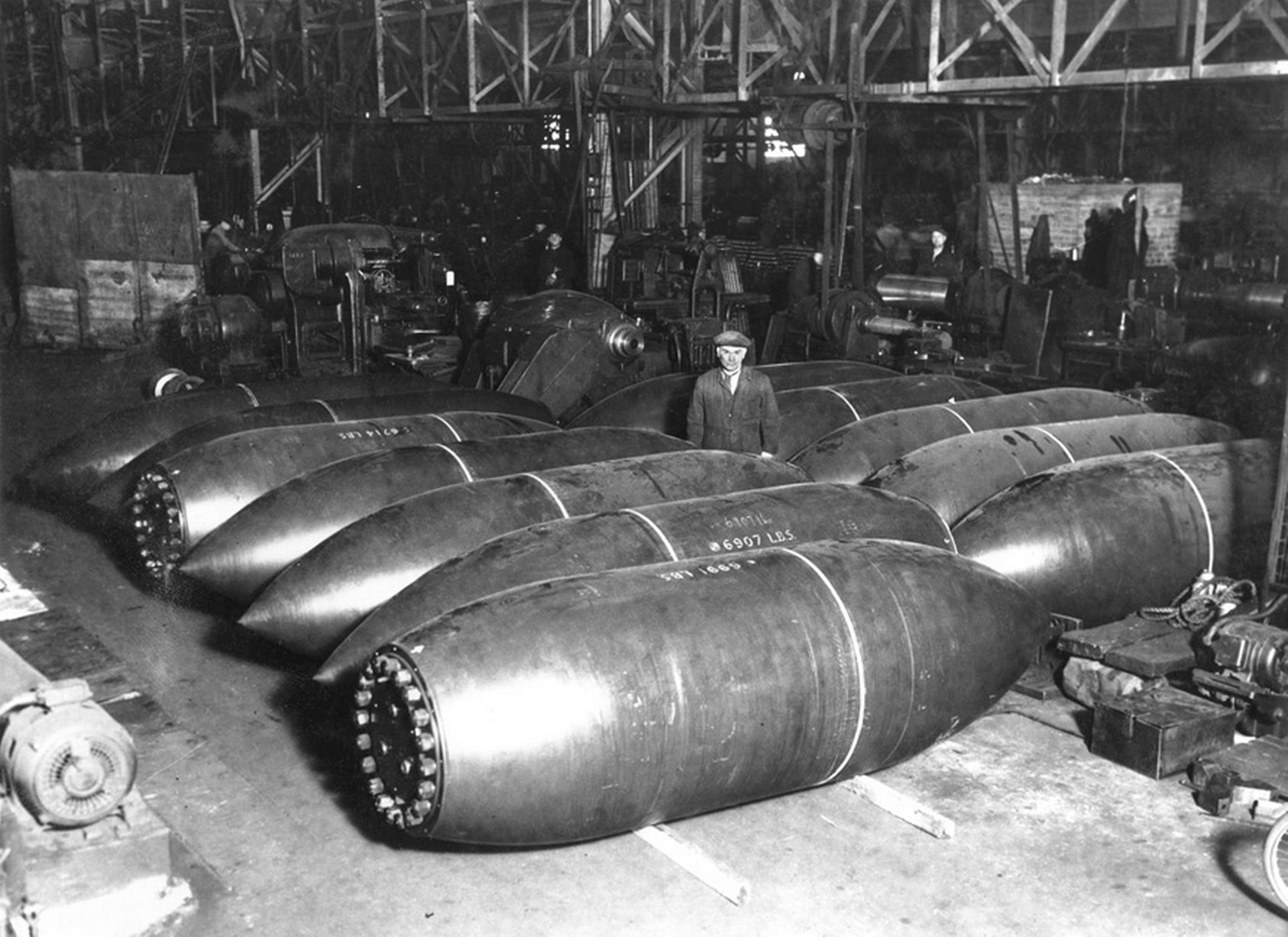 The bomb case was cast of steel at the Clyde Alloy and Steel Company, Glasgow, Scotland, then, after several days of cooling, machined to its precise shape. The casing made up approximately 60% of the bomb's total weight. At the nose, the casing had a wall thickness of 7.75 inches (19.685 centimeters).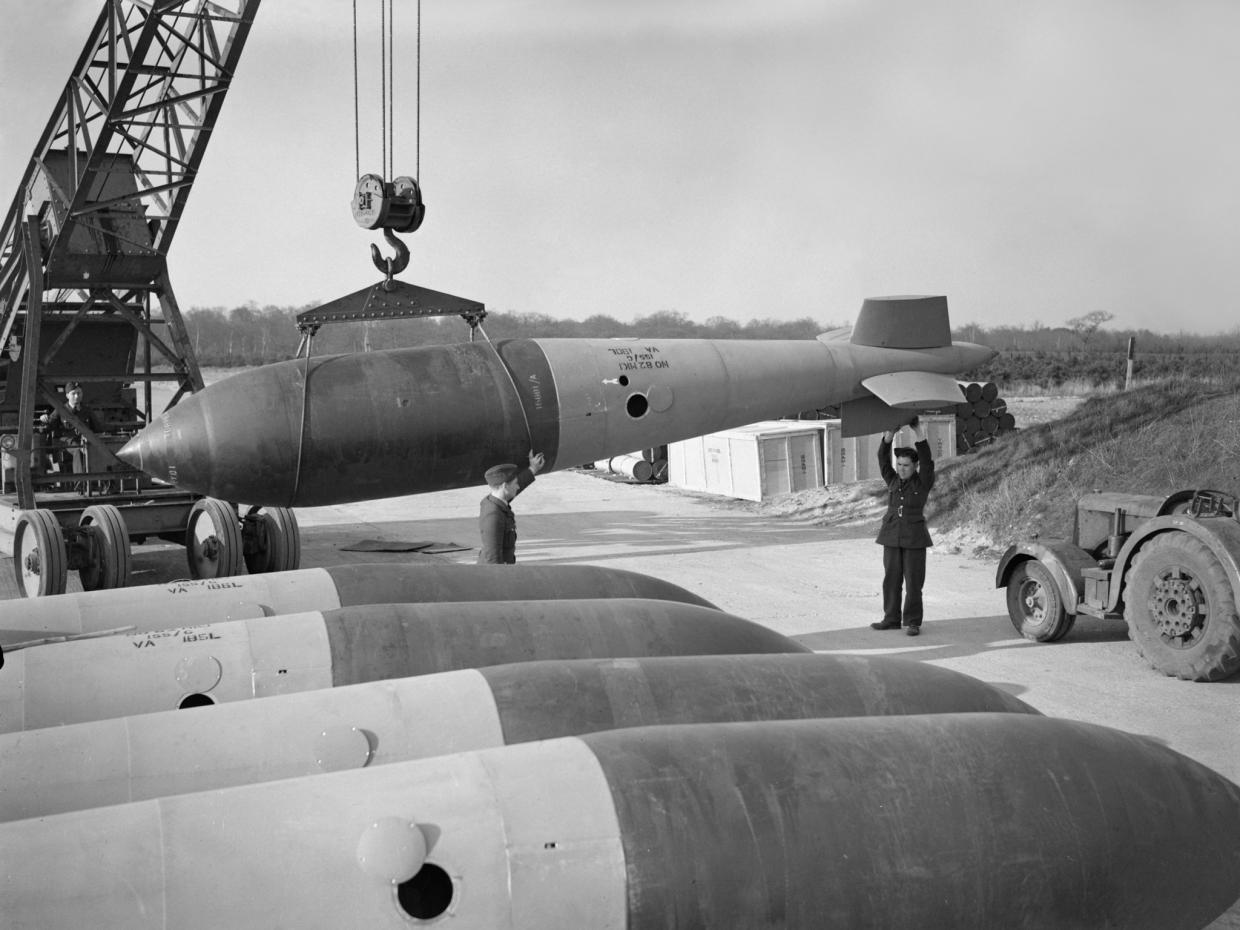 The bomb case was filled with approximately 9,200 pounds (4,173 kilograms) of molten Torpex, with a 1 inch (2.54 centimeters) topping of TNT. Torpex was an explosive designed for torpedo warheads and depth charges. It was made up of approximately equal quantities of two other explosives, Research Department Formula X (RDX), 42%, and trinitrotoluol (TNT), 40%, mixed with 18% powdered aluminum and wax. The resulting combination was approximately 1.4 times more powerful than TNT alone. About one month was required for the explosive to cool after being poured into the bomb case.
Because of its size and weight, the only Allied bomber capable of carrying the Grand Slam was a specially modified Avro Lancaster B.I Special, flown by No. 617 Squadron, Royal Air Force, "The Dambusters."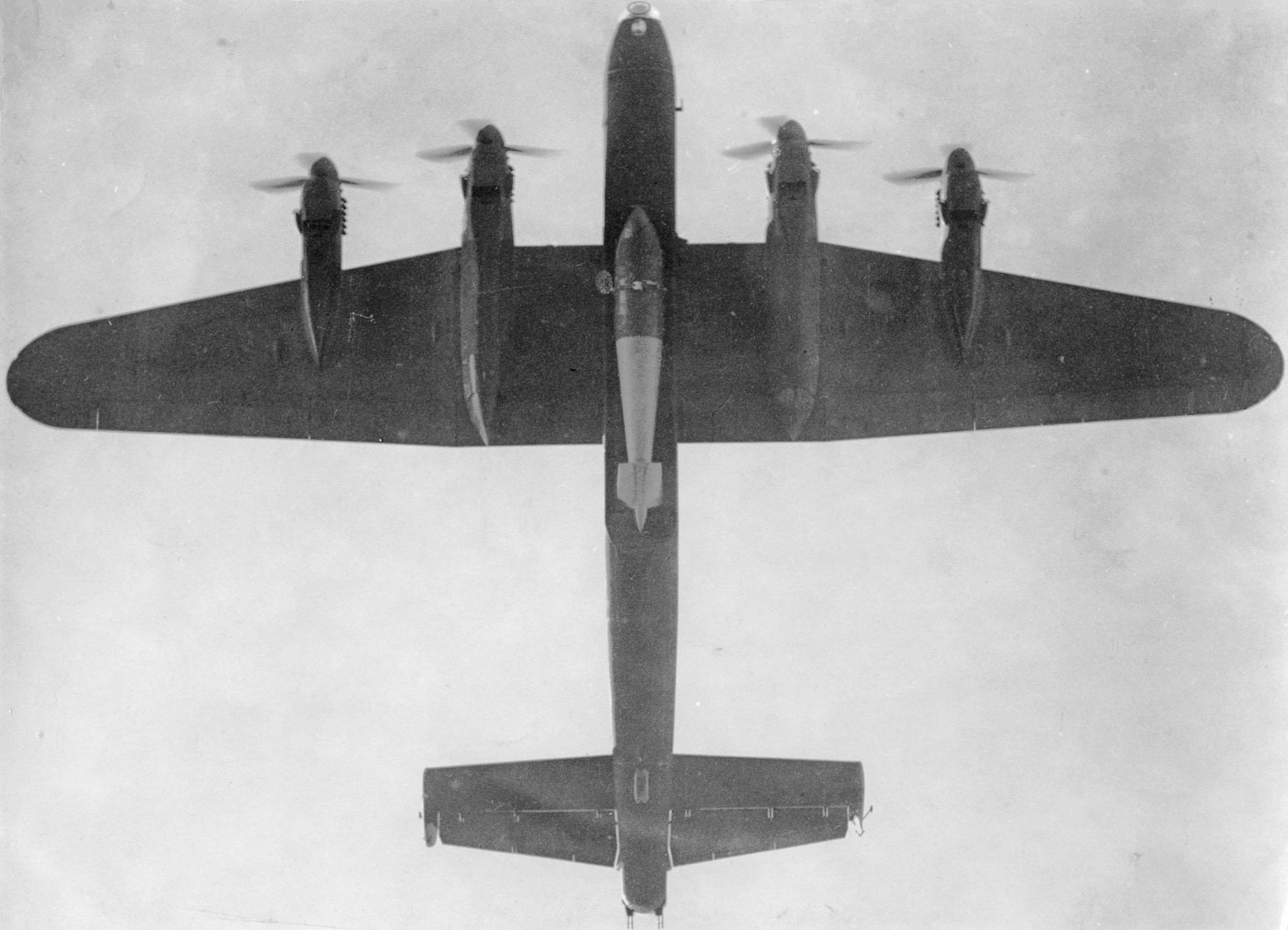 Wallis intended for the Grand Slam to be dropped from very high altitudes so that during its fall, it would go supersonic. The bomb had large fins that were offset 5° to the right of the centerline to cause it to rotate for stability. However, the bombers could not carry it to the planned release altitude, and it was typically dropped from approximately 9,000 feet (2,743 meters). Its very sleek design did allow it to come close to the speed of sound, however, and its stability made it a very accurate weapon. The bomb was capable of penetrating 20-foot-thick (6 meters) reinforced concrete roofs of submarine bases. ¹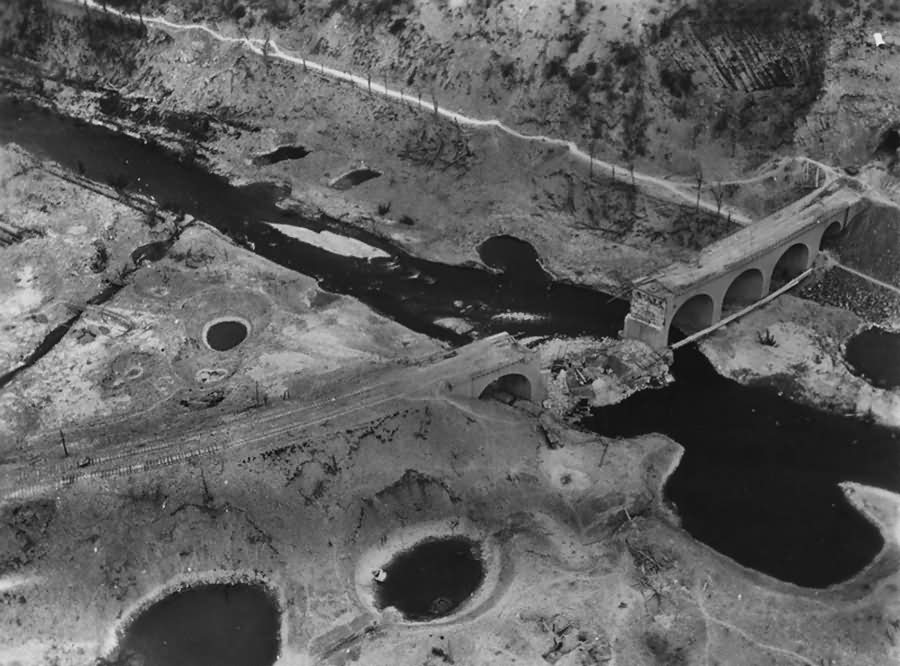 Barnes Neville Wallis, Esq., M. Inst. C.E., F.R.Ae.S., Assistant Chief Designer Vickers-Armstrongs Ltd., was appointed Commander of the Most Excellent Order of the British Empire (Civil Division), by His Majesty, King George VI, 2 June 1943.
Sir Barnes Neville Wallis C.B.E., was knighted by Her Majesty, Queen Elizabeth II, 13 December 1968.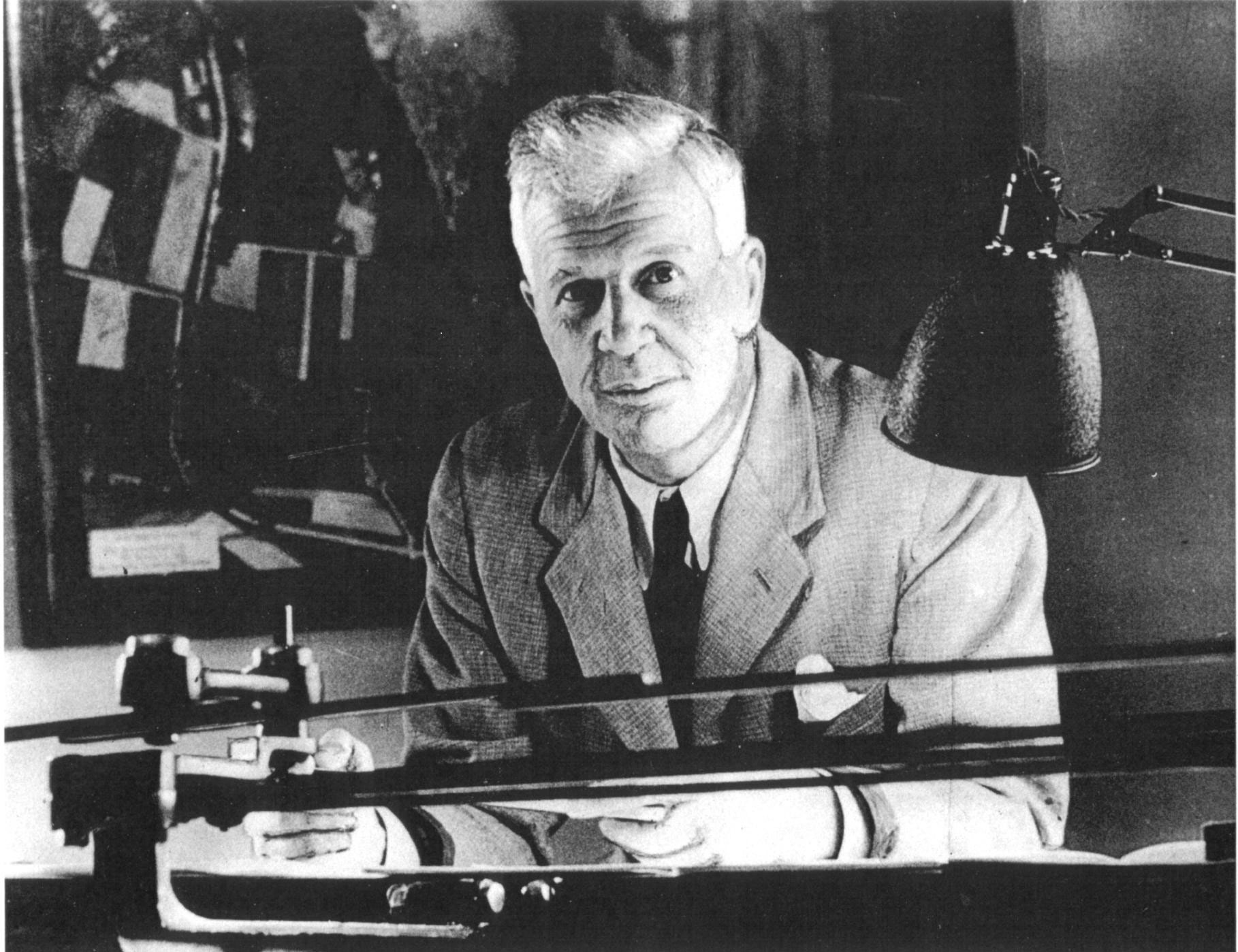 ¹ "The striking velocity of the bomb, when released at an altitude of 16,000 ft. and an air speed of 200 m.p.h., is stated at 1,097 ft./sec., at which speed is has developed a rotational velocity of 60 r.p.m." —British Explosive Ordnance, Part 1, Chapter 7
© 2019, Bryan R. Swopes