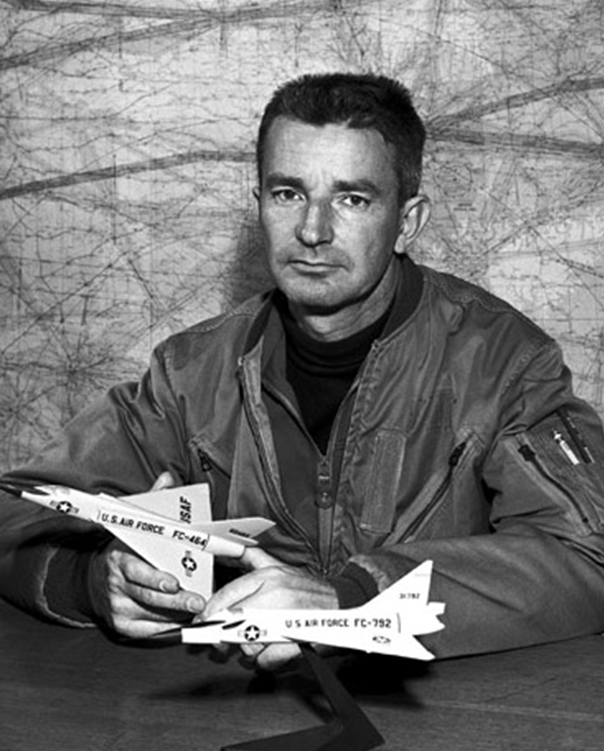 26 December 1956: Convair's Chief Test Pilot, Richard Lowe Johnson (1917–2002) made the first flight of the Convair F-106A-1-CO Delta Dart, U.S. Air Force serial number 56-451, at Edwards Air Force Base in the high desert of southern California. It reached 30,000 feet (9,144 meters) and 0.8 Mach during the 20-minute flight, which had to be aborted due to mechanical problems.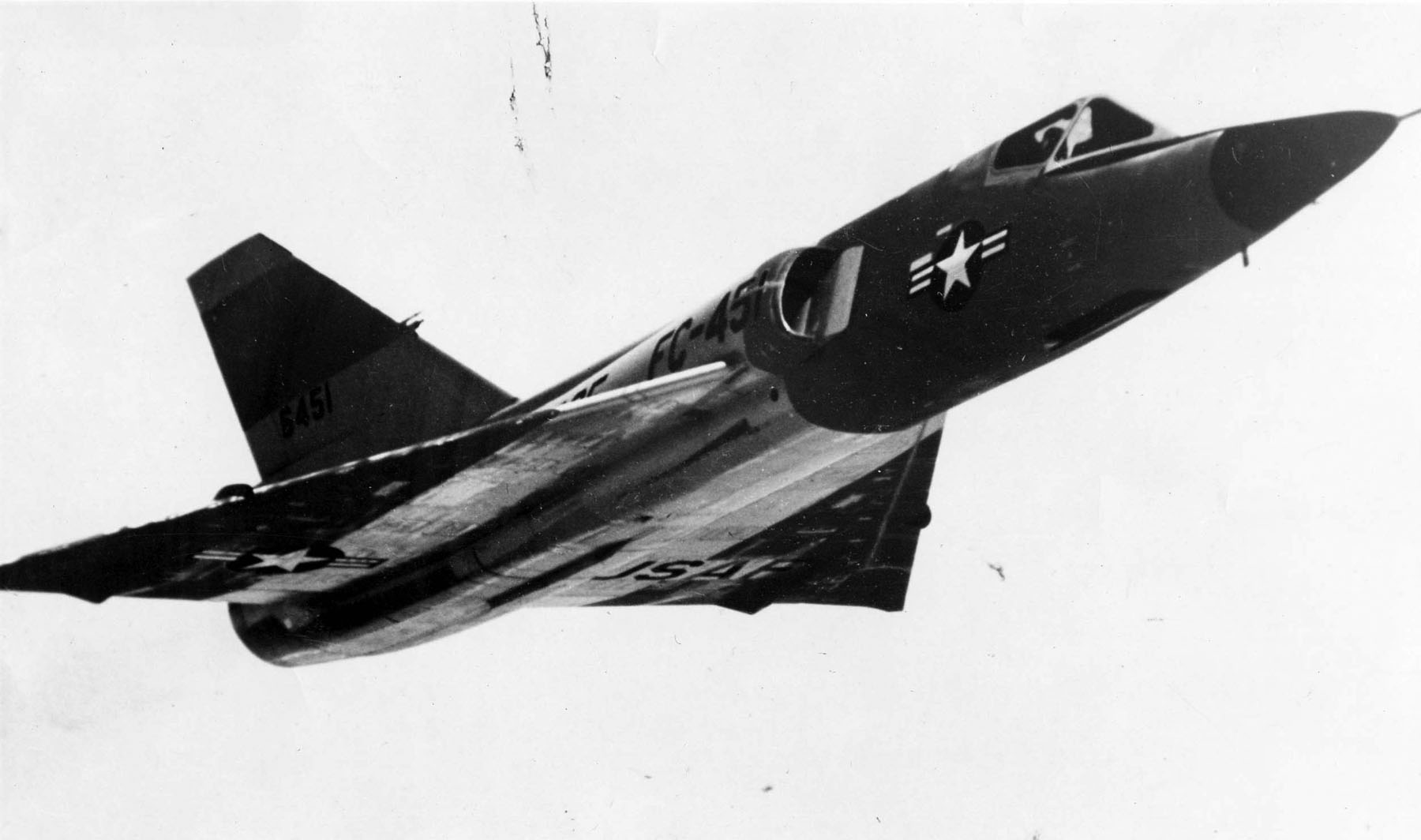 Built at the Convair Division of General Dynamics at San Diego, California, the delta-winged interceptor was trucked to Edwards on 14 December and prepared for its first flight.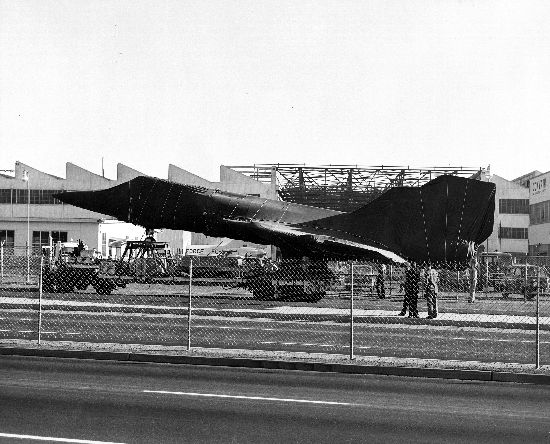 The Convair F-106A Delta Dart was the primary all-weather interceptor of the United States Air Force from 1959 to 1988, when it was withdrawn from service with the Air National Guard. It was a single-seat, single-engine delta-winged aircraft capable of speeds above Mach 2.
The airplane was a development of the earlier F-102A Delta Dagger, and was initially designated F-102B. However, so many changes were made that it was considered to be a new aircraft.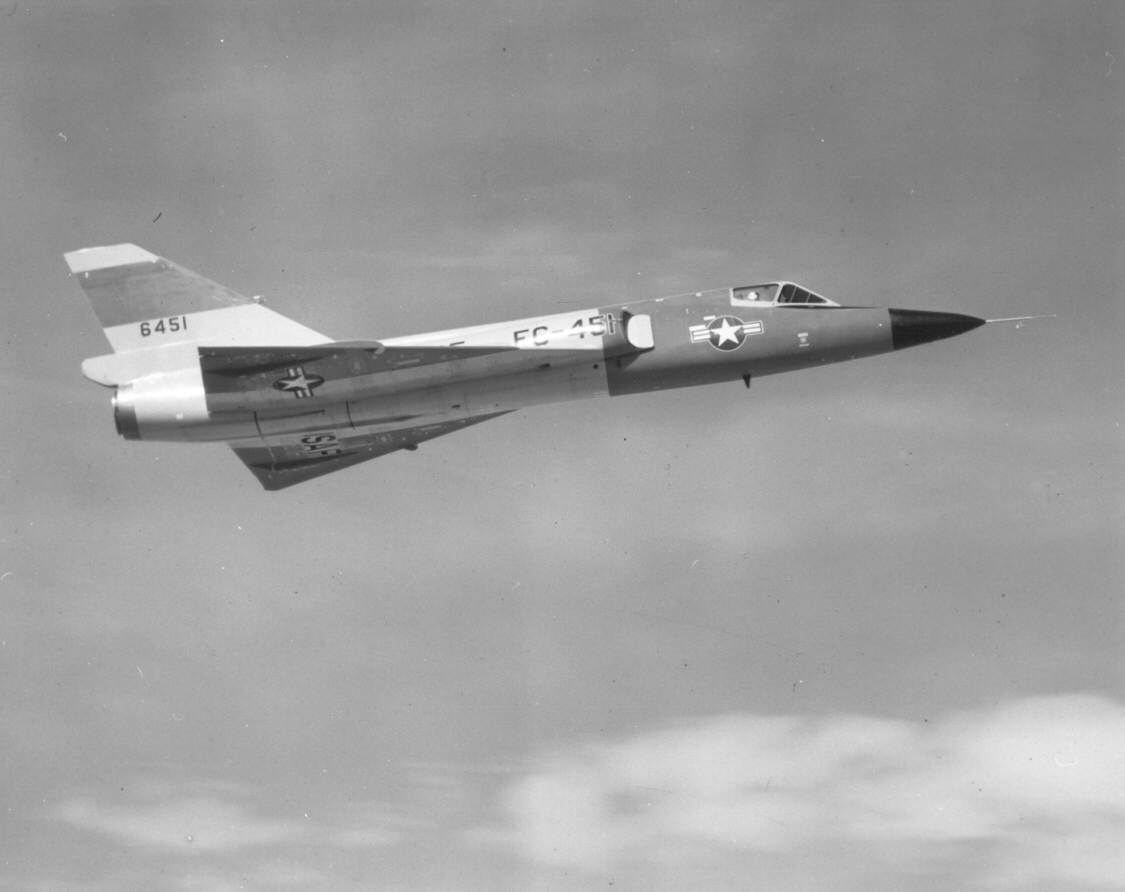 The F-106A is 70 feet, 8.78 inches (21.559 meters) long with a wingspan of 38 feet, 3.5 inches (11.671 meters). The total area of the delta wing is 697.83 square feet (64.83 square meters). The angle of incidence was 0° and there was no dihedral. The leading edges were swept aft 60°. The top of the vertical fin was 20 feet, 3.3 inches (6.180 meters) high. The Delta Dart weighs 23,646 pounds (10,726 kilograms) empty, and has a maximum takeoff weight (MTOW) of 38,729 pounds (17,567 kilograms).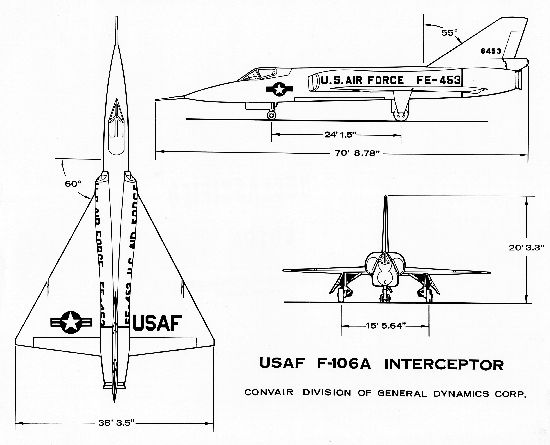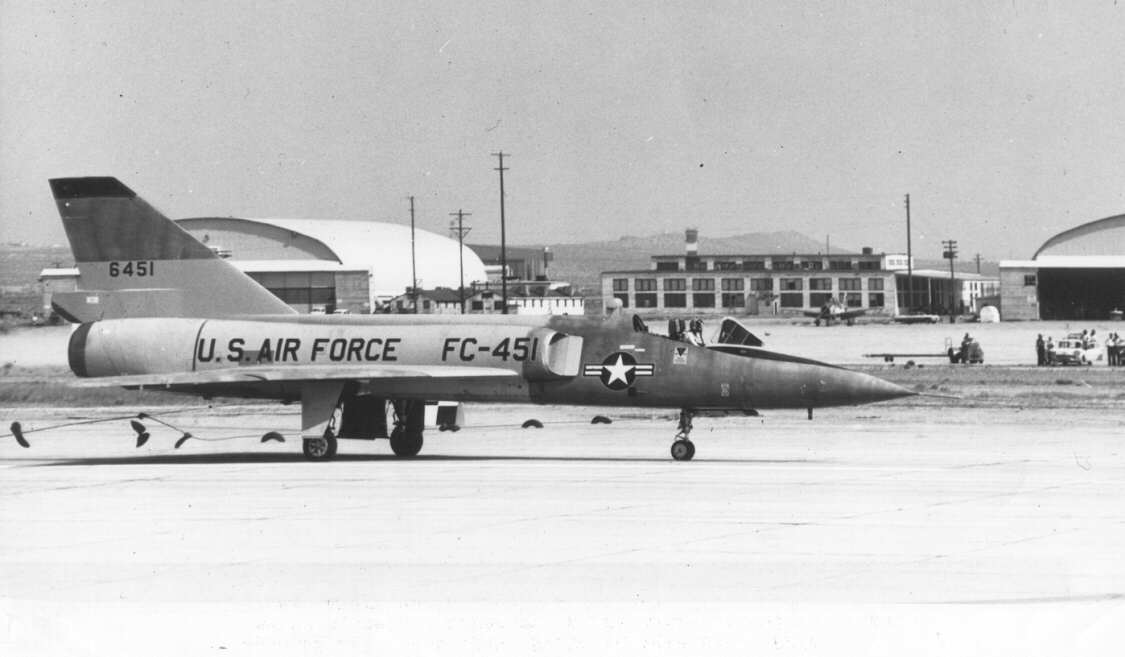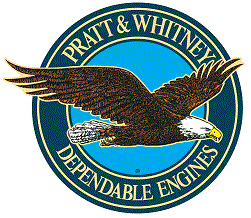 The F-106 was powered by a Pratt & Whitney J75-P-17 afterburning turbojet engine. The J75-P-17 was a two-spool axial-flow turbojet engine with afterburner. It used a 15-stage compressor section (8 high- and 7 low-pressure stages) and a 3-stage turbine section (1 high- and 2-low pressure stages). The J75-P-17 had a maximum continuous power rating of 14,100 pounds of thrust (62.72 kilonewtons), and military power rating of 16,100 pounds (71.62 kilonewtons) (30-minute limit). It produced a maximum of 24,500 pounds (108.98 kilonewtons) with afterburner (5-minute limit). The engine was 3 feet, 8.25 inches (1.124 meters) in diameter, 19 feet, 9.6 inches long (6.035 meters), and weighed 5,875 pounds (2,665 kilograms).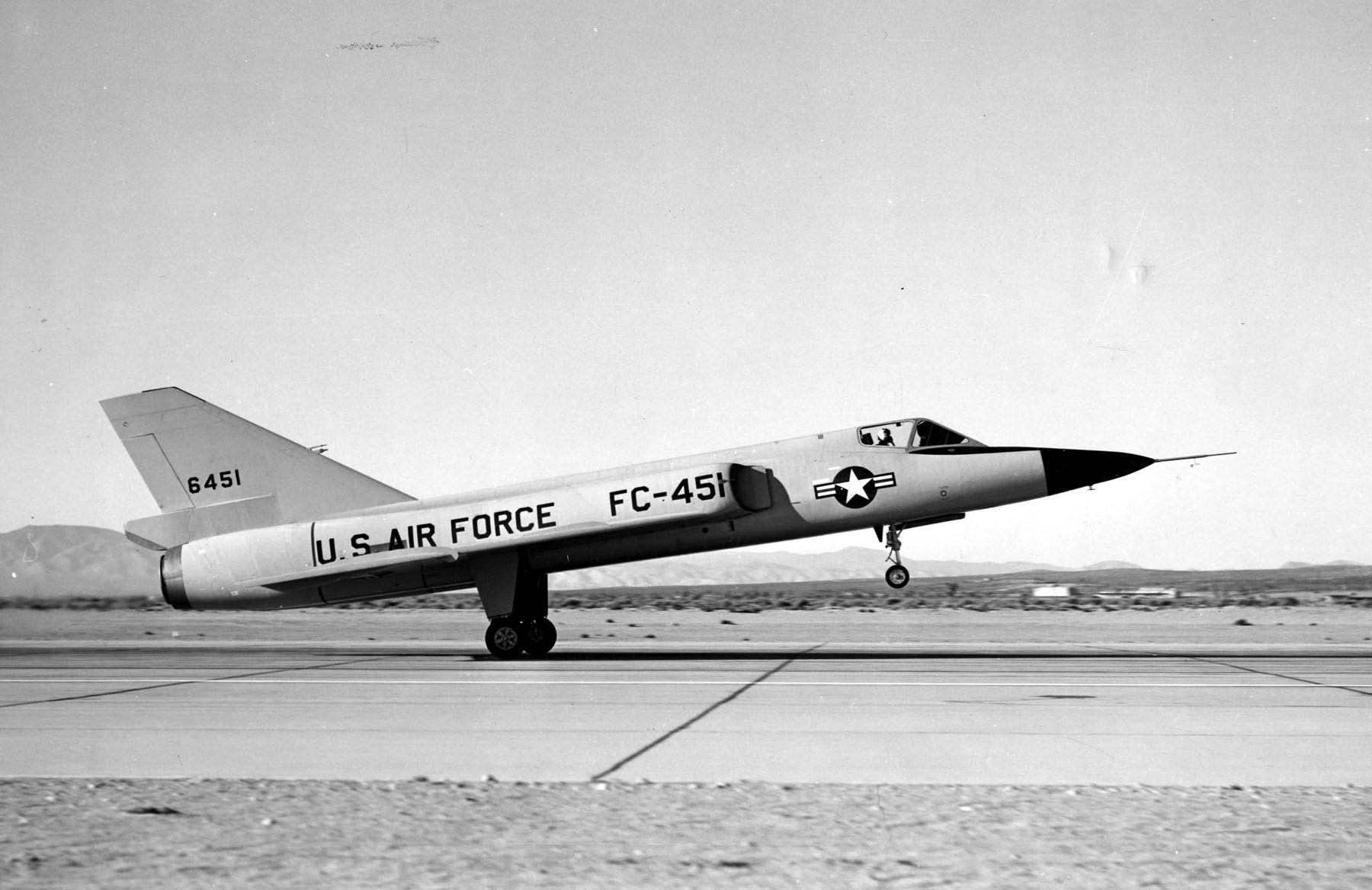 The interceptor has a cruise speed of 530 knots (610 miles per hour/982 kilometers per hour). and a maximum speed of 1,153 knots 1,327 miles per hour/2,135 kilometers per hour) at 35,000 feet (10,668 meters). The F-106A had a service ceiling is 53,800 feet (16,398 meters) and a rate of climb of 48,900 feet per minute (248 meters per second). Its combat radius was 530 nautical miles (610 statute miles/982 kilometers) and the maximum ferry range was 1,843 nautical miles (2,121 statute miles/3,413 kilometers).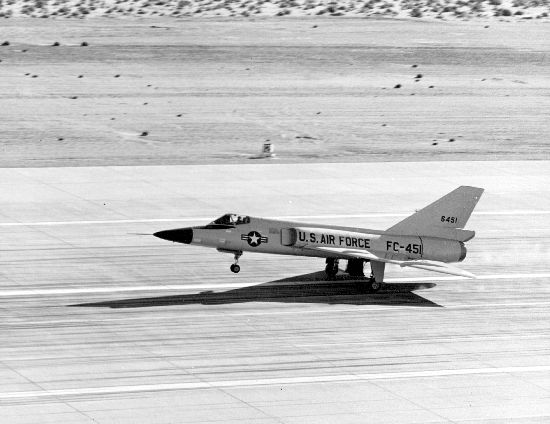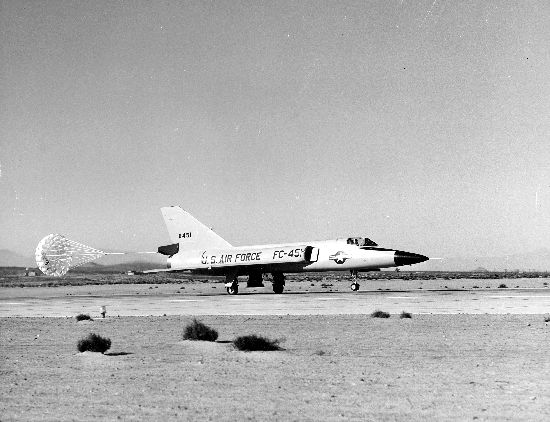 The Delta Dart was armed with four GAR-3A radar-homing, or -4A (AIM-4F, -4G) infrared-homing Falcon air-to-air guided missiles, and one MB-1 (AIM-2A) Genie unguided rocket with a 1.5 kiloton W-25 nuclear warhead. The missiles were carried in an internal weapons bay. In 1972, the General Electric M61A1 Vulcan 20mm cannon was added to the rear weapons bay with 650 rounds of ammunition. (The number of gun-equipped Delta Darts is uncertain.)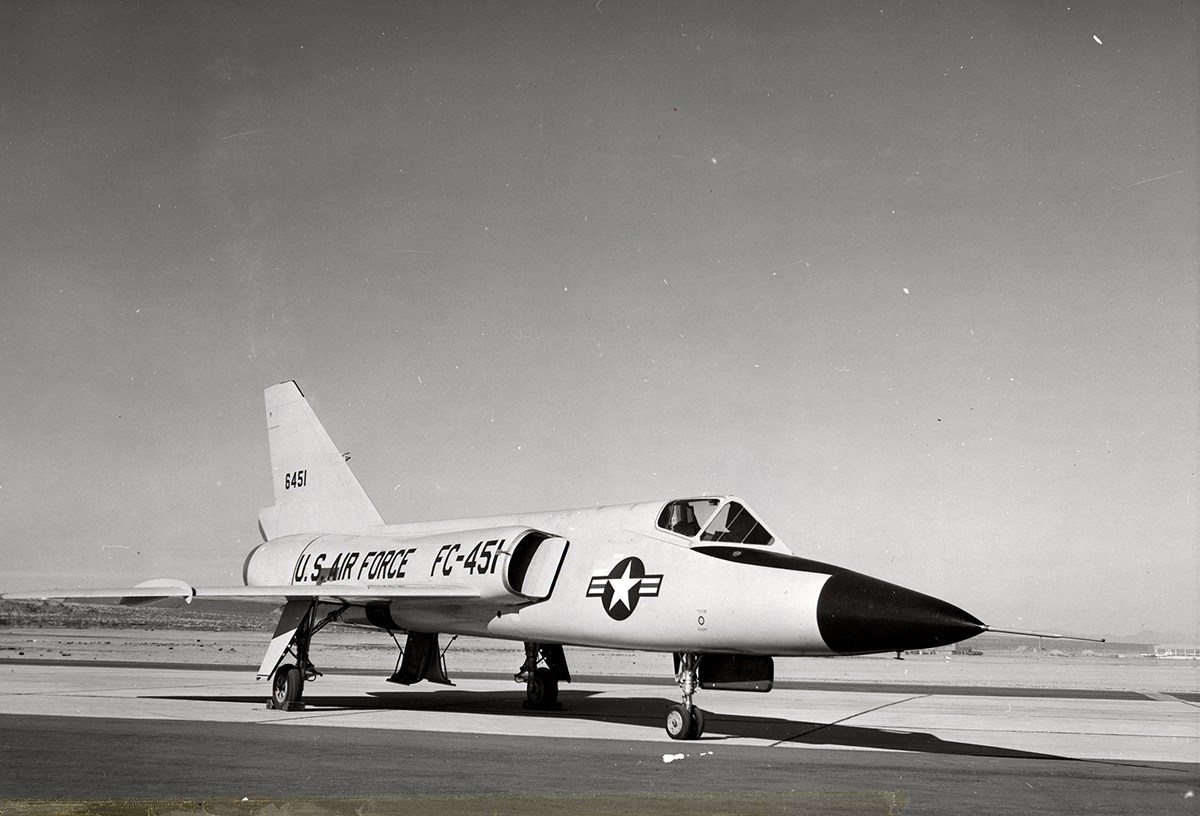 Convair built 342 F-106 interceptors. 277 were F-106As and the remainder were F-106B two-seat trainers.
56-451, the first F-106A to fly, was transferred to the National Museum of the United States Air Force in 1960. In 1989, it was transferred to Selfridge Air Museum, near Mount Clemens, Michigan, marked as 59-0082 of the 171st Fighter Interceptor Squadron, Michigan Air National Guard.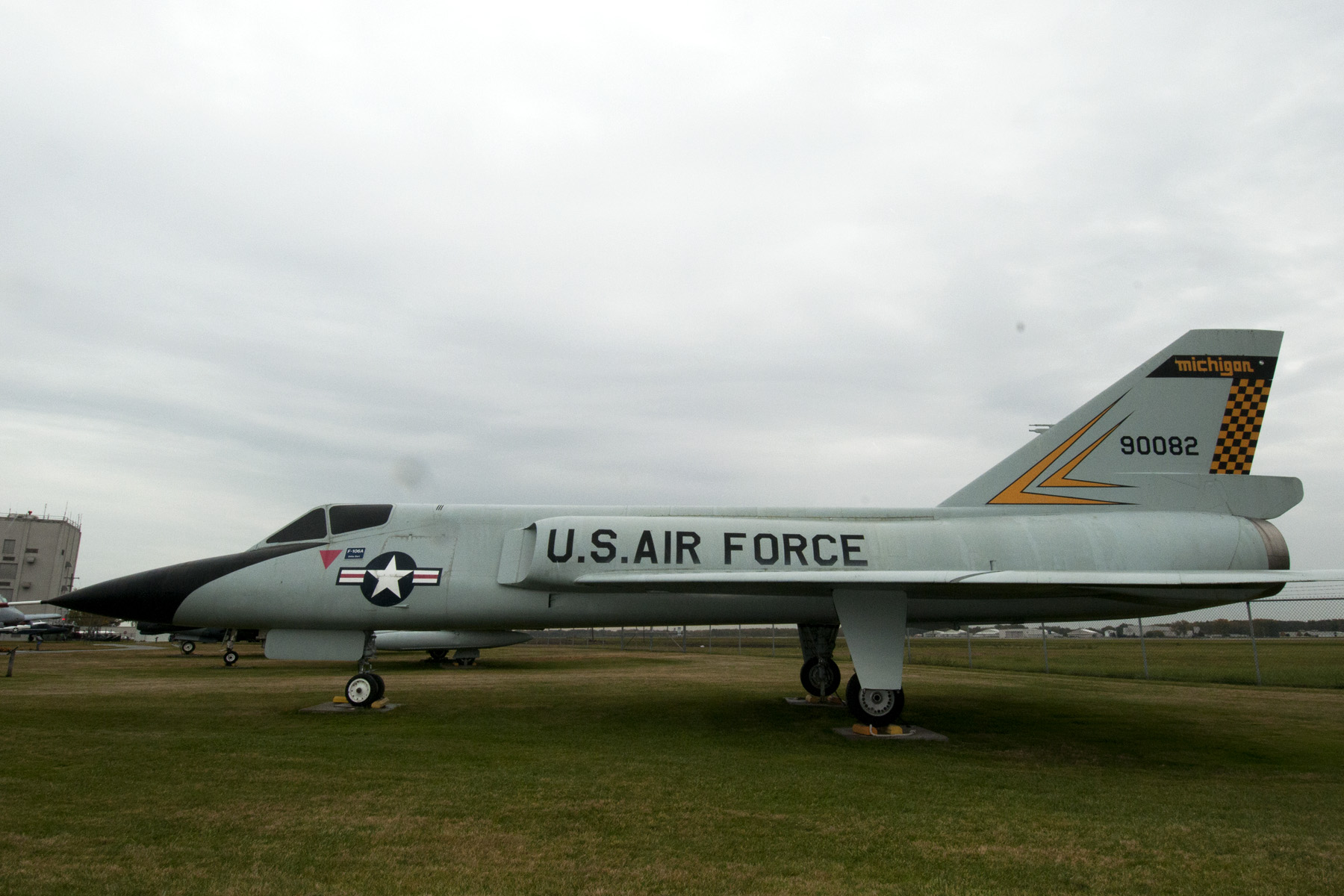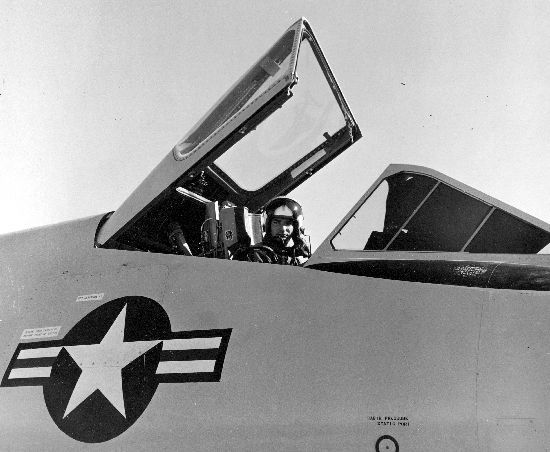 Richard Lowe Johnson ¹ was born at Cooperstown, North Dakota, 21 September 1917. He was the eighth of nine children of Swedish immigrants, John N. Johnson, a farmer, and Elna Kristina Helgesten Johnson, a seamstress.
Dick Johnson attended Oregon State College at Corvallis, Oregon, as a member of the Class of 1943. He was a member of the Sigma Alpha Epsilon (ΣΑΕ) fraternity. Johnson was a pitcher for the college baseball team, and later, played for the Boston Red Sox "farm" (minor league) system.
On 18 June 1942, Johnson enlisted as a private in the Air Corps, United States Army. On 5 November, he was appointed an aviation cadet and assigned to flight training.
Aviation Cadet Johnson married Miss Juanita Blanche Carter, 17 April 1943, at Ocala, Florida. The civil ceremony was officiated by Judge D. R. Smith.
After completing flight training, on 1 October 1943, Richard L. Johnson was commissioned as a second lieutenant, Army of the United States (A.U.S.).
Lieutenant Johnson was assigned to the 66th Fighter Squadron, 57th Fighter Group, Twelfth Air Force, in North Africa, Corsica, and Italy, flying the Republic P-47 Thunderbolt. He was promoted to first lieutenant, A.U.S., 9 August 1944, and just over three months later, 26 November 1944, to the rank of captain, A.U.S. On 14 May 1945, Captain Johnson was promoted to the rank of major, A.U.S. (Major Johnson was assigned a permanent rank of first lieutenant, Air Corps, United States Army, on 5 July 1946, with a date of rank retroactive to 21 September 1945.)
During World War II, Major Johnson flew 180 combat missions with the 66th Fighter Squadron. He is officially credited with one air-to-air victory, 1 July 1944. Johnson was awarded the Silver Star, the Distinguished Flying Cross with two oak leaf clusters (3 awards), and the Air Medal with twelve oak leaf clusters (thirteen awards).
In 1946, was assigned to the Air Materiel Command Engineering Test Pilot School at the Army Air Forces Technical Base, Dayton, Ohio (Wright-Patterson Air Force Base). He was the second U.S. Air Force pilot to be publicly acknowledged for breaking the "sound barrier."
A few weeks after arriving at Dayton, Major Johnson met Miss Alvina Conway Huester, the daughter of an officer in the U.S. Navy. Dick Johnson and his wife Juanita were divorced 8 January 1947, and he married Miss Huester in a ceremony in Henry County, Indiana, 10 January 1947. They would have three children, Kristie, Lisa and Richard.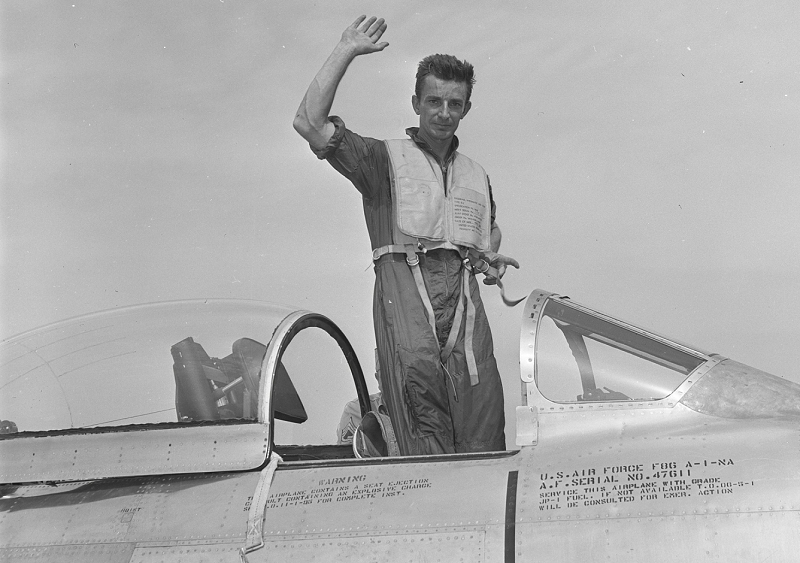 Dick Johnson set a Fédération Aéronautique Internationale (FAI) World Record Speed Over a 3 Kilometer Course,² flying the sixth production North American Aviation F-86A-1-NA Sabre, serial number 47-611, at Muroc Air Force Base, California (renamed Edwards AFB in 1949).
During the Korean War, Major Johnson was sent to the war zone to supervise field installations of improvements to the F-86 Sabre. He was "caught" flying "unauthorized" combat missions and was sent home.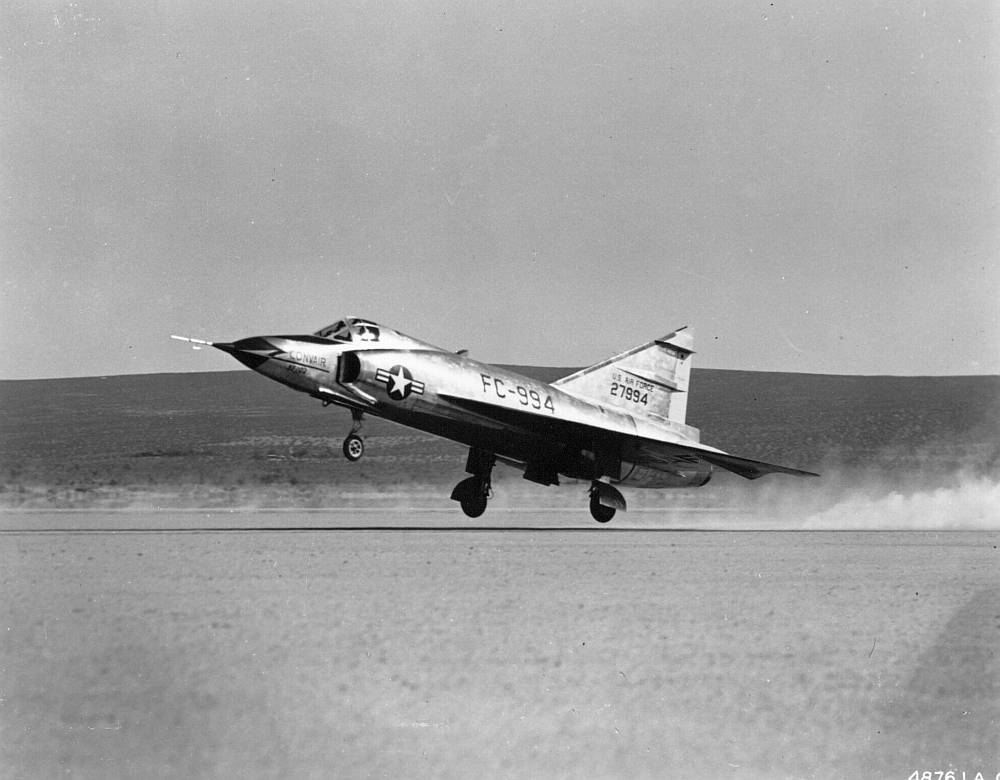 Lieutenant Colonel Johnson resigned from the Air Force in 1953 to become the Chief Test Pilot for the Convair Division of General Dynamics. He made the first flights of the YF-102 Delta Dagger, 24 October 1953, and the F-106A Delta Dart, 26 December 1956. He also made the first flight of the General Dynamics F-111 on 21 December 1964.
In 1955, Johnson was one of the six founding members of the Society of Experimental test Pilots.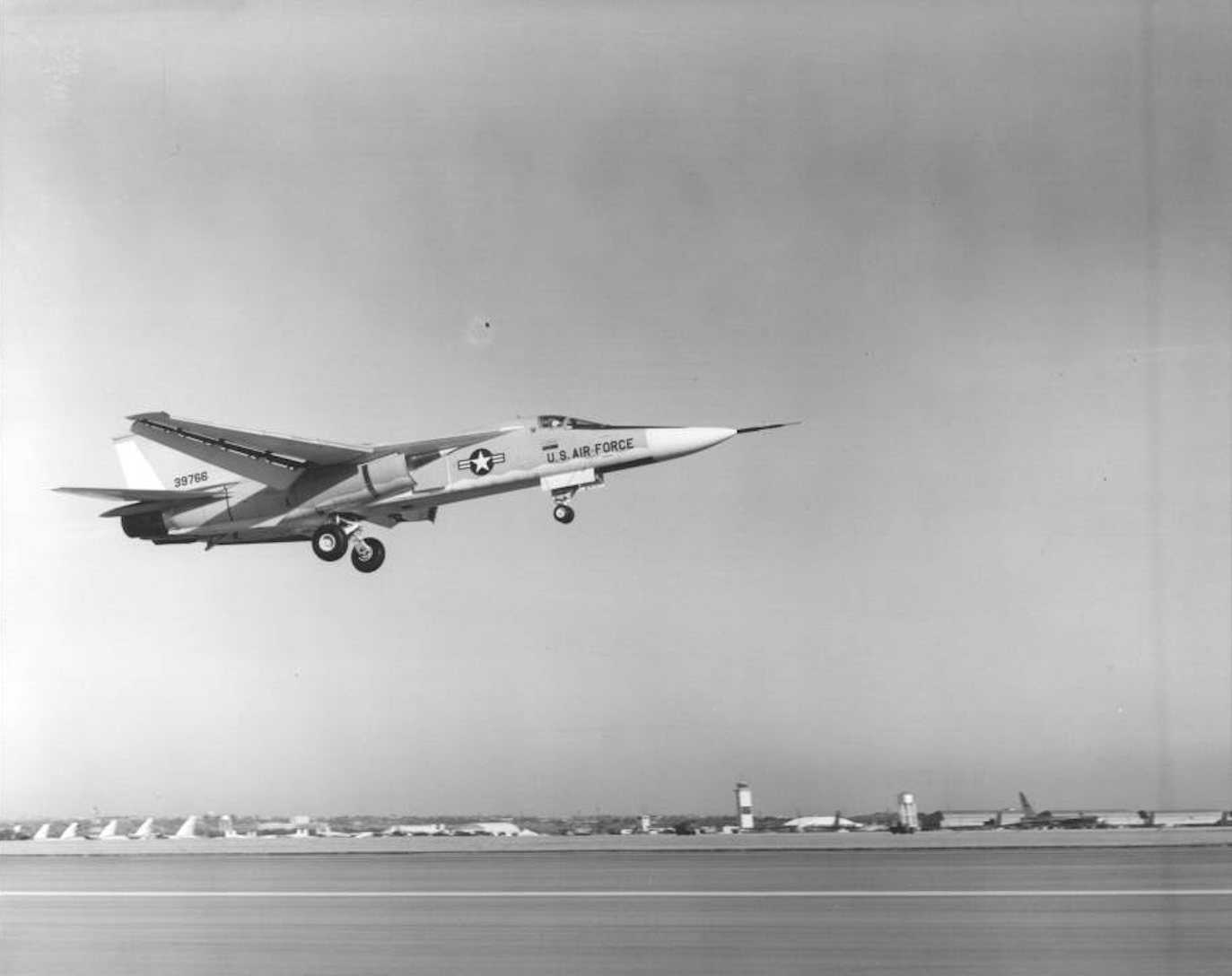 Dick Johnson was Chief Engineering Test Pilot for the General Dynamics F-111 "Aardvark." In 1967, the Society of Experimental Test Pilots awarded Johnson its Iven C. Kincheloe Award for his work on the F-111 program. In 1977, Dick Johnson, then the Director of Flight and Quality Assurance at General Dynamics, retired.
In 1998, Dick Johnson was inducted into the Aerospace Walk of Honor at Lancaster, California. His commemorative monument is located in front of the Lancaster Public Library on W. Lancaster Boulevard, just West of Cedar Avenue. ³
Lieutenant Colonel Richard Lowe Johnson, United States Air Force, (Retired), died 9 November 2002 at Fort Worth, Texas. He was buried at Arlington National Cemetery, Arlington, Virginia, on 7 January 2003.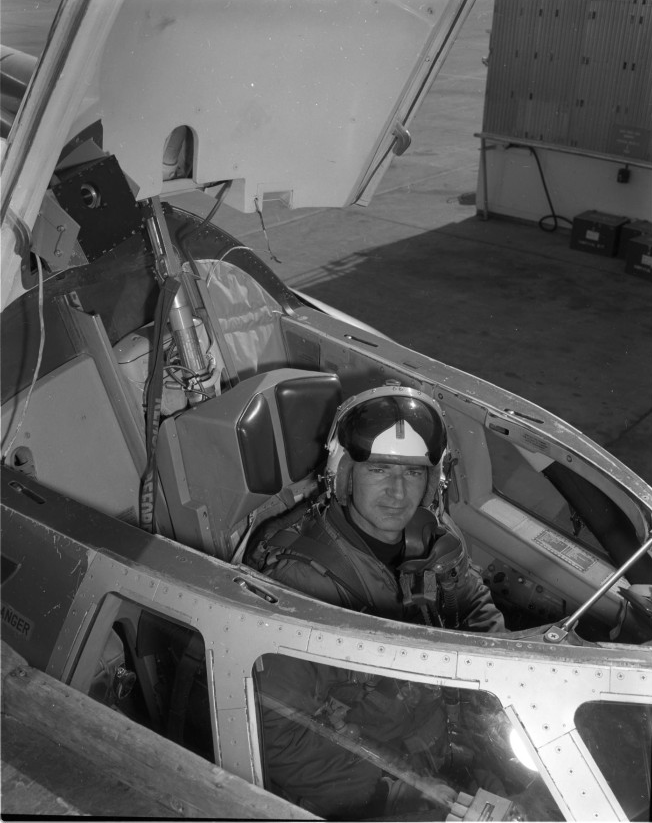 ¹ Several sources spell Johnson's middle name as "Loe."
² FAI Record File Number 9866
³ Various Internet sources repeat the statement that "Richard Johnson has been honored with. . . the Thompson Trophy, Mackay Trophy, Flying Tiger Trophy, Federation Aeronautique Internationale Gold Medal and Golden Plate Award of the American Academy of Achievement. . . ." TDiA has checked the lists of awardees of each of the appropriate organizations and has not found any support for the statement.
© 2018, Bryan R. Swopes