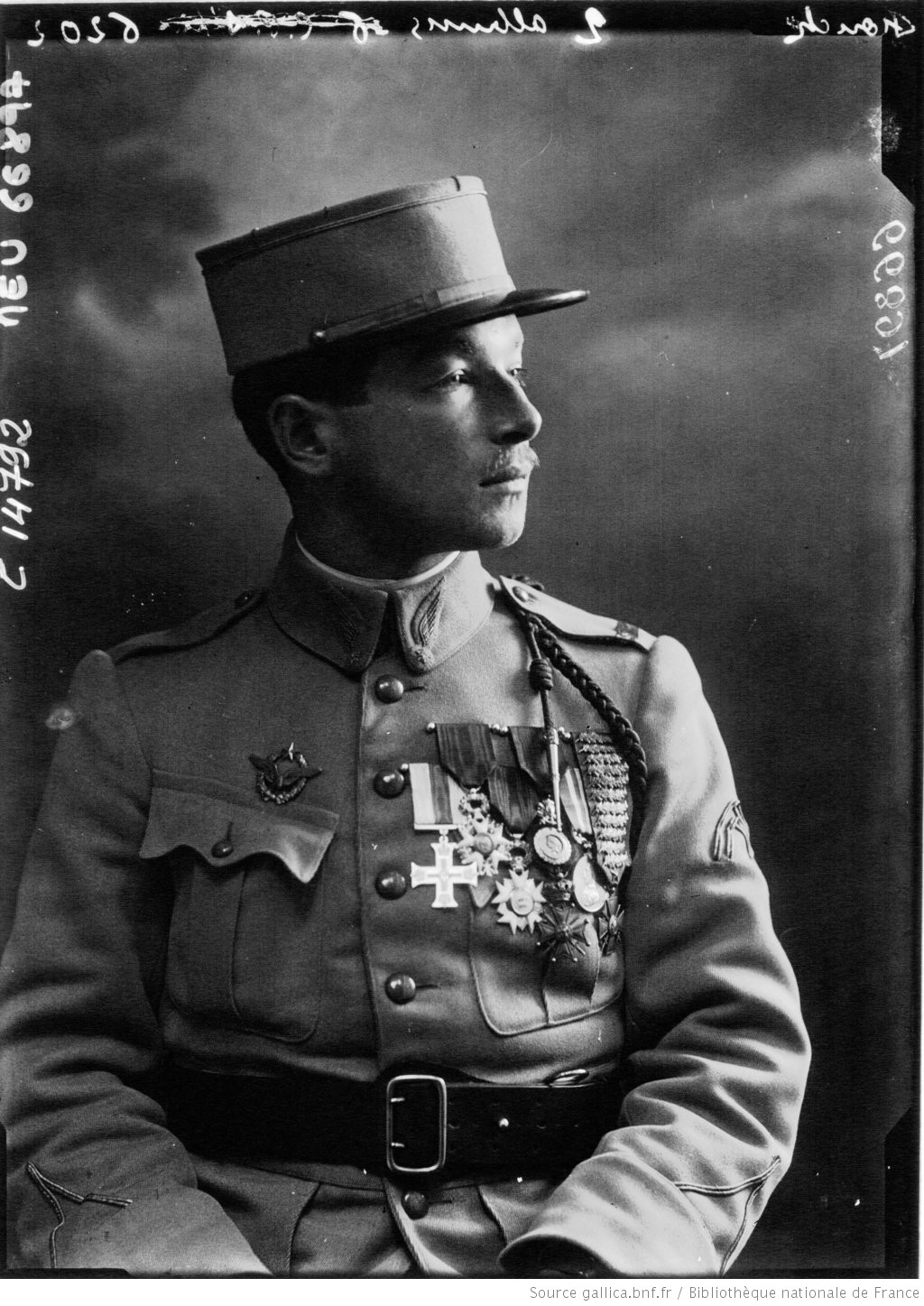 1 November 1918: At 2:20 p.m., Lieutenant Paul-René Fonck, Escadrille 103,  Aéronautique Militaire, shot down a Luftstreitkräfte Halberstadt C, east of Vouziers, France. Its pilot, Gefreiter W. Schmidt of Flieger-Abteilung 297b, was killed.
This was the 75th confirmed enemy aircraft which Fonck had destroyed. (As many as 52 aircraft claimed by Fonck, including another Halberstadt C over Semuy, fifteen minutes later, were not confirmed.) Lieutenant Fonck was the highest-scoring Allied fighter pilot of World War I.¹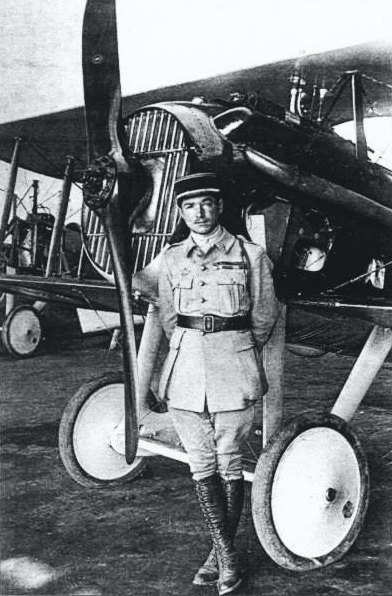 The chasseur flown by René Fonck on this date was a Société Pour L'Aviation et ses Dérivés SPAD S.XVII, Nº. 682. The S.XVII was an improved S.XIII, with stronger wings and fuselage, additional bracing wires and a more powerful engine. Its more closely-spaced longerons gave the fuselage a more circular cross-section and a bulkier appearance.
The S.XVII had the same length, wing span and height as the S.XIII, but was heavier. Its empty weight was 687 kilograms (1,515 pounds) and the gross weight was 942 kilograms (2,077 pounds).
The S.XVII was powered by a water-cooled, normally-aspirated, 18.473 liter (1,127.265 cubic inch displacement) Société Française Hispano-Suiza 8Fb single-overhead camshaft (SOHC) 90° V-8 engine. This was a right-hand-tractor, direct-drive engine with a compression ratio of 5.3:1, and was rated at 300 cheval vapeur (296 horsepower) at 2,100 r.p.m. The Hispano-Suiza 8Fb was 1.32 meters (4.33 feet) long, 0.89 meters (2.92 feet) wide and 0.88 meters (2.89 feet) high. It weighed 256 kilograms (564 pounds).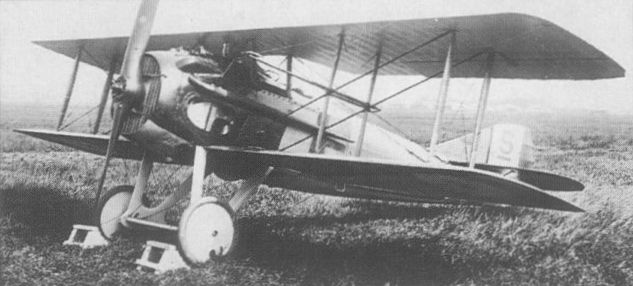 The S.XVII had a maximum speed of 221 kilometers per hour (137 miles per hour) at 2,000 meters (6,562 feet). It could climb to 2,000 meters in 5 minutes, 24 seconds, and to 3,000 meters (9,843 feet) in 8 minutes, 20 seconds. Its ceiling was 7,175 meters (23,540 feet).
Armament consisted of two water-cooled, fixed Vickers 7.7 mm (.303 British) machine guns above the engine, synchronized to fire forward through the propeller arc. The guns' water jackets were left empty.
The SPAD S.XVIIs were delivered to Escadrille 103 in June 1918. It is believed that 20 were built.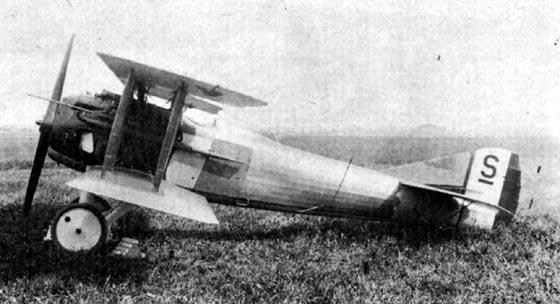 Paul-René Fonck was born 27 March 1894 at Salcy-de Meurthe, the first of three children of Victor Felicien Fonck, a carpenter, and Marie Julie Simon Fonck. His father was killed in an accident when he was four years old, leaving Mme. Fonck to raise Paul-René and his two sisters. He was sent to an uncle who placed him in a religious boarding school in Nancy. He was a good student. After six years, he returned to live with his mother and finished his education in a public school.
At the beginning of World War I, Fonck joined the French Army. He was assigned to an engineering regiment, building roads and bridges and digging trenches. In February 1915 Corporal Fonck was transferred to flight school at St. Cyr. He received his military pilot rating 15 May 1915 and was assigned to Escadrille C47, an observation squadron, where he flew the twin-engine Avion Caudron Type G. 4.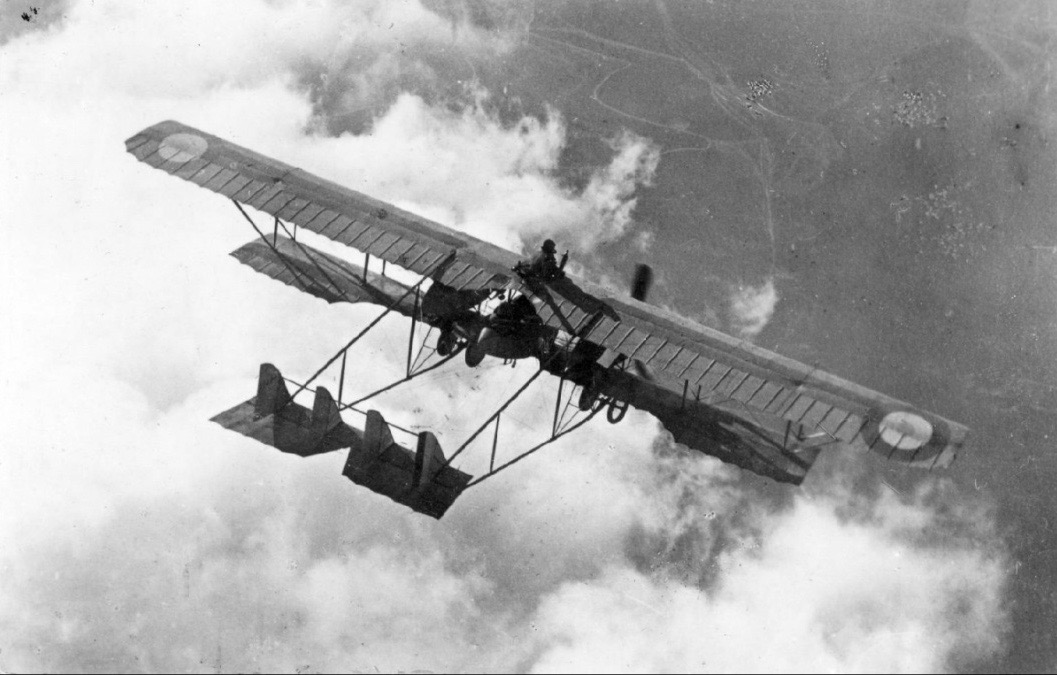 In 1917, Fonck was transferred to Escadrille 103. He flew the SPAD S.VII, S.XII, S.XIII and the S.XVII.
For his military service during World War I, René Fonck was awarded the Croix de Guerre avec 28 Palmes, Croix de Guerre (Belgium); and Great Britain awarded the Distinguished Conduct Medal, Military Cross and Military Medal.
René Paul Fonck died in Paris 23 June 1953. He was buried at the Saulcy-sur-Meurthe Cemetery, near the place of his birth.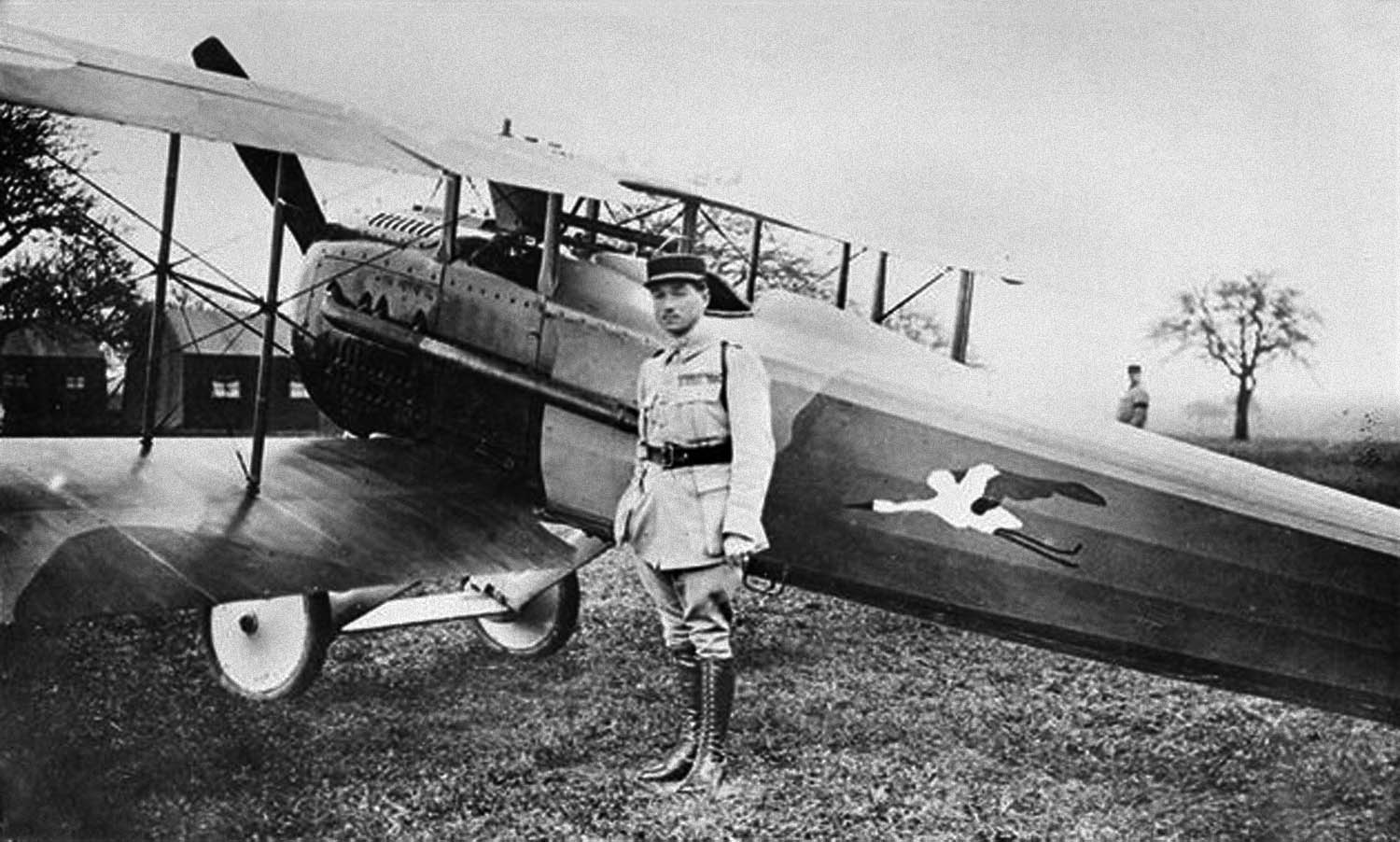 ¹ Rittmeister Manfred Albrecht Freiherr von Richthofen, Luftstreitkräfte, had 80 confirmed victories and was the leading fighter ace of World War I. Captain (Acting Major) William George Barker, Royal Air Force, is credited with 50. Count Maggiore Francesco Baracca, of Italy's Corpo Aeronautico Militare was officially credited with 34 before being killed 18 June 1918. Captain Edward V. Rickenbacker, Air Service, American Expeditionary Force, shot down 20 airplanes and 6 balloons. Alexander Alexandrovich Kazakov was the leading ace of Imperial Russia with 20 confirmed victories (another 12 were not officially credited).
© 2018, Bryan R. Swopes