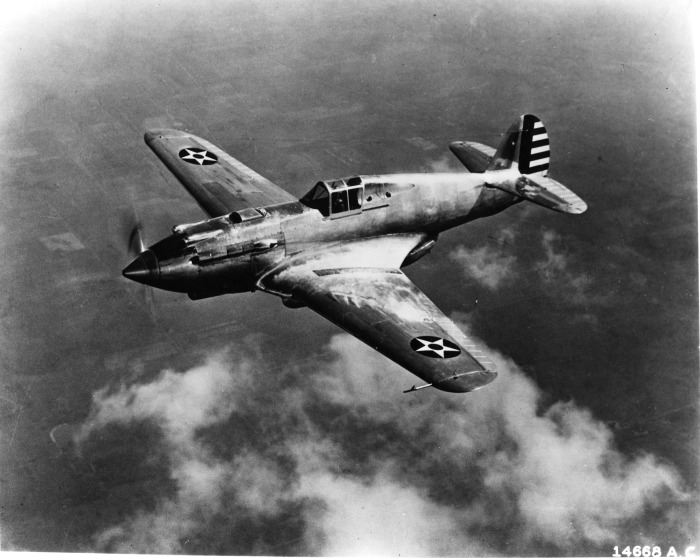 14 October 1938: At Buffalo, New York, test pilot Everett Edward Elliot made the first flight in the new Curtiss-Wright Corporation's Model 75P, a prototype for a single-engine pursuit plane which had been designated XP-40 by the U.S. Army Air Corps.
Curtiss-Wright's Chief Engineer, Donovan Reese Berlin, had taken the tenth production P-36A Hawk, Air Corps serial number 38-10, and had its air-cooled radial engine replaced with the Harold Caminez-designed, liquid-cooled, supercharged, 1,710.597-cubic-inch-displacement (28.032 liter) Allison Engineering Co. V-1710-C13 (V-1710-19).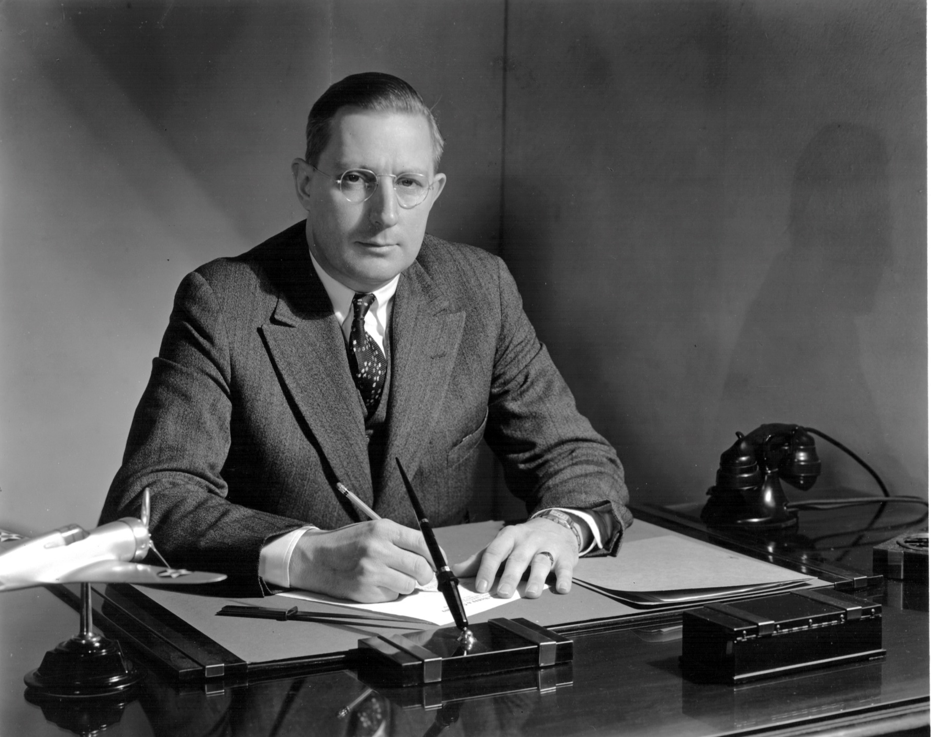 The V-1710-19 was a single overhead cam (SOHC) 60° V-12 engine with four valves per cylinder and a compression ration of 6.65:1. It had a Normal Power rating of 910 horsepower at 2,600 r.p.m. at Sea Level, and 1,060 horsepower at 2,950 r.p.m. for Takeoff. At 10,000 feet (3,048 meters), the V-1710-19 had Maximum Continuous Power rating of 1,000 horsepower at 2,600 r.p.m., and Military Power rating of 1,150 horsepower at 2,950 r.p.m. The engine required 100/130-octane aviation gasoline. It drove a three-bladed Curtiss Electric constant-speed propeller through a 2:1 gear reduction. The V-1710-19 was 8 feet, 1.75 inches (2.483 meters) long, 3 feet, 4.75 inches (1.035 meters) high and 2 feet, 4.94 inches (0.735 meters) wide. It weighed 1,320 pounds (599 kilograms).
At 1,829.39-cubic-inches (29.978 liters), the original Pratt & Whitney Twin Wasp S1C1-G (R-1830-17) 14-cylinder radial engine had greater displacement and produced 80 horsepower more for takeoff than the Allison V-12. The long, narrow V-12, though, allowed for a much more streamlined engine cowling for higher speed and greater efficiency.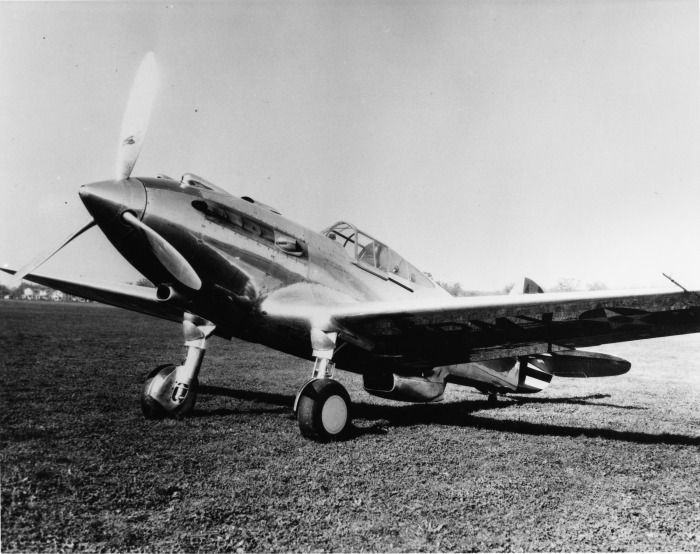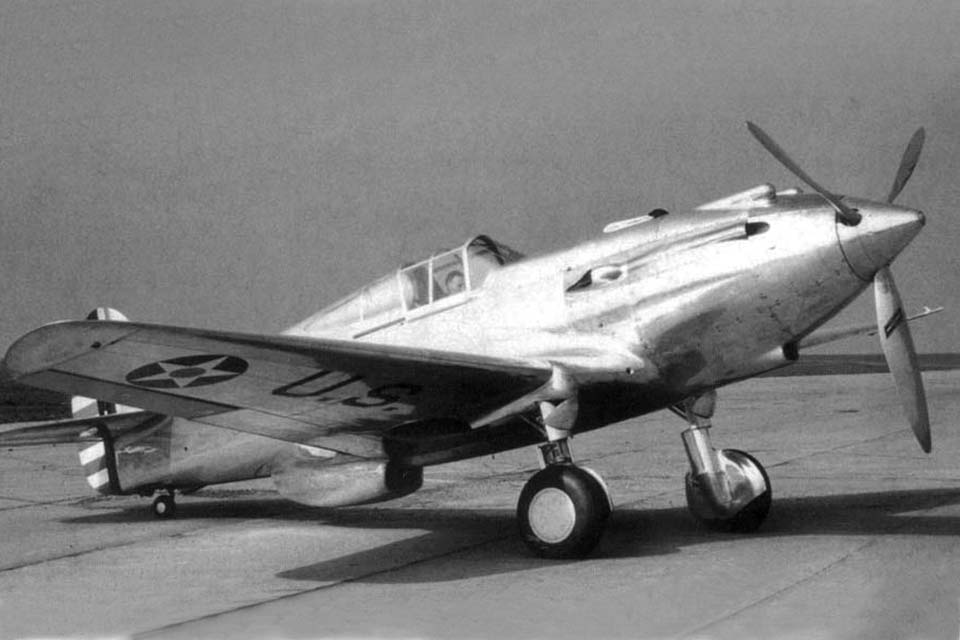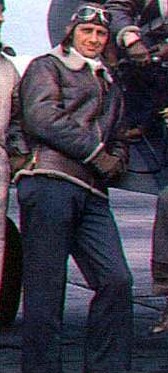 In the early testing, the XP-40 was much slower than expected, reaching only 315 miles per hour (507 kilometers per hour). (The P-36A Hawk had a maximum speed of  313 miles per hour). Engineers experimented with different placement for the coolant radiator, oil coolers and the engine air intake. The Air Corps project officer, Lieutenant Benjamin Scovill Kelsey, had the prototype sent to the National Advisory Committee for Aeronautics (NACA) Research Center at Langley Field, Virginia, where the full-size airplane was placed inside a wind tunnel.
Over a two-month period, NACA engineers made a number of improvements. The radiator was moved forward under the engine and the oil coolers utilized the same air scoop. The exhaust manifolds were improved as were the landing gear doors.
When they had finished, Lieutenant Kelsey flew the modified XP-40 back to Curtiss. Its speed had been increased to 354 miles per hour (570 kilometers per hour), a 12% improvement.
By December 1939 the airplane had been further improved and was capable of 366 miles per hour (589 kilometers per hour).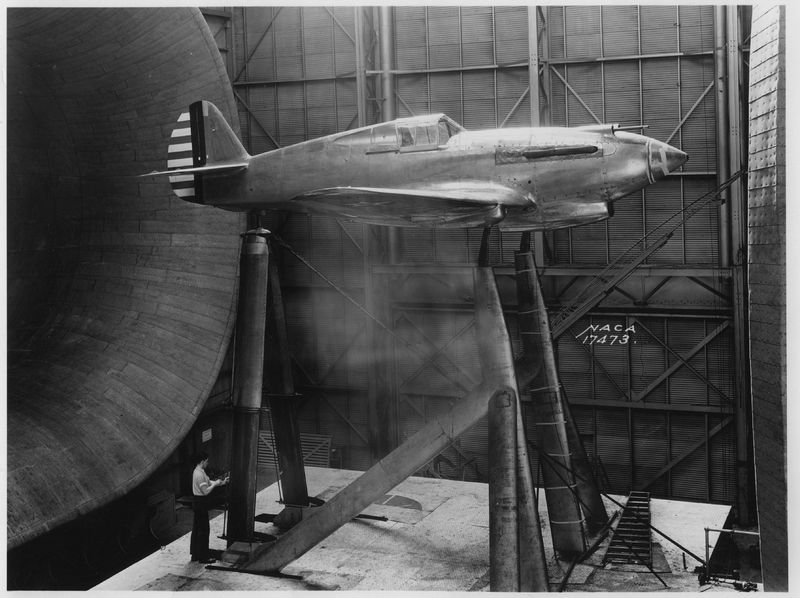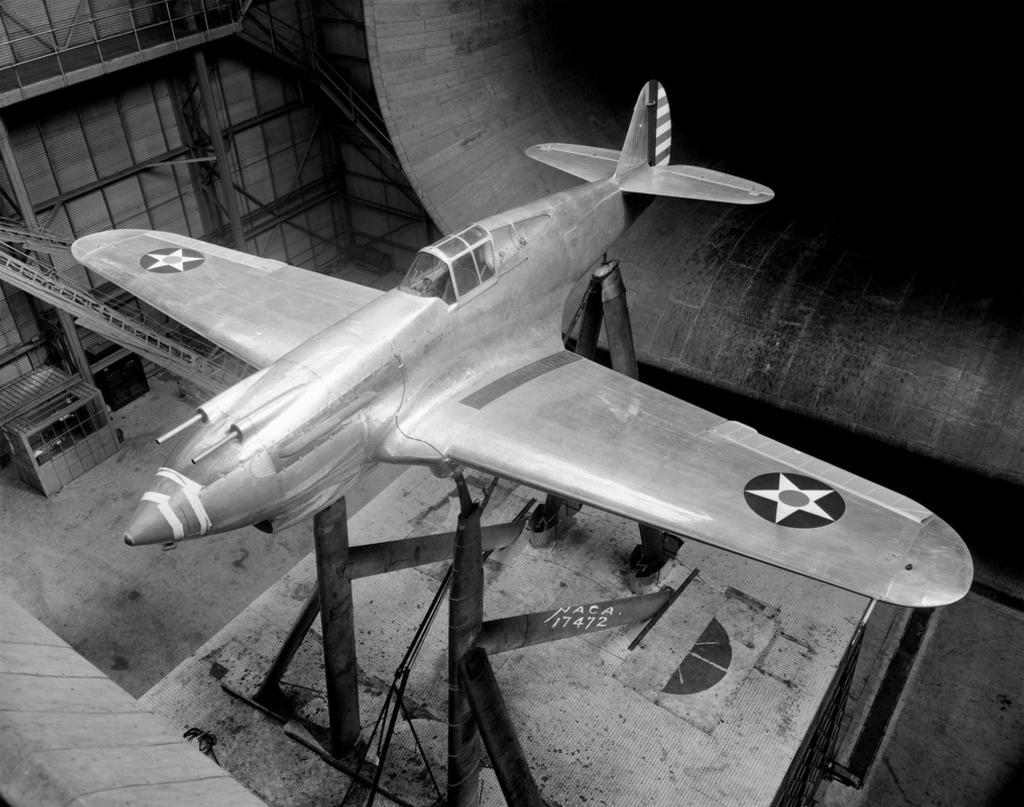 The Curtiss Hawk 75P, XP-40 38-10, was 31 feet, 1 inch (9.574 meters) long with a wingspan of 37 feet, 4 inches (11.354 meters) and overall height of 12 feet, 4 inches (3.734 meters). It had an empty weight of 5,417 pounds (2,457.1 kilograms) and maximum gross weight of 6,870 pounds (3,116.2 kilograms).
The prototype had a maximum speed of 342 miles per hour (550 kilometers per hour) at 12,200 feet (3,719 meters) with a gross weight of 6,260 pounds (2,839.5 kilograms). Its range was 460 miles (740 kilometers) flying at 299 miles per hour (481 kilometers per hour) with 100 gallons (378.5 liters) of fuel. With 159 gallons (601.9 liters) and with speed reduced to 200 miles per hour (322 kilometers per hour), the XP-40 had a maximum range of 1,180 miles (1,899 kilometers).
The prototype was armed with two air-cooled Browning AN-M2 .50-caliber machine guns mounted above the engine and synchronized to fire forward through the propeller arc.
The Air Corps placed an initial order for 524 P-40s. This was the largest single order for airplanes by the U.S. military up to that time. The first production model was the P-40 Warhawk, armed with two .50-caliber machine guns. There was only one P-40A variant which was a P-40 modified as a camera aircraft. The definitive pursuit model was the P-40B Warhawk, which retained the two .50-caliber guns of the P-40 and added two Browning M2 .30-caliber machine guns to each of the wings.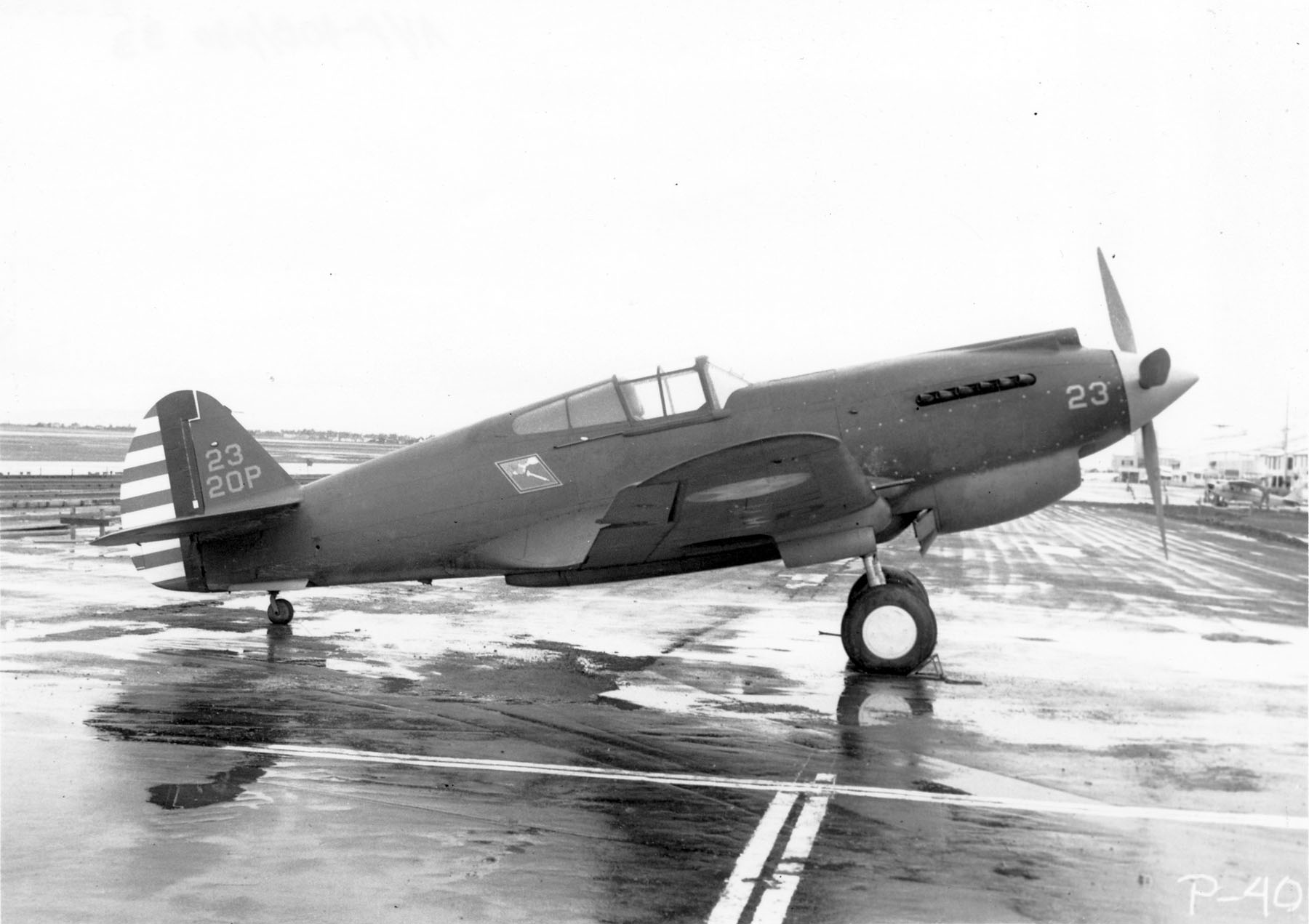 The P-40B was best known as the airplane flown by the American Volunteer Group fighting for China against the Japanese. They were called the "Flying Tigers". Between 1939 and 1945, Curtiss built 13,738 P-40s in many configurations. They flew in combat in every theater of operations during World War II.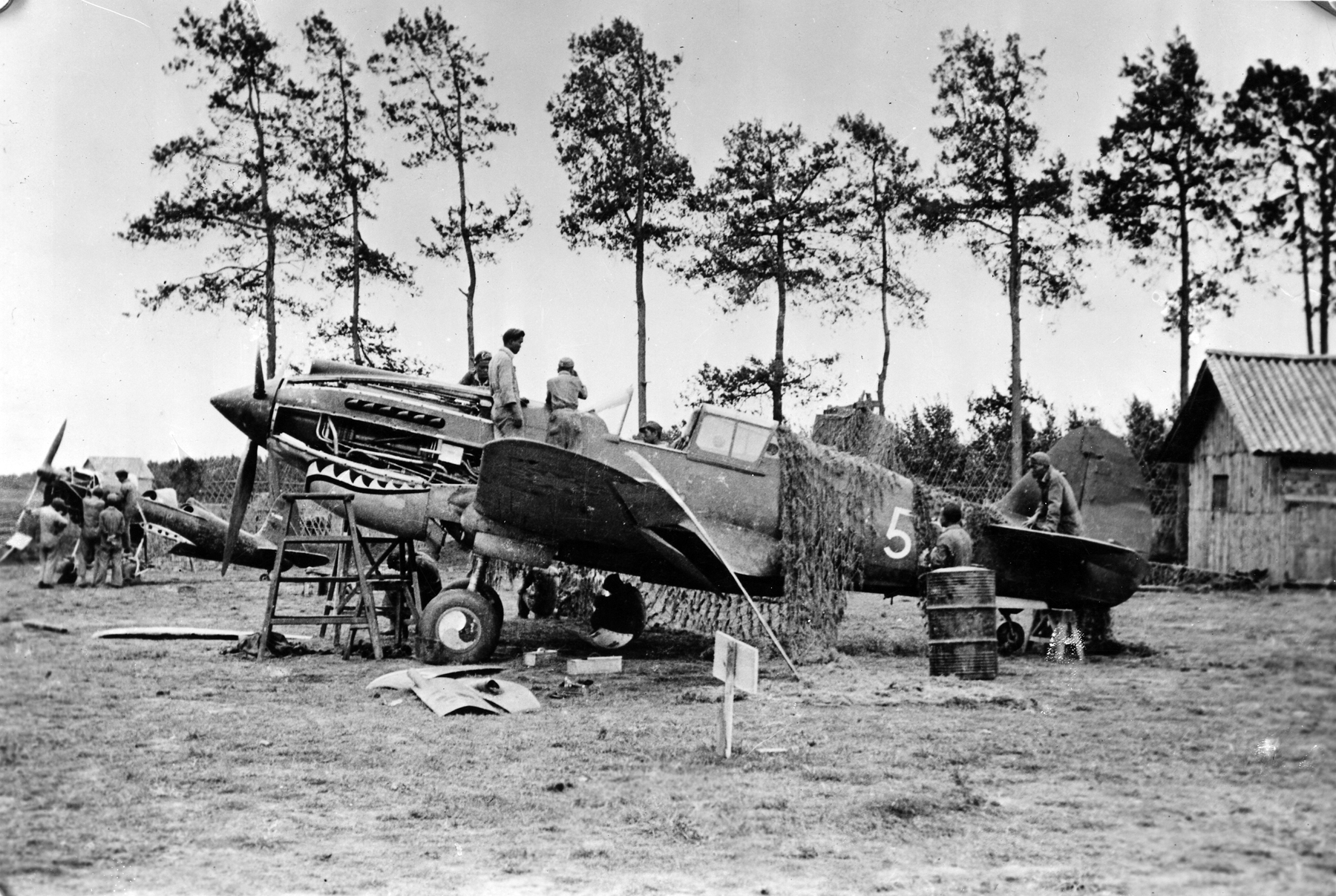 © 2018, Bryan R. Swopes