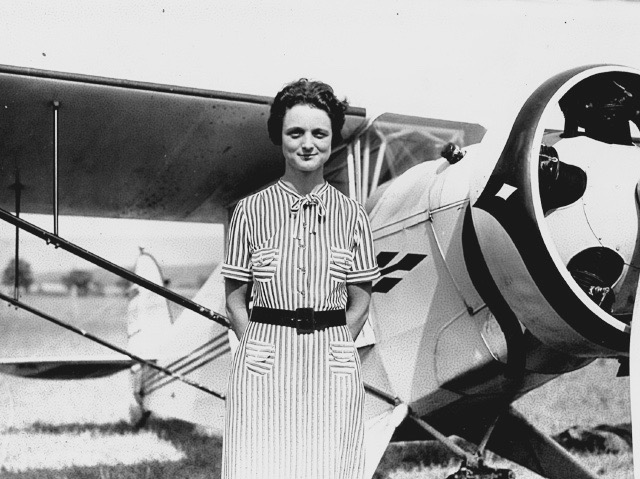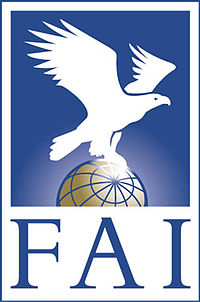 12 July 1936: Louise Thaden set a Fédération Aéronautique Internationale (FAI) World Record for Speed Over 100 Kilometers with an average speed of 176.35 kilometers per hour (109.58 miles per hour.)¹ She flew a Porterfield Model 35-W Flyabout over a course at Endless Caverns, near New Market, Virginia.
Less than two months later, 4 September 1936, Mrs. Thaden became he first woman to win the Bendix Trophy Race when she and her co-pilot, Blanche Noyes, flew a Beechcraft C17R "Staggerwing," NR15835, from Floyd Bennett Field, Brooklyn, New York, to Mines Field, Los Angeles, California.

Iris Louise McPhetridge was born 12 November 1905 at Bentonville, Arkansas. She was the first of three daughters of Roy Fry McPhetridge, owner of a foundry, and Edna Hobbs McPhetridge. She was educated at the University of Arkansas at Fayetteville, as a member of the Class of 1927. Miss McPhetridge was president of the Delta Delta Delta (ΔΔΔ) Sorority, Delta Iota (ΔΙ) Chapter; head sports for basketball; and president of The Panhellenic.
Louise McPhetridge had been employed by Walter Beech as a sales representative at Wichita, Kansas, and he included flying lessons with her employment. She received her pilot's license from the National Aeronautic Association, signed by Wilbur Wright, 16 May 1928. In 1929, she was issued Transport Pilot License number 1943 by the Department of Commerce. McPhetridge was the fourth woman to receive an Airline Transport Pilot rating.
Miss McPhetridge married Mr. Herbert von Thaden at San Francisco, California, 21 July 1928. Thaden was a former military pilot and an engineer. They would have two children, William and Patricia.
Louise Thaden served as secretary of the National Aeronautic Association, and was a co-founder of The Ninety-Nines. She served as that organization's vice president and treasurer. She set several world and national records and was awarded the national Harmon Trophy as Champion Aviatrix of the United States in 1936.
Louise Thaden stopped flying in 1938. She died at High Point, North Carolina, 9 November 1979.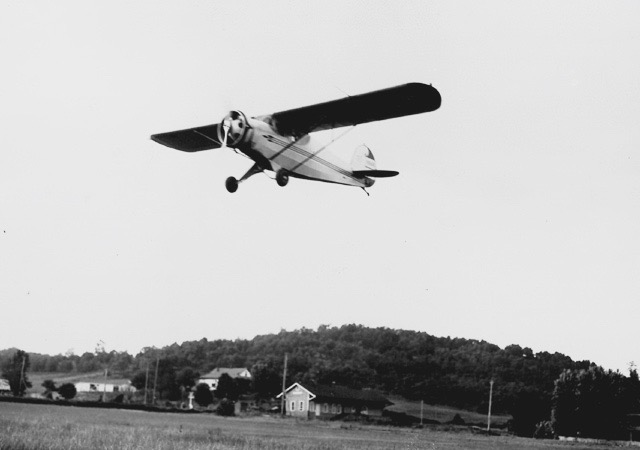 The Porterfield Model 35-W was based on the prototype Wyandotte Pup, which had been designed by Noel Ross Hockaday. The airplane was built by students of the aviation club of Wyandotte High School, Kansas City, Kansas.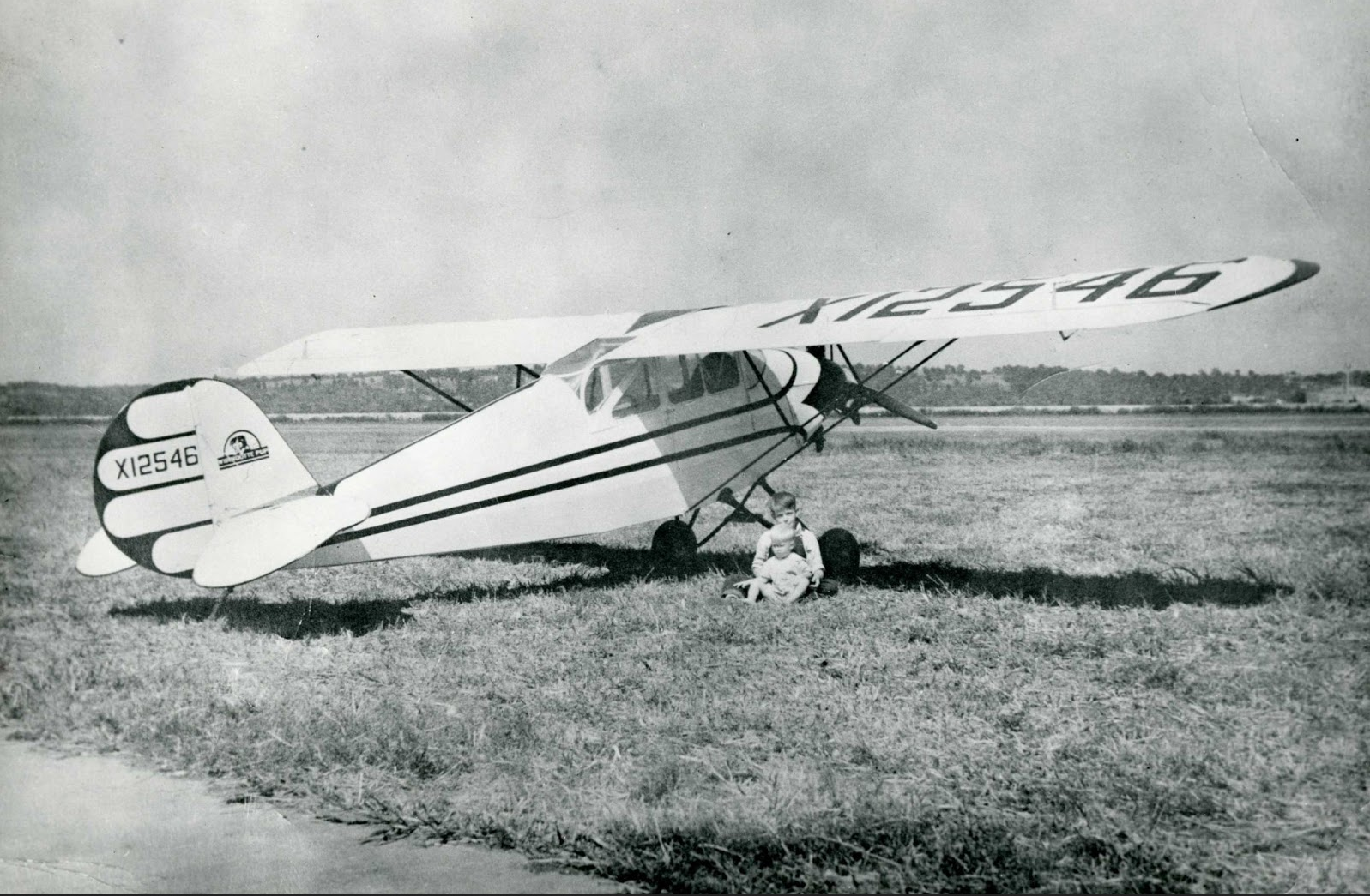 Hockaday had previously been a designer for the American Eagle Aircraft Corporation and had designed that company's Eaglet high-wing monoplane. Edward Everette Porterfield, Jr., the founder of American Eagle, was present when the Wyandotte Pup made its first flight. He bought the airplane and its production rights. American Eagle had gone out of business during the early years of The Depression, and a new company, Porterfield Aircraft Corporation, was formed to manufacture the airplane as the Porterfield Model 35.
The Porterfield Model 35 Flyabout was produced in several variants, and was available with LeBlond, Velle, Warner or Continental engines. It was was a single-engine, high-wing monoplane, which carried a pilot and one passenger in tandem in an enclosed cabin. The airplane had fixed landing gear with a tail skid. The fuselage was a welded tube structure, while the wing was built around two spruce spars, with spruce and plywood ribs. The airplane was covered with doped fabric. A distinctive feature of the Porterfield series are the parallel wing struts. (Most similar aircraft have their struts arranged in a "V".)
The Porterfield Model 35-W was 22 feet, 1 inch (6.731 meters) long, with a wingspan of 32 feet, 0 inches (9.754 meters), and height of 6 feet, 7 inches (2.007 meters). The main wheel tread was 5 feet, 6 inches (1.676 meters). Maximum payload was 501 pounds (227.25 kilograms).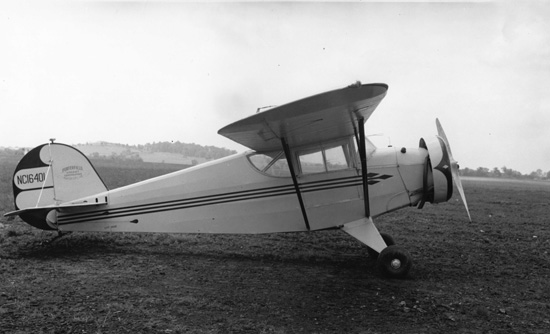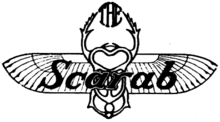 The Model 35-W was powered by an air-cooled, normally-aspirated, 301.458-cubic-inch-displacement (4.940 liter) Warner Aircraft Corporation Scarab Junior. This was a 5-cylinder radial engine with two valves per cylinder and a compression ratio of 5.2:1. The Scarab Junior was rated at 90 horsepower at 2,050 r.p.m. at Sea Level for takeoff (five-minute limit). The engine was 1 foot, 2 inches (0.356 meters) long, 3 feet, 0.5 inches (0.927 meters) in diameter, and weighed 237 pounds (107.5 kilograms). The engine was covered by a Townend Ring.
The 35-W had a cruise speed of 110 miles per hour (177 kilometers per hour) and maximum speed of 120 miles per hour (193 kilometers per hour). Its range was 340 miles (547 kilometers).
Porterfield Aircraft Corporation built approximately 240 Model 35s. Twenty-five of these were the Model 35-W.
Noel Ross Hockaday was born 24 May 1905 in Kinmundy, Illinois. He was the first of two children of Jake Fred Hockaday, a farmer, and Mary Kathryn Sills Hockaday. He married to Ruby I. Kelley at Los Angeles, 31 March 1937.
In addition to the Eaglet and Pup, Hockaday designed the Rearwin Airplanes Inc., Speedster, Sportster and Cloudster. (Rearwin, like Porterfield, was based at Fairfax Airport, Kansas City, Kansas.)
In 1940, Hockaday worked for the Lockheed Aircraft Corporation. He later formed Hockaday Aircraft Corporation at Burbank, California, to produce the Hockaday Comet.
Noel Ross Hockaday died at Los Angeles, California, 26 May 1959, at the age of 54 years.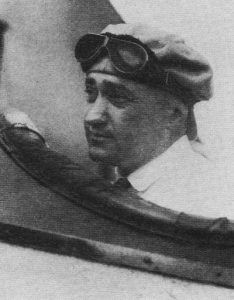 Edward Everett Porterfield, Jr., was born at Kansas City, Missouri, 7 November 1890. He was the son of Edward Everett Porterfield, Sr.,² a state circuit court judge, and Julia L. Chick Porterfield.
E. E. Porterfield, Jr., was a manager for the New England Equitable Life Insurance Company in Kansas City. On 17 January 1911, he married Miss Margaret Hughes in Nebraska. They would have two sons, both of whom died in infancy. Mrs. Porterfield sued for divorce, charging that she had been abandoned. The divorce was granted and she was awarded $30.00 per month in financial support.
Porterfield enlisted in the United States Army, 4 March 1918, and served as a sergeant with the 314th Trench Mortar Battery, 164th Field Artillery Brigade, 89th Division, American Expeditionary Forces. The division fought at the Battle of St. Mihiel and in the Meuse-Argonne Offensive. The 89th was inactivated following the war. Sergeant Porterfield was honorably discharged, 20 February 1919.
Porterfield's second wife was Margaret Jellison Porterfield. They also divorced.
In 1925, Porterfield founded the Porterfield Flying School at Richards Field, the first airport for Kansas City, Missouri. In 1928, he founded the American Eagle Aircraft Corporation at Fairfax Airport, Kansas City, Kansas.³
E. E. Porterfield married his third wife, Mildred Shiveley, at Odessa, Missouri, 25 December 1930.
Porterfield later founded the Porterfield Aircraft Corporation in 1932. During World War II, light aircraft production ceased and the company eventually went out of business.
Edward Everett Porterfield, Jr., died at Kansas City, Missouri, 29 August 1948, at the age of 58 years. He was buried at the Mount Washington Cemetery, Independence, Missouri.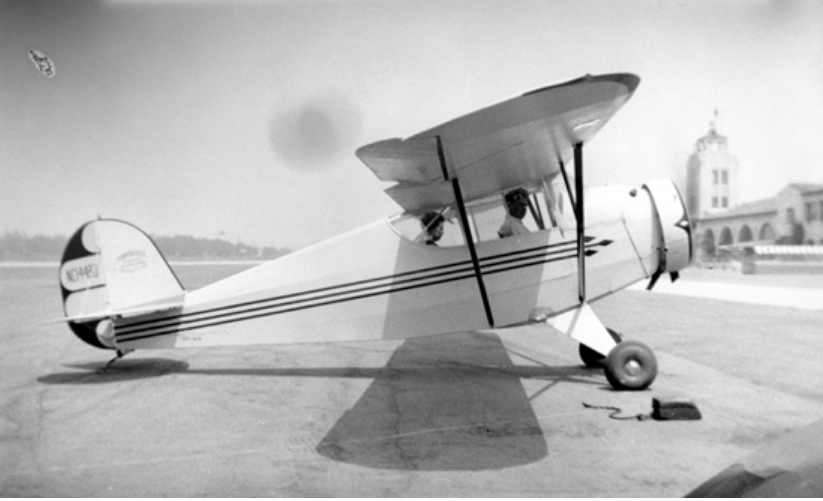 ¹ FAI Record File Number 12022
² Full Disclosure: Judge Edward Everett Porterfield, Sr., a Kansas state circuit court judge, had an involvement in the infamous Dr. Hyde murders which took place at the Colonel Thomas H. Swope mansion near Independence, Missouri (State of Missouri v. Bennett Clarke Hyde, 1910). Colonel Swope was a distant relative of TDiA.
³ The Kansas City Metropolitan Area is divided by the Missouri River, which is the boundary between the State of Missouri and the State of Kansas. Therefore, there is a Kansas City, Missouri, and a Kansas City, Kansas.
© 2019, Bryan R. Swopes