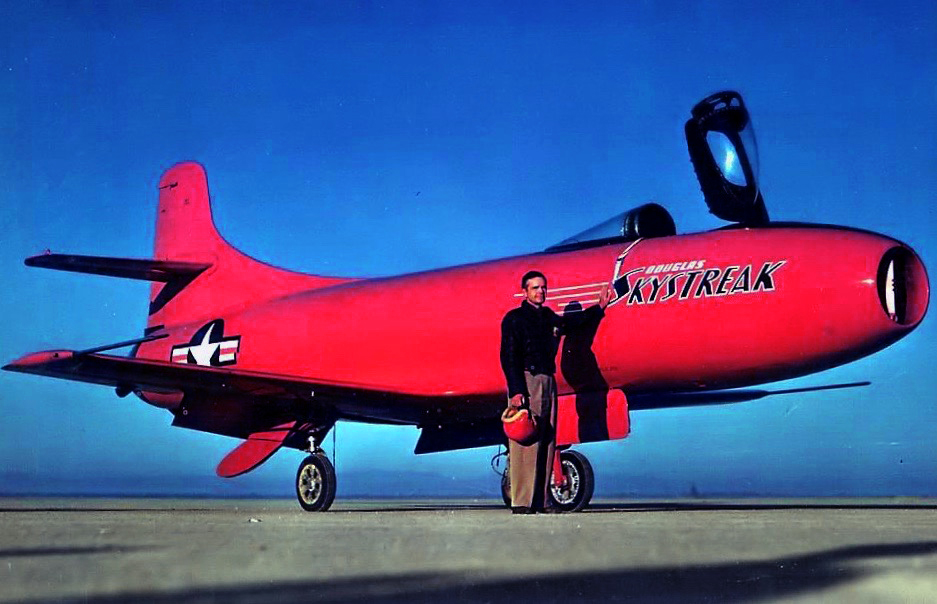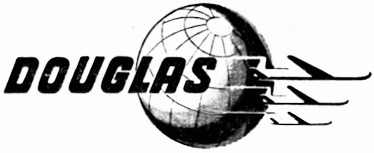 14 April 1947: Douglas Aircraft Company test pilot Eugene Francis ("Gene") May took the Number 1  U.S. Navy/NACA/Douglas D-558-I Skystreak high-speed research aircraft, Bu. No. 37970, for its first flight at at Muroc Army Airfield. The aircraft had been transported from the Los Angeles factory to Muroc by truck.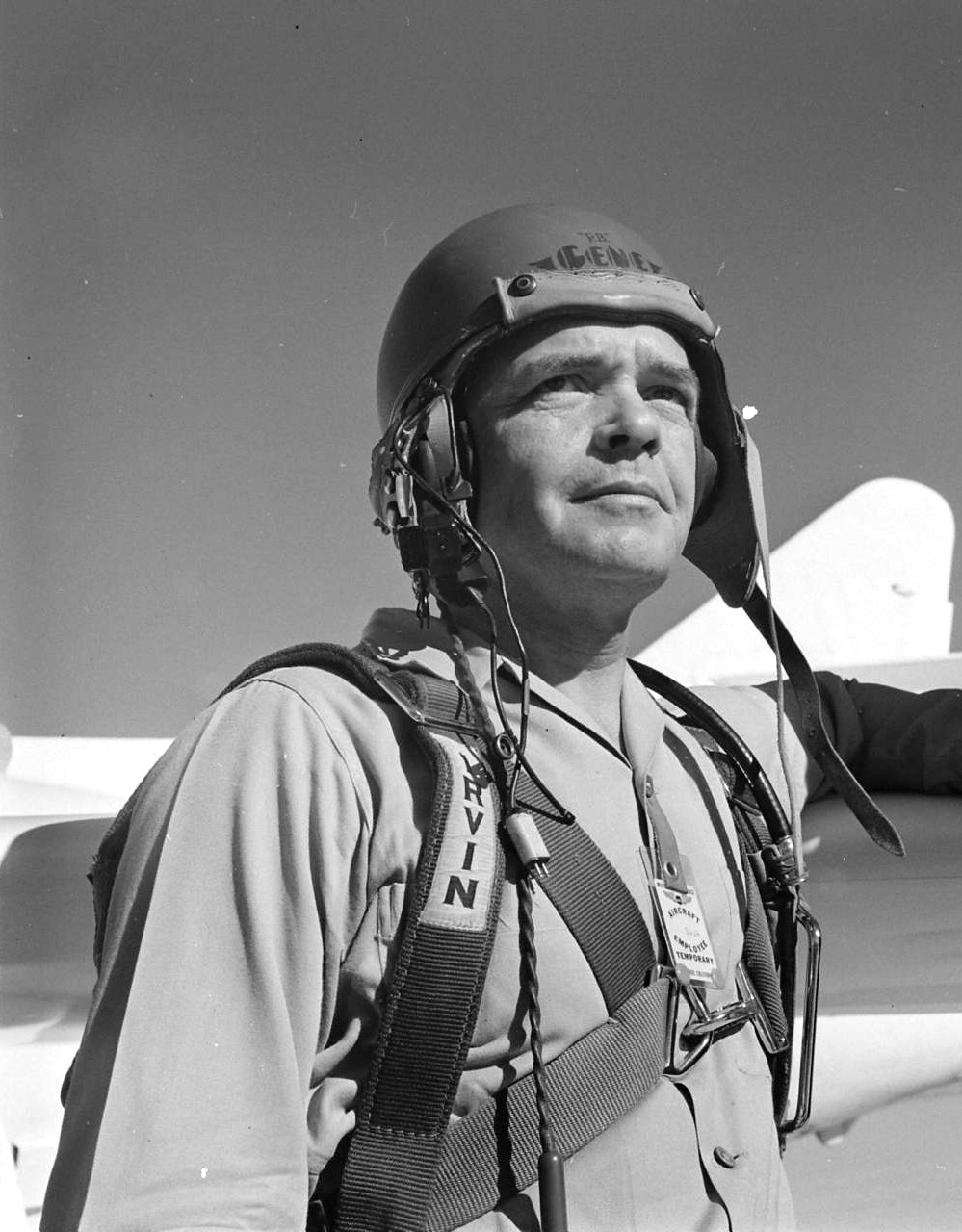 The Skystreak was a joint United States Navy/National Advisory Committee for Aeronautics (NACA) research aircraft designed to explore flight at high subsonic speed. The Phase I Skystreak was designed by a team led by Douglas Chief Engineer Edward Henry Heinemann. Flight testing was conducted at the NACA High Speed Flight Station at Muroc Army Airfield (later known as Edwards Air Force Base). Three D-558-Is were built, followed by the Phase II, swept-wing Mach 2 D-558-II Skyrocket rocketplane.
The D-558-I carried extensive flight test instrumentation for its time. The wings had 400 orifices for air pressure sensors. During the test series, aircraft stability in the range of 0.82–0.99 Mach was investigated. One of the Skystreaks may have briefly exceeded Mach 1 as it came out of a dive.
Unlike some of the other experimental high speed aircraft of the time, it took off from the ground under its own power rather than being carried aloft by a mother ship. While those other aircraft could briefly reach much higher speeds, the D-558-I was able to fly for extended periods in the high-subsonic range, providing scientists and engineers with a tremendous amount of data.
The research airplane was a single-place, single-engine, low-wing monoplane with retractable tricycle landing gear. The fuselage of the D-558-I was constructed of an aluminum framework covered with sheet magnesium. It was designed for an ultimate load factor of 18 gs. The wings and tail surfaces were aluminum. The airplane was painted scarlet (not orange, like its contemporary, the Bell X-1) and was known as "the crimson test tube."
The D-558-I was 35 feet, 1.5 inches (10.706 meters) long with a wingspan of 25 feet, 0 inches (7.620 meters) and overall height of 12 feet, 1.6 inches (3.698 meters). Gross weight 10,105 pounds (4,584 kilograms). It carried 230 gallons (871 liters) of kerosene in its wings.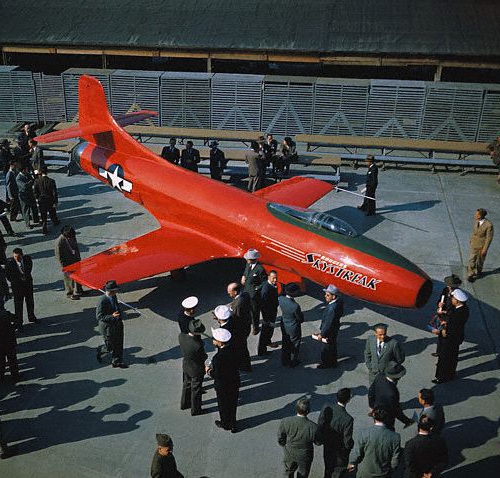 The D-558-I was powered by a single Allison J35-A-11 turbojet engine. The J35 was a single-spool, axial-flow turbojet with an 11-stage compressor section, 8 combustion chambers and single-stage turbine. The J35-A-11 was rated at 5,000 pounds of thrust (22.24 kilonewtons). The engine was 12 feet, 1.0 inches (3.683 meters) long, 3 feet, 4.0 inches (1.016 meters) in diameter and weighed 2,455 pounds (1,114 kilograms).
Bu. No. 37970 made 101 of the 228 Phase I flights. It set a world speed record 1,031.178 kilometers per hour (640.744 miles per hour), flown by Commander Turner F. Caldwell Jr., U.S. Navy,  20 August 1947.¹ (Major Marion E. Carl, U.S. Marine Corps, flew the second Skystreak, Bu. No. 37971, to 1,047.356 kilometers per hour (650.797 miles per hour),² breaking Caldwell's record.)
After Douglas completed the contractor's test series, the Number 1 Skystreak was turned over to the NACA High Speed Flight Station and designated NACA 140. It was not as highly instrumented as the Number 2 and Number 3 Skystreaks and was not flown, but was used as a source for spare parts for the other D-558-Is.
Douglas D-558-I Skystreak Bu. No. 37970 is on display at the National Naval Aviation Museum, NAS Pensacola, Florida.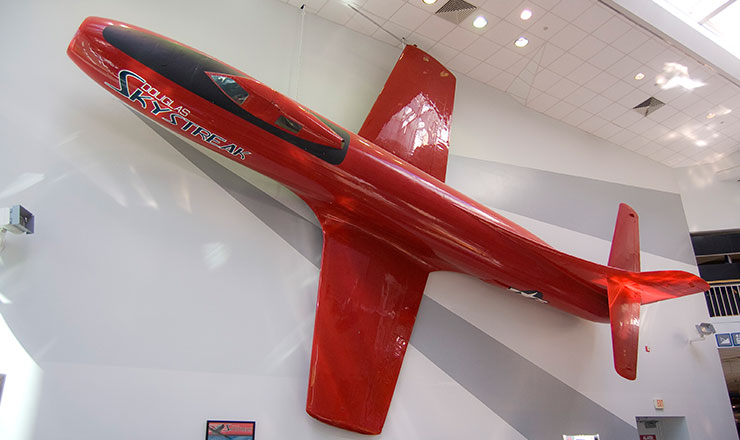 ¹ FAI Record File Number 9864
² FAI Record File Number 9865
© 2019, Bryan R. Swopes