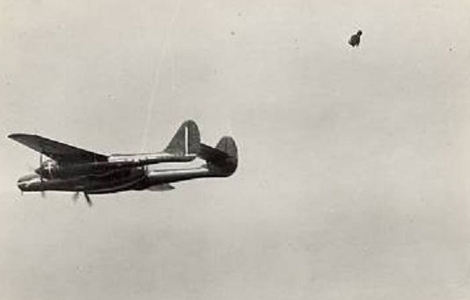 17 August 1946: First Sergeant Lawrence Lambert, U.S. Army Air Forces, was the first person to eject from an aircraft in flight in the United States.
Lambert was assigned to the Air Material Command Parachute Branch, Personal Equipment Laboratory. He was an 11-year veteran of the Air Corps. During World War II, he served in the Asiatic-Pacific Theater. Previous to this test, Lambert had made 58 parachute jumps.
The test aircraft was a modified Northrop P-61B-5-NO Black Widow night fighter, 42-39498,¹ redesignated XP-61B. The airplane was flown by Captain John W.McGyrt and named Jack in the Box.
The ejection seat was placed in the gunner's position, just behind and above the Black Widow's pilot. A 37 mm cartridge fired within a 38 inch (0.97 meter) long gun barrel launched the seat from the airplane at approximately 60 feet per second (18.3 meters per second). Lambert experienced 12–14 Gs acceleration.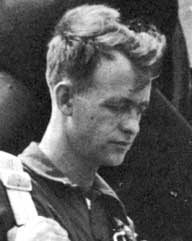 Flying over Patterson Field at more than 300 miles per hour (483 kilometers per hour) at 6,000 feet (1,829 meters), Lambert fired the ejection seat. He and the seat were propelled approximately 40 feet (12 meters) above the airplane. After 3 seconds, he separated from the seat, and after another 3 seconds of free fall, his parachute opened automatically. Automatic timers fired smaller cartridges to release Lambert from the seat, and to open the parachute.
He later said, " 'I lived a thousand years in that minute," before the pilot, pulled the release. . . ' Following the successful jump, blue-eyed, sandy-haired Sgt. Lambert expressed only one desire: To 'get around the biggest steak available.' "
—Dayton Daily News, Vol. 70, No. 26, Sunday, 18 August 1946, Society Section, Page 10, Columns 4–6
Sergeant Lawrence parachuted safely. He was awarded the Distinguished Flying Cross. His citation read:
First Sergeant Lawrence Lambert, Air Corps, 6653991, for extraordinary achievement in aerial flight as a volunteer for the test of human ejection from a high speed aircraft, 17 August 1946. His courageous in the face of unknown factors that might have caused serious injury or loss of life, has contributed immeasurably to aeronautical and medical knowledge of the ejection method of escape from the aircraft.
—Air Force Enlisted Heritage Institute, AFEHRI File 19–10

Sergeant Lambert also won the Cheney Award, "for an act of valor, extreme fortitude or self-sacrifice in a humanitarian interest, performed in connection with aircraft, but not necessarily of a military nature." The medal was presented to him by General Carl A. Spaatz, in a ceremony held at Washington D.C., 15 April 1947.
Master Sergeant Lambert was later involved in rocket sled tests with Colonel John P. Stapp, M.D., Ph.D.
¹ Another source states 42-39489, however, according to Joe Baugher's serial number web site, this airplane was "condemned to salvage Jul 19, 1945"
© 2017, Bryan R. Swopes