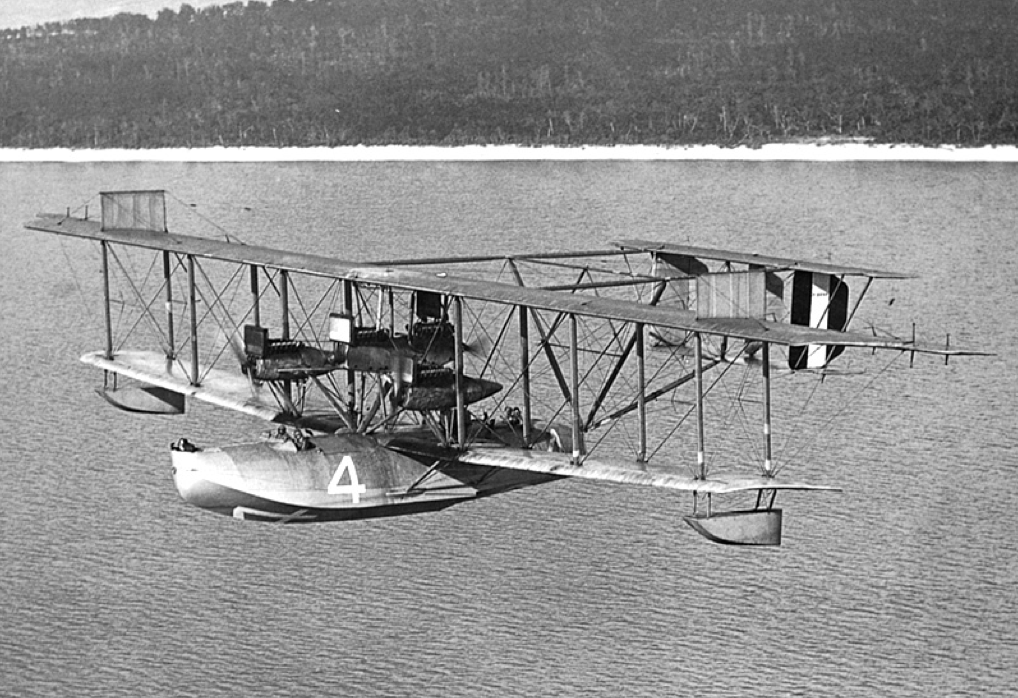 27 May 1919: NC-4, designating number A2294, one of three United States Navy Curtiss NC flying boats, arrived at the harbor of Lisbon, Portugal, becoming the first airplane to cross the Atlantic Ocean.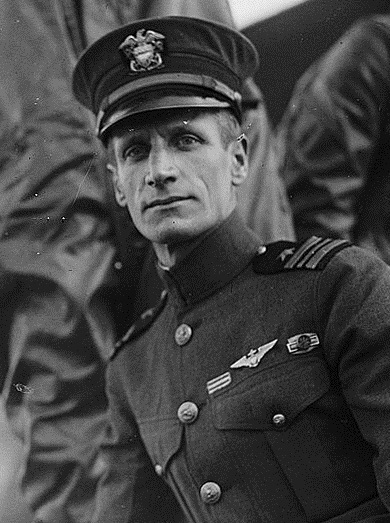 NC-4 was under the command of Lieutenant Commander Albert Cushing Read, United States Navy, who also served as navigator. The pilots were First Lieutenant Elmer Fowler Stone, United States Coast Guard, and Lieutenant (j.g.) Walter T. Hinton, U.S. Navy. Lieutenant James L. Breese, USN and Chief Machinist Mate Eugene S. Rhoads, USN, were the engineers. Ensign Herbert C. Rodd, USN, was the radio operator.
Aboard the other aircraft were several officers who would rise to high rank in the Navy: Commander John Henry Towers would later command the Pacific Fleet; Lieutenant Marc A. Mitscher commanded the Fast Carrier Task Force during World War II, and later commanded the Atlantic Fleet. Lieutenant Patrick N.L. Bellinger commanded Patrol Wing 2 at Pearl Harbor on 7 December 1941, and would go on to command Naval Air Forces, Atlantic Fleet.
Three Curtiss flying boats, NC-1 (A2291), NC-3 (A2293) and NC-4 (A2294), under the command of Commander Towers in NC-3, departed Naval Air Station Rockaway, New York City, New York, United States of America, at 10:00 a.m., 8 May 1919, and flew to NAS Chatham, Massachusetts.
During the flight, NC-4 developed an oil leak from the center pusher engine, so it was shut down. This slowed the airplane but it was still able to continue. In mid-afternoon, however, the center tractor engine suffered a failed connecting rod. With only two engines operating, NC-4 was forced down at sea, approximately 80 miles (129 kilometers) from Chatham. The sea was calm and the flying boat taxied the remaining distance on the water. It arrived there at 7:00 a.m., 9 May.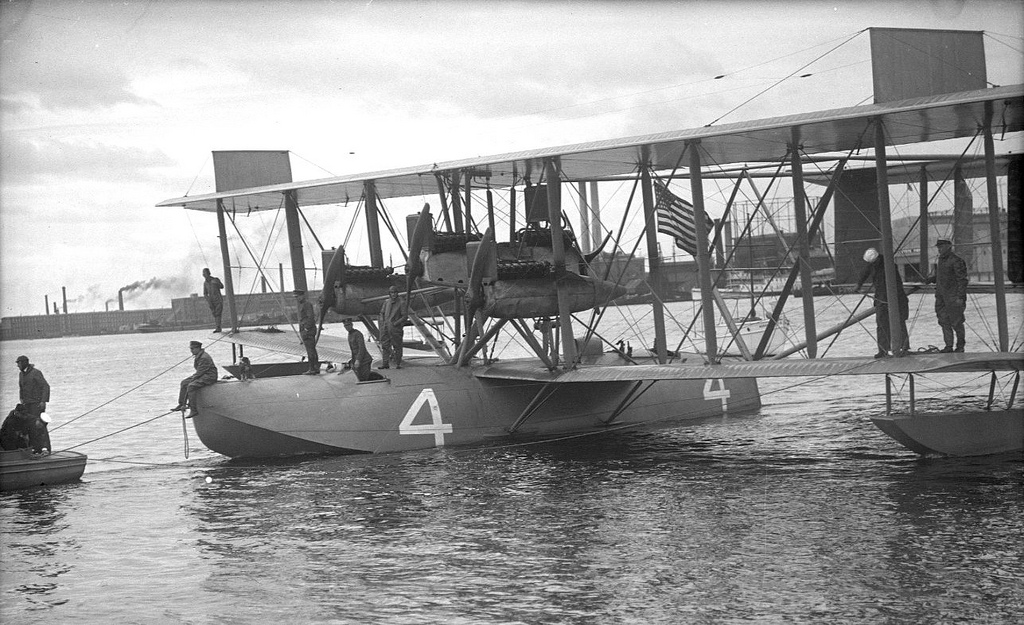 At the air station, the failed engine was replaced with a 300 horsepower Liberty L12, the only spare engine available. The leaking engine was repaired.
Delayed several days by weather, NC-4 departed NAS Chatham at 9:15 a.m., 14 May, and flew to Halifax, Nova Scotia, in the Canadian Maritimes, landing there  at 1:07 p.m. Continuing on to Newfoundland that day would have had them arriving after dark.
NC-4 took off from the waters of Halifax the following morning at 11:47 a.m., and arrived at Trepassey Bay, Newfoundland, at 5:41 p.m., rendezvousing with the aircraft tender USS Aroostook (CM-3). NC-1 and NC-3 had arrived two days earlier.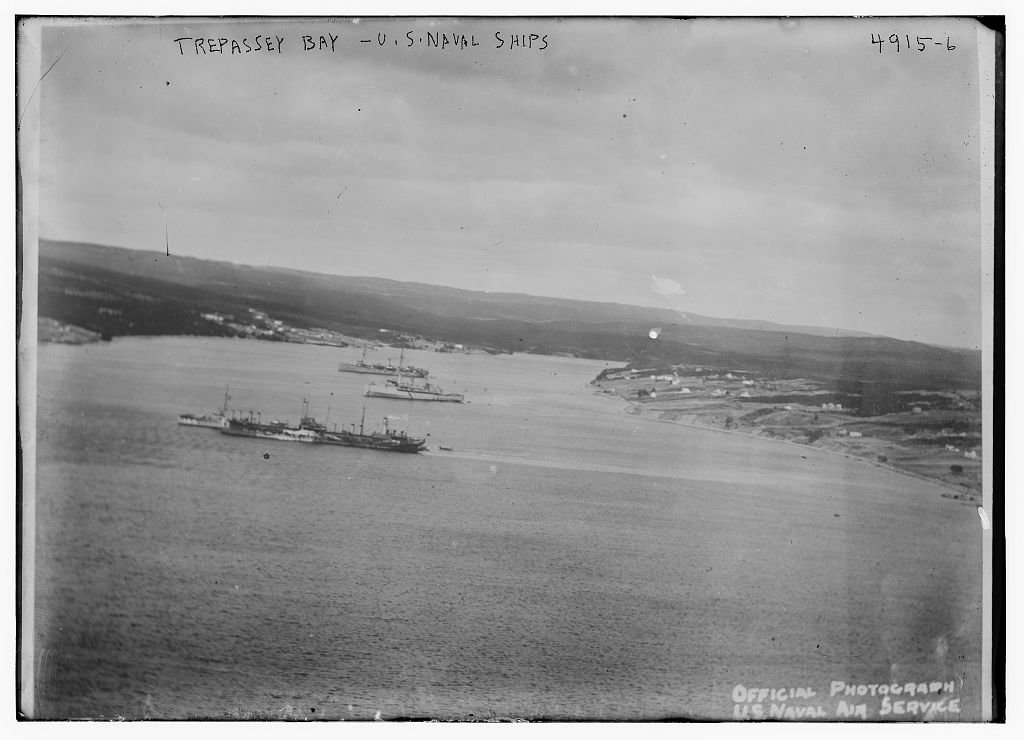 All three airplanes were serviced from the tender. The temporary 300 horsepower Liberty engine which had been installed on NC-4 was replaced with a correct 400 horsepower engine.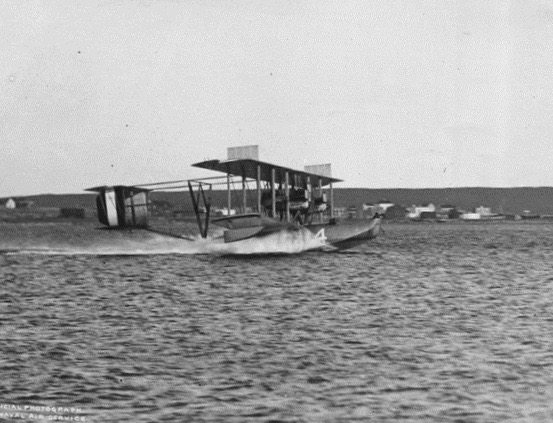 The three Curtiss flying boats took off from Trepassey Bay at 6:00 p.m. on the evening of 16 May and headed across the Atlantic Ocean to the Azores.
NC-1 and NC-3 were both forced down by rain, heavy clouds and thick fog about 200 miles short of their destination. NC-1 was damaged and unable to continue. The crew was rescued by a Greek freighter and the airplane taken in tow, but it sank several days later. NC-3 drifted for two days on surface of the Atlantic, and coming within sight of land, two engines were started and the airplane taxied into the harbor at Ponta Delgada, Ilha de São Miguel.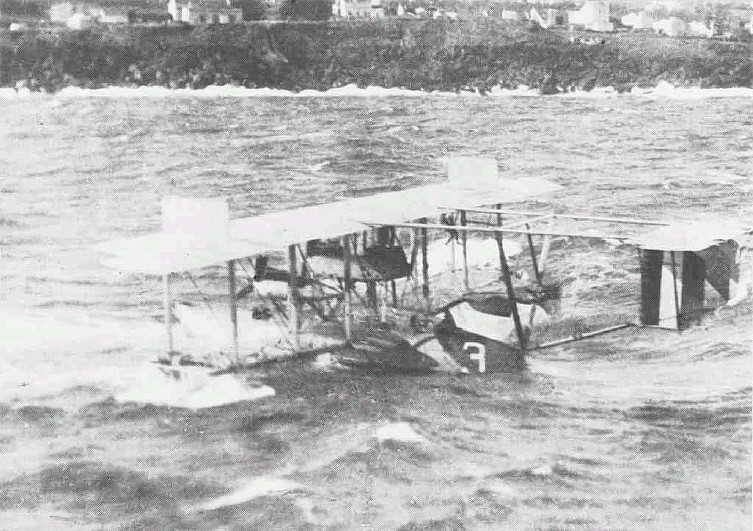 NC-4 deviated from its planned course and landed at Horta, on Faial Island, at 1:23 p.m., 17 May. Weather kept NC-4 at Horta for the next few days, until at 8:45 a.m. on the 20th, it took off and flew to Ponta Delgado, landing there just two hours later.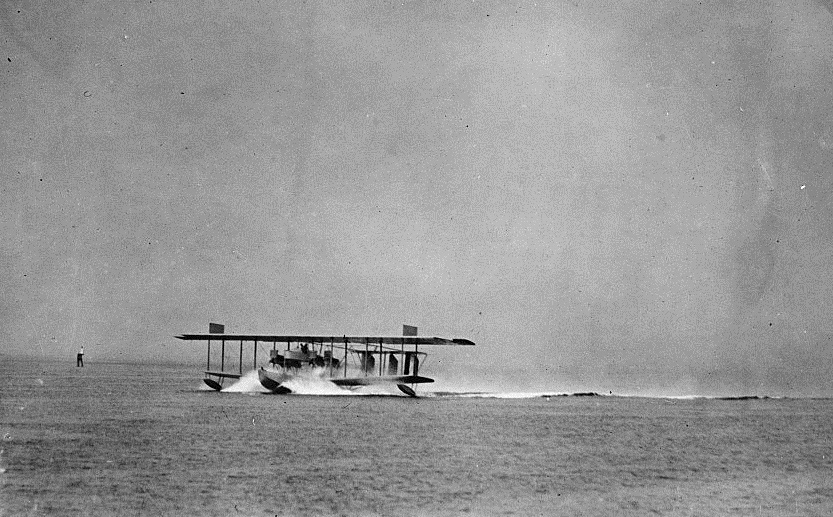 Again, NC-4 was forced to remain in harbor waiting for favorable weather. On 27 May, it was good enough to resume the journey, and the crew once again took off, this time enroute to Lisbon, Portugal.
At 8:01 p.m., 27 May 1919, NC-4 touched down on the Tagus Estuary, Lisbon, Portugal, and became the very first airplane to complete a flight across the Atlantic Ocean.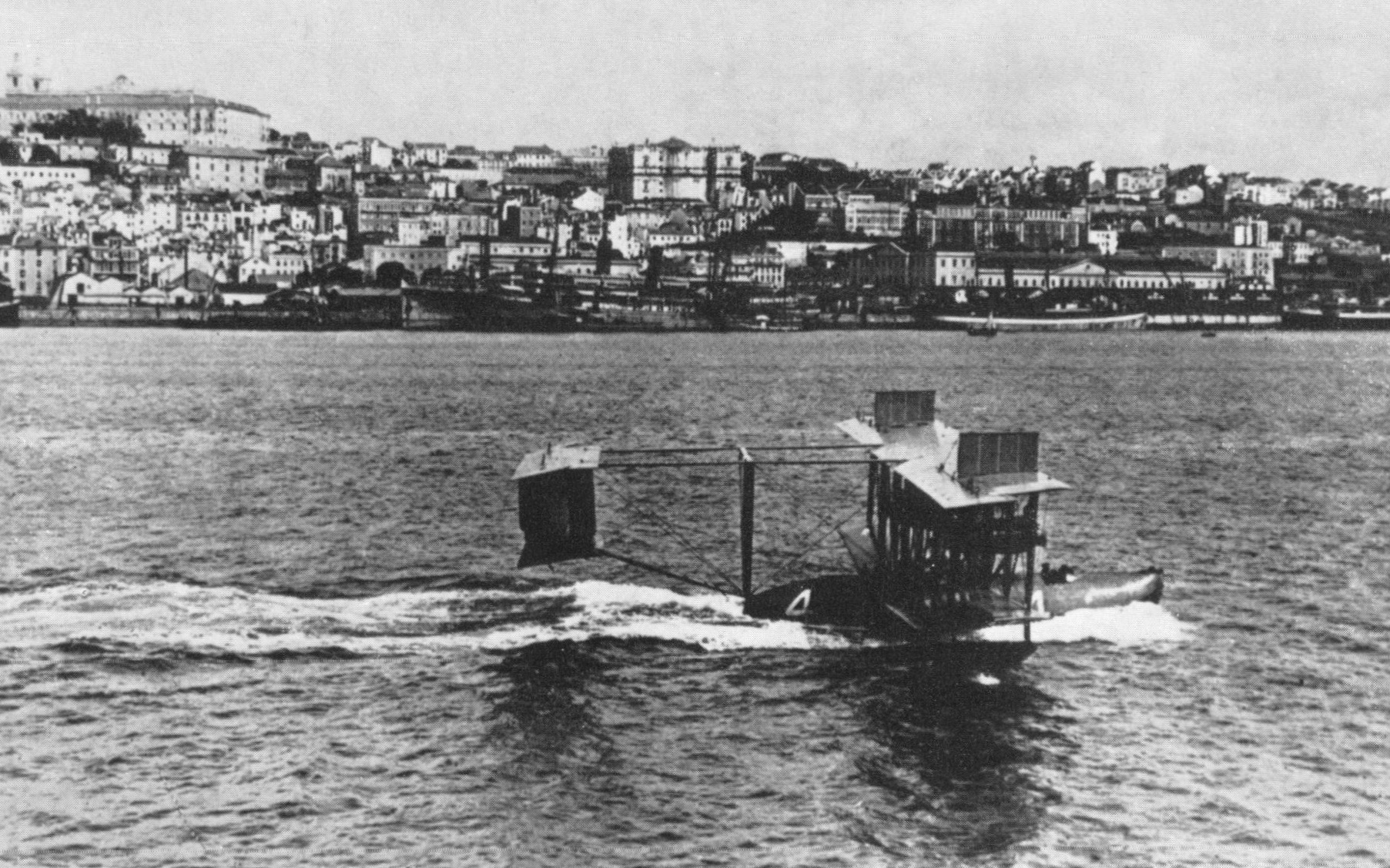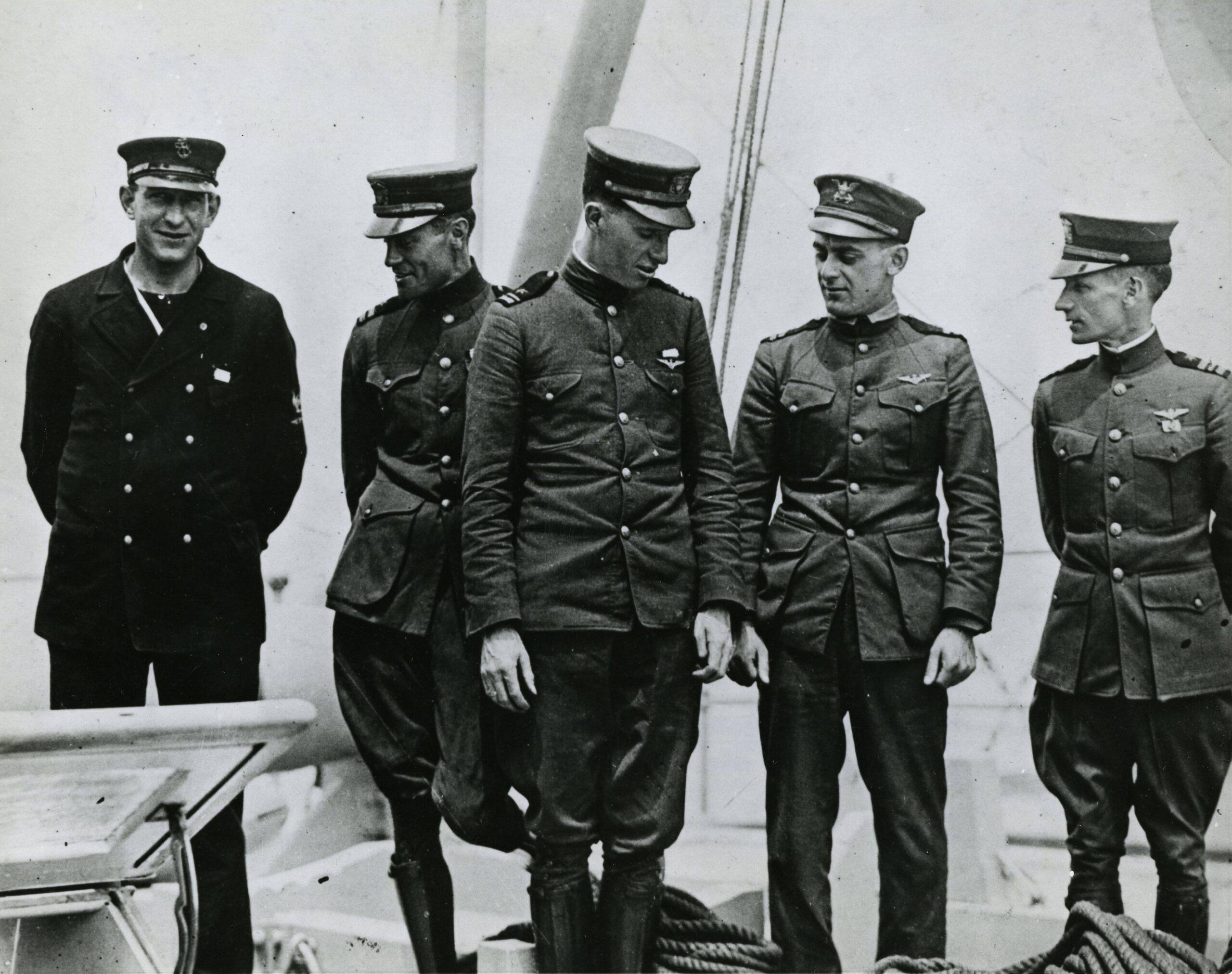 NC-4 was the fourth of ten NC flying boats designed and built by the Curtiss Aeroplane and Motor Company, Garden City, New York. It was a 3-bay biplane with a boat hull, powered by four engines installed in three nacelles between the upper and lower wings.
There were variations between the individual aircraft. NC-4's hull was built by Herreschoff Manufacturing Company, at Bristol, Rhode Island. The hull was constructed of two layers of spruce planking with a layer of muslin and marine glue between. It was 45 feet (13.7 meters) long with a beam of 10 feet (3.0 meters and depth of 9 feet (2.7 meters).
The Curtiss NC-4 was 68 feet, 3 inches (20.803 meters) long with an upper wingspan of 126 feet, 0 inches (38.405 meters) and lower span of 96 feet, 0 inches (29.261 meters). The upper wing and the center section of the lower had no dihedral, while the lower wings' outer panels had 3° dihedral. Their vertical gap varied from 13 feet, 6½ inches (4.128 meters), inboard, to 12 feet, 0 inches (3.658 meters). The chord was 12 feet, 0 inches (3.658 meters), and the lower wing was very slightly staggered behind the upper. The total wing area was 2,380 square feet (221.1 square meters). The biplane-configured horizontal stabilizers had an upper span of 37 feet, 11 inches (11.252  meters), no dihedral, and the vertical gap was 9 feet, 3 inches (2.819 meters). Their total surface area was 330 square feet (30.7 square meters). The overall height of the flying boat was 24 feet, 5 inches (7.442 meters).
The empty weight of NC-4 is 15,874 pounds (7,200 kilograms) and it has a gross weight of 26,386 pounds (11,968 kilograms).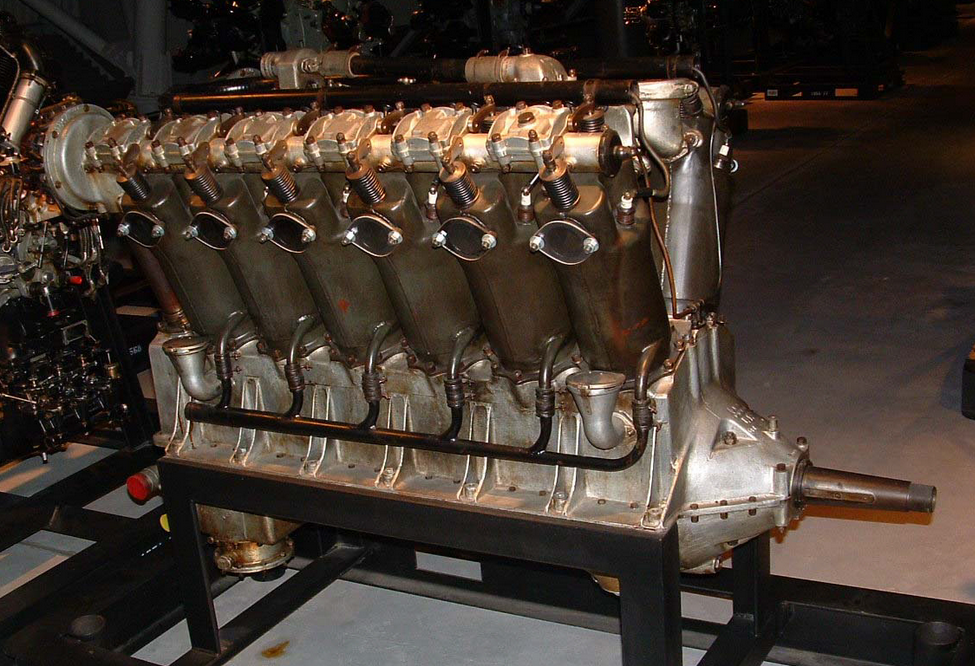 Originally built with three engines, flight testing led to the addition of a fourth. These were water-cooled, normally-aspirated, 1,649.336-cubic-inch-displacement (27.028 liter) Liberty L-12 single overhead cam (SOHC) 45° V-12 engines with a compression ratio of 5.4:1. The Liberty produced 408 horsepower at 1,800 r.p.m. The L-12 as a right-hand tractor (left-hand pusher), direct-drive engine. The Liberty 12 was 5 feet, 7.375 inches (1.711 meters) long, 2 feet, 3.0 inches (0.686 meters) wide, and 3 feet, 5.5 inches (1.054 meters) high. It weighed 844 pounds (383 kilograms). Two were mounted in a center nacelle with one in tractor and one in pusher configuration. Two more were in individual nacelles in tractor configuration. The engines drove four-bladed fixed-pitch wooden propellers.
NC-4 had a maximum speed of 85 miles per hour (137 kilometers per hour), a service ceiling of 4,500 feet (1,372 meters) and range of 1,470 miles (2,366 kilometers).
NC-4 was restored by the Smithsonian Institution during the early 1960s and remains a part of its collection, though it is on long term loan to the National Museum of Naval Aviation, Pensacola, Florida.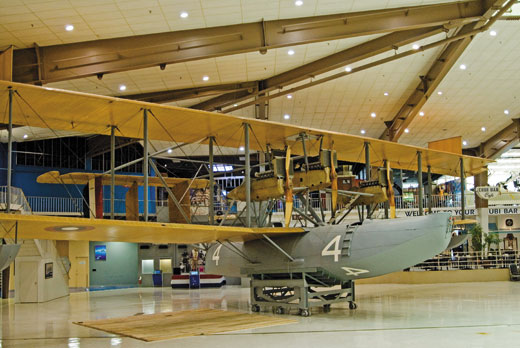 © 2019, Bryan R. Swopes