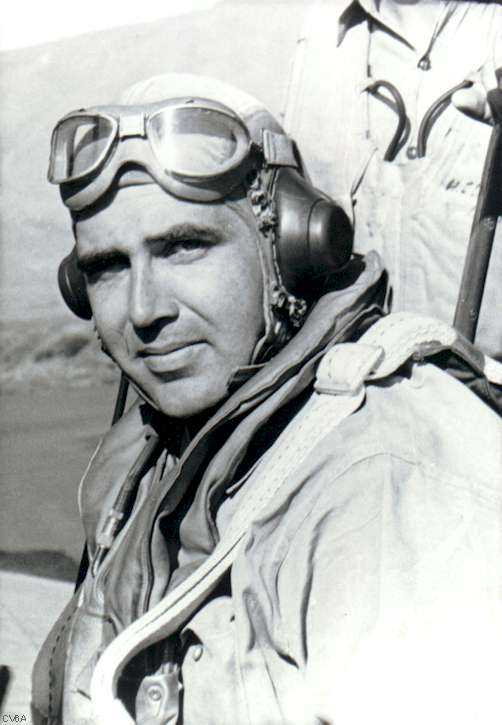 26 November 1943: At sunset, Lieutenant Commander Edward Henry O'Hare, United States Navy, Commander Air Group 6, took of from the aircraft carrier USS Enterprise (CV-6) as part of an experimental three-plane night fighter team. The U.S. Navy task force was operating in the waters northeast of Tarawa, supporting Operation Galvanic.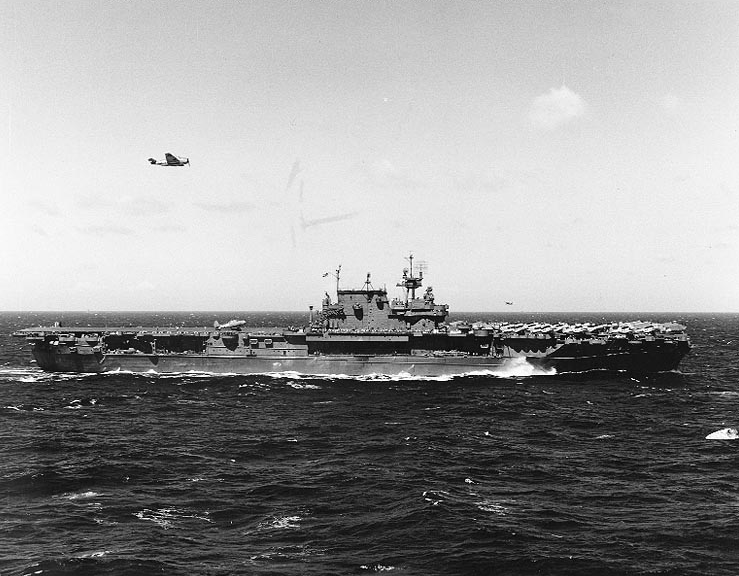 Two Grumman F6F-3 Hellcat fighters of Fighting Squadron TWO (VF-2), piloted by O'Hare and Ensign Warren Andrew Skon, flew formation with a radar-equipped Grumman TBF-1 Avenger torpedo bomber, call sign "Tare 97," flown by Lieutenant Commander John C. ("Phil") Phillips, commander, Torpedo Squadron 6 (VT-6).
Butch O'Hare was flying his personal airplane, Grumman F6F-3 Hellcat, Bu. No. 66168. The Hellcat was marked with "00" in white on both sides of its fuselage, the traditional identification of an air group commander's ("CAG") airplane.
The Avenger's radar operator would guide the two fighters to intercept the groups of Japanese Mitsubishi G4M "Betty" torpedo bombers that had been making nightly attacks against the ships of Task Force 50.2.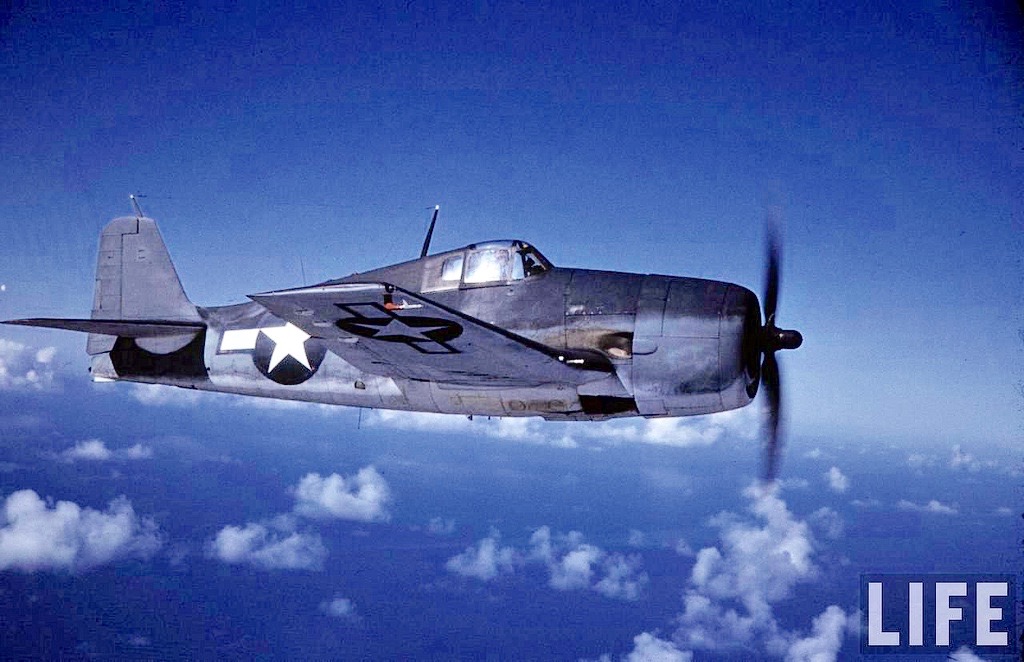 The night fighter team engaged several enemy bombers, with the TBF's pilot, Phillips, credited with shooting down two G4Ms with his Avenger's two forward-firing .50-caliber machine guns. O'Hare and Skon both fired on other enemy bombers with their Hellcats' six machine guns.
At about 7:30 p.m., the TBF was flying at about 1,200 feet (365 meters), staying below the cloud bases, while the two F6Fs rejoined the formation. The TBF's gunner, Al Kernan, saw both Hellcats approaching to join on the the Avenger's right wing. When O'Hare was about 400 feet (120 meters) away, the gunner saw a third airplane appear above and behind the two fighters.
A Japanese Mitsubishi G4M twin-engine bomber opened fire on O'Hare's fighter with it's 7.7 mm (.303-caliber) nose-mounted machine gun. Kernan returned fire with the TBF's turret-mounted .50-caliber machine gun. The G4M quickly disappeared into the darkness.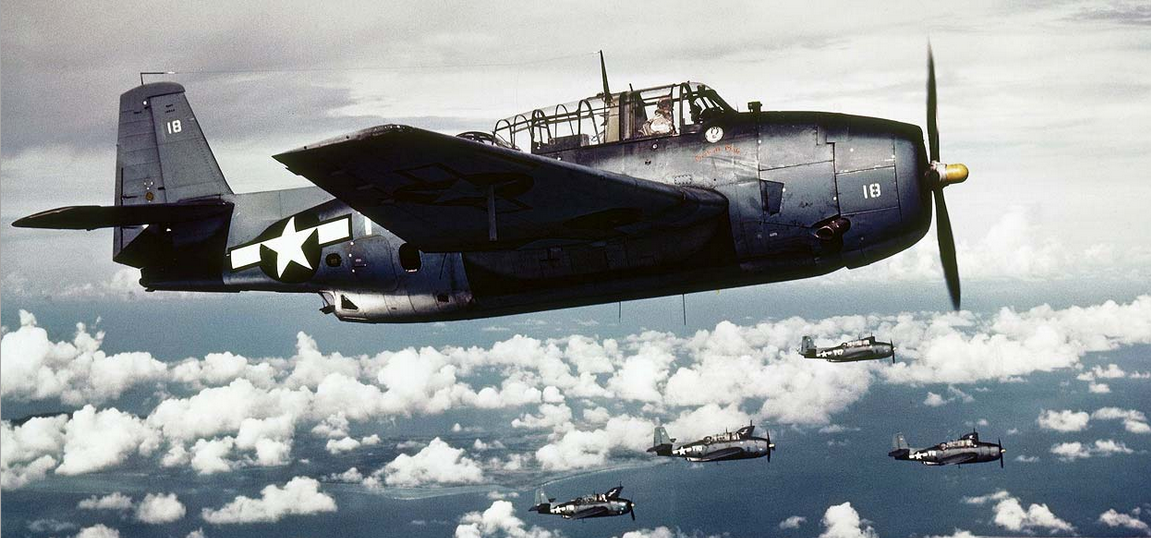 Butch O'Hare's F6F was seen to turn out of the formation, passing to the left underneath Skon's fighter. Skon called O'Hare by radio but there was no response. The CAG's Hellcat went into a dive then disappeared in the darkness. Skon tried to follow O'Hare, but had to pull out at about 300 feet (90 meters) to avoid crashing into the ocean.
Neither O'Hare or his airplane were ever seen again. He is believed to have gone into the water at 7:34 p.m., 26 miles (42 kilometers) north-northwest of the carrier Enterprise.

Lieutenant Commander Edward H. O'Hare was listed as Missing in Action. One year after his disappearance, the status was officially changed to Killed in Action.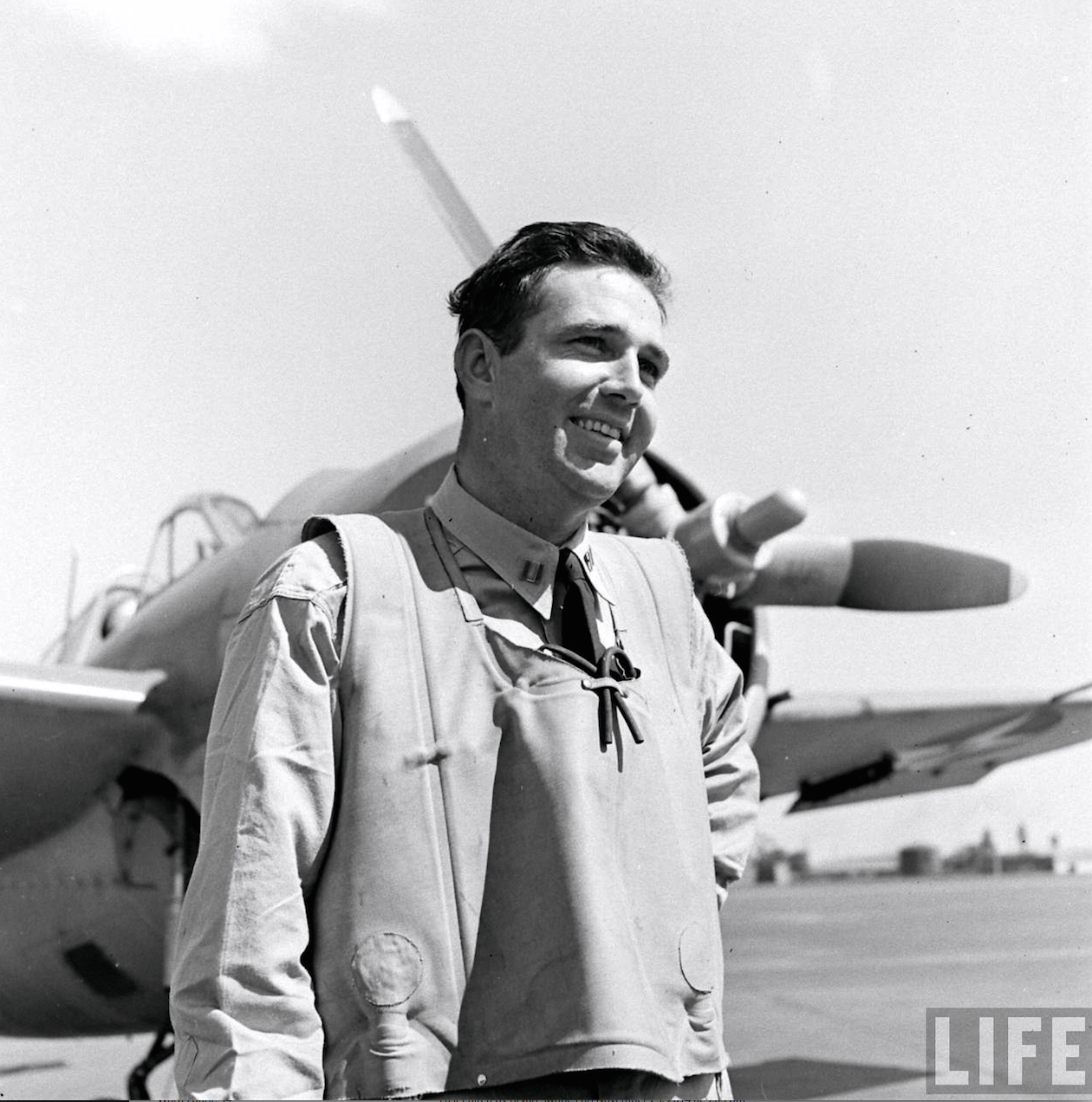 Edward Henry O'Hare was born at St. Louis, Missouri, United States of America, 13 March 1914. He was one of three children of Edward Joseph O'Hare and Selma Anna Lauth O'Hare. He attended the Western Military Academy, Alton, Illinois, along with his friend, Paul Warfield Tibbetts (who would later command the Army Air Forces' 509th Composite Group, and fly the B-29 Superfortress, Enola Gay). O'Hare graduated in 1932.
Butch O'Hare was appointed a midshipman at the United States Naval Academy, Annapolis, Maryland, and entered 24 July 1933. He graduated 3 June 1937 and was commissioned as an ensign, United States Navy. He was then assigned to sea duty aboard the class-leading battleship USS New Mexico (BB-40).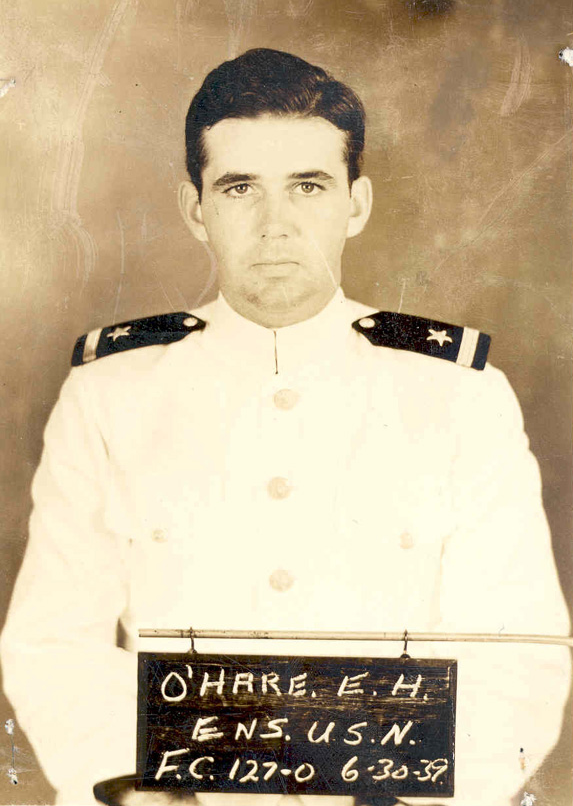 In 1939, Ensign O'Hare was ordered to NAS Pensacola, Florida, for primary flight training. On 3 June 1940, he was promoted to the rank of Lieutenant (Junior Grade). He completed flight training 2 May 1940.
Lieutenant (j.g.) O'Hare was next assigned to Fighting Squadron THREE (VF-3), a fighter squadron based at San Diego, California, and assigned as part of the air group of the Lexington-class aircraft carrier, USS Saratoga (CV-3).
USS Saratoga was damaged by a torpedo southwest of the Hawaiian Islands, 11 January 1942. While the carrier was under repair, VF-3 was transferred to USS Lexington.
During the early months of World War II, a task force centered around the United States aircraft carrier USS Lexington (CV-2) was intruding into Japanese-held waters north of New Ireland in the Bismarck Archipelago. In the afternoon of 20 February 1942, she came under attack by several flights of enemy Mitsubishi G4M "Betty" bombers.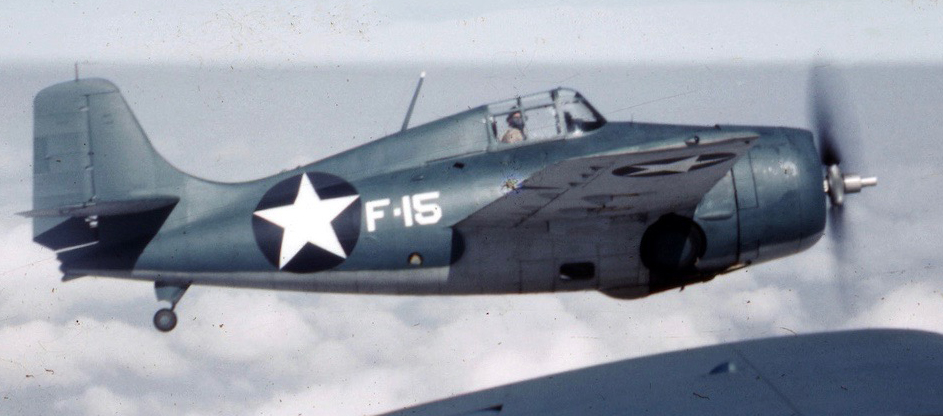 Her fighters, Grumman F4F-3 Wildcats, were launched in defense and an air battle ensued. Another flight of nine Bettys approached from the undefended side, and Lieutenant (junior grade) Edward H. "Butch" O'Hare, U.S.N. and his wingman were the only fighter pilots available to intercept.
At 1700 hours, O'Hare arrived over the nine incoming bombers and attacked. His wingman's guns failed, so O'Hare fought on alone. In the air battle, he is credited with having shot down five of the Japanese bombers and damaging a sixth.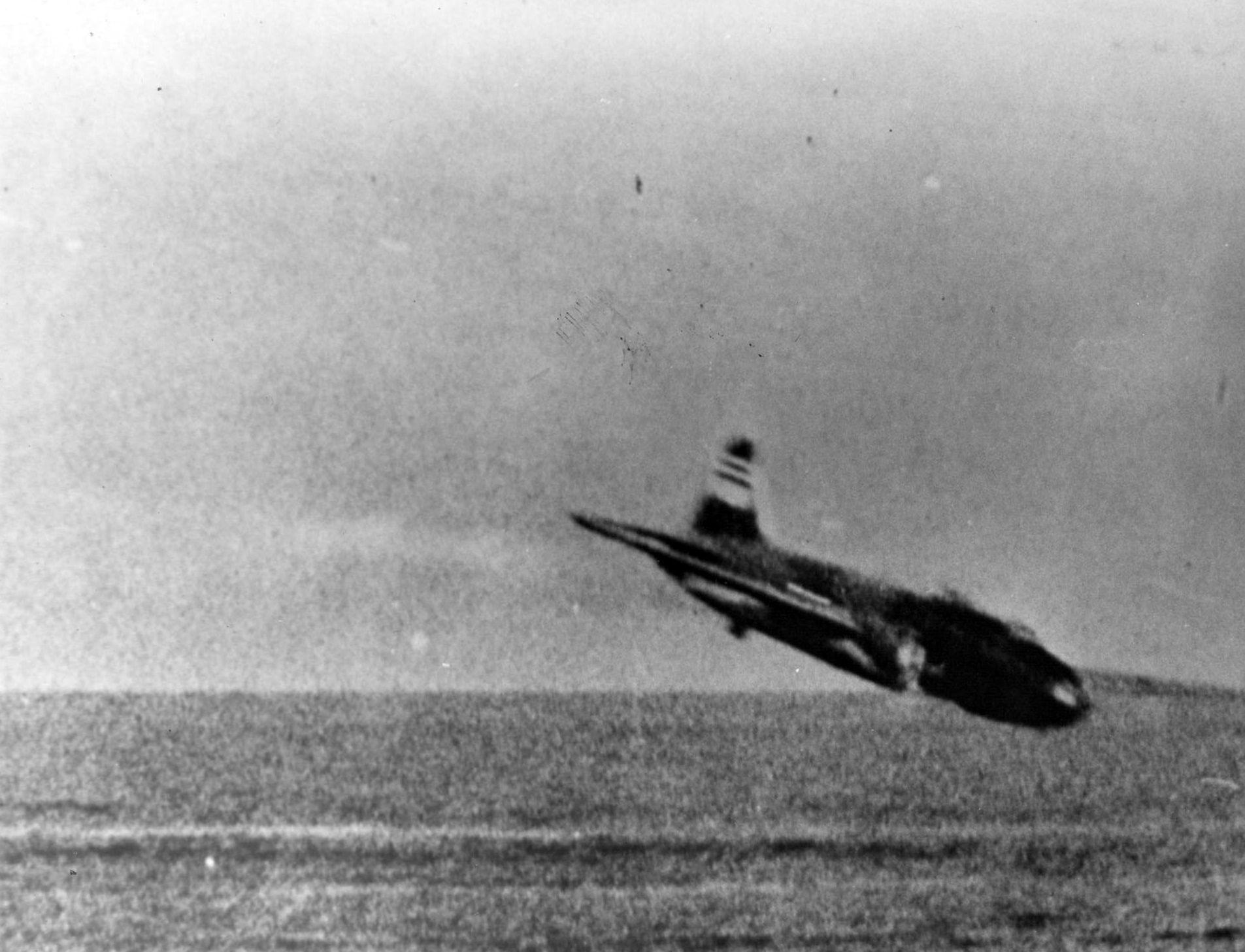 For his bravery, Butch O'Hare was promoted to lieutenant commander and awarded the Medal of Honor.
Lieutenant (j.g.) Edward H. O'Hare married Miss Rita Grace Wooster, a nurse at DePaul Hospital, St. Louis, Missouri, 6 September 1941. The marriage was performed by Rev. Patrick Joseph Murphy at the Church of the Immaculate Conception (St. Mary's Church) in Phoenix, Arizona. They would have a daughter, Kathleen.
In a ceremony at the White House, Washington, D.C., at 10:45 a.m., 21 April 1942, President Franklin Delano Roosevelt presented the Medal of Honor to Lieutenant Commander O'Hare. Lieutenant (j.g.) O'Hare was promoted to the rank of Lieutenant Commander (temporary) with date of rank 8 April 1942.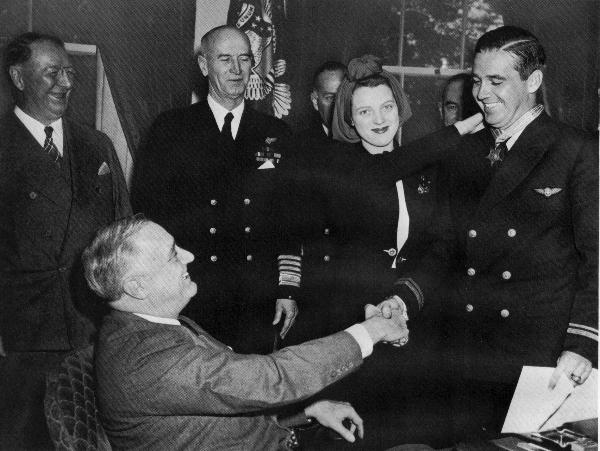 One of the best known fighter pilots in the United States Navy, Butch O'Hare was a hero to the people of America. He had been awarded the Medal of Honor for his actions in combat during the early months of the war, nominated for a second Medal of Honor, and awarded the Navy Cross, Distinguished Flying Cross and Purple Heart.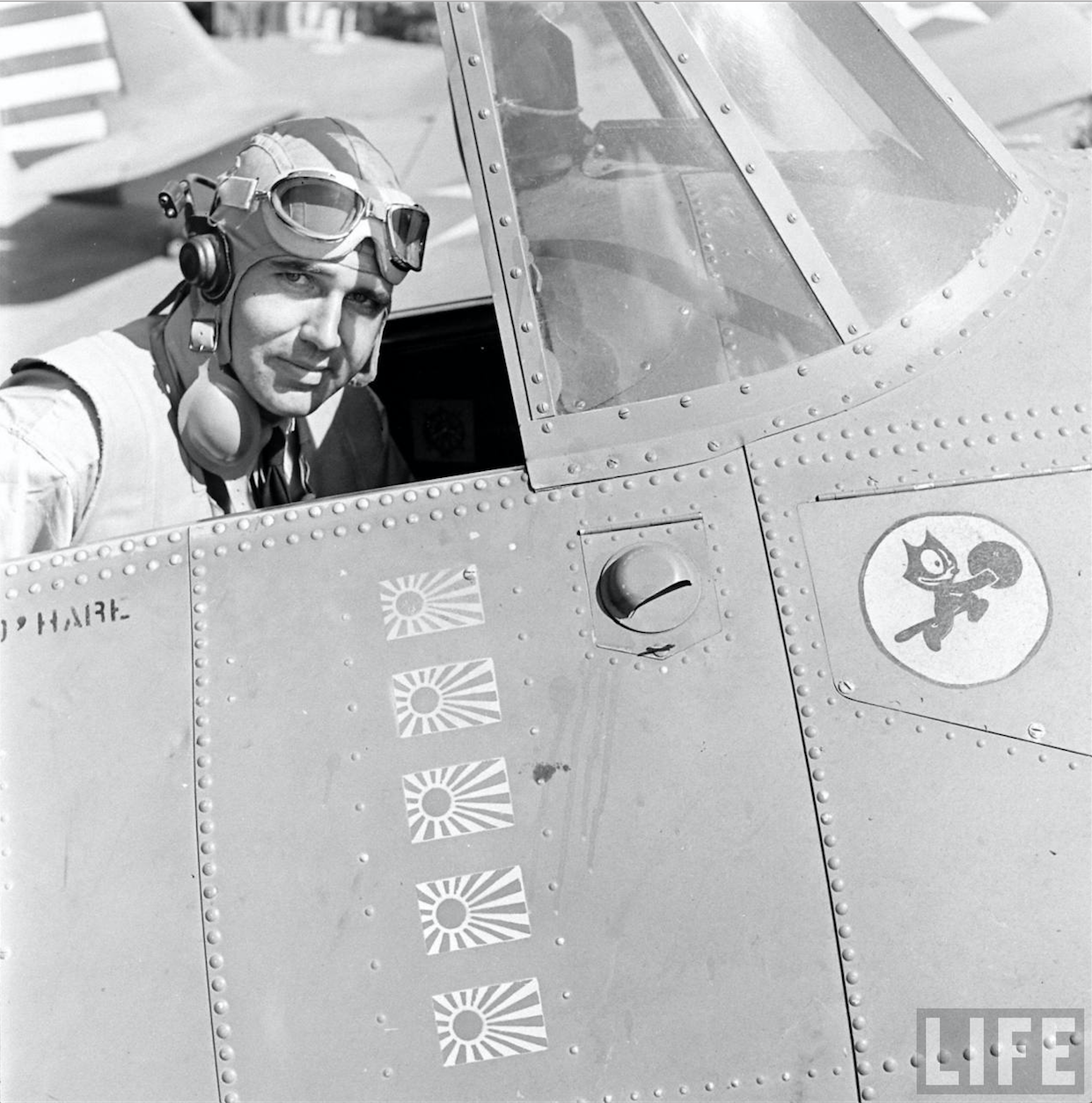 © 2018, Bryan R. Swopes