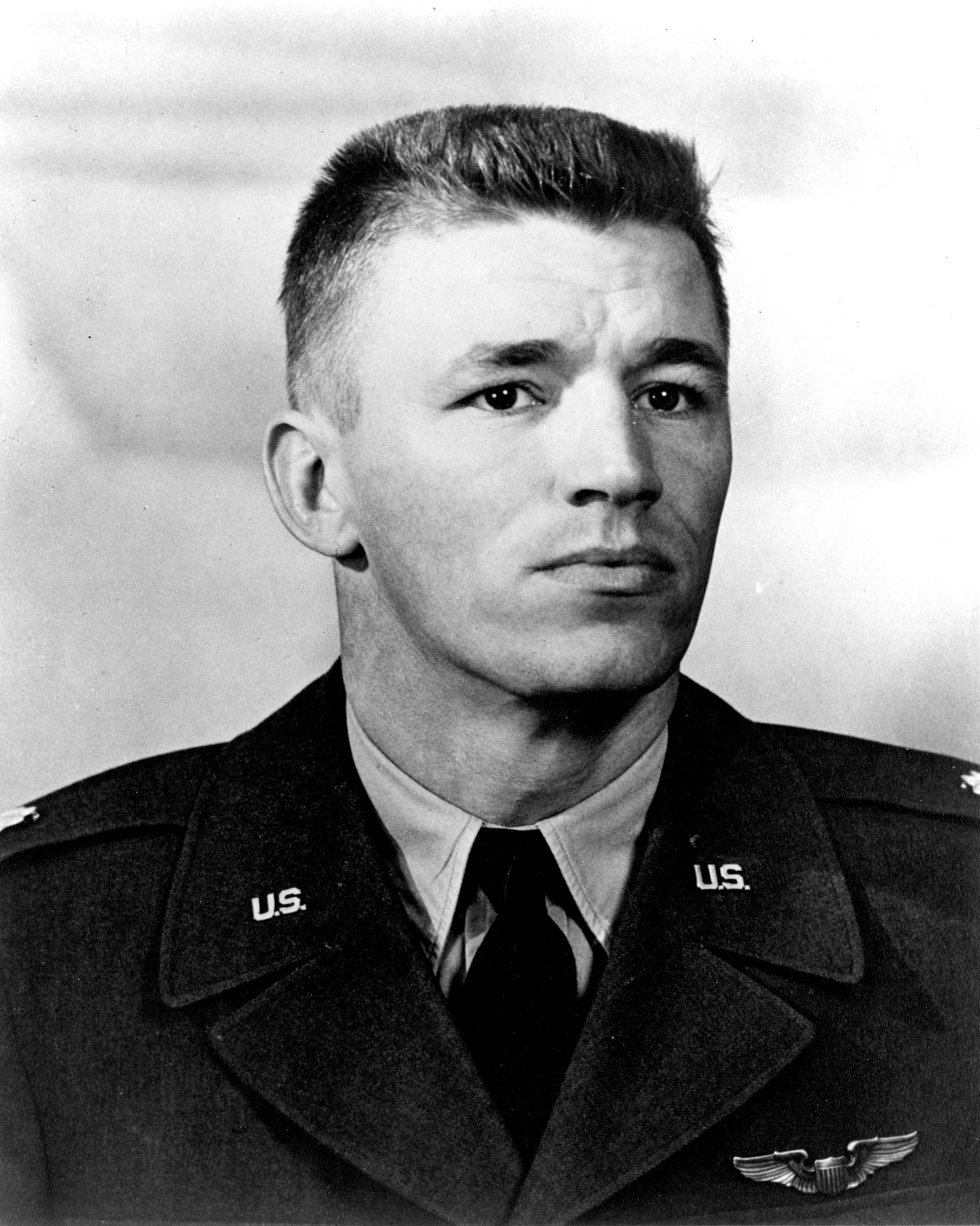 MEDAL OF HONOR
LORING, CHARLES J., JR.
The President of the United States of America, in the name of Congress, takes pride in presenting the Medal of Honor (Posthumously) to Major Charles Joseph Loring, Jr. (AFSN: 13008A), United States Air Force, for conspicuous gallantry and intrepidity at the risk of his life above and beyond the call of duty while serving with the 80th Fighter-Bomber Squadron, 8th Fighter-Bomber Wing, Fifth Air Force in aerial combat at Sniper Ridge, North Korea, on 22 November 1952. While leading a flight of four F-80 type aircraft on a close support mission, Major Loring was briefed by a controller to dive-bomb enemy gun positions which were harassing friendly ground troops. After verifying the location of the target, Major Loring rolled into his dive bomb run. Throughout the run, extremely accurate ground fire was directed on his aircraft. Disregarding the accuracy and intensity of the ground fire, Major Loring aggressively continued to press the attack until his aircraft was hit. At approximately 4,000 feet, he deliberately altered his course and aimed his diving aircraft at active gun emplacements concentrated on a ridge northwest of the briefed target, turned his aircraft 45 degrees to the left, pulled up in a deliberate, controlled maneuver, and elected to sacrifice his life by diving his aircraft directly into the midst of the enemy emplacements. His selfless and heroic action completely destroyed the enemy gun emplacement and eliminated a dangerous threat to United Nations ground forces. Major Loring's noble spirit, superlative courage, and conspicuous self-sacrifice in inflicting maximum damage on the enemy exemplified valor of the highest degree and his actions were in keeping with the finest traditions of the U.S. Air Force.
Action Date: November 22, 1952
Service: Air Force
Rank: Major
Company: 80th Fighter-Bomber Squadron
Regiment: 8th Fighter-Bomber Wing
Division: 5th Air Force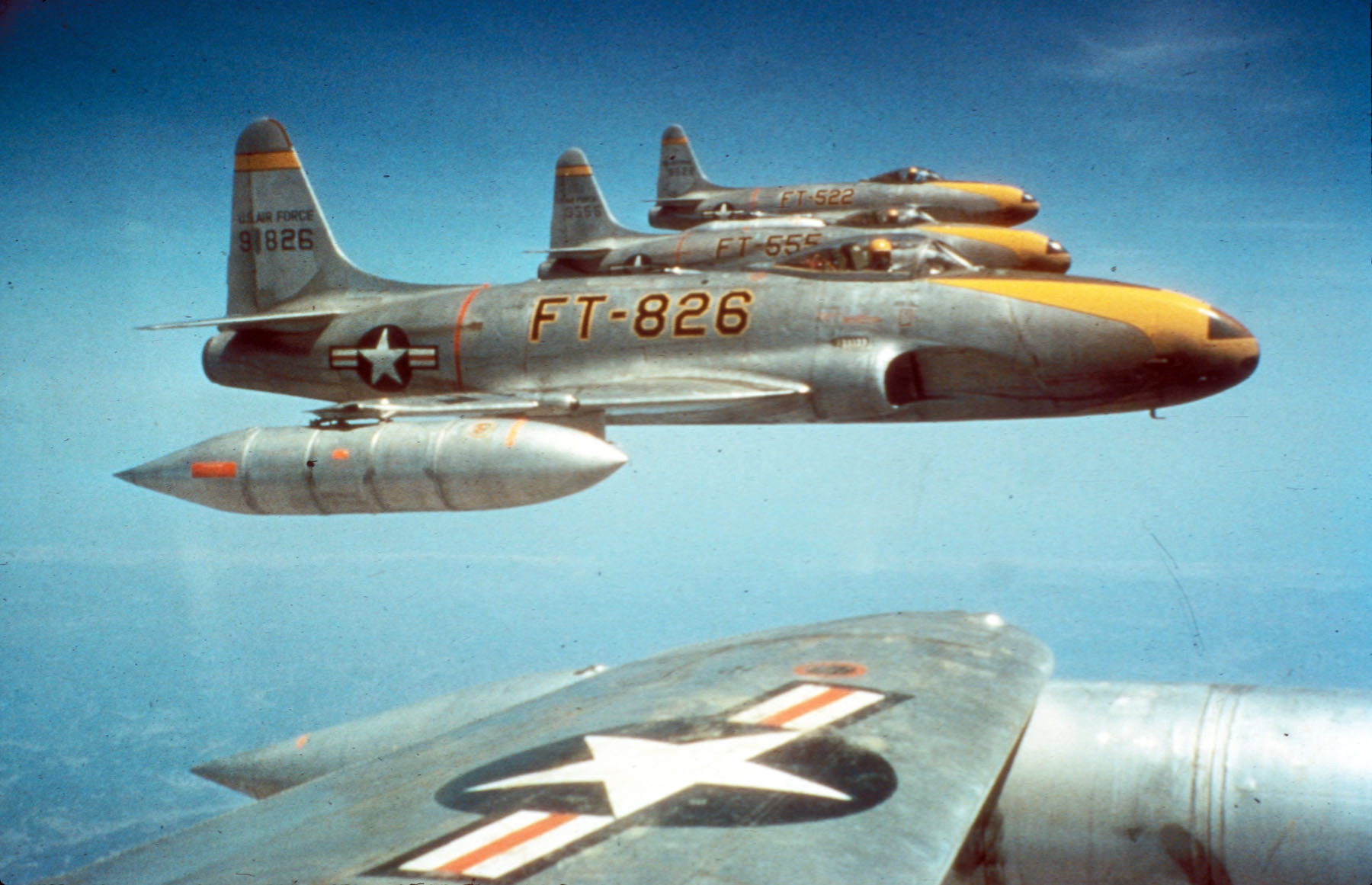 Charles Joseph Loring, Jr., was born at Portland, Maine, 2 October 1918. He was the first of four children of Charles Joseph Loring, a laborer, and Mary Irene Cronin Loring. Charles Loring, Sr., served in the United States military during World War I.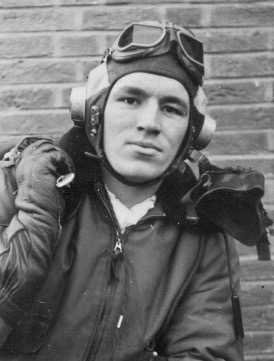 Charley Loring attended Cheverus High School, a private religious school in Portland, graduating in 1937.
Loring enlisted in the Air Corps, United States Army, at Cumberland, Maine, 16 November 1942. He was trained as a pilot at Greenville, Mississippi, and Napier Field, Alabama. He was commissioned a second lieutenant, Air Reserve, 16 February 1943.
During World War II, Lieutenant Charles J. Loring, Jr., had been a Republic P-47D Thunderbolt fighter pilot assigned to the 22nd Fighter Squadron, 36th Fighter Group, 9th Air Force, in Europe. Loring was promoted to first lieutenant, Army of the United States (A.U.S.), 24 June 1944. He was awarded the Distinguished Flying Cross for actions in support of the D-Day invasion of Normandy.
Lieutenant Loring flew 55 combat missions before his P-47D-28-RE, 44-19864, was shot down by ground fire near Hotten, Belgium, on Christmas Eve, 24 December 1944. Captured, Lieutenant Loring was taken to the garrison hospital at Hemer, then transferred to an interrogation center at Frankfurt, Germany. He remained a prisoner of war until Germany surrendered in May 1945.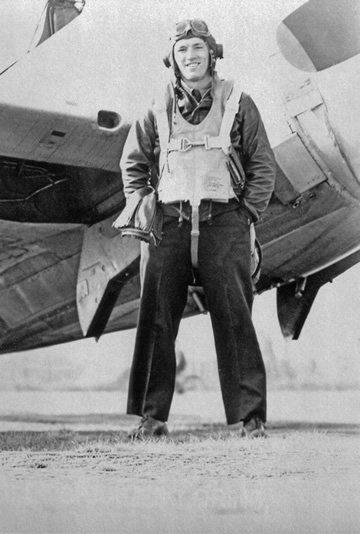 Loring was promoted to captain, A.U.S., 23 October 1945. He was awarded the Distinguished Flying Cross for actions in support of the D-Day invasion of Normandy. He was also awarded the Air Medal with ten oak leaf clusters, and the Purple Heart.
In 1945, Charles J. Loring, Jr. married Miss Elsie P. Colton of Beverly, Massachusetts, in Boston. They would have two daughters, Aldor Rogers Loring and Charlene Joan Loring.
After World War II came to an end, Captain Loring reverted to the rank of first lieutenant, Air Reserve, 16 February 1946. Loring was appointed first lieutenant, Air Corps, 19 June 1947 with date of rank retroactive to 16 February 1946. In September 1947, the United States Air Force was established as a separate military service, with standing equivalent to the United States Army and United States Navy. Charles Loring was appointed a first lieutenant, United States Air Force, with date of rank again 16 February 1946.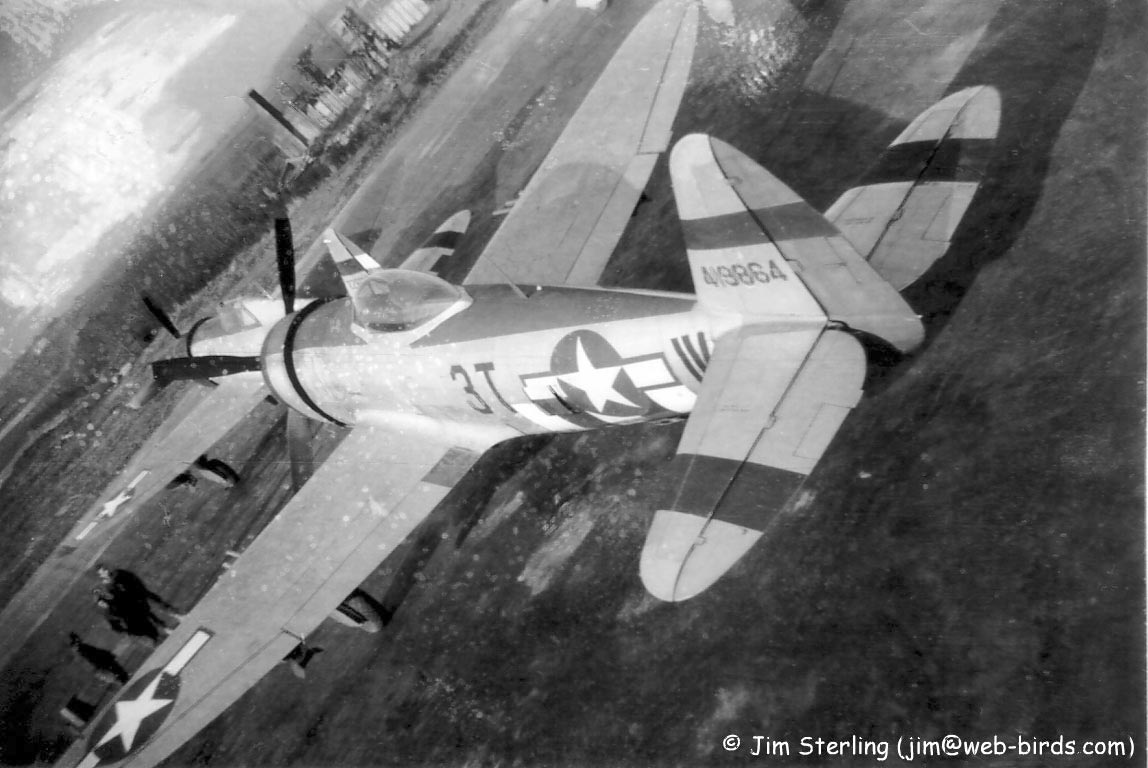 Flying the Lockheed F-80C Shooting Star with the 80th Fighter Bomber Squadron, 8th Fighter Bomber Wing, during the Korean War, Major Loring served as the squadron operations officer. According to his father, Charles J. Loring, Sr., "Charley was a stubborn man. He said he would never be a prisoner again. He was the kind of man who kept his word about everything."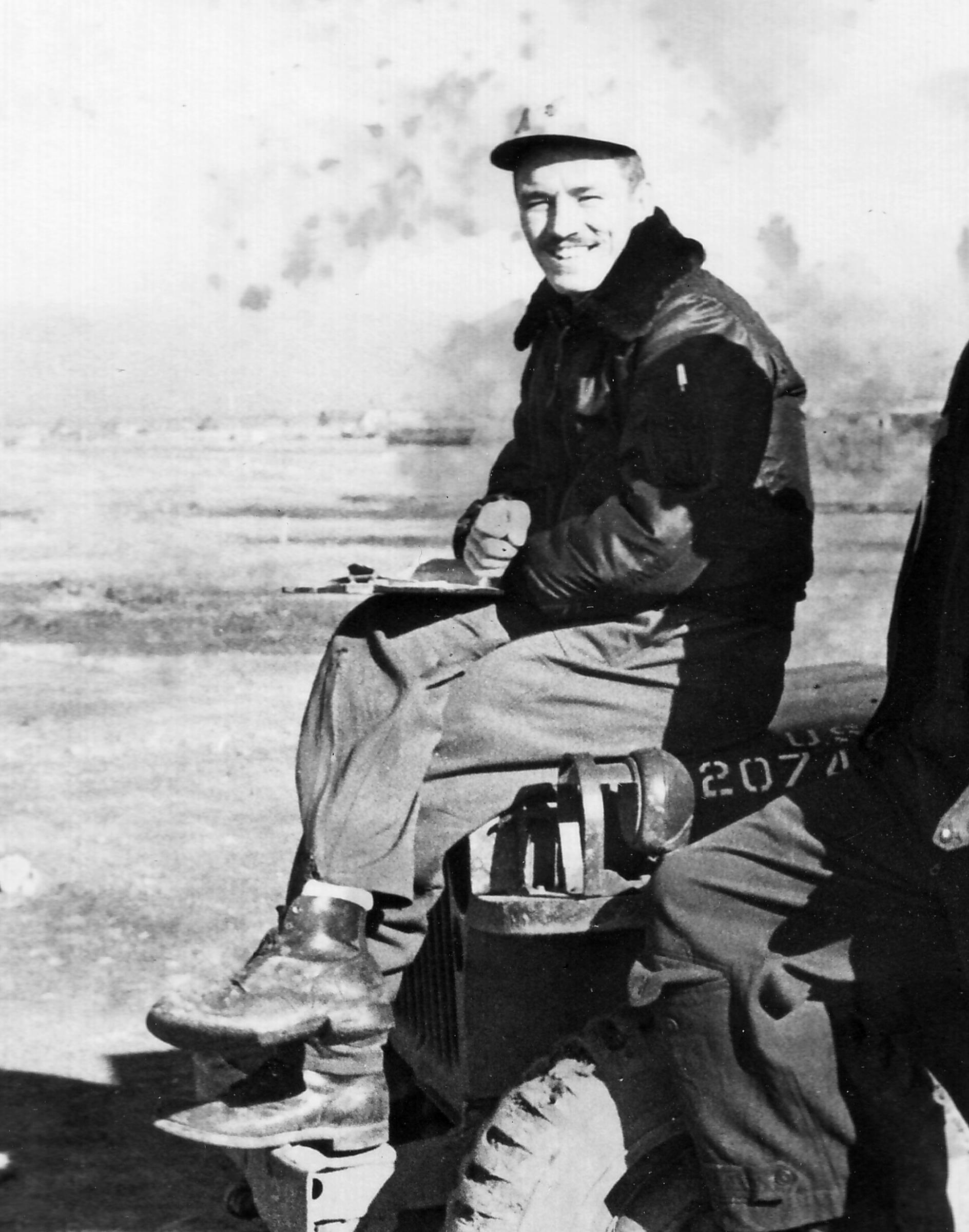 The Medal of Honor was awarded by President Dwight D. Eisenhower, 5 May 1953, but this was kept secret by the Air Force "to protect him from enemy reprisal" in the event that Major Loring had not died in the crash of his fighter, but had been captured. The Medal was presented to Mrs. Loring and her two daughters, Aldor and Charlene, by Secretary of the Air Force Harold E. Talbott, during a ceremony held at Bolling Air Force Base, Washington, D.C., 17 April 1954. Limestone Army Airfield in Maine was renamed Loring Air Force Base, 1 October 1954.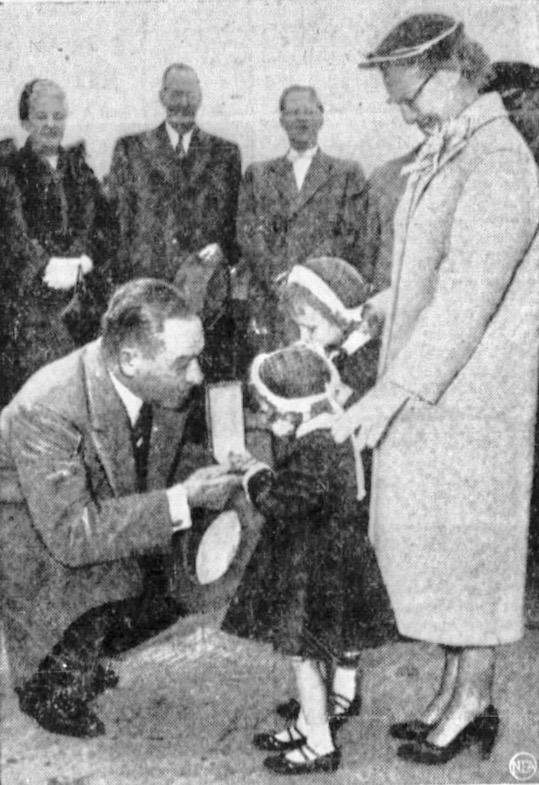 A cenotaph memorializing Major Loring is at the Arlington National Cemetery, Arlington, Virginia.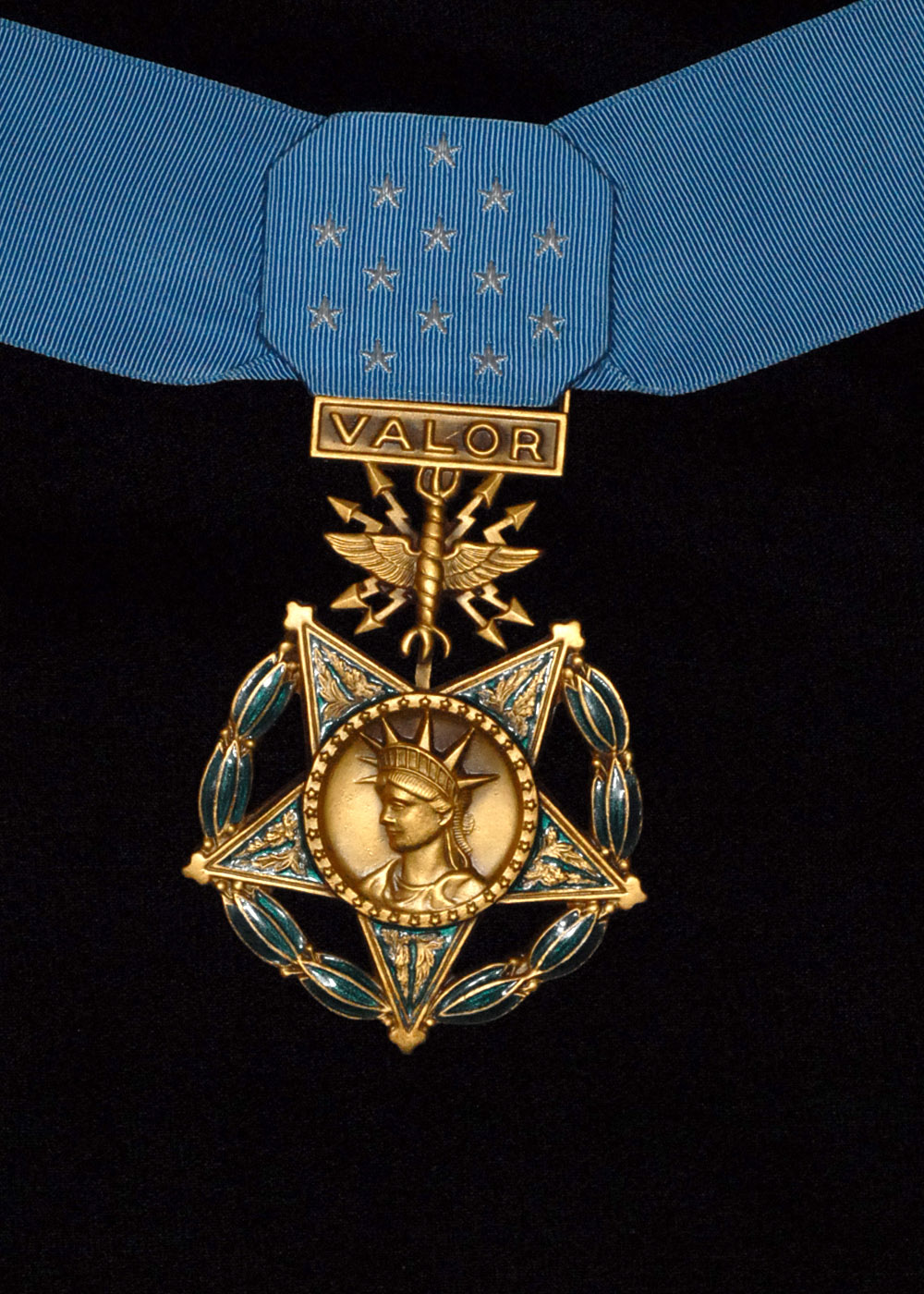 © 2017, Bryan R. Swopes
by