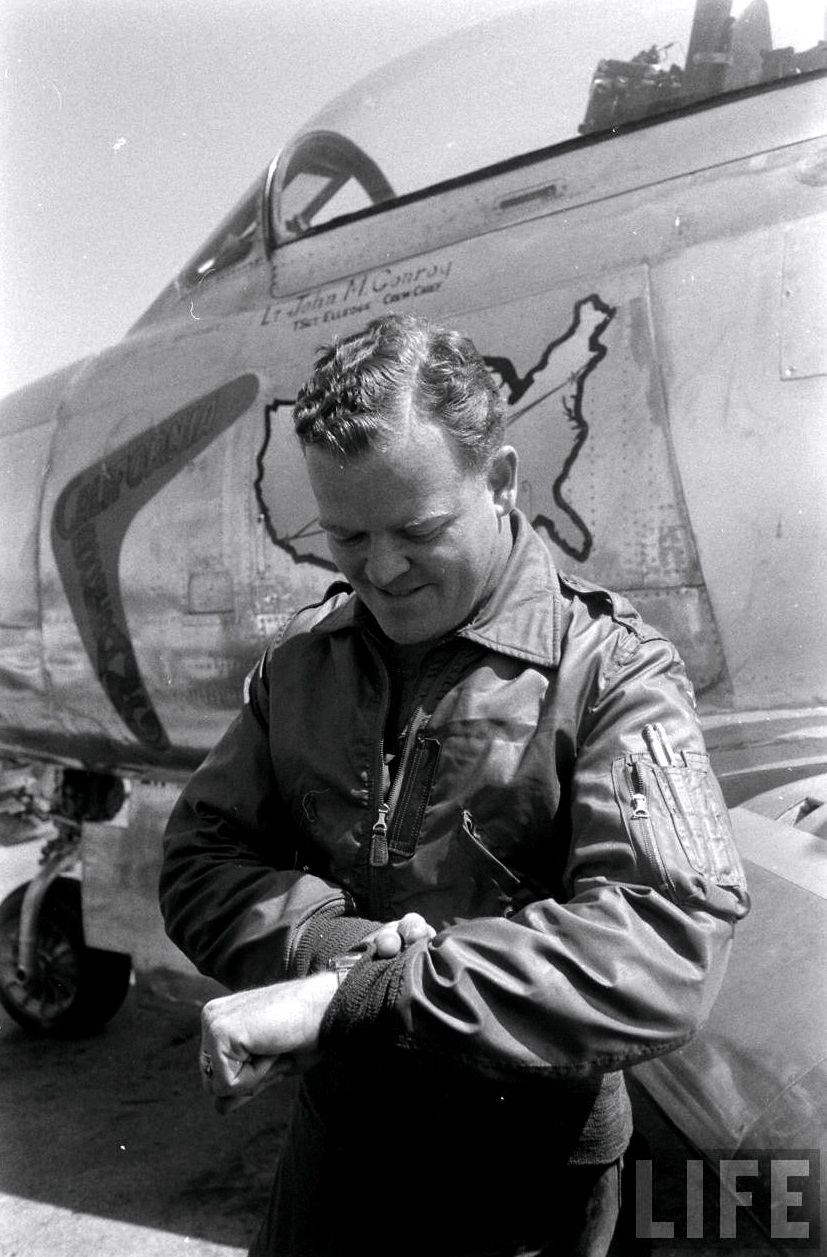 21 May 1955: At 05:59:45 Pacific Standard Time (13:59:45 UTC) 1st Lieutenant John M. ("Jack") Conroy, U.S. Air Force, a World War II B-17 pilot and former Prisoner of War, took off from the California Air National Guard Base at the San Fernando Valley Airport (re-named Van Nuys Airport in 1957). His airplane was a specially-prepared North American Aviation F-86A-5-NA Sabre, USAF serial number 49-1046. His Destination? Van Nuys, California—by way of Mitchel Field, Long Island, New York. His plan was to return to the ANG base in "The Valley" before sunset.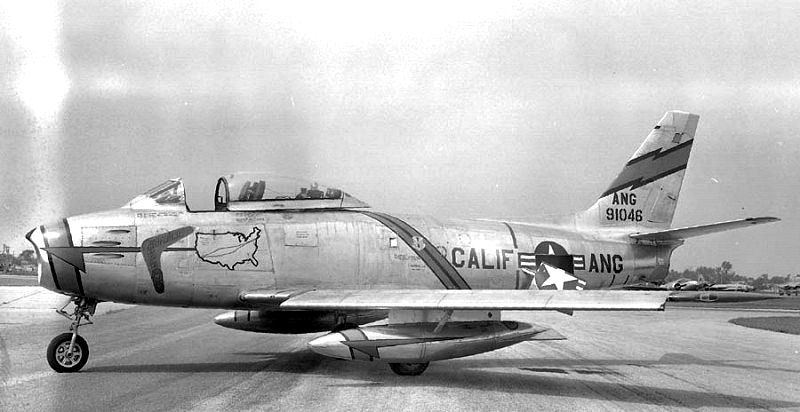 Several weeks of planning and preparation were involved in "Operation Boomerang". Five refueling stops would be required and Air National Guard personnel across the United States would handle that. A deviation from peacetime standards would allow the Sabre to be refueled with the engine running to minimize time spent on the ground. (The F-86 was not capable of inflight refueling.) The six-year-old F-86A was polished to ensure that all rivet heads were smooth, seams in the fuselage and wing skin panels were adjusted for precise fit, then were sealed. The gun ports for the six .50-caliber Browning machine guns in the fighter's nose were filled then covered with doped fabric and painted. This was to reduce aerodynamic drag as much as possible. The General Electric J47-GE-13 turbojet was overhauled, then tested and adjusted for maximum efficiency.
Arrangements for official timing of the West to East and Back Again speed run were paid for by North American Aviation, Inc., whose personnel also provided technical support to the Air National Guard.
Jack Conroy's F-86A was nicknamed California Boomerang, and had a map of the United States and a boomerang painted on the fuselage. The Sabre remained in its overall natural aluminum finish but had green stripes on the fuselage, vertical fin and wings.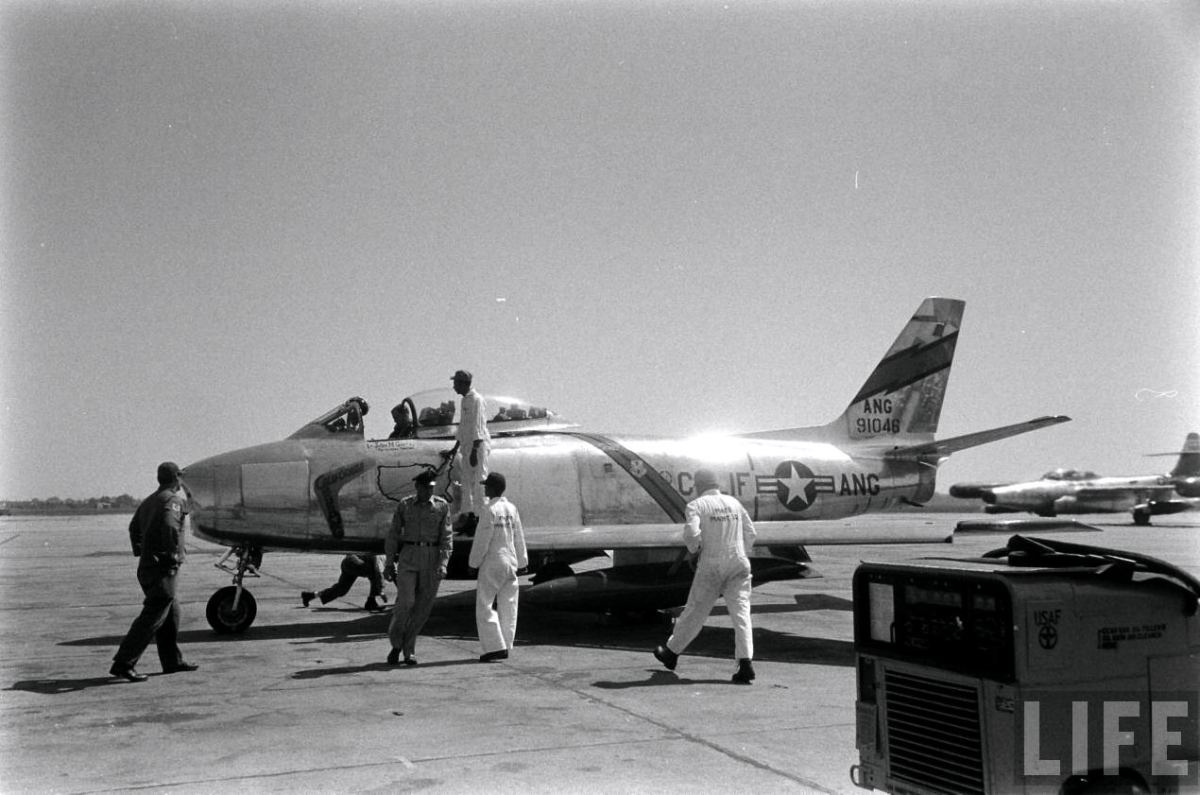 After takeoff, Lieutenant Conroy climbed to approximately 40,000 feet (12,192 meters) and headed to his first refueling stop at Denver, Colorado. He landed at 7:48 a.m. PST and the Sabre was refueled and off again in just 6 minutes. From Denver he continued eastward to Springfield, Illinois, arriving at 9:32 a.m. PST. Refueling there took 5 minutes. The next stop was Mitchel Field, Long Island, New York. He touched down at 11:19 a.m., PST and remained on the ground for 39 minutes.
Conroy departed Mitchel Field on the westbound leg at 11:58 a.m. PST and arrived at Lockburne Air Force Base, Ohio at 12:58 p.m., PST. This refueling stop required 7 minutes. Next on the flight plan was Tulsa, Oklahoma. The airplane landed there at 2:26 p.m. PST, and was refueled and airborne again in 6 minutes. The last refueling took place at Albuquerque, New Mexico. Lieutenant Conroy landed at 3:58 p.m., PST. After another 7 minute stopover, California Boomerang took off on the final leg of the round-trip journey, finally landing back at Van Nuys, California at 5:26:18 p.m., PST.
John Conroy's Coast-to-Coast-to-Coast "dawn to dusk" flight covered 5,058 miles (8,140.1 kilometers). The total elapsed time was 11 hours, 26 minutes, 33 seconds. His average speed was 445 miles per hour (716.2 kilometers per hour). Weather across the country caused some delays as Jack Conroy had to make instrument approaches to three of the airports.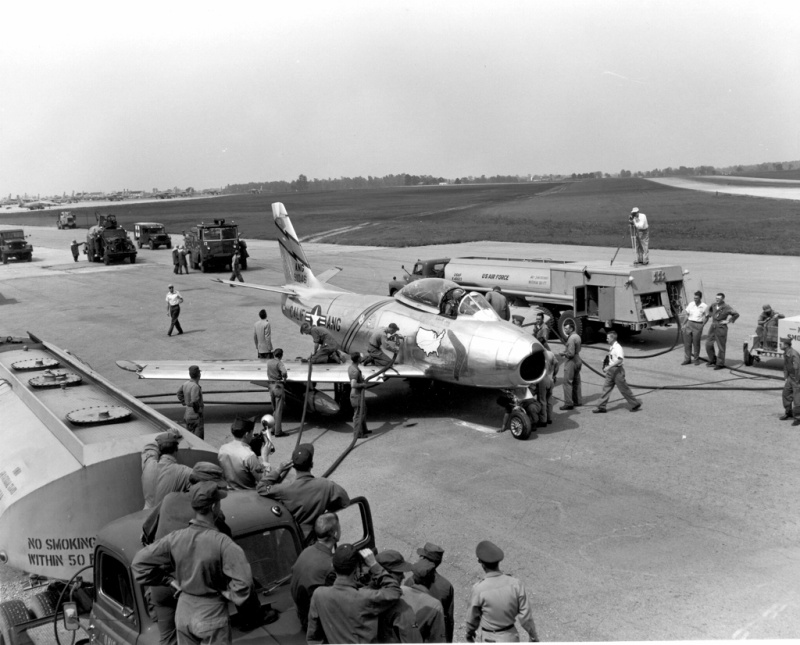 California Boomerang, North American Aviation F-86A-5-NA Sabre 49-1046, is on display as a "gate guard" at the entrance to the Channel Islands Air National Guard Station, adjacent to Naval Base Ventura County, Point Mugu, California.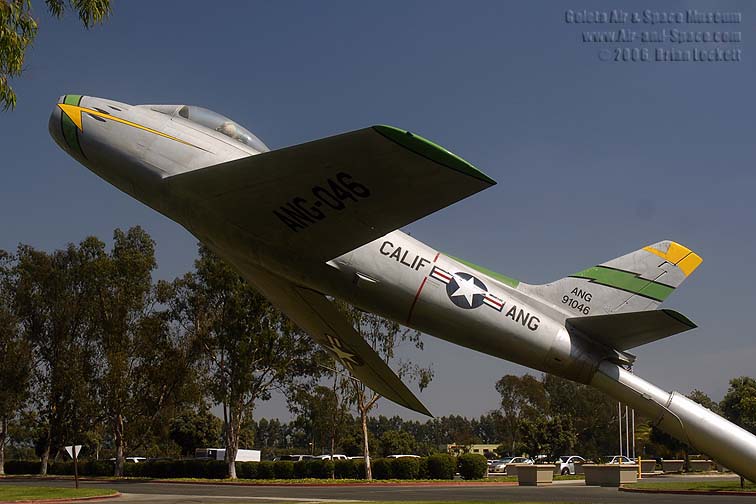 © 2016 Bryan R. Swopes