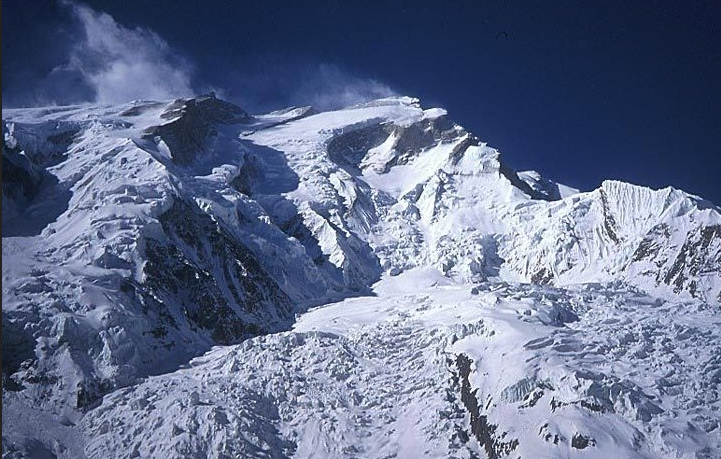 28–29 April 2010: Captain Daniel Aufdenblatten, a helicopter pilot for Air Zermatt AG, and
Richard Lehner, Alpin Center Zermatt, a Swiss mountain guide and mountain rescue expert, were in Kathmandu, Nepal, training personnel of Fishtail Air Pvt. Ltd.¹ in the use of helicopters to rescue mountaineers injured or trapped high in the Himalayas. The training program was scheduled for two months.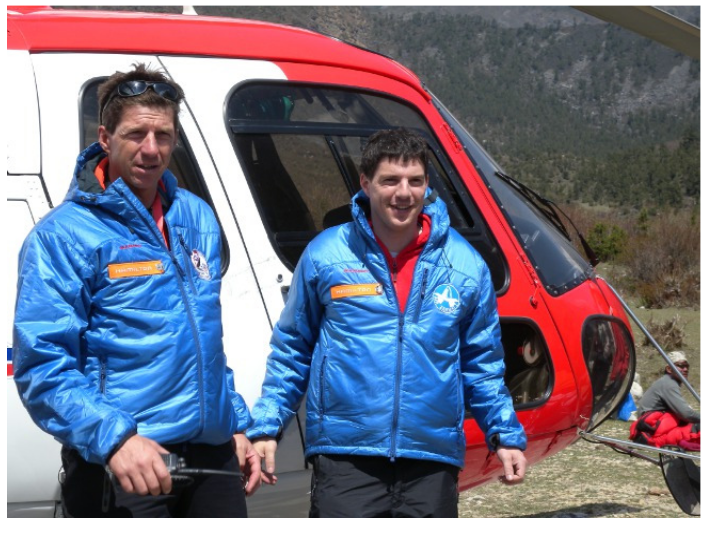 Air Zermatt used a "long-line" method of lifting victims from rock faces where landing was impossible. Lehner, or another rescuer, would be suspended from a 90-foot-long (27.4 meters) cable from the helicopter's cargo hook, and Aufdenblatten would maneuver the helicopter to position the rescuer against the slope where he could reach a victim, attach him or her to the cable, and the helicopter would then fly to a location where they could safely land.
When they returned to Fishtail's base after a day of training, the crew were informed of a distress call from a climbing expedition on Annapurna, the tenth highest mountain in the world. After succeeding in reaching the summit at 8,091 meters (26,545 feet), they were descending when they were delayed by blizzard conditions. One climber was missing, and two suffered from frostbite. All had snow-blindness and were displaying early symptoms of high altitude sickness. They were unable to descend any further, but would die if they remained where they were, at 6,950 meters (22,802 feet) above Sea Level.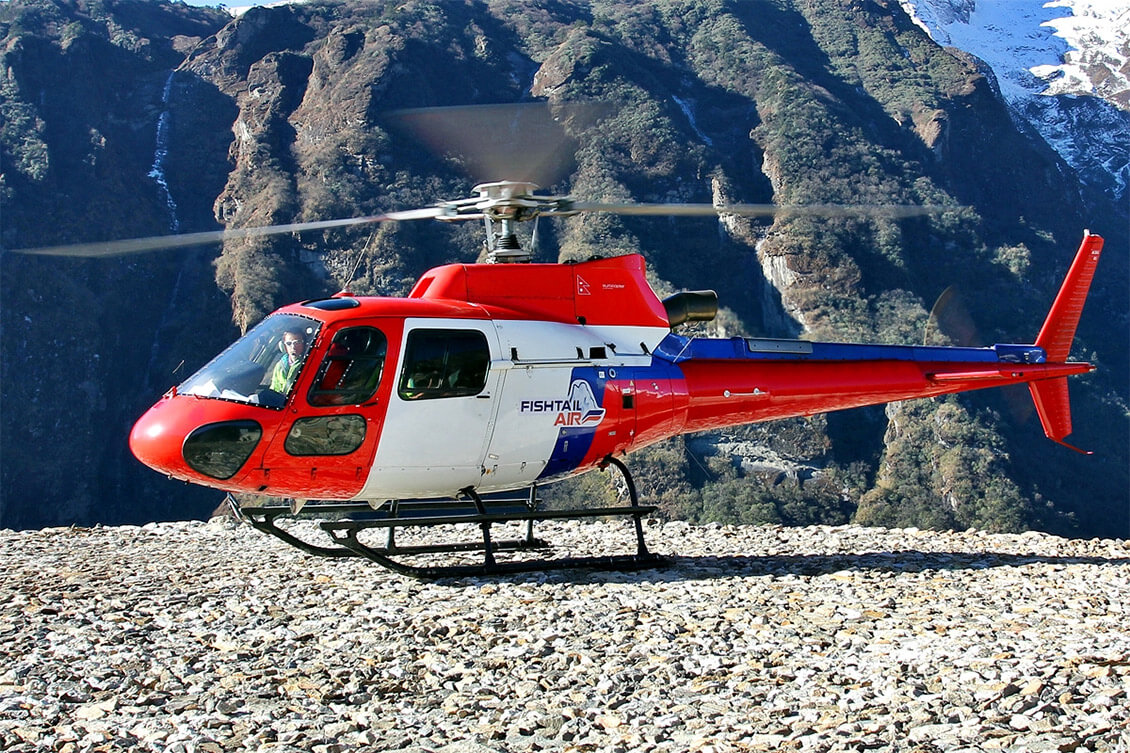 After loading their rescue equipment on board Fishtail's Eurocopter AS 350 B3 Écureuil, 9N AJI,  Aufdenblatten and Lehner took off and flew to the Annapurna Base Camp, about 100 miles (161 kilometers) to the west. Fog moved in to the area, and further flight was impossible that day.
At 7:00 a.m., the following morning, 29 April, Aufdenblatten and Lehner took off to search for the stranded climbing expedition. They did not find the missing climber but did locate the camp where the others had spent the night. It was located on a very steep slope between a steep rock face and a shear cliff. There was no chance of a landing. High winds forced the helicopter crew back to Base Camp.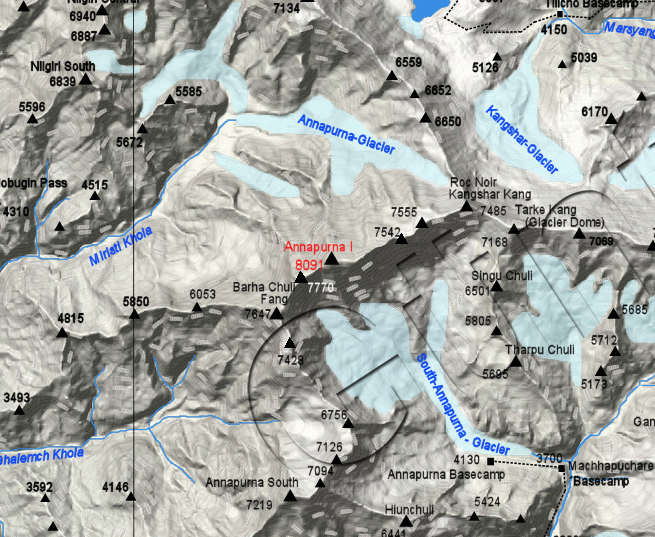 Stripping all unneeded equipment from the Écureuil (the helicopter is known as the A-Star in the United States), including seats and doors, they rigged a rope to support Lehner. At about 9:00 a.m., they took off again—this time with Lehner hanging under the helicopter.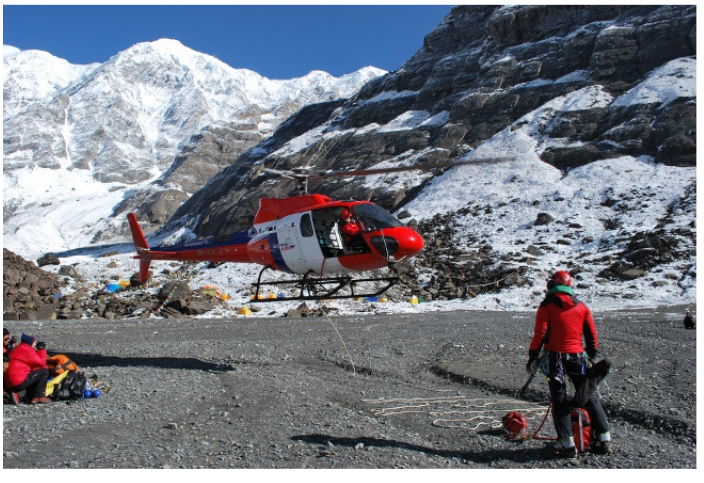 A first attempt to make a pickup was unsuccessful because of the gusting winds. Lehner had a small supply of oxygen, but it would not last much longer. They flew back to Base Camp. On their next attempt, the winds were even stronger and the oxygen was being sucked out of Lehner's mouth. He began to feel the effects of oxygen deprivation. Once again, the helicopter returned to Base Camp without the climbers.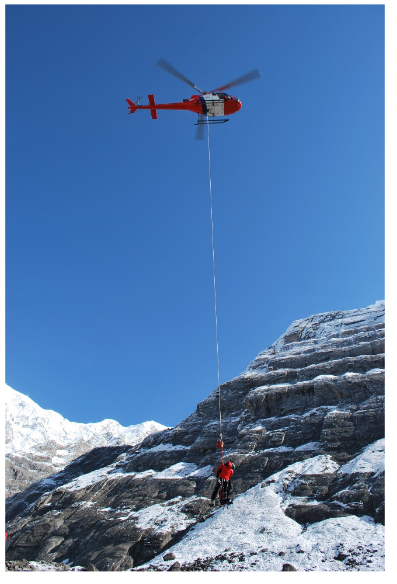 After a third unsuccessful attempt, and with Lehner feeling ill from lack of oxygen, Aufdenblatten decided to leave Lehner at the Base Camp and attempt the rescue solo. The climbers were advised by radio that the helicopter would hover while they attached themselves with caribiners to the 90-foot rope, and would then lift them away from the mountain.
This fourth attempt succeeded. One of the climbers reached out and grabbed the rope, hooked himself up, and was carried away. Ten minutes later, he was set down at the Annapurna Base Camp, where he immediately received medical attention.
Aufdenblatten and the Écureuil flew back to Annapurna again. He had been informed that the two Sherpas in the group refused to be picked up and would make their own way down the mountain. This time, both of the two remaining climbers were picked up and flown to base.
Captain Aufdenblatten had just completed the highest long-line helicopter rescue ever attempted.
For their accomplishments, Aviation Week & Space Technology presented Aufdenblatten and Lehner its Laureate for Heroism Award in March 2011.

The helicopter used in this rescue, 9N AJI, was a 2009 Eurocopter AS 350 B3 Écureuil, serial number 4875. Originally registered in France as F-OKFF, 4875 was sent to Eurocopter Southeast Asia, Singapore, in October 2009. The new helicopter was sold to Fishtail Air Pvt. Ltd., Kathmandu, Nepal, and delivered 1 March 2010.
The Eurocopter AS 350 Écureuil is a  6–7 place, single-engine light helicopter, operated by a crew of one or two pilots. Introduced by Aérospatiale in 1975, it remains in production today and is one of the most popular civil helicopters. The manufacturer is now known as Airbus Helicopters.
The AS 350 B3 is a high-performance variant, specially configured for high density altitude operations ("hot and high"). The overall length with rotors turning is 12.94 meters (42 feet, 5.4 inches). The fuselage is 10.93 meters (35 feet, 10.3 inches) long and the cabin is 1.87 meters (6 feet, 1.6 inches) wide. The helicopter's overall height is 3.14 meters (10 feet, 3.6 inches).
In keeping with standard French practice, the Écureuil/A-Star's main rotor system turns clockwise as seen from above. (The advancing blade is on the helicopter's left side.) The composite hingeless three-blade rotor has a diameter of 10.69 meters (35 feet, 0.9 inch). The normal operating range is 385–394 r.p.m. (320–430 r.p.m. in autorotation). A two-bladed tail rotor is mounted on the right side of the tail boom in a pusher configuration. It rotates clockwise, as seen from the helicopter's left. (The advancing blade is below the axis of rotation.) Its diameter is 1.86 meters (6 feet, 1.2 inches.)
The AS 350 B3 has an empty weight of approximately 1,174 kilograms (2,588 pounds), depending on installed equipment, and maximum gross weight of 2,250 kilograms (4,961 pounds).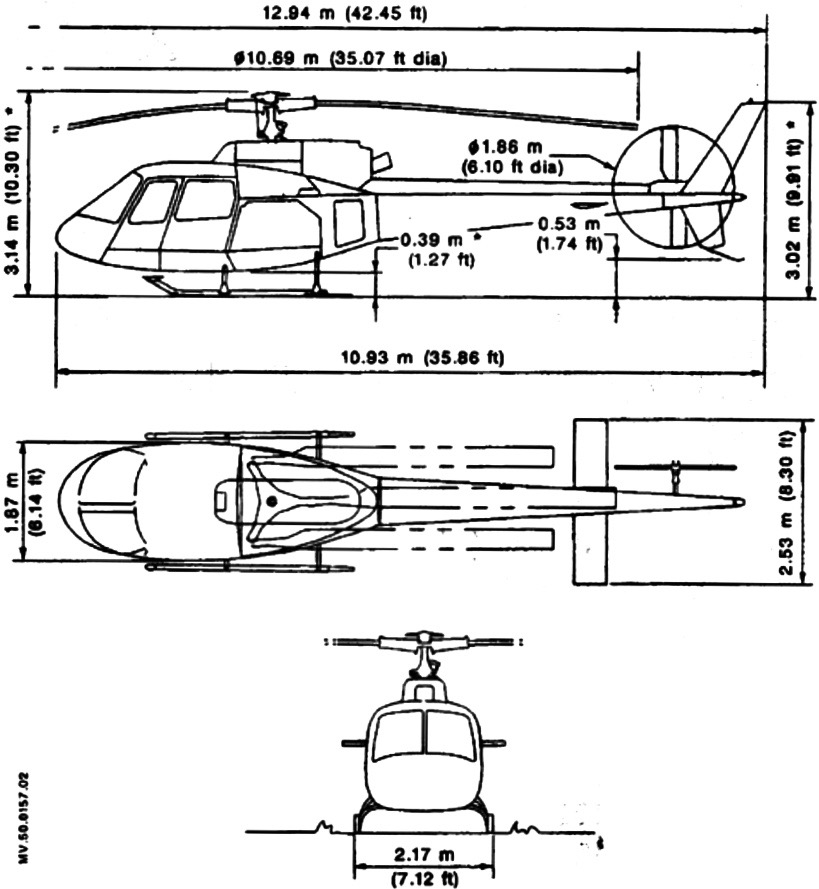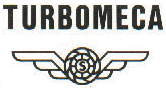 The AS 350 B3 variant is powered by a single Turboméca Arriel 2B turboshaft engine. The Arriel 2B is a free turbine turboshaft engine which uses an electronic engine control system (EECU). The engine has a two-stage compressor section (single-stage low-pressure axial flow, single-stage high-pressure centrifugal flow); an annular combustion chamber; and two-stage turbine section (single-stage gas generator and single-stage power turbine). The compressor section turns 52,110 r.p.m. at 100% N1; The power turbine, N2, turns 39,095 r.p.m. at 100%. A gear reduction unit reduces the engine's output shaft speed to 5,990 r.p.m.
The Arriel 2B produces 847 shaft horsepower, but is de-rated to the helicopter's main transmission limit. Installed, the Arriel 2B is rated at 536 horsepower for cruise; 700 horsepower, Maximum Continuous Power; and 733 horsepower for take off (5 minute limit).
The Arriel 2B is 118.0 centimeters (3 feet, 10.46 inches) long, 50.0 cm (1 foot, 6.69 inches) wide, 62.0 cm (2 feet, 0.41 inches) high. It weighs 134 kilograms (295.4 pounds), dry. The Arriel series engines are now produced by Safran Helicopter Engines.
The AS 350 B3 has a cruise speed of 132 knots (152 miles per hour/245 kilometers per hour) and maximum speed of 155 knots (178 miles per hour/287 kilometers per hour). It carries over four hours of fuel and has a maximum range of 357 nautical miles (411 statute miles/662 kilometers). The maximum certified operating altitude is 7,010 meters (23,000 feet).
9N AJI was involved in an accident during a landing at Listi 5, Panglang, Sindhupalchowk District, Nepal, on 3 August 2014. A man was struck by the tail rotor and killed. The pilot, Sujal Shrestra, was placed under arrest by district police.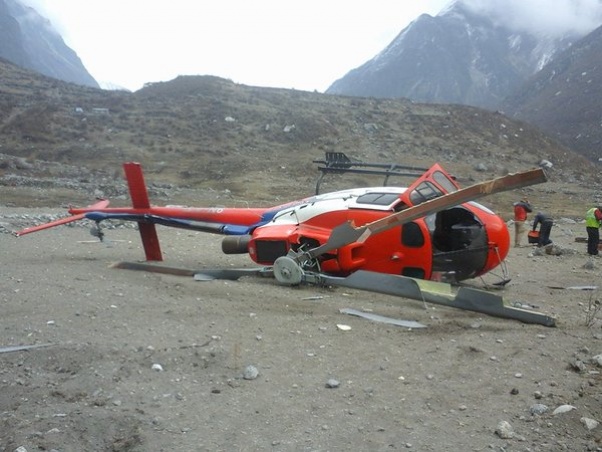 On 17 March 2016, it was involved in another accident when it lost its tail rotor assembly during take off at Langtang, Rasuawa District. The helicopter rolled over and was damaged beyond economical repair. The pilot, Niklas, was only slightly injured.
Eight months later, after salvageable equipment had been removed, the derelict helicopter was lifted as a sling load by another helicopter and flown back to Kathmandu, where it was to be placed in a museum.

¹ Fishtail Air is named for nearby Fishtail Mountain, so called because of a geological feature that resembles the tail of a fish. The company has changed its name to  Summit Helicopters Pvt. Ltd.
© 2019, Bryan R. Swopes