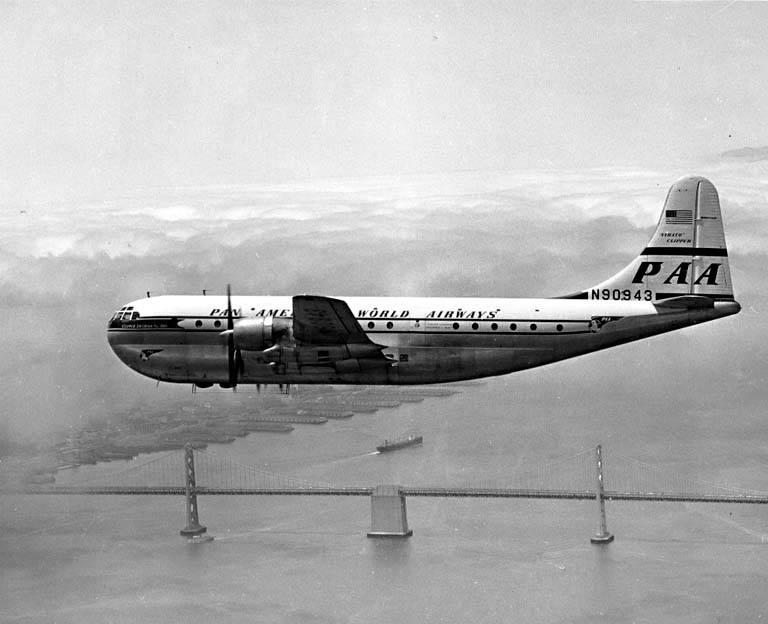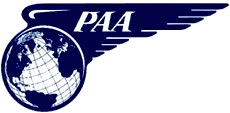 16 October 1956: Pan American World Airways' Flight 6 was a scheduled around-the-world passenger flight. The final leg, Honolulu to San Francisco, was flown by a Boeing Model 377 Stratocruiser with civil registration N90943, and named Sovereign of the Skies.
The airplane had a flight crew of 7 and carried 24 passengers. The aircraft commander was Captain Richard N. Ogg, a veteran pilot with more than 13,000 flight hours accumulated over twenty years. First Officer George L. Haaker, Flight Engineer Frank Garcia, Jr., and Navigator Richard L. Brown completed the flight crew. The cabin crew were Purser Patricia Reynolds, who had been with Pan Am for over ten years, and Stewardesses Katherine S. Araki and Mary Ellen Daniel.
The flight from Honolulu to San Francisco was estimated to take 8 hours, 54 minutes. Captain Ogg had the airplane fueled for a total flight time of 12 hours, 18 minutes.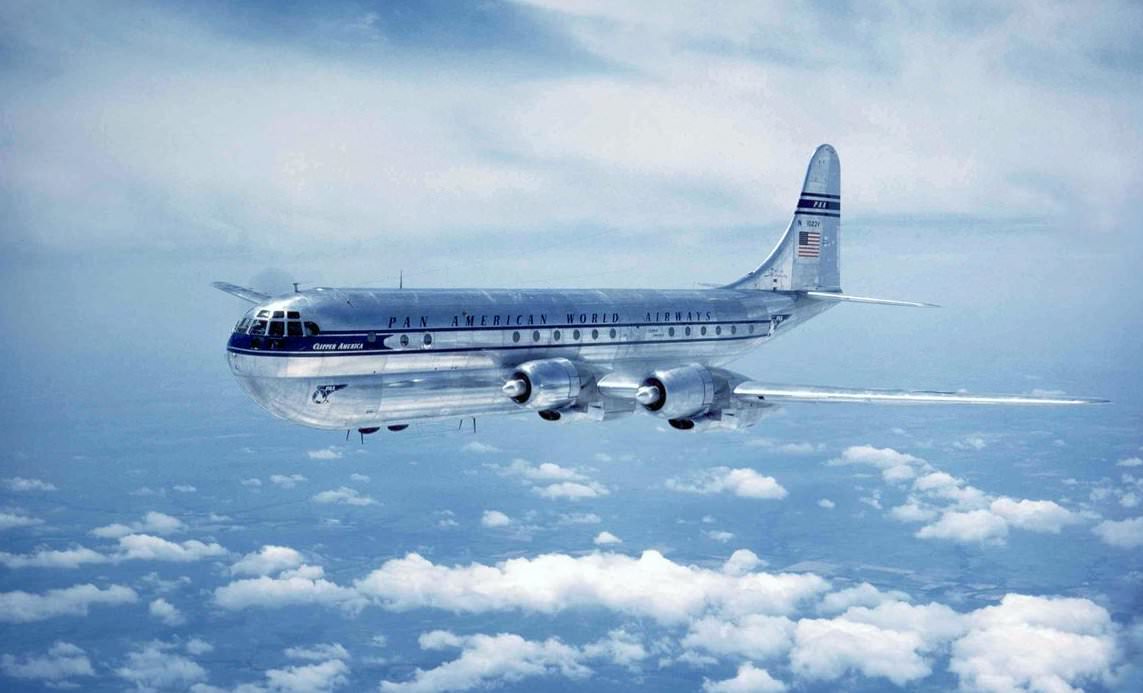 Flight 6 departed Honolulu at 8:24 p.m., Hawaii Standard Time, 15 October (06:24, 16 October, GMT), and climbed to 13,000 feet (3,962 meters) on course.
4 hours, 38 minutes after takeoff, Flight 6 requested a pre-planned climb to 21,000 feet (6,400 meters), at a point about half-way—in terms of flight time—between the departure point and destination, what is dramatically called "The Point of No Return" in suspense movies. (Actually, this is called the Equal Time Point: Taking into consideration forecast winds, the time to fly back to the departing point is the same as the time to continue toward the destination.)
On leveling at the new cruise altitude at 1:19 a.m. (HST), First Officer Haaker reduced engine power. The propeller for the Number 1 engine, the outside engine on the left wing, suffered a prop governor failure and began to overspeed, with engine r.p.m. actually exceeding the limits of its tachometer. This created a very dangerous condition: If the propeller turned fast enough, it could be torn apart by centrifugal force. (See This Day In Aviation, 22 March 1956, for an example.)
The crew was unable to feather the propeller, which would cause its four blades to turn parallel to the slip stream, and increasing the load on the engine while reducing aerodynamic drag. The engine and propeller continued to turn at dangerously high speed so Captain Ogg decided to force the engine to stop by cutting off its lubricating oil supply. This caused the engine to seize but the propeller continued to "windmill."
The drag caused by the propeller slowed the airplane considerably and the three remaining engines had to run at high power for the Boeing 377 to maintain its altitude. The Number 4 engine (the outer engine on the right wing) was developing only partial power at full throttle. At 2:45 a.m., it began to backfire and had to be shut down.
The airplane began to descend toward the ocean's surface.
With the drag of the windmilling Number 1 propeller and only two engines running, Sovereign of the Skies could fly at just 140 knots (161 miles per hour/259 kilometers per hour), not fast enough to reach San Francisco or to return to Honolulu before running out of fuel. The navigator estimated that they would run out of fuel 250 miles (402 kilometers) from land.
The United States Coast Guard kept a high endurance cutter on station between Hawaii and California, at a point known as Ocean Station November. This ship provided assistance with weather information, radio communications and was available to assist should an emergency arise aboard trans-Pacific airplanes.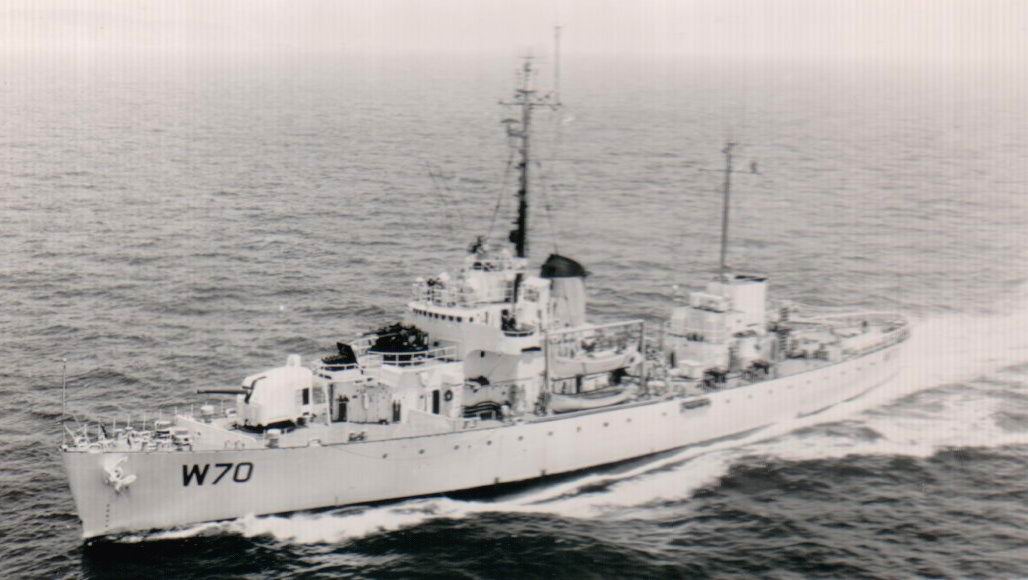 On 16 October 1956, this cutter was USCGC Pontchartrain (WHEC 70), under the command of Commander William K. Earle, USCG. Pontchartrain was a 255-foot (77.7 meter) Lake-class patrol gunboat built by the U.S. Coast Guard ship yard at Curtiss Bay, Maryland, and commissioned 28 July 1945. The ship was redesignated as a high endurance cutter in 1948. Pontchartrain had a complement of 143 men.
The ship was 254 feet (77.42 meters) long, overall, with a beam of 43 feet, 1 inch (13.13 meters) and draft of 17 feet, 3 inches (5.25 meters). Its full load displacement was 1,978 tons (1,794 Metric tons). It was powered by a Westinghouse turbo-electric drive of 4,000 shaft horsepower and was capable on making 17.5 knots (20.41 miles per hour, or 32.41 kilometers per hour). Its maximum range was 10,376 miles (19,216 kilometers).
Pontchartrain was armed with a single 5-inch/38-caliber naval gun forward. It carried Hedgehog anti-submarine mortars and Mk 23 acoustic-homing antisubmarine torpedoes.
Captain Ogg notified Ponchartrain that he intended to ditch the airliner near the ship. The Coast Guard provided Captain Ogg with wind and wave information—five-foot (1.5 meter) swells, wind at eight knots (4 meters per second) from the northwest—and advised the best heading for ditching. The ship laid a trail of foam to mark this course.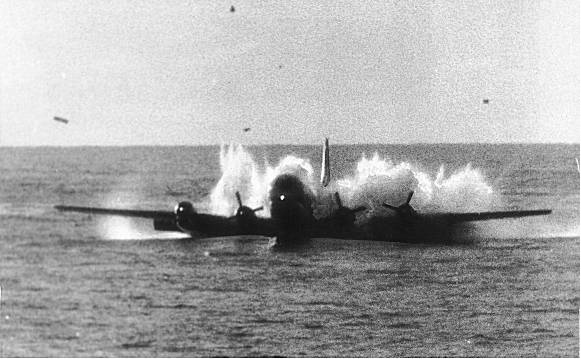 At 6:15 a.m., at approximately 90 knots airspeed (104 miles per hour/167 kilometers per hour), the Boeing 377 landed on the water. A wing hit a swell, spinning the airplane to the left. The tail broke off and the airplane began to settle.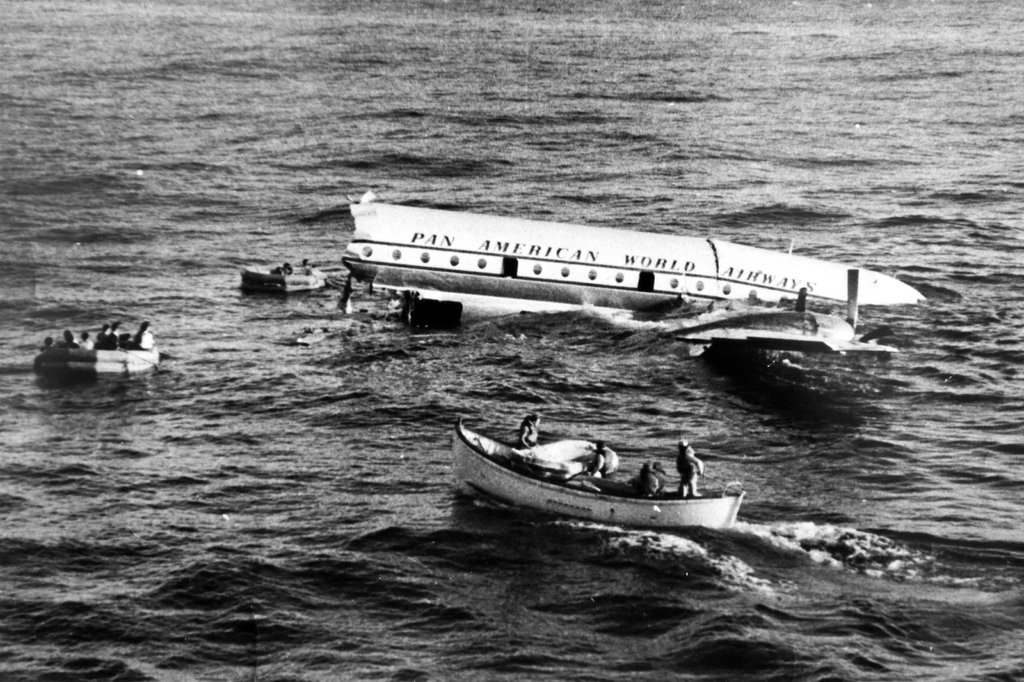 Injuries were minor and all passengers and crew evacuated the airliner. They were immediately picked up by Pontchartrain.
Captain Ogg and Purser Reynolds were the last to leave the airplane.
Twenty minutes after touching down, at 6:35 a.m., Sovereign of the Skies sank beneath the ocean's surface.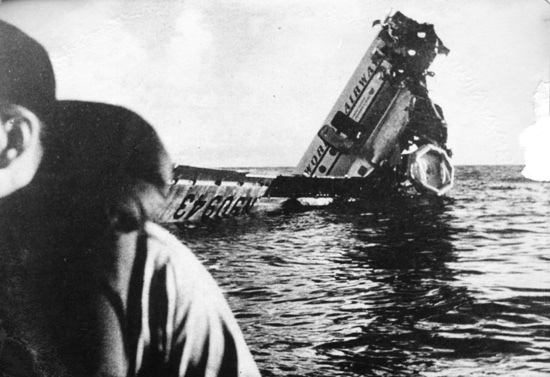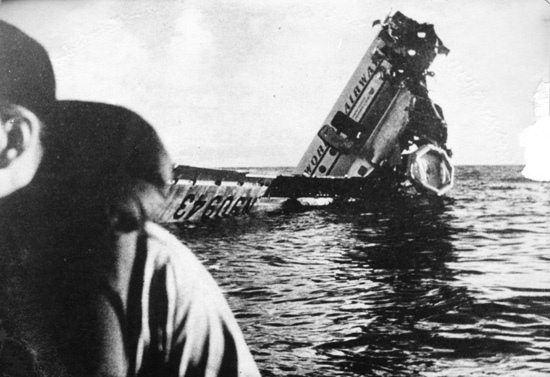 Pan American's Sovereign of the Skies was a Boeing Model 377-10-29, construction number 15959, originally operated by American Overseas Airlines as Flagship Holland, and later, Flagship Europe. Pan Am acquired the airliner during a merger. On 16 October 1956, the airplane had accumulated 19,820:51 total time on the airframe (TTAF) since it was built.
The Boeing 377 was a large, four-engine civil transport which had been developed, along with the military C-97 Stratofreighter, from the World War II B-29 Superfortress long-range heavy bomber. It utilized the wings and engines of the improved B-50 Superfortress. The airplane was operated by a flight crew of four. It was a double-deck aircraft, with the flight deck, passenger cabin and galley on the upper deck and a lounge and cargo compartments on the lower. The airliner was pressurized, and could maintain Sea Level atmospheric pressure while flying at 15,500 feet (4,724 meters). The Model 377 could be configured to carry up to 100 passengers, or 28 in sleeping births.
The Stratocruiser was 110 feet, 4 inches (33.630 meters) long with a wingspan of 141 feet, 3 inches (43.053 meters) and overall height of 38 feet, 3 inches (11.659 meters). Empty weight was 83,500 pounds (37,875 kilograms) and the maximum takeoff weight was 148,000 pounds (67,132 kilograms). Sovereign of the Skies had a gross weight of 138,903 pounds (63,005 kilograms) when it took off from Honolulu.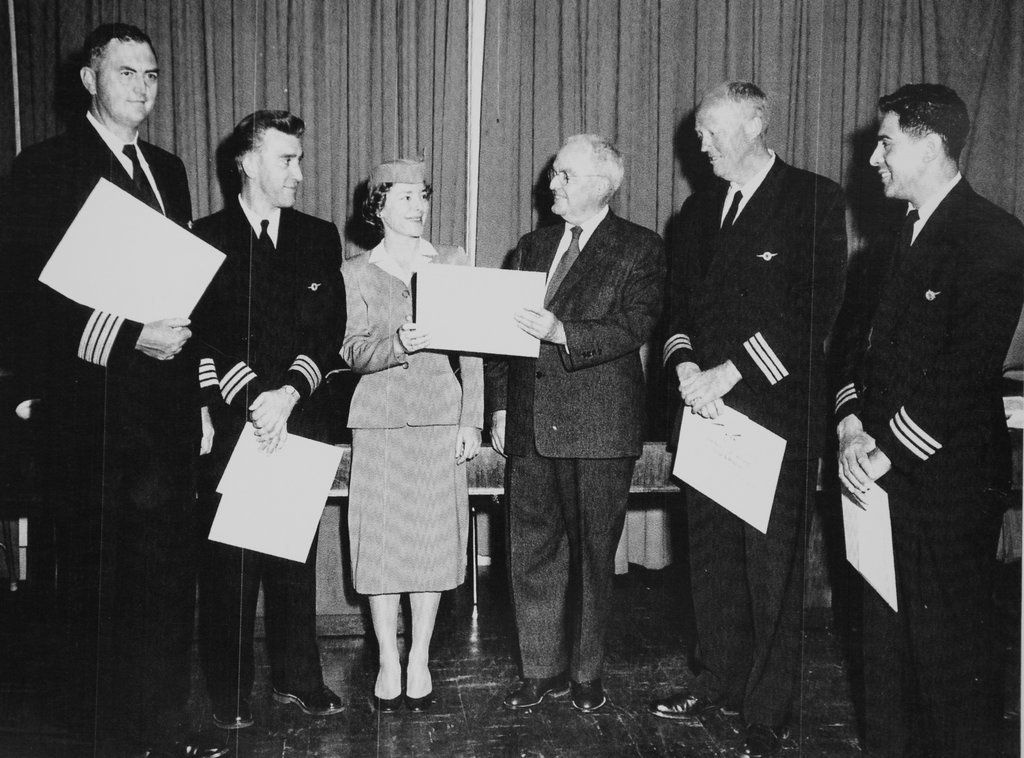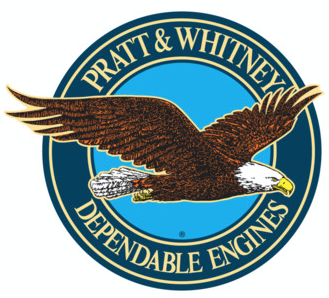 The airliner was powered by four air-cooled, supercharged 4,362.49-cubic-inch-displacement (71.489 liter) Pratt & Whitney Wasp Major B6 four-row, 28-cylinder radial engines which had a Normal Power rating of 2,650 horsepower at 2,550 r.p.m., and 2,800 horsepower at 2,550 r.p.m. Maximum Continuous. It produced 3,250 horsepower at 2,700 r.p.m. for takeoff (3,500 horsepower with water injection). The engines drove four-bladed Hamilton-Standard Hydromatic, 24260 constant-speed propellers with a diameter of 17 feet, 0 inches (5.182 meters) through a 0.375:1 gear reduction. The Wasp Major B6 was 8 feet, 0.50 inches (2.451 meters) long, 4 feet, 7.00 inches (1.397 meters) in diameter, and weighed 3,584 pounds (1,626 kilograms).
The 377 had a cruise speed of 301 miles per hour (484 kilometers per hour) and a maximum speed of 375 miles per hour (604 kilometers per hour). During testing by Boeing, a 377 reached 409 miles per hour (658 kilometers per hour). Its service ceiling was 32,000 feet (9,754 meters) and the range was 4,200 miles (6,759 kilometers).
Boeing built 56 Model 377 Stratocruisers, with Pan American as the primary user, and another 888 military C-97 Stratofreighter and KC-97 Stratotankers.
A U.S. Coast Guard film of the incident can be seen at:
© 2018, Bryan R. Swopes