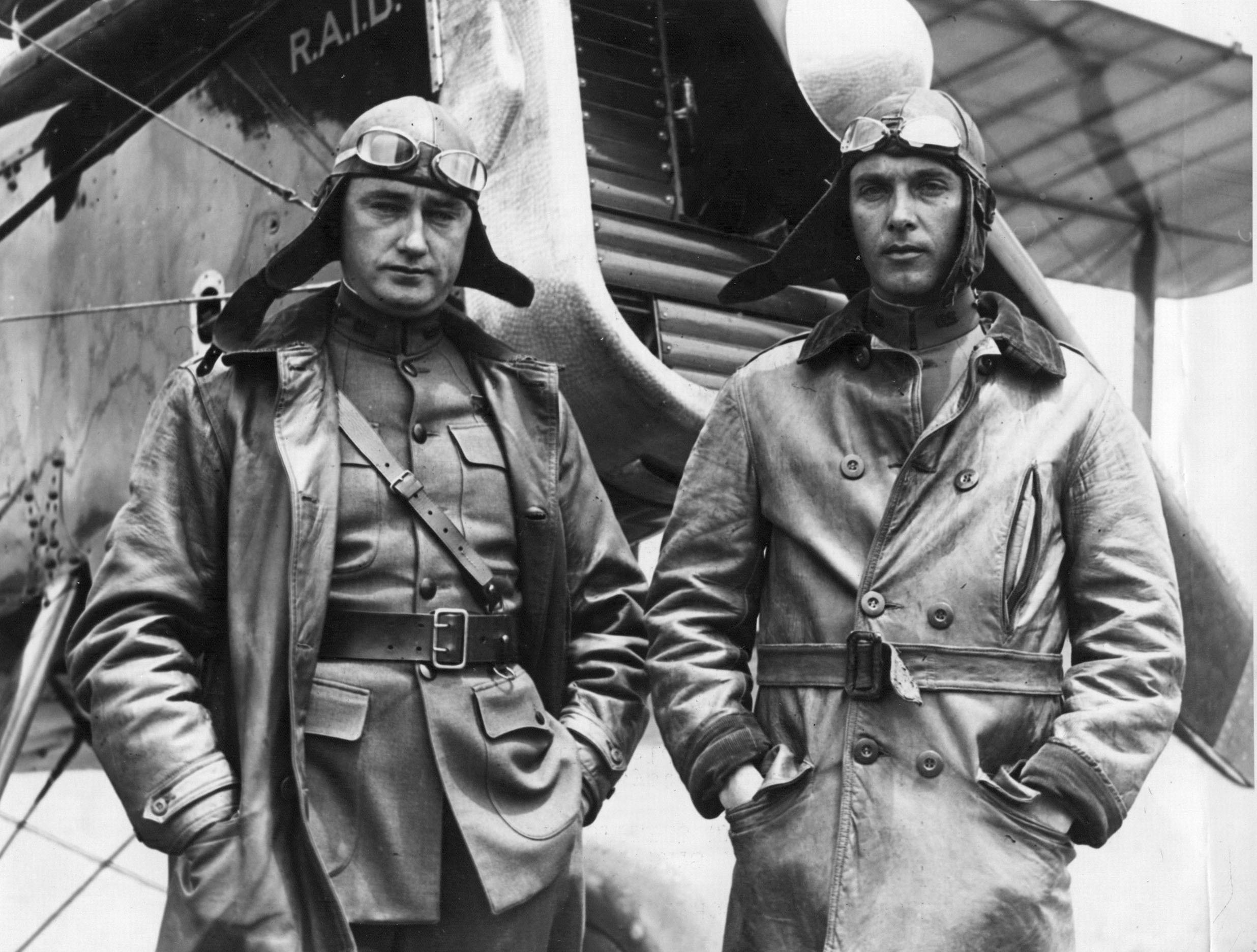 The first successful aerial refueling took place on June 27, 1923, when a DH-4B, Air Service serial number A.S. 23-462, carrying Lieutenants Virgil S. Hine and Frank W. Seifert passed gasoline through a hose to another DH-4B which was flying beneath them carrying Lieutenants Lowell H. Smith and John P. Richter.
Hine and Smith piloted their respective airplanes while Seifert and Richter handled the refueling. A 50 foot (15.24 meter) hose with manually-operated quick-acting valves at each end was used. During the refueling, 75 gallons (284 liters) of gasoline was passed from the tanker to the receiver.
Smith and Richter landed after 6 hours, 38 minutes, when their airplane developed engine trouble. Only one refueling had been completed but that had demonstrated the feasibility of the procedure.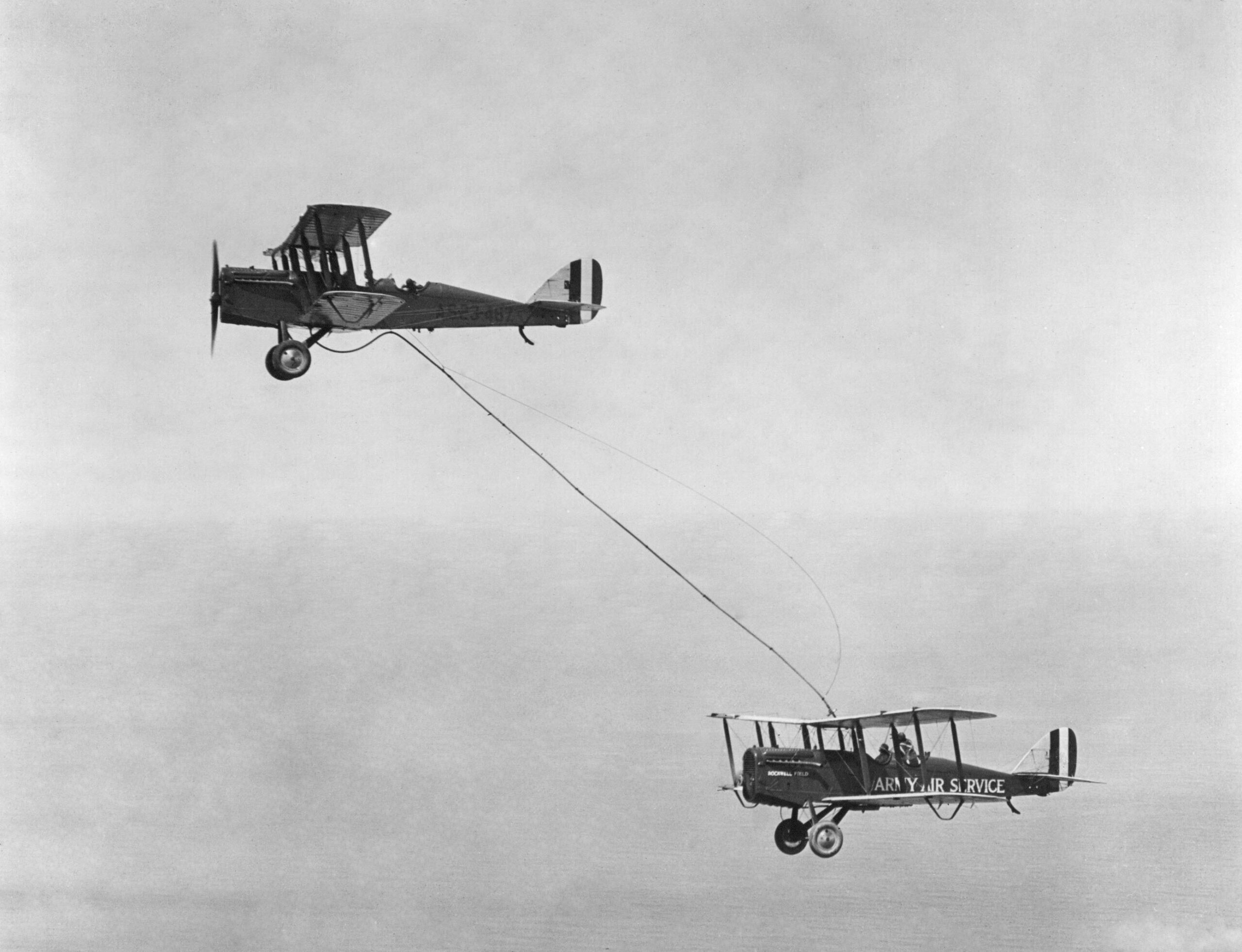 For their accomplishment, all four officers were awarded the Distinguished Flying Cross.
The Airco DH.4 was a very successful airplane of World War I, designed by Geoffrey de Havilland. It was built by several manufacturers in Europe and the United States. The DH-4B was a rebuilt DH.4 with fuel capacity increased to 110 gallons (420 liters). The DH-4B was 30 feet, 6 inches (9.296 meters) long with a wingspan of 43 feet, 6 inches (13.259 meters) and height of 10 feet, 4 inches (3.150 meters). Loaded weight of the standard DH-4B was 3,557 pounds (1,613.4 kilograms).
In place of the Rolls-Royce Eagle VII V-12 of the British-built version, Army Air Service DH-4s were powered by a water-cooled, normally-aspirated, 1,649.336-cubic-inch-displacement (27.028 liter) Liberty L-12 single overhead cam (SOHC) 45° V-12 engine with a compression ratio of 5.4:1. The Liberty produced 408 horsepower at 1,800 r.p.m. The L-12 as a right-hand tractor, direct-drive engine. It turned turned a two-bladed fixed-pitch wooden propeller. The Liberty 12 was 5 feet, 7.375 inches (1.711 meters) long, 2 feet, 3.0 inches (0.686 meters) wide, and 3 feet, 5.5 inches (1.054 meters) high. It weighed 844 pounds (383 kilograms).
The Liberty L12 aircraft engine was designed by Jesse G. Vincent of the Packard Motor Car Company and Elbert J. Hall of the Hall-Scott Motor Company. This engine was produced by Ford Motor Company, as well as the Buick and Cadillac Divisions of General Motors, The Lincoln Motor Company (which was formed by Henry Leland, the former manager of Cadillac, specifically to manufacture these aircraft engines), Marmon Motor Car Company and Packard. Hall-Scott was too small to produce engines in the numbers required.
The DH-4B had a maximum speed of 128 miles per hour (206 kilometers per hour), service ceiling of 19,600 feet (5,974 meters) and range of 400 miles (644 kilometers).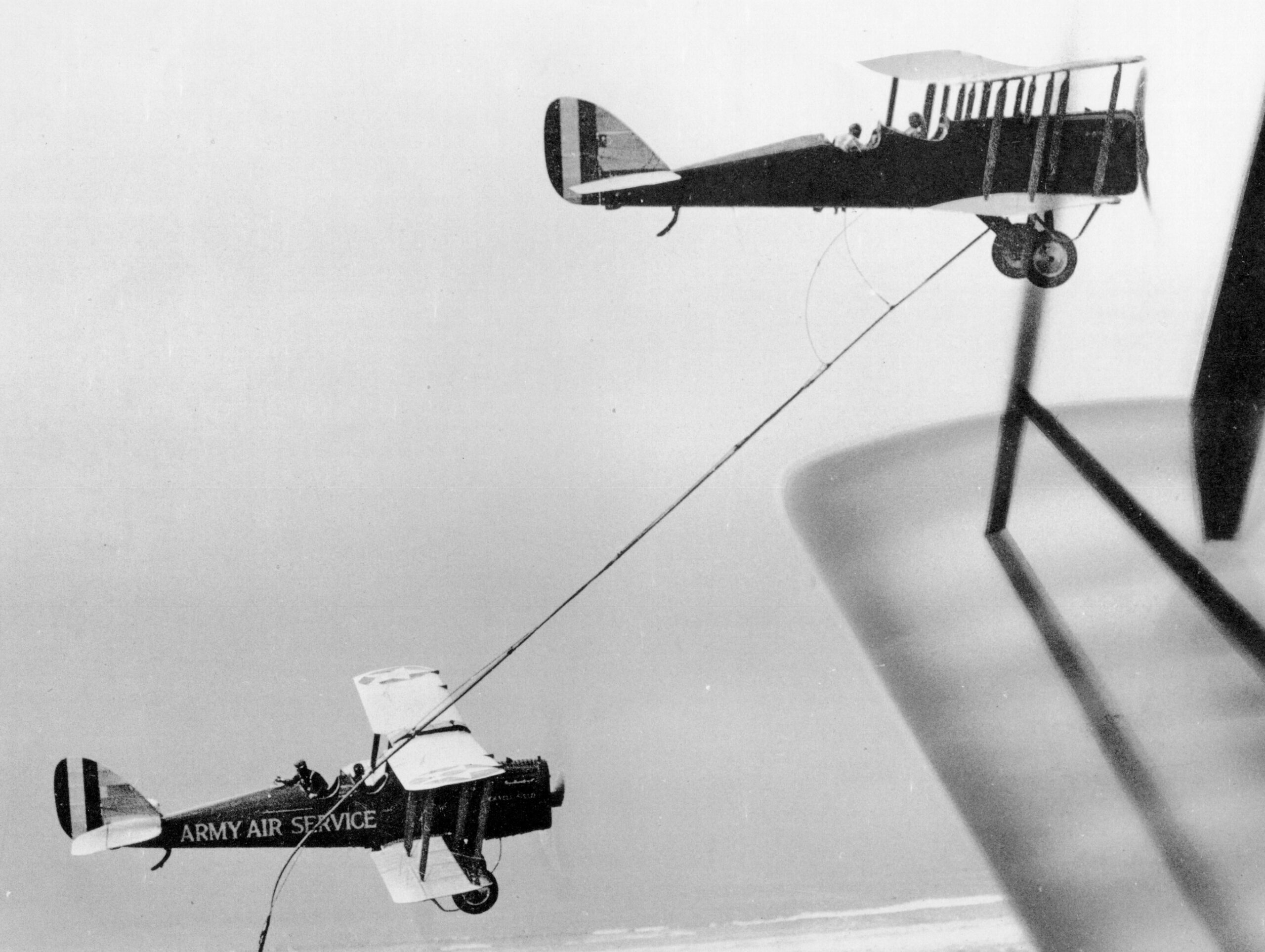 © 2017, Bryan R. Swopes