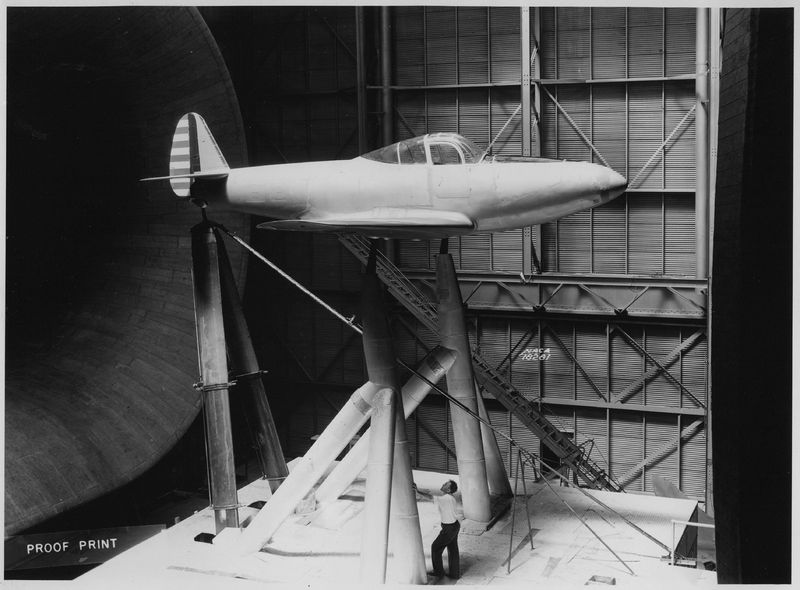 9 August 1939: After General Henry H. Arnold had ordered that the prototype Bell Aircraft Corporation XP-39 Airacobra be evaluated in the National Advisory Committee for Aeronautics (NACA) Full-Scale Tunnel at the Langley Memorial Aeronautics Laboratory, Langley Field, Virginia, it was flown there from Wright Field. It was hoped that aerodynamic improvements would allow the prototype to exceed 400 miles per hour (644 kilometers per hour).
NACA engineers placed the full-size airplane inside the large wind tunnel for testing. A number of specific areas for aerodynamic improvement were found. After those changes were made by Bell, the XP-39's top speed had improved by 16%.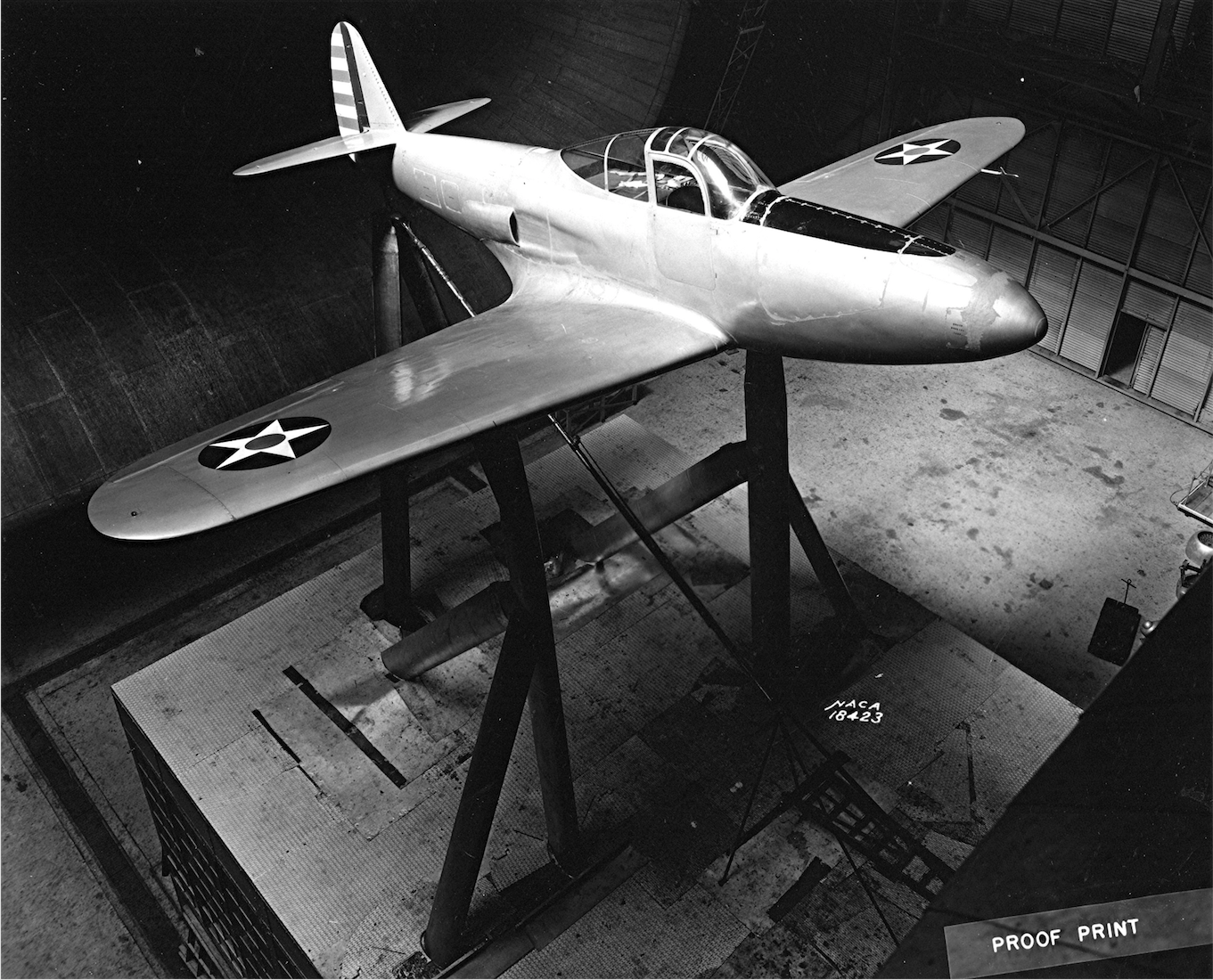 The Bell XP-39 Airacobra was a single-place, single-engine prototype fighter with a low wing and retractable tricycle landing gears. The airplane was primarily built of aluminum, though control surfaces were fabric covered.
As originally built, the XP-39 was 28 feet, 8 inches (8.738 meters) long with a wingspan of 35 feet, 10 inches (10.922 meters). The prototype had an empty weight of 3,995 pounds (1,812 kilograms) and gross weight of 5,550 pounds (2,517 kilograms). Changes recommended by NACA resulted in a recontoured canopy, lengthened the airplane to 29 feet, 9 inches (9.068 meters) and reduced the wing span to 34 feet, 0 inches (10.362 meters). Its empty weight increased to 4,530 pounds (2,055 kilograms) and gross weight to 5,834 pounds (2,646 kilograms).
The XP-39 was unarmed, but it had been designed around the American Armament Corporation T9 37 mm autocannon, later designated Gun, Automatic, 37 mm, M4 (Aircraft). The cannon and ammunition were in the forward fuselage, above the engine driveshaft. The gun fired through the reduction gear box and propeller hub.

The XP-39 was originally powered by a liquid-cooled, turbosupercharged and supercharged 1,710.597-cubic-inch-displacement (28.032 liter) Allison Engineering Co. V-1710-E2 (V-1710-17), a single overhead cam (SOHC) 60° V-12 engine with a compression ratio of 6.65:1. The V-1710-17 had a Maximum Continuous Power rating of 1,000 horsepower at 2,600 r.p.m. at 25,000 feet (7,620 meters), and Takeoff/Military Power rating of 1,150 horsepower at 3,000 r.p.m. at 25,000 feet, burning 91 octane gasoline. The engine was installed in an unusual configuration behind the cockpit, with a two-piece drive shaft passing under the cockpit and turning the three-bladed Curtiss Electric constant-speed propeller through a remotely-mounted 1.8:1 gear reduction gear box. The V-1710-17 was 16 feet, 1.79 inches (4.922 meters) long, including the drive shaft and remote gear box. It was 2 feet, 11.45 inches (0.900 meters) high, 2 feet, 5.28 inches (0.744 meters) wide and weighed 1,350 pounds (612 kilograms).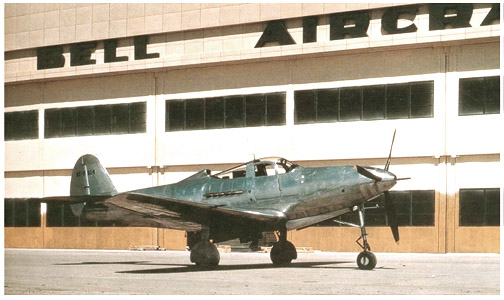 Army Air Corps strategy changed the role of the P-39 from a high-altitude interceptor to a low-altitude tactical strike fighter. The original turbocharged V-1710-17 was replaced with a V-1710-37 (V-1710-E5) engine. The turbosupercharger had been removed, which reduced the airplane's power at altitudes above 15,000 feet (4,572 meters). The V-1710-37 had a maximum power of 1,090 horsepower at 3,000 r.p.m. at 13,300 feet (4,054 meters). With the NACA-recommended aerodynamic changes and the new engine, the prototype Airacobra was redesignated XP-39B.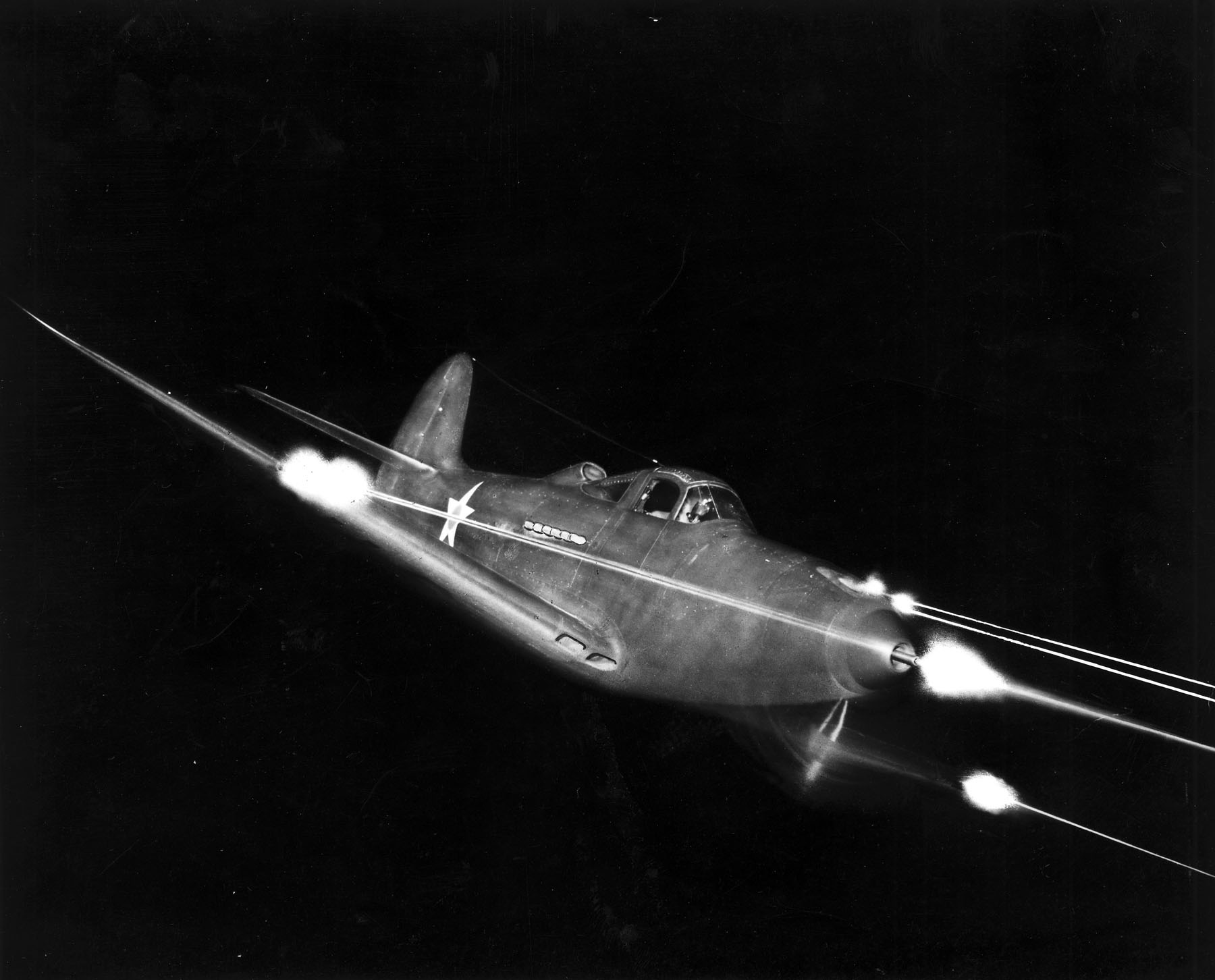 © 2018, Bryan R. Swopes