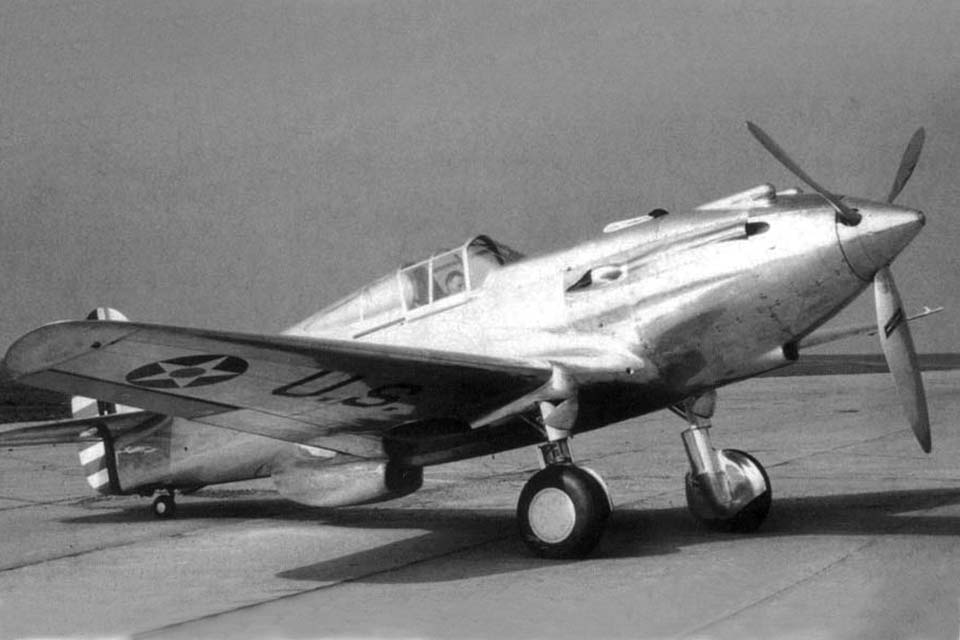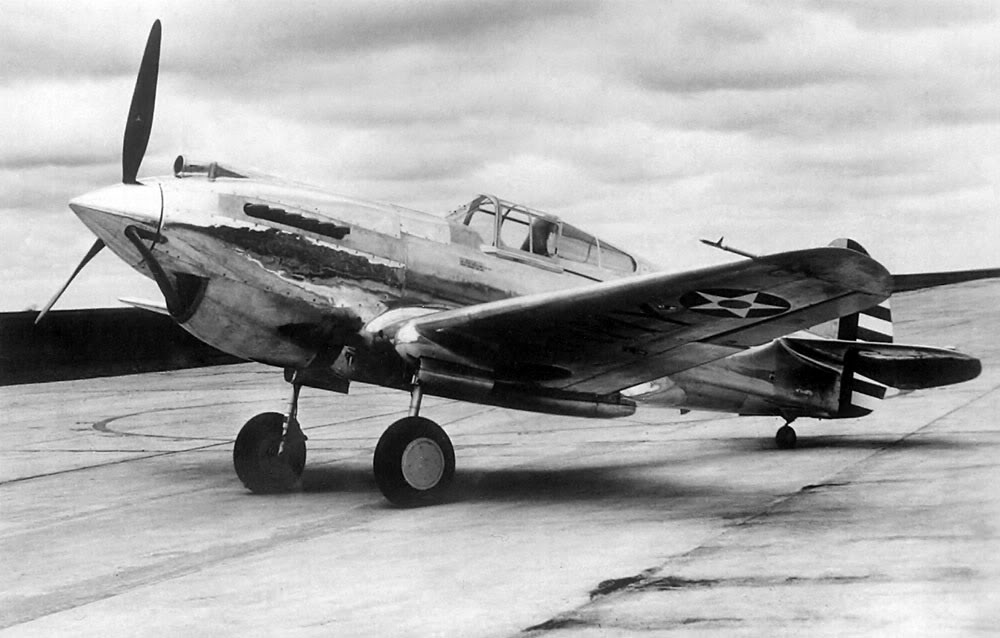 24 April 1939: Curtiss-Wright's prototype fighter, the XP-40 (Model 75P), was evaluated by the National Advisory Committee for Aeronautics (NACA) at the Langley Memorial Aeronautical Laboratory, Langley Field, Virginia, in March and April 1939. NACA engineers placed the XP-40 inside the Full-Scale Wind Tunnel, which was capable of accepting airplanes with wing spans of up to 40 feet (12.2 meters).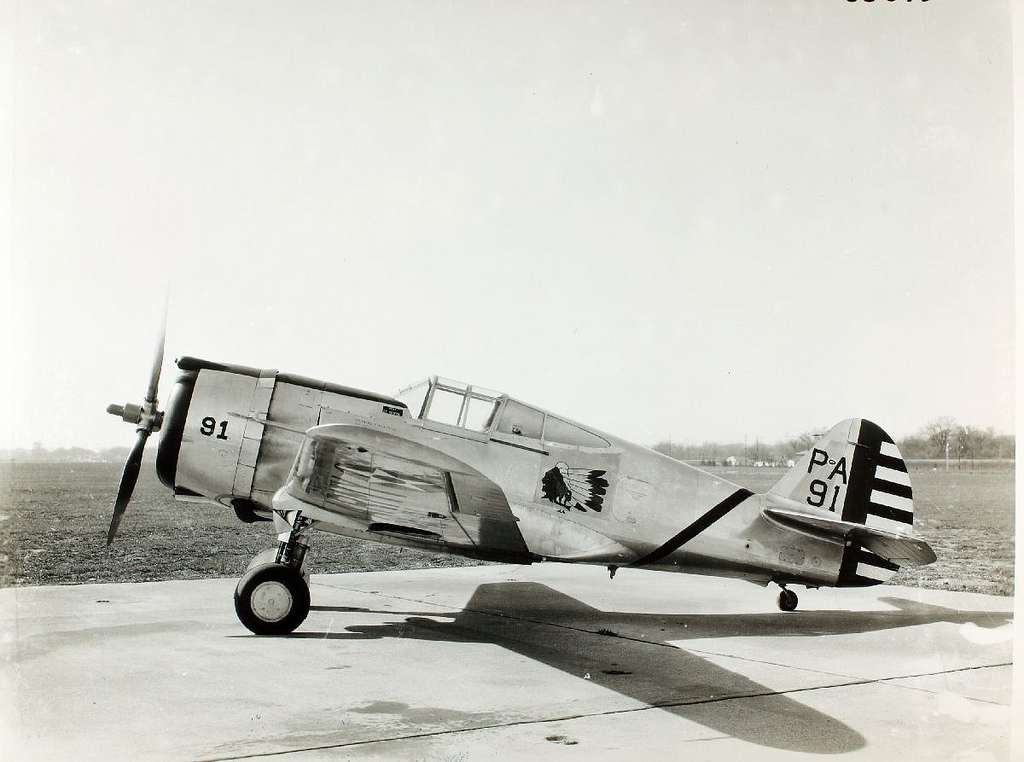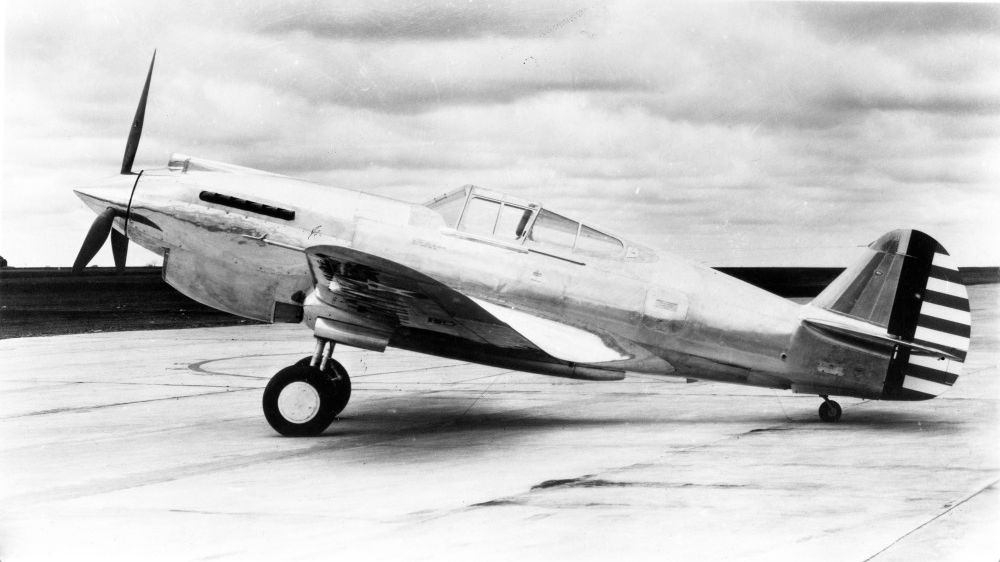 The airplane was a production Curtiss P-36A Hawk, serial number 38-10, which had been modified by replacing its original air-cooled Pratt & Whitney Twin Wasp S1C1-G (R-1830-17) 14-cylinder radial engine with a Harold Caminez-designed, liquid-cooled, supercharged, 1,710.597-cubic-inch-displacement (28.032 liter) Allison Engineering Co. V-1710-C13 (V-1710-19).
This was a single overhead cam (SOHC) 60° V-12 engine with four valves per cylinder and a compression ration of 6.65:1. It had a Normal Power rating of 910 horsepower at 2,600 r.p.m. at Sea Level, and 1,060 horsepower at 2,950 r.p.m. for Takeoff. At 10,000 feet (3,048 meters), the V-1710-19 had Maximum Continuous Power rating of 1,000 horsepower at 2,600 r.p.m., and Military Power rating of 1,150 horsepower at 2,950 r.p.m. The engine required 100/130-octane aviation gasoline. It drove a three-bladed Curtiss Electric constant-speed propeller through a 2:1 gear reduction.
The V-1710-19 was 8 feet, 1.75 inches (2.483 meters) long, 3 feet, 4.75″ (1.035 meters) high and 2 feet, 4.94 inches (0.735 meters) wide. It weighed 1,320 pounds (599 kilograms).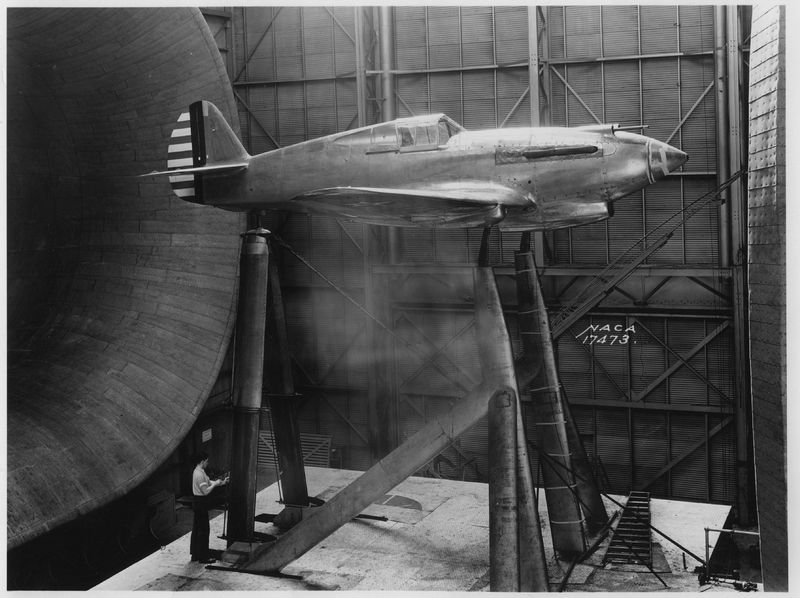 The primary benefit of the engine change was the streamlined fuselage that resulted. The new airplane was capable of a speed of 366 miles per hour (589 kilometers per hour), a 53 miles per hour (85 kilometers per hour) increase over the P-36.
Over a two-month period, NACA engineers made a number of improvements. The radiator was moved forward under the engine and the oil coolers utilized the same air scoop. The exhaust manifolds were improved as were the landing gear doors.
When they had finished, Lieutenant Benjamin Scovill Kelsey flew the modified XP-40 back to Curtiss at Buffalo, New York. Its speed had been increased to 354 miles per hour (570 kilometers per hour), a 12% improvement. Other improvements were recommended which may have increased the XP-40's speed by an additional 18 miles per hour (29 kilometers per hour). By December 1939, the airplane had been further improved and was capable of 366 miles per hour (589 kilometers per hour).
These photographs show the full-size prototype in the NACA wind tunnel at Langley, 24 April 1939. Two days later, the U.S. Army Air Corps ordered 524 airplanes as the P-40 Warhawk. By the time production ended in 1945, 13,738 Warhawks had been built.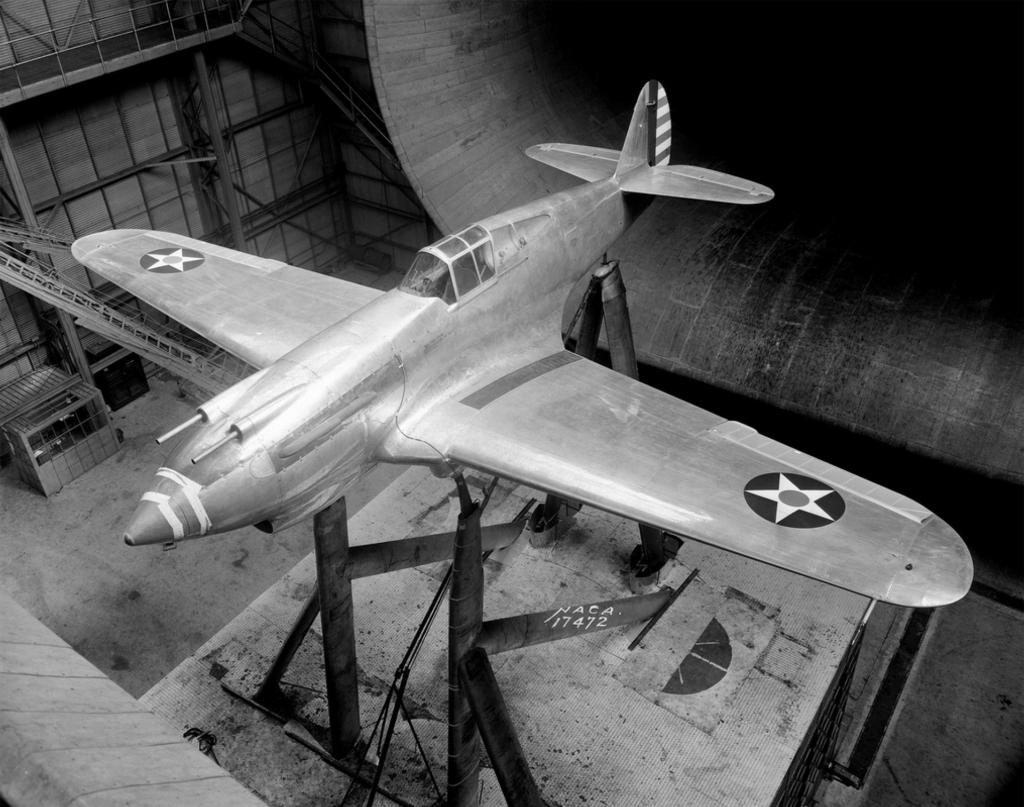 © 2018, Bryan R. Swopes