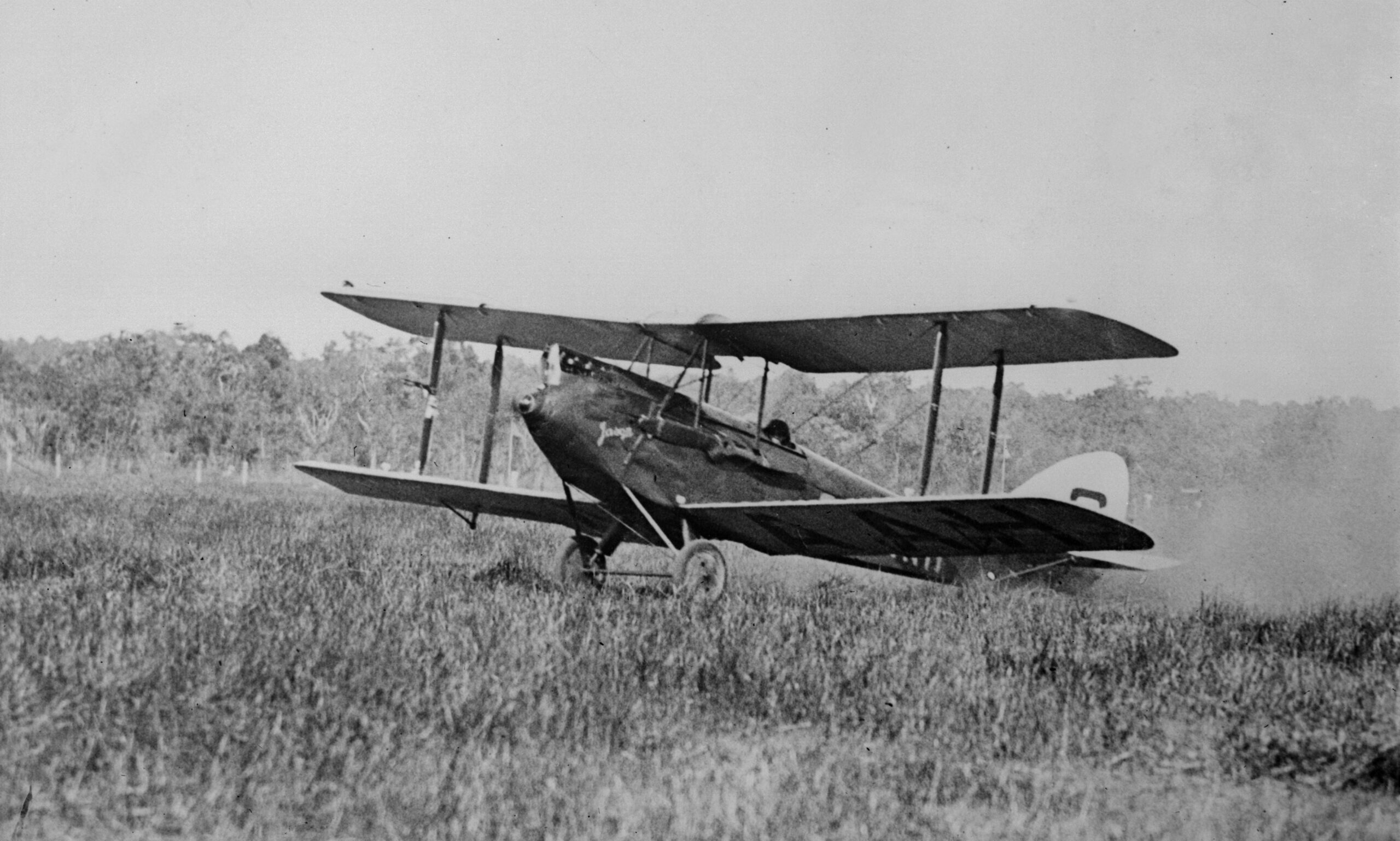 24 May 1930: After a 19-day, 11,000-mile (17,700 kilometers), solo flight from Croyden Aerodrome, London, England, 26-year-old Miss Amy Johnson arrived at Darwin, Australia, in her de Havilland DH.60G Gipsy Moth, G-AAAH, named Jason.¹ She was awarded a £10,000 prize from the Daily Mail newspaper.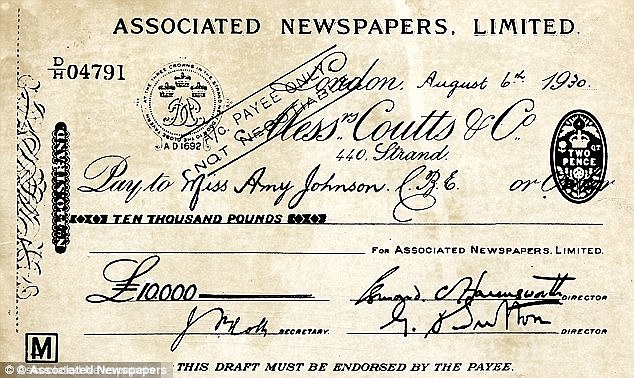 Miss Johnson's flight was made in 18 legs. From London, she flew to Aspern, Austria; San Stefano, Republic of Turkey; Aleppo, French Mandate of Syria; Baghdad, Kingdom of Iraq; Bandar-Abbas, Persia; Karachi, Sindh; Jhansi, British India; Allahabad, British India; Calcutta, British India; Insein, Burma; Bangkok, Kingdom of Siam; Singora, Siam; Singapore, Straits Settlements; Tjomal, Samarang, and Sourabaya, Dutch East Indies; Atambua, Dutch Timor; and across the Timor Sea to Darwin, Northern Territory, Commonwealth of Australia.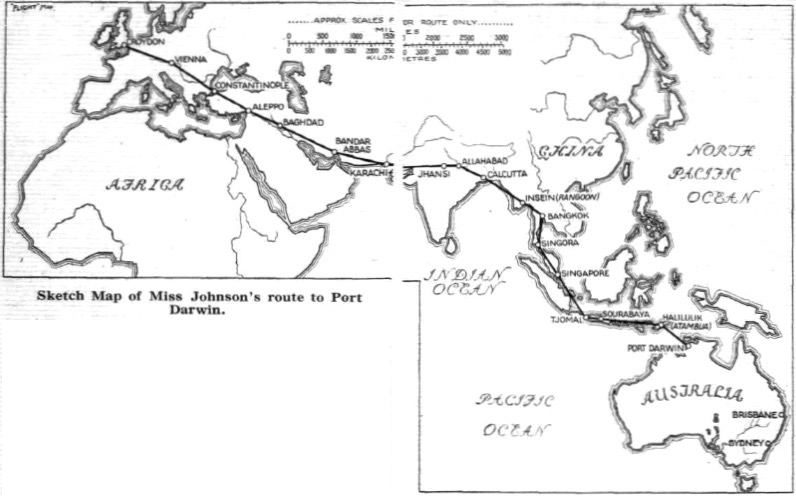 For her accomplishment, Miss Johnson was appointed Commander of the Most Excellent Order of the British Empire (C.B.E.). She was also awarded the Harmon Trophy, "for the most outstanding international achievements in the arts and/or science of aeronautics for the preceding year, with the art of flying receiving first consideration."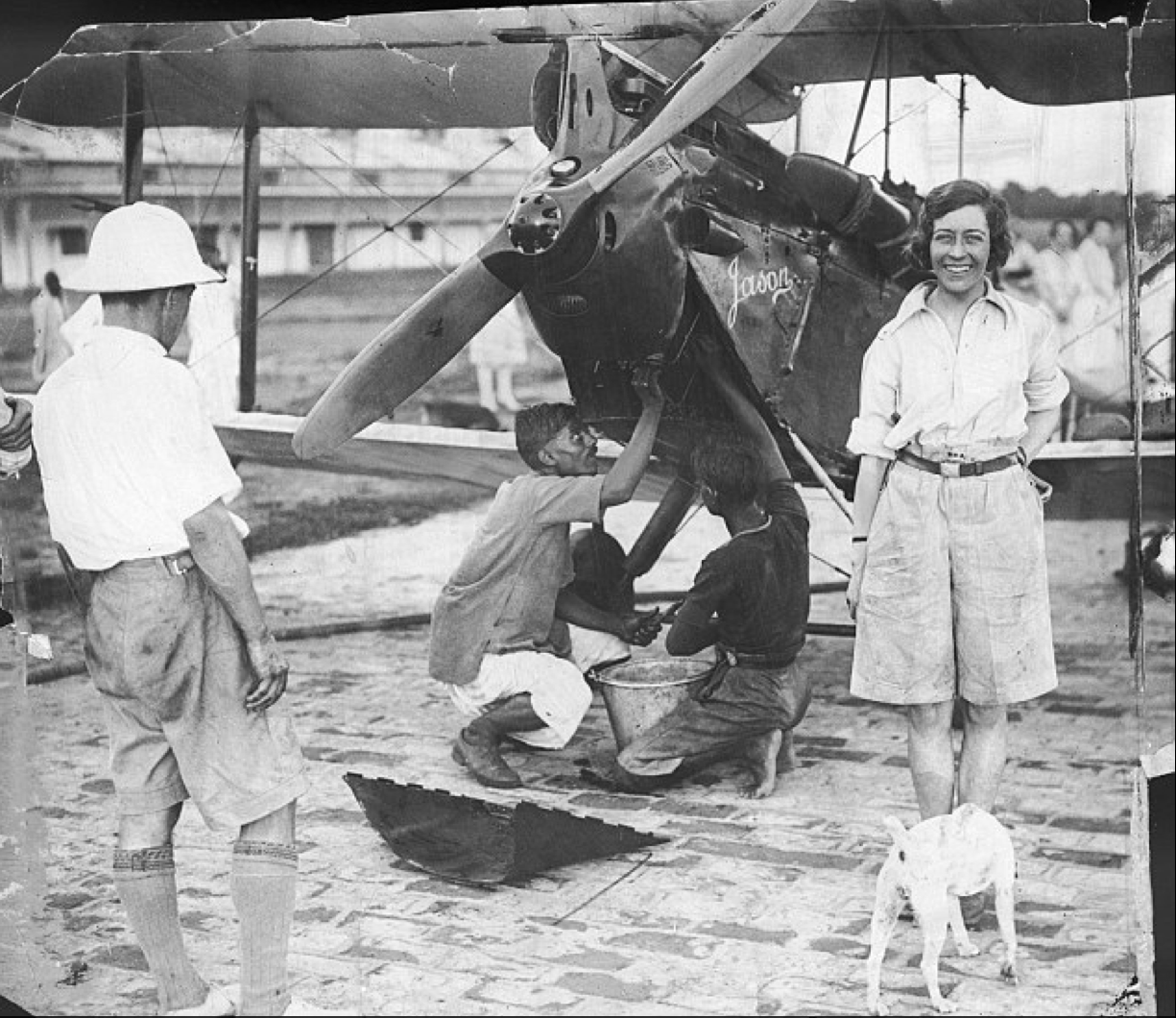 Her Gipsy Moth is in the collection of the Science Museum, London, England.
Amy Johnson was a rated Engineer (aircraft mechanic) and Navigator, as well as a licensed Pilot. She had set many flight records, both individually and with her husband, James Mollison, whom she had married in 1932. He proposed to her during an airplane flight, only eight hours after having met her.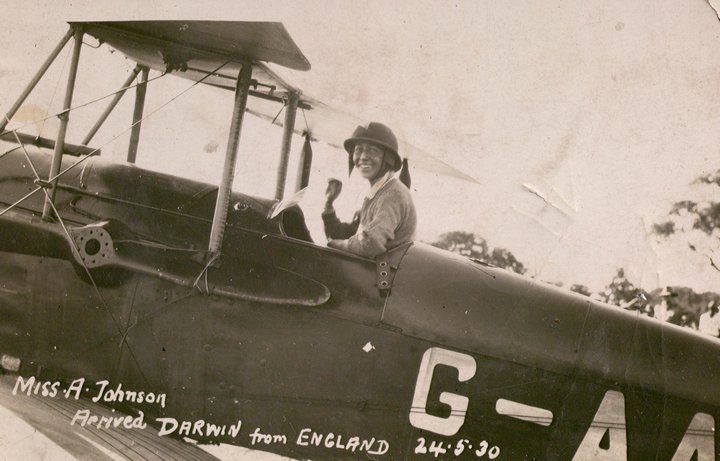 During World War II, Amy Johnson flew for the Royal Air Force as a First Officer of the Air Transport Auxiliary (equivalent to the RAF rank of Flight Lieutenant). On 5 January 1941, at approximately 3:30 p.m., Johnson bailed out of the Oxford and parachuted into the Thames Estuary. The airplane crashed into the river a short distance away and sank.
Amy Johnson's parachute was seen by the crew of HMS Haslemere, a barrage balloon tender assigned to the Channel Mobile Balloon Barrage in the Estuary. They attempted to rescue her and in the process, the ship's captain, Lieutenant Commander Walter Edmund Fletcher, Royal Navy, dove into the water. In the cold temperatures and rough conditions, Fletcher died. For his effort to rescue Johnson, he was awarded the Albert Medal, posthumously.
In recent years, stories have emerged that the AS.10 was shot down after Johnson twice gave the incorrect response to a radio challenge. Tom Mitchell, an anti-aircraft gunner of the 58th (Kent) Heavy Anti-Aircraft Artillery Regiment, at Iwade, a small village along the shore of the Thames Estuary, said in 1999 that he shot her down under orders, firing 16 shells at the Oxford. The men of the battery were ordered to never mention the incident. There were contemporary reports that a destroyer had also fired on Johnson, though the Admiralty denied this.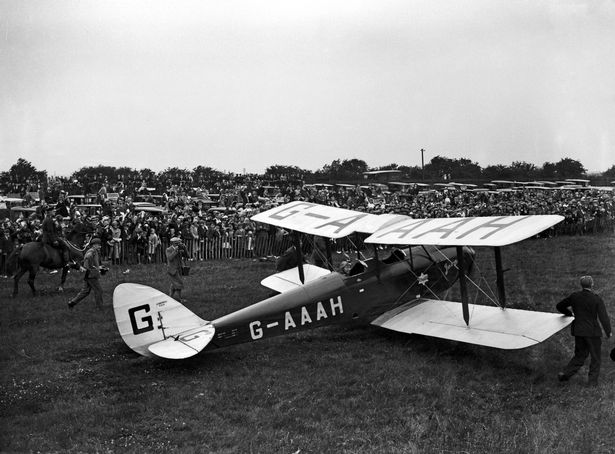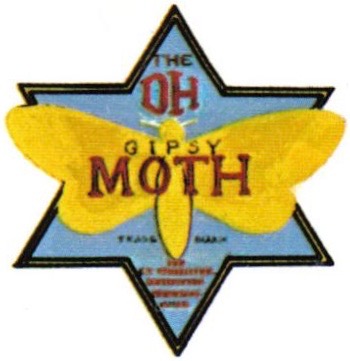 The de Havilland DH.60 was a light-weight, two-place, single-engine, single-bay biplane. The fuselage was covered with plywood and the wings and tail surfaces were covered with fabric. It was 23 feet, 5½ inches (7.150 meters) long with a wingspan of 29 feet, 0 inches (8.839 meters) and overall height of 8 feet, 9½ inches (2.680 meters).
The airplane was designed so that the wings could be folded parallel to the fuselage, giving it an approximate width of 9 feet (2.7 meters). The wings had a chord of 4 feet, 3 inches (1.295 meters). The vertical gap between the wings was 4 feet, 10 inches (1.473 meters) and lower wing was staggered 3 inches (7.62 centimeters) behind the upper. Both wings had 3.5° angle of incidence and 3.5° dihedral. There was no sweep.
Empty, the DH.60 had a weight of 764 pounds (346.6 kilograms) and loaded weight of 1,650 pounds (748 kilograms).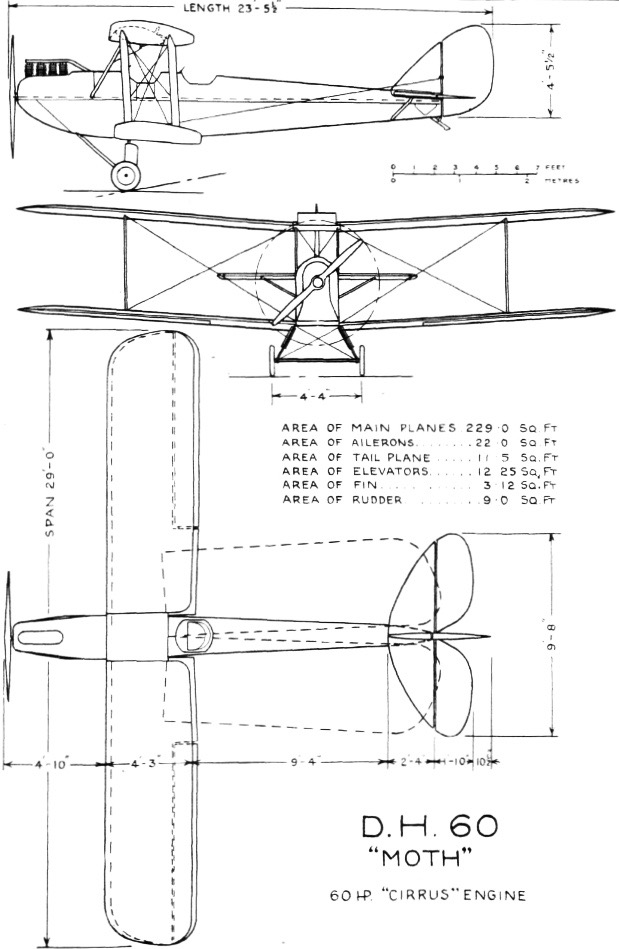 The original DH.60 Moth, which first flew in 1925, was powered by an air-cooled, normally-aspirated 4.503 liter (274.771-cubic-inch-displacement) A.D.C. Aircraft Ltd., Cirrus inline 4-cylinder overhead valve (OHV) engine with two valves per cylinder and a compression ratio of 5.4:1. The direct-drive engine produced 60 horsepower at 1,800 r.p.m., and 65 horsepower at 2,000 r.p.m. The Cirrus was 0.983 meters (3.225 feet) long, 0.908 meters (2.979 feet) high and 0.450 meters (1.476 feet) wide. It weighed 260 pounds (118 kilograms). The A.D.C. Cirrus was designed by Major Frank Bernard Halford, who later designed the de Havilland Gipsy engine, as well as the Goblin and Ghost turbojet engines.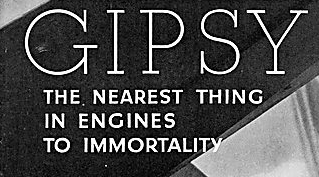 The DH.60G Gipsy Moth was first produced in 1928. It was powered by a 318.09-cubic-inch-displacement (5.212 liter) air-cooled de Havilland Gipsy I inline 4-cylinder direct-drive engine with a compression ratio of 5:1. It was capable of producing 130 horsepower, but de-rated to 100 horsepower at 2,100 r.p.m. The Gipsy I was 40.5 inches (1.029 meters) long, 29.9 inches (0.759 meters) high and 20 inches (0.508 meters) wide. It weighed 285 pounds (129 kilograms).
The Gipsy Moth has a cruise speed of 85 miles per hour (137 kilometers per hour) and maximum speed of 102 miles per hour (164 kilometers per hour). Range for the standard aircraft is 320 miles (515 kilometers). The service ceiling is 14,500 feet (4,420 meters).
De Havilland built 8 pre-production and 31 production DH.60 Moths. 595 DH.60s of all variants were produced at Stag Lane.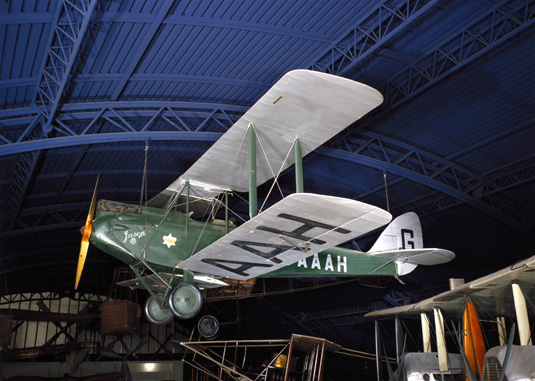 ¹ Amy Johnson's father, John William Johnson, provided £600 to pay for the airplane. He worked for Andrew Johnson & Knudtzon and Co., Ltd., which used "Jason" as a trademark. The Automobile Association's badge appears on the Gipsy Moth at the Science Museum, although it was not present on the airplane during her record-breaking flight.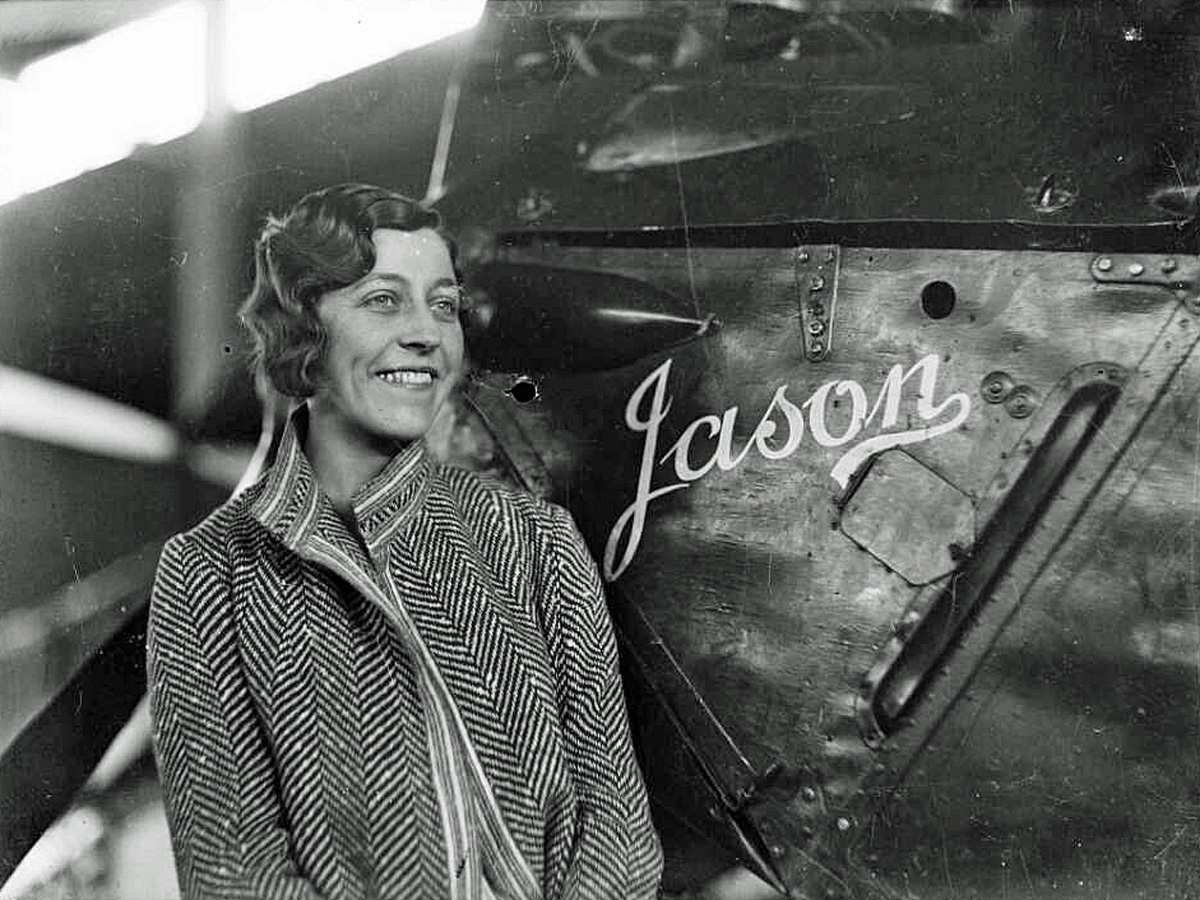 © 2019, Bryan R. Swopes