2 May 1952: At 15:12 GMT, the British Overseas Airways Corporation's de Havilland DH.106 Comet 1, G-ALYP, departed London for Johannesburg, South Africa, with 36 passengers and a crew of 7. The approximate 7,000 mile (11,265 kilometer) flight was expected to take 23 hours, 40 minutes with intermediate stops at Rome, Beirut, Khartoum, Entebbe and Livingstone. There were crew changes at Beirut and Khartoum. BOAC's chairman, Sir Miles Thomas, joined the flight at Livingstone for the final stage.
G-AYLP arrived at Johannesburg at 14:38 GMT, 3 May, fourteen minutes ahead of schedule. This was the very first regularly-scheduled revenue passenger flight for a jet airliner.
The AAP reported on the Comet's arrival at Entebbe:
Record-shooting Comet nears end of long jet flight
KHARTOUM, Sat.: The Comet airliner opening the first jet passenger service is now hurtling across Africa at nearly 500 m.p.h. on the last stages of the London-Johannesburg flight.
The Comet arrived at Entebbe, Uganda at 3.30 p.m. Adelaide time, exactly on schedule.
The eight-miles-a-minute jet will stop next at Livingstone.
It is now on the fifth and second-last leg of its southward dash.
At Beirut the first crew, skippered by Capt. A.M. Majendie, handed the plane over to a fresh crew with Capt. J.T. Marsden as skipper.
A third crew, commanded by Capt. R.C. Alabaster, took over at Khartoum.
Official air mileages on the plane's route are:
London–Rome 930
Rome–Beirut, 1,385.
Beirut–Khartoum, 1,330.
Khartoum–Entebbe, 1,090.
Entebbe–Livingstone, 1,320.
Livingstone–Johannesburg, 608.
Total, 6,663 miles.
Reached 525 m.p.h.
Between Rome and Beirut, the plane established a new world record by reaching 525 m.p.h, beating its own previous trial performances.
The plane is carrying 36 fare-paying passengers and a crew of five.
During the flight, passengers relaxed luxuriously in the dove-grey and dark-blue pressurized cabin as the Comet, hurtling along at more than 230 yards a second, created an impression of motionless suspension.
One of the two women passengers sketched out during the flight the first music ever written in a jetliner.
"It is the 'Comet Prelude,' " explained Miss Avril Coleridge-Taylor, who is the daughter of Samuel Coleridge-Taylor, famous composer, who died in 1912.
Miss Taylor, who is in her early forties, is to conduct a symphony concert in South Africa.
The first man to book on the Comet, Mr. Albert Henshaw, 63, of Lincolnshire, has been flying since World War I.
"I've been in them all and I've never seen anything like this," he said.
"This may be as near to heaven as I'll ever get—and it's well worth it."
Mother better
Another passenger is Steven Naude, a young South African who was given a mercy seat in the Comet to Johannesburg when he heard that his mother was lying dangerously ill in Bethlehem, Northwestern Free State.
The latest message from Cape Town reports a slight improvement. —AAP
— The Mail, Adelaide, South Australia, Saturday, 3 May 1952, Page 2, Columns 2–4.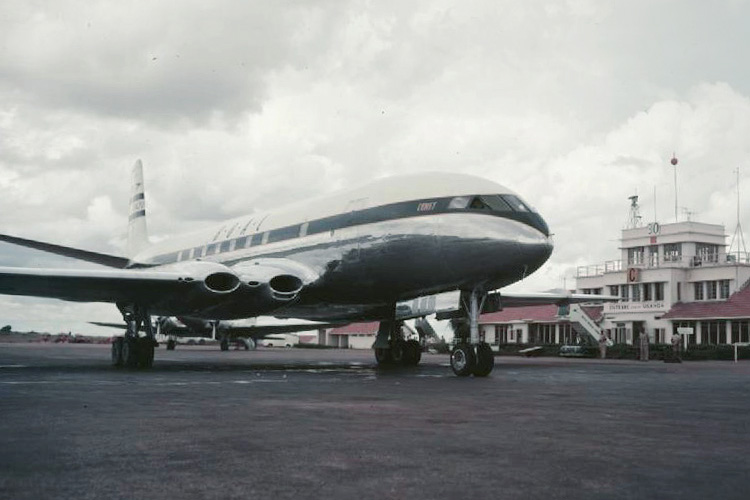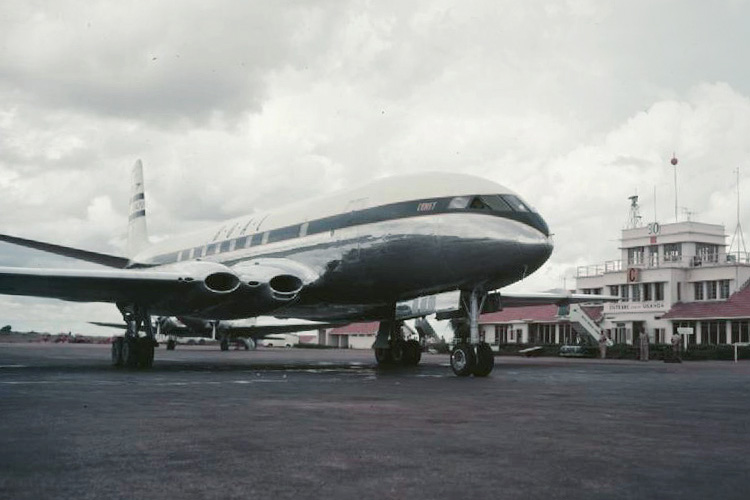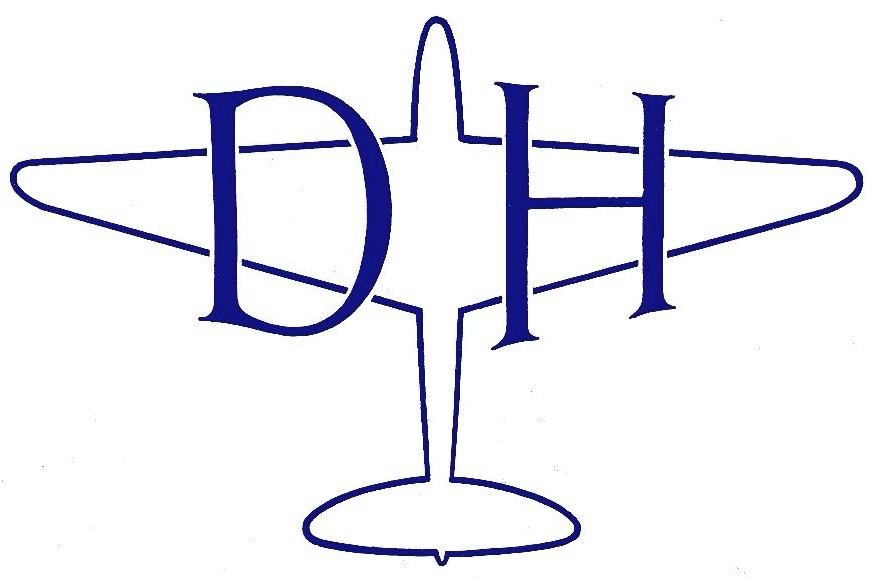 The de Havilland Comet was the first commercial jet airliner and its introduction had revolutionized the industry.
DH.106 Comet 1 G-AYLP (Works No. 06003) was the first production airplane and was very similar to the two prototypes. It can be visually identified by its square passenger windows.
The Comet I was flown by a pilot, co-pilot, flight engineer and navigator. The airliner could carry up to 44 passengers. (B.O.A.C. configured the airliner with 36 passenger seats.)
The airplane was 93 feet (28.346 meters) long with a wingspan of 115 feet (35.052 meters) and overall height of 27 feet, 10 inches (8.484 meters). The wings were swept 20°, as measured at ¼ chord. The fuselage had a maximum outside diameter of 10 feet, 3 inches (3.124 meters), and 9 feet, 9 inches (2.972 meters) inside. The Comet 1 had an authorised maximum all-up weight of 107,000 pounds (48,534 kilograms).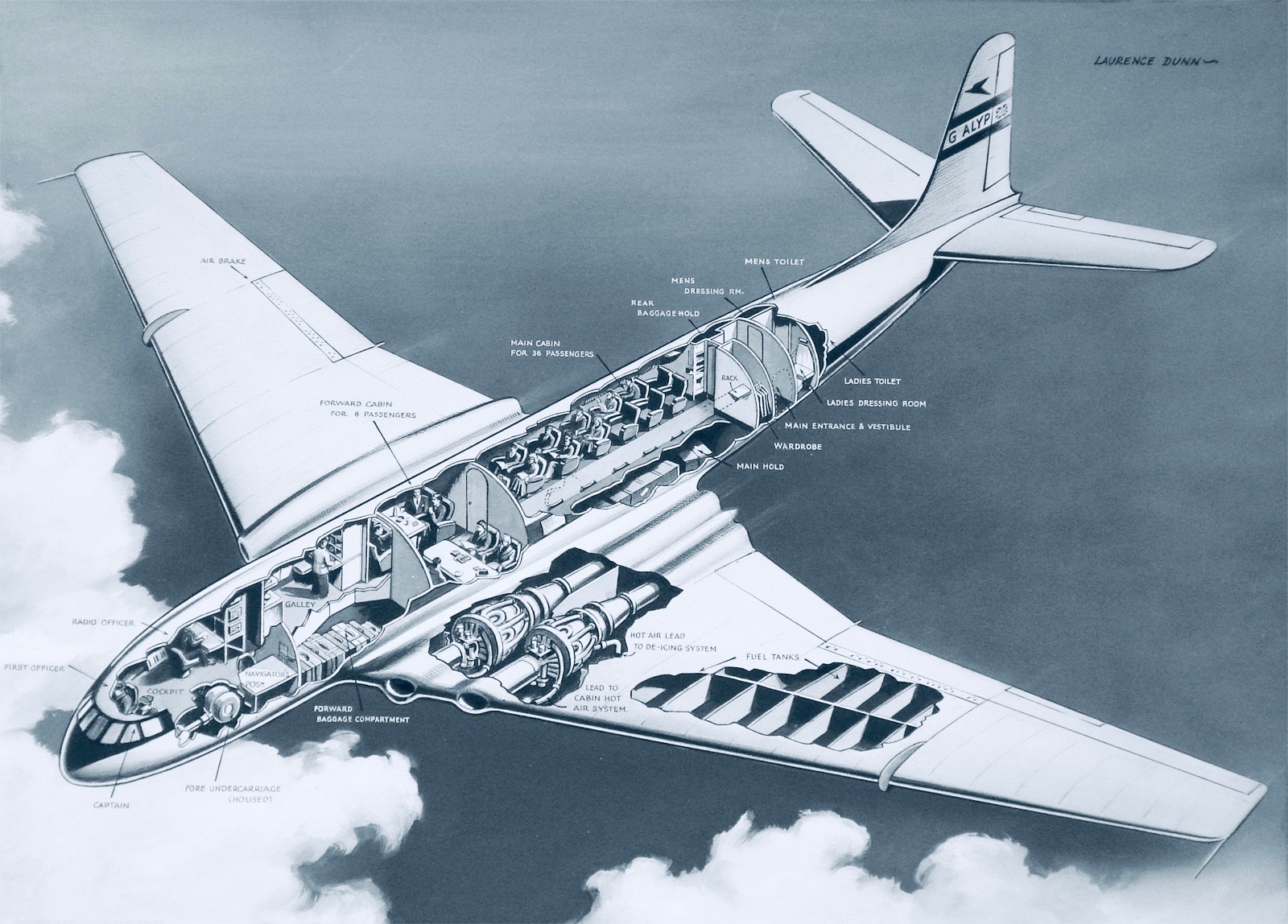 The Comet I was powered by four de Havilland Engine Co., Ltd., Ghost 50 Mk.I turbojet engines. The Ghost was a single-shaft centrifugal-flow turbojet with a single-stage compressor, 10 combustion chambers and a single-stage turbine. It was rated at 5,000 pounds of thrust (22.24 kilonewtons) at 10,250 r.p.m. The Ghost 50 had a maximum diameter of 4 feet, 5 inches (1.346 meters), length of 10 feet, 1 inch (3.073 meters) and dry weight of 2,218 pounds (1,006 kilograms). When first placed in service, the engines required a combustion chamber inspection at 125 hour intervals. A complete overhaul was required every 375 hours. The Ghost was the first turbojet certified for civil airliner operations.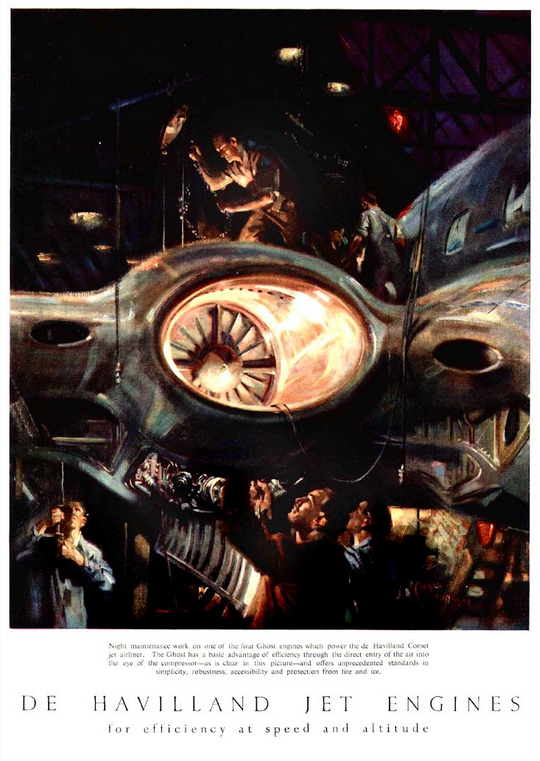 The Comet I had a maximum cruising speed of 490 miles per hour (789 kilometers per hour), True Air Speed, and operating altitude of 35,000 to 40,000 feet (10,668–12,192 meters). The airliner's fuel capacity was 6,050 Imperial gallons (27,504 liters, or 7,266 U.S. gallons) giving a practical stage length of 2,140 miles (3,444 kilometers). The maximum range was 3,860 miles (6,212 kilometers).
Twelve DH.106 Comet 1 airliners were built.
G-ALYP suffered catastrophic explosive decompression while flying over the Mediterranean Sea, 10 January 1954. This was the first of two accidents caused by metal fatigue in the fuselage as a result of expansion and contraction during pressurization cycles. The DH.106 Comet I fleet was grounded and the aircraft were removed from service.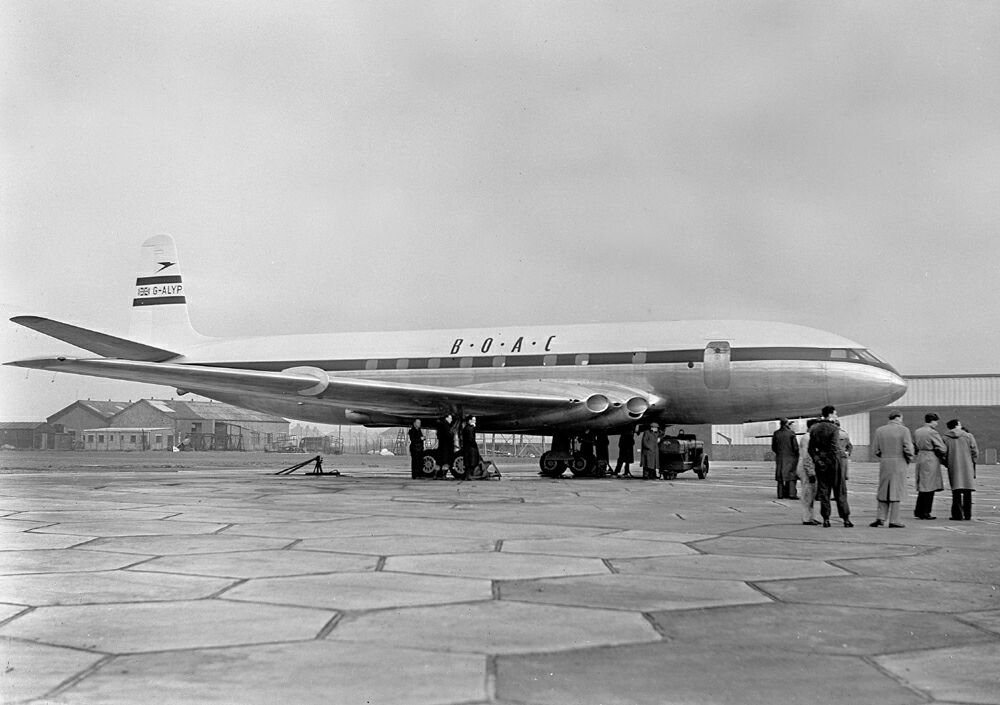 © 2019, Bryan R. Swopes