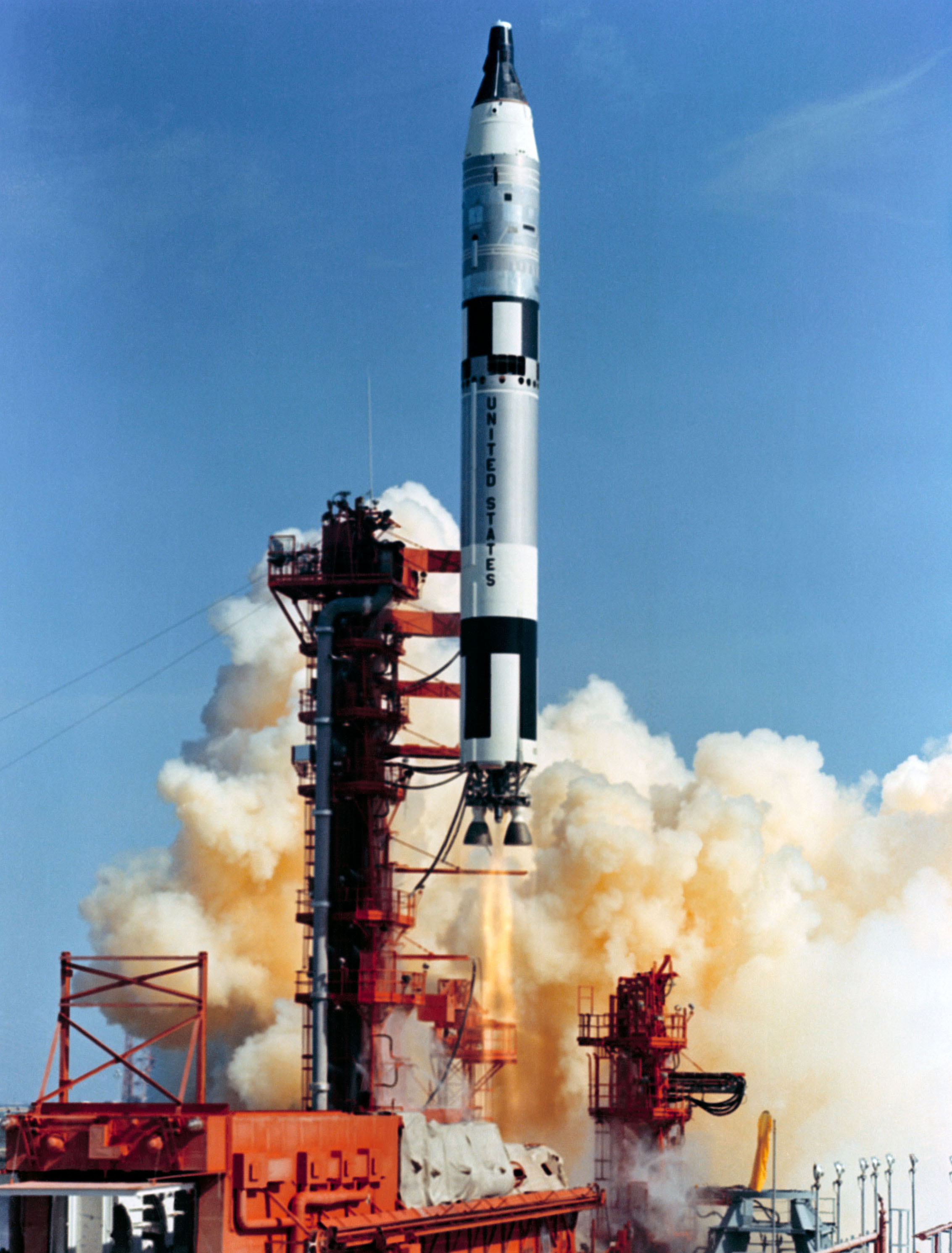 The two-man Gemini spacecraft was built by the McDonnell Aircraft Corporation of St. Louis, the same company that built the earlier Mercury space capsule. The spacecraft consisted of a reentry module and an adapter section. It had an overall length of 19 feet (5.791 meters) and a diameter of 10 feet (3.048 meters) at the base of the adapter section. The reentry module was 11 feet (3.353 meters) long with a diameter of 7.5 feet (2.347 meters). The weight of the Gemini varied from ship to ship but was approximately 7,000 pounds (3,175 kilograms)
The Titan II GLV was a "man-rated" variant of the Martin SM-68B intercontinental ballistic missile. It was assembled at Martin's Middle River, Maryland plant so as not to interfere with the production of the ICBM at Denver, Colorado. Twelve GLVs were ordered by the Air Force for the Gemini Program.
The Titan II GLV was a two-stage, liquid-fueled rocket. The first stage was 63 feet (19.202 meters) long with a diameter of 10 feet (3.048 meters). The second stage was 27 feet (8.230 meters) long, with the same diameter. The 1st stage was powered by an Aerojet Engineering Corporation LR-87-7 engine which combined two combustion chambers and exhaust nozzles with a single turbopump unit. The engine was fueled by a hypergolic combination of hydrazine and nitrogen tetroxide. Ignition occurred spontaneously as the two components were combined in the combustion chambers. The LR-87-7 produced 430,000 pounds of thrust. It was not throttled and could not be shut down and restarted. The 2nd stage used an Aerojet LR-91 engine which produced 100,000 pounds of thrust.
The Gemini/Titan II GLV combination had a total height of 109 feet (33.223 meters) and weighed approximately 340,000 pounds (154,220 kilograms) when fueled.
© 2015, Bryan R. Swopes
by