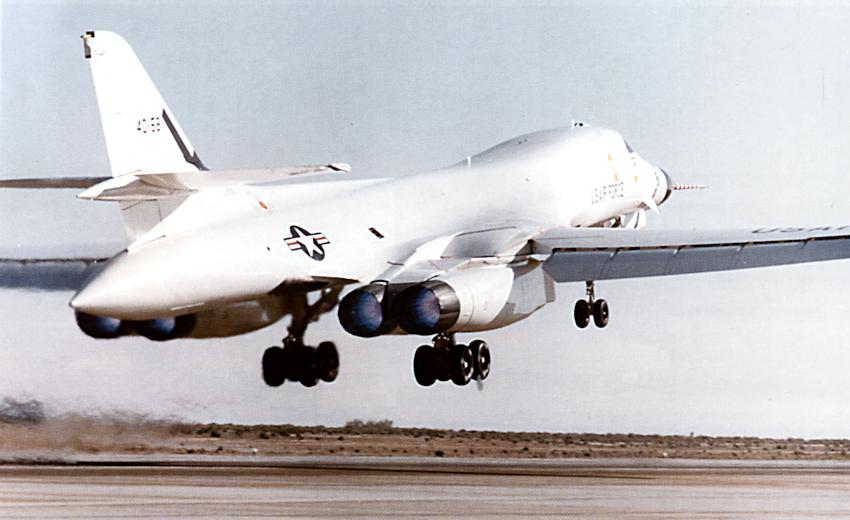 23 December 1974: The first of four prototype Rockwell B-1A Lancer Mach 2.2 strategic bombers, serial number 74-0158, made its first flight from Air Force Plant 42, Palmdale, California. The aircraft commander was company test pilot Charles C. Bock, Jr. (Colonel, U.S. Air Force, retired) with pilot Colonel Emil Sturmthal, U.S. Air Force, and flight test engineer Richard Abrams. After basic flight evaluation, the B-1A landed at Edwards Air Force Base, about 22 miles (35 kilometers) to the northeast of Palmdale.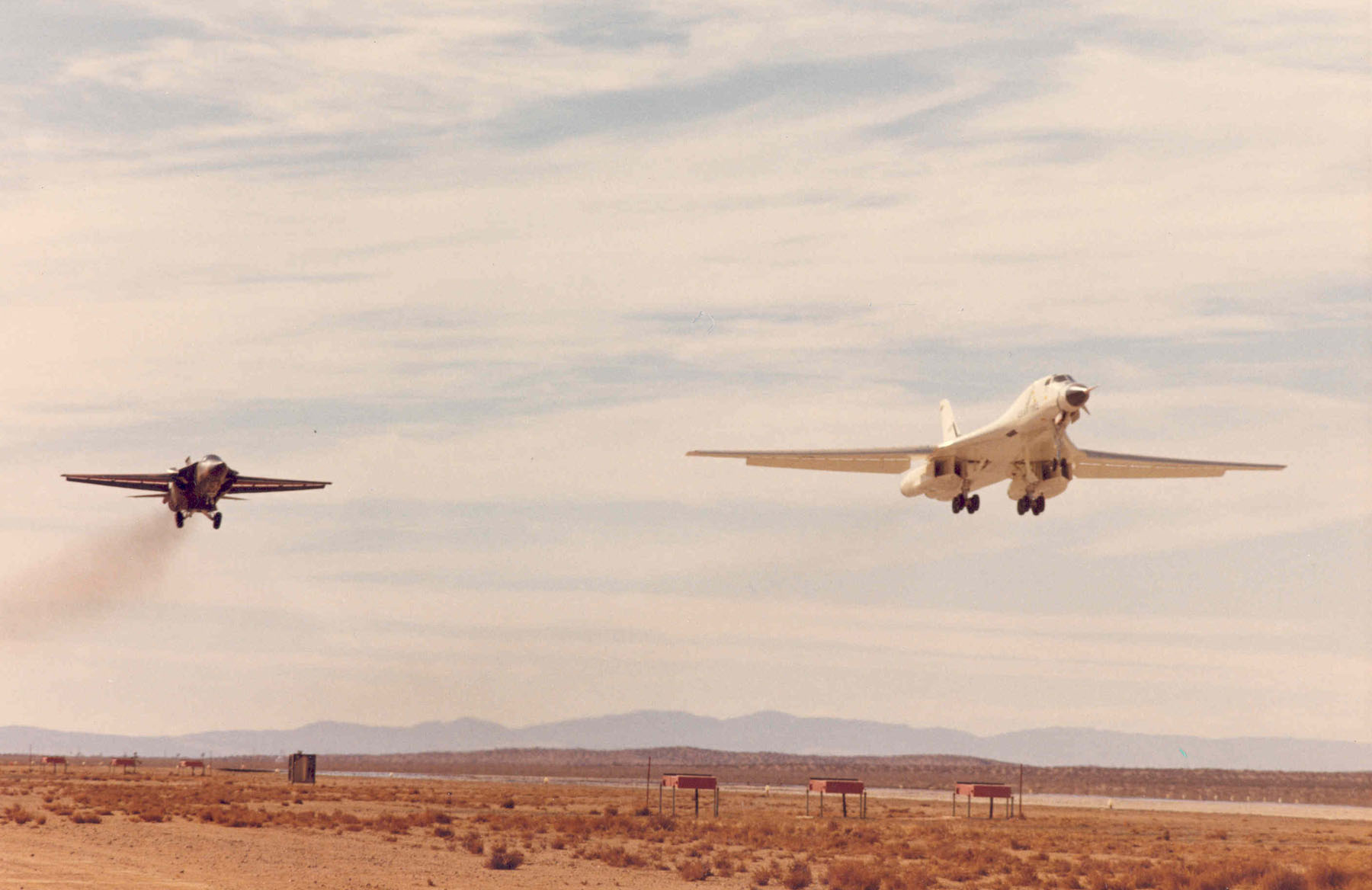 The Rockwell International B-1A Lancer was designed to operate with a flight crew of four. It was 150 feet, 2.5 inches (45.784 meters) long. With the wings fully swept, the span was 78 feet, 2.5 inches (23.838 meters), and extended, 136 feet, 8.5 inches (41.669 meters). The tip of the vertical fin was 33 feet, 7.25 inches (10.243 meters) high. The wings have an angle of incidence of 2°,  with 1° 56′ anhedral and -2° twist. The leading edges were swept to 15° when extended, and 67½°, fully swept. The total wing area is 1,946 square feet (180.8 square meters).
The empty weight of the B-1A was approximately 173,000 pounds (78,472 kilograms). The maximum takeoff weight was 389,800 pounds (176,810 kilograms), but once airborne it could take on additional fuel up to a maximum weight of 422,000 pounds (191,416 kilograms).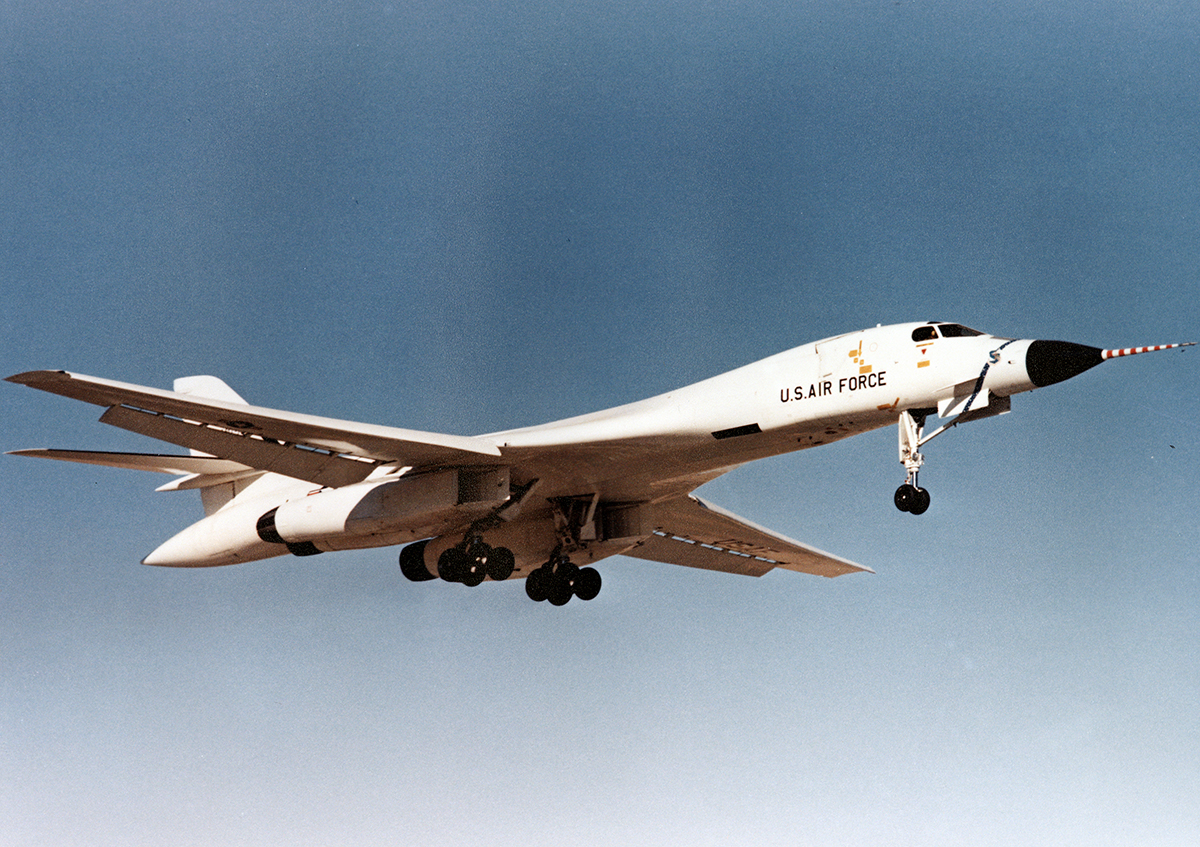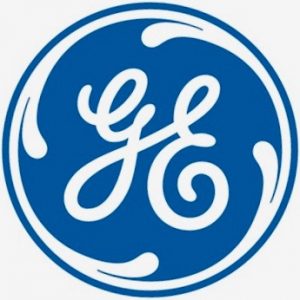 The Lancer was powered by four General Electric F101-GE-100 afterburning turbofan engines. This is an axial-flow engine with a 2-stage fan section, 9-stage compressor and 3-stage turbine (1 high- and 2 low-pressure stages). It is rated at 16,150 pounds of thrust (71.839 kilonewtons), and 29,850 pounds (132.779 kilonewtons) with afterburner. The F101-GE-100 is 15 feet, 0.7 inches (4.590 meters) long, 4 feet, 7.2 inches (1.402 meters) in diameter, and weighs 4,165 pounds (1,889 kilograms).
The bomber's maximum speed was 1,262 knots 1,452 miles per hour/2,337 kilometers per hour)—Mach 2.2—at an optimum altitude of 53,000 feet (16,154 meters), its combat ceiling. The B-1A's combat range was 5,675 nautical miles (6,531 statute miles/10,510 kilometers) The maximum ferry range was 6,242 nautical miles (7,183 statute miles/11,560 kilometers).
The B-1A was designed to carry 75,000 pounds (34,019 kilograms) of bombs in an internal bomb bay. It could carry a maximum of 84 MK-82 conventional explosive bombs. For a nuclear attack mission, the Lancer could carry 12 B43 free-fall bombs, or 24 B61 or B77 bombs. For a stand-off attack, the bomber could carry 24 AGM-69 SRAM (Short Range Attack Missile) nuclear missiles.
Each of the four prototypes served its own role during testing. 74-0158 was the flight evaluation aircraft.
By the time that the B-1A program was cancelled, 74-0158 had made 79 flights totaling 405.3 hours. It was dismantled and used for weapons training at Lowry Air Force Base, Colorado.
© 2018, Bryan R. Swopes