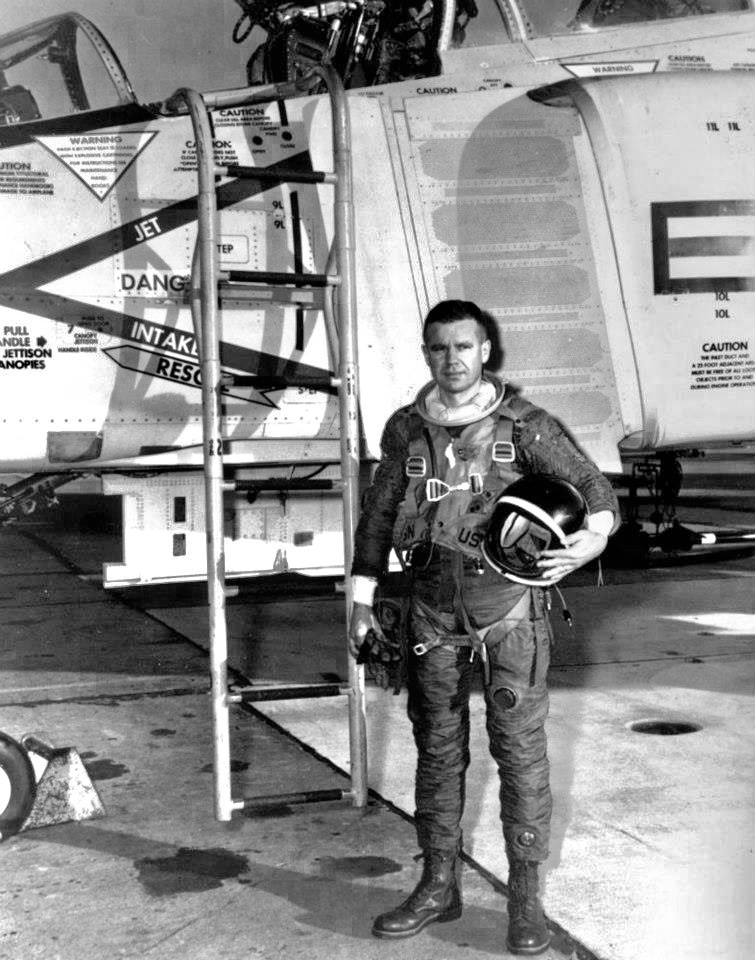 22 November 1961: In recognition of the 50th Anniversary of Naval Aviation, a number of speed and altitude record attempts were planned, using the U.S. Navy's new McDonnell YF4H-1 Phantom II fighter. On the morning of 22 November, Lieutenant Colonel Robert Bradford Robinson, Jr., United States Marine Corps, took off from Edwards Air Force Base on Operation Skyburner, an attempt to set a new World Absolute Speed Record. He was flying the second Phantom II built, Bu. No. 142260.
The Phantom carried three external fuel tanks for this flight. It had a 600-gallon (2,271.25 liter) centerline tank and two 370-gallon (1,400.6 liter) wing tanks. Robinson flew southeast toward NAS El Centro, then turned back to the northwest. Over the Salton Sea, he began to accelerate the YF4H-1 to build up speed for the record run over a measured twenty-mile course back at Edwards AFB. The Phantom's two General Electric J79-GE-3A afterburning turbojets used a tremendous amount of fuel at full throttle and the centerline fuel tank was quickly emptied. Robinson jettisoned the empty tank over the Chocolate Mountain gunnery range. Continuing to accelerate, the two wing tanks were next jettisoned as they ran dry, this time at Bristol Dry Lake.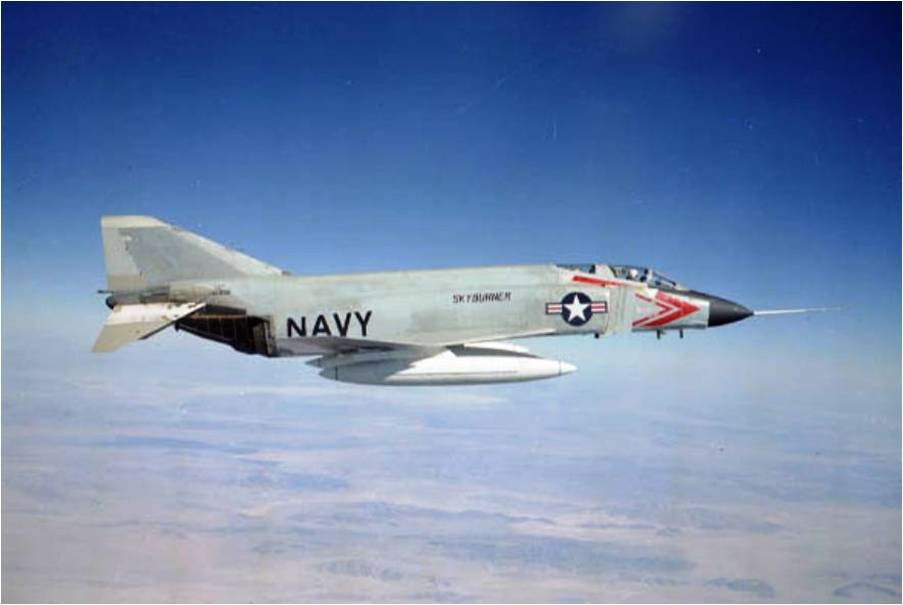 The Phantom entered the east end of the speed course in full afterburner. Having burned off more than 1,300 gallons of fuel, 142260 was much lighter now, and aerodynamically cleaner after dropping the external tanks. Robinson exited the west end of the 20-mile (32.2 kilometer) course in less than one minute.
Fédération Aéronautique Internationale rules require that a speed record must be made with two passes in opposite directions. The average speed of the two runs is the record speed. The Phantom was flying so fast that it covered another 105 miles (169 kilometers) before it could turn around. During the turn, it was still traveling at 0.9 Mach.
Robinson again put the engines in afterburner as he approached the course from the west. On the second run, the fighter was even lighter and its recorded speed was more than 1,700 miles per hour (2,736 kilometers per hour). The average of the two runs was calculated at 2,585.425 kilometers per hour (1,606.509 miles per hour.) This was the new FAI Absolute World Speed Record.¹
For his accomplishment, Lieutenant Colonel Robinson was awarded the Distinguished Flying Cross by Secretary of the Navy John B. Connally. The presentation took place on 25 November 1961 at Newport News, Virginia, during the commissioning of USS Enterprise CVA(N)-65.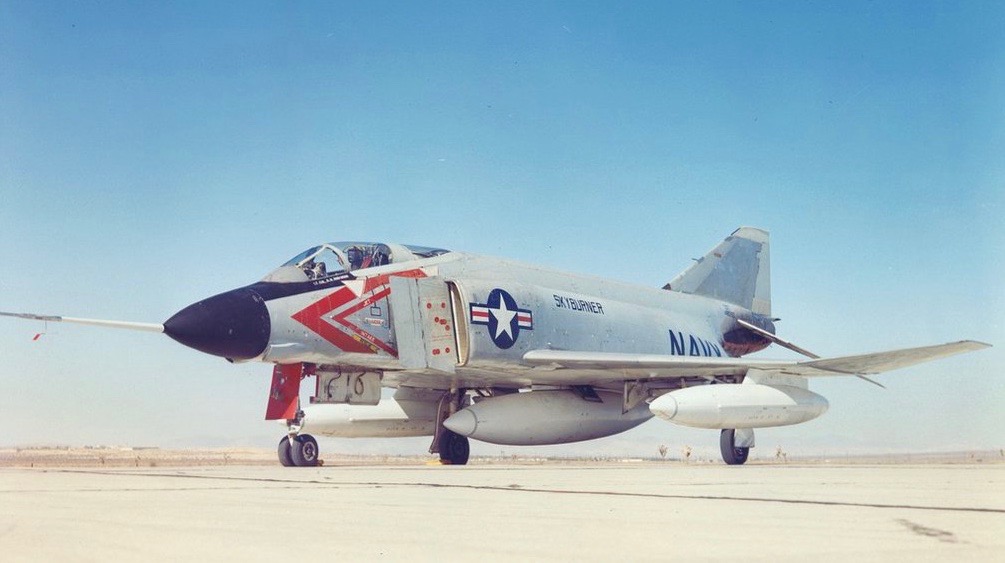 In the next few weeks, the same YF4H-1 would establish a world record for sustained altitude—20,252 meters (66,444 feet).² Two years earlier, 6 December 1959, in Operation Top Flight, 142260 had established a world record for absolute altitude when it zoom-climbed to 98,557 feet (30,040 meters).³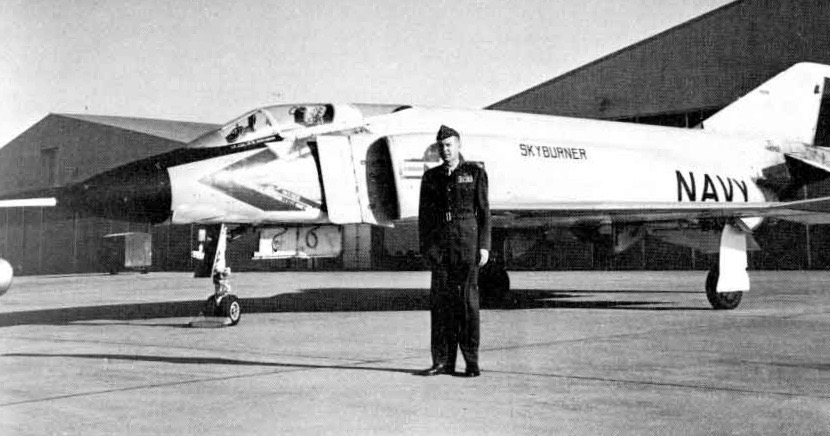 Robert Bradford Robinson, Jr., was born at Orange, California, 22 October 1923. He was the second of four children of Robert Bradford Robinson, a U.S. Postal Service mail carrier, and Golda Leutha Nordeen Robinson.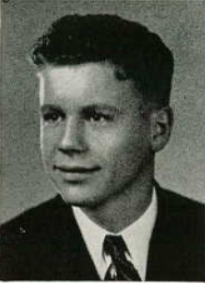 Bob Robinson attended Orange Union High School, graduating in 1941. He participated in all varsity sports, and was selected to attend the Boys' State leadership program. He earned a bachelor of science degree at Washington University, St. Louis, Missouri.
Robinson entered the United States Marine Corps on 26 August 1942. He received the wings of a Naval Aviator and was commissioned as a second lieutenant on 1 December 1943.
2nd Lieutenant Robinson married Miss Lavonne Jean David at Nueces, Texas, 23 December 1943. They would later have a son, Robert Bradford Robinson III (and a grandson, Robert Bradford Robinson IV)
During the Battle of Okinawa, Lieutenant Robinson flew the radar-equipped Grumman F6F-3N Hellcat night fighter with VMF(N)-543.
Lieutenant Robinson was promoted to the rank of first lieutenant, 31 March 1945. Following World War II, Lieutenant Robinson was assigned to VMF-311, and became one of the first Naval Aviators to qualify in turbojet-powered aircraft. The squadron initially flew the Lockheed TO-1 Shooting Star (P-80), and later transitioned to the Grumman F9F Panther.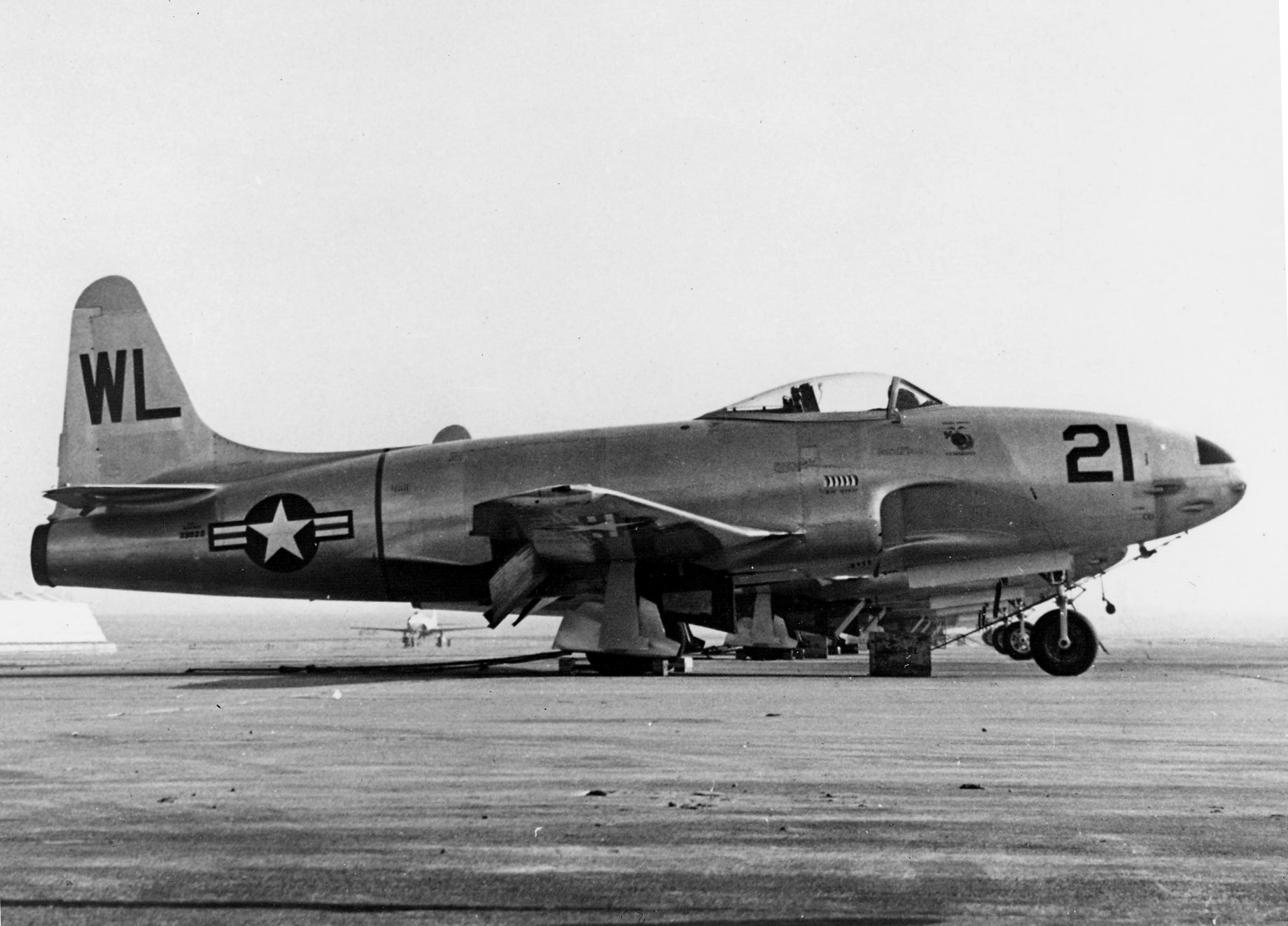 Lieutenant Robinson was promoted to the rank of captain 1 April 1950. VMF-311 was sent to the Korean war zone in November 1950, initially operating from Yokosuka Air Base in Japan. The squadron flew close air support missions in support of the amphibious assault of Inchon, and at the Battle of the Chosin Reservoir. Captain Robinson returned to night fighter operations when he joined Marine All-Weather Squadron 513 (VMF(N)-513) on 13 January 1951. The unit which was equipped with Grumman F7F-3N Tigercats and Chance Vought F4U-5N Corsairs.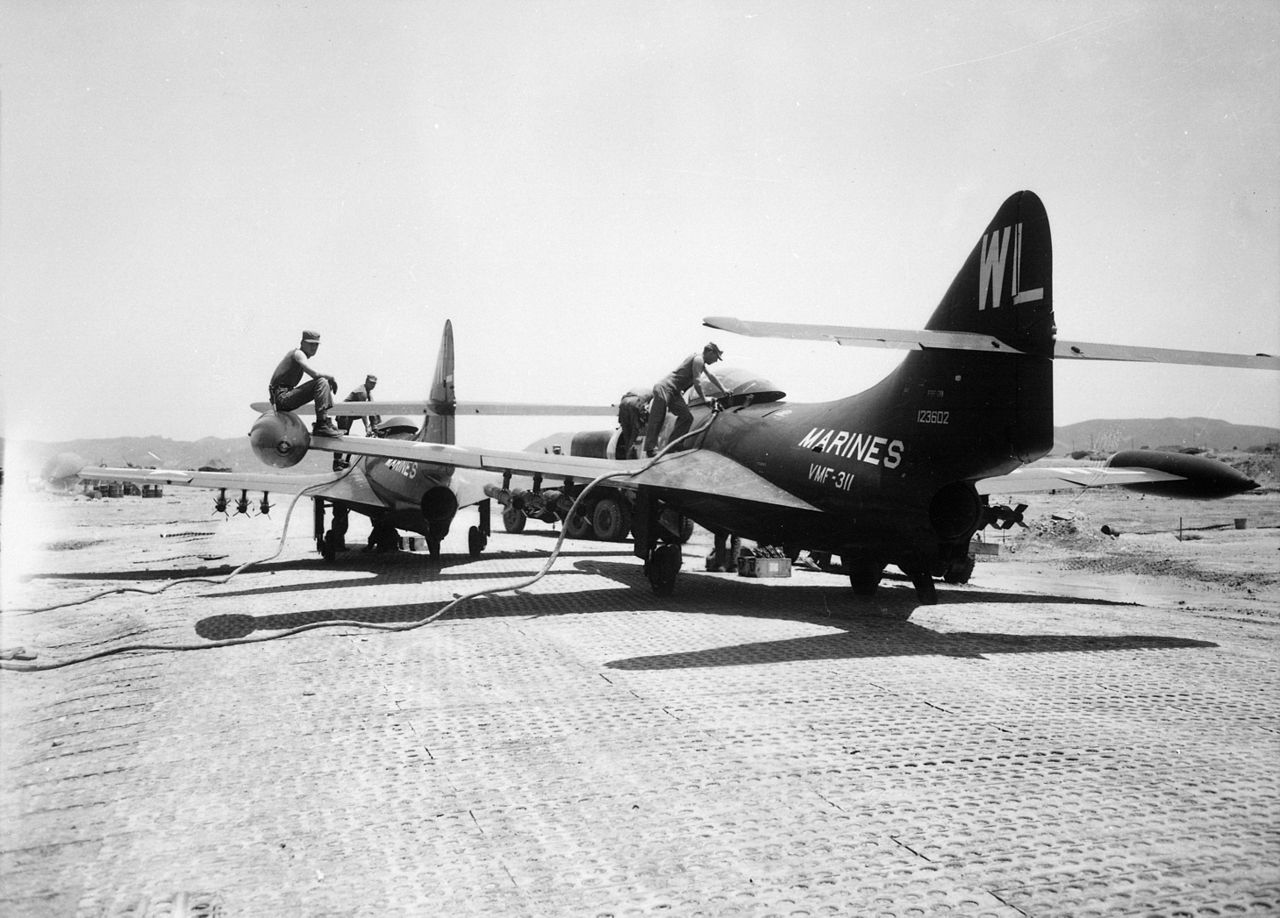 Captain Robinson was promoted to the rank of major, 31 December 1954. He completed the six-month course at the Naval Test Pilot School, NAS Patuxent River, Maryland, graduating in March 1959 (Class 21).
In 1963, Lieutenant Colonel Robinson retired from the Marine Corps after 20 years' service. He was then employed as a test pilot for the McDonnell Aircraft Corporation at St. Louis, Missouri. He remained with the company for 30 years.
Mrs. Robinson died 7 February 1997, after 53 years of marriage. Bob Robinson later married Mrs. Julian Brady (née Elizabeth Catchings), the widow of a long-time friend.
Robert Bradford Robinson, Jr., died 28 September 2005 at McComb, Mississippi. He was buried at the Hollywood Cemetery in McComb.
¹ FAI Record File Number 9060
² FAI Record File Number 8535
³ FAI Record File Number 10352
© 2018, Bryan R. Swopes