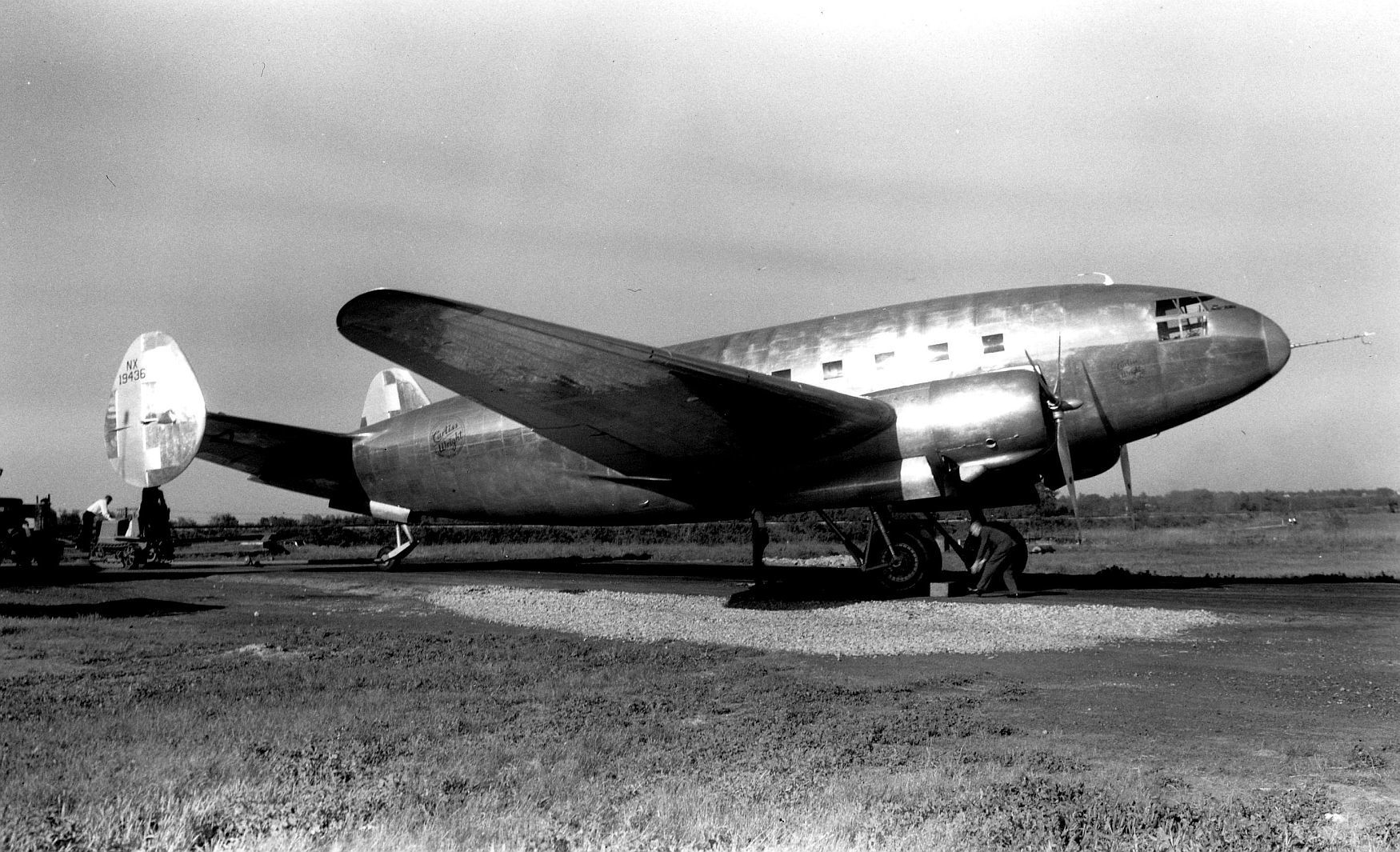 26 March 1940: At Lambert–St. Louis Municipal Airport, just to the west of the Mississippi River in the state of Missouri, test pilots Edmund Turney Allen and Dean Cullen Smith took the prototype Curtiss-Wright CW-20T, NX19436, for its first flight.
BIMOTORED GIANT READY FOR TESTS
Curtiss-Wright Substratosphere Plane Works Smoothly in Takeoff

By DEVON FRANCIS
Associated Press Aviation Editor.
     ST. LOUIS, March 27.—The world's first bi-motored transport plane designed and powered to eliminate the hazard attending the failure of one engine on takeoff was made ready for two months or more of flight-testing today before being offered to commercial airlines.
     The 19-ton, 36-passenger Curtiss-Wright substratosphere transport was engineered to permit one engine to go dead at any point on the take-off as a pilot climbs for altitude and still maintain safe flight.
     Each of its engines produces 1700 horsepower. The largest engines ever to be fitted to a transport plane heretofore have been of 1500 horsepower. Either one of the new transport's engines will carry it to an altitude of 13,000 feet.
     Fastened to the 108-foot wing with rubber cushions to produce what Curtiss-Wright engineers described as "dynamic balance," the engines transmit only about 50 per cent of the normal vibration to the cabin of the plane.
     C, s/n 101. W. France, vice president and general manager of the St. Louis airplane division of the company, yesterday witnessed the maiden take-off of the transport from the ground. Then he climbed to the control tower of the St. Louis municipal airport for an innovation in airplane testing.
     France called the test pilot, Eddie Allen of Seattle, on the tower radiophone.
     Dean Smith, co-pilot, answered.
     "Dean," he said, "that looked grand. Congratulations."
     "O. K.," replied Smith, "I'll tell Eddie."
     A little later Allen brought the huge plane into a smooth landing. He remarked that the plane had flown 190 miles an hour on only 30 per cent of its power. Transports usually cruise at 50 to 55 per cent.
     The additional testing will be for an approved type certificate from the government.
—Buffalo Evening News, Vol. CXIX, No. 142, Wednesday, 27 March 1940, Page 18, Column 3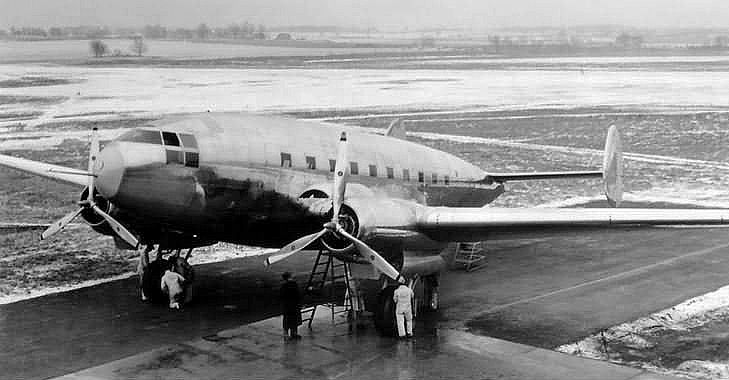 The Curtiss-Wright CW-20T, NX19436, (manufacturer's serial number 101) was a prototype twin-engine commercial airliner designed by George Augustus Page, Jr. Originally built with a twin-tail configuration, flight testing resulted in a change to a single, large vertical fin and rudder. Designed to be pressurized, the fuselage had a Figure 8 cross section, with the cabin floor at the narrowest point for increased strength. In this prototype, the fuselage was faired over to provide a smooth, more cylindrical shape. Considerable wind tunnel testing had been performed by CalTech in Pasadena, California, resulting in a very sleek nose section.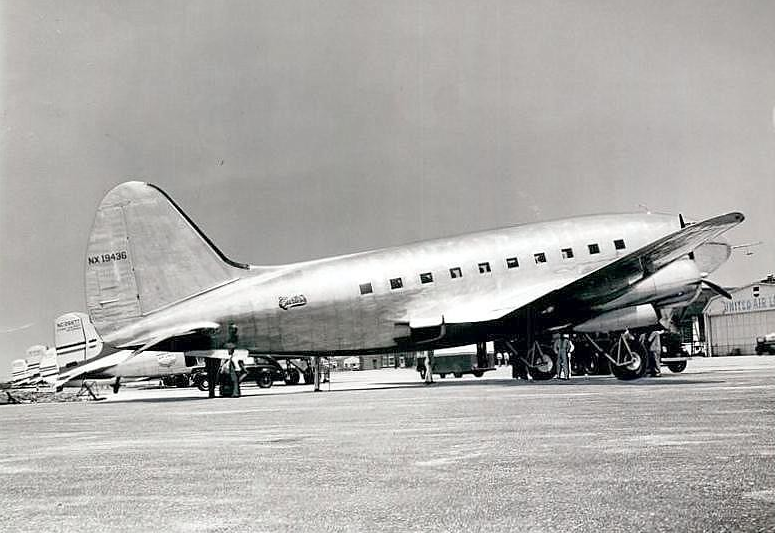 On 20 June 1941, the United States Army Air Forces ¹ purchased the CW-20T and designated it as the Curtiss C-55, serial number 41-21041. It would become the prototype of the C-46 Commando military transport. The Army Air Forces returned the C-55 to Curtiss-Wright for modifications.
The CW-20T was 76 feet, 4 inches (23.266 meters) long with a wingspan of 108 feet, 0 inches (32.918 meters). It was powered by two air-cooled, supercharged, 2,603.7-cubic-inch-displacement (42.688 liters) Wright Aeronautical Corporation Cyclone 14 GR2600A5B-5 (R-2600-17A) two-row, 14-cylinder radial  engines, driving three-bladed Curtiss Electric C-533-D controllable-pitch propellers through a 16:9 gear reduction. This engine had a compression ration of 6.9:1 and required 100/130 aviation gasoline. It was rated at 1,500 horsepower at 2,400 r.p.m., and 1,700 horsepower at 2,500 r.p.m. It was 5 feet, 3.1 inches (1.603 meters) long, 4 feet, 6.26 inches (1.378 meters) in diameter and weighed 1,980 pounds (898 kilograms). Only four of these engines were built.
NX14936 was sold to the British Overseas Airways Corporation (BOAC) in September 1941 and registered in the United Kingdom as G-AGDI. The airline named it St. Louis. It was converted to a 24-passenger configuration with long-range fuel tanks. It frequently flew between Lisbon, Gibraltar and Malta. The airplane was scrapped 29 October 1943.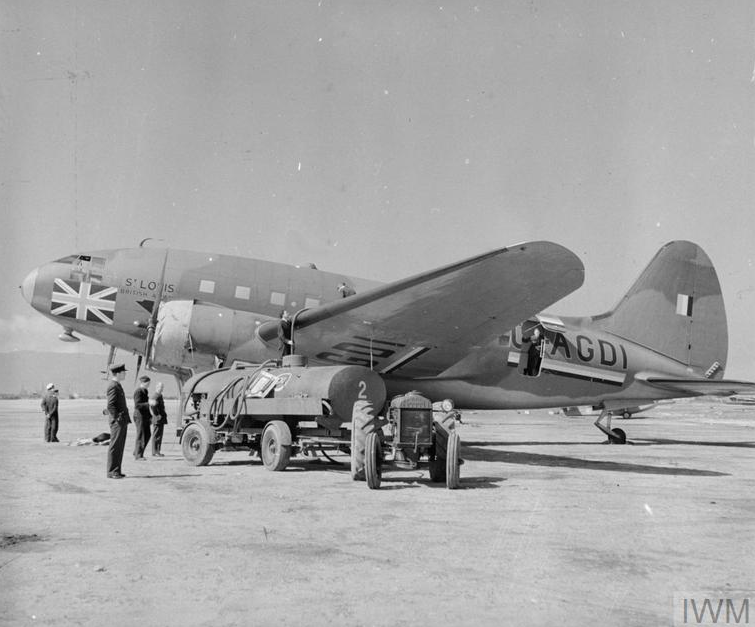 After the necessary redesign, which included a large cargo door and strengthened floor, and the substitution of 2,000 horsepower Pratt & Whitney R-2800-51 engines for the Wright Cyclone 14s of the C-55, the Army Air Forces ordered the airplane into production as the C-46A-CU Commando. An order was placed for 200 aircraft. The U.S. Navy placed 160 in service as the R5C-1. Curtiss-Wright built the C-46 at St. Louis and Buffalo, New York. The first, 41-5159, was delivered 13 July 1942. More than 3,000 C-46s were built in nearly 30 variants. Two C-46A-1-HI Commandos were built by Higgins Aircraft at Michoud, Louisiana.
Like the CW-20T, the C-46A/R5C-1 was also 76 feet, 4 inches (23.266 meters) long with a wingspan of 108 feet, 0 inches (32.918 meters) and overall height of 21 feet, 8 inches (6.604 meters). The wing area was 1,360 square feet (126.35 square meters). It had an empty weight of 30,241 pounds (13,717 kilograms) and maximum take off weight of 52,000 pounds (23,586 kilograms). The maximum payload was 10,000 pounds (4,536 kilograms). The maximum package size was 7 feet, 6 inches × 5 feet × 6 feet, 8 inches (2.286 × 1.524 × 2.032 meters).
The C-46A was powered by two air-cooled, supercharged, 2,804.4-cubic-inch-displacement (45.956 liter), Pratt & Whitney R-2800-51 two-row, 18-cylinder radial engines with a compression ratio of 6.65:1. They drove three-bladed propellers through a 2:1 gear reduction. These engines had a Normal Power rating of 1,600 horsepower at 2,400 r.p.m. at 5,700 feet (1,737 meters), or 1,400 horsepower at 13,000 feet (3,962 meters). The Military Power rating was 2,000 horsepower at 2,700 r.p.m. at 1,500 feet (457 meters), or 1,600 horsepower at 13,500 feet (4,115 meters). Takeoff power was 2,000 horsepower at 2,700 r.p.m. The R-2600-51 was 6 feet, 3.72 inches (1.923  meters) long, 4 feet, 4.50 inches (1.335 meters) in diameter, and weighed 2,300 pounds (1,043 kilograms). All R-2600-51s were built by the Ford Motor Company.
The C-46A had a maximum speed of 233 knots (268 miles per hour/432 kilometers per hour) at 16,100 feet (4,907 meters). Its service ceiling was 20,600 feet (6,279 meters). With a fuel capacity of 3,000 gallons (11,356 liters), the maximum range was 1,960 nautical miles (2,256 statute miles/3,630 kilometers) at 121 knots (139 miles per hour/224 kilometers per hour).
During World War II, the C-46 famously flew "The Hump," from bases in Burma, over the Himalaya Mountains, and into China.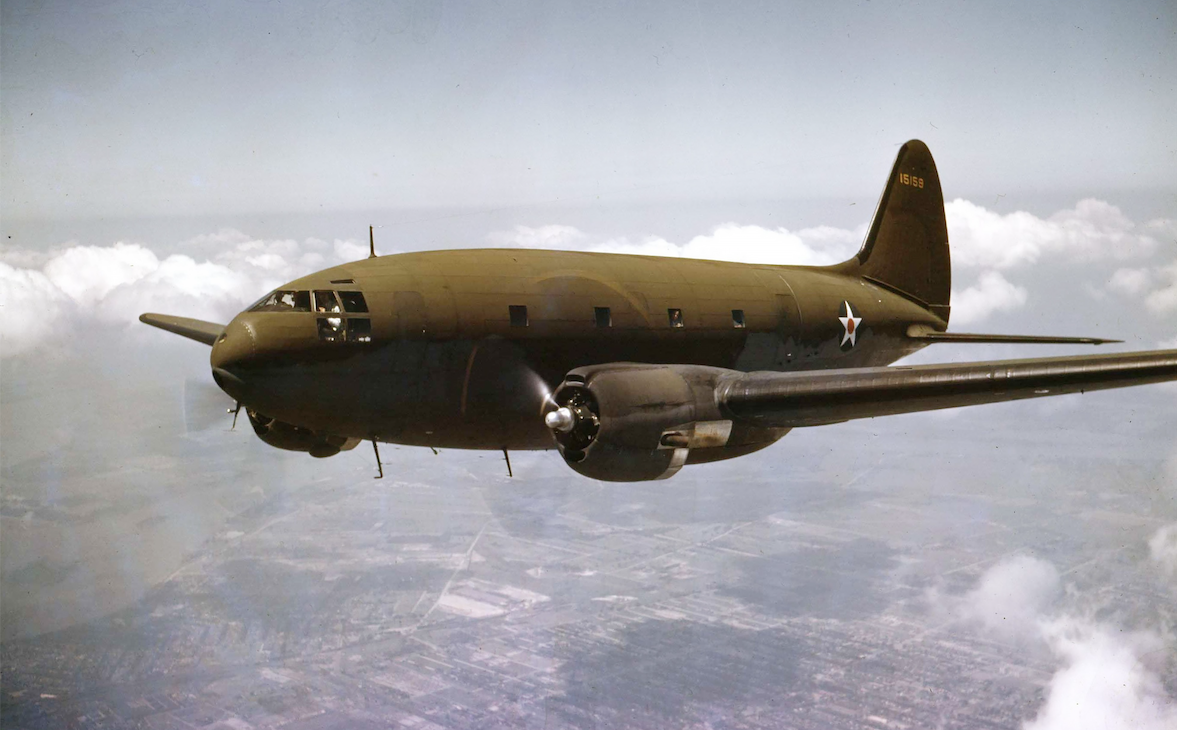 ¹ The United States Army Air Corps (USAAC) became the United Army Air Forces (USAAF) on 20 June 1941.
© 2023, Bryan R. Swopes