9 January 1914:¹ Georgia Ann ("Tiny") Broadwick was the first woman to parachute from an airplane in flight. She dropped from an airplane flown by Glenn L. Martin at 2,000 feet (607 meters) over Griffith Park, Los Angeles, California.
A Los Angeles Times reporter, Bonnie Glessner, was also on board. She wrote:
     When she was ready to drop, Martin touched my shoulder. I faced about and turned my eyes on the face of a child. She was clambering over the side of the machine. Once over, she clung tenaciously, her eyes fixed on Martin, who was just then looking over the side of the airplane.
     The signal came while he watched below. Just the slight movement of his hand, but the girl understood, and her lips formed a 'good-by.'
     Smiling at me, Tiny stepped off into space, not even a tremor of the machine showing she was gone.
—The Los Angeles Times, Vol. XXXIII, Saturday, 10 January 1914, Section II, Page 3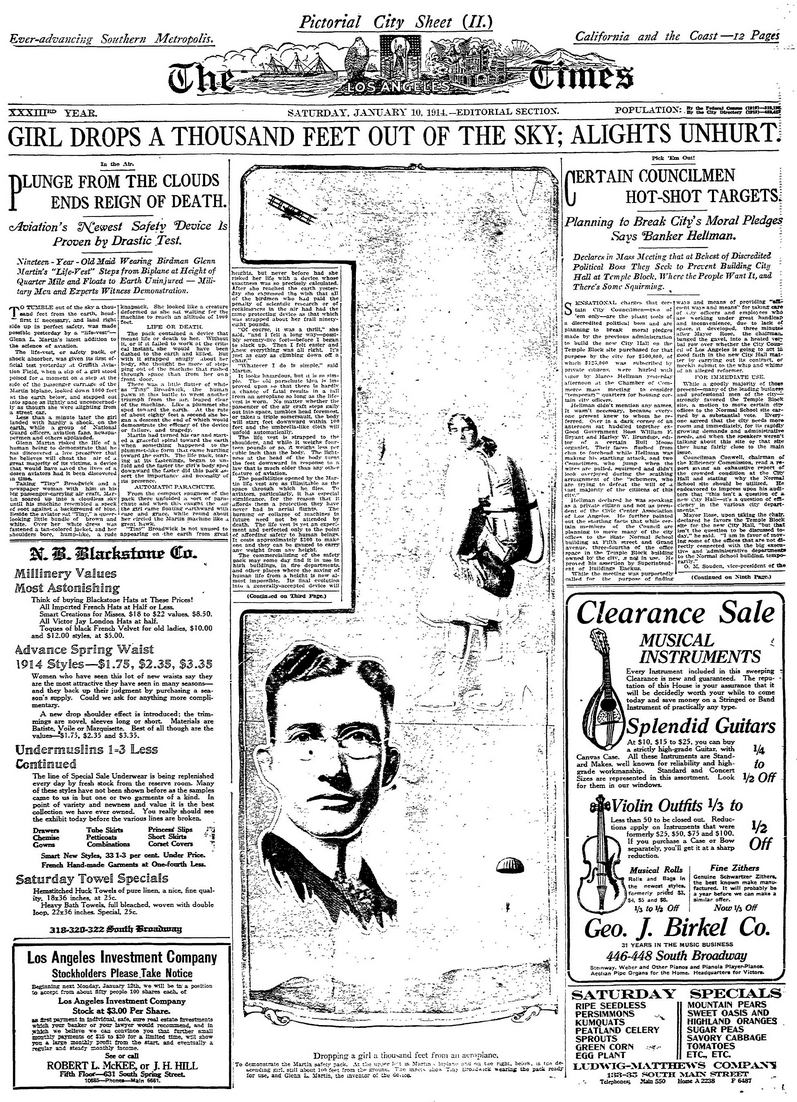 Over the next several years she demonstrated the use of parachutes to the military, and is credited with making the first intentional free-fall descent. By the time she stopped jumping in 1922, Miss Broadwick had made over 1,100 parachute jumps.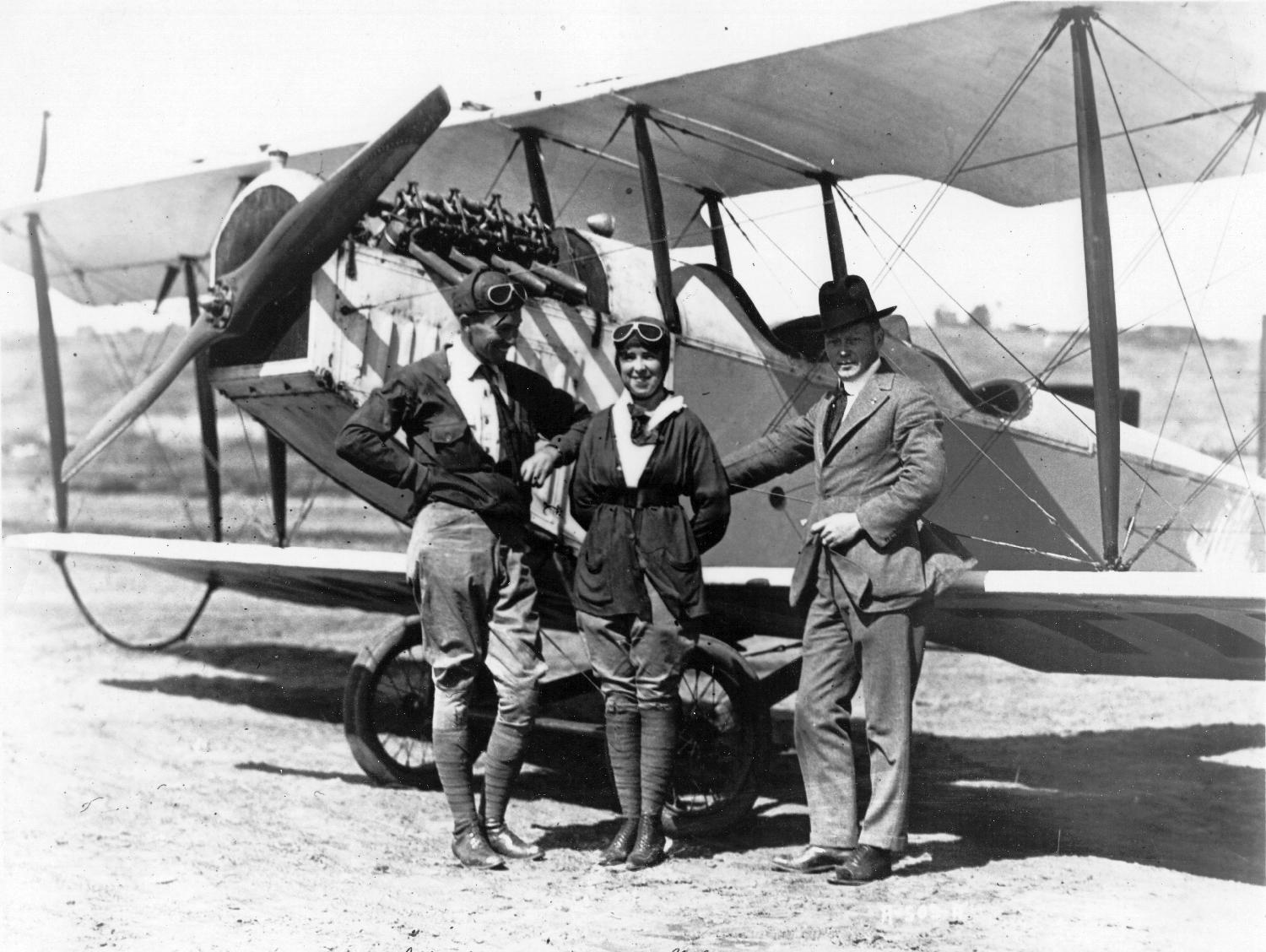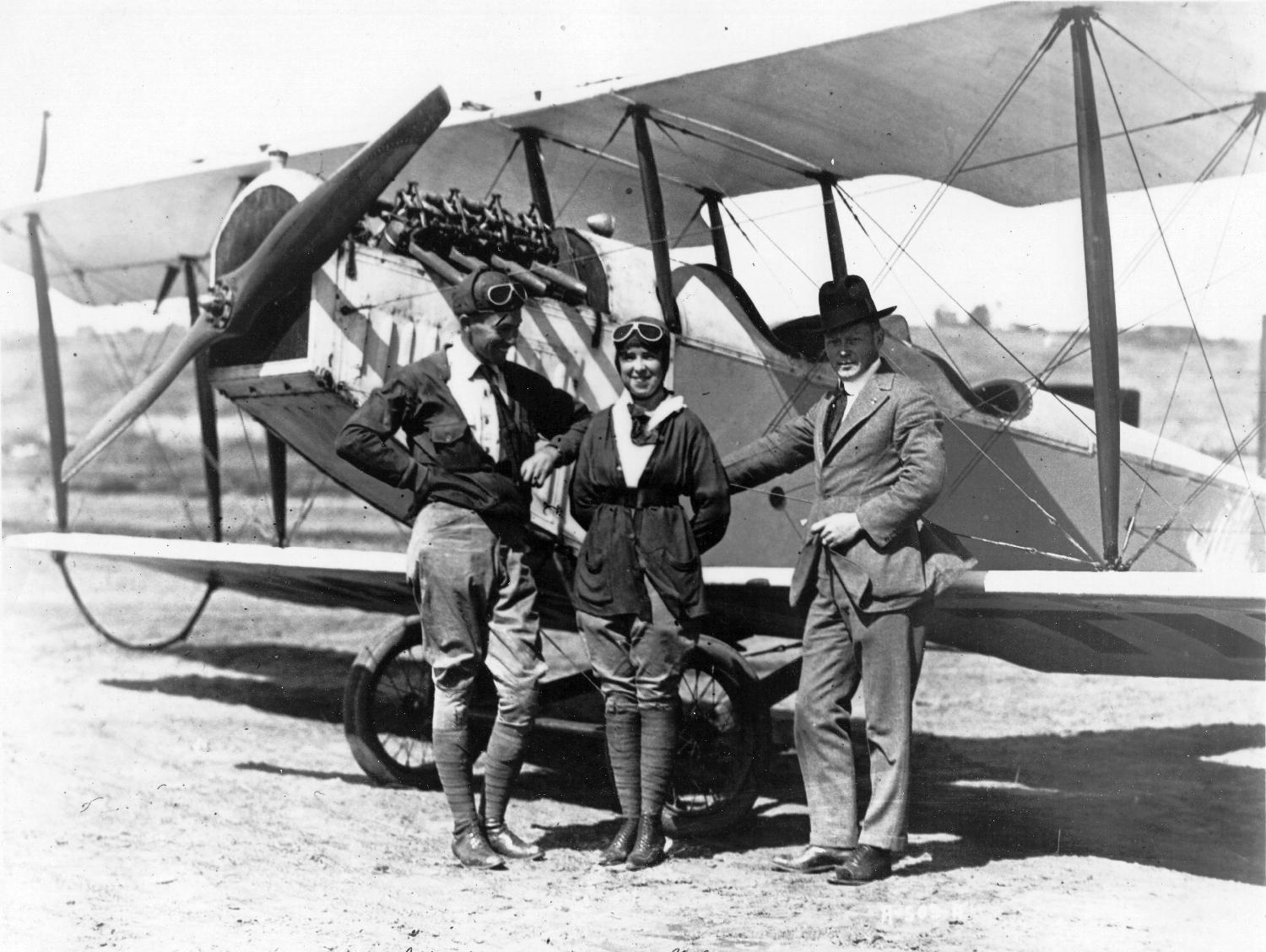 Georgia Ann Thompson was born 8 April 1893 in Granville County, North Carolina, the third daughter of George R. Thompson, a cotton mill oiler, and Emma Ross. She had two older sisters, Hattie and Florence.
Georgia was nicknamed "Tiny" because of her small stature. In a 1963 interview by Ben Runkle for WRAL-TV, Raleigh, North Carolina, she said she was "about 5 feet."
On 31 July 1905, at the age of 12 years, Miss Thompson was married to William Alsie Jacobs of Durham County, North Carolina, a cotton mill worker who was twice her age. They had one daughter, Verla. They soon were divorced. Mrs. Jacobs supported herself and Verla by working in a cotton mill. (Alsie Jacobs remarried circa 1918. He was killed 15 April 1929 when he was struck by a car in Tarboro, North Carolina.)
In 1908, Georgia saw Charles Broadwick's hot air balloon show at a local fair. She soon joined the act, billed as "Tiny Broadwick," and made jumps from the balloon using a parachute of Broadwick's design. Charles Broadwick (née John Murray) invented the back-pack-type parachute and static line deployment.
Almost every available source states that Georgia was "adopted" or "fostered" by Broadwick. According to information in the 1910 United States Federal Census, however, she was not his daughter, adopted or otherwise, but Mrs. Broadwick. They lived on Garden Street, Elberton, Georgia. Charles M. Broadwick is listed as the head of the household, and she is listed as his wife. Both gave their occupation as "aeronaut," working in the balloon industry. The census reports that they had been married for 3 years.
Tiny was badly injured at Knoxville, Tennessee, 21 May 1910, when her parachute was carried by winds, dropping her on top of a two-story building. She slid off the roof and fell to the ground, breaking her left arm and sustaining other injuries.
Georgia married Andrew Olsen, a sailor, in 1912. They divorced four years later. In 1916 Tiny married Harry Brown, who worked for the the bus transportation company that would become Greyhound Lines. He died in 1930.
Georgia Thompson Brown died 25 Aug 1978 at St. Mary Medical Center, Long Beach, California. She was buried at Sunset Garden Memorial Cemetery, Henderson, North Carolina (Georgia T. Brown).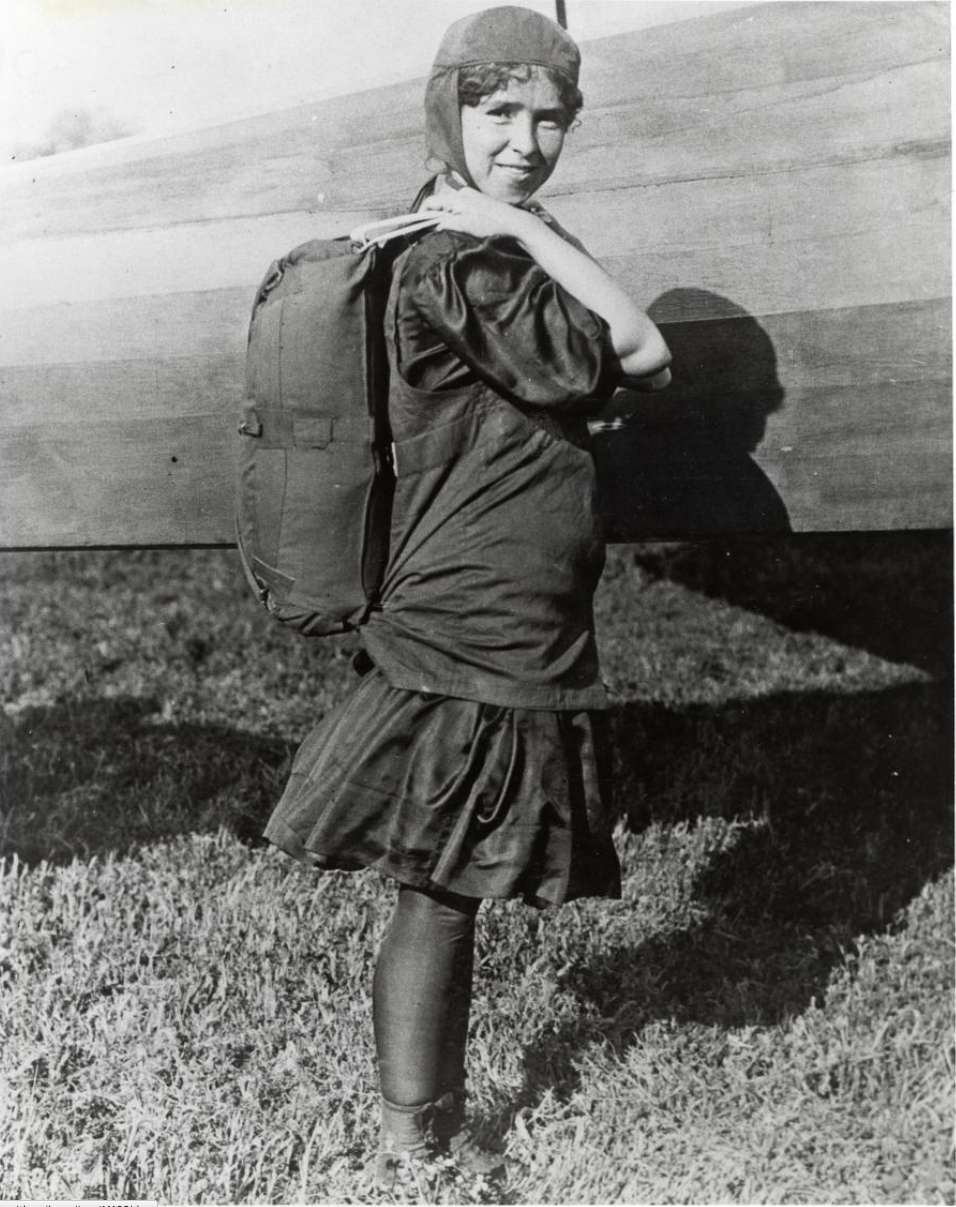 ¹ The date of this event is often erroneously cited as 20 or 21 June 1913. Please refer to "Rewriting History", by Larry Harnsich, The Daily Mirror, 28 July 2007 (https://web.archive.org/web/20170815181944/http://latimesblogs.latimes.com/thedailymirror/2007/07/rewriting-histo.html) for an explanation.
© 2019, Bryan R. Swopes