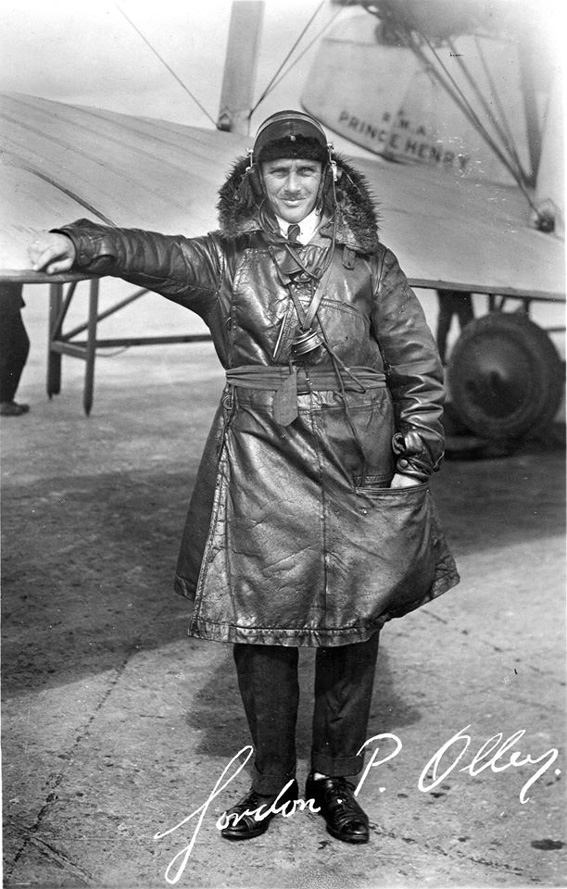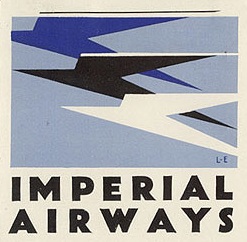 15 June 1928: Imperial Airways' Captain Gordon P. Olley flew an Armstrong Whitworth A.W.154 Argosy Mk.I, G-EBLF, City of Glasgow, with 18 passengers aboard, from Croydon to Edinburgh Turnhouse in a race with the London and North Eastern Railways' famed Class A-1 Flying Scotsman. The apple green steam-powered 4–6–2 Pacific-type locomotive pulled the world's fastest passenger train in express service from London, England, to Glasgow, Scotland.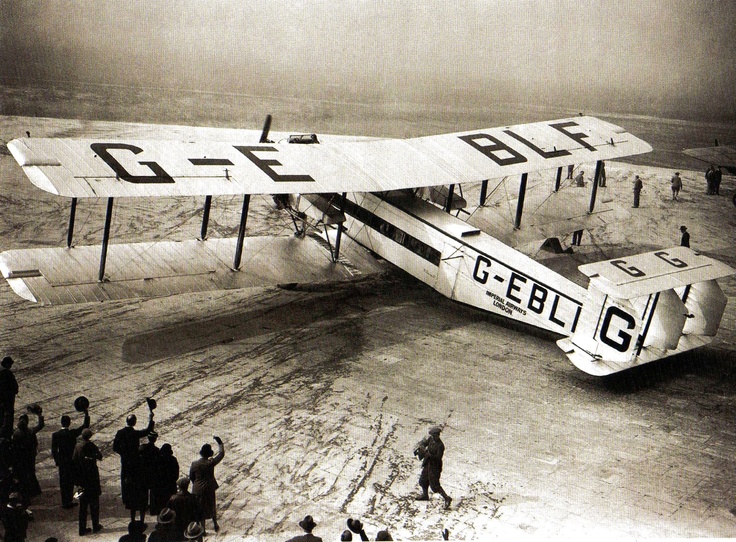 Flight reported:
Train v. Aeroplane
     A novel "stunt" was carried out on June 15 when a simultaneous journey was made from London to Edinburgh by train and aeroplane—the "Flying Scotsman" and the Imperial Airways Armstrong-Whitworth air liner "City of Glasgow" respectively. After breakfast at the Savoy Hotel, the two parties of travellers proceeded to their respective points of departure—King's Cross and Croydon. Train and aeroplane both departed at the same time, 10 a.m., the "City of Glasgow" being piloted by Capt. G. P. Olley, who was accompanied by Mr. J. Birkett, aged 79, a retired L.N.E.R. engine driver, Air Vice-Marshal Sir Vyell Vyvyan and Maj. Brackley. Capt. G. P. Jones, Imperial Airways pilot, was a passenger on the train! The "City of Glasgow" flew via the East Coast, and made stops at Bircham, Newton, and Cramlington; it arrived at Turnhouse Aerodrome, Edinburgh, 15 minutes before the "Flying Scotsman" reached Waverley Station.
—FLIGHT The Aircraft Engineer & Airships, No. 1017. (No. 25 Vol. XX.), 21 June 1928, at Page 464, Column 2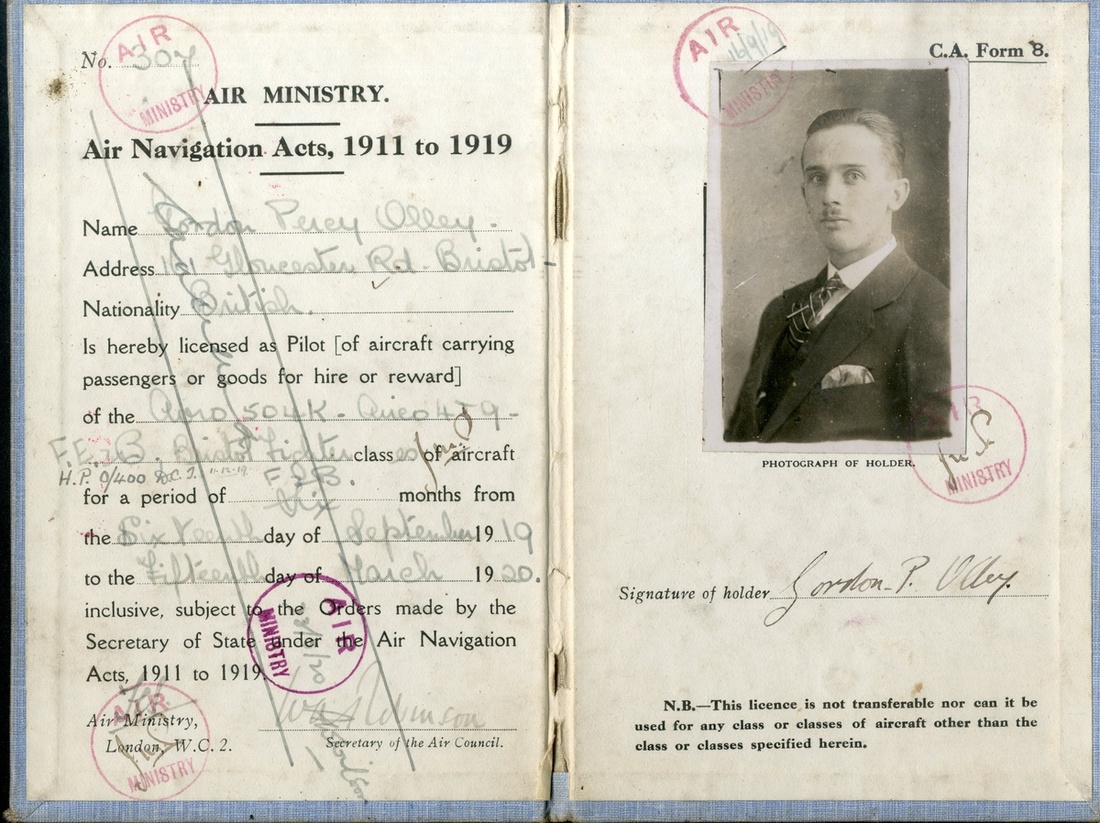 Gordon Percy Olley had been an aircraft mechanic during World War I, then became an observer. He was next trained as a fighter pilot flying Nieuport 17 and 27 fighters and is credited with 10 aerial victories between 1 June and 14 October 1917. He was awarded the Military Medal for bravery, and commissioned as a second lieutenant in the Royal Flying Corps. After the War he became a civil aviator. Olley was the first pilot to have logged more than 1,000,000 air miles (1,609,344 kilometers).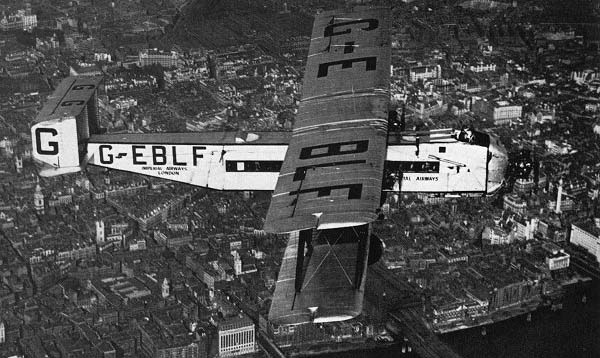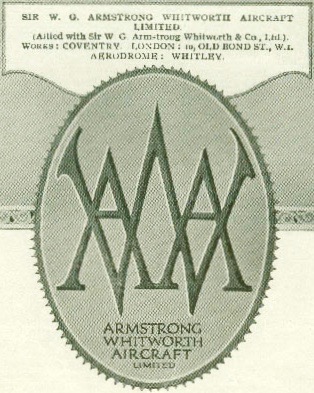 City of Glasgow was the first of three Argosy Mk.I airliners built by Sir W. G. Armstrong Whitworth Aircraft Limited for Imperial Airways. It made its first flight 16 May 1925. A three-engine, three-bay biplane, it was 65 feet (19.812 meters) long and had a wingspan of 90 feet, 7½ inches (27.623 meters). The total wing area was 1,886 square feet (175.2 square meters). Its maximum takeoff weight was 19,200 pounds (8,709 kilograms). The Argosy was described as an "exceptionally comfortable airplane to fly in. . ."

The Argosy Mk.I was powered by three air-cooled, Normally-aspirated 1,511.89-cubic-inch-displacement (24.775 liter) Armstrong Siddeley Jaguar Series IIIA two-row 14-cylinder radial engines, rated at 385 horsepower at 1,700 r.p.m., and 425 horsepower at 1,900 r.p.m. The direct-drive engines turned two-bladed propellers.
The Argosy had a cruising speed of 90–95 miles per hour (145–153 kilometers per hour) and maximum speed of 110 miles per hour (177 kilometers per hour). Its maximum range was 400 miles (644 kilometers).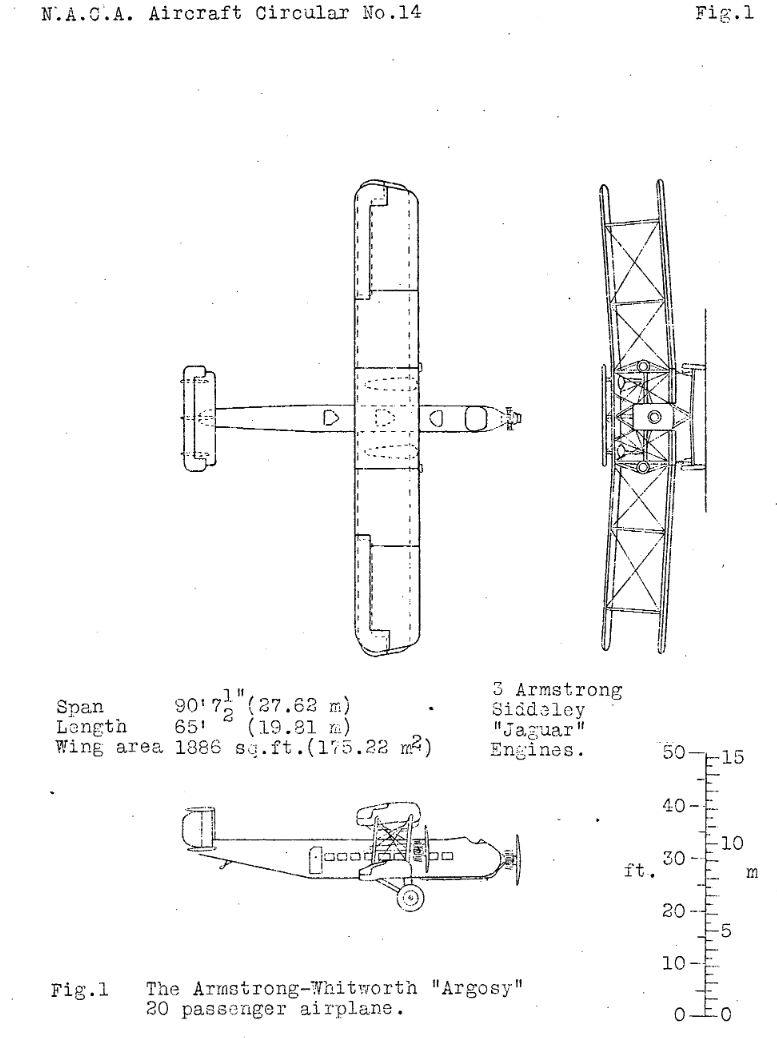 During the airliner-vs.-passenger train race, the Argosy made three refueling stops which required a total of 1 hour, 24 minutes. Captain Olley and his airliner completed the 390-mile (627.6 kilometer) journey approximately 15 minutes faster than the train.
City of Glasgow was later upgraded to the Argosy Mk.II standard, which used the Jaguar Mk.IVA gear-reduction engines, rated at 420 horsepower. G-EBLF was withdrawn from use at Croydon, December 1934.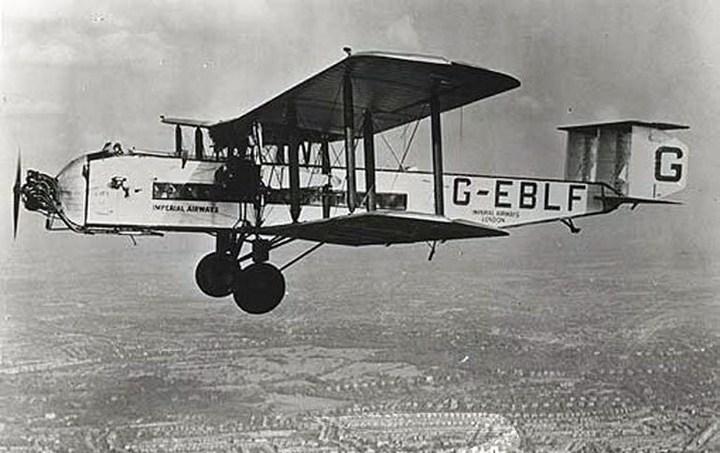 The Flying Scotsman is a Standard Gauge 4-6-2 Pacific steam-powered railway locomotive produced by the Doncaster Works, Great Northern Railway's "Plant" at Doncaster, South Yorkshire, England. It was built in 1923 as a Class A-1 locomotive for the London and North Eastern Railway. In January 1947, it was rebuilt to the Class A-3 configuration. It was later renumbered 502, 103 and 60103. Flying Scotsman set two world records for steam locomotives, for speed and distance.
The locomotive with its tender is 70 feet, 5-1/8 inches (21.463 meters) long, 13 feet, 1 inch (3.988 meters) high and weighs 156 tons, 12 centals (350,640 pounds, or 159,048 kilograms). The six driving wheels each have a diameter of 6 feet, 8 inches (2.032 meters). At 85% of maximum boiler pressure (225 p.s.i., 15.17 Bar), the locomotive produces 32,909 pounds of tractive effort. Flying Scotsman was the first locomotive officially certified to have a speed of 100 miles per hour (161 kilometers per hour).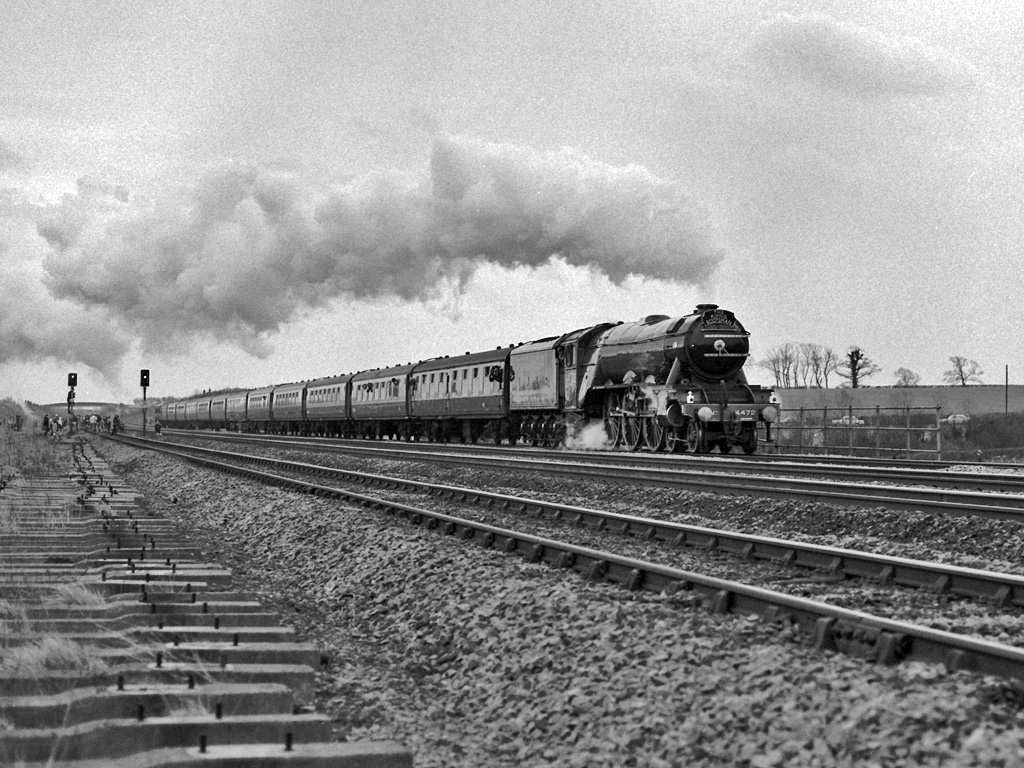 The locomotive was originally assigned Great Northern Railway number 1472, before being taken over by LNER prior to completion. In 1924, it was given number 4472 and named Flying Scotsman. It was one of five Pacific-type express passenger locomotives designed by Sir Nigel Gresley that were used to pull the London-to-Edinburgh Flying Scotsman passenger train, beginning in 1928. The journey by rail was 392 miles (631 kilometers) and the train was able to complete this non-stop by carrying 9 tons (8.2 metric tons) of coal in a tender and replenishing the water supply with a system of troughs located between the rails.
Flying Scotsman was retired in 1963 after driving 2,076,000 miles (3,340,998 kilometers). The locomotive has been restored and is owned by the National Railway Museum. It was overhauled and began testing in January 2016.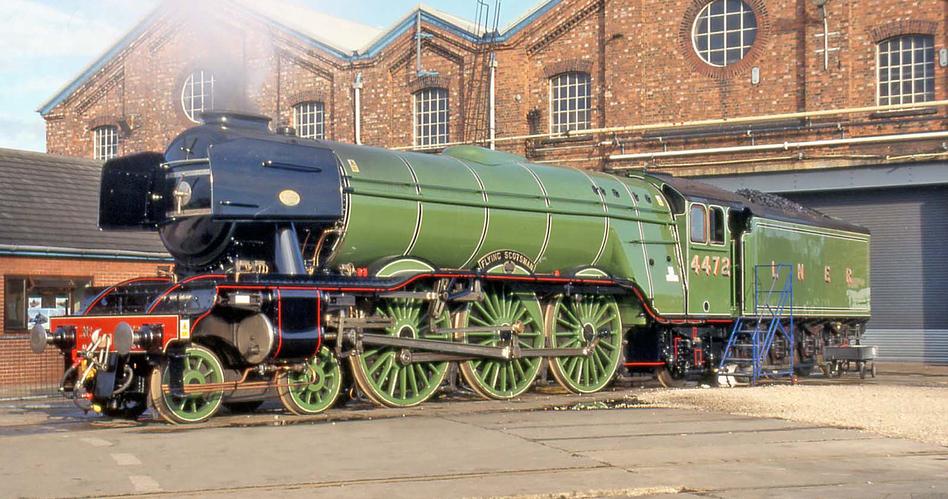 © 2018, Bryan R. Swopes