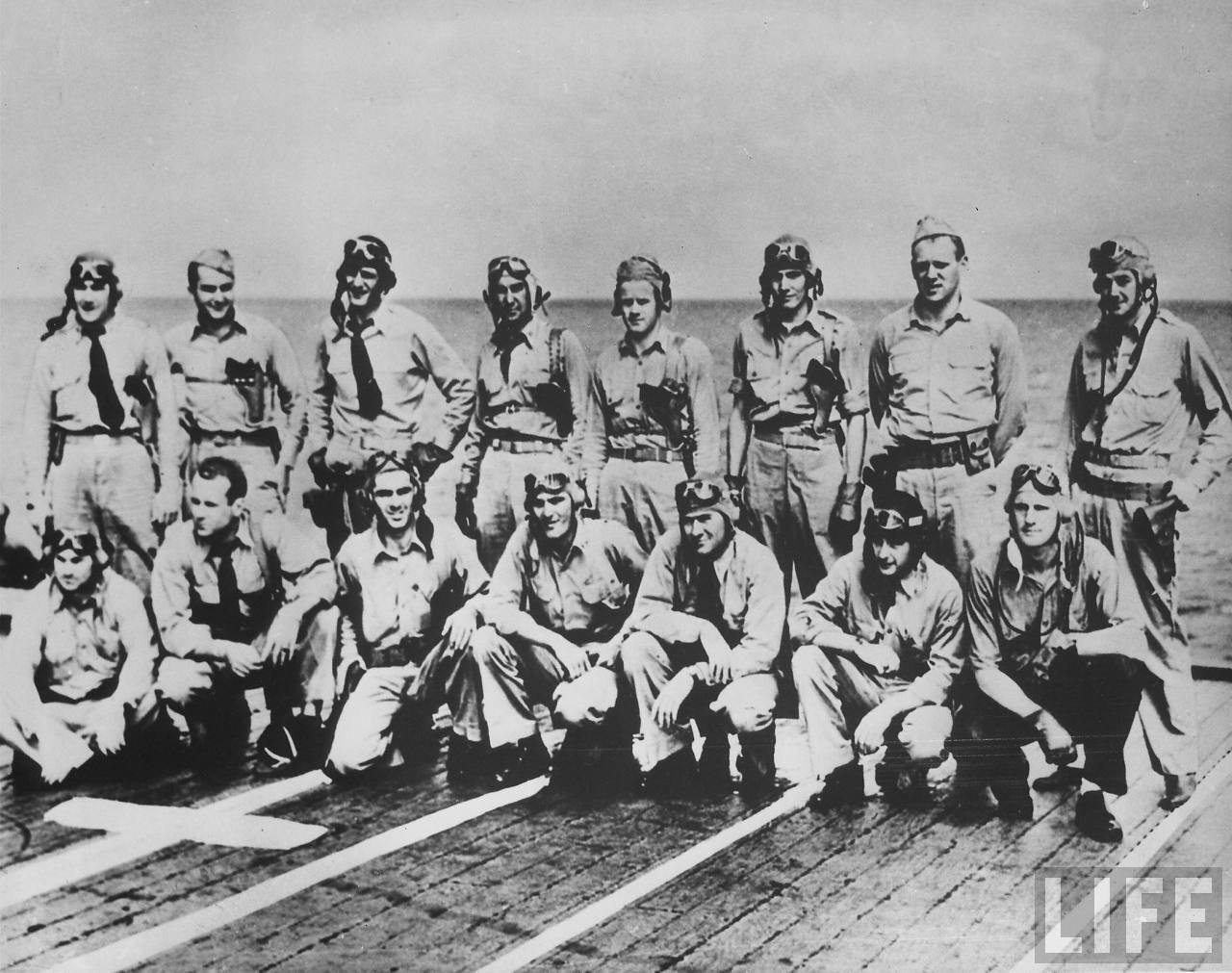 4 June 1942: At the Battle of Midway, beginning at 0702 hours, fifteen Douglas TBD-1 Devastator torpedo bombers were launched from the United States Navy aircraft carrier USS Hornet (CV-8) along with squadrons of Douglas SBD Dauntless dive bombers and Grumman F4F Wildcat fighters.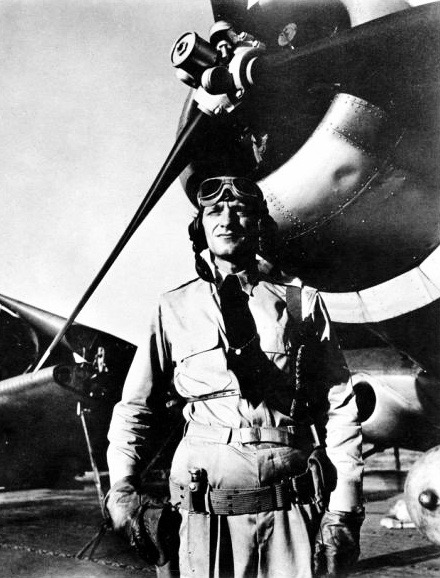 Led by Lieutenant Commander John C. Waldron, Torpedo Squadron Eight (VT-8) flew at low altitude toward the expected position of the attacking Japanese fleet, while the fighters escorted the dive bombers at high altitude. Waldron sighted the enemy fleet at a distance of 30 miles and ordered his squadron to attack. Without any fighter escort, the slow flying torpedo bombers were attacked by Japanese Navy A6M2 Type 0 fighters and defensive anti-aircraft fire from the warships. All fifteen TBDs were shot down.
A detachment of VT-8, flying Grumman TBF-1 Avengers, had been sent ahead to Midway from Pearl Harbor. These six torpedo bombers, led by Lieutenant Langdon K. Fieberling, also attacked the Japanese fleet. Five were shot down by intercepting Zero fighters. The sixth, flown by Ensign Albert Kyle Earnest, was badly damaged and its gunner killed. The torpedo bomber was able to return to Midway but crash-landed. It was the only aircraft of Torpedo Eight to survive the Battle of Midway.¹
Only one man, Ensign George H. Gay, of the thirty pilots and gunners of Torpedo Eight who had launched from USS Hornet, survived. Ensign Earnest and Radioman Harry Hackett Ferrier, were the only survivors of the 18 men from the Midway detachment of VT-8. The torpedo bombers failed to score any hits on the Japanese ships, and their machine guns did not bring down any of the Zeros.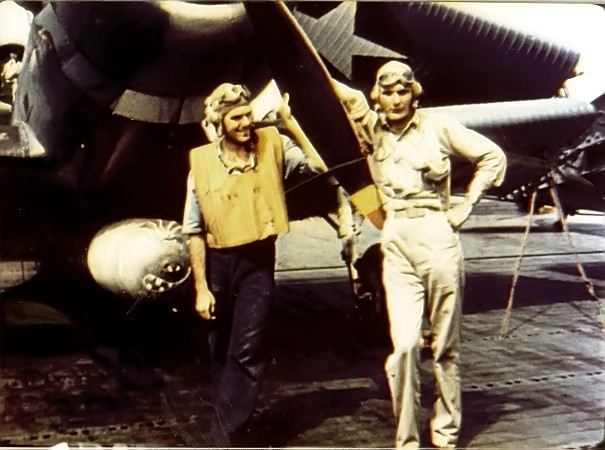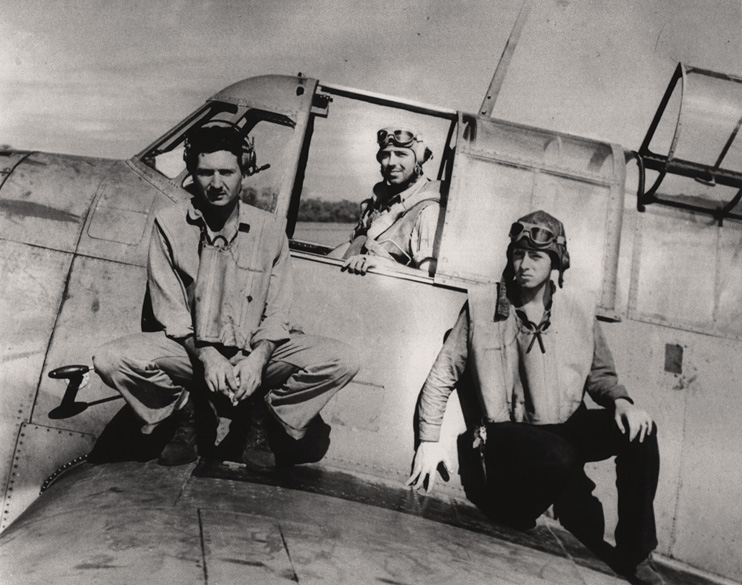 In the enigmatic ways of warfare, the attack by Torpedo Eight caused all of the Japanese fighters defending their aircraft carriers to descend to low altitude in their efforts to shoot down the American torpedo bombers. When the SBD Dauntless dive bombers from USS Enterprise and USS Yorktown arrived a few minutes later, there were no Japanese fighters at high altitude to interfere with their attack.
The dive bomber attack was devastating. The aircraft carriers Akagi, Kaga and Hiryu were bombed and sunk. Soryu received major damage, and was sunk by its escorting destroyers later in the day.
The Imperial Japanese Navy, up to this time on the offense all over the Pacific and Indian Oceans, never recovered from the loss of the experienced pilots that died when those carriers went down.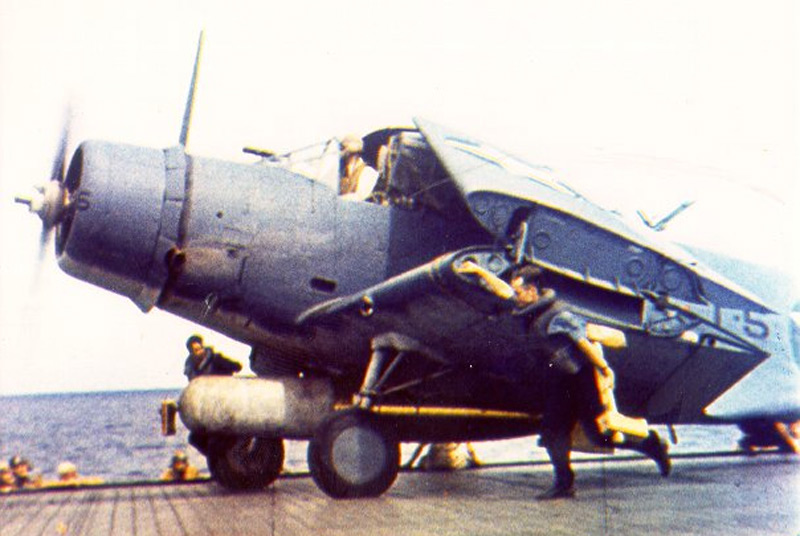 In his After Action Report, Hornet's commanding officer, Captain Marc A. Mitscher (later, Admiral) wrote:
Beset on all sides by the deadly Zero fighters, which were doggedly attacking them in force, and faced with a seemingly impenetrable screen of cruisers and destroyers, the squadron drove in valiantly at short range. Plane after plane was shot down by fighters, anti-aircraft bursts were searing faces and tearing out chunks of fuselage, and still the squadron bored in. Those who were left dropped their torpedoes at short range.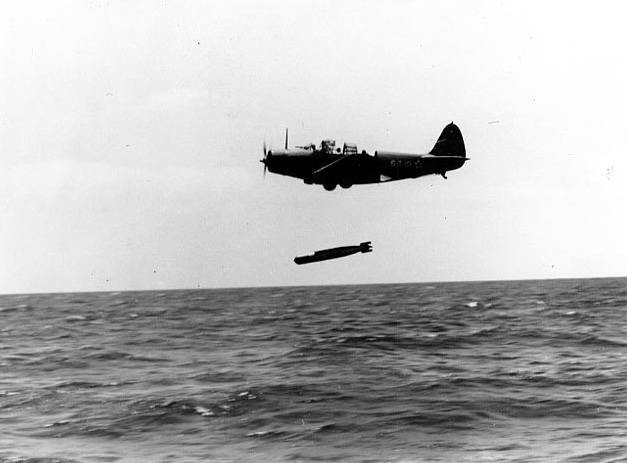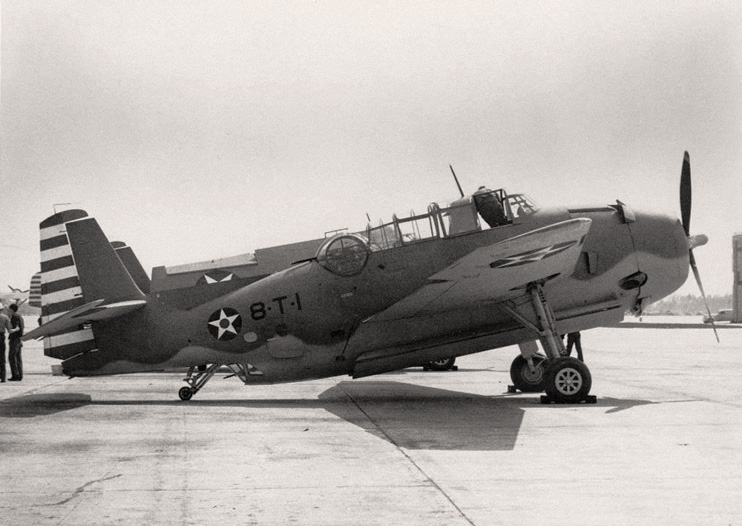 ¹ In a 2008 U.S. Naval Institute article, survivor Commander Harry H. Ferrier (then Aviation Radioman 3/c) wrote that following the Battle of Midway, TBF-1 Bu. No. 00380 was returned to Pearl Harbor for inspection. It had been hit by at least nine 20 mm cannon shells and sixty-four 7.7 mm machine gun bullets.
© 2017, Bryan R. Swopes