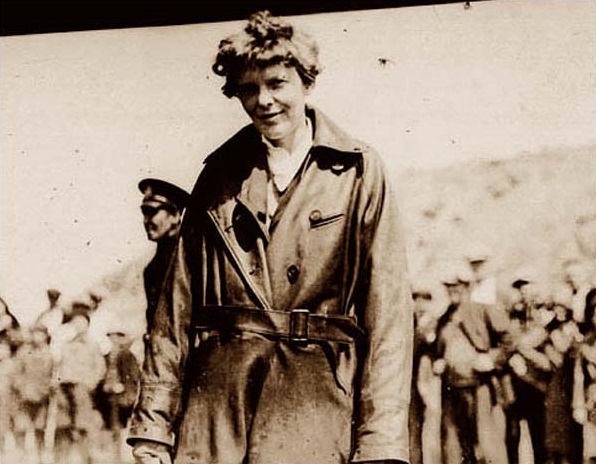 20 May 1932: At 7:12 p.m., local, aviatrix Amelia Earhart departed Harbor Grace, Newfoundland, on a solo transoceanic flight. Her airplane was a modified single-engine Lockheed Model 5B Vega, registration NR7952.
Her plan was to fly all the way to Paris, but after her altimeter had failed, encountering adverse weather, including heavy icing and fog, a fuel leak, and a damaged exhaust manifold, Earhart landed in a field at Culmore, Northern Ireland. The distance flown was 2,026 miles (3,260.5 kilometers). Her elapsed time was 14 hours, 56 minutes.
A lone, astonished farmer saw her land.
Amelia cut the switches, climbed out of the plane, and, as the man approached the plane, called out, "Where am I?"
Danny McCallion replied obligingly and with excruciating accuracy. "In Gallegher's pasture."
—The Sound of Wings by Mary S. Lovell, St. Martin's Press, New York, 1989, Chapter Fifteen at Page 183.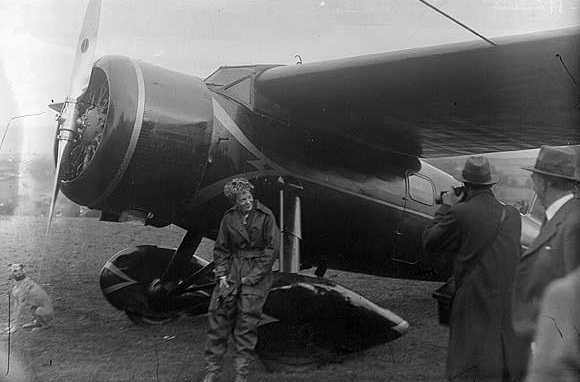 Though she didn't make it all the way to Paris, she was the first woman—and only the second person, after Charles A. Lindbergh—to fly solo across the Atlantic Ocean. Lindbergh's flight was on the same date, five years earlier.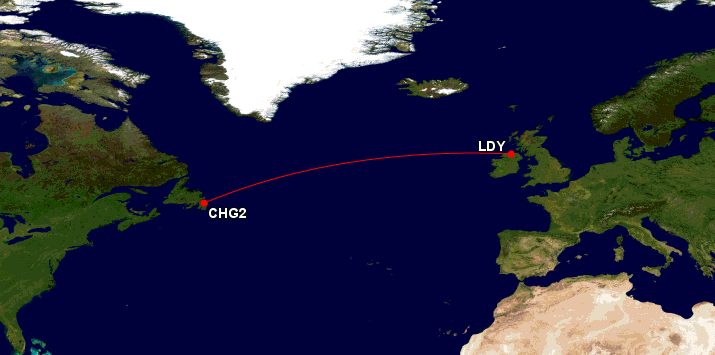 In an unusual move, Amelia Earhart, a civilian, was awarded the United States military's Distinguished Flying Cross by Patrick J. Hurley, Secretary of War, 18 July 1932.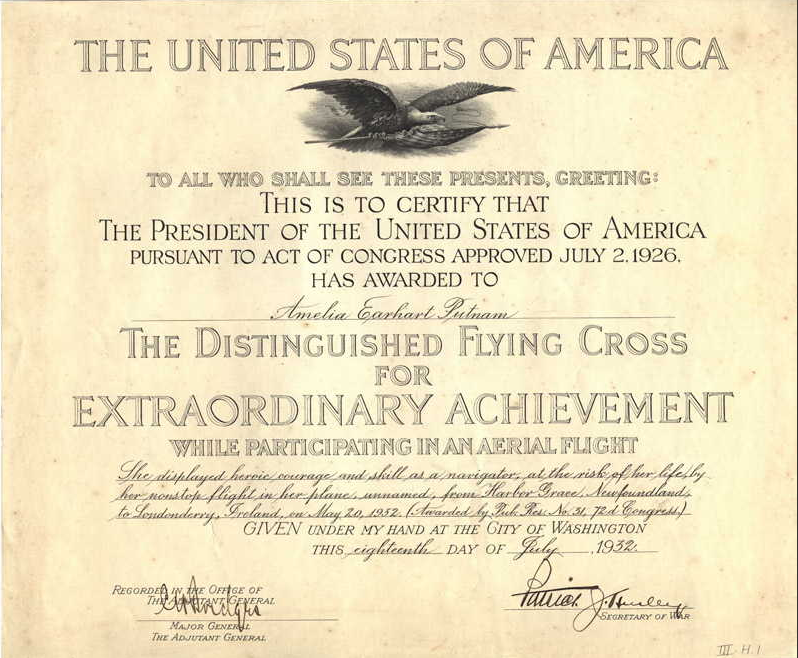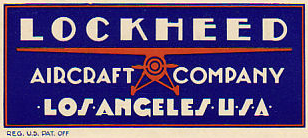 Built by the Lockheed Aircraft Company in December 1928, the Vega is a single-engine high-wing monoplane designed to carry a pilot and up to seven passengers. The fuselage was molded laminated plywood monocoque construction and the wing was cantilevered wood. The Vega 5B is 27 feet, 6 inches (8.382 meters) long with a wingspan of 41 feet (12.497 meters) and overall height of 8 feet, 2 inches (2.489 meters).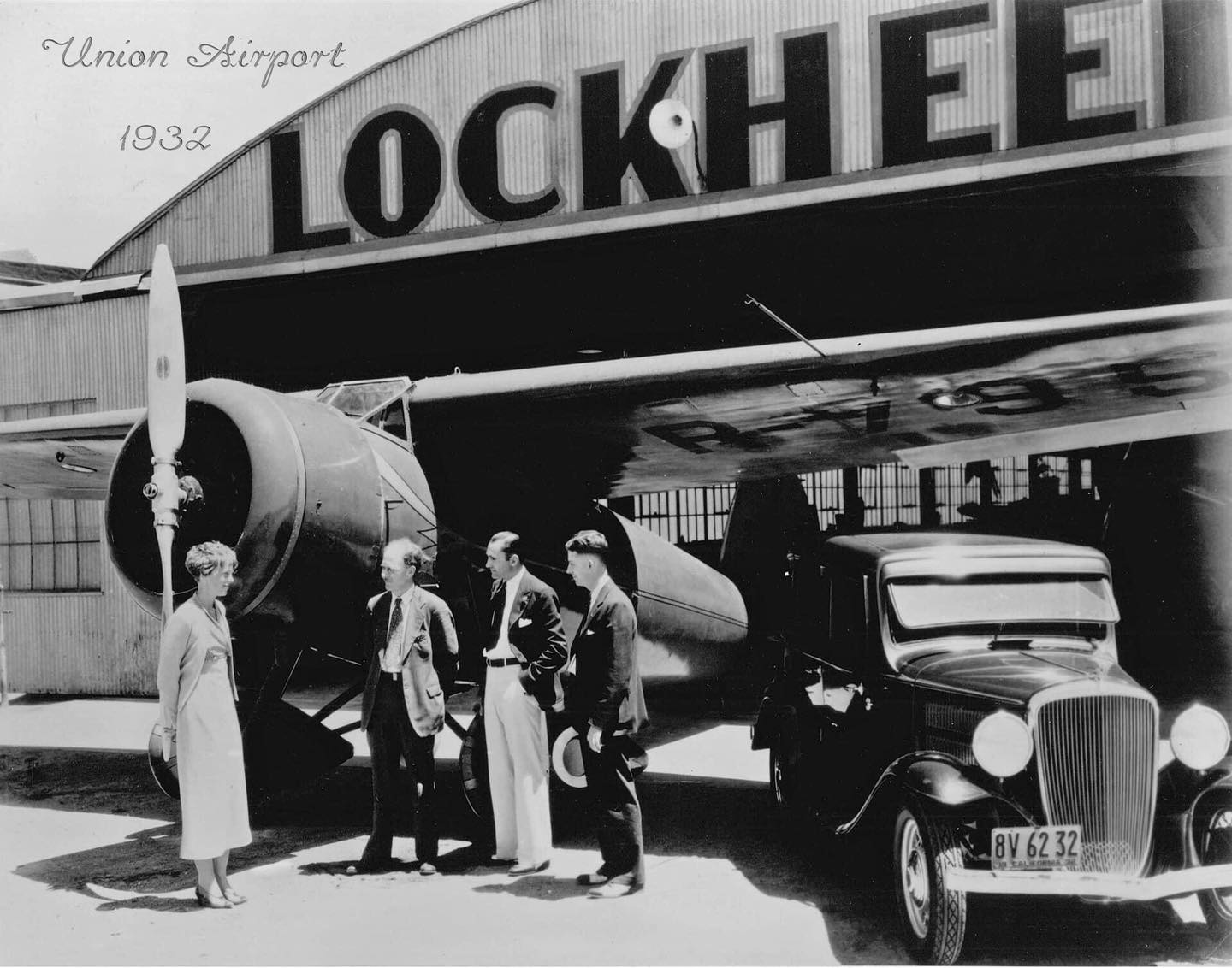 Earhart's Vega, serial number 22, was certified by the Department of Commerce, 17 September 1931, with its empty weight increased 220 pounds (99.8 kilograms) to 2,695 pounds (1,222.4 kilograms) and maximum gross weight of 4,375 pounds (1984.5 kilograms).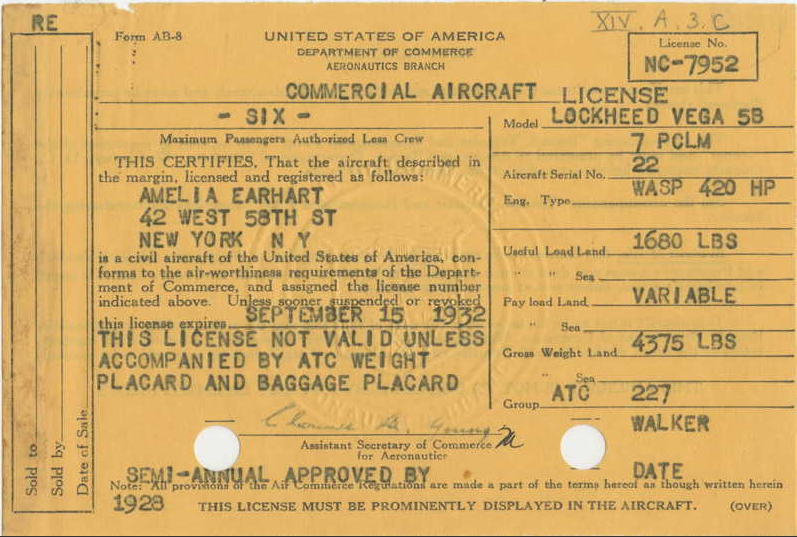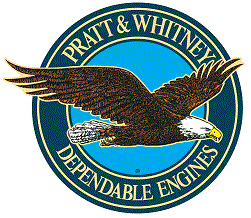 NR7952 was modified at the Fokker Aircraft Corporation of America factory in Teterboro, New Jersey, to increase the fuel capacity to 420 gallons (1,589.9 liters). While it was there, Earhart's mechanic, Eddie Gorski, replaced the original Pratt & Whitney Wasp B engine with a new Wasp C, an air-cooled, supercharged 1,343.804-cubic-inch-displacement (22.021 liter) nine cylinder radial engine with a compression ration of 5.25:1. The Wasp C was rated at 420 horsepower at 2,000 r.p.m. at Sea Level, burning 58 octane gasoline.¹ It was a direct-drive engine, and turned a two-bladed Hamilton Standard controllable-pitch propeller. The Wasp C was 3 feet, 6.63 inches (1.083 meters) long, 4 feet, 3.44 inches (1.307 meters) in diameter and weighed 745 pounds (338 kilograms).
The standard Vega 5 had a cruising speed of 165 miles per hour (265.5 kilometers per hour) and maximum speed of 185 miles per hour (297.7 kilometers per hour). The service ceiling was 15,000 feet (4,572 meters). Range with standard fuel tanks was 725 miles (1,166.8 kilometers).
Amelia Earhart disappeared in 1937 while attempting to fly around the world. Her Lockheed Model 5B Vega, NR7952, is in the collection of the Smithsonian Institution National Air and Space Museum.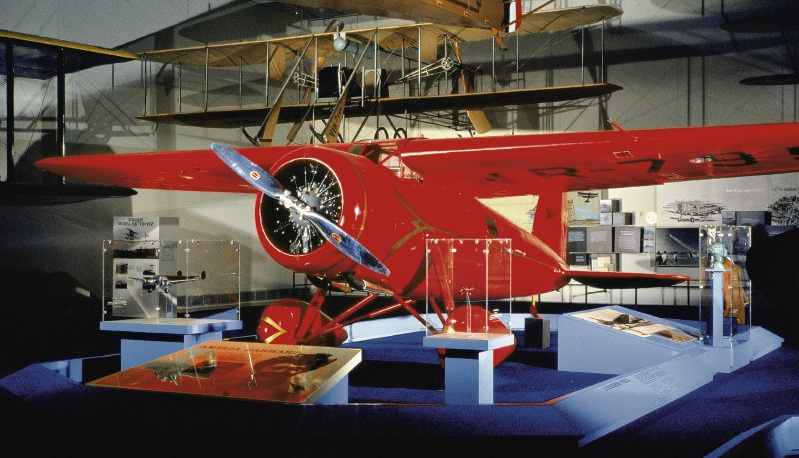 ¹ The Pratt & Whitney Wasp C was also used by the U.S. Army and Navy, designated R-1340-7. It was rated at 450 horsepower at 2,100 r.p.m. at Sea Level.
© 2019, Bryan R. Swopes