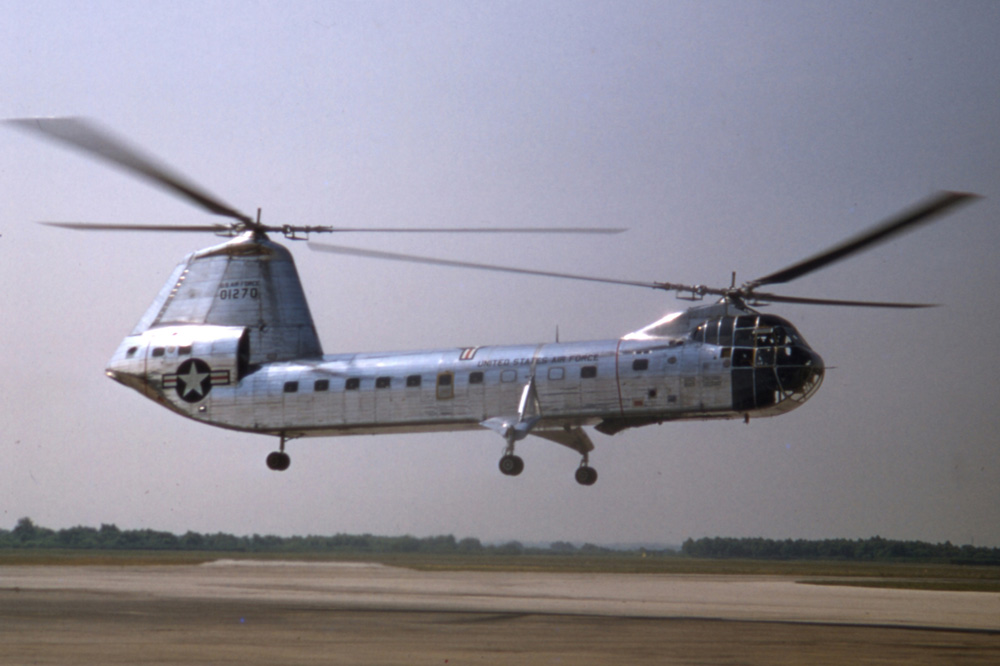 5 January 1956: The prototype Piasecki Helicopter Company YH-16A-PH Transporter twin-turboshaft, tandem-rotor helicopter, serial number 50-1270, was returning to Philadelphia from a test flight, when, at approximately 3:55 p.m., the aft rotor desynchronized, collided with the forward rotor and the aircraft broke up in flight. It crashed at the Mattson Farm on Oldman's Creek Road, near Swedesboro, New Jersey, and was completely destroyed.
Test pilots Harold W. Peterson and George Callahan were killed.
It was determined that a bearing associated with an internal coaxial shaft supporting test data equipment had seized, causing the rotor shaft to fail.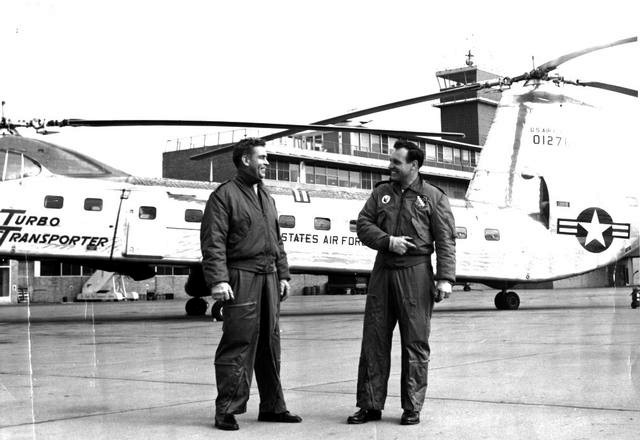 At the time, the YH-16 was the largest helicopter in the world. The United States Air Force intended it as a very-long-range rescue helicopter, while the U.S. Army expected it to serve as a heavy lift cargo and troop transport.
The YH-16A had a fuselage length of 78 feet (23.774 meters), and both main rotors were 82 feet (24.994 meters) in diameter. With rotors turning, the overall length was 134 feet (40.843 meters). Their operating speed was 125 r.p.m. Overall height of the helicopter was 25 feet (7.62 meters). The helicopter's empty weight was 22,506 pounds (10,209 kilograms) and the gross weight was 33,577 pounds (15,230 kilograms).
YH-16 50-1269 was powered by two 2,181.2-cubic-inch-displacement (35.74 liter) air-cooled, supercharged Pratt & Whitney Twin Wasp E2 (R-2180-11) two-row, fourteen-cylinder radial engines with a Normal Power Rating of 1,300 horsepower at 2,600 r.p.m. at 8,000 feet (2,438 meters), and 1,650 horsepower at 2,600 r.p.m., for Takeoff.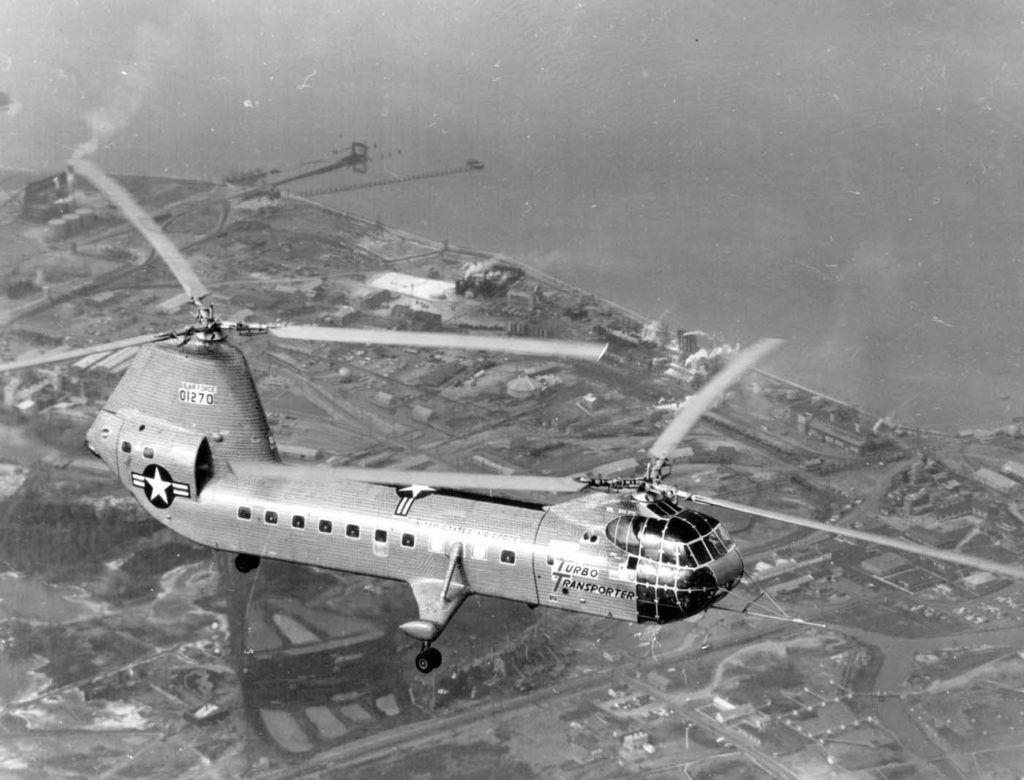 The second YH-16A, 50-1270, was modified while under construction and was powered by two Allison Division YT38-A-10 turboshaft engines which produced 1,800 shaft horsepower, each. This made the YH-16A the world's first twin-engine turbine-powered helicopter.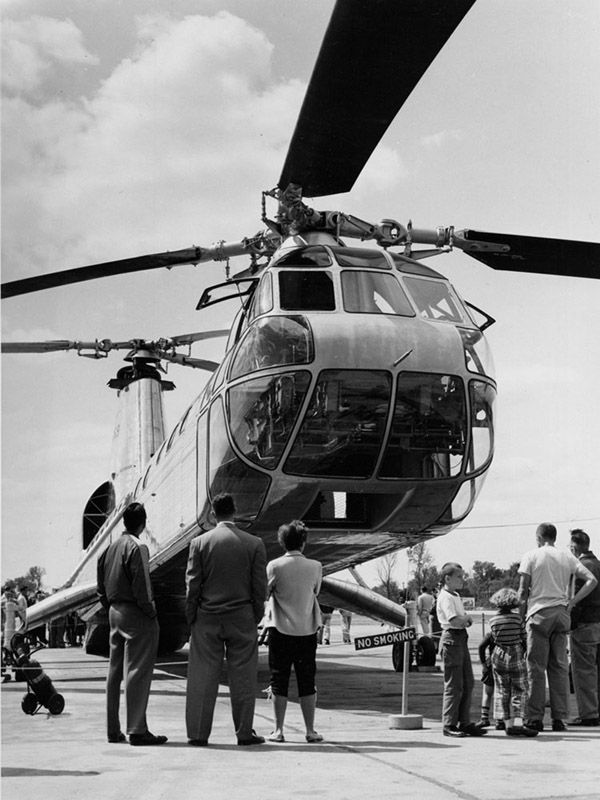 The cruise speed of the YH-16A was 146 miles per hour (235 kilometers per hour). In July 1955, Peterson and Callahan had flown 50-1270 to an unofficial record speed of 165.8 miles per hour (266.83 kilometers per hour). The service ceiling was 19,100 feet (5,822 meters) and the maximum range for a rescue mission was planned at 1,432 miles (2,305 kilometers).
After the accident, the H-16 project was cancelled.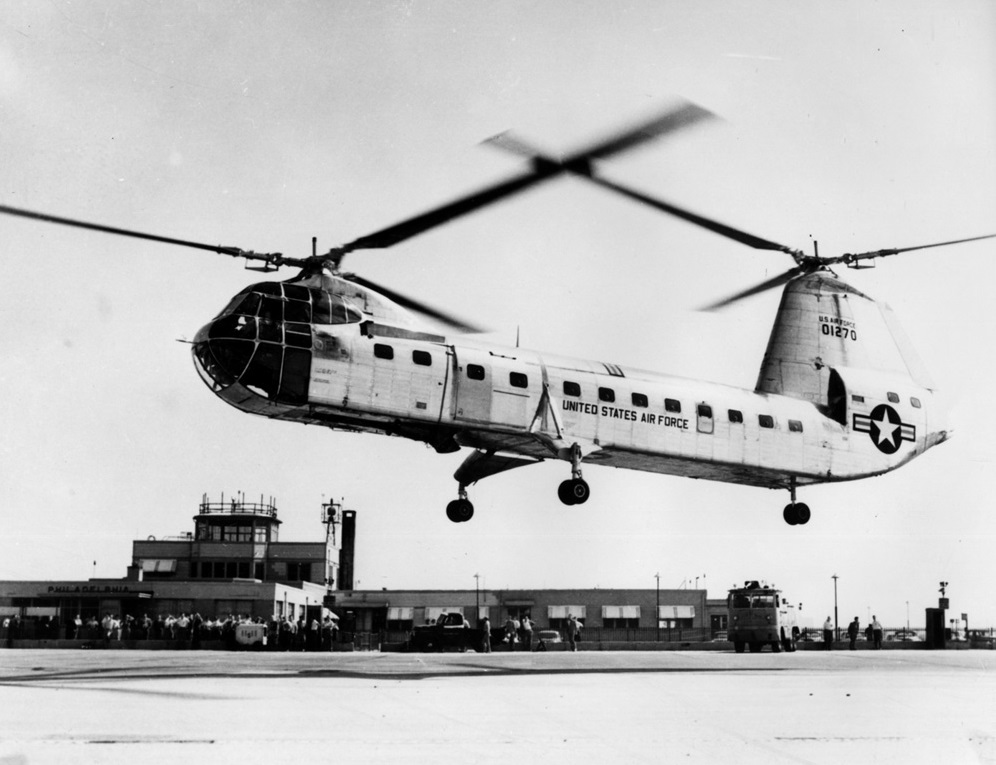 © 2017, Bryan R. Swopes