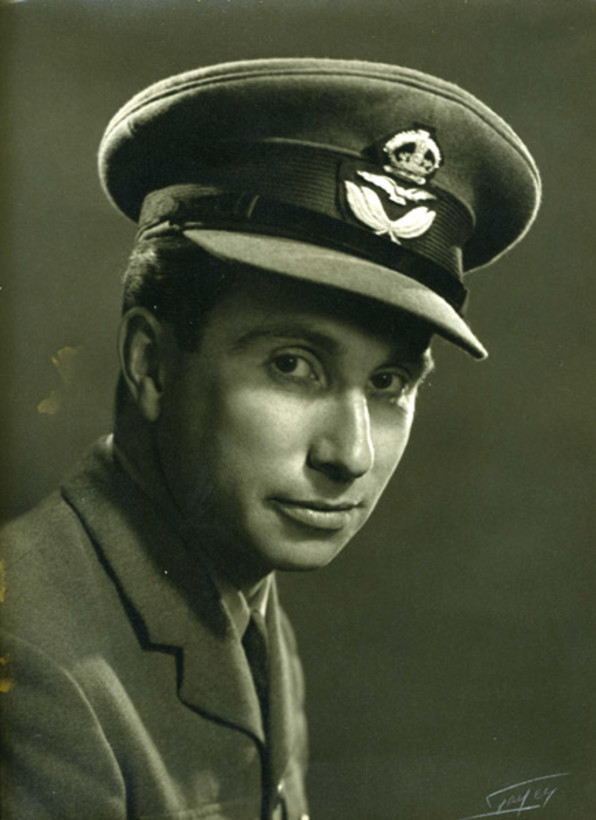 17 August 1940: Pilot Officer William Meade Lindsley Fiske III died at St. Richard's Hospital, Chichester, Sussex, England, as a result of injuries sustained in combat the previous day. Billy Fiske was the second American pilot to lose his life in combat during the Second World War.¹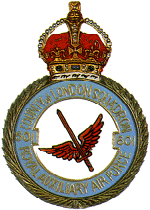 On 16 August, No. 601 Squadron, based at RAF Tangmere, was dispatched by Fighter Command to intercept incoming Luftwaffe aircraft at 12,000 feet (3,658 meters). This was Billy Fiske's second sortie of the day. He was airborne at 12:25 p.m. In the resulting air battle, the squadron shot down eight enemy Junkers Ju 87 Sturzkampfflugzeug ("Stuka") dive bombers.
One of the Stukas' gunners hit Billy Fiske's Hawker Hurricane with his Rheinmetall MG 15 machine gun.  A 7.92 millimeter bullet punctured the Hurricane's fuselage fuel tank. Fiske was able to fly the damaged fighter back to Tangmere. With the engine out, Fiske glided to  a belly-landing at the airfield. He had suffered severe burns this lower body. He had to be lifted from the cockpit by rescuers, with his clothing still burning.
The squadron's medical officer, Flying Officer Courtney B.I. Wiley, examined Fiske, and administered morphine. He was sent to the Royal West Sussex Hospital in Chichester. Dr. Wiley was "very pessimistic" about the pilot's chances of survival. Billy Fiske died the following day. For his actions in rescuing Fiske, Dr. Wiley was awarded the Military Cross, and Corporal G.W. Jones and Aircraftsman 2nd Class C.G. Faulkner received the Military Medal.
Pilot Officer William Meade Lindsley Fiske III was buried near Tangmere, at the St. Mary and St. Blaise Church, Boxgrove, West Sussex, England, 20 August 1940.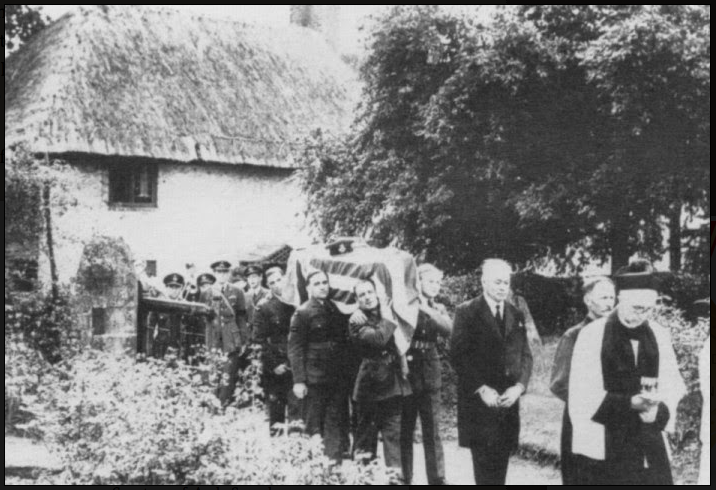 Billy Fiske's Hurricane was repaired and was operational within a few days.
A ceremony unveiled a memorial to Fiske at St Paul's Cathedral in London, 4 July 1941. At the presentation, Sir Archibald Sinclair, Secretary of State for Air, said, "Here was a young man for whom life held much. Under no compulsion he came to fight for Britain. He came and he fought and he died." The plaque reads, "An American citizen who died that England might live."
Fiske's flight commander, Flight Lieutenant Sir Archibald Hope, wrote,
"Unquestionably Billy Fiske was the best pilot I've ever known. It was unbelievable how good he was. He picked up so fast it wasn't true. He'd flown a bit before, but he was a natural as a fighter pilot. He was so terribly nice and extraordinarily modest, and fitted into the squadron very well."
—"For Our Tomorrow," Pilot Officer Billy Fiske, Royal Air Force Museum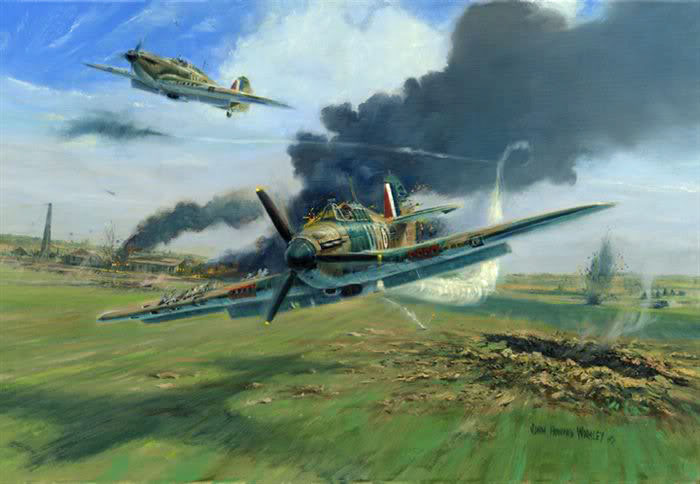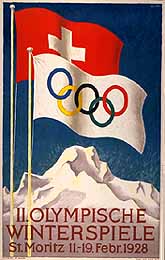 William Meade Lindsley Fiske III was born 4 June 1911, at Chicago, Illinois,² the second child of William Meade Lindsley Fiske II, a banker, and Beulah Rexford Fiske. By 1920, the family was living in Montecito, California. Fiske was educated in America, France and England, where he studied economics at Trinity Hall, Cambridge.
On Saturday, 18 February 1928, Billy Fiske was in St. Moritz, Switzerland, for the II Olympic Winter Games. He was the driver for the United States five-man bobsleigh team, which set a record for a combined time for two runs on the famous Cresta Run, of 3 minutes, 20.5 seconds. The team was awarded the Olympic Gold Medal.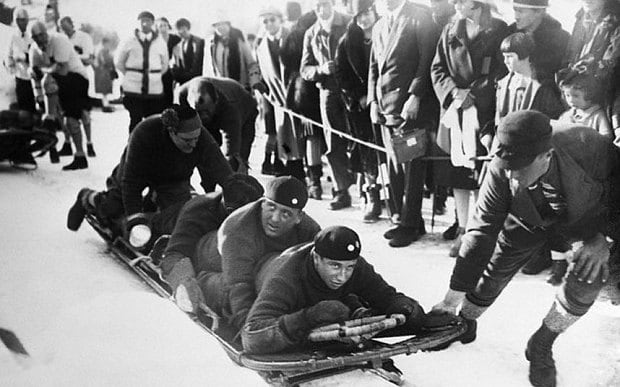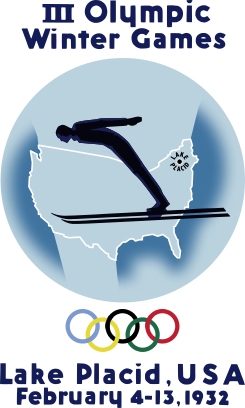 For the 1932 Winter Olympics at Lake Placid, New York, the bobsleigh teams had been cut to four men. Also, the number of runs increased from two to four. Fiske was again the driver for the American team. And again, Fiske and his team mates won the Olympic Gold Medal with a combined time of 7 minutes, 53.68 seconds.
Fiske was invited to compete in the 1936 Olympics, but declined. That same year, he and a close friend began development of what would become the ski resort at Aspen, in the Rocky Mountains of Colorado. He was also involved in film production financing in Hollywood.
Fiske was also an automotive sportsman. He ordered a British Racing Green 1930 Bentley 4½-Liter Supercharged (a "Blower Bentley") to the same specifications as Sir Henry Birkin's LeMans racing team cars. He drove it to an average speed of 121.4 miles per hour (195.4 kilometers per hour) at Brooklands' 2¾-mile high-banked track, for which he was awarded the Outer Circuit Banking Badge.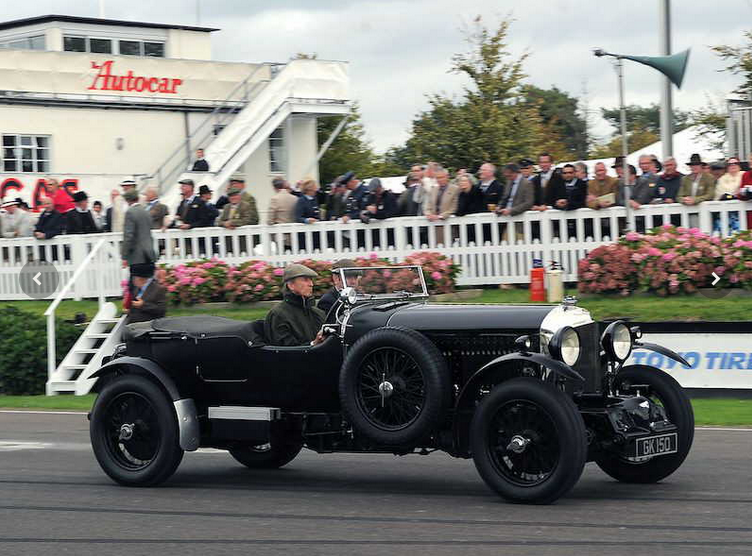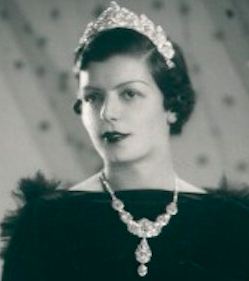 William M.L. Fiske married Mrs. Rose Bingham Greville, formerly the Countess of Warwick, in a civil registered ceremony at Maidenhead, Berkshire, England, 8 September 1938. (Following Fiske's death, Mrs. Fiske joined the Women's Voluntary Service as a truck driver.)
During 1938, Fiske had learned to fly at an airfield near London, and was awarded an Aviator's Certificate by the Royal Aero Club of Great Britain. With war approaching, he volunteered to serve in the Royal Air Force, claiming that he was a Canadian citizen. He was interviewed by the Chief of Air Staff, Air Marshall Sir Cyril Newall, and accepted for the Auxiliary Air Force. He was sent to No. 10 Elementary Flying Training School, Yatesbury, Wiltshire, for military flight training, and then No. 2 Flight Training School, Brize Norton, Oxfordshire. Training was in the Gloster Gladiator.
On 23 March 1940, Billy Fiske was granted a commission as an Acting Pilot Officer on probation, Royal Air Force Volunteer Reserve (78092). He joined No. 601 Squadron at RAF Tangmere, 12 July 1940. On 13 July, he was graded Pilot Officer on probation. He flew his first flight with the squadron, and his first in the Hawker Hurricane. Between 20 July and 16 August, Pilot Officer Fiske flew 42 sorties.
On 11 August, Billy Fiske claimed a twin-engine Messerschmitt Bf 110 shot down. On 13 August, he claimed another Bf 110 probably shot down and two more damaged. On 15 August, Fiske and his Hurricane forced a German bomber into a balloon barrage.
Fiske wrote to his older sister, Beaulah ("Peggy") Fiske Heaton, his reasons for joining the Royal Air Force. He said that the English had
". . . been damn good to me in good times so naturally I feel I ought to try and help out if I can. There are absolutely no heroics in my motives, I'm probably twice as scared as the next man, but if anything happens to me I at least feel I have done the right thing in spite of the worry to my family—which I certainly couldn't feel if I was to sit in New York making dough."
—"American Billy Fiske—One of the Few," United States Naval Institute Blog, 16 August 2016.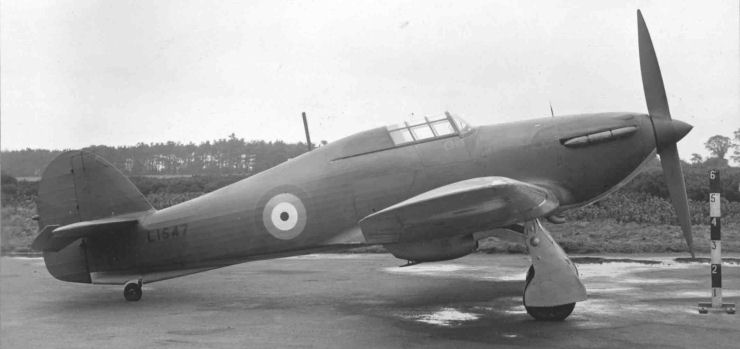 Billy Fiske's fighter was a Hawker Hurricane Mk.I, P3358, with squadron markings UF H. It was from the third production block of 544 Hurricanes built by Hawker Aircraft Limited, Brooklands, between February and July 1940.
The Hurricane Mk.I was ordered into production in the summer of 1936. The first production airplane flew on 12 October 1937. The early production Hurricane Mk. I retained the wooden fixed-pitch propeller and fabric-covered wings of the prototype, though this would change with subsequent models. It was 31 feet, 4 inches (9.550 meters) long with a wingspan of 40 feet (12.192 meters) and overall height of 13 feet, 3 inches (4.039 meters). Its empty weight was 4,982 pounds (2,260 kilograms) and gross weight was 6,750 pounds (3,062 kilograms).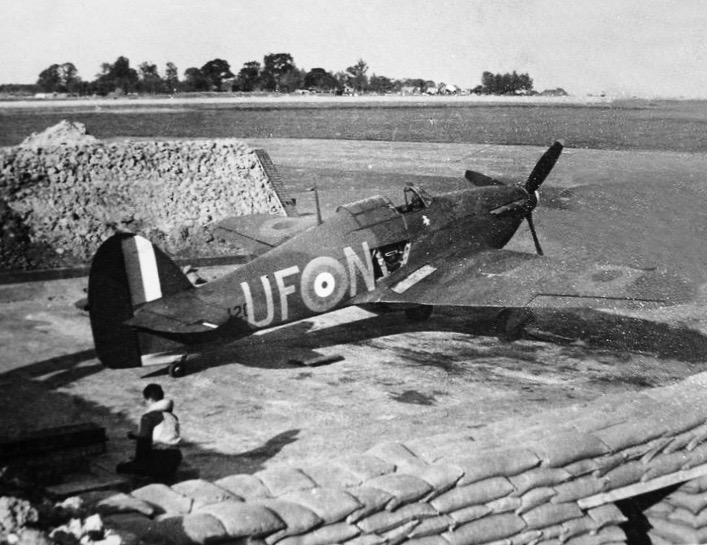 The Mk.I's engine was a liquid-cooled, supercharged, 27.01 liter (1,648.96 cubic inches) Rolls-Royce R.M.1.S. Merlin Mk.III single-overhead-cam 60° V-12, rated at 990 horsepower at 2,600 r.p.m. at 12,250 feet (3,734 meters), and 1,030 horsepower at 3,000 r.p.m., at 10,250 feet (3,124 meters), using 87 octane aviation gasoline. The Merlin III drove the propeller through a 0.477:1 gear reduction ratio. It weighed 1,375 pounds (624 kilograms).
The fixed-pitch propeller was soon replaced with a three-bladed, two-pitch propeller, and then a three-bladed constant-speed propeller. Speed trials of a Mk.I equipped with a 10 foot, 9 inch (3.277 meters) diameter Rotol constant-speed propeller achieved a maximum True Air Speed in level flight of 316 miles per hour (509 kilometers per hour) at 17,750 feet (5,410 meters) at 3,000 r.p.m. The service ceiling was 33,750 feet (10,287 meters). The Mk.I's range was 600 miles (966 kilometers) at 175 miles per hour (282 kilometers per hour).
The fighter was armed with eight Browning .303-caliber Mark II machine guns mounted in the wings.
At the beginning of World War II, 497 Hurricanes had been delivered to the Royal Air Force, enough to equip 18 squadrons. During the Battle of Britain, the Hurricane accounted for 55% of the enemy aircraft destroyed. Continuously upgraded throughout the war, it remained in production until 1944. A total of 14,503 were built by Hawker, Gloster and the Canadian Car and Foundry Company.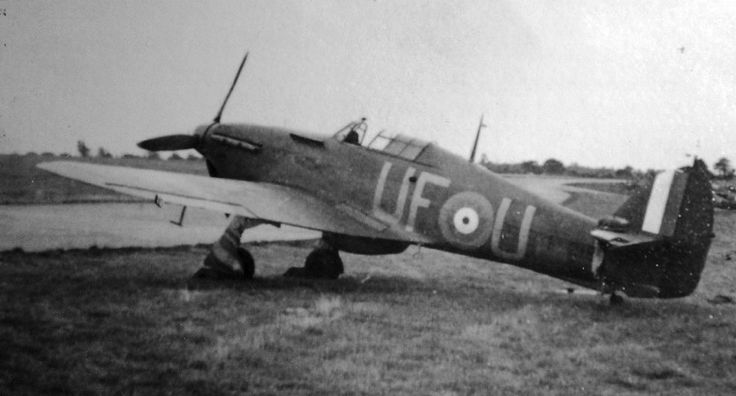 ¹ Acting Flight Lieutenant James William Elias Davies, D.F.C., Royal Air Force, a Hawker Hurricane pilot assigned to No. 79 Squadron, was killed in action over the English Channel, 27 June 1940. Davies was born at Bernardsville, New Jersey, United States of America, in October 1914. He was the son of David Ashley Davies, a farm manager, and Katherine Isabel Davies. He had a twin sister, Isabella E. Davies. Flying a Bristol Beaufighter, he is credited with 8 aerial victories.
² Most sources cite Billy Fiske's birthplace as New York City, or Brooklyn, New York. His United States of America Emergency Passport Application, dated 28 May 1924, when Fiske was 12 years old, gives his birthplace as Chicago, Illinois.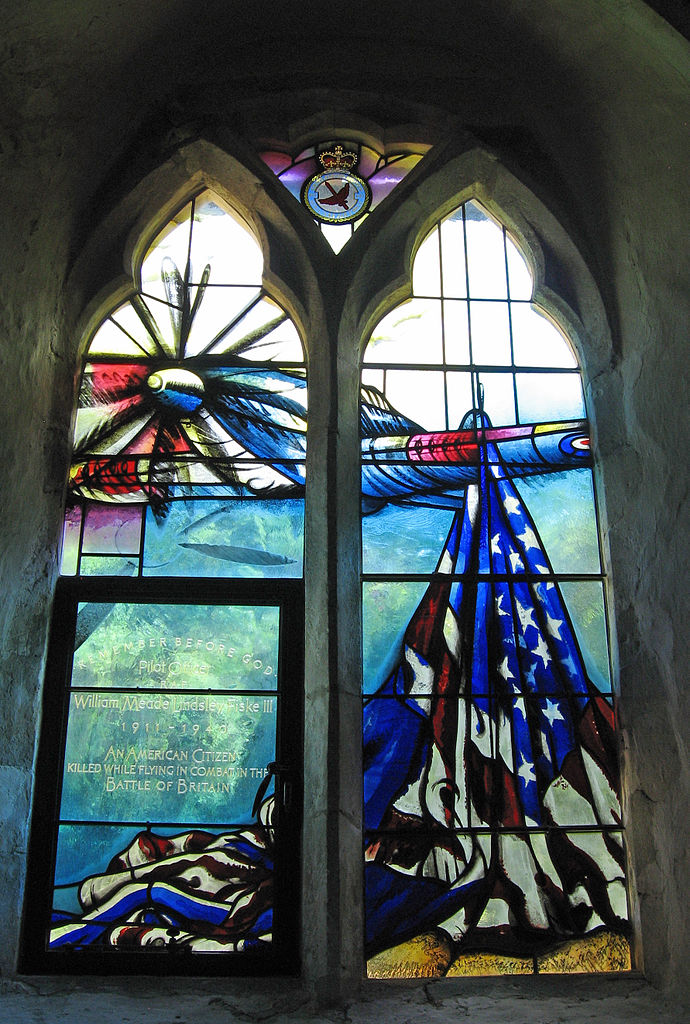 © 2018, Bryan R. Swopes