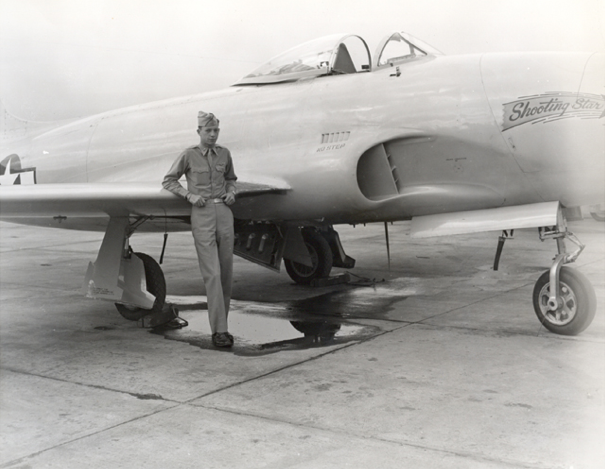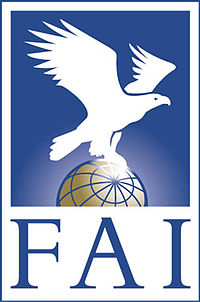 3 June 1946: Lieutenant Henry A. Johnson, U.S. Army Air Force, set a Fédération Aéronautique Internationale (FAI) World Record for Speed Over a Closed Circuit of 1,000 Kilometers Without Payload flying a Lockheed P-80A-1-LO Shooting Star, serial number 44-85123, at Dayton, Ohio. The average speed was 745.08 kilometers per hour (462.97 miles per hour). The elapsed time was 1 hour, 20 minutes, 31 seconds.¹
This airplane had earlier set a transcontinental speed record when Colonel William H. Councill flew it from Daugherty Field, Long Beach, California to La Guardia Field, New York, in 4 hours, 13 minutes, 26 seconds on 26 January 1946. It would go on to win the Thompson Trophy Race J Division, 2 September 1946, when Major Gustav E. Lundquist flew it to an average speed of 515.853 miles per hour (830.185 kilometers per hour) over the 180-kilometer course.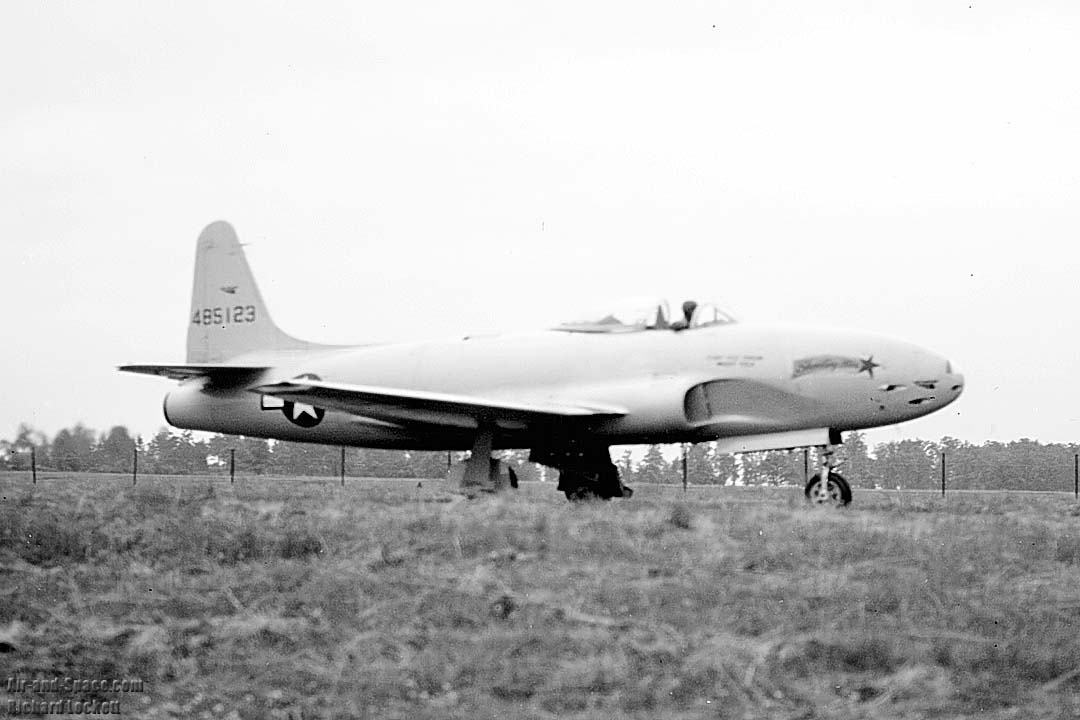 The Lockheed P-80-1-LO was the United States' first operational jet fighter. It was a single-seat, single engine airplane, designed by a team of engineers led by Clarence L. ("Kelly") Johnson. The prototype XP-80A, 44-83020, nicknamed Lulu-Belle, was first flown by test pilot Tony LeVier at Muroc Army Air Field (now known as Edwards AFB) 8 January 1944.
The P-80A was 34 feet, 6 inches (10.516 meters) long with a wingspan of 38 feet, 10.5 inches (37 feet, 7.5 inches with "clipped" wing tips) (11.849 or 11.468 meters) and an overall height of 11 feet, 4 inches (3.454 meters). The wings had 1° incidence with -1° 30° twist, and 3° 50′ dihedral. The leading edges were swept aft 9° 18′ 33″. The total wing area was 237.70 square feet (22.08 square meters). The P-80A weighed 7,920 pounds empty (3,593 kilograms) and had a maximum takeoff weight of 14,000 pounds (6,350 kilograms).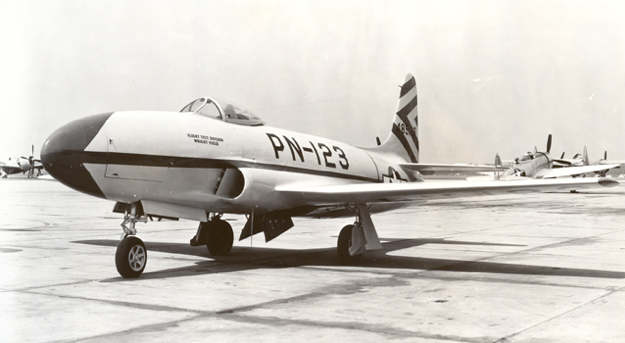 Early production P-80As were powered by either an Allison J33-A-9 or a General Electric J33-GE-11 turbojet engine. The J33 was a licensed version of the Rolls-Royce Derwent. It was a single-shaft turbojet with a 1-stage centrifugal compressor section and a 1-stage axial-flow turbine. The -9 and -11 engines were rated at 3,825 pounds of thrust (17.014 kilonewtons) at 11,500 r.p.m. They were 8 feet, 6.9 inches (2.614 meters) long, 4 feet, 2.5 inches (1.283 meters) in diameter and weighed 1,775 pounds (805 kilograms).
The P-80A-1 had a maximum speed of 510 miles per hour (821 kilometers per hour) at Sea Level, 520 miles per hour (837 kilometers per hour) at 20,000 feet (6,096 meters), and 495 miles per hour (797 kilometers per hour) at 40,000 feet (12,192 meters). The service ceiling was 45,000 feet (13,716 meters).
Several hundred of the early production P-80 Shooting stars had all of their surface seams filled, and the airplanes were primed and painted. Although this process added 60 pounds (27 kilograms) to the empty weight, the decrease in drag allowed a 10 mile per hour (16 kilometers per hour) increase in top speed. The painted surface was difficult to maintain in the field and the process was discontinued.
The P-80A Shooting Star was armed with six Browning AN-M3 .50-caliber  aircraft machine guns mounted in the nose, with 300 rounds of ammunition per gun.
44-85123 is undergoing restoration at Edwards Air Force Base, California.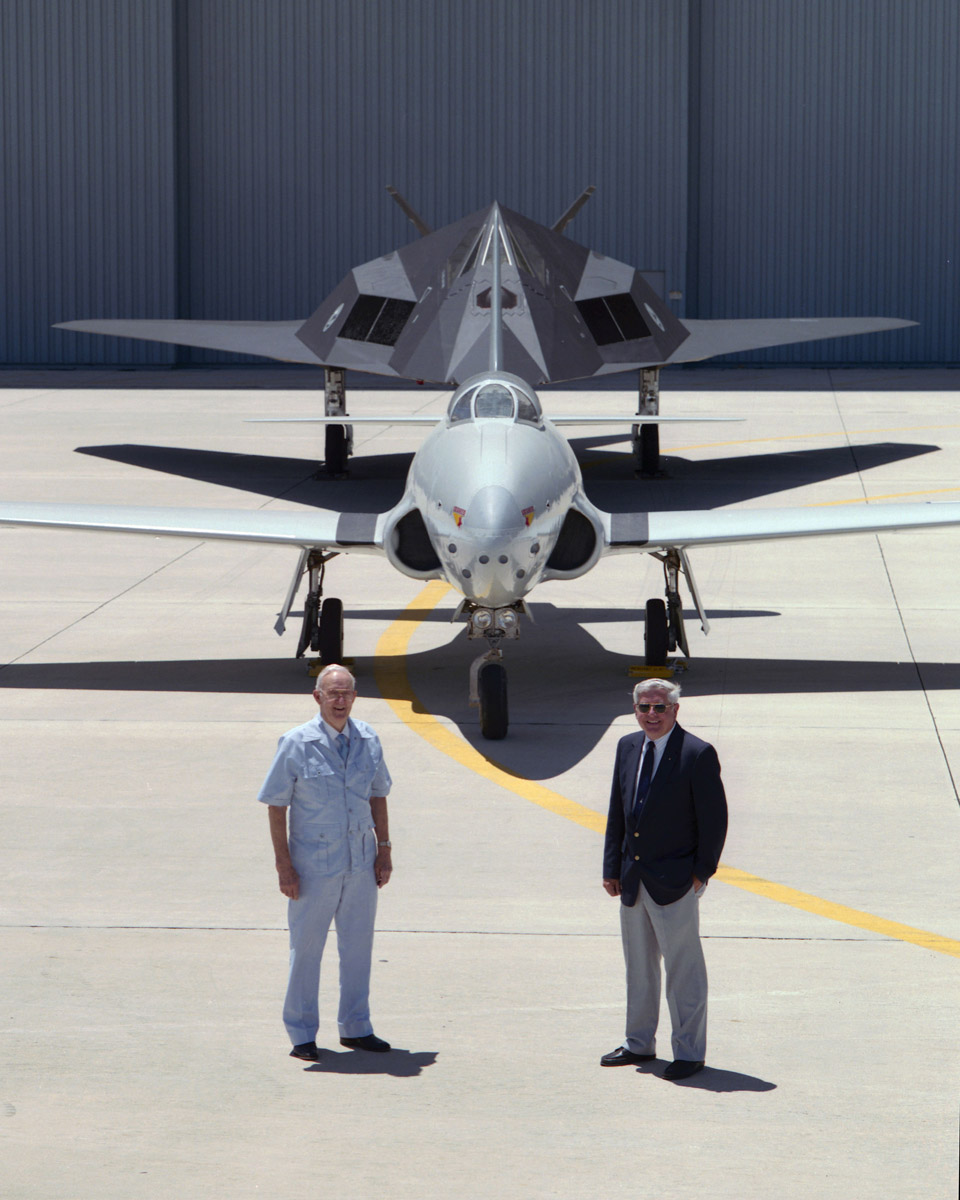 ¹ FAI Record File Number 10973
© 2019, Bryan R. Swopes