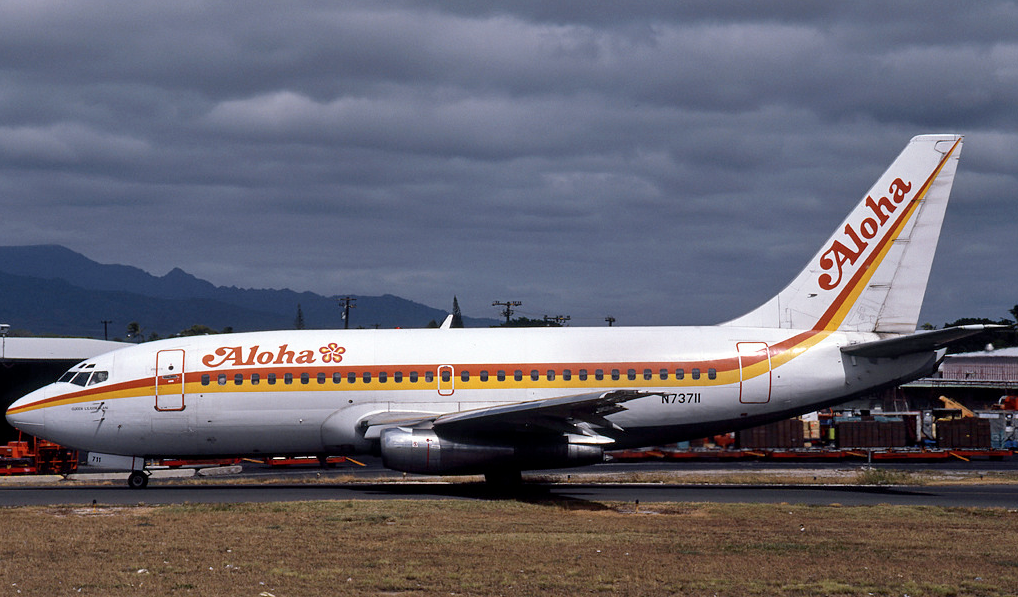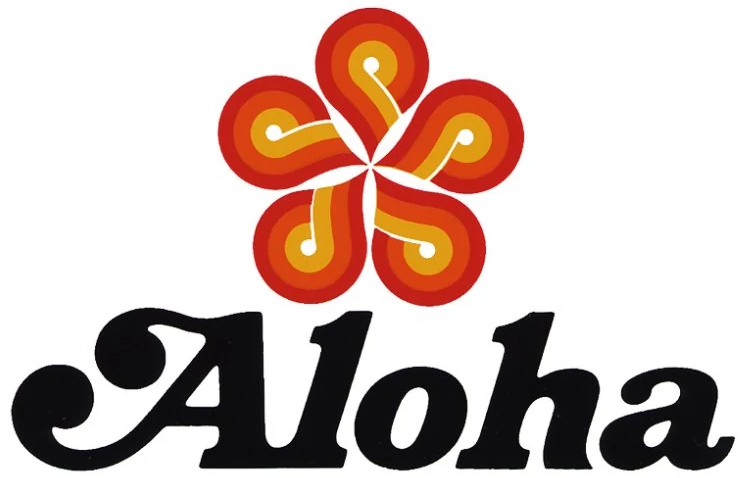 28 April 1988: Aloha Airlines Flight 243, a Boeing 737-297 airliner, FAA registration N73711, named Queen Liliuokalani, was enroute from Hilo International Airport (IPO) to Honolulu International Airport (HNL) with a crew of 5 and 89 passengers.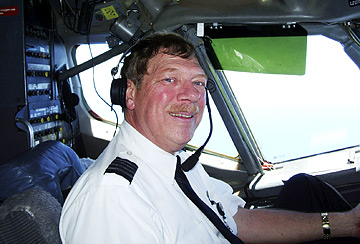 The aircraft commander was Captain Robert L. Schornstheimer, an Airline Transport Pilot with 8,500 flight hours, of which 6,700 hours was in the Boeing 737. First Officer Madeline Lynn Tompkins also held an Airline Transport certificate. She had flown 8,000 hours, with 3,500 in the B-737. A Federal Aviation Administration air traffic controller was  on the flight deck as an observer.
First Officer Tompkins made the takeoff at 1:25 p.m. and climbed in visual conditions to Flight Level 240 (24,000 feet/7,315 meters), reaching that altitude at about 1:48 p.m.
As the airliner leveled at FL240, a portion of the fuselage tore loose and caused an explosive decompression of the aircraft. The flight deck door blew away and Captain Schornstheimer could see "blue sky where the first-class ceiling had been." The captain took the controls, deployed the speed brakes and began an immediate descent at 280–290 knots (322–334 miles per hour/519–537 kilometers per hour), with a rate of descent as high as 4,100 feet per minute (20.83 meters per second). He turned toward the nearest airport, Kahalui Airport (OGG) on the island of Maui. First Officer Tompkins handled all communications as well as assisting the captain flying the airplane. Captain Schornstheimer described the flight controls as loose and sluggish.
Descending through 10,000 feet (3,048 meters) he began to slow the airliner, but below 170 knots (195.6 miles per hour/314.8 kilometers per hour), it became less controllable so he maintained that speed for the approach to the runway. At the normal point in the approach, the crew lowered the landing gear but the green light for the nose gear did not illuminate. The manual system was activated. The green light did not come on, but neither did the red light. Captain Schornstheimer felt that it was imperative to get the airliner on the ground, so there was no time to troubleshoot the landing gear.
At this time Flight 243 began to yaw and roll. The number one engine had failed. (Both engines were damaged from ingested debris.) An unsuccessful attempt was made to restart.
The Boeing 737 landed on Runaway 02 at Kahalui Airport at 13:58:45, just over ten minutes since the emergency began. The thrust reverser of the number two engine was used to slow the airplane and when it rolled to a stop, the emergency evacuation was begun.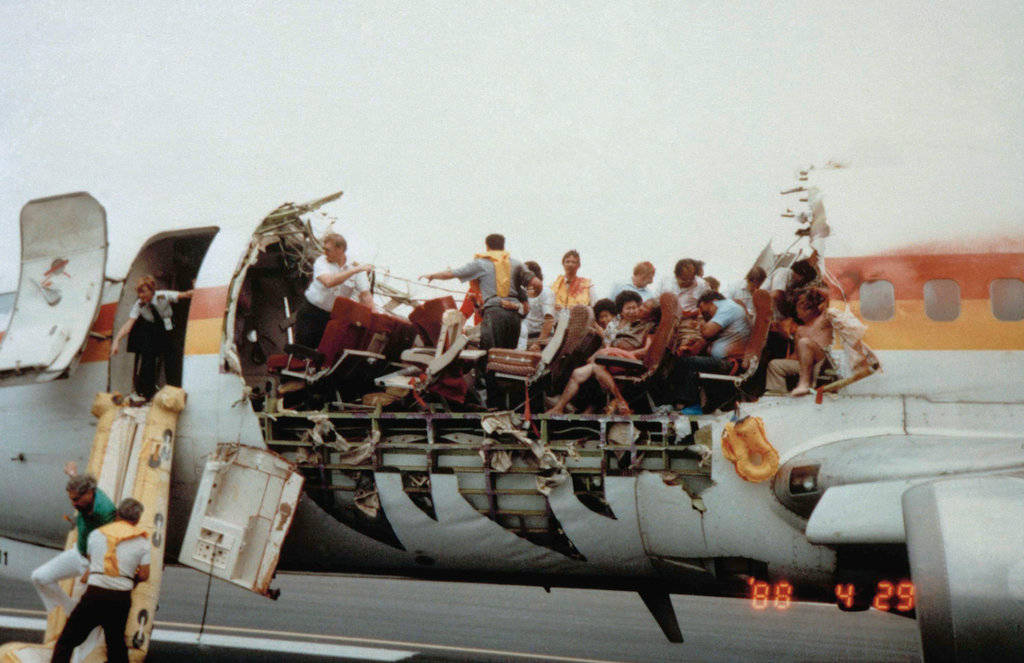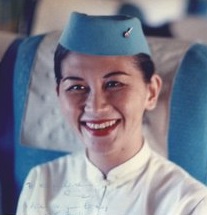 When the fuselage decompressed, Chief Flight Attendant Clarabelle Ho Lansing had been standing in the aisle at Row 5. She was thrown out of the airplane and fell to the ocean, 24,000 feet (7,315 meters) below. The U.S. Coast Guard cutter USCGC Cape Corwin coordinated a three-day search along with Coast Guard and Marine Corps helicopters, airplanes and other ships. Her body was never recovered.
Flight Attendant Jane Sato-Tomita sustained serious head injuries and was unconscious. Flight Attendant Michelle Honda and many passengers were also injured by flying debris and the effects of decompression.
Boeing 737-297 N73711 was damaged beyond repair. It was scrapped in place. At the time of the accident, the airframe had accumulated 35,496 hours (TTAF) with 89,680 cycles. The cause of the fuselage failure was fatigue cracking around rivets as a result of the vast number of pressurization/depressurization cycles it had experienced, as well as operation in a salty coastal environment. During the NTSB investigation, a passenger reported having seen a crack in the fuselage when boarding the flight, but did not say anything about it to the crew.
Captain Schornstheimer remained with Aloha Airlines until he retired in 2005. Mimi Tompkins also stayed with Aloha and rose to the rank of captain. When Aloha Airlines ceased operations in 2008 she went to Hawaiian Airlines.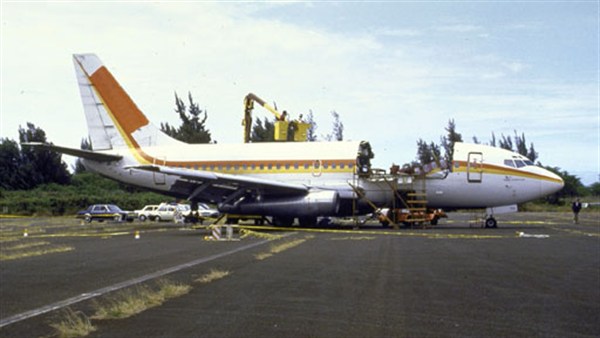 The Boeing 737-200 series was a short-to-medium range narrow body twin-engine civil transport. The -200 first flew 8 August 1967. It had a flight crew of two and could carry a maximum of 136 passengers.
The 737-200 is 100 feet, 2 inches (30.531 meters) long with a wingspan of 93 feet, 0 inches (28.346 meters) and overall height of 36 feet, 10 inches (11.227 meters). The wing is swept 25.00° at ¼ chord, and there are 6° dihedral. Its empty weight is 69,700 pounds (31,615 kilograms). Flight 243's actual takeoff weight was 93,133 pounds (42,224 kilograms). (Its maximum certificated takeoff weight was 100,000 pounds (45,359 kilograms).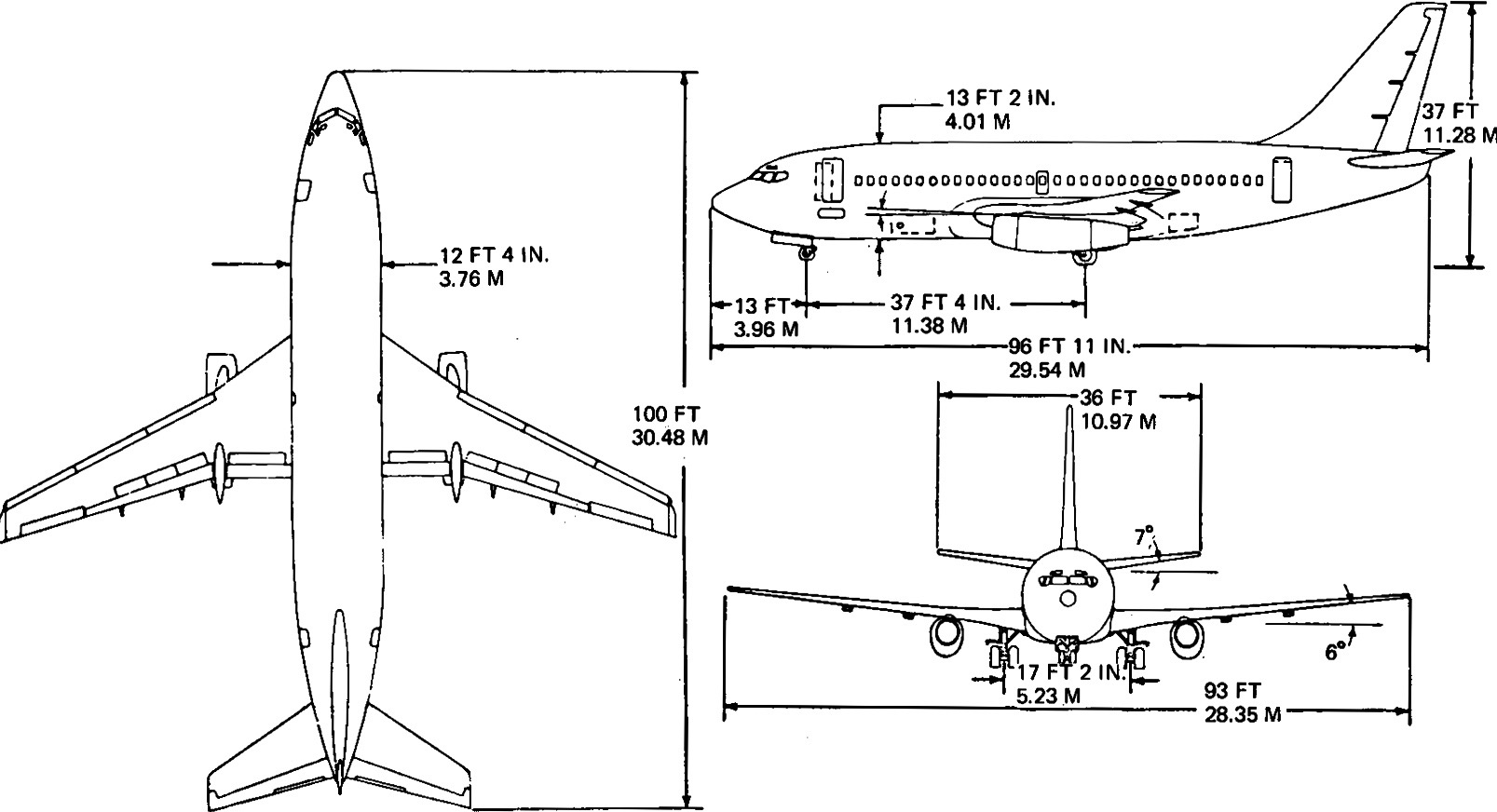 The airliner is powered by two Pratt & Whitney JT8D-9A low-bypass axial-flow turbofan engines, each producing 14,500 pounds of thrust (64.499 kilonewtons) at Sea Level. JT8D-9A was a two-spool engine with a 2-stage fan section, 11-stage compressor (4 low- and 7 high-pressure stages), nine combustion chambers and a 4-stage turbine (1 high- and 3 low-pressure stages). The JT8D-9A was 42.5 inches (1.080 meters) in diameter, 123.5 inches (3.137 meters) long, and weighed 3,196 pounds (1,450 kilograms).
Maximum speed is 0.82 Mach (544 miles per hour/780 kilometers per hour) and the service ceiling is 35,000 feet (10,700 meters).
The 737-200 first flew 8 August 1967. 1,095 –200s were built. The last one in service with an American airline, Aloha Airlines, was retired 21 March 2008.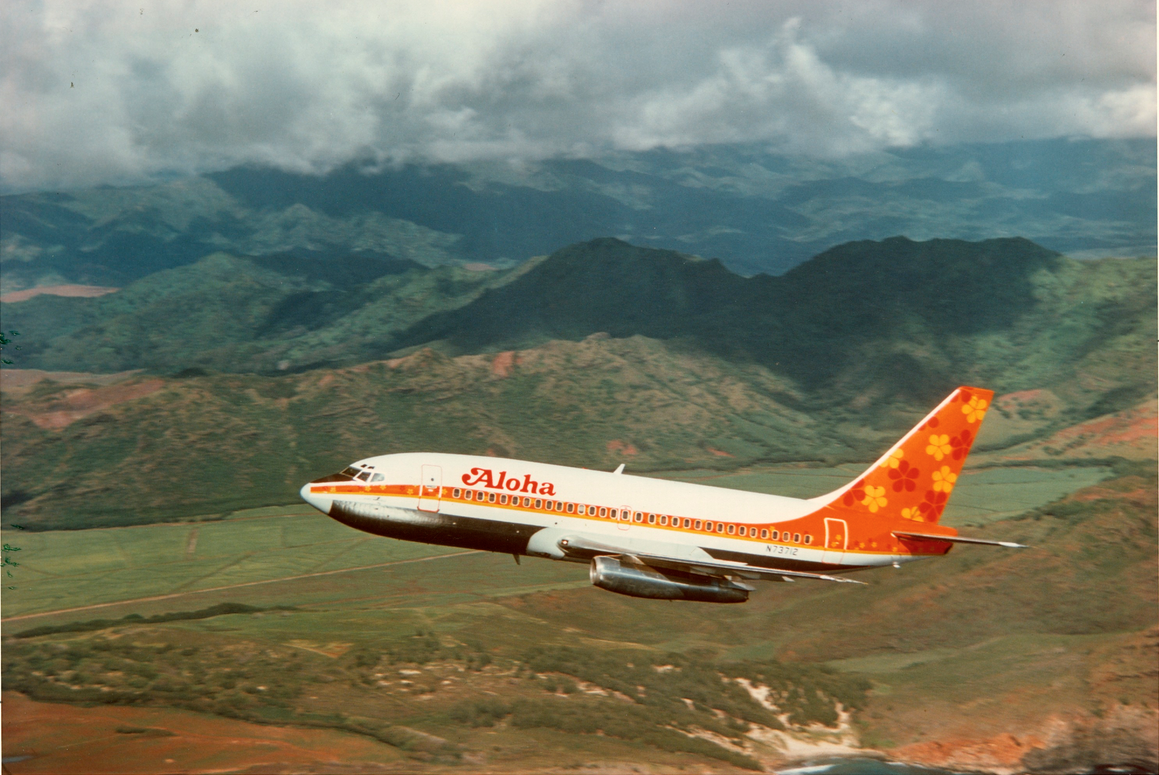 © 2017, Bryan R. Swopes