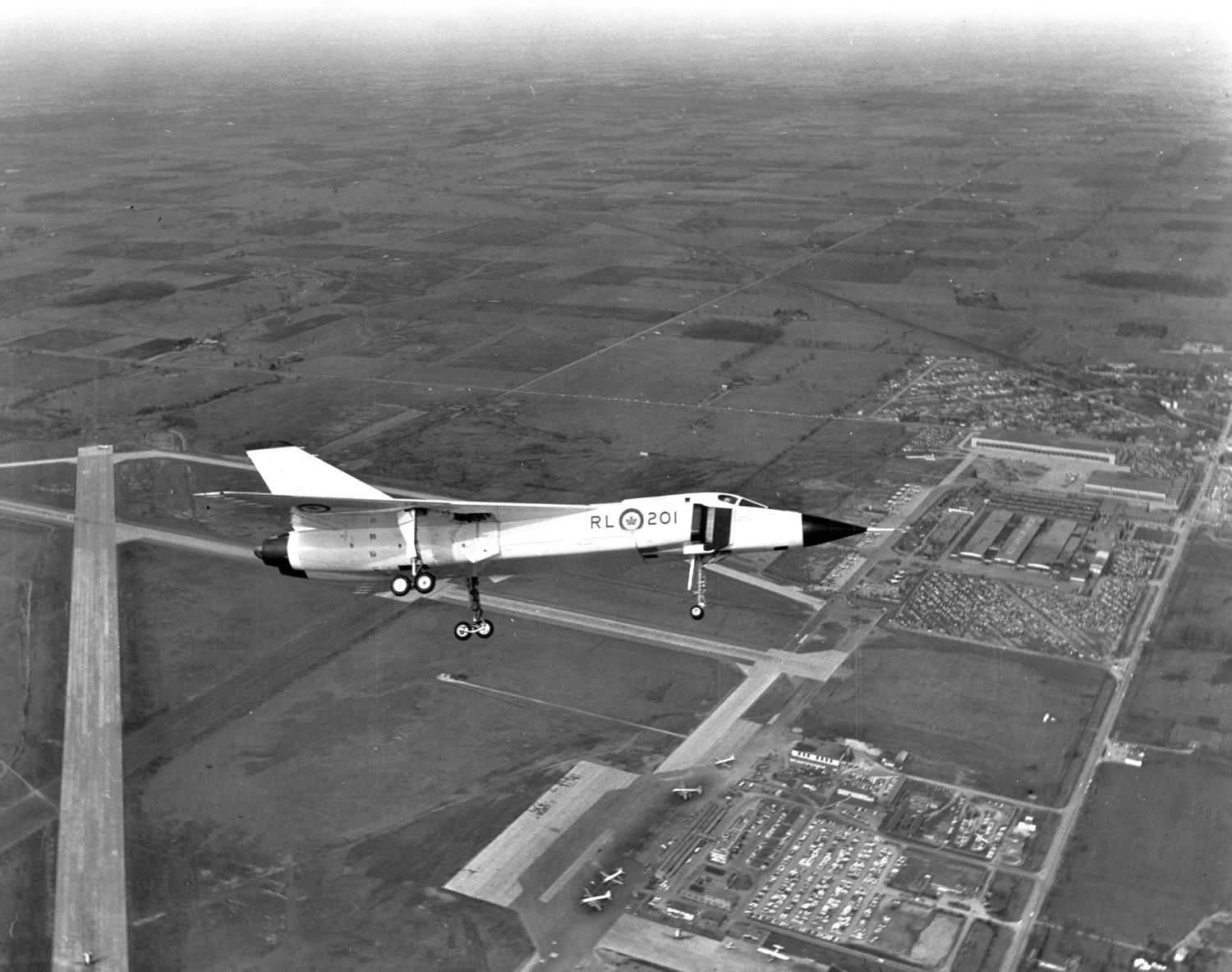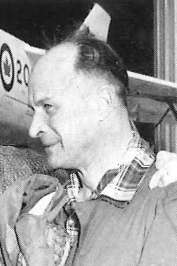 25 March 1958: At 9:51 a.m., the Avro CF-105 Arrow 1, 25201,  began its take off roll on Runway 32 at Melton, Ontario, Canada. In the cockpit was Avro's Chief Experimental Test Pilot,cJanusz ("Zura") Żurakowski.
The prototype interceptor was followed by two chase planes, an Avro CF-100 Canuck interceptor, flown by test pilot Władysław Jan ("Spud") Potocki, with photographer Hugh MacKechnie in the rear seat, and an Orenda-powered Canadair CL-13 Sabre, flown by Flight Lieutenant John Fraser ("Jack") Woodman, C.D., Royal Canadian Air Force.
The Arrow lifted off after a takeoff roll of less than 3,000 feet (914 meters). Leaving the airplane's landing gear extended, Żurakowski climbed to 5,000 feet (1,524 meters) and put the prototype through some basic maneuvers to evaluate its handling. Satisfied, he raised the landing gear and climbed to 10,000 feet (3,048 meters), where he continued to explore the flight characteristics of the CF-105 and to check its systems for proper functioning. The airplane reached a maximum altitude of 11,000 feet (3,353 meters) and speed of 250 knots (288 miles per hour/463 kilometers per hour).
Landing at Melton after 35 minutes, Żurakowski said, "Everything went exactly to plan. It handled nicely. There was no unexpected trouble."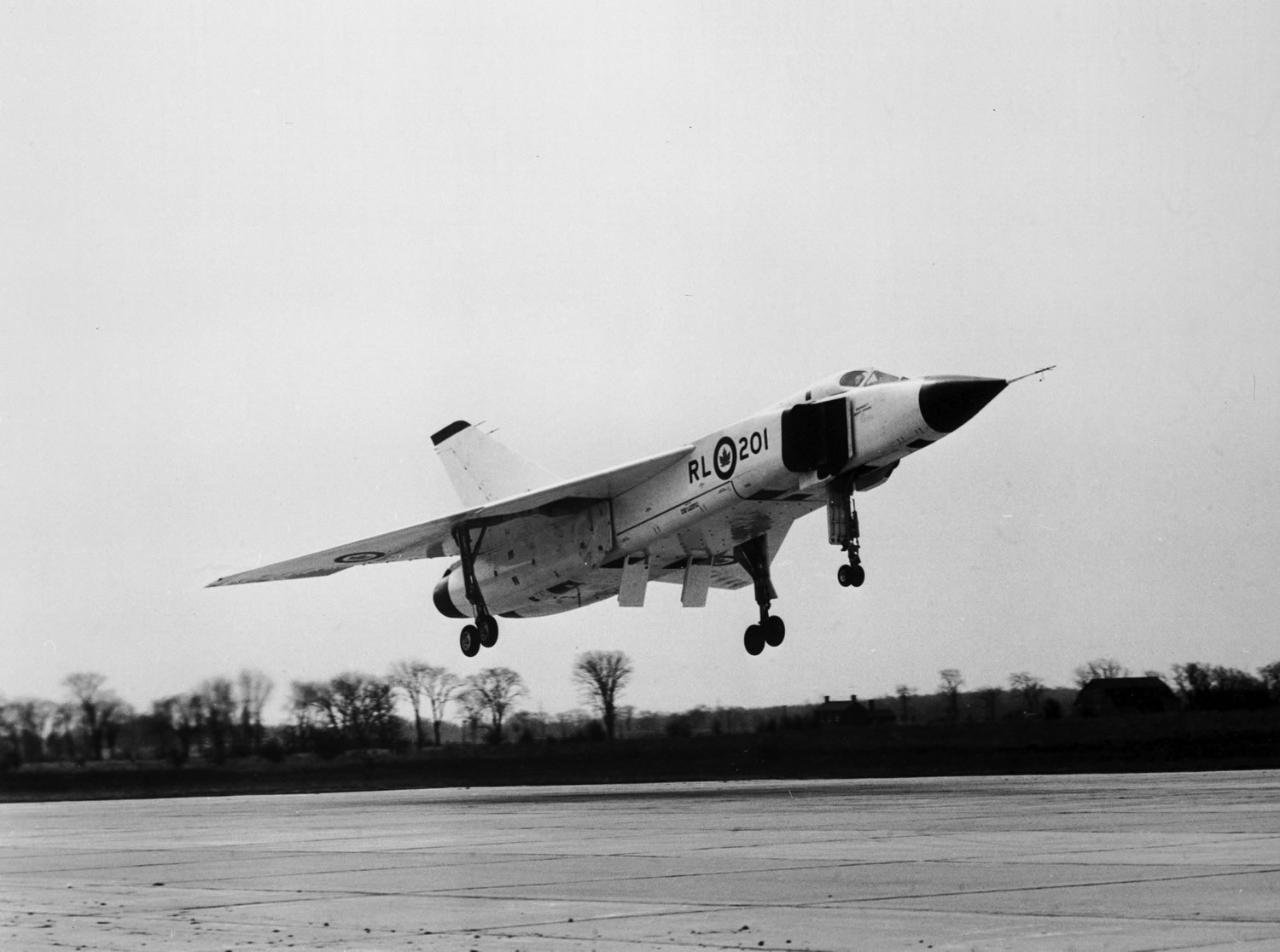 The Avro Aircraft Limited CF-105 Arrow 1 was a prototype long-range Mach 2 interceptor built for the Royal Canadian Air Force. It was a large, twin-engine airplane with a high delta wing and an internal weapons bay. To enable high supersonic speeds, the fuselage incorporated the "area rule."
Due to the perceived threat of the Soviet Union's nuclear-armed, four-engine Myasishchev M-4 Molot strategic bomber (NATO reporting name "Bison"), development of the CF-105 Arrow was accelerated. The five prototype aircraft were built on a production line, rather than being hand-built as was customary up to that time.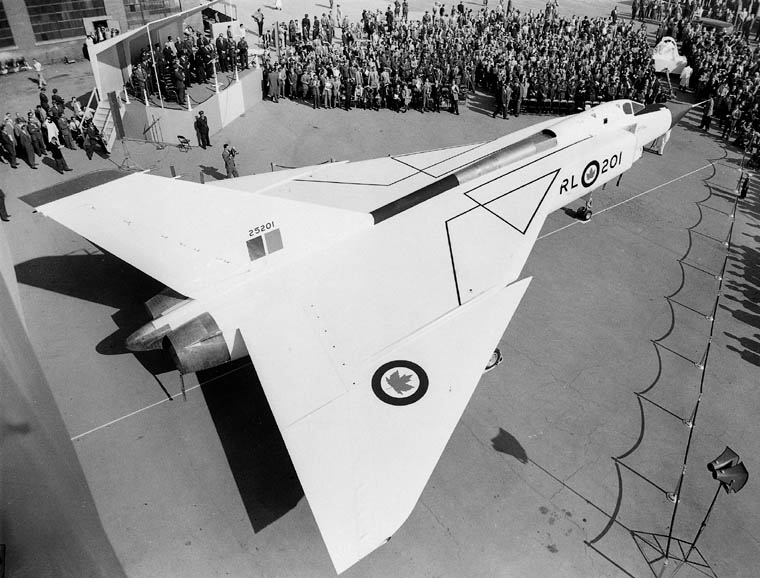 The CF-105 was designed to be flown by a pilot and radar operator in a tandem cockpit. The airplane was 73 feet, 4 inches (22.352 meters) long (80 feet, 10 inches/24.638 meters, including the pitot probe), with a wingspan of 50 feet, 0 inches (15.240 meters) and overall height of 21 feet, 3 inches (6.401 meters). The leading edges of the wings were swept aft at 61° 27′ and incorporated a small "dog tooth" at mid span, and the trailing edges, 11° 12′. The wings had 4° anhedral, and a total area of 1,225 square feet (113.81 square meters).
The first prototype CF-105 was powered by two Pratt & Whitney J75-P-3 engines. The J75 is a two-spool axial-flow afterburning turbojet. It has a 15-stage compressor section (8 low- and and 7 high-pressure stages) and 3-stage turbine section (1 high- and 2 low-pressure stages). It was rated at 16,500 pounds of thrust (73.40 kilonewtons), and 23,500 pounds (104.53 kilonewtons) with afterburner. The J75-P-3 was 21 feet, 7.3 inches (6.586 meters) long, 3 feet, 7.0 inches (1.067 meters) in diameter and weighed 6,175 pounds (2,801 kilograms). The following Arrow 1s were to be equipped with the similar J75-P-5, while production Arrow 2s would use the more powerful Orenda PS.13 Iroquois.
CF-105 25201 had a calculated operational weight of 48,821.07 pounds (22,144.87 kilograms). With maximum internal fuel, its calculated gross weight was 68,664.07 pounds (31,145.50 kilograms). The maximum takeoff weight (MTOW) was 69,000 pounds (31,298 kilograms).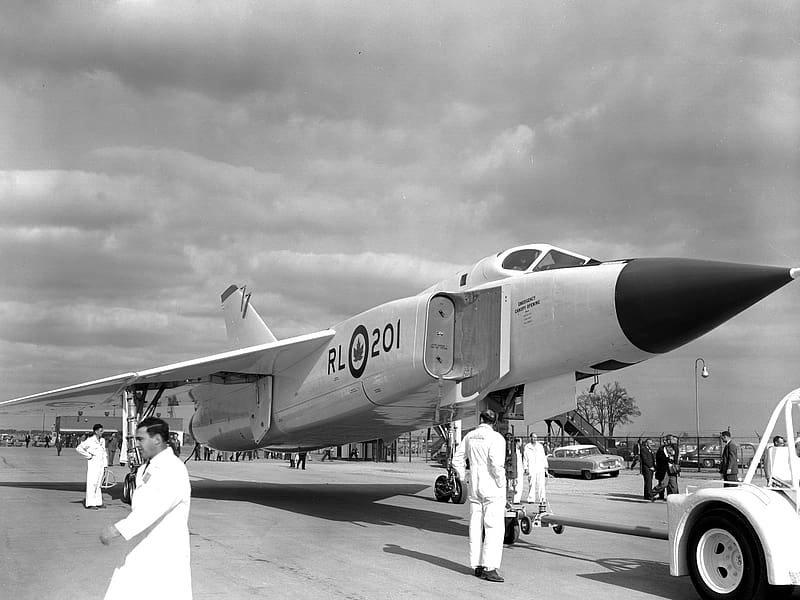 The Arrow 1 carried 2,508 Imperial gallons (3,012 U.S. gallons/11,402 liters) of JP-4 in 8 fuel tanks. An addition 500 gallon (600 U.S. gallons/2,273 liters) external long range tank could be carried under the fuselage.
The CF-105 Arrow was predicted to have a maximum speed of Mach 1.98. During flight testing, the highest speed recorded in level flight was Mach 1.90, while in a dive, it reached Mach 1.95. The maximum allowable speed (VNE) was 700 knots (806 miles per hour/1,296 kilometers per hour) EAS (Equivalent Air Speed), or Mach 2.0, (MMO) which ever is lower.
Armament was intended to be four short-range Canadair CL-20 Velvet Glove radar-homing guided missiles, but when this system was cancelled in 1956, substitute weapons selected were either eight Hughes GAR-1 radar-homing or GAR-2 infrared homing guided missiles (later designed AIM-4 Falcon), or three Raytheon AAM-N-2 (later, AIM 7 Sparrow) radar-homing guided missiles in a weapons bay under the fuselage. For speed of handling, the entire weapons bay could be lowered out of the aircraft and replaced with another.
A total of five CF-105 Arrow 1s were built before the program was cancelled by Canadian Prime Minister John George Diefenbaker, on 20 February 1959. The prototypes and the production tooling were ordered to be destroyed.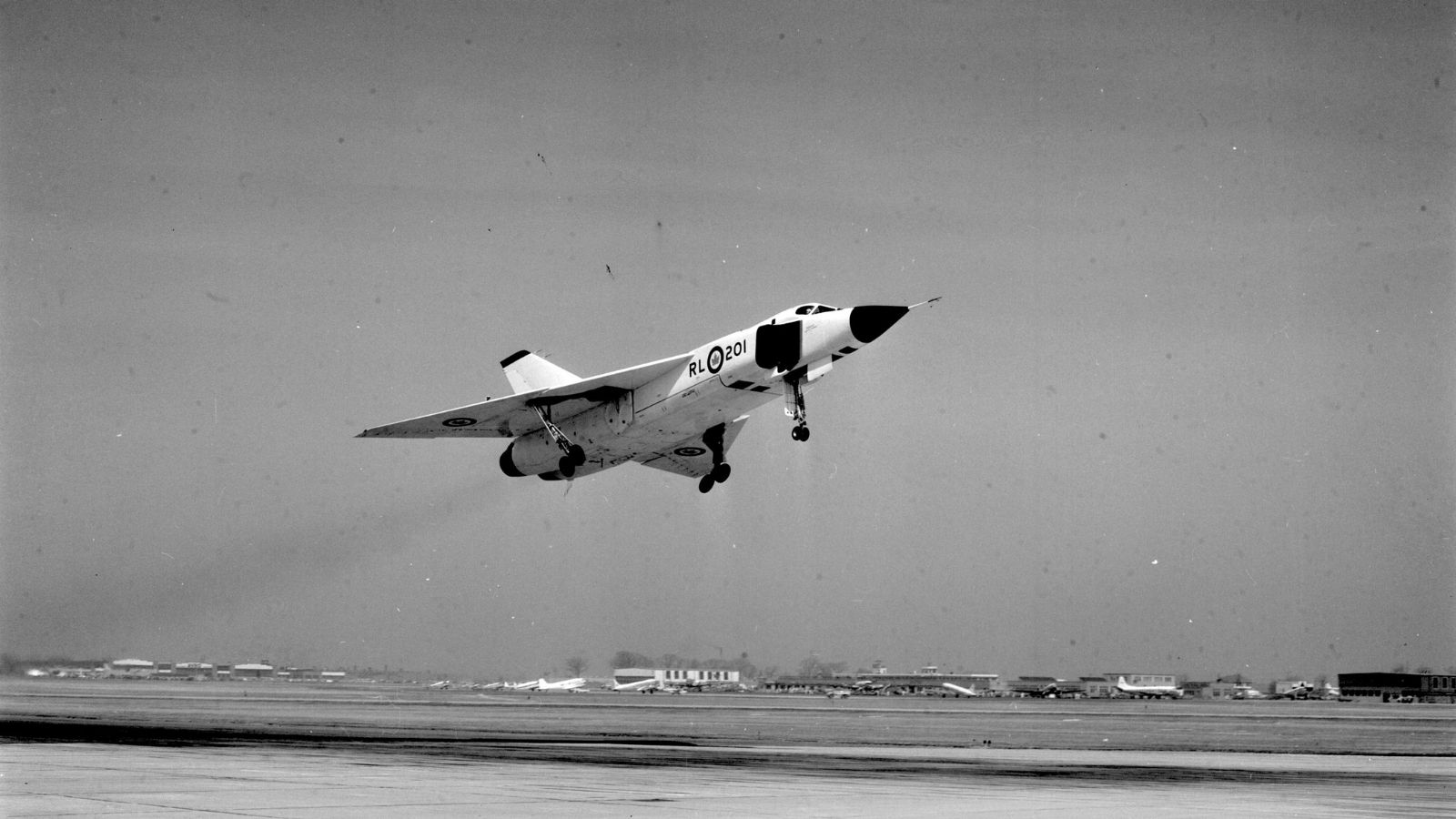 Janusz Żurakowski was born 12 September 1914 at Ryżawka, Ukraine, Russian Empire. He was the son of Adam Żurakowski and Maria Antonina Szawłowska. He had two brothers, Bronisław and Adam. Following the war between war between the Russian Soviet Federative Socialist Republic and the Second Polish Republic, the family fled to Poland.
Janusz attended high school at Lublin, Poland, and learned to fly gliders. He joined the Polish Air Force in 1934, graduating from officer's school in 1935, and was commissioned a sub-lieutenant. Trained as a fighter pilot, he was assigned to 161 Fighter Squadron, then later served as an instructor.
When Germany invaded Poland, Lieutenant Żurakowski, flying an obsolete single-engine, high-wing PZL P.7 trainer, attacked a flight of seven Dornier 17s twin-engine light bombers, damaging one. When Poland, fell, he made his way to England and joined the Royal Air Force. Pilot Officer Żurakowski served with No. 152 Squadron, and No. 234 Squadron, flying the Supermarine Spitfire Mk.I. He shot down a Messerschmitt Bf 110. He was himself shot down 24 August 1940. He was "captured" by the Home Guard, who apparently took him to be a German airman. He had been reported as killed in action, but was soon returned to his squadron. In early September 1940, he shot down two Messerschmitt Bf 109s. In April 1942, he was promoted to Flight Lieutenant. He served with several other RAF squadrons, rising to the rank of Squadron Leader. He commanded No. 315 Squadron, and was deputy wing leader of Polish No. 1 Fighter Wing. On 17 May 1943, he shot down a Messerschmitt Bf 109G.
Squadron Leader Żurakowski attended the Empire Test Pilot School in 1944. Following the War, he flew with the Aeroplane and Armament Experimental Establishment (A&AEE) at Boscombe Down, where he flew the de Havilland DH.103 Hornet. He was a noted expert in aerobatics.
In 1947, Żurakowski left the Royal Air Force and was employed as a test pilot for Gloster.
In 1949, Squadron Leader Żurakowski married Anna Alina Danielska in Paris, France. They would have two children, George and Mark.
Żurakowski and his family emigrated to Canada in 1952. He went to work for Avro Aircraft Limited as a test pilot. On 18 September 1952, he became the first pilot in Canada to "break the sound barrier," when he put an Avro CF-100 Mk 4 into a dive. In 1958, he was selected as the chief test pilot for the CF-105 project. He remained with Avro until 1959.
Following his career in aviation, Żurakowski operated a tourist lodge at Kamaniskeg Lake, Ontario, for the next 40 years.
For his service during World War II, Squadron Leader Żurakowski was awarded the Order Wojenny Virtuti Militari (For Military Virtue), Poland's highest military award for heroism, and the Krzyż Walecznych (Cross of Valor) with two bars (three awards). In 1999, he was awarded the Order Zasługi Rzeczypospolitej Polskiej, an order for people who have performed great service to Poland.
Shortly before his death, Żurakowski co-authored an autobiography, Janusz Żurakowski: Legend of the Skies, with Bill Zuk. (Crecy Publishing, Wythenshawe, England, 2007). His wife and son, George, wrote Janusz Żurakowski: Not Just About Flying, which was published privately in 2021.
Janusz Żurakowski died at Barry's Bay, Ontario, Canada, 9 February 2004, at the age of 89 years.
© 2023, Bryan R. Swopes