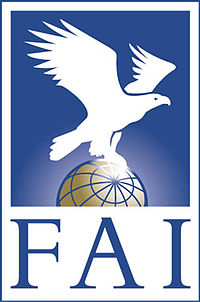 6–7 April 1966: Chief Test Pilot Robert G. Ferry of Hughes Tool Company's Aircraft Division flies the number three prototype YOH-6A, 62-4213, from the company airport at Culver City, California, non-stop to Ormond Beach, Florida, a distance of 3,561.55 kilometers (2,213.04 miles). Bob Ferry set three Fédération Aéronautique Internationale (FAI) World Records for Distance Without Landing.¹ All three records still stand.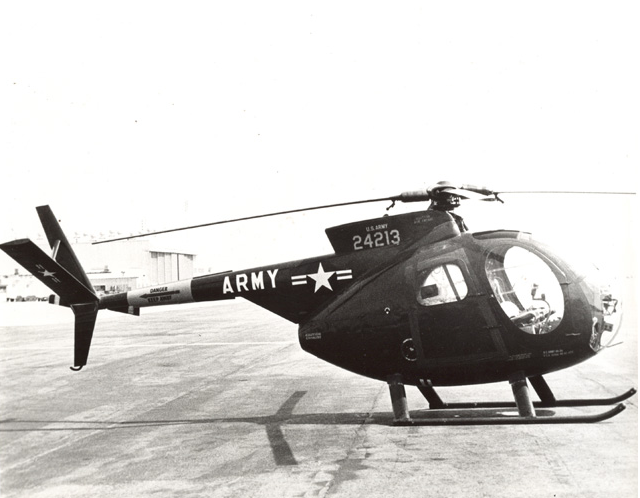 Bob Ferry took off at the Hughes Airport at Culver City (just north of LAX) at 2:20 p.m., Pacific Time. The aircraft twas so heavily loaded with fuel that the test pilot exceeded the engine's torque limit by 21% just to get airborne. When he established a climb he reduced the power to "red line." During the entire flight he kept the engine at 105% N2 (a 2% overspeed). He landed after 15 hours, 8 minutes of flight.
On 26 March 1966, Allison Engine Company test pilot Jack Schweibold flew the same YOH-6A  to set three Fédération Aéronautique Internationale (FAI) World Records for Distance Over a Closed Circuit Without Landing of 2,800.20 kilometers (1,739.96 miles).² One week earlier, 20 March, Jack Zimmerman had set a Fédération Aéronautique Internationale (FAI) World Record for Distance Over a Closed Circuit Without Landing of 1,700.12 kilometers (1,056.41 miles).³ Fifty-one years later, these four World Records also still stand.
Robert George Ferry was born 29 November 1923 in Hennepin County, Minnesota, the second child of Lucius M. and Charlotte E. Ferry. He developed an interest in aviation during his teen years. Ferry earned a bachelor's degree from Florida Southern University. He entered the U.S. Army Air Corps in 1943 and graduated from flight training at Luke Filed, Arizona, in 1945.
Ferry trained as a helicopter pilot at San Marcos Army Air Field, Texas, flying Sikorsky R-5 and R-6 helicopters. After graduation Lieutenant Ferry was assigned to Panama.
In 1947, Robert Ferry married Miss Marti Holt of Austin, Texas. They remained together for 62 years.
Bob Ferry flew 90 combat missions in helicopters during the Korean War. In 1954, he was accepted to the U.S. Air Force Experimental Test Pilot School, Class 54C, at Edwards Air Force Base. (One of Ferry's classmates was future X-15 pilot, Robert M. White.)
Assigned as a test pilot Bob Ferry flew the McDonnell XV-1 Convertiplane compound helicopter with pressure jet rotor drive and the Bell XV-3, an experimental "tiltrotor." On 6 January 1959, he completed the conversion from helicopter to airplane mode. He also flew the Hughes XV-9A, an experimental high-speed helicopter, which also used tip jets to drive the rotor. After six years as a test pilot at Edwards, Ferry was assigned to duties in Germany. He retired from the Air Force in 1964 with the rank of Lieutenant Colonel.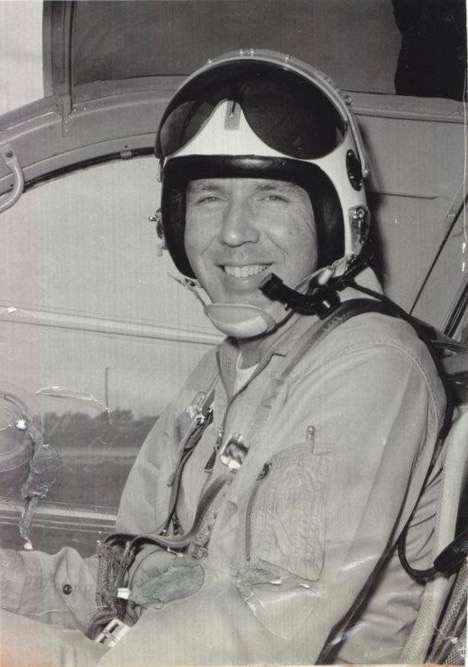 In 1966, Robert Ferry became chief test pilot at the Hughes Tool Company Aircraft Division at Culver City, California. He tested the OH-6A light observation helicopter and the AH-64 Apache at the Hughes facility at Palomar Airport in north San Diego County. During this time Ferry earned a Masters Degree in Business Administration from the University of San Diego.
Bob Ferry retired from Hughes Helicopters after 18 years. He had flown approximately 10,800 hours in 125 different aircraft. About 8,000 hours were in helicopters. He had been awarded the Iven C. Kincheloe Award for 1959 by the Society of Experimental Test Pilots, the Igor I. Sikorsky International Trophy for his transcontinental record flight, and the 1967 Frederick L. Feinberg Award by the American Helicopter Society.
Lieutenant Colonel Robert G. Ferry, United States Air Force (Retired) died at his home in San Marcos, California, 15 January 2009 at the age of 85 years.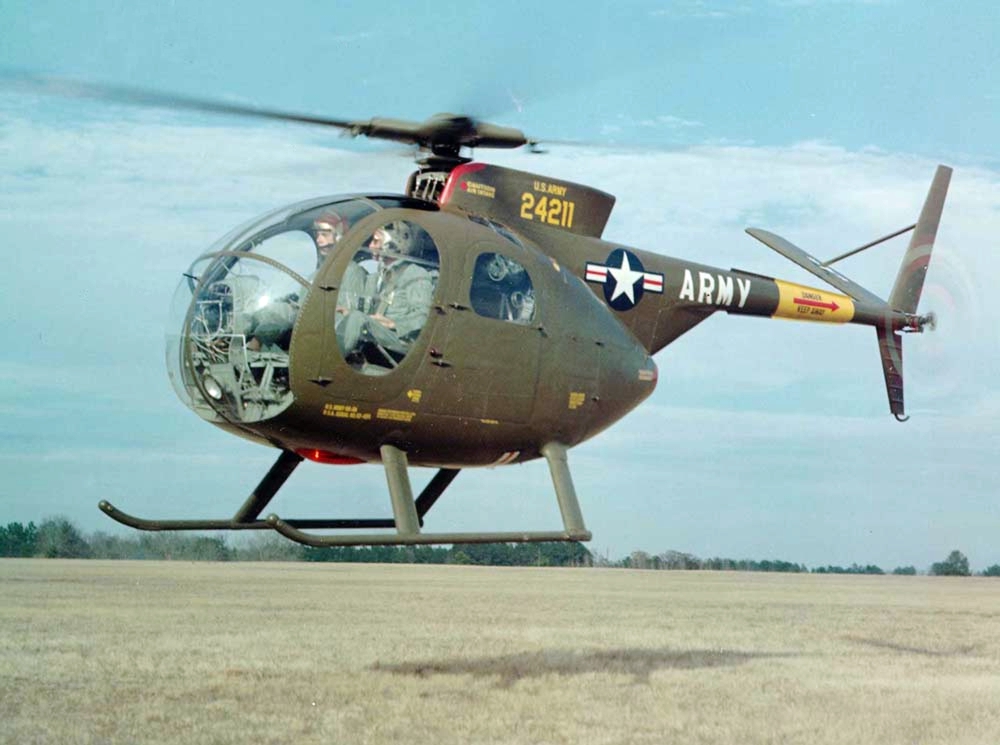 The Hughes Model 369 was built in response to a U.S. Army requirement for a Light Observation Helicopter ("L.O.H."). It was designated YOH-6A, and the first aircraft received U.S. Army serial number 62-4211. It competed with prototypes from Bell Helicopter Company (YOH-4) and Fairchild-Hiller (YOH-5). All three aircraft were powered by a lightweight Allison Engine Company turboshaft engine. The YOH-6A won the three-way competition and was ordered into production as the OH-6A Cayuse. It was nicknamed "loach," an acronym for L.O.H.
The YOH-6A was a two-place light helicopter, flown by a single pilot. It had a four-bladed, articulated main rotor which turned counter-clockwise, as seen from above. (The advancing blade is on the helicopter's right.) Stacks of thin stainless steel "straps" fastened the rotor blades to the hub and were flexible enough to allow for flapping and feathering. Hydraulic dampers controlled lead-lag. Originally, there were blade cuffs around the main rotor blade roots in an attempt to reduce aerodynamic drag, but these were soon discarded. A two-bladed semi-rigid tail rotor was mounted on the left side of the tail boom. Seen from the left, the tail-rotor rotates counter-clockwise. (The advancing blade is above the axis of rotation.)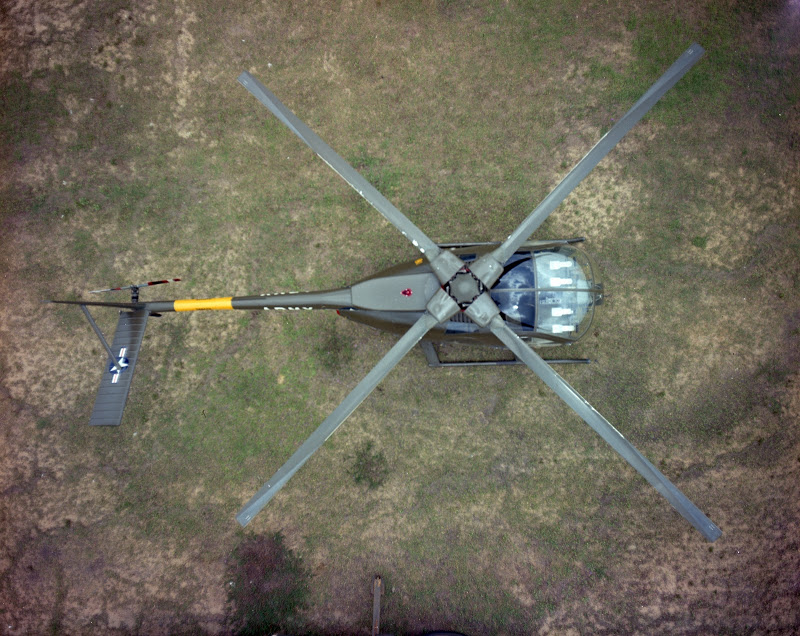 The YOH-6A was powered by a T63-A-5 turboshaft engine (Allison Model 250-C10) mounted behind the cabin at a 45° angle. The engine was rated at 212 shaft horsepower at 52,142 r.p.m. (102% N1) and 693 °C. turbine outlet temperature for maximum continuous power, and 250 shaft horsepower at 738 °C., 5-minute limit, for takeoff. Production OH-6A helicopters used the slightly more powerful T63-A-5A (250-C10A) engine.
The Hughes Tool Company Aircraft Division built 1,420 OH-6A Cayuse helicopters for the U.S. Army. The helicopter remains in production as AH-6C and MH-6 military helicopters, and the MD500E and MD530F civil aircraft.
Hughes YOH-6A 62-4213 is in the collection of the United States Army Aviation Museum, Fort Rucker, Alabama.
¹ FAI Record File Numbers 784, 785 and 11655.
² FAI Record File Numbers 786, 787 and 11656.
³ FAI Record File Number 762.
© 2019, Bryan R. Swopes