30 August 1984: At 8:41 a.m., EDT (12:41:50 UTC), the Space Shuttle Discovery (OV-103) lifted off from Launch Complex 39A on its first flight into space. This was the fourth attempt to launch Discovery on Mission STS-41-D. The purpose of the mission was to place three communications satellites into orbit, and to deploy an experimental solar panel array. Various other experiments were also carried out.
The Mission Commander was Henry W. Hartsfield, Jr., making his second space flight. Shuttle Pilot Michael L. Coats was on his first. Three Mission Specialists, Richard M. Mullane, Steven A. Hawley, Judith A. Resnick, and Payload Specialist Charles D. Walker, were all on their first space flight.
A highlight of this mission was the onboard filming by the crew of footage for the IMAX film, "The Dream Is Alive."
Discovery touched down at Edwards Air Force Base, California, at 6:37 a.m., PDT (13:37:54 UTC), completing its first flight into space in 6 days, 56 minutes, 4 seconds.
Discovery is the space shuttle fleet leader, having made 39 orbital flights, more than any other shuttle.
Mission Specialist Judith Arlene Resnick was a crew member of shuttle mission STS-51-L. She was killed when Challenger was destroyed shortly after launch, 28 January 1986.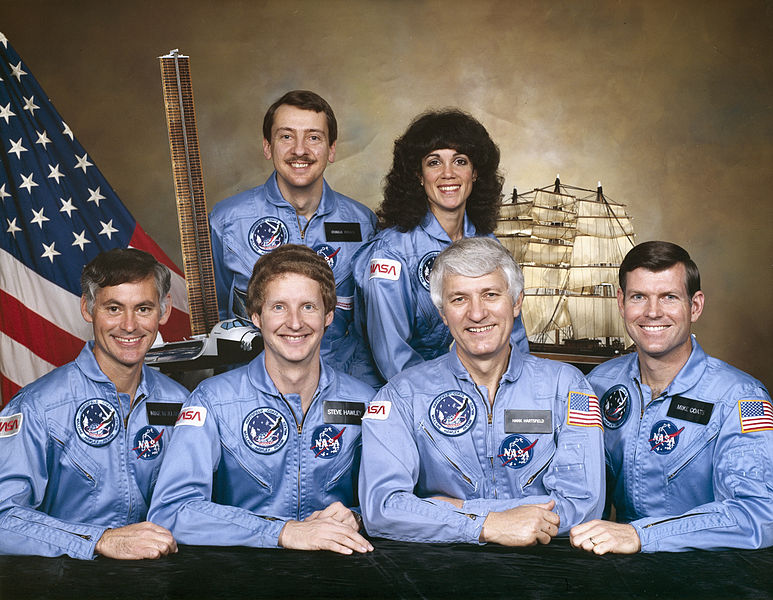 © 2018, Bryan R. Swopes