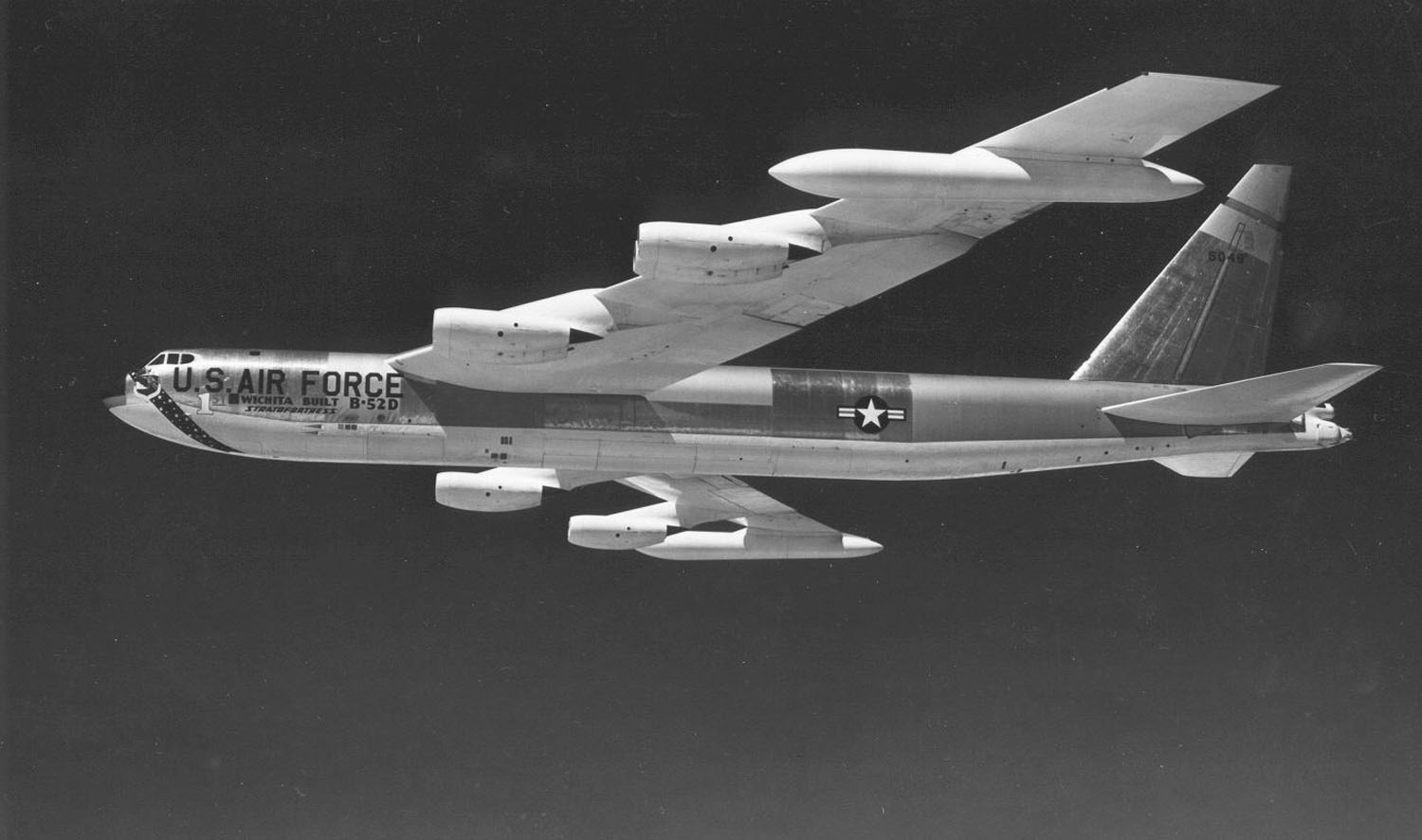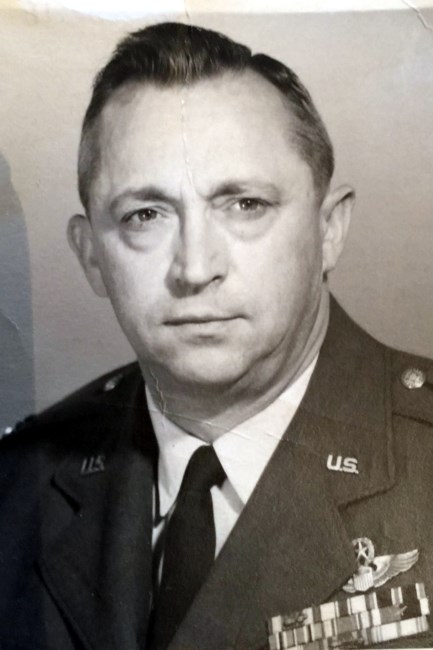 26 September 1958: Lieutenant Colonel Victor Leonard Sandacz, with Captain Kenneth G. Wolf, flew a Boeing B-52D Stratofortress of the 28th Bombardment Wing, Heavy, twice around a triangular circuit from Ellsworth Air Force Base, Rapid City, South Dakota, to Douglas, Arizona, Newberg, Oregon, and back to Rapid City. He established a Fédération Aéronautique Internationale (FAI) World Record for Speed Over a Closed Circuit of 10,000 Kilometers Without Payload with an average speed of 902.369 kilometers per hour (560.706 miles per hour).¹ Sandacz's B-52 made two circuits in 11 hours, 9 minutes. The actual distance covered was 10,032 kilometers (6,233.6 statute miles),
Other members of the flight crew were Major James A. Hentschel, navigator; Major Joseph T. Sulkowski, radar navigator; Major James E. Kimble, electronic countermeasures; and master Sergeant Phillip B. McCaffree, tail gunner.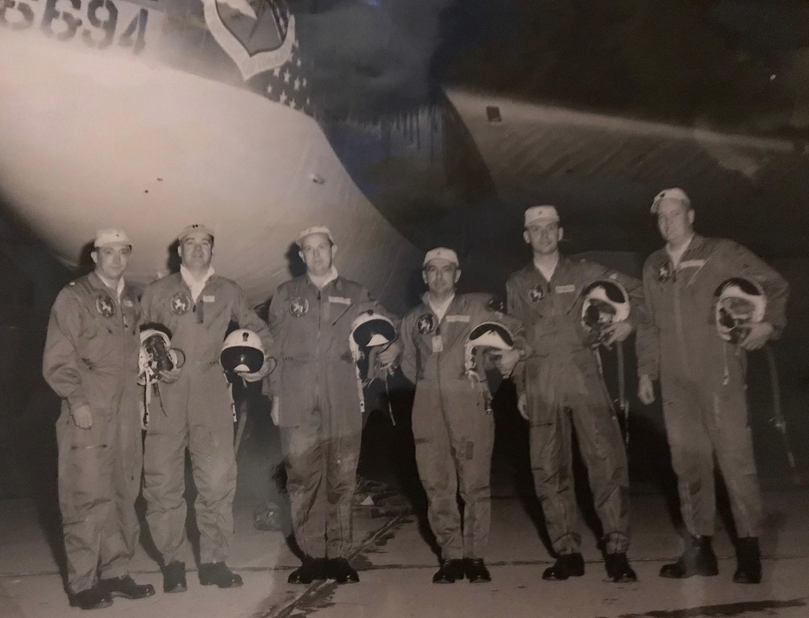 A second B-52D, flown by Captain Cholett Griswold and Captain Edward V. Godfrey, made a single circuit, setting an FAI World Record for Speed Over a Closed Circuit of 5,000 Kilometers Without Payload, averaging 961.867 kilometers per hour (597.676 miles per hour).² Griswold's B-52 competed the course in 5 hours, 11 minutes, 49 seconds.
Additional members of Captain Griswold's crew were 1st Lieutenant Leo M. Molland, navigator; Captain William T. Dugard, radar navigator; Captain Emmanuel C. Hallenbeck, ECM; and Technical Sergeant Matthew Scopelitis, gunner.
Observers from the National Aeronautic Association were aboard each bomber.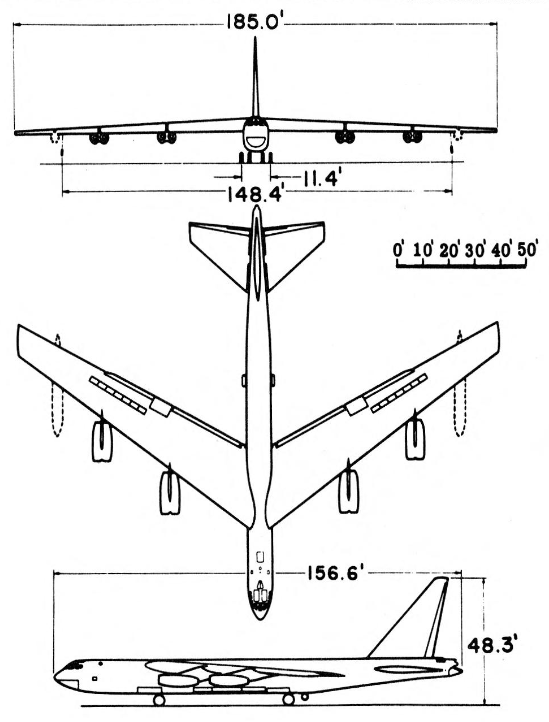 The Boeing B-52D Stratofortress differed from earlier production models primarily in that it did not have the capability of carrying a reconnaissance capsule in its bomb bay. It is an a long-range high-subsonic heavy bomber powered by eight turbojet engines. It is flown by two pilots, a navigator and bombardier, an electronics countermeasures operator and a tail gunner.
The airplane was 156.6 feet, (47.73 meters) long with a wingspan of 185.0 feet (56.39 meters) and overall height of 48.3 feet, (14.72 meters). The wings were mounted high on the fuselage ("shoulder-mounted") to provide clearance for the engines which were suspended on pylons. The wings had a 6° angle of incidence and 2° 30′ anhedral. The wings' leading edges were swept aft 36° 58′. The bomber's empty weight was 165,110 pounds (74,893 kilograms), with a combat weight of 279,900 pounds (126,961 kilograms) and a maximum takeoff weight of 450,000 pounds (204,117 kilograms).
The B-52D is powered by eight Pratt & Whitney J57-P-19W turbojet engines grouped in two-engine pods on four under-wing pylons. The J57 is a two-spool, axial-flow engine with a 16-stage compressor section (9 low- and 7-high-pressure stages) and a 3-stage turbine section (1 high- and 2 low-pressure stages). The -19W engine had a normal power rating of 9,000 pounds of thrust (40,034 kilonewtons) at 5,900 r.p.m., N1 and 9,650 r.p.m., N2, continuous; military power rating, 10,500 pounds of thrust (46,706 kilonewtons) at 6,150 r.p.m., N1, and 9,900 r.p.m., N2, and maximum power rating of 12,100 pounds of thrust (53,823 kilonewtons) at 6,450 r.p.m., N1, and 9,900 r.p.m., N2, with water/alcohol injection, five minute limit. The J57-P-19W was 3 feet, 4.5 inches (1.029 meters) in diameter, 157.7″ 13 feet, 1.7 inches (4.006 meters) long, and weighed 4,035 pounds (1,830 kilograms).
The B-52D had an average cruise speed of 457 knots (526 miles per hour/846 kilometers per hour), and a maximum speed of 546 knots (628 miles per hour/1,011 kilometers per hour) at 20,000 feet (6,096 meters) (0.77 Mach). The service ceiling with the maximum bomb load was 49,400 feet (15,057 meters), or 55,300 feet (16,855 meters) for a ferry mission.
The maximum ferry range of the B-52D was 7,260 nautical miles (8,350 statute miles/13,446 kilometers). With the maximum bomb load, it had a combat radius of 3,115 nautical miles (3,585 statute miles/5,769 kilometers). With inflight refueling, though, the bomber's range was essentially world-wide.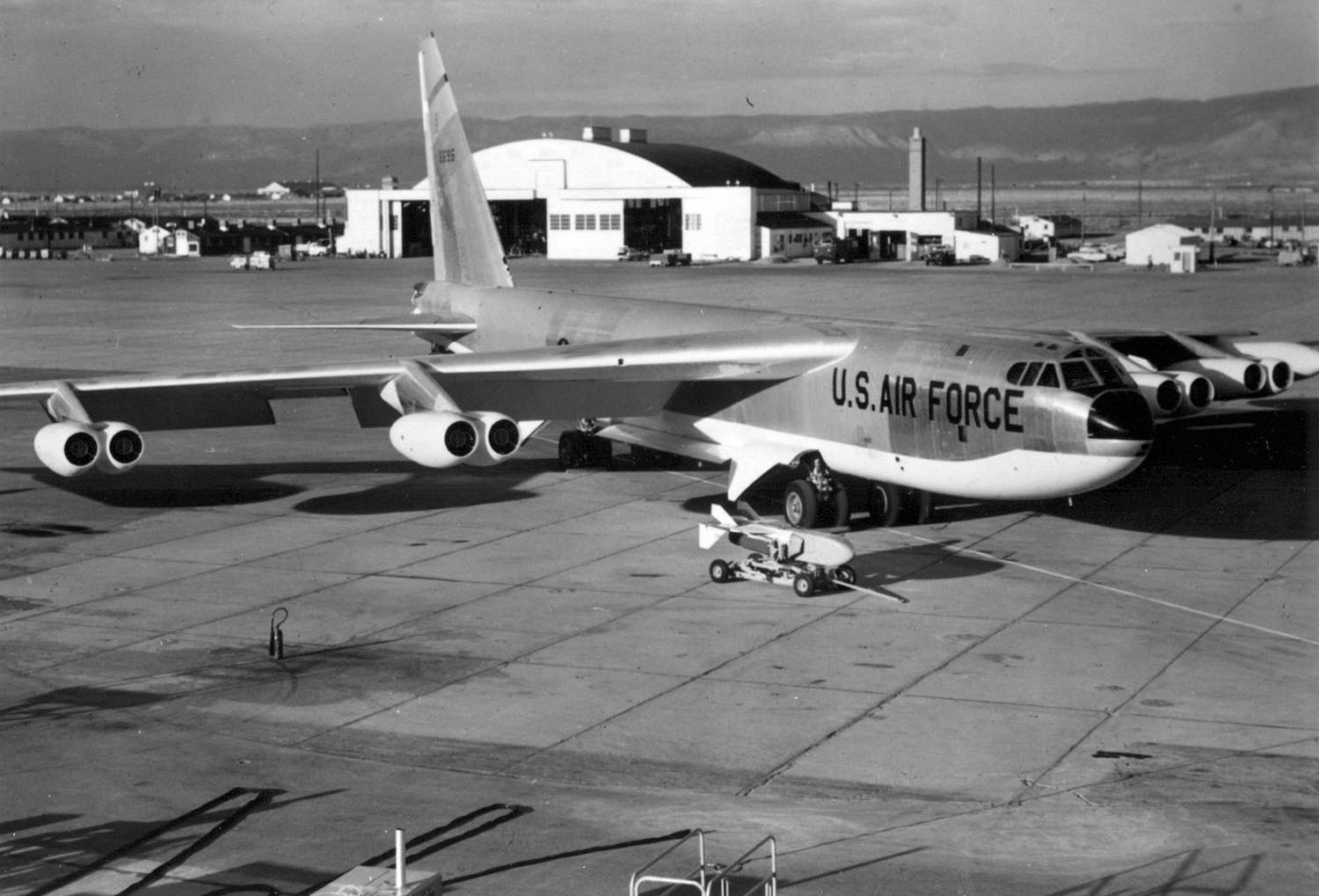 The B-52D could carry 27 1,000 pound (454 kilogram) bombs; one 30,000 pound (13,608 kilogram) "special weapon," or two 8,600 pound (3,901 kilogram) "special weapons." During the Vietnam War, many B-52Ds were modified to the "Big Belly" configuration. This allowed them to carry 42 750 pound (340 kilogram) bombs in the internal bomb bay and 24 750 pound (340 kilogram) bombs on external underwing pylons.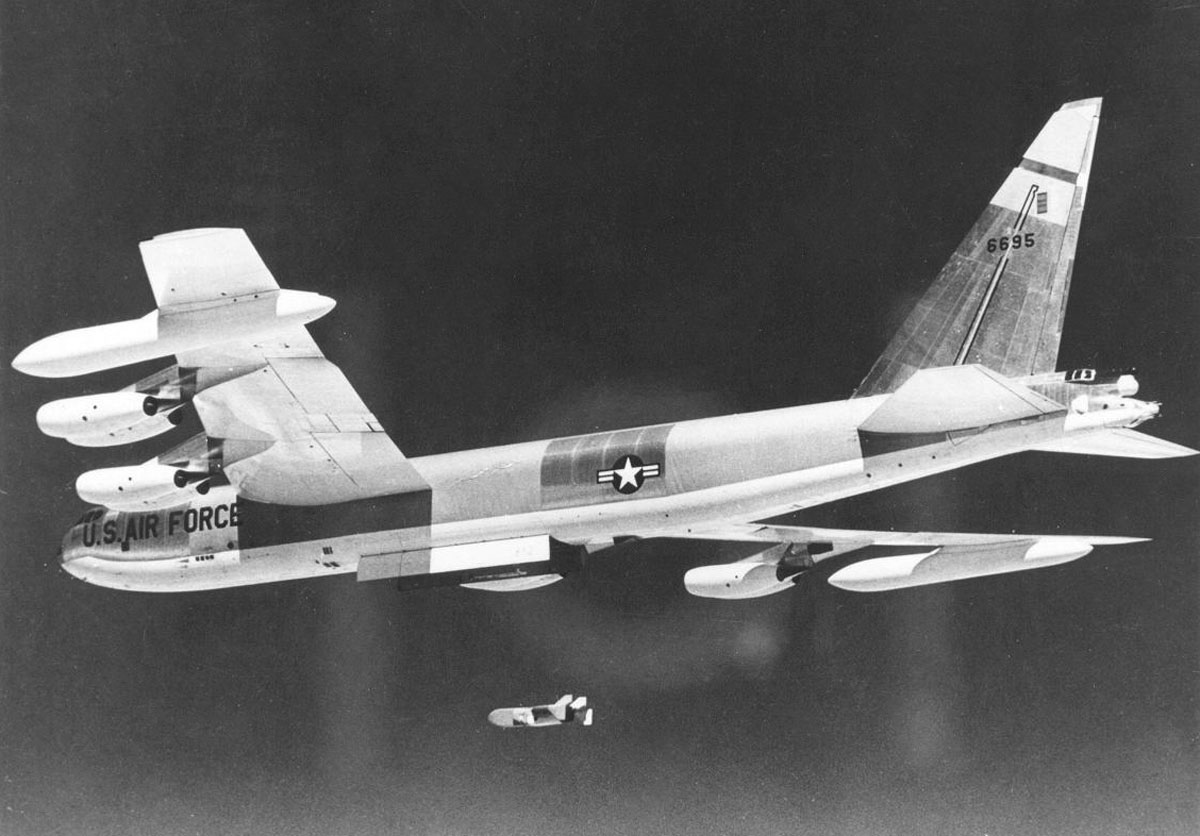 Defensive armament consisted of four Browning Aircraft Machine Guns, Caliber .50, AN-M3, mounted in a tail turret with 600 rounds of ammunition per gun. These guns had a combined rate of fire in excess of 4,000 rounds per minute.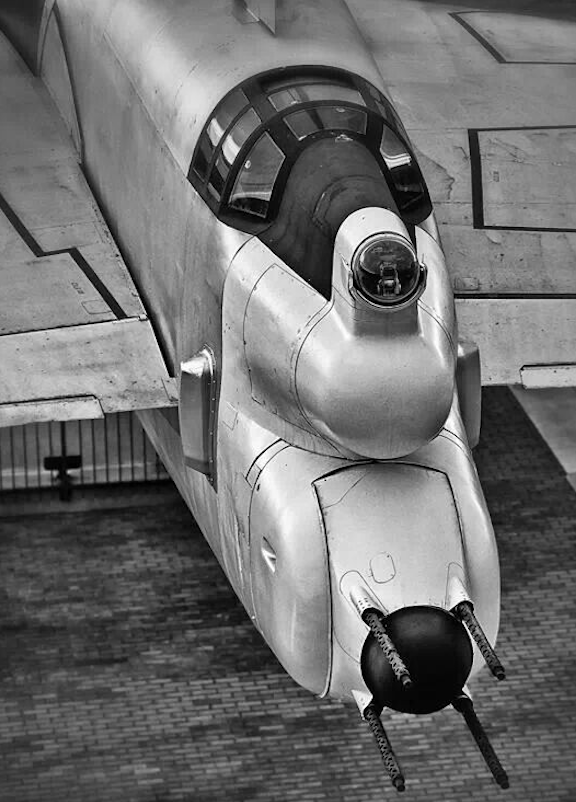 Between 1956 and 1958, Boeing produced 101 B-52Ds at Seattle, Washington, and 69 at Wichita, Kansas.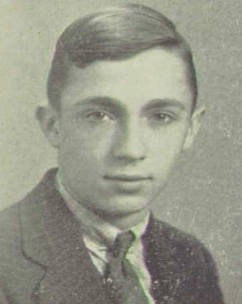 Victor Leonard Sandacz was born 13 September 1920 at Youngstown, Ohio. He was the first of four children of Sylvester Simon Sandacz, a waiter, and Veronika M. Porembka Sandacz. He attended Mount Pleasant Township High School, Mount Pleasant, Pennsylvania, graduating 26 May 1938.
In 1942, Sandacz was employed by the American Cyanimid and Chemical Corporation at Latrobe, Pennsylvania. He registered for Selective Service (conscription) on 16 February 1942, and was described as having a ruddy complexion, brown hair and eyes. He was 5 feet 8 inches (1.73 meters) tall and weighed 150 pounds (68 kilograms).
Sandacz entered the United States Army as an aviation cadet at Pittsburgh, Pennsylvania, 23 May 1942.
Lieutenant Sandacz married Betty Grace Johnson, a stenographer, at the United Brethren Church, Winchester, Virginia, 24 December 1942. The ceremony was officiated by L. G. Bridgers. They would have four children.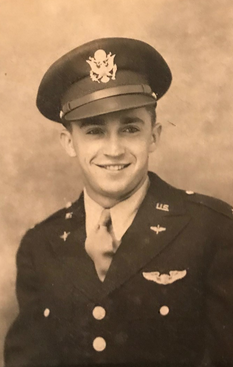 Sandacz graduated from flight training at Marfa, Texas, and was commissioned as a second lieutenant 3 November 1943. He trained in four-engine bombers at Roswell Army Air Field, New Mexico, qualifying as a B-17 first pilot 15 August 1945.
Lieutenant Sandacz was promoted to the rank of captain in January 1951.
Sandacz went on to the Boeing B-29 Superfortress and Convair B-36 Peacemaker. He transitioned to the Boeing B-52 Stratofortress at Castle Air Force Base in California, April 1956.
On 16 April 1962, Lieutenant Colonel Sandacz became the first Strategic Air Command pilot to accumulate 4,000 flight hours in the B-52.
Colonel Sandacz retired from the United States Air Force 1 August 1971 after 27 years, 9 months of service.
Colonel Victor Leonard Sandacz, United States Air Force (Retired), died at Arlington, Texas, 16 December 2017 at the age of 97 years. His remains are interred at the Dallas-Fort Worth National Cemetery.
Thanks to TDiA reader James Koenig for suggesting this topic.
¹ FAI Record File Number 8498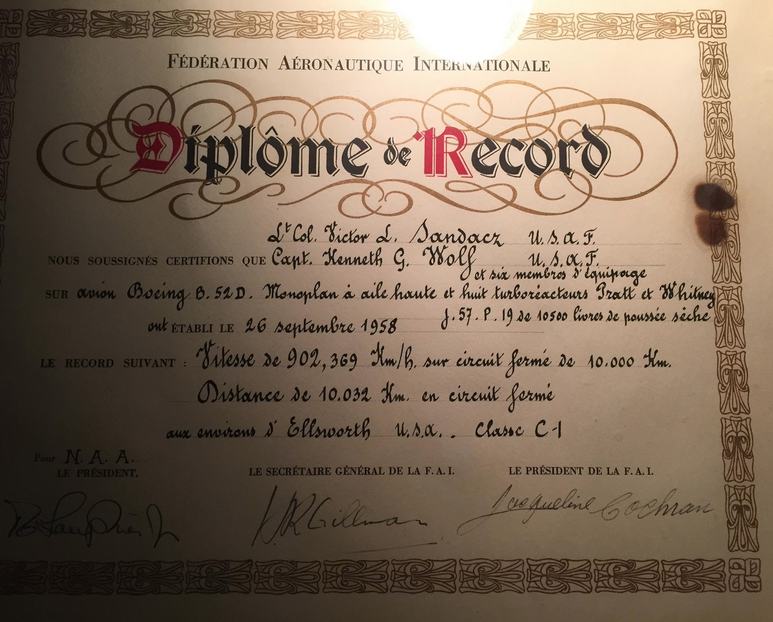 ² FAI Record File Number 8499
© 2023, Bryan R. Swopes